A quick and easy Skillet Stove Top Queso Dip loaded with ground beef, velveeta cheese, Rotel, green chilies, and black beans! It's the perfect dip, with Big Flavor, for the Queso Lover's at your Nest!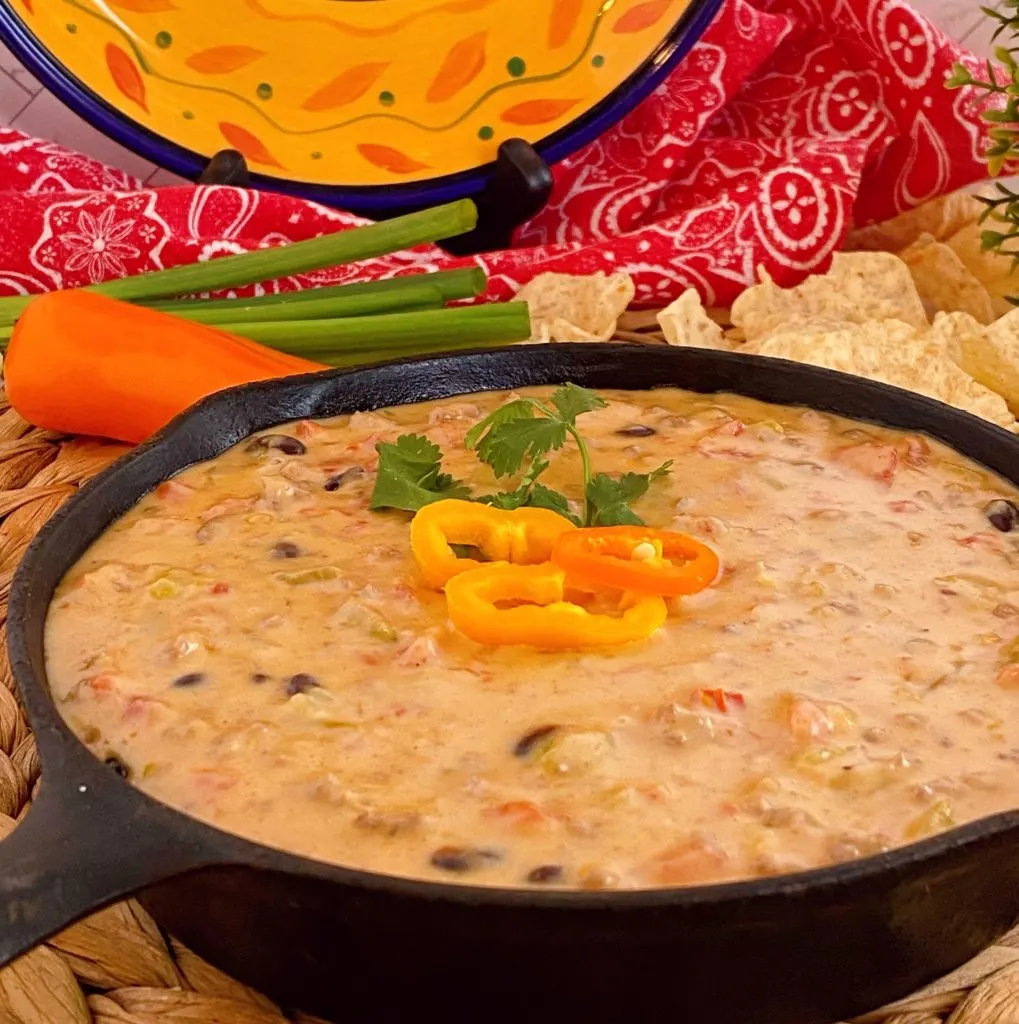 I'm always late to every party! Such is the case with the ever popular Velveeta Queso, or Rotel Queso, Slow Cooker Dips! I'm not sure why I'm late joining this particular love fest…but I'm glad I've finally arrived!
This Queso is loaded with flavor, super cheesy, and best of all comes together in minutes on your stove top! No waiting for the slow cooker to do the work for you. Oh sure, you can use the slow cooker to keep the dip warm…which I highly recommend, but you can whip it up on the stove top and serve it immediately. (Why wait if ya don't have to!)
You're going to need a big ol' bag of scoop type tortilla chips to accompany this dip! (I'm all about "scooping" as much of this into my mouth as possible!) You know what they say "Go Big or Go Home"! This is a "Go Big" type of Cowboy Queso!
How To Make The BEST Stove Top Queso!
You can get as creative with this dip recipe as you want to. I toyed with adding corn and cilantro. However, because I know that some have an aversion to cilantro, I went with a basic recipe packed with flavor. I think it's perfect as is…but I always encourage creativity in the kitchen! Here's what you'll need.
Ingredients You'll Need for this Queso Recipe
1/4 pound 80/20 ground beef (you can use 90/10 if you'd like)
2 Tablespoons minced dried onions
8 oz. cubed velveeta cheese
8 oz. cubed Monterey jack cheese
1 (4 oz.) can diced green chilies
1 (10 oz.) can Original Rotel Tomatoes, do not drain!
1/4 teaspoon cumin
1 Cup rinsed and drained black beans
4-6 Tablespoons milk
In a large deep skillet over medium high heat, brown 1/4 pound ground beef with 2 Tablespoons of minced dried onions.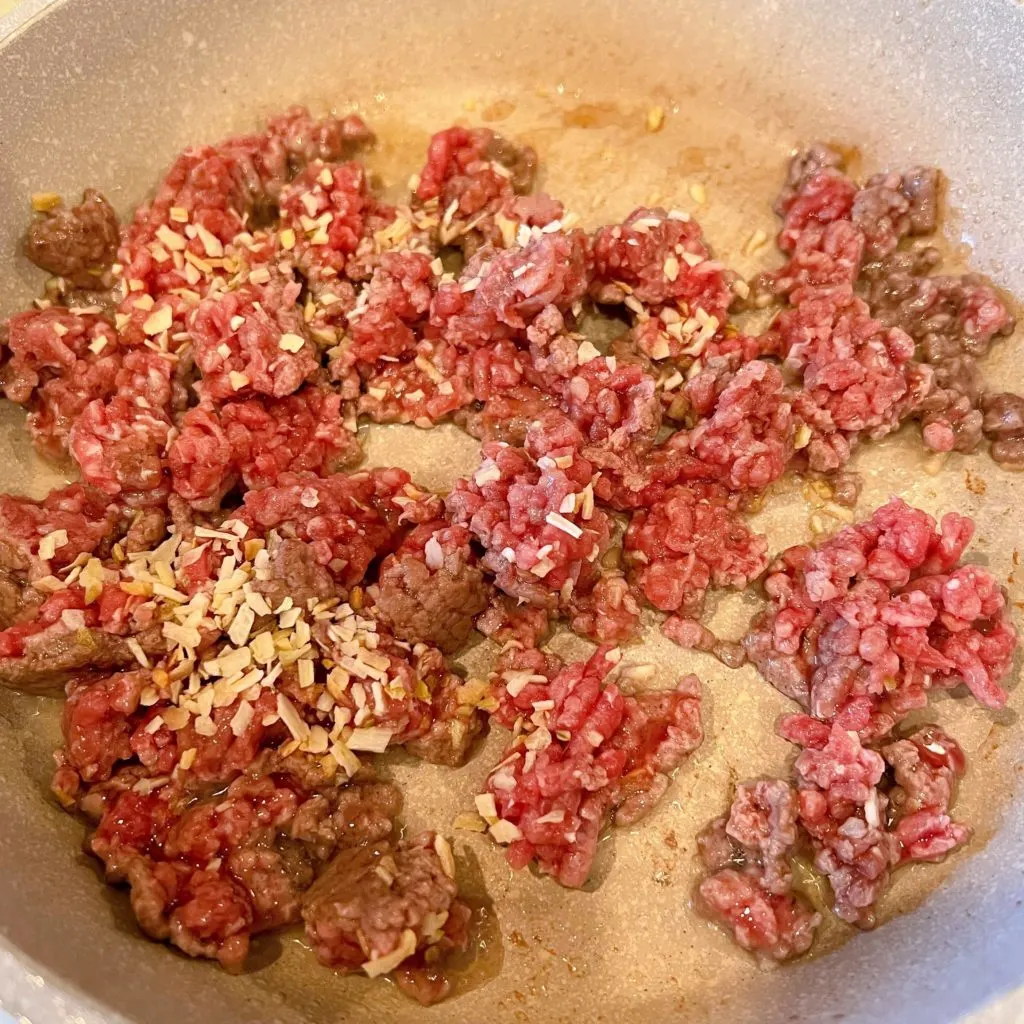 Turn heat down to medium-low. Add one (10 oz.) can, undrained, of Original Rotel. (You need those liquids so just dump it all in there!)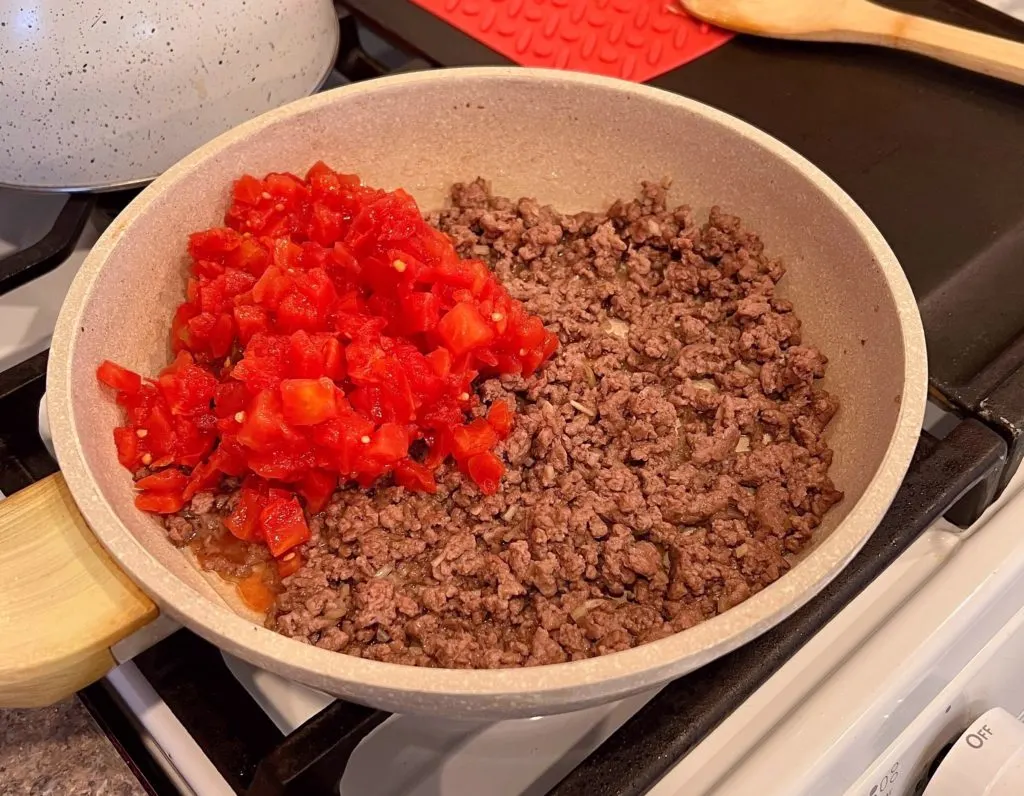 Add 8 ounces of cubed Monterey Cheese, and one (4 ounces) can green chilies. Green chilies add flavor. Not heat. If you like spicy, as in flamethrower hot…please feel free to add diced jalapeños. (I like my mouth and prefer to treat it with kindness! You do you!)
What makes my Velveeta-Rotel Queso different from others? The addition of the Monterey Jack Cheese! If you want to kick-up your Queso game…add Pepper Jack! HOWWWDY!!! That will be some fanny kicking Queso! I used regular Monterey Jack, and it's fantastic in this Queso!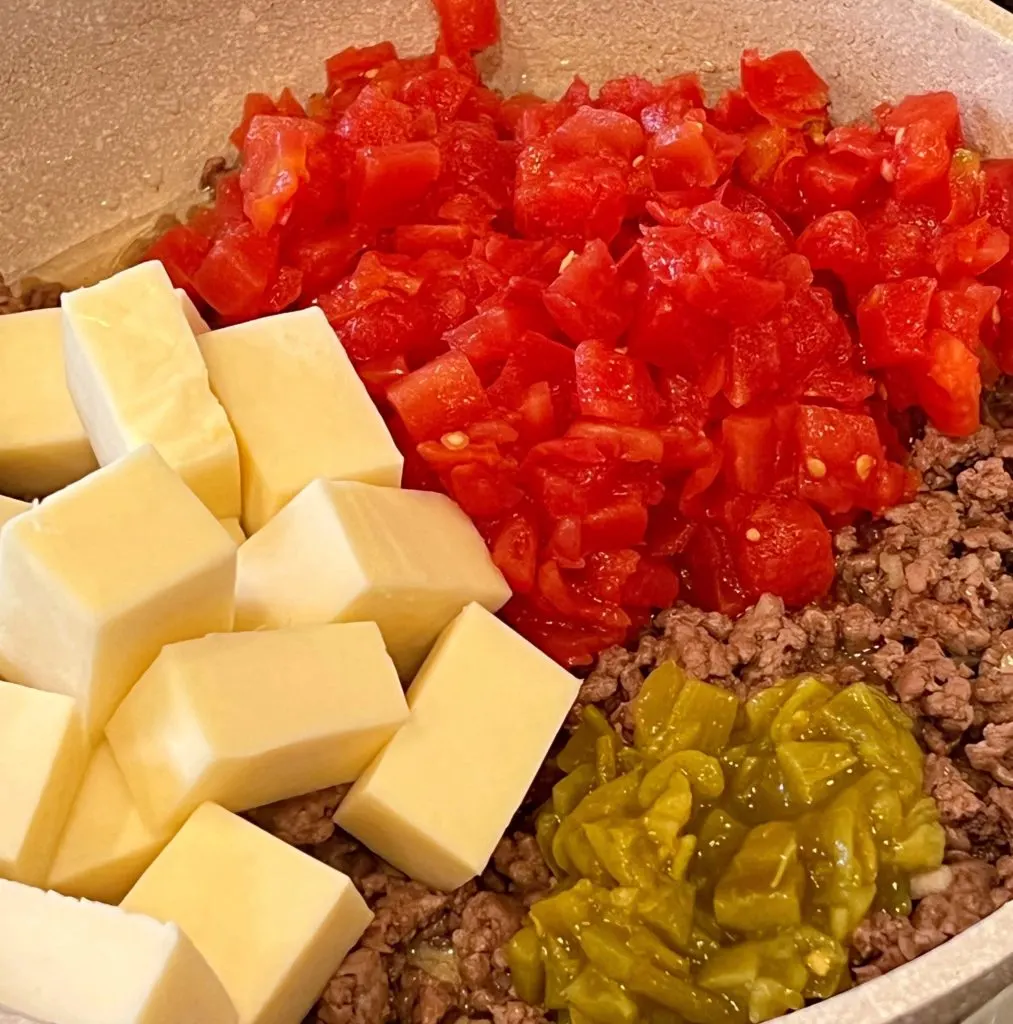 Add 8 ounces of cubed original Velveeta cheese, 1/4 teaspoon cumin, and 2 Tablespoons of milk.
I love the colors in this dip! My mouth is already watering. There's a Fiesta happening in that skillet!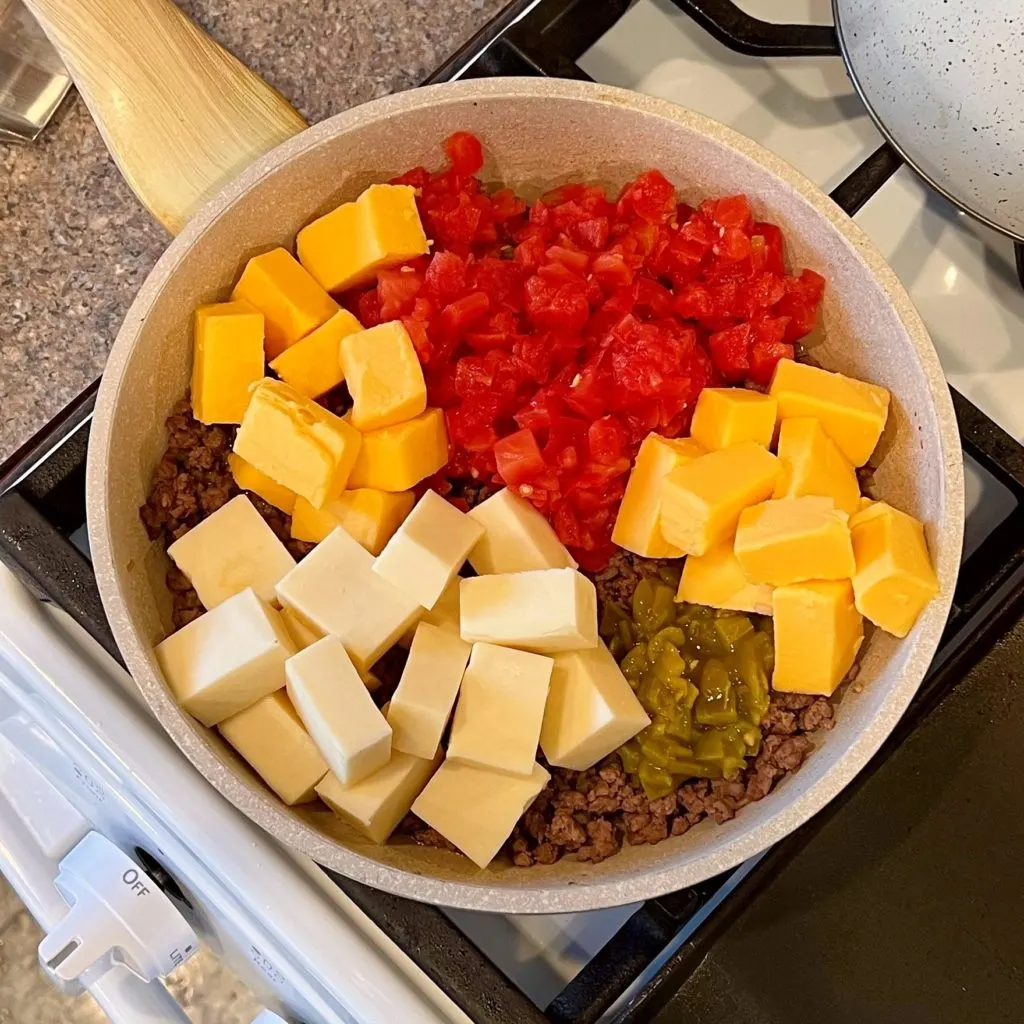 Over medium heat, stir ingredients continually, until the cheese's begins to melt. If the mixture seems too thick, you can add a couple of additional Tablespoons of milk, to thin to desired consistency.
TIP: Mixture will thicken as it cools. Keep this in mind when adding the milk to the Queso.
Allow the mixture to simmer for 3–4 minutes, stirring occasionally, before adding the black beans. This will ensure the ingredients are well combined, and the flavors have had a few minutes to incorporate together.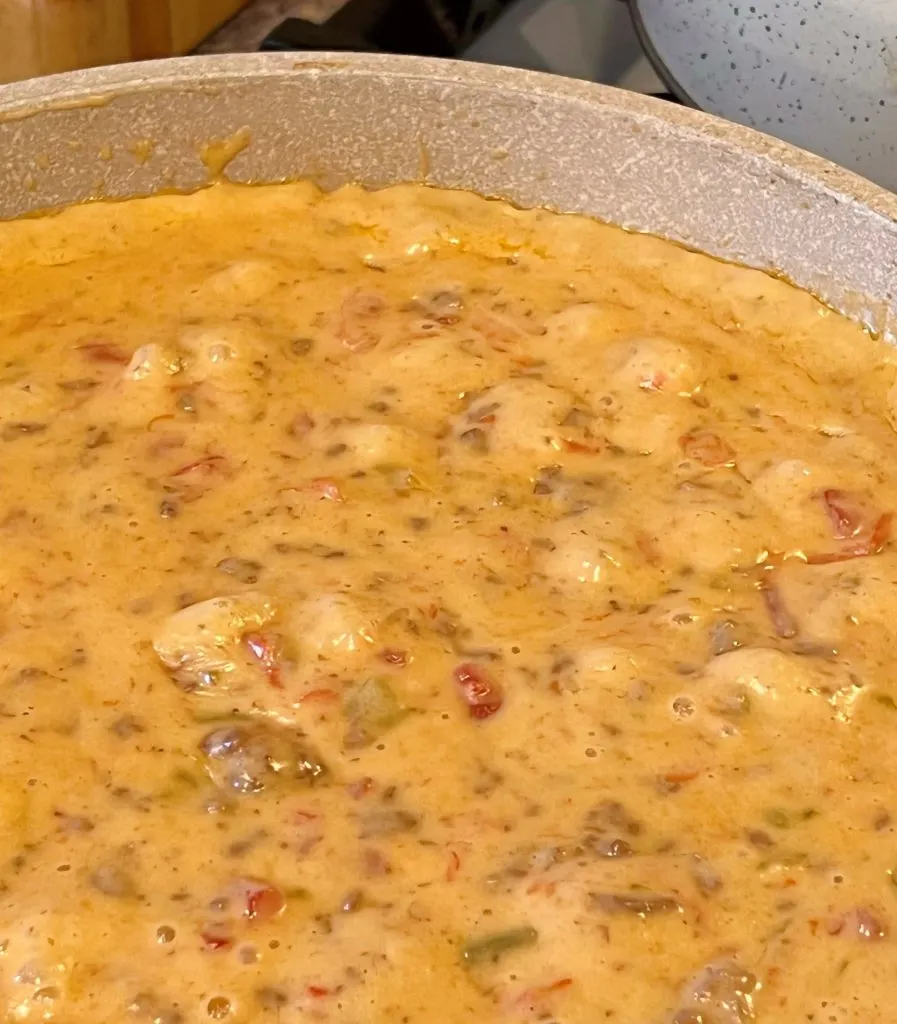 Add 1 cup, rinsed and drained, black beans. The magical fruit! (Sorry I have boys…ya know…"toot" jokes abound in a house of boys!)
You could add pinto beans or chili beans. I love the depth of color, and texture, not to mention flavor, the black beans add to this Homemade Queso… I also think they're perfect size for a dip!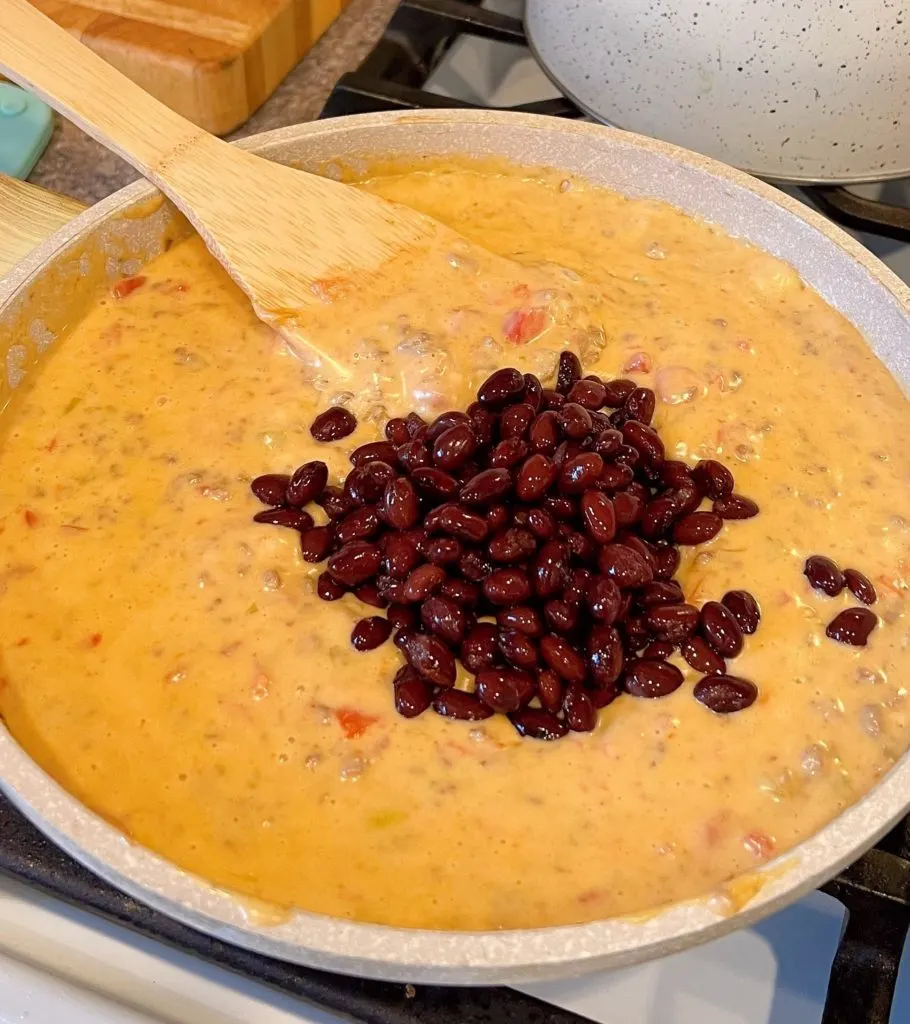 Stir until well combined. If the mixture is too thick, again…you can add a little milk to thin it. I personally love a beautiful thick cheesy dip!
Look at that creamy Queso! Reminds me of a pot of delicious cowboy fixings'! Simmering over the campfire! Beans, ground beef, delicious chilies, tomatoes, onions, and… lots and lots of Cheese! There's only one more thing we need… Tortilla CHIPS!!! (and a closet to hide in, so we don't have to share! Just sayin'…)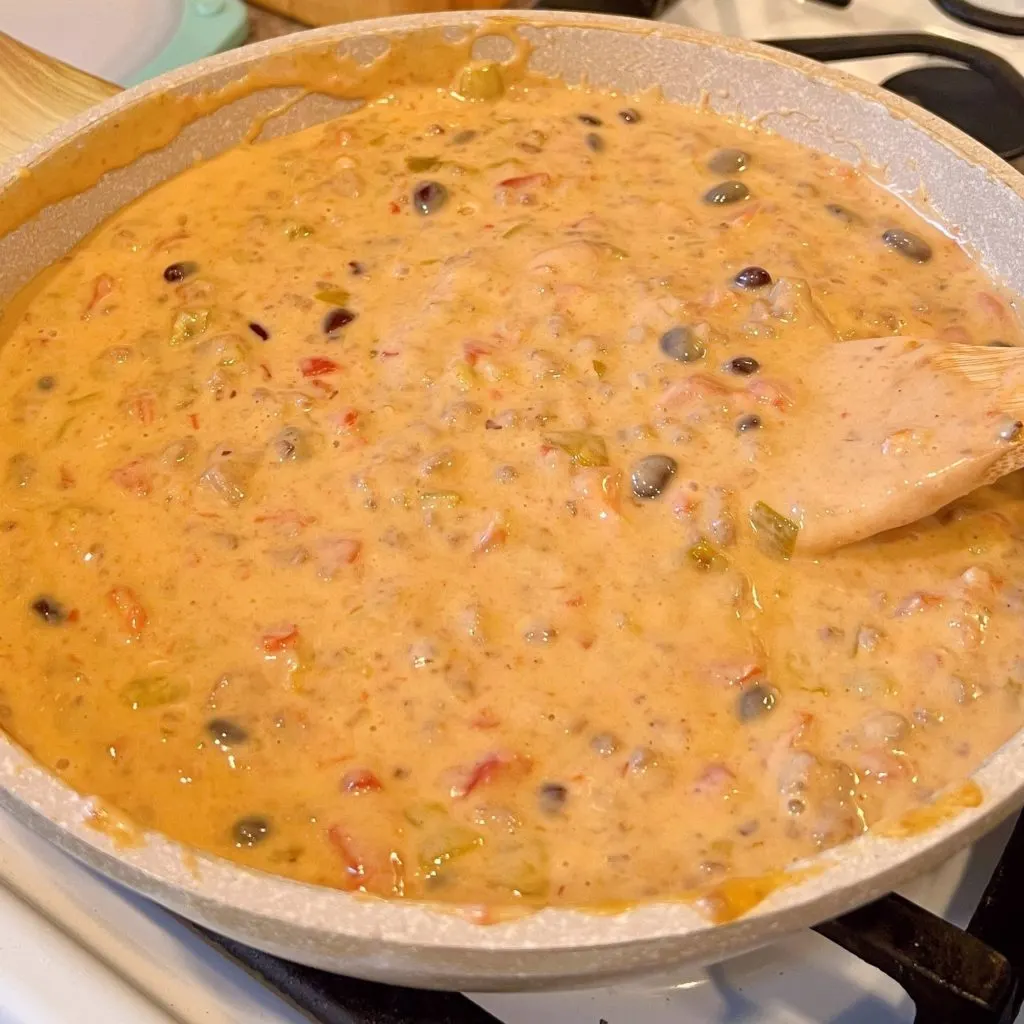 How To Serve Cowboy Queso
There are a couple of way you can serve this decadent drool worthy Queso! I pour mine directly into a small cast iron skillet. It makes it easier to reheat on the stove top, or pop into the oven, if necessary, or place it on top of a hot plate. Just be sure to place a serving spoon in the dish for serving!
You can also pour it into a slow cooker, set on low, with a small ladle for your guests to scoop onto their serving plate. (NO Double Dippin'….we're not THAT cowboy!)
Lastly…and my personal favorite… you can just make this for a "Party of One"! Stand at the stove top (or hide in the closet…no judgment zone here at Norine's Nest) dipping and dunking to your hearts content! Just make sure you finish it all before the rest of the gang shows up! (Also have a Dr Pepper with ya! It is a party after all!)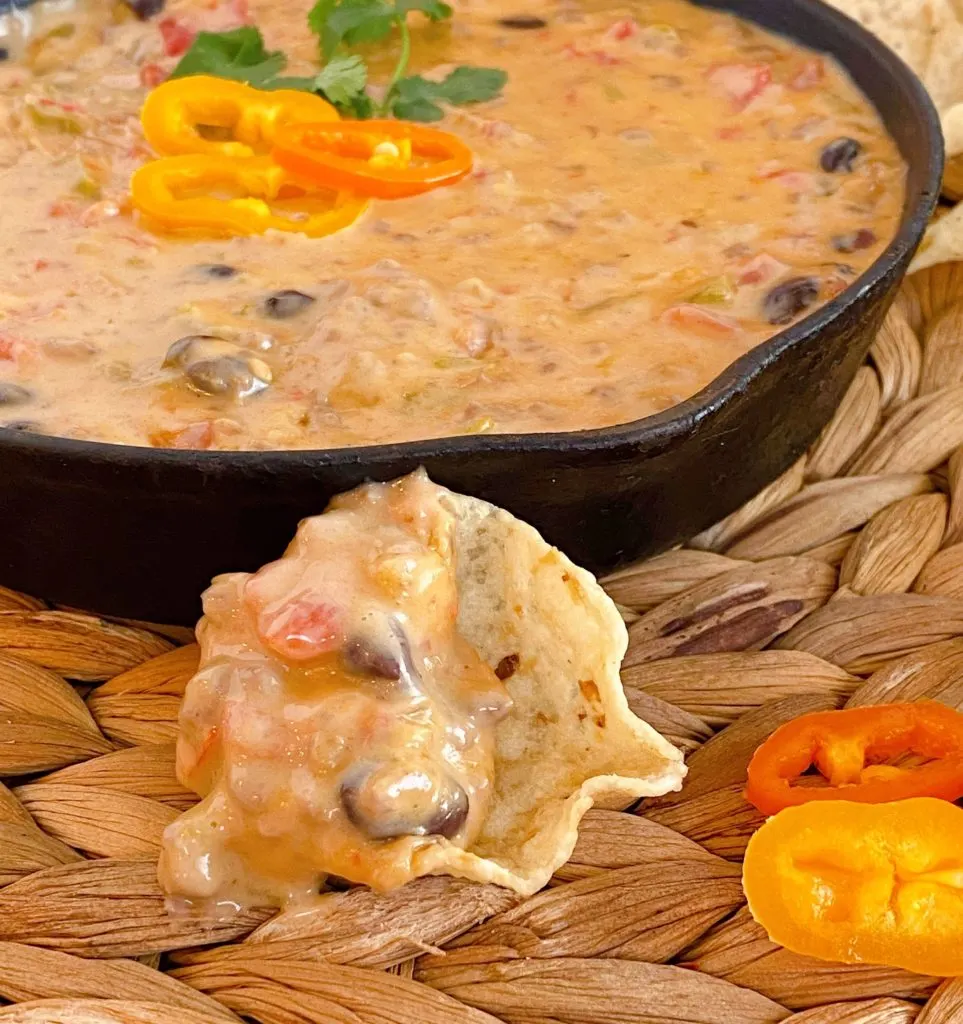 Honestly I "double-dog-dare-ya" to just eat one chip dunked in this Queso! It's SO good! Like slap-yo-Momma good!
You could make a meal out of this cheesy dip. My daughter and I were shamelessly swooning over this recipe! (No she didn't slap me! Not sure that it didn't run through her mind though…lol)
This Cowboy Queso Recipe is perfect for your Super Bowl Party this Sunday…or really for any game day! It's perfect for any type of party you maybe hosting! Trust me…your guest will love it…and the cook! Just be sure you have lots of chips on hand! Enjoy!
Other Football Finger Food Favorite Recipes
Thanks for stopping by and visiting with me today! As always… I love having you here at My Nest!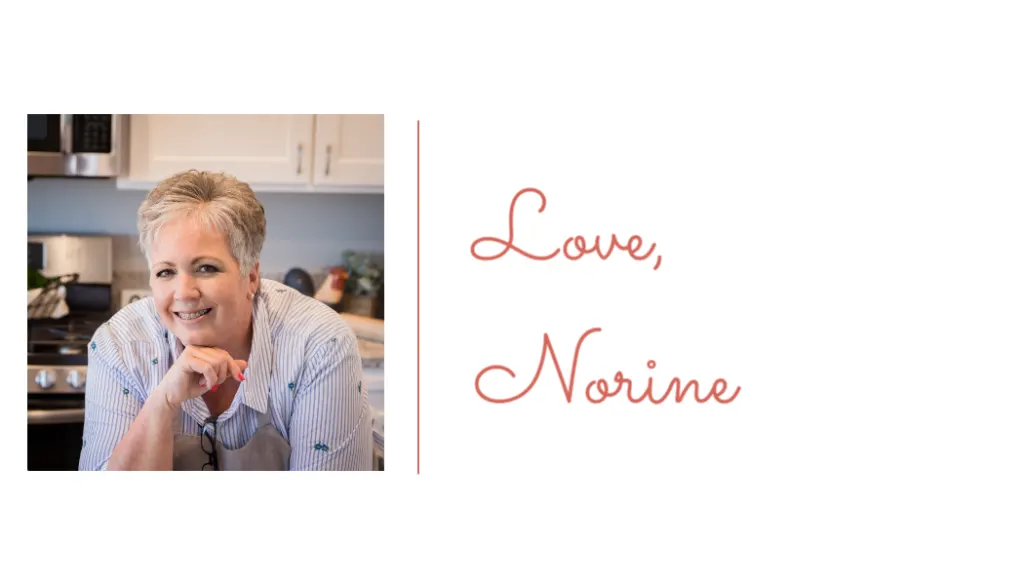 Yield: 16 servings
Loaded Cheesy Cowboy Queso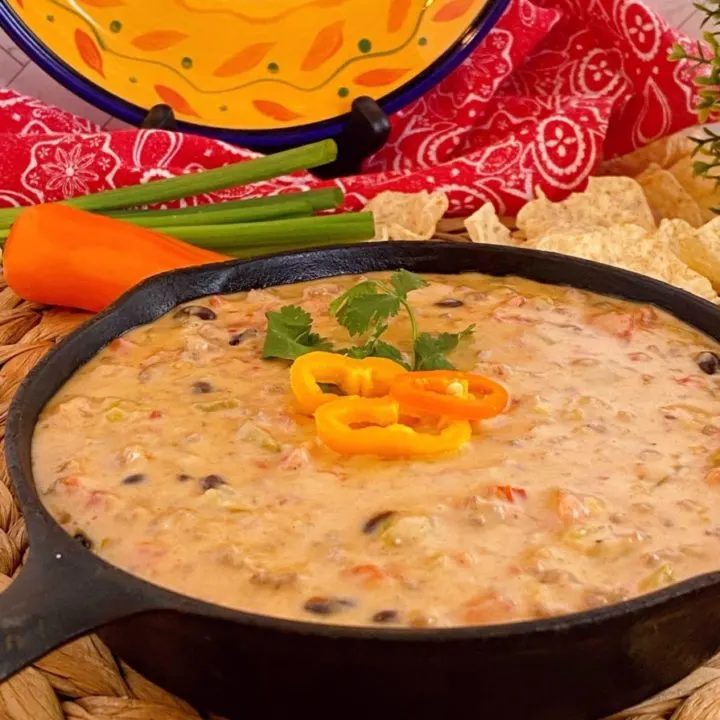 A quick and easy Skillet Stove Top Queso Dip loaded with ground beef, velveeta cheese, Rotel, green chilies, and black beans! It's the perfect dip with Big Flavor for the Queso Lover's at your Nest!
Ingredients
1/4 pound ground beef
2 Tablespoons minced dried onions
8 ounces Original Velveeta Cheese, cubed
8 ounces Monterey Jack Cheese, cubed
1 (4 ounce) can chopped green chilies
1 (10 ounce) can Ro-Tel Tomatoes and Green Chilies
1/4 teaspoon cumin
1 cup black beans, rinsed and drained
4-6 Tablespoons Milk
Instructions
In a large skillet, over medium-high heat, brown ground beef and minced onions. Drain beef is necessary.
Lower heat to medium-low and add Rotel, green chilies, velveeta, Monterey jack cheese, cumin, and 2 Tablespoons of milk. Stir constantly until cheese is melted and smooth.
Add black beans, and simmer on low for 3-4 minutes. Add additional milk if dip is too thick and stir until desired consistency is achieved.
Nutrition Information:
Yield:
16
Serving Size:
1
Amount Per Serving:
Calories:

137
Total Fat:

9g
Saturated Fat:

5g
Trans Fat:

0g
Unsaturated Fat:

2g
Cholesterol:

31mg
Sodium:

305mg
Carbohydrates:

6g
Fiber:

1g
Sugar:

2g
Protein:

9g