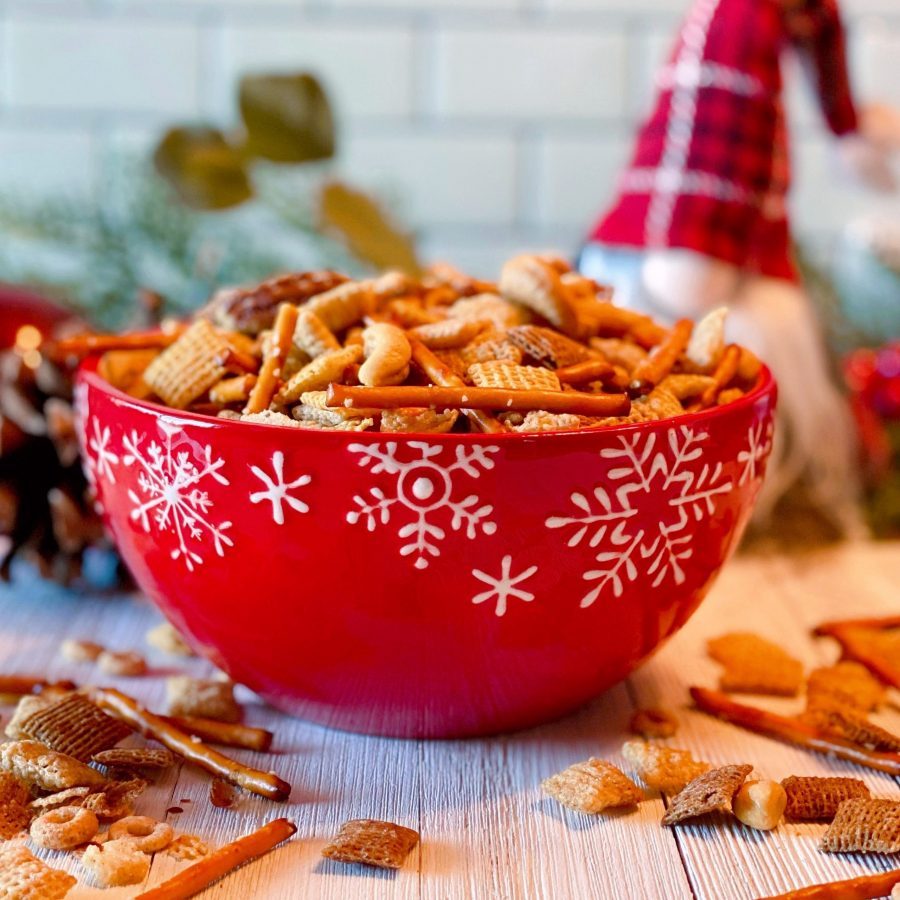 *As an Amazon Associate I earn from qualifying purchases. This post may contain affiliate links, which means that I may make a commission from any purchases at no additional cost to you. Thank you for your support!
Grandpa's Scrabble is a long standing family tradition that combines Chex brand cereals, cheerios, pretzels, and nuts that are slowly roasted in a seasoned butter mixture until golden and toasty. The ultimate snack food!
The best thing about the Holiday's, in my opinion, are the traditions!
As we grow older, and the lure of Santa and Christmas lists fade, we look back through our life and reflect on the memories that made us who we are. We remember the traditions, the things we did as family and friends, to cement our love for each other and our love of the Holidays.
Those memories fill our hearts and minds with love, and inspire us to continue down the same path. Why? Because we want our children and grandchildren to have the same happy joy filled memories we have. I can think of no greater gift to leave them.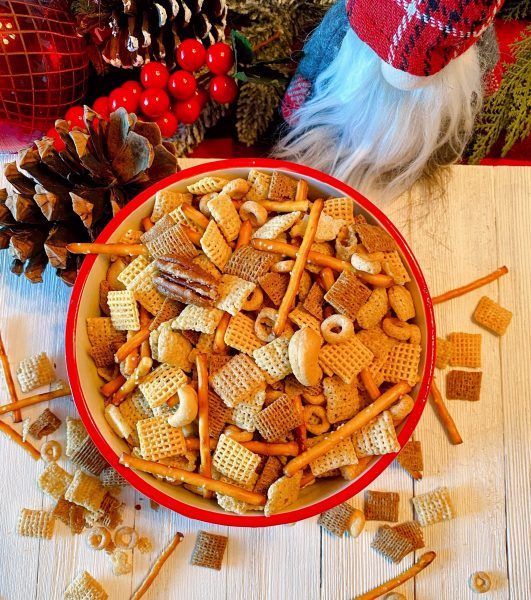 My Grandfather was not a "cook". However, every year, for the Holidays Grandpa had two specialties! Christmas Eve Oyster Stew and this buttery, salty, crispy, Scrabble Mix. One we all LOVED…the other…lets just say we "endured" it out of love for Grandpa… and the fear of Grandma's wrath! (I still thank the Lord daily for little oyster crackers and their magical ability to make it easier for me to eat that stew every year!)
Growing up Mom continued the tradition and made a big batch of scrabble that we'd all gobble up. When I became a Mom, I started making it for my family. Everyone LOVES Grandpa's Scrabble.
Grandpa's Scrabble is what some today would call "Chex Mix". I'd say "You're wrong"! Grandpa's Scrabble tastes NOTHING like the commercial Chex Mix. For this reason I refuse to change the name. It is, and always will be "Grandpa's Scrabble".
Over the years I've made a few changes to better fit our tastes, but just a few, when something is good…you just don't mess with it too much! So…today I invite you to share in one of our favorite traditions…Let's Make Scrabble!
How To Make Scrabble Mix
This is such an easy recipe, but I will warn you, it takes time. This mix is slow roasted for 2 hours and requires that you turn the mixture every 15 minutes. So pop in your favorite Christmas Movies and set a timer. Before you know it…you'll have a big huge batch of Scrabble to munch on.
Preheat oven to 225°.
In a very large roasting pan, I use the insert from my electric roasting oven, add 1 Family Size Box Rice Chex, 1 Family size box Wheat Chex, 1/2 a Family size box Corn Chex, 1 Regular size box of Cheerios, 1/2 a bag of Thin Pretzel Sticks, 1 large can (2 lbs) of mixed salted nuts (without macadamia nuts…they burn), and 1 bag of New York Plain Bagel Chips.
Now, Grandpa used small mini shredded wheat instead of bagel chips…but I never liked the mini shredded wheat. I felt it was too dry for this mixture. He also didn't use wheat or corn Chex…but I love them…so in they go! (It's my way of adding "healthy" to the mixture. lol)
TIP: You do NOT have to add the nuts, especially if you have someone with a nut allergy, or you can add more if you love them. It's totally up to you.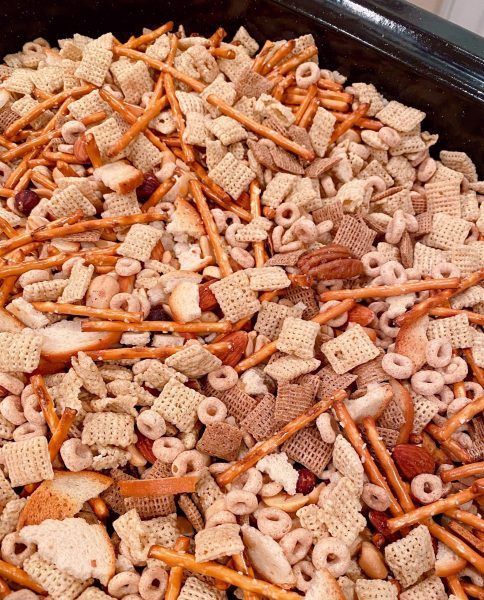 In a large glass measuring cup, or microwave safe bowl, add 3/4 lb. of real salted butter. That's THREE sticks of butter. (I never said this was a "low fat" recipe! I said it was "Good" and all really "Good Food" has fat! So do really "Good women"! Just sayin'….lol)
Melt the butter in the microwave.
Add 1 cup vegetable oil. WHAT? Yes! You read that right. Y'all are just going to have to trust me! Add 1 Tablespoon Worcestershire sauce (You don't have to say it or spell it to be able to use it. Thank goodness!) Add 1/4 cup plus 1 1/2 Tablespoons of Seasoning Salt. I like to use Lawry's.
Using a whisk, combine all the ingredients until season salt begins to dissolve. Not all the salt will dissolve and that is okay. It will during baking.
TIP: Grandpa liked it REALLY salty and would add 1/2 a medium size jar. I have found that the above measurements are perfect! In years past I didn't add enough or I added too much…this amount is seriously perfect!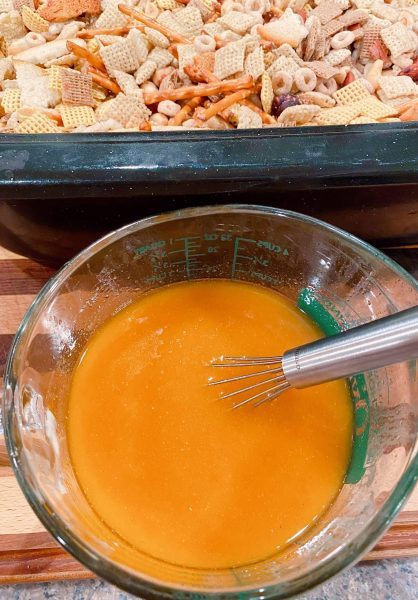 Slowly pour butter mixture over the entire top of the Scrabble mix.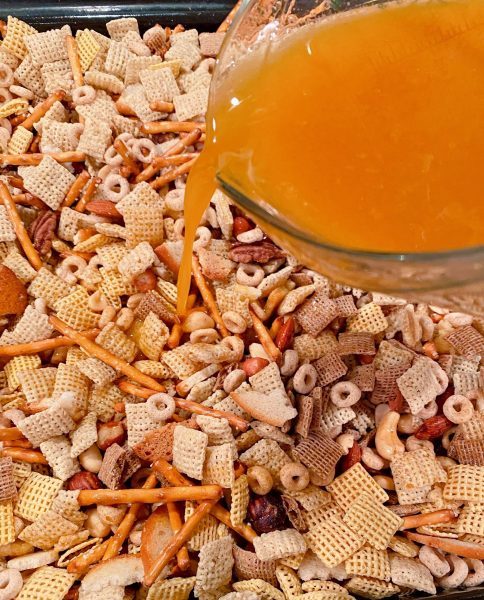 Using a large wooden spoon or rubber spatula mix until combined and most of the cereal is coated with the butter and salt.
Place big roasting pan in the center of the oven on the center rack. Set your timer for 15 minutes.
Every 15 minutes carefully stir and turn the mixture, stirring from the bottom to the top. This will help the mixture roast evenly and keep the nuts and cereal on the bottom of the pan from burning.
30 minutes into roasting your house will smell heavenly! Honestly it is one of my favorite Holiday smells.
TIP: Make sure to use potholders to hold onto the pan while stirring. This will prevent the pan of scrabble from spilling everywhere and keep you from burning your hands! (That's a tradition we don't want to start!)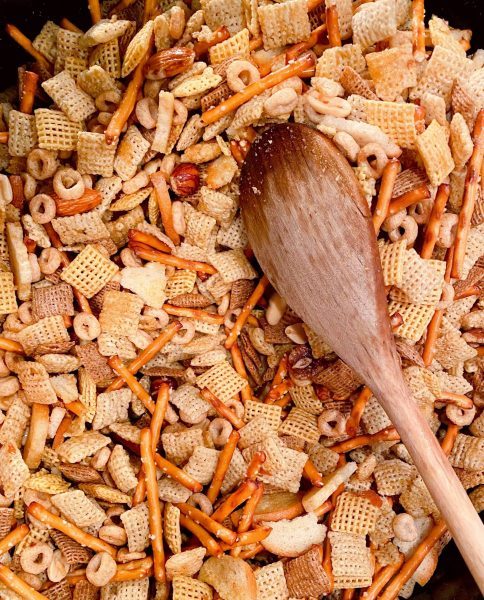 After two hours of stirring every 15 minutes you can remove the pan, give it one more stir, and allow it to completely cool. Generally I leave mine out over night.
WARNING: Some Buffoon (this is said in love) at your Nest is going to try to eat this hot out of the oven! How do I know this? It's a TRADITION at this Nest!! Every. Single. Year!!! (Cough, cough) Someone has to try to eat those hot roasted nuts! Every year I watch as he does the "hot mouth" dance. I just sit shaking my head. (Hey…it's a tradition! lol)
Once the mixture is cool, I like to store it in large air tight containers. This makes a BIG batch so it's perfect for gift giving as well! (If you can keep the family from eating all of it! Good Luck!)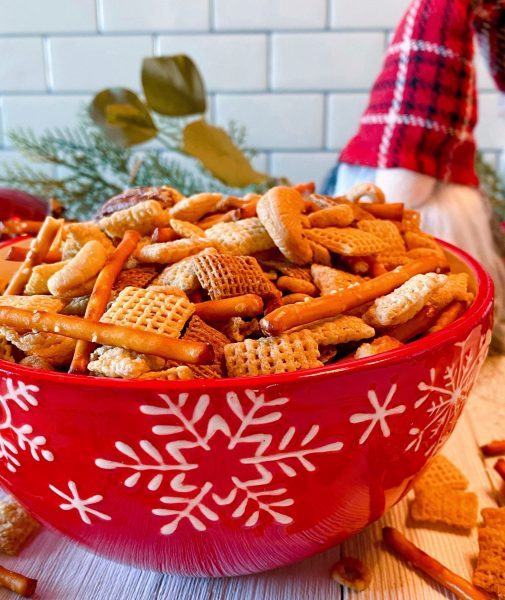 This is actually one of my favorite gifts to give! I love to attach a cute tag tied to a cello bag with a festive ribbon. It's a great "door drop" gift for your neighbors or a shut-in. Especially this year.
My daughter stopped by to pick up a big bag full today and said, as she was munching, "This is my favorite breakfast, lunch, and dinner this time of year!" (Yep…she's mine!)
I don't think Grandpa would mind that at all! This simple little treat is just one of the reasons I love what I do. I get to share our traditions with all of you! Even though Grandpa has been gone for many years now…he can still be with us through this wonderful tradition! Food truly does bind us together in so many wonderful ways.
I hope your family will enjoy this wonderful snack mix as much as we do. It's the perfect Holiday munchies treat!
Other Family Tradition Recipes
Thanks so much, as always, for stopping by and sharing a part of your day with me. I hope I was able to inspire and share a laugh or two! Have a wonderful week!
Happy Nesting!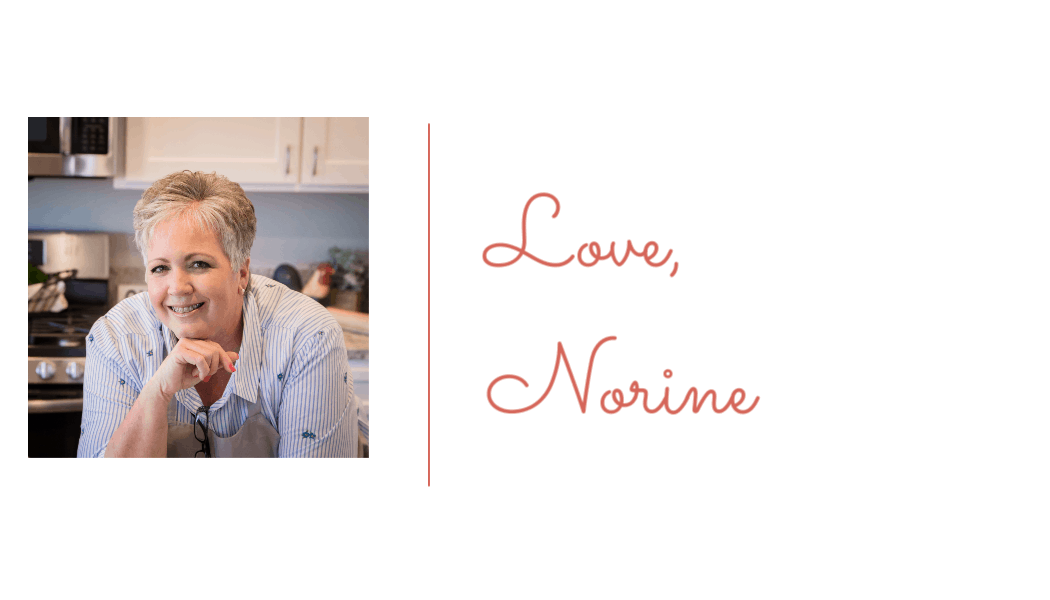 Yield: 18 servings
Grandpa's Scrabble Mix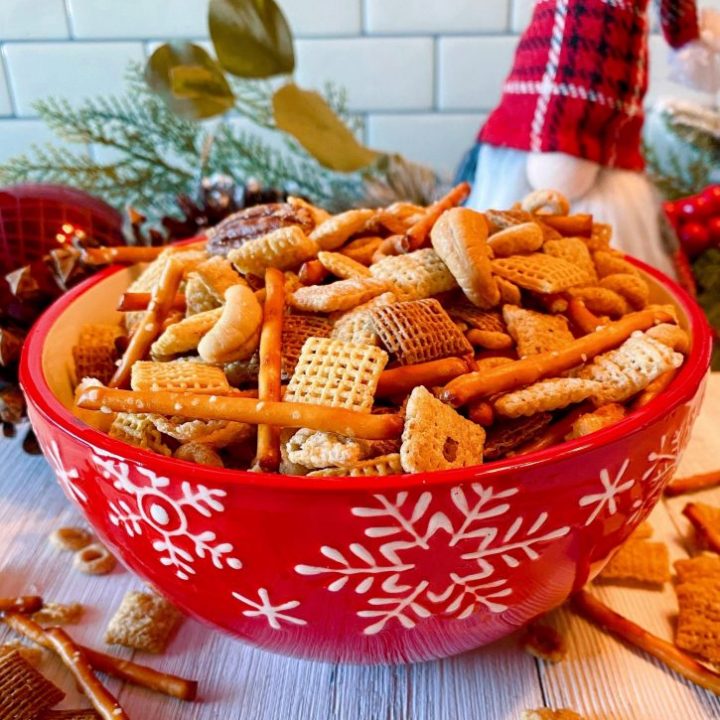 Grandpa's Scrabble is a long standing family tradition that combines Chex brand cereals, cheerios, pretzels, and nuts that are slowly roasted in a seasoned butter mixture until golden and toasty. The ultimate snack food!
Total Time
2 hours
10 minutes
Ingredients
2 lbs. mixed salted nuts
1 - 10.5 oz cherrios
1 - 1 lb. 2 oz. box Family Rice Chex
1 - 14 oz. box Family Wheat Chex
1 - 12 oz. box Corn Chex or 1/2 a Family Size Box
3 cups slim pretzels or 1/2 a 16 oz. bag of pretzel sticks
1 - 7.2 oz bag New York Plain Bagel Chips, broken into pieces
3/4 lb. salted butter; or 3 sticks
1 Cup Vegetable Oil
1 Tablespoon Worcestershire sauce
1/4 Cup plus 1 1/2 Tablespoon Lawry's seasoning salt
Instructions
Preheat oven to 225°
Mix first 7 ingredients in a very large heat proof roasting pan.
In a large glass measuring cup, or a medium size microwave safe bowl, melt butter. Add oil, worcestershire sauce, and seasoning salt. Mix to combine and salt begins to dissolve.
Pour butter mixture over the top of the cereal mixture. Stir until the majority of the cereal is coated in the butter mixture.
Place roasting pan in the center rack of preheat oven. Stir and turn mixture every 15 minutes for 2 hours.
Cool. Store in airtight containers until ready to eat.
Recommended Products
As an Amazon Associate and member of other affiliate programs, I earn from qualifying purchases.
Nutrition Information:
Yield:
18 servings
Serving Size:
1 cup
Amount Per Serving:
Calories:

580
Total Fat:

32g
Saturated Fat:

11g
Trans Fat:

1g
Unsaturated Fat:

18g
Cholesterol:

41mg
Sodium:

1177mg
Carbohydrates:

71g
Fiber:

6g
Sugar:

7g
Protein:

9g