Cherry Lemon Danish is made with a purchased puff pastry and baked until it's golden and flaky. It is filled with Cherry filling and Lemon Curd and baked to perfection. A great breakfast treat.
News Flash! I'm in the middle of a love affair with puff pastry! (By "middle" I should clarify I'm pretty sure it started at birth!) Specifically… Wewalkausa refrigerated puff pastry. (No! This is NOT a paid post. I just love their product.)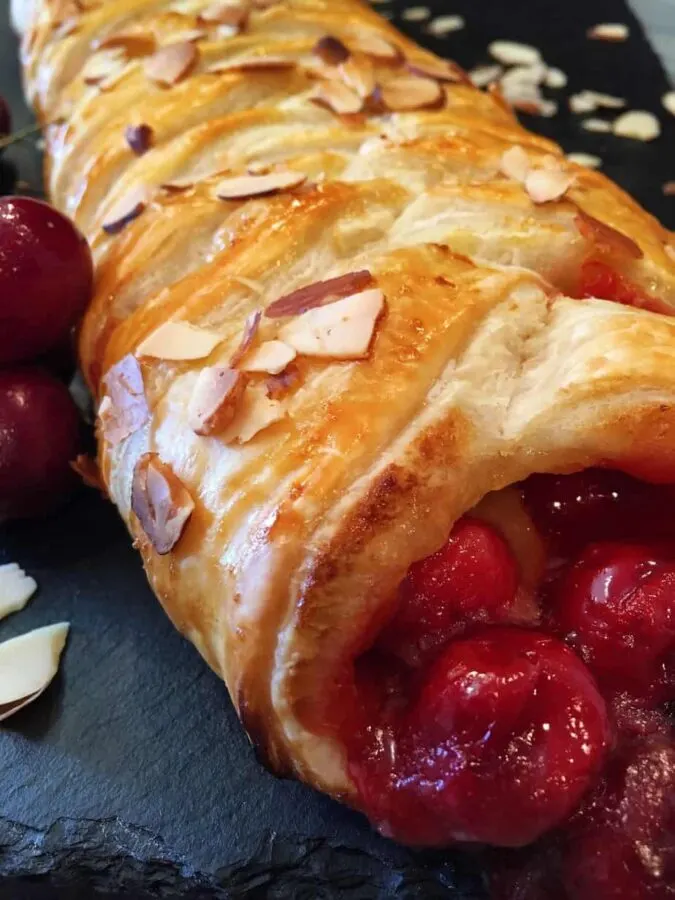 I found this delightful new product a few months ago at Walmart in the refrigerated section by all those exploding biscuit cans. (So, it's kinda like walking through a minefield to get to it, but SO worth the risk!)
I've got all these recipes circling around in my head, but this time I made a big long beautiful Danish braid. I love how this turned out, and I love how easy this recipe is. Wasn't too sure how the cherry lemon combination would turn out? Can I just say…HOLY YUM!
How To Make Cherry Lemon Danish
You will need one package of Wewalkausa refrigerated puff pastry dough. (64 flaky layers… Come to Momma!)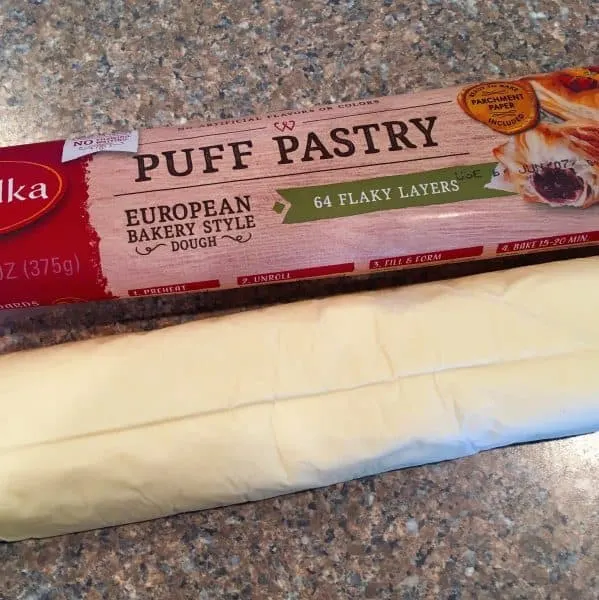 Preheat the oven to 350°. Unroll the dough carefully. Leave the dough on the parchment paper.
Use a knife, or pizza cutter, make cuts up the two sides of the pastry dough. Each slice should be 3/4 an inch wide and about 2 inches long.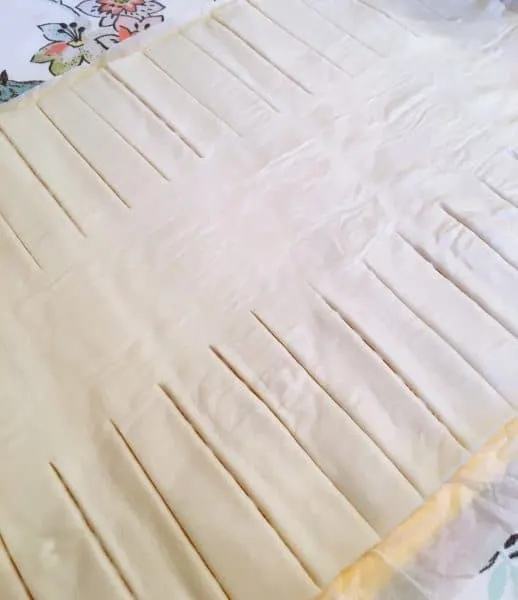 Spoon 1 1/2 cups of Cherry Pie filling down the center of the puff pastry. On top of the Cherry Pie Filling spoon 1/2 cup of Lemon Curd. You can use either homemade…you can find the recipe for the Easy Microwave Lemon Curd HERE…or you can use store-bought. They will both work.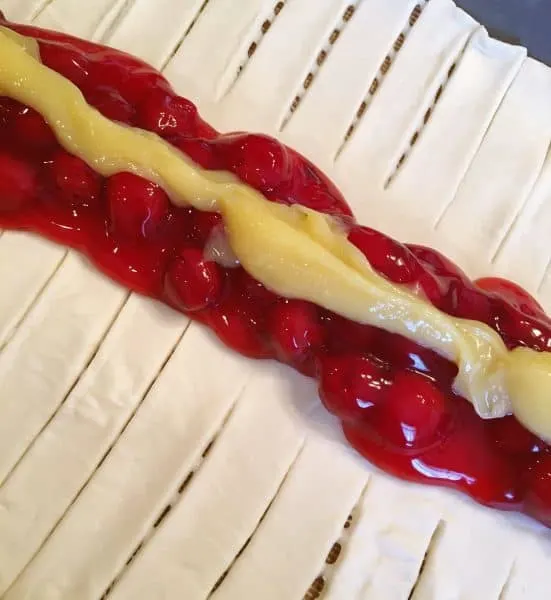 Starting at one end, fold one piece upward toward the center, diagonally, and do the same on the other side. Continue on up the pastry, folding one over the top of the other diagonally. Do this until the filling is covered, and the dough looks like a "fishtail" braid.
Tip: Don't worry about being super "neat", and it's okay if the filling is peeking out a little. It's the perfect way to torment your friends and family!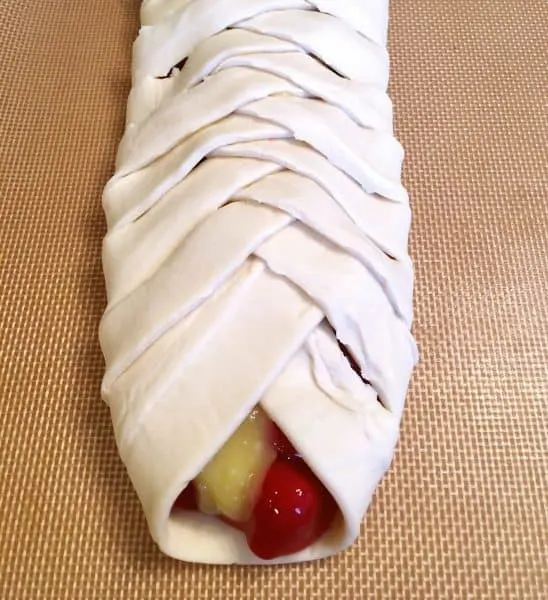 Lift the braid off the paper and place it on a silicon lined baking sheet, or a baking sheet lined with fresh parchment paper.
Beat one large egg. Using a pastry brush, brush the top of the Danish with egg wash. Sprinkle with Sugar and Sliced Almonds.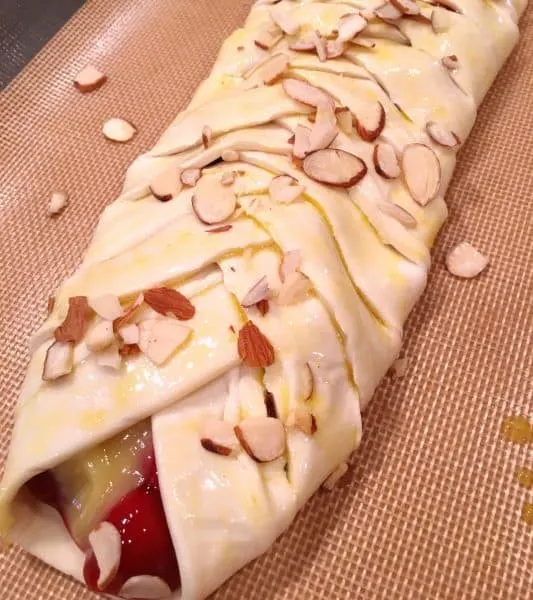 Place in preheated oven and bake for 25–30 minutes or until pastry is puffed and golden brown.
Tip: Keep an eye on the pastry. Each oven bakes differently. You don't want the almonds to burn. (Yuck!)
This bakes up perfectly and beautifully! Even if you are not the foremost "braid" expert. (Trust me…braiding is not my thing!)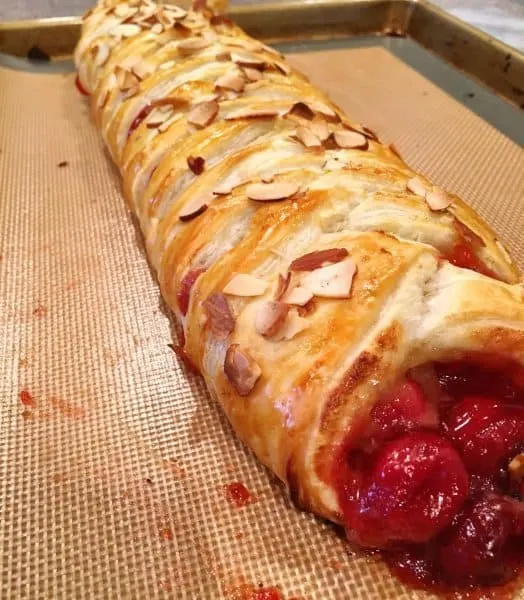 Allow the Danish to cool for about 10–15 minutes. Slice and serve…and serve again…and again…maybe once more. (Getting the idea this one is REALLY scrumptious!) "Could I get a tall glass of milk please?"
Do you see all those flaky layers? Little pockets of heavenly fluff! That filling with the plump juicy cherries and the creamy rich lemon curd. OH. MY. GOODNESS! (Angels are singing friends…SING-ING!)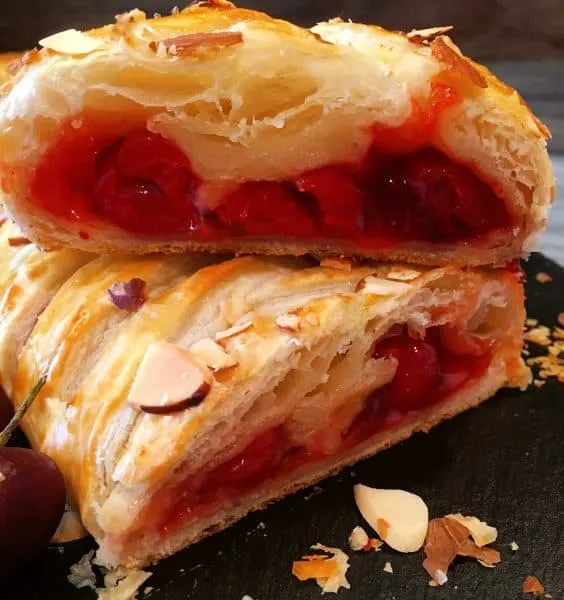 There you have it. The perfect weekend Danish! Isn't that easy peasy?
I don't know about you, but if I can have a flaky cherry lemon filled Danish that will feed the whole family in a matter of minutes…that's a "Win-Win"!
If you like this Cherry Lemon Danish you might also like these other Breakfast Pastry Recipes
If you make this recipe be sure to comment below and share a photo with me. Hashtag me on Instagram at norinesnest.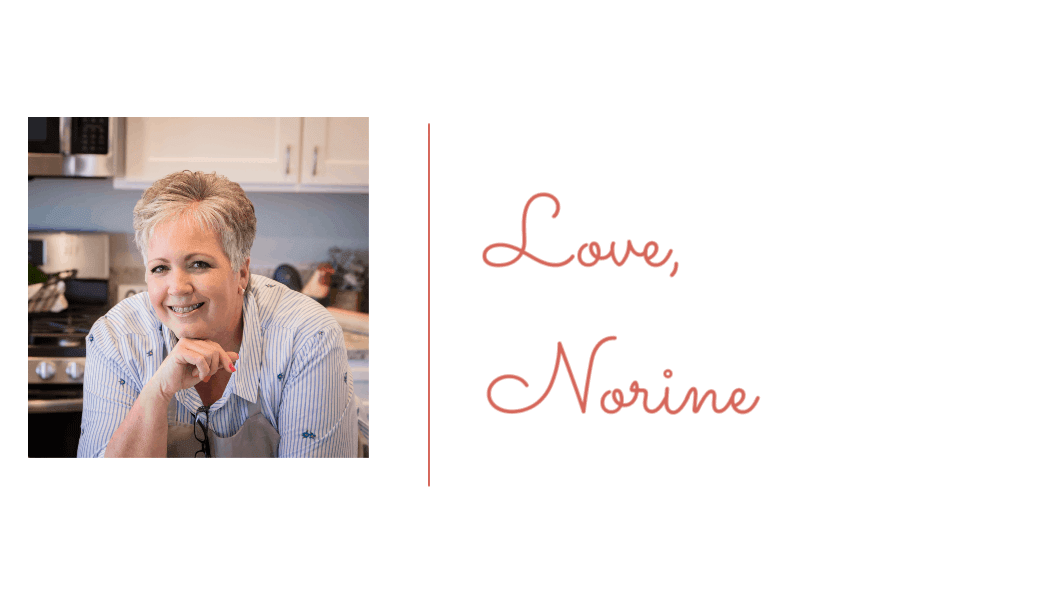 Yield: 12 servings
Cherry Lemon Danish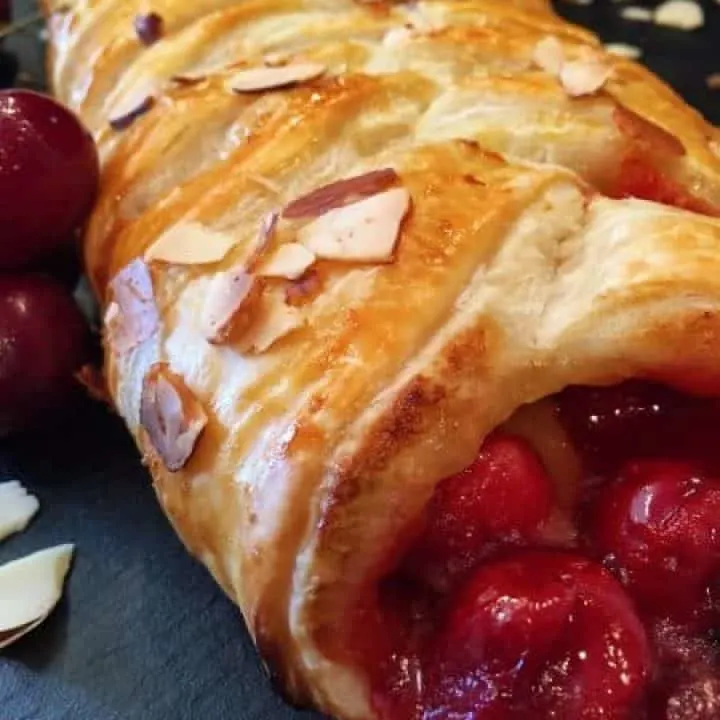 Golden Flaky Puff Pastry is filled with Cherry filling and Lemon Curd and baked to perfection.
Ingredients
1 package Wewalkausa refrigerated Puff Pastry
1 1/2 cups of Cherry Pie Filling
1/2 cup of Lemon Curd
1 large egg
Sprinkle of Sugar for Garnish
1/4 cup of Slivered almonds.
Instructions
Preheat oven to 350°
Unroll package of Puff Pastry.
Using a knife or pizza cutter, cut 3/4 inch wide slices, 2 inches long, up both sides of the puff pastry. Make sure to leave the center uncut.
Spread Cherry Pie filling down the center of the Puff Pastry.
Spoon Lemon Curd on top of the Cherry Pie filling.
Starting at one end fold one strip of dough up diagonally towards the center. Repeat on the other side. Continue folding strips from one side to the other like a braid.
Carefully Remove the paper and place the the danish on a silicone or parchment paper lined baking sheet.
Whip egg until light and frothy. Brush on top of the danish with the egg wash.
Sprinkle with sugar and slivered almonds.
Place in oven and bake for 20-25 minutes checking frequently.
When golden and puffy remove from oven.
Allow to cool for 10 minutes before slicing.
Recommended Products
As an Amazon Associate and member of other affiliate programs, I earn from qualifying purchases.
Nutrition Information:
Yield:
12 servings
Serving Size:
1 slice
Amount Per Serving:
Calories:

97
Total Fat:

4g
Saturated Fat:

1g
Trans Fat:

0g
Unsaturated Fat:

2g
Cholesterol:

29mg
Sodium:

36mg
Carbohydrates:

14g
Fiber:

0g
Sugar:

5g
Protein:

2g