An easy chicken taco filling with taco seasonings and enchilada sauce combine for delicious Crock Pot Chicken Tacos!
With all this cleaning, organizing, and preparing for the Holidays it's easy to get bogged down and forget about dinner! So, I'm here to help with this super easy, super yummy recipe for chicken tacos!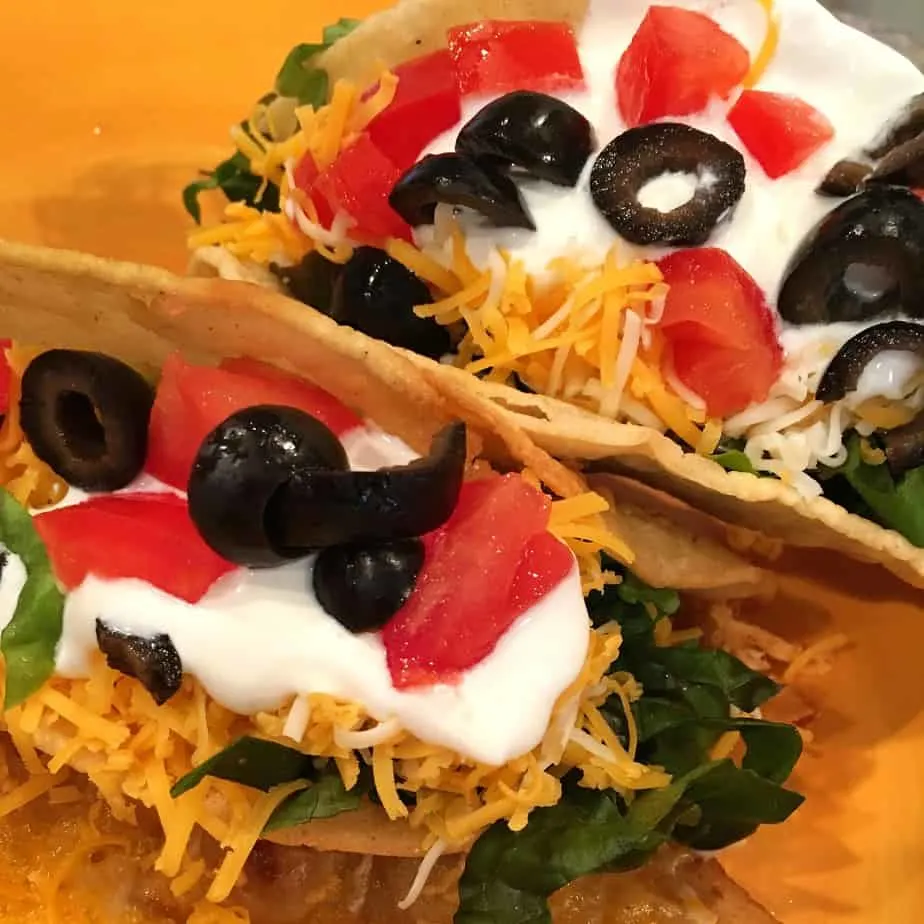 A word about tacos…don't over complicate them! (You're already stressing about a giant bird!) I love unique different tastes as much as the next foodie, we are talking about a simple, tummy filling, dinner during this hectic time of year! Besides in a few days most of us will be cooking all kinds of fancy delicious traditional foods!
How To Make Crock Pot Chicken Tacos
In your crock pot place 2-4 chicken breasts. This will be determined by the amount of "chicks" at your nest! I did three and it was enough to feed 5 adults and one adorable grand baby chick! If you're feeding teenage boys who can eat everything in the refrigerator and your back up food storage supply…I'd do more. This is such a simple recipe just add more chicken, more seasoning, and more liquid. It's easy peasy!
Tip: The chicken breast can be frozen or thawed. You'll just adjust your cook time. Sprinkle your chicken breast with taco season and some dried onion flakes.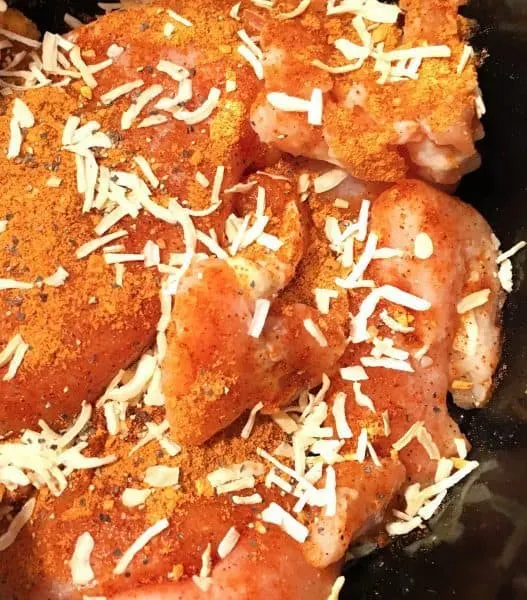 Pour in a 1/2 cup to 3/4 a cup of red enchilada sauce. It's about taste preference.
TIP: Because these are boneless skinless chicken breast, with not a lot of fat, we want some liquid in there so they don't dry out.
Add 1/4 cup of chicken broth and 2-3 cloves of minced garlic. Cover and cook on low for 3-4 hours, if thawed, and 4-6 hours, if frozen.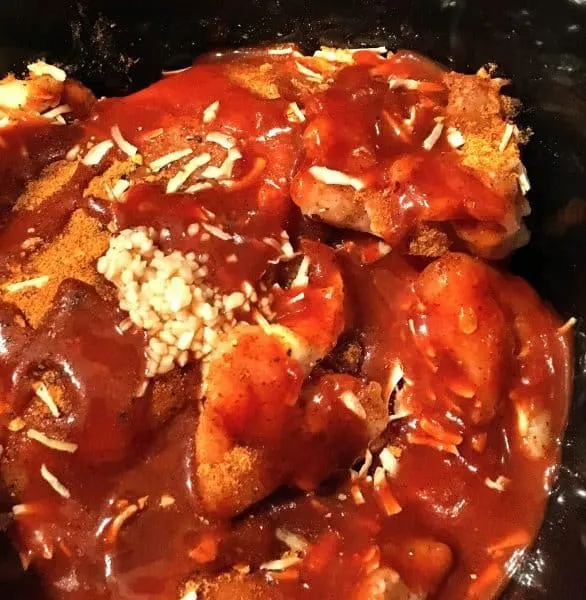 Shredding Cooked Chicken
Check your chicken with a fork to see if it is done. If your chicken is falling apart, it's ready. Do not drain the juice from the chicken. Shred the meat and then stir in back in. It's loaded with flavor and moisture!
Tip: I use a potato masher to shred my chicken right in the crock pot! A couple of "smash and twists" and you have beautiful shredded chicken that the juices have been incorporated back into.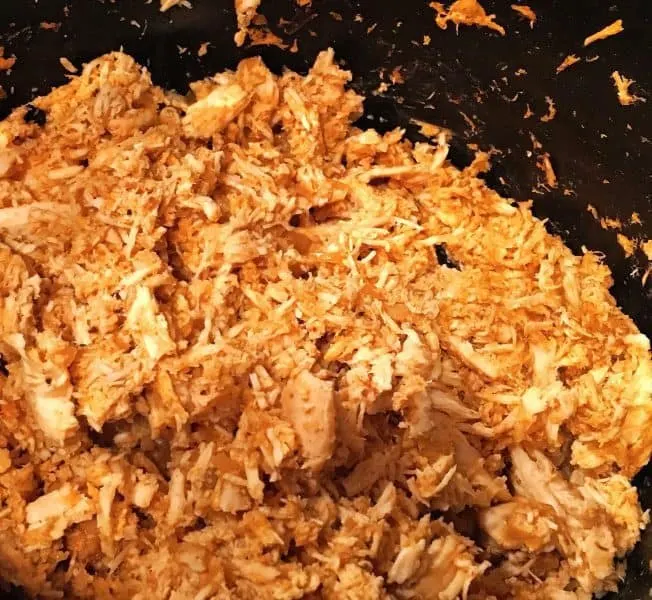 Chop, dice and shred your favorite taco toppings. We like shredded red leafy green lettuce. Chopped tomatoes, sliced black olives, and shredded cheese. We also add sour cream, and salsa.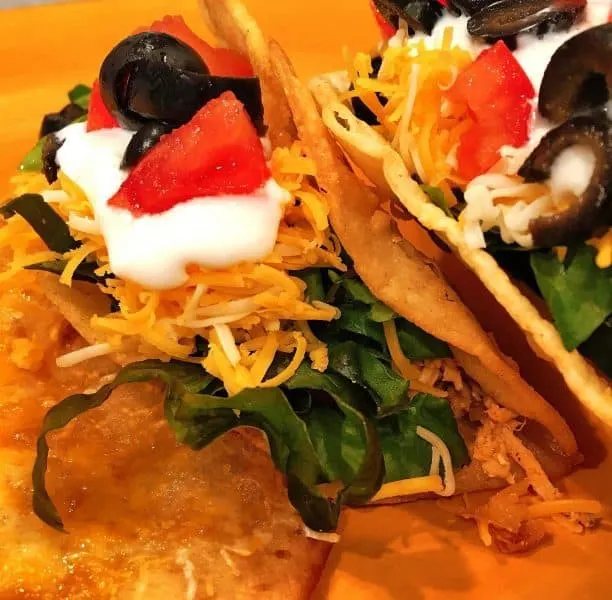 I usually make ground beef or shredded beef tacos. This was my first time making shredded chicken tacos and they were a BIG hit!
I made them one Sunday, not long ago, when I had a full schedule and not much time for cooking. I didn't want to miss our usual Sunday dinner with the kids, plus our middle son was down visiting from school.
I usually do something a little fancier for Sunday dinner. I have to say, this was GREAT! I had all the toppings done ahead of time, so all I had to do when I got home was "mash" that chicken to shreds and fry up the taco shells. Everyone seriously loved them!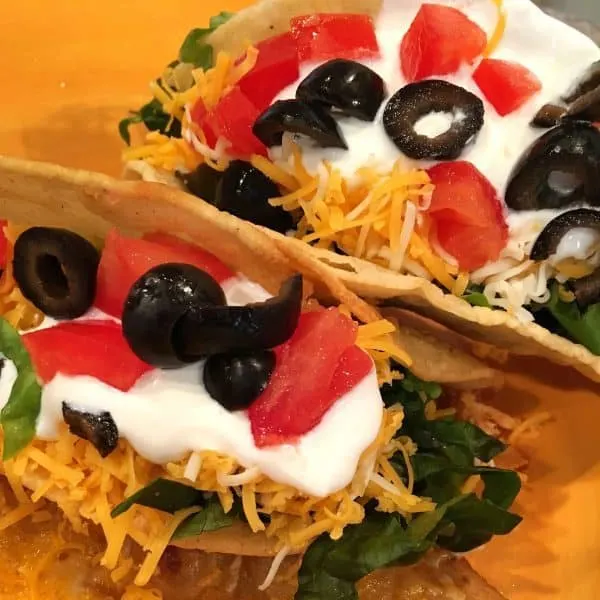 Like I said earlier…a super simple, super yummy dinner! It's a no fuss recipe! (Don't we have enough to "fuss" about right now! Let's be nice to ourselves!)
All of us have our plates full and this is the perfect quick filling dinner time meal! Makes taco Tuesday a breeze! (I am a firm believer you can do "Taco Tuesday" any day of the week you want!)
This is a great busy weeknight meal when the kids have a million and one things going on, which means you have a million and one things going on!
Quick Easy Dinner Recipes
Thanks for "popping" by and visiting! I really hope this recipe will help ease at least one dinner time for you this week! The printable recipe is below. Have fun with it and have a GREAT day!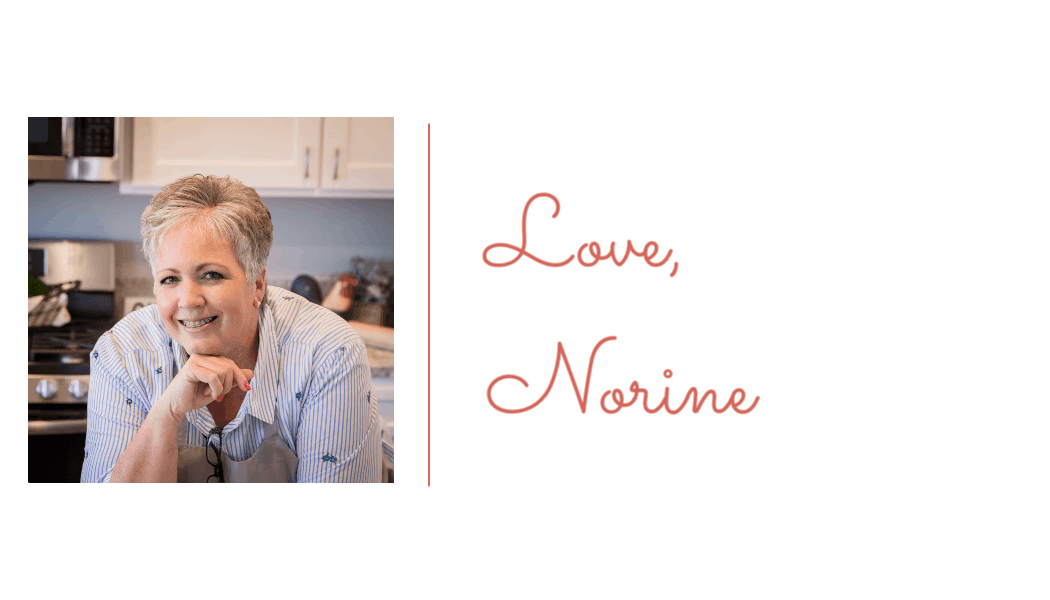 Yield: 16
Crock Pot Chicken Tacos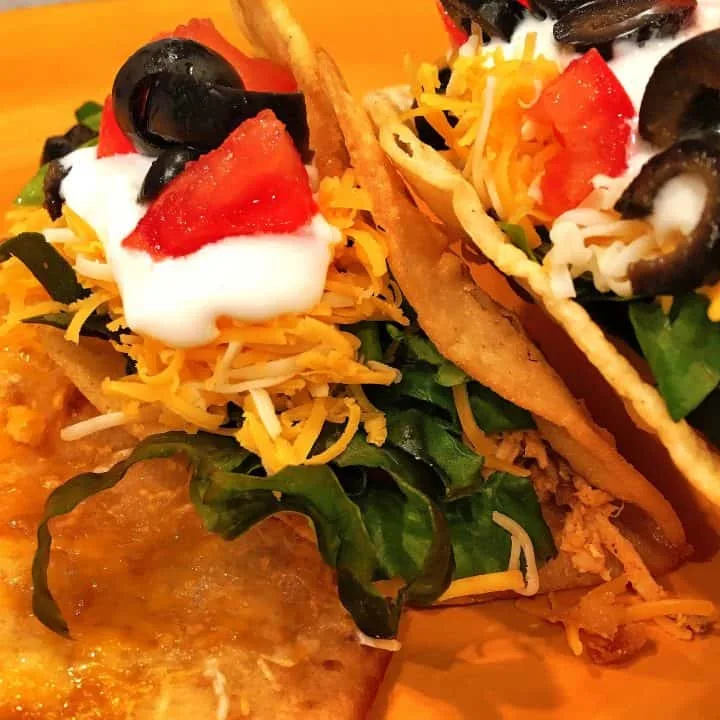 Tender juicy seasoned slow cooker chicken for tacos.
Cook Time
6 hours
4 seconds
Total Time
6 hours
5 minutes
4 seconds
Ingredients
2-4 boneless skinless chicken breast, frozen or thawed
1 package taco seasoning mix
2 Tablespoons dried onion flakes
1/2 - 3/4 cup red enchilada sauce
1/4 cup chicken broth
2-3 minced cloves of garlic
Choice of toppings, shredded lettuce, diced tomatoes, sliced olives, shredded cheese, sour cream, salsa
8-12 fried taco shells or pre-made taco shells
Instructions
Place chicken breast into bottom of crock pot. Sprinkle with taco seasoning. Add onion flakes and minced onion. Add in chicken broth and red enchilada sauce.
Cover and bake on low in your crock pot for 3-4 hours for thawed, 4-6 hours for frozen until cooked and easy to shred with a fork or potato masher.
Serve buffet style with taco shells and toppings.
Notes
Calorie count for this recipe is for the chicken filling only.
Recommended Products
As an Amazon Associate and member of other affiliate programs, I earn from qualifying purchases.
Nutrition Information:
Yield:
8
Serving Size:
1
Amount Per Serving:
Calories:

152
Total Fat:

5g
Saturated Fat:

2g
Trans Fat:

0g
Unsaturated Fat:

2g
Cholesterol:

56mg
Sodium:

322mg
Carbohydrates:

7g
Fiber:

2g
Sugar:

2g
Protein:

20g
This is just for taco filling and not the entire taco