This dish is made easy by using rotisserie chicken and packaged grated cheese. It's a simple yet delicious recipe! No frying required! Easy White Chicken Enchilada's!
I've pretty well established our deep love of Mexican food here at Norine's Nest! It's a staple. (Grocery list… milk, bread, eggs … tacos!)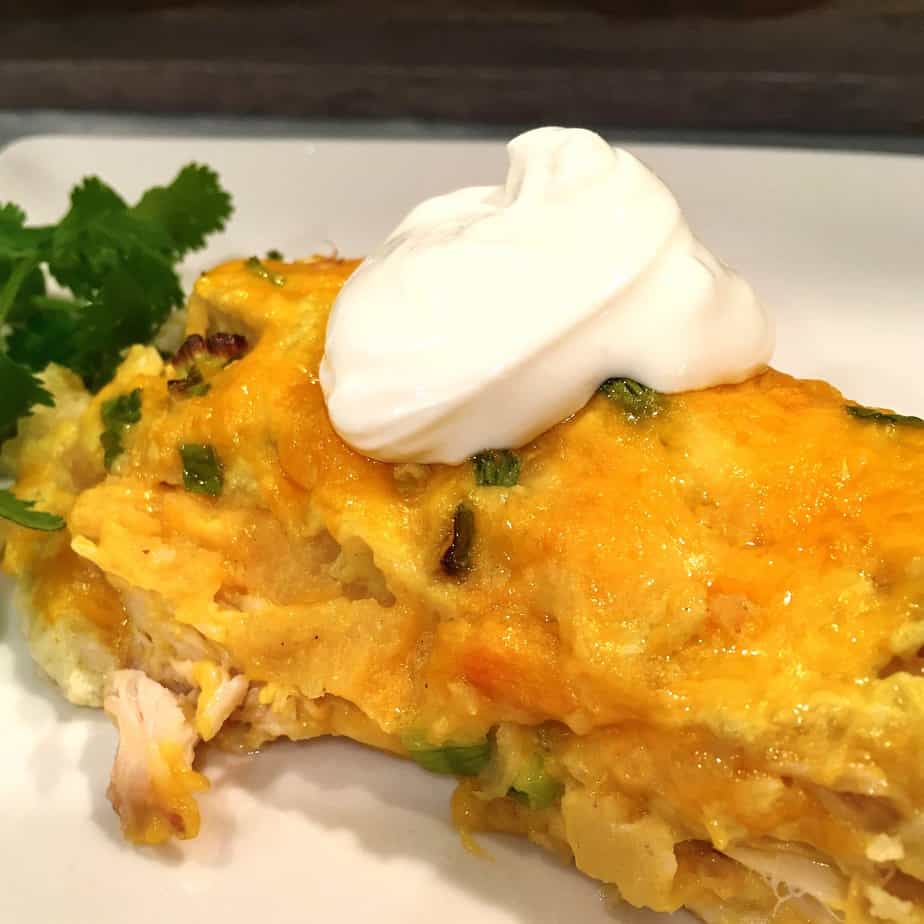 It can be found in black & white, each and every week, on the menu planner. Whether it's Tacos, Carne Asada, Fajita's, or a big ol' plate of Nacho's…trust me it's happening! (I completely blame Mexican food for my "drop out" status from Weight Watchers! It was the NACHOS fault! Well… that and those cute little girls in the green uniforms and their "goods"…you know the "dealers"!)
One of my favorite things, and I know it's mean, is to watch my husband go to the cupboard to grab a flour tortilla and we're out! He just stands there in shock…starring. It's like an episode of the X-files! " Alien beings have come and taken all the tortillas! What SHALL we do?
He could be on to something! Running out of tortilla's is one of the 7 deadly sins. (I just looked it up!) I get it…I really do!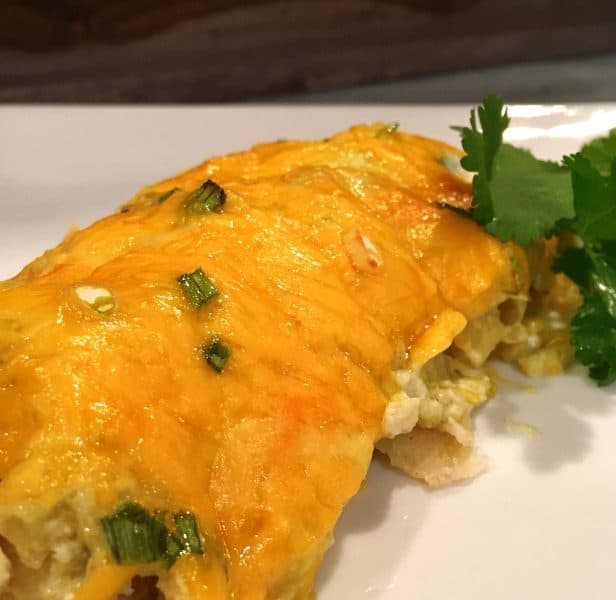 How To Make Easy White Chicken Enchiladas
Just so you know ahead of time…you're gonna need tortilla's for this recipe! (Avoid the alien invasion…get the tortilla's! Save a husband!)
Let's face it, enchilada's without tortillas are…well….soup! (Duh!) We're not making soup. Howerver, making these simple, easy white chicken enchilada's. You are going to absolutely love how easy these come together.
I use Rotisserie chicken for this cheesy yummy dish. You will need 3 1/2 cups of shredded cooked chicken meat.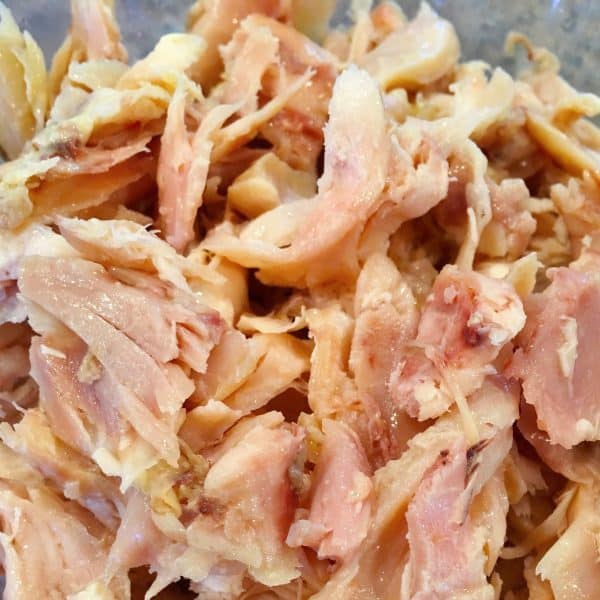 In a medium size bowl mix 1 can (14.5 ounce) of green enchilada sauce with 1 cup of sour cream and 1/4 cup of milk. Add in either 1/2 cup fresh diced onion or 1/4 cup dried onion flakes.
Dried onion flakes were my choice, because I didn't want to mess with fresh onion. I just wasn't in the mood to smell like one of the line workers from your local greasy burger joint. This is purely a personal choice. There will be no judgment which ever direction you decide to go.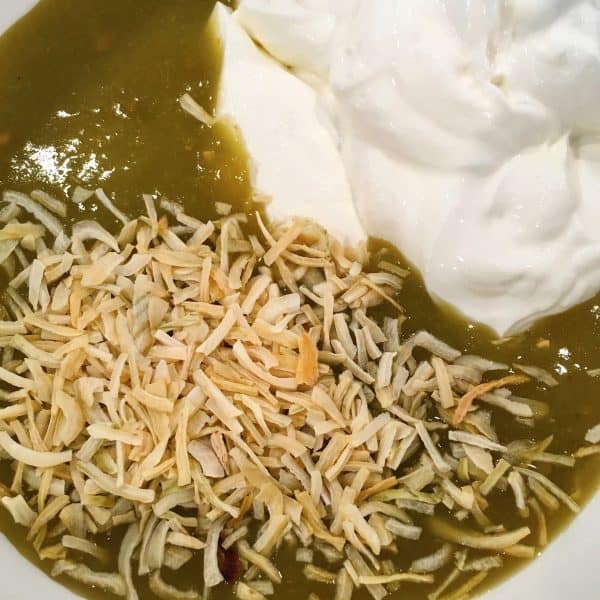 Mix this all together until well blended.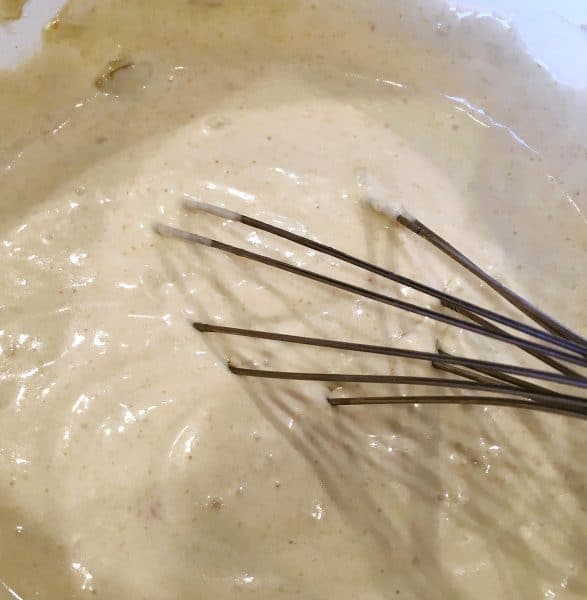 Traditional enchiladas call for a "flash fry" of the tortilla's to soften them up. I decided to skip that step to save time and calories!
Place 12 white corn tortilla's on a microwave safe plate and cover with a clean cloth. (The cloth is to hold the moisture in the tortilla's so they don't dry out.) Place in Microwave and heat for 2 minutes on high.
Remove one heated tortilla and place on flat surface. (Be careful those tortilla's are HOT! There will be a lot of steam under that cloth!)
Down the center of the tortilla place a small handful of grated cheese, then a small amount of shredded chicken.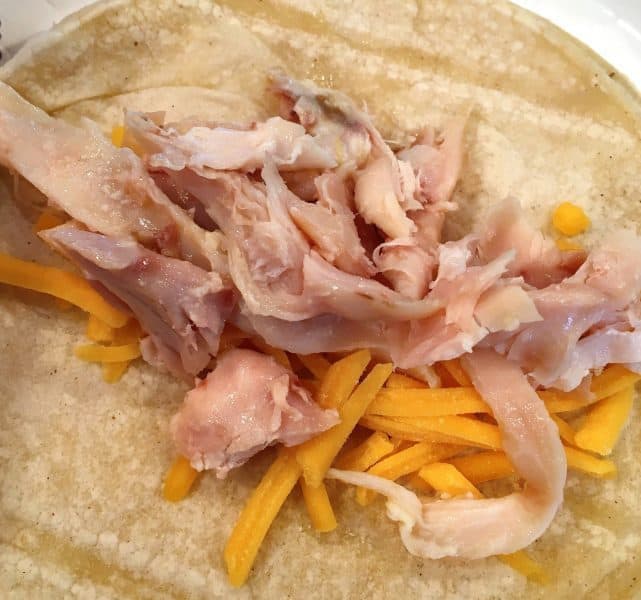 Starting at one end, fold the end of the tortilla over the chicken and cheese and begin rolling.
Tip: If your tortilla's start falling apart…flip them over. One side holds together better than the other. Cross my heart…it's true!
Place the rolled enchilada into a 9 x 13 baking pan with open seam down. Continue filling and rolling tortilla's until they are all filled and in the pan.
You may have to squeeze a couple in laying them the other direction. That's fine. We just want to get them all in there. Get cozy friends!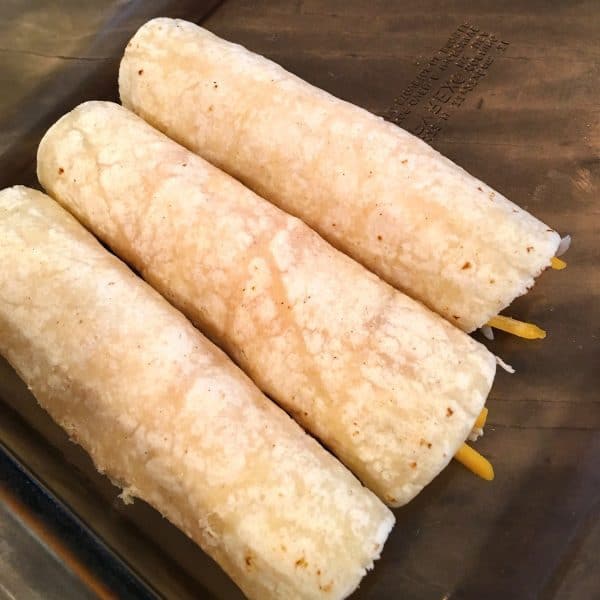 Pour sauce over the top of each enchilada making sure every one of them is covered in sauce.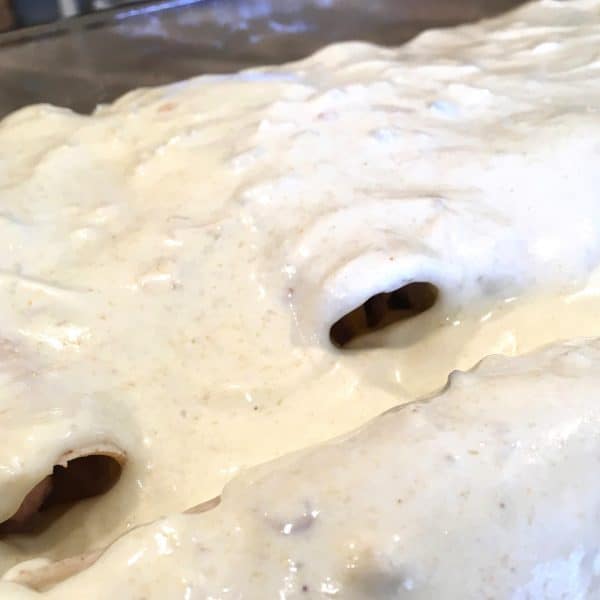 Sprinkle top with extra cheese and diced green onion.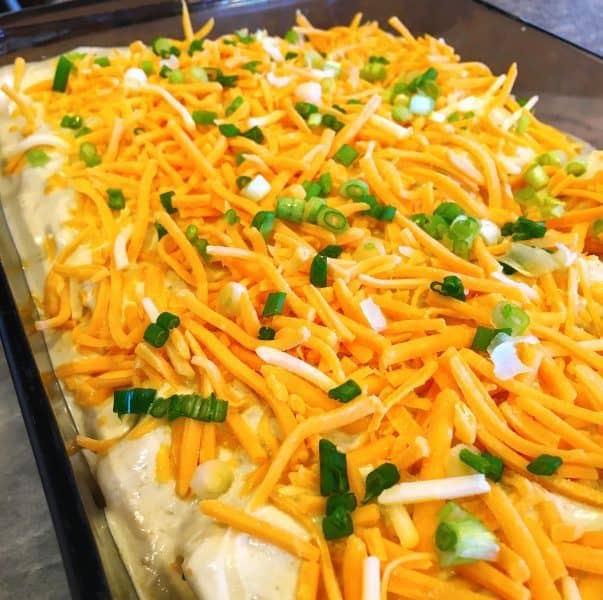 Place in a preheated 350° oven for 35-40 minutes or until nice and bubbly and slightly golden brown on top.
Tip: If you make this recipe ahead of time, wait to put the sauce on till time to bake. The sauce tends to make the tortillas too "mushy" if you allow it to sit. This is because we didn't flash fry them, and cut the calories in half by a bazillion! (Okay maybe not a bazillion…just a million!)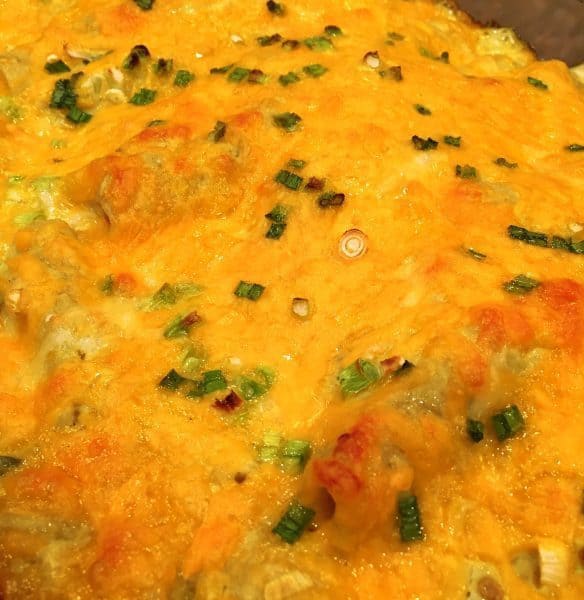 Look at all that cheesy goodness! So exciting! SO deliciously nummy!
The white creamy enchilada sauce is very mild and flavorful. If you want more heat add some chopped green peppers to the mix before pouring over the enchilada's and baking.
I went very mild on this version so that it was "family friendly".
The ease of using Rotisserie chicken and packaged grated cheese allows this dish to come together in a matter of minutes. Which is a huge score for busy moms. This is even a recipe your beginner cooks could make!
I serve mine with a nice tossed green salad and a side of either rice or beans. You can top your enchiladas with sour cream, guacamole, or salsa.
If you liked this Mexican Dish, you may like these other Mexican Recipes
Thanks for stopping by my Nest! Remember to sign-up for my free Newsletter so that you can find out every Monday what is happening that week on Norine's Nest! I'd love to have you join me!
Have a Fantastic Week! See ya soon…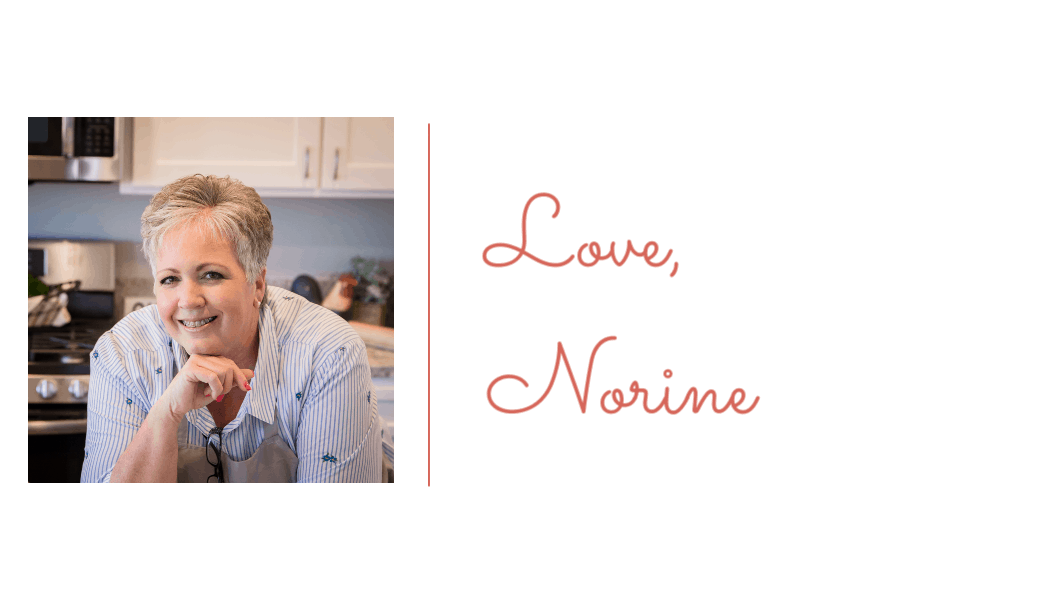 Yield: 6 servings
Easy White Chicken Enchilada's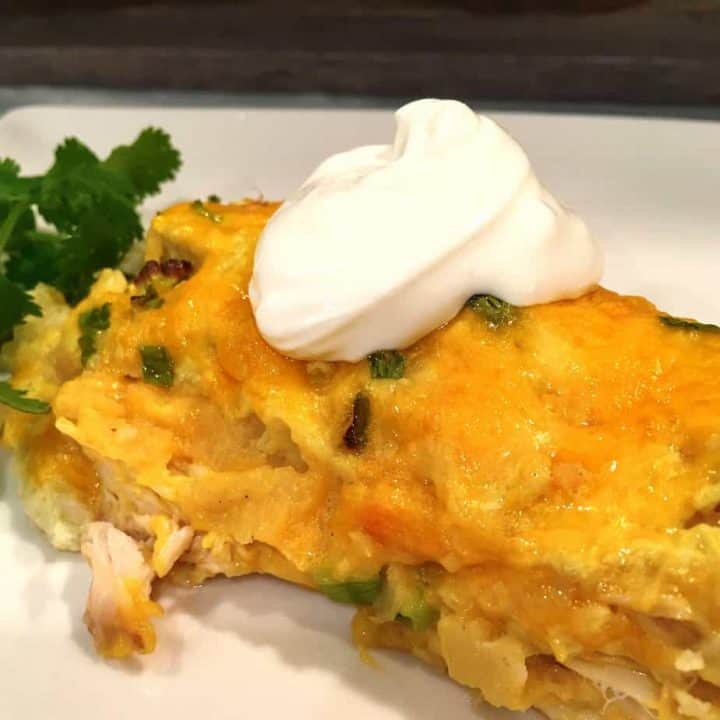 This dish is made easy by using rotisserie chicken and packaged grated cheese. It's a simple yet delicious enchilada recipe! No frying required!
Ingredients
3 1/3 cups of Rotisserie chicken, shredded
4 cups grated Mexican Cheese blend
1 (14.5 ounce) can of green enchilada sauce
1 cup sour cream
1/2 cup fresh chopped onion, OR 1/4 cup dried onion flakes
1/4 cup milk
3 green onions diced
12 white corn tortillas
Instructions
In a medium bowl mix together one can of green enchilada sauce, sour cream, milk and onion. Mix until blended.
Preheat oven to 350 degrees.
On a microwave safe plate place 12 white corn tortillas and cover with a clean cloth. Place in microwave and heat for 2 minutes on high heat.
Remove one tortilla at a time. (Be careful they will be VERY hot.) Lay tortilla on flat surface. Place a good size pinch of cheese down the middle of each tortilla. Follow with Two Tablespoons of shredded chicken.
Starting from the outer edge of one side of the tortilla fold over the chicken and cheese and roll to the other edge of the tortilla.
Place seam side down in a 9 x 13 baking dish.
Continue filling tortilla's until they are all filled and in the baking dish.
You may have to lay some of the enchiladas the opposite direction to squeeze them all in.
Pour creamy enchilada sauce over the top of each enchilada.
Top with remaining cup of cheese. Sprinkle with chopped green onion.
Bake at 350 degrees for 30-40 minutes until cheese is melted and sauce is bubbly.
Serve immediately. Garnish with sour cream or salsa.
Recommended Products
As an Amazon Associate and member of other affiliate programs, I earn from qualifying purchases.
Nutrition Information:
Yield:
6 servings
Serving Size:
2 enchiladas
Amount Per Serving:
Calories:

650
Total Fat:

34g
Saturated Fat:

16g
Trans Fat:

0g
Unsaturated Fat:

14g
Cholesterol:

196mg
Sodium:

770mg
Carbohydrates:

30g
Fiber:

4g
Sugar:

3g
Protein:

57g