Mini Fresh Fruit Tartlets are made with a delicious, slightly sweet shortbread crust, and filled with a scrumptious easy Vanilla Bean Cream, topped off with beautiful fresh fruit. The perfect Spring dessert!
I'm always late to the party!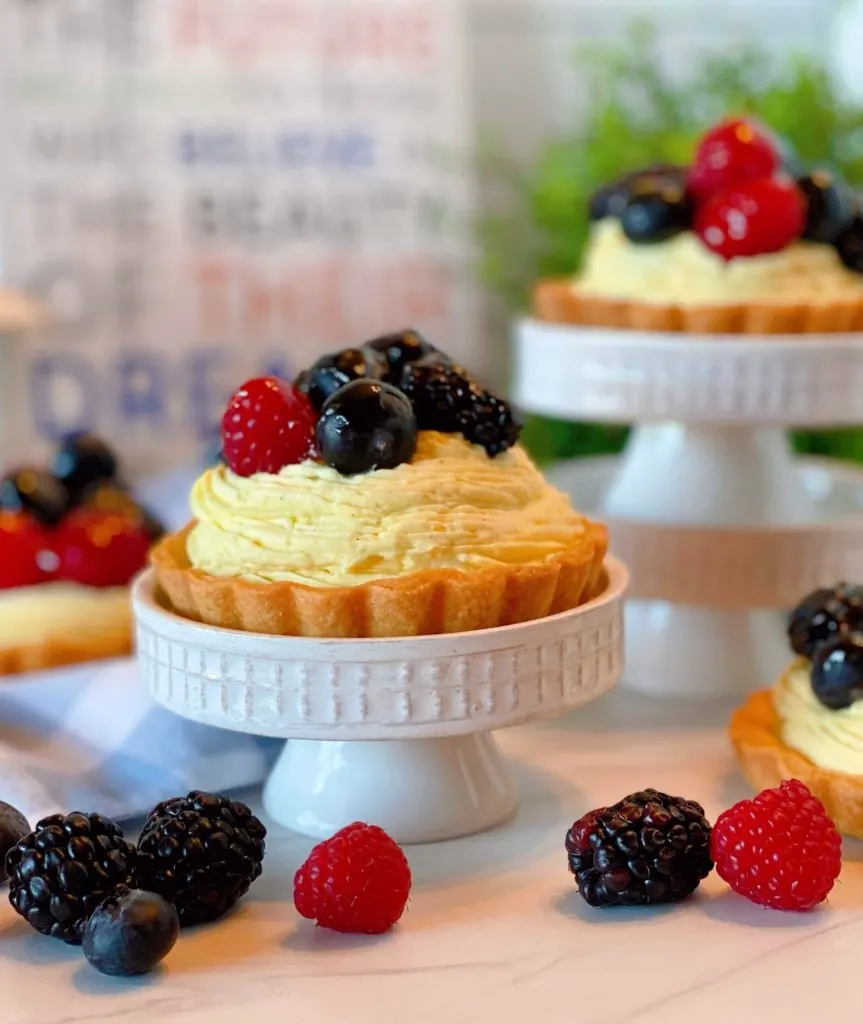 I'm not talking about the "Fruit Tartlet" Party! I've been attending those parties for years! I'm referring to the "Great British Bake-Off" Party!
Yep, I just recently started to watch…which turned into "Binge-watching"! (I own it!) I love that show! It could be a certain hosts steel blue eyes and beautiful silver hair…or it could be all the wonderful desserts! Plus they are the most polite competitors I've ever seen!
After watching 535 episodes… I was inspired! I got on Amazon and ordered a set of mini tart pans and started planning a way to make a beautiful Spring Fresh Fruit Tart filled with an easy vanilla cream! Why? Because I L.O.V.E. tarts!
The flaky shortbread crust filled with a creamy filling and bursts of flavor filled fruits! They are the perfect dessert this time of year!
How To Make Fresh Fruit Tartlets
To bake an amazing tart you need to an amazing crust!
Tartlet crusts vary from a standard pie crust. Just as there is a difference between a "tart" and a "tartlet".
The term "Tart" used to be for small sized desserts…however now it is reserved for large pastries baked in full-sized tart pans. Tartlets have replaced the term "Tart" for individual small size servings.
Tartlet crust is made with a rich, sweet shortbread crust that resembles a shortbread cookie. It is more stable, making it easier to handle. It's also thicker and holds the cream, or lemon curd, of a mini tart without the crust becoming soggy. No one likes a soggy bottom!
How to make Shortbread Crust for a tartlet.
In a medium size bowl place 1-1/2 cup all-purpose flour and 1/4 teaspoon salt.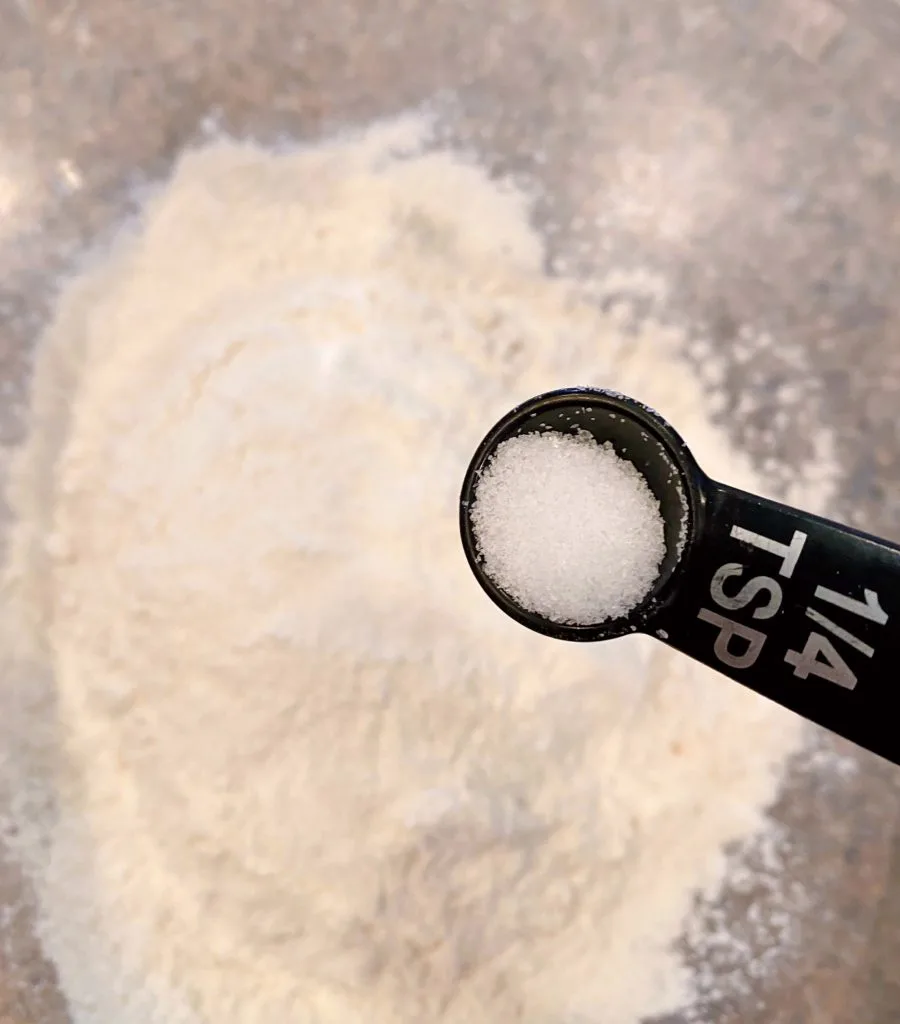 Add 1/3 cup confectioners sugar, sifted, to the flour and salt. The sifting will help break up any lumps in the powder sugar.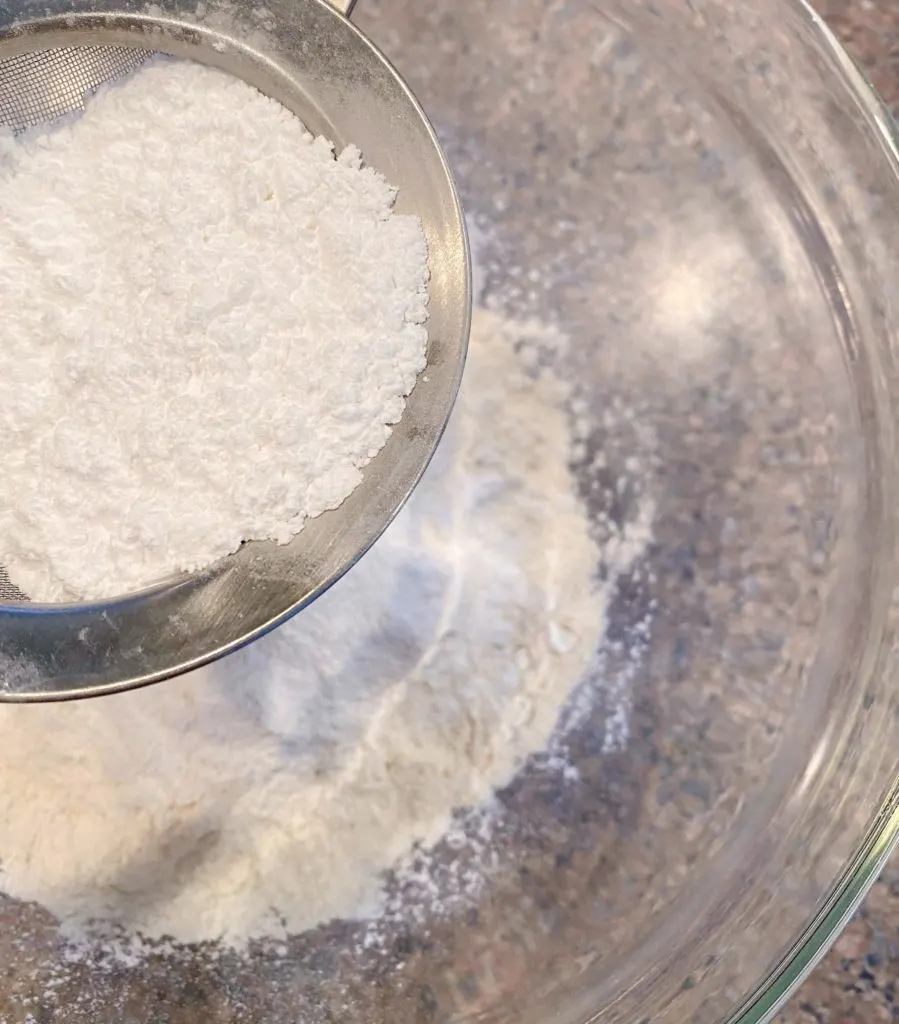 Using a whisk combine the ingredients together. Whisking dry ingredients not only helps to incorporate them, but it emulates sifting, thus another way to remove unwanted lumps.
Add 1/2 cup (1 stick) of cold butter cut into small cubes.
TIP: You can freeze the butter and grate it to make it easier to blend the butter into the dry ingredients with a pastry blender.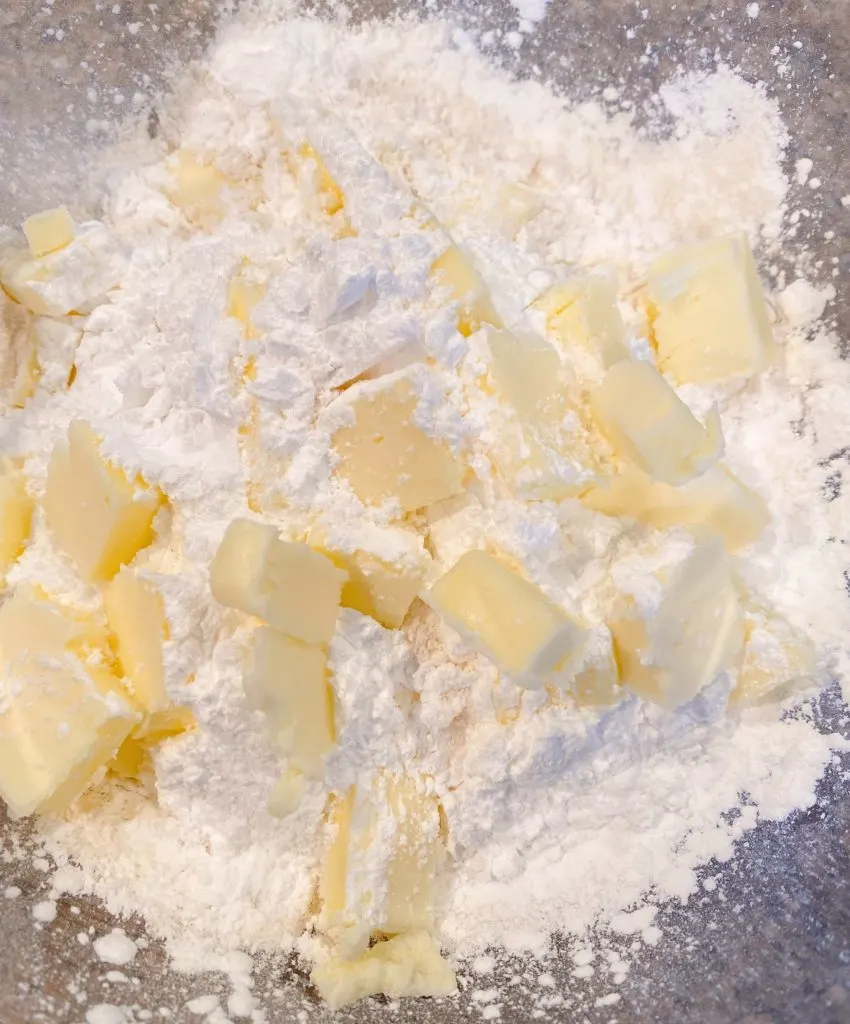 Cut the cold butter in with a pastry blender until mixture resembles a coarse meal.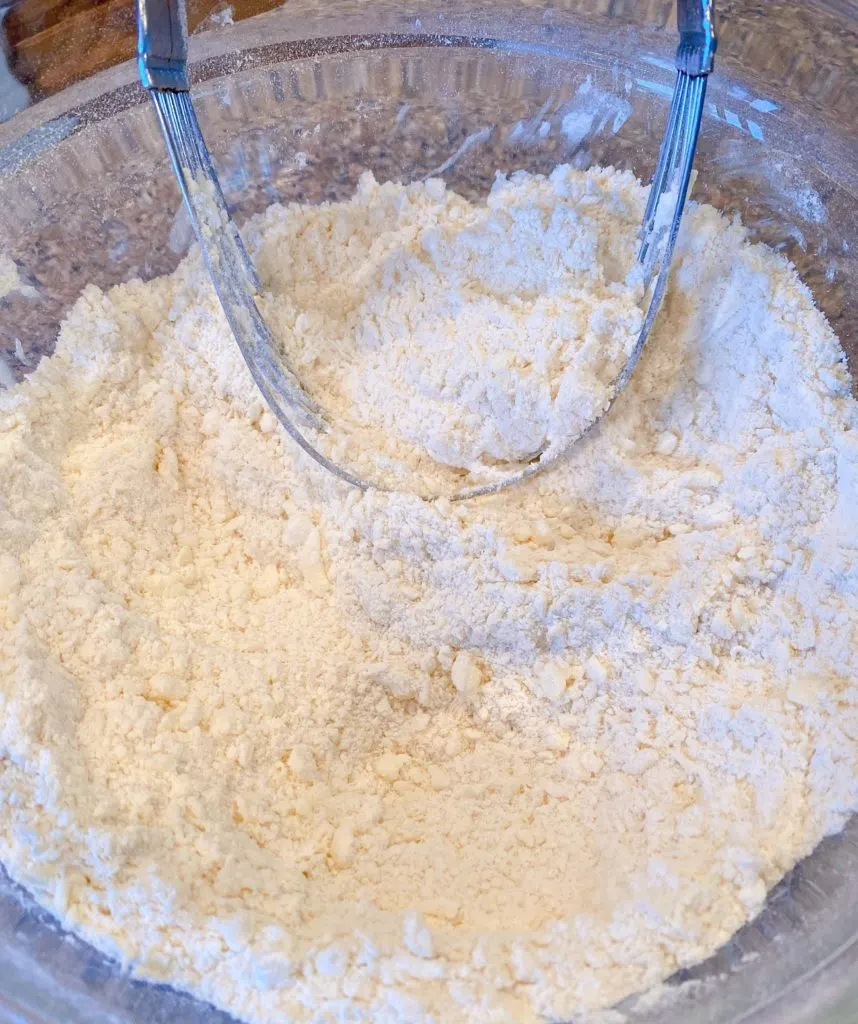 Add 1 large egg yolk, 4 Tablespoons of heavy cream, and 1/2 teaspoon of vanilla extract.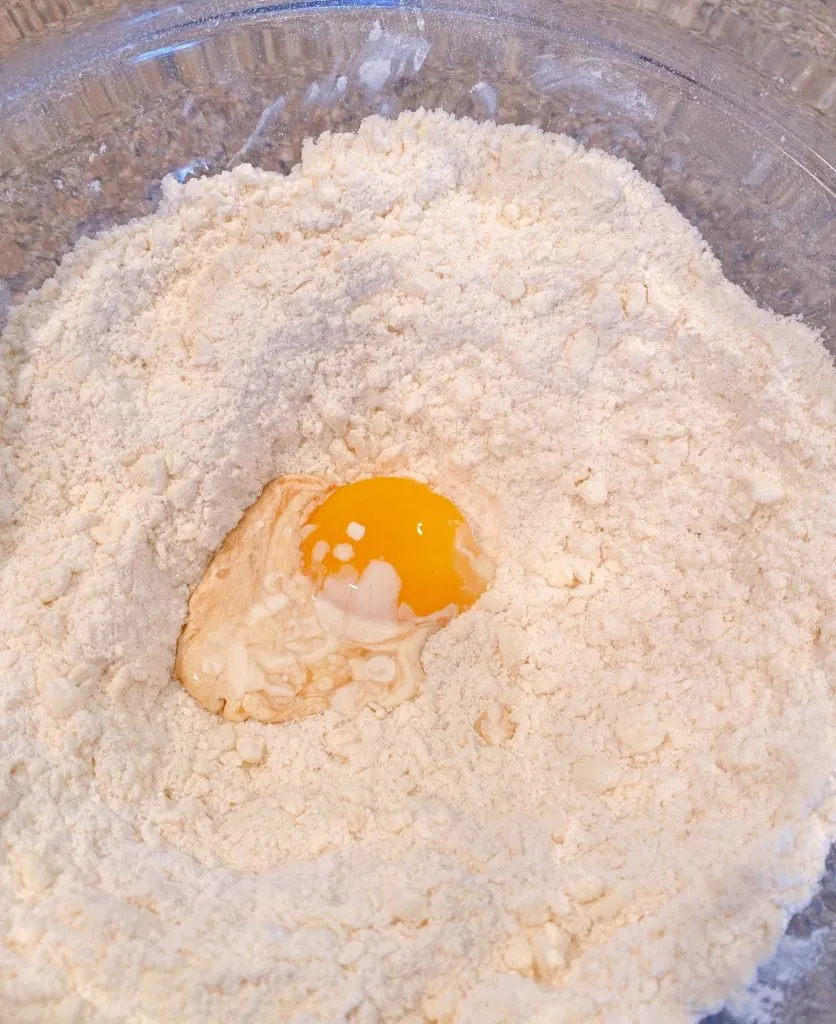 Stir until dough gathers and pulls away cleanly from the sides of the bowl. You can use your hands to gather the dough into a ball. (I'm not much of a spoon mixer when it comes to pie and tart doughs. I wanna get in there and carefully handle the dough!)
TIP: You may need to add 2-3 extra tablespoons of heavy cream if the mixture is too dry!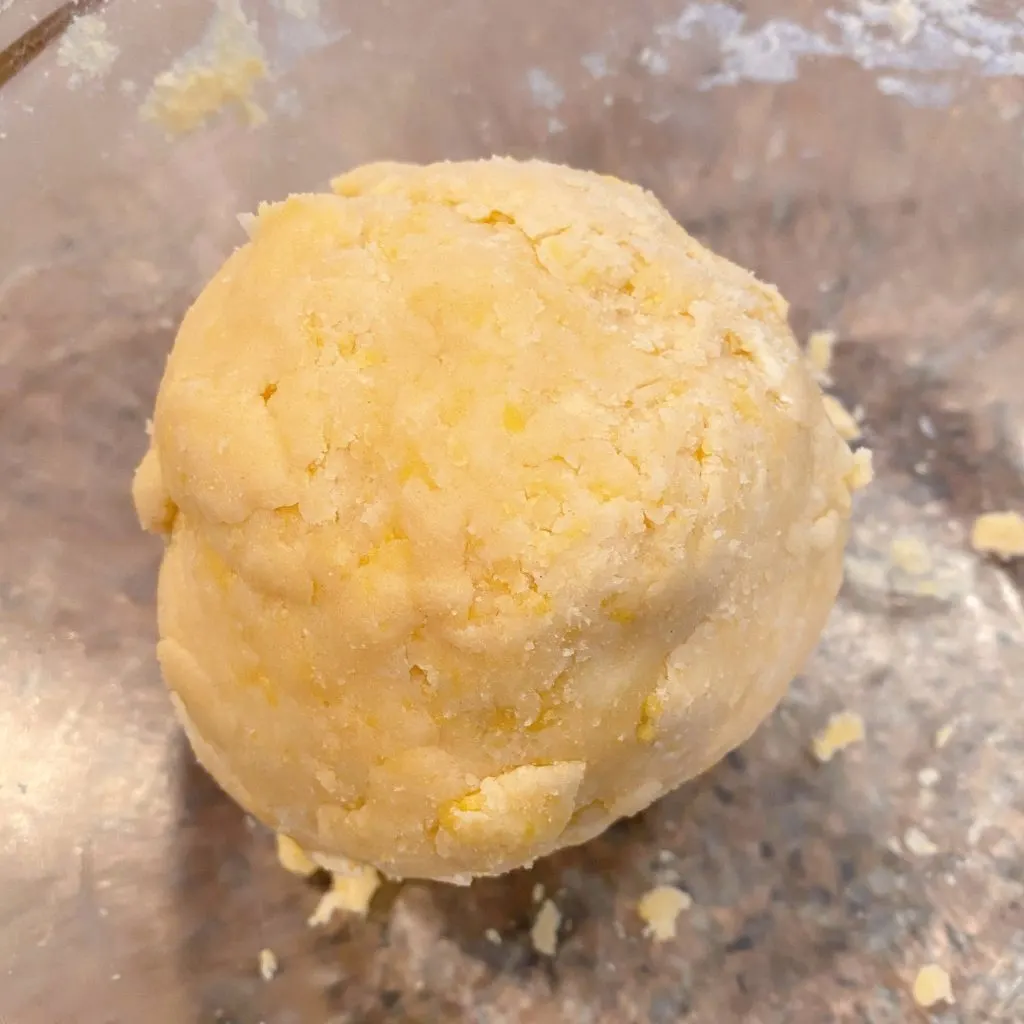 Stop! Take a look at this dough.
Can you see the little flecks of butter within the other ingredients? That's exactly what you want in a good shortbread crust. The butter creates delicious flaky layers!
Wrap the dough as it is, in a ball. However, I prefer to flatten the dough with the palm of my hand, and then wrap the dough tightly in plastic wrap. Chill for 1 hour.
Tip: Flattening the dough before chilling makes it easier to roll out, and it chills better.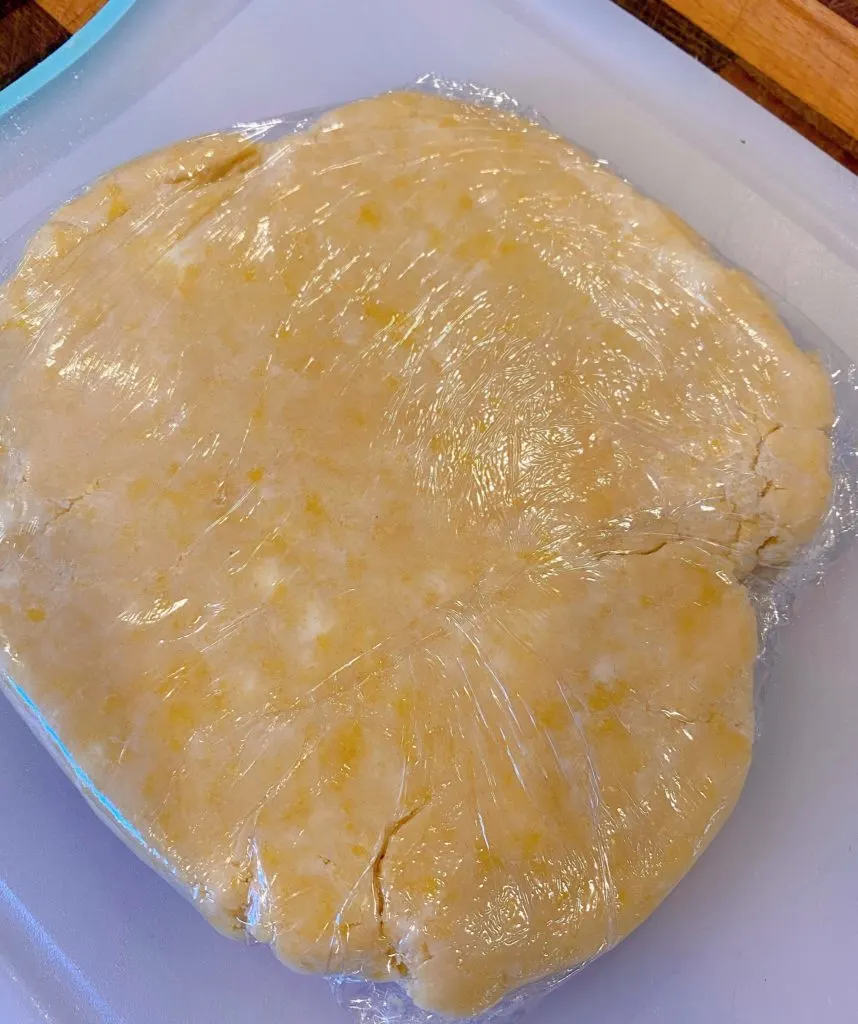 Easy Vanilla Bean Cream Filling for Fresh Fruit Tartlets
While the dough is chilling…you don't get to! Nope! You have to get the cream filling ready!
In a large bowl combine 2 (3.5 ounce) packages of instant vanilla pudding mix. Add 2 cups heavy cream, 1 cup milk, and 2 teaspoons vanilla bean paste.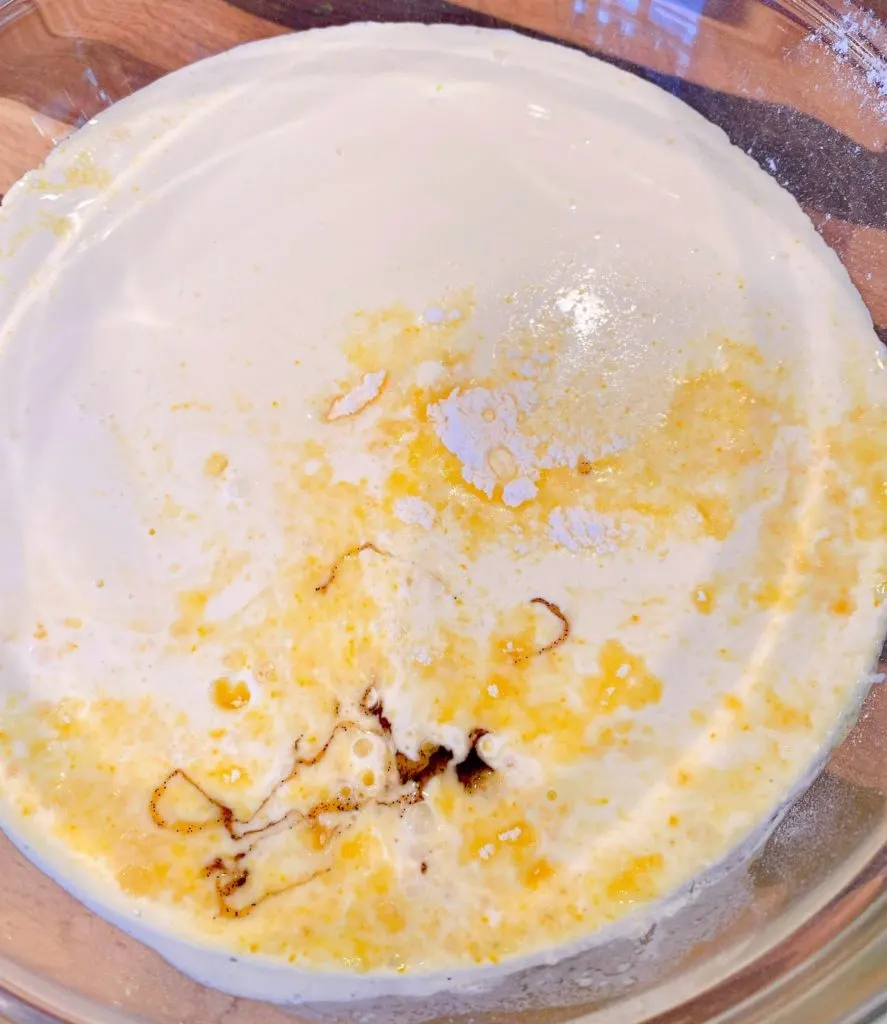 Use a handheld mixer, or find the strength of superman, and mix ingredients on medium-high until filling is light and fluffy.
Use a spatula to scrape down the sides and bottom of the bowl to make sure all the ingredients mix together well.
Cover bowl and refrigerate until ready to use.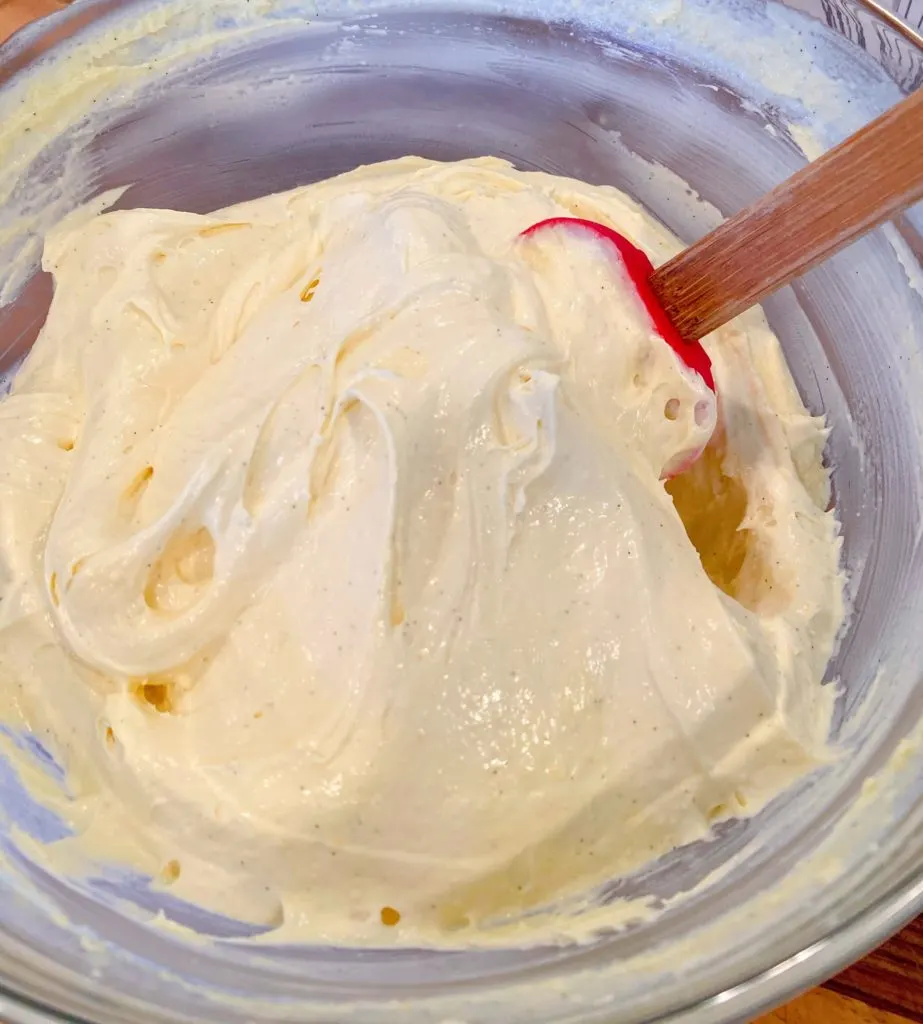 Rolling and Preparing Tartlets for baking
Preheat oven to 400°. Place, 4-inch tartlet pans, on a baking sheet.
Unwrap the chilled shortbread crust. Place dough on a lightly floured surface. I love to use my dough disc, and I'll place a link for it in my recipe card. It's one of my favorite kitchen tools.
Roll the dough, using a rolling pin, to a thickness of about 1/8 inch thick. Keep in mind the dough will puff slightly during baking.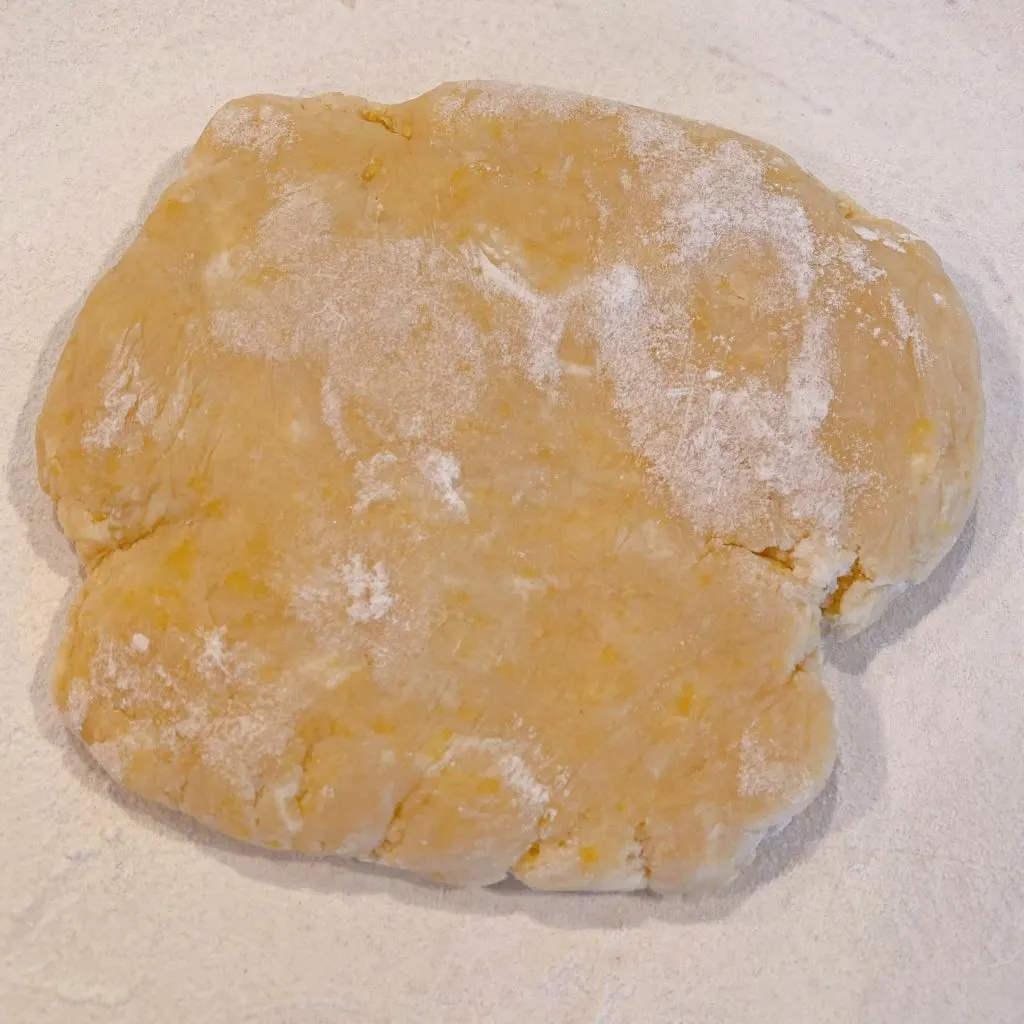 Cut shortbread crust into circles 1/4 inch larger than the circumference of the tart pan. This will give you the extra dough you need, for the crust to settle down into the tart pan.
TIP: Place one tartlet pan topside down on the dough. Place a slightly larger bowl over the top of the tartlet pan and trace with a sharp knife to create a perfect circle.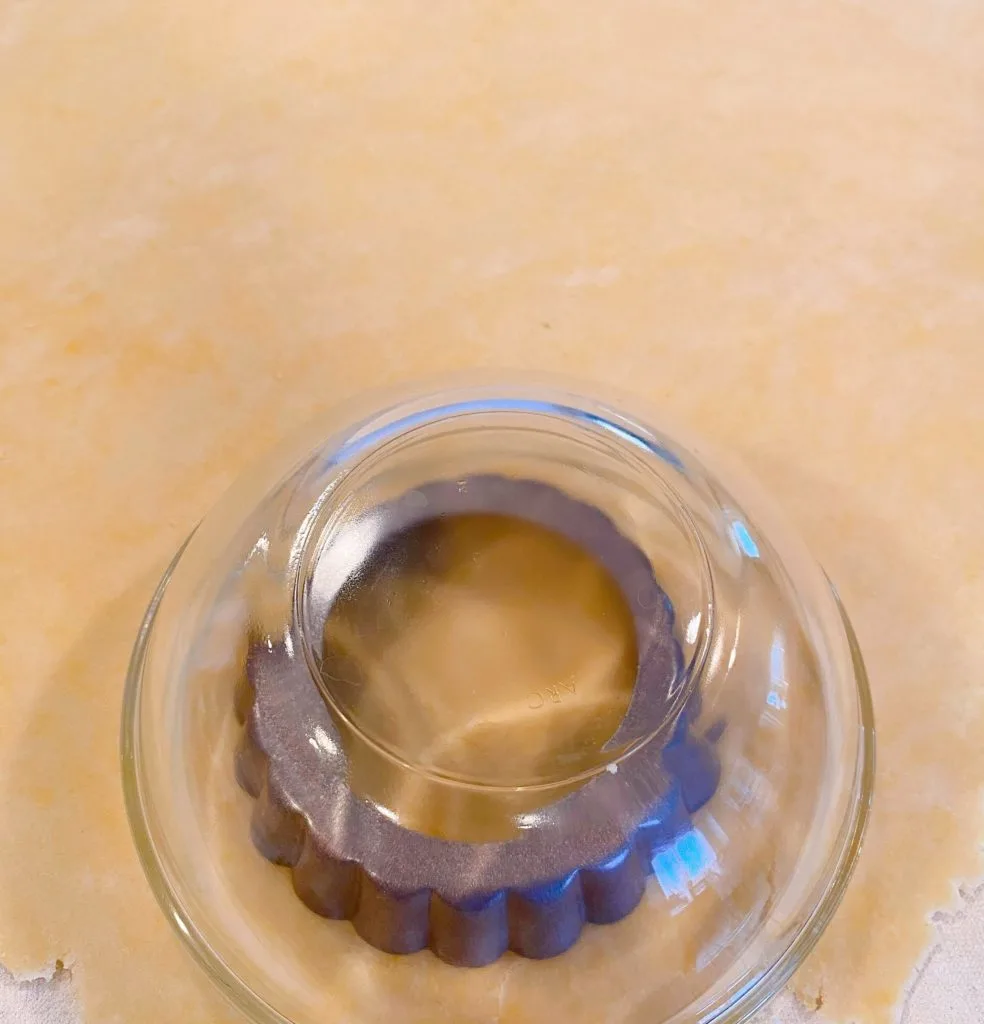 Do NOT grease the tartlet pans! Make sure the bottom plates are in the base of the tartlet pan before adding the crust! Just a friendly reminder.
Press the cut-out circle, of shortbread dough, gently into the tart pan. Some dough will hang over the edge of the pan. That is okay.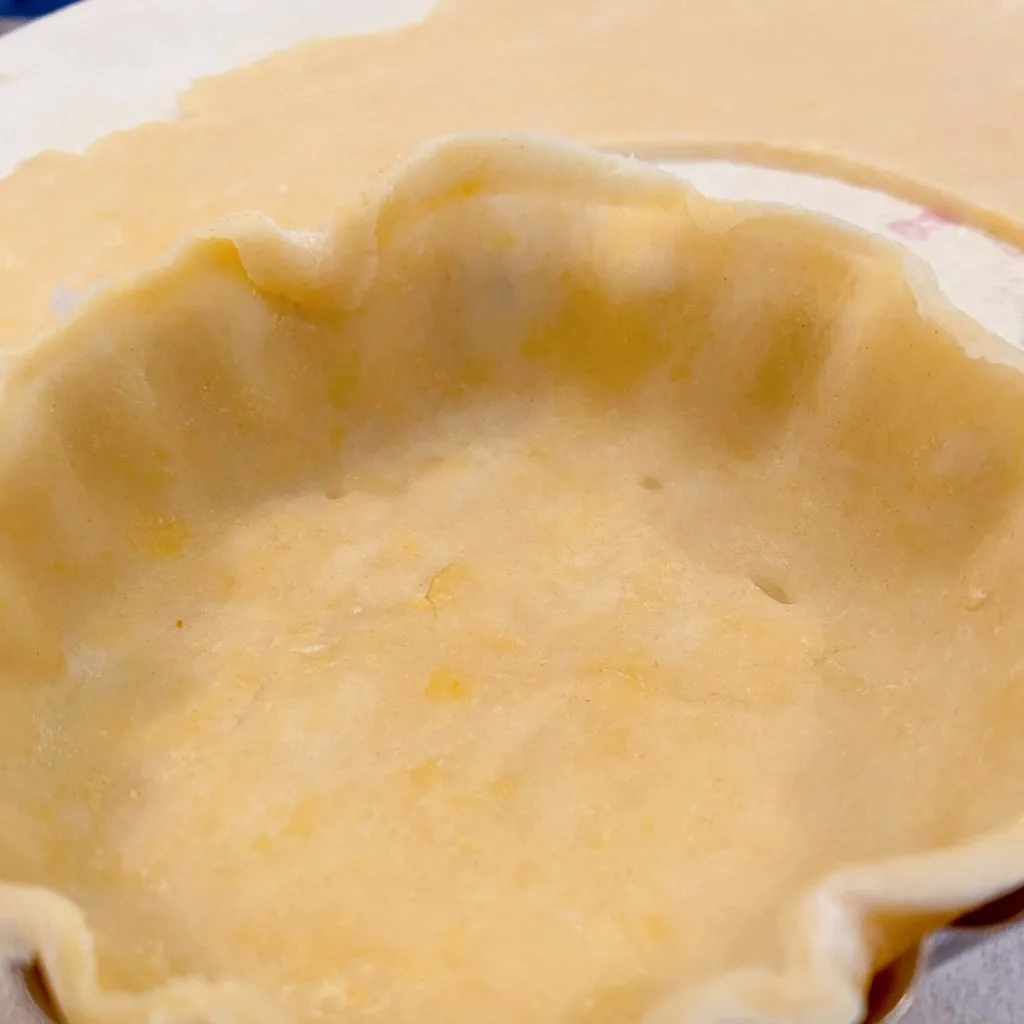 Using a knife, trim off any excess dough by going around the edge of the tart pan.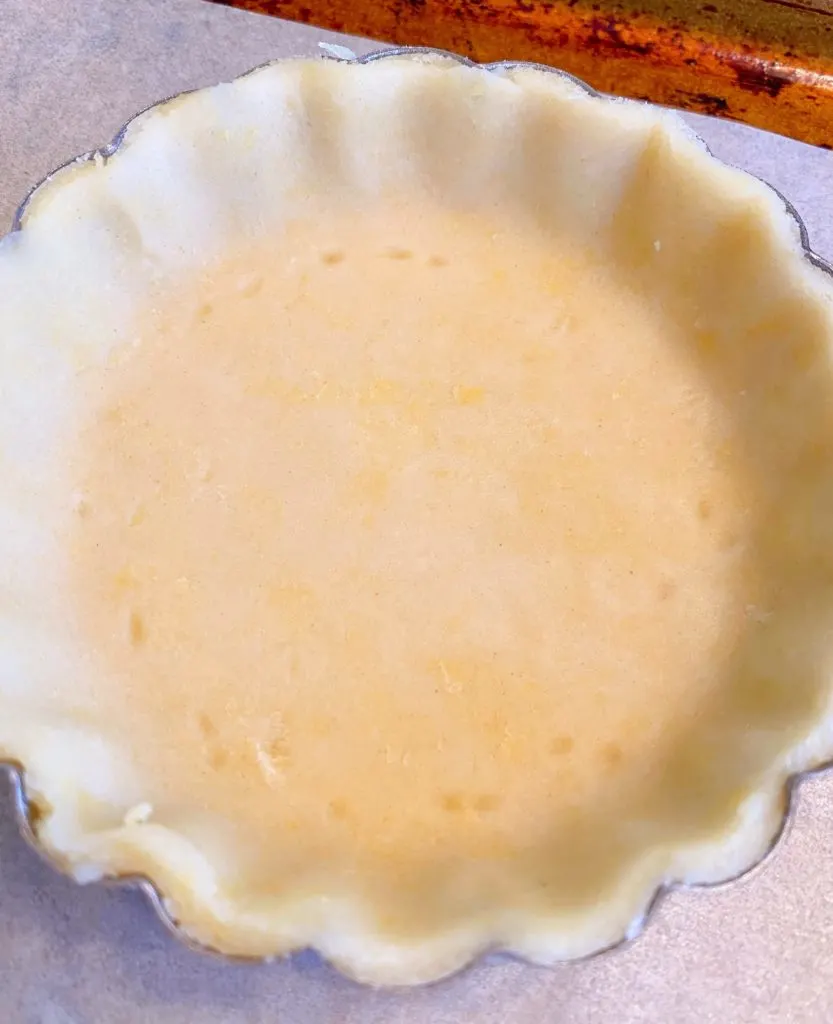 Place the tart crust on a lined baking sheet.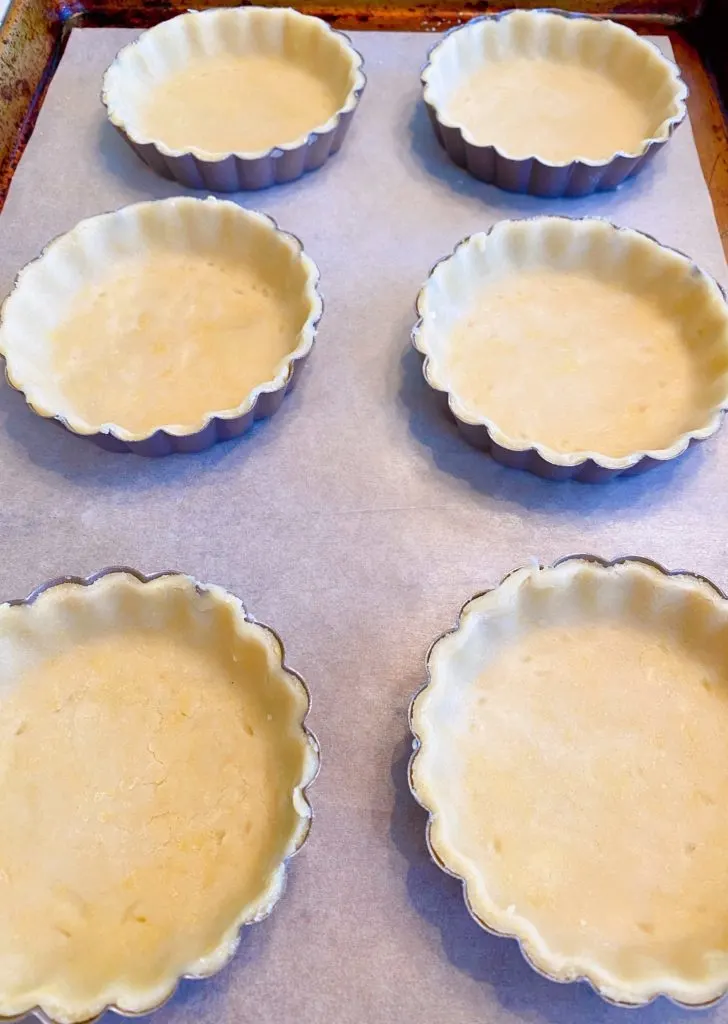 To keep the pastry from shrinking during baking, line each crust with a small square of parchment paper, and a handful of ceramic baking beads.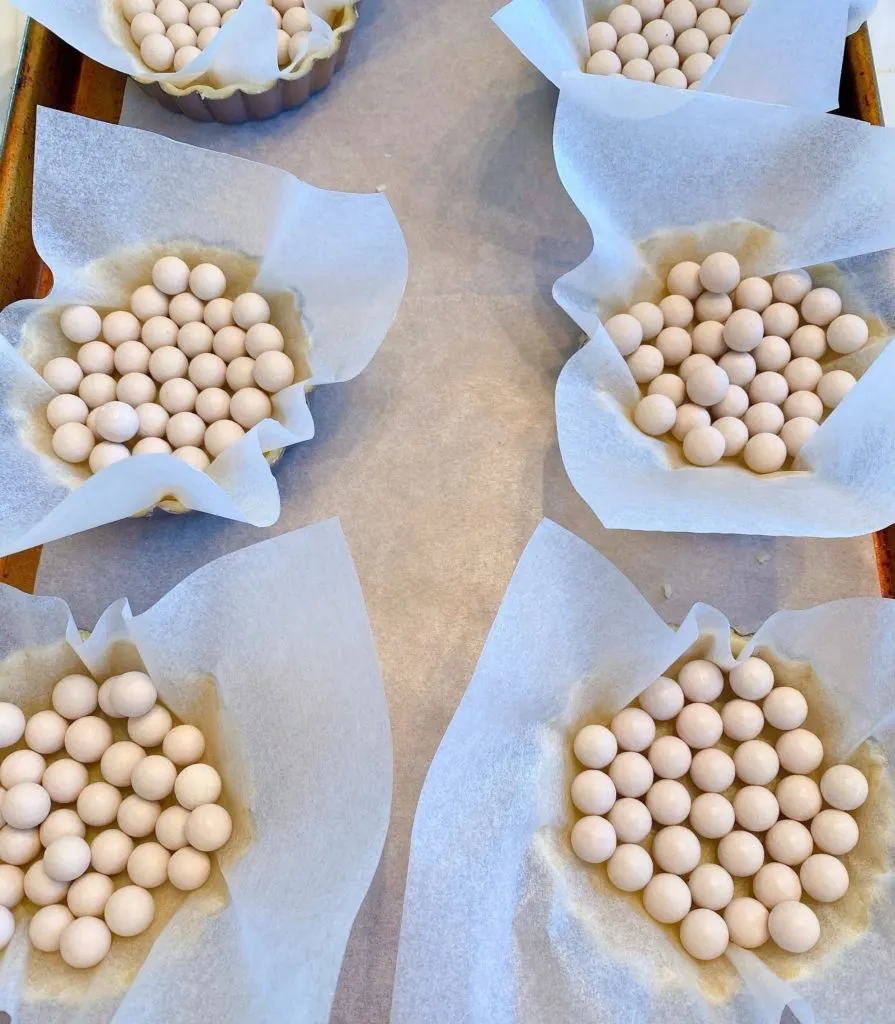 Bake until golden brown, about 15–18 minutes. Make sure the center is completely baked through! It should have a dry appearance and resemble a lightly golden shortbread cookie in the center.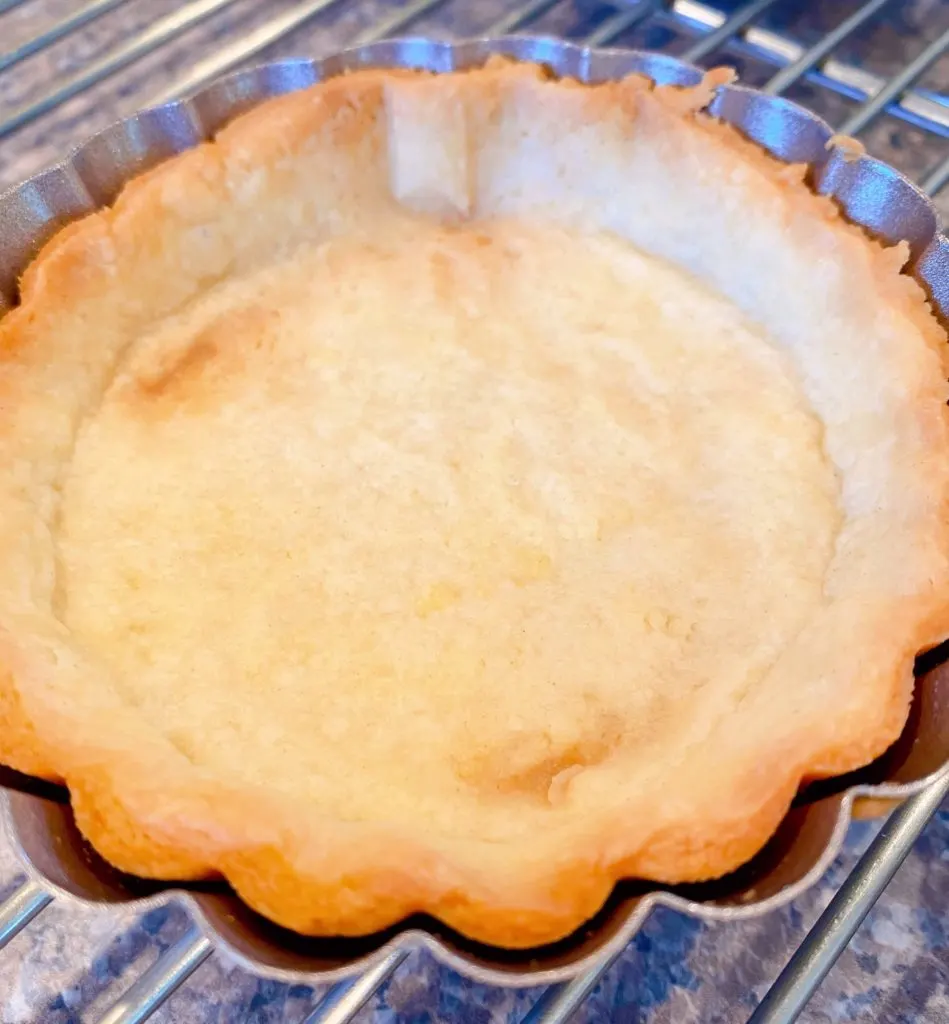 Allow the crusts to cool before removing the ceramic baking beads. Place the slightly warm crusts on a cooling rack and cool completely.
To easily remove the shortbread crust from the tartlet pan, turn a smaller glass upside down. Place the tart on top of the glass and gently slide the outer ring down the glass.
Gently pick up the tart crust and remove the bottom plate from the bottom of the tart.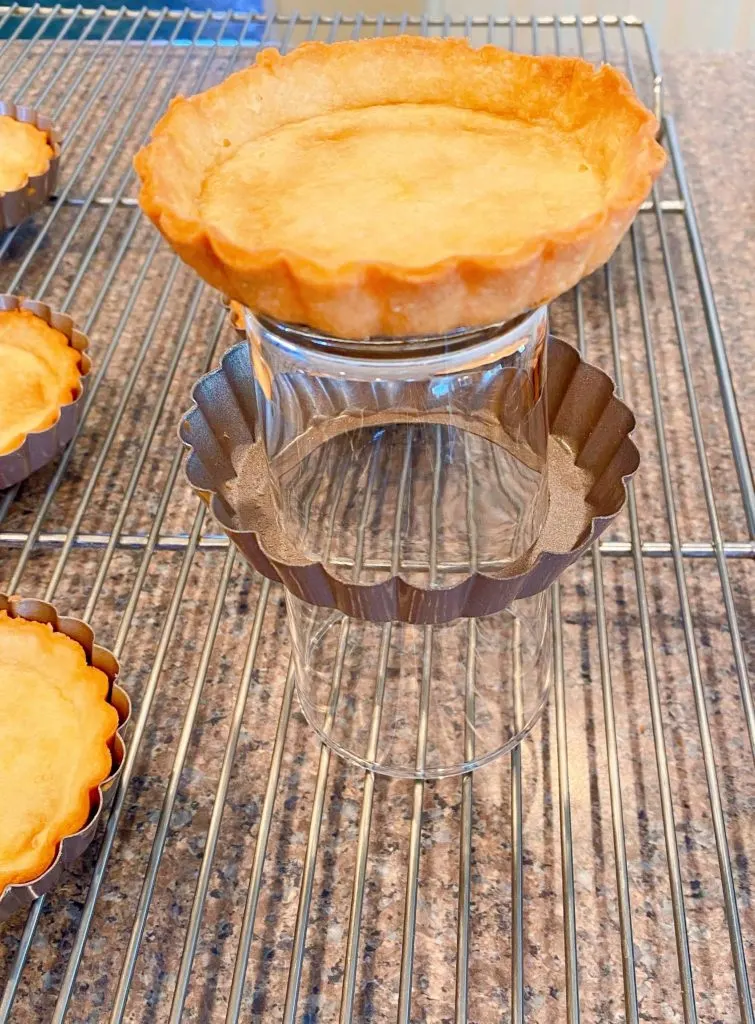 Filling the Tarts with Vanilla Bean Cream
Fill a large pastry bag, or Ziploc bag, with chilled vanilla bean cream. Pipe the cream into each of the shortbread crusts.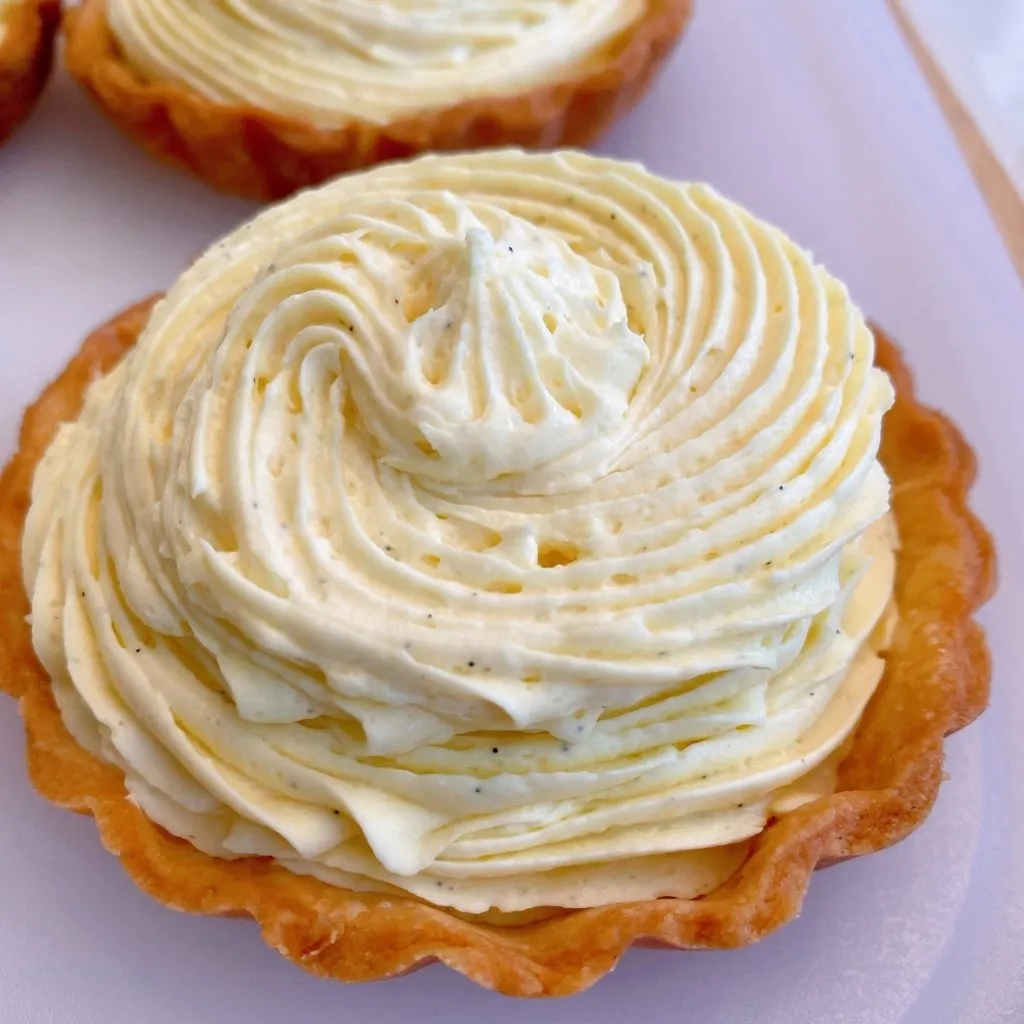 How to Finish Off a Fresh Fruit Tartlet
Rinse 3/4 cup raspberries, 1/2 cup fresh blueberries, and 1 cup fresh blackberries. Drain well. Lay the berries on a paper towel to dry.
Place a combination of the berries on top of each of the cream filled mini tartlets. Don't be afraid to pile it high!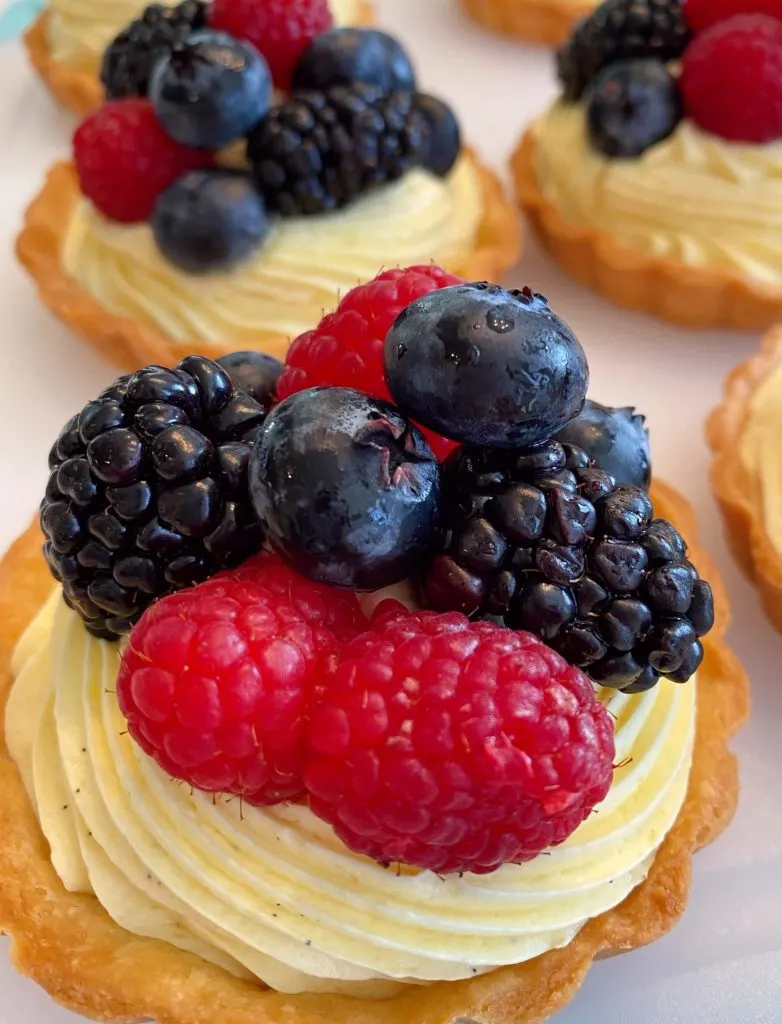 Easy Fruit topping glaze for tarts
Now back to our friend Paul Hollywood from that baking show…he said "You NEVER serve a tart without covering the fruit with a sweet glaze!". Paul is the baking Lord! However, I really didn't want to make a glaze from scratch!
I wanted to keep this recipe easy…so this is how I did create an easy glaze for the fresh fruit on tarts!
In a microwave safe bowl, add 1/2 cup of your favorite apricot jam.
Heat the jam in the microwave, on high, 1–2 minutes, until it is thin. Stir with a spoon. Place a small sieve over a larger bowl. Pour the jam through the sieve to strain out any chunks of fruit.
TIP: You may have to use a spoon to push the liquid through the sieve.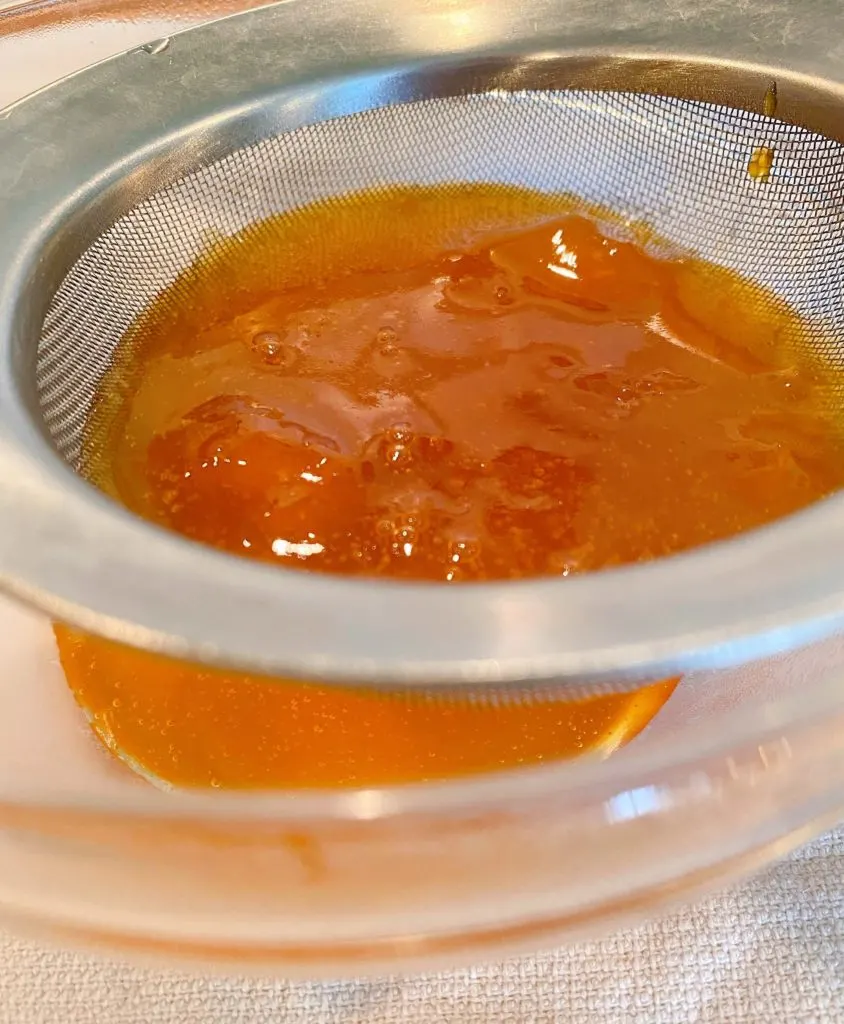 Drizzle the warm melted jam glaze over the top of the berries with a teaspoon. About 1 teaspoon per tartlet.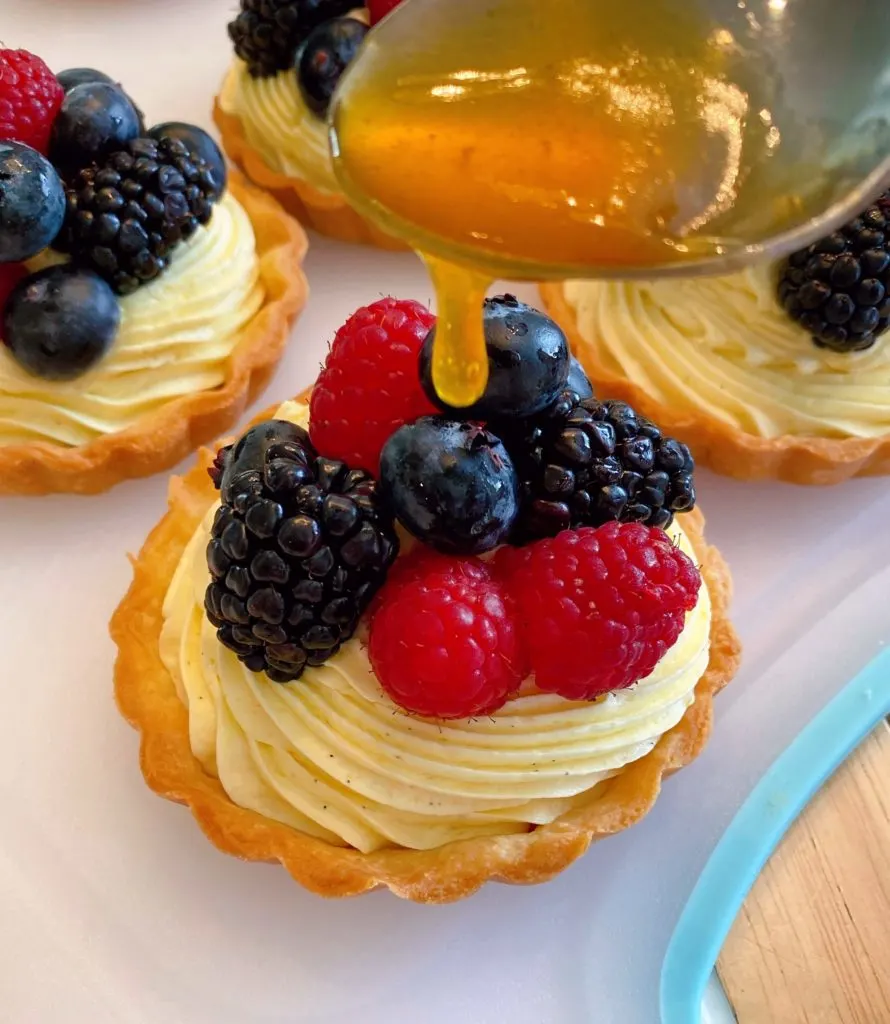 This Mini Fruit Tart Recipe is so scrumptious! The perfect flaky buttery shortbread crust…and that vanilla bean cream is heavenly! The ripe fresh berries topped with the apricot glaze! YUM!!!
My husband, the picky dessert eater, went a little crazy over these delightful treats! I was holding my breath that there would be a few left for me…so I did what any red-blooded dessert loving woman would do… hid some! (I am not above hiding treats! I have priorities!)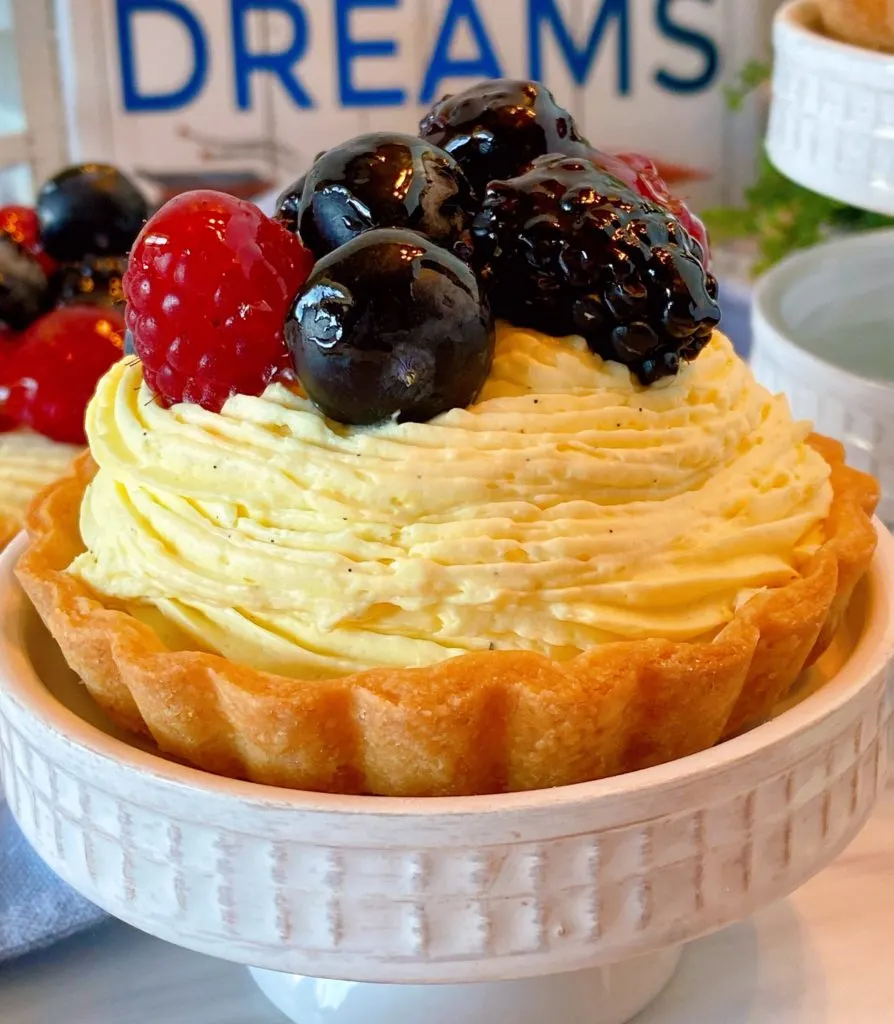 Aren't they the perfect for an Easter or Mother's Day dessert! Maybe an afternoon tea with friends? A mom moment in the closet! (That may or may not have happened… I was after all hiding them.)
Yes, they take a little bit of work…but sometimes it's fun to step outside our comfort zone and try something new! Life, and Fresh Fruit Tarts, start at the end of our comfort zone! (I hire out for motivational speaking! Not really!)
Other Favorite Dessert Recipes
I had so much fun making, and eating, these delicious mini fruit filled tartlets. I know you'll have fun making them too.
Thanks so much for taking the time to stop by and visit with me today…share a little dessert…and a few laughs. I hope you'll stop back by again soon!
Happy Nesting!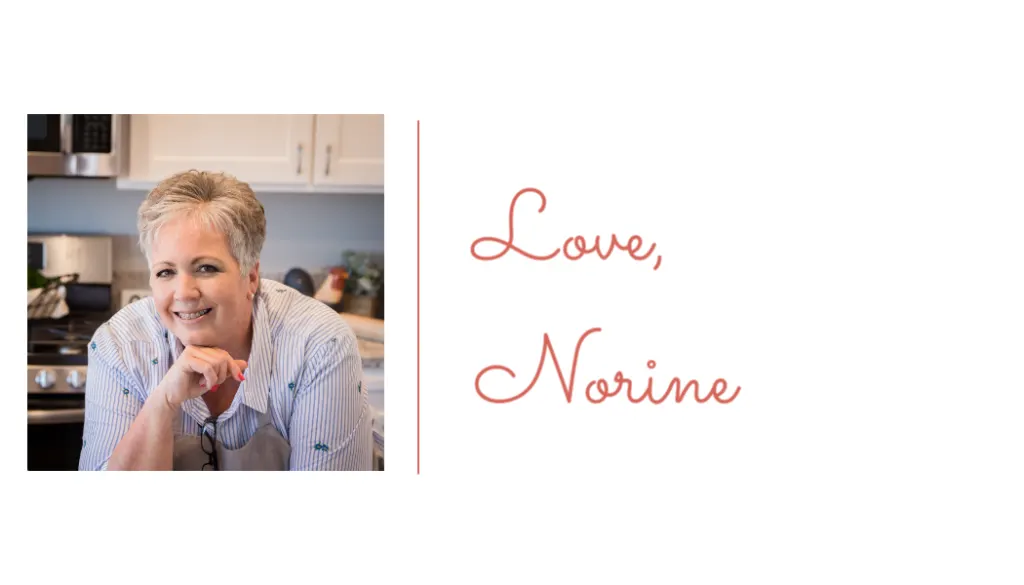 Yield: 8 servings
Mini Fruit Tartlets with Vanilla Cream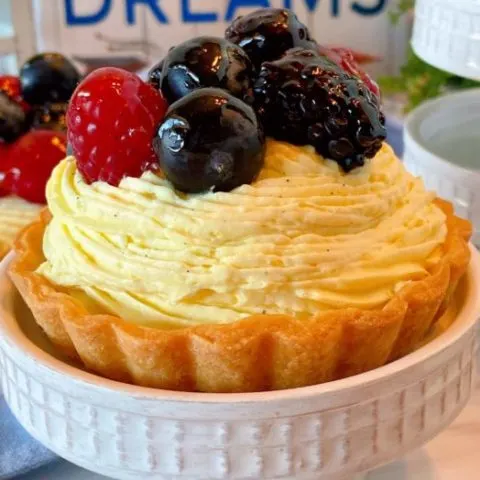 Mini Fresh Fruit Tartlets are made with a delicious, slightly sweet shortbread crust, and filled with a scrumptious easy Vanilla Bean Cream, topped off with beautiful fresh fruit. The perfect Spring dessert!
Total Time
1 hour
58 minutes
Ingredients
Shortbread Crust
1-1/2 cups all-purpose flour
1/3 cup confectioners sugar, sifted
1/4 teaspoon salt
1/2 cup butter, cold, cut into cubes
1 large egg yolk
4-5 Tablespoons heavy cream
1/2 teaspoon vanilla extract
Vanilla Bean Cream
2 (3.5 ounce) vanilla pudding
2 cups heavy cream
1 cup milk
2 teaspoon vanilla bean paste
Fruit Topping and Glaze
3/4 cup fresh raspberries
1/2 cup blueberries
1 cup fresh blackberries
1/2 cup apricot jam
Instructions
To make the shortbread crust place flour, sifted sugar, and salt in a medium mixing bowl. Use a whisk to combine dry ingredients.
Cut cold butter into the flour with a pastry blender until mixture resembles coarse meal. Make a well in the center of the flour mixture.
Add the egg yolk, cream, and vanilla into the center of the well. Stir until dough gathers and pulls away cleanly from the sides of the bowl. If the mixture is too dry add another tablespoon heavy cream to the dough. Pat the dough into a disc and wrap tightly in plastic wrap. Chill for 1 hour.
On lightly floured surface, roll the dough to a thickness of about 1/8 inch. Cut into circles 1/4 inch larger than the circumference of the mini tartlet pan.
Press the dough gently into the mini tart pan trimming away any excess. Gather dough and repeat if necessary.
Place a small piece of parchment paper on top of each shortbread crust and line with ceramic baking beads to keep the crust from shrinking during baking.
Preheat oven to 400°. Place mini tart pans on a baking sheet and bake in the oven 15-18 minutes until shortbread is golden brown. Remove from oven and cool completely.
While pastry cools, in a large bowl, combine vanilla pudding, heavy cream, milk, and vanilla bean paste. Mix with hand mixer until light and fluffy! Cover and chill until ready to use.
Wash and dry berries. Remove shortbread crust from tart pans.
Fill a large pastry bag, or large Ziploc bag, Fill each shortbread crust with vanilla cream. Top vanilla cream with fresh berries.
Place apricot jam in a microwave safe bowl. Cook on high for 1-2 minutes until melted. Pour jam into a small sieve over a large bowl to remove any chunks of fruit. Using a teaspoon carefully drizzle apricot glaze over the top of the berries. Serve. Store extra tarts in air tight container and keep cool in refrigerator.
Nutrition Information:
Yield:
8 servings
Serving Size:
1 tart
Amount Per Serving:
Calories:

643
Total Fat:

41g
Saturated Fat:

25g
Trans Fat:

1g
Unsaturated Fat:

13g
Cholesterol:

164mg
Sodium:

283mg
Carbohydrates:

61g
Fiber:

3g
Sugar:

25g
Protein:

9g