Tender flaky canned crescent dough is filled with fresh sauteed apples, cinnamon, and sugar to create this amazing Fresh Apple Danish! Drizzle it with a little sweet icing and top it off with slivered almonds! It's the perfect breakfast pastry!
Today I would like to stick my head into a huge vat of Ice Cream and linger for a goodly amount of time…like forever! Anybody else ever want to hide from the world? I don't think I really want to hide, but I'd like to yell at the Merry-Go-Round conductor to "Shut'er down!" This chick needs off!
Men are smart! They invented the "Mulligan" for their game of "golf". Don't like the first hit…just yell "Mulligan" and you get a do-over! We've all had a day or two that we want to shout…"Mulligan"!! Probably several! I know I have.
Since we can't call a Mulligan how about we find happiness in this simple, yet…impressive…Apple Danish! Looks like a good place to find a little happiness and love to me!
Last weekend I was really craving French pastries! (Remember I was having a "Carb-a-holic" breakdown?) Since France was definitely out the question… I decided I would bring a little France to my Nest…the easy way!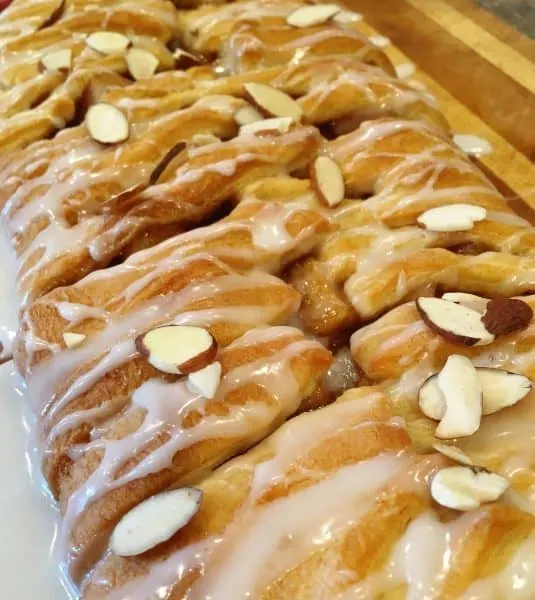 Not too much in the way of baking scares me but… French Baking…oh yeah…terrified! It's on my "bucket list", but until the day comes that I'm ready to conquer it..me and "dough boy" will make a go of it!
That's right this amazing Danish is made with the exploding, scare ya to death, blue can of crescent rolls! (I know you all close your eyes and brace yourself for impact when you hit that can on the edge of the counter!)
How to Make Quick Easy Fresh Apple Danish Filling
Before we start with the pastry let's talk about…the apple filling!
I made this filling with 2 pink lady apples! I love pink lady's! They are firm and a little tart, so perfect for baking and nice change from a granny smith.
TIP: You can use either. You could even use canned filling, but this is super simple to make so, give it a whirl!
Peel and chop your apples into big chunks. In a medium skillet, melt 1/4 cup of butter and sauteed the fresh apples for a few minutes.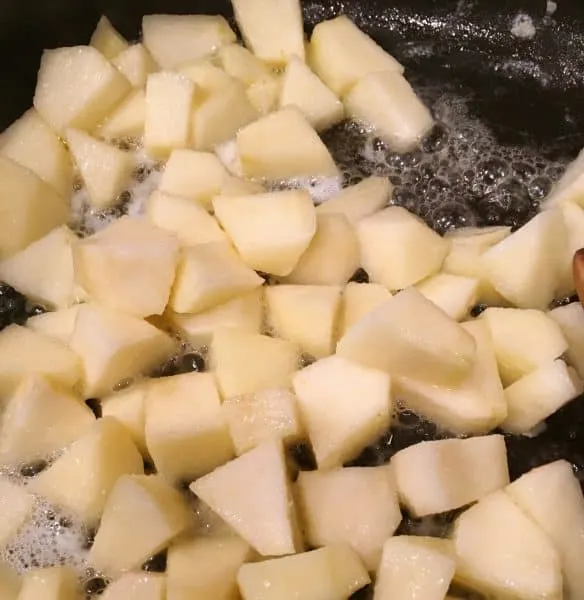 Add 1/4 cup Brown Sugar and 1/2 tsp cinnamon. Continue cooking the apples till tender crisp and the sauce has begun to thicken. Don't over cook the apples. You want them to still be a little crisp.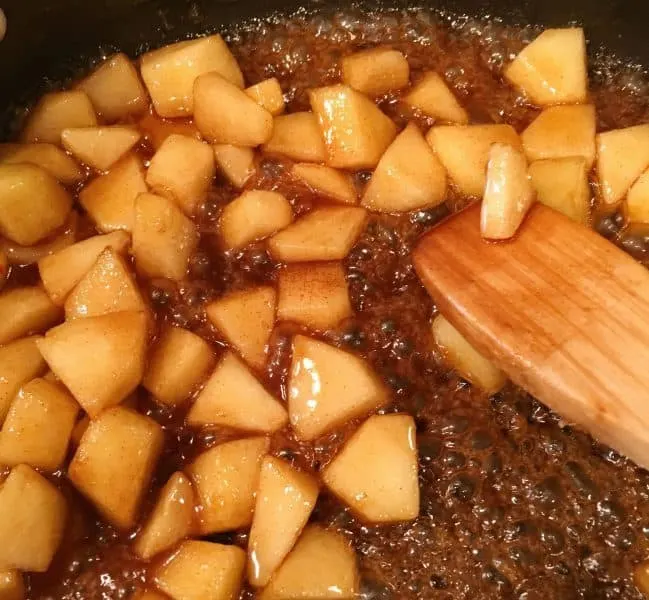 How To Create Braided Pastry for Apple Danish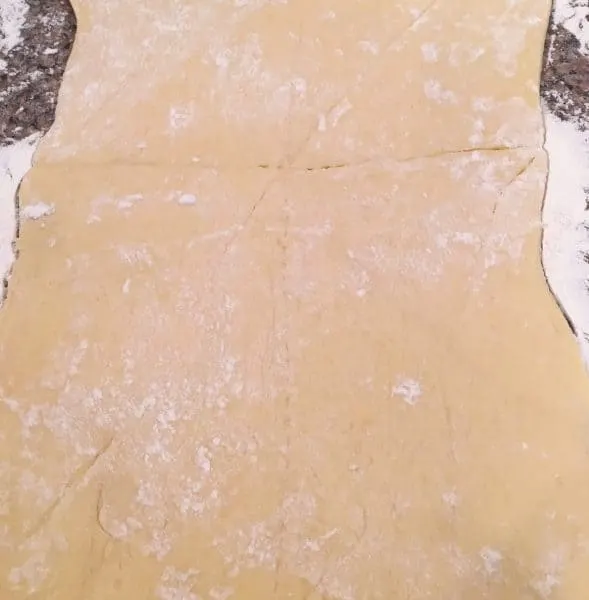 Once the apple filling is ready, you are going to roll out your crescent dough into one big rectangle. Pinch the pre-cut lines together. You are just rolling it to get it flat. It doesn't have to be perfect…as you can clearly tell! Prepare a baking sheet by lining it with parchment paper. Lay your dough on top of the parchment paper. Using scissors cut strips along the outside edge on both sides, about an inch and half long depth wise and about 1/2 inch apart.
Pour your filling down the center.
Gently grab one strip of dough and place it over the top of the filling at an angle. Then do the same thing on the opposite side. Placing them so the two pieces create a "V". Continue doing this all the way down the length of the dough.
TIP: Don't worry if some of the pieces break off. Just piece it together. Mine was far from perfect! Once it bakes and you dress it all up no one will know!
When you are done it should look like this. It's okay that the filling is trying to escape. No worries.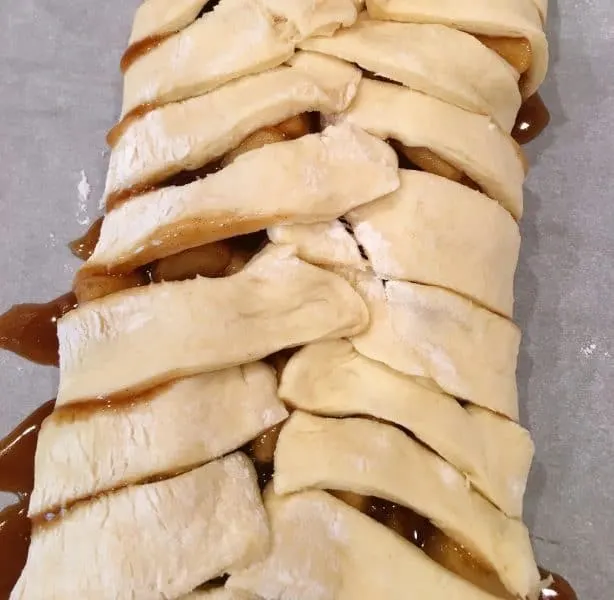 Bake in a pre-heated 325 degree oven for 20-30 minutes. Check often.
Once golden brown remove from oven and allow to cool slightly.
Mix your glaze using milk and powder sugar. You can even add a hint of vanilla to kick it up a bit. Drizzle the glaze in a back and forth motion, over the top of the Danish!
Next sprinkle it with slivered almonds and serve! Isn't that beautiful Fresh Apple Danish? I know it makes me happy!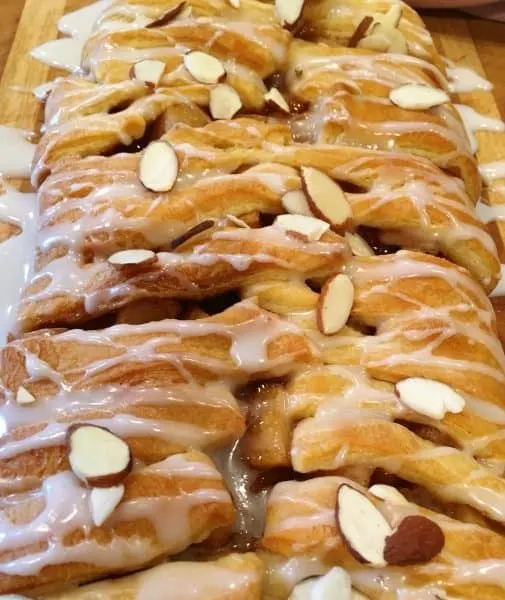 I cut mine into slices about 2 inches wide. That caramel apple filling is amazing. The apples are tender crisp and not all "Mushy"!
Mars isn't a fan of baked apples but, he absolutely loved this Danish! He even ate 3 slices!!!! WOW!!!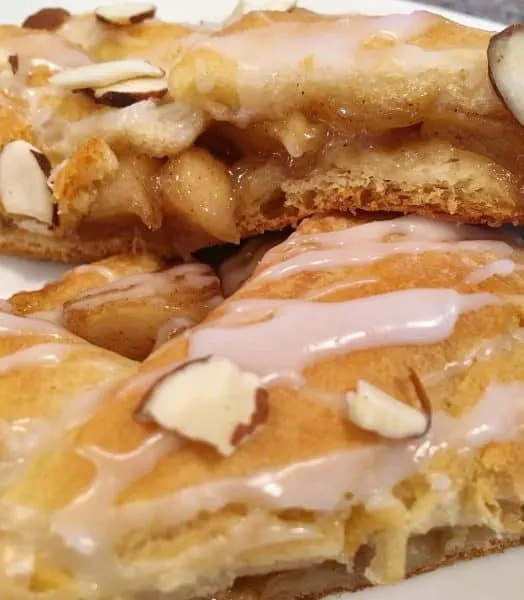 Crescent rolls make a simple yet, perfect light pastry dough. The filling is not overly sweet and is perfect for this Danish. Serve with fresh fruit and your choice of breakfast beverage and you have a lovely weekend breakfast!
In fact I can't think of a better way to start off this weekend! This really is a simple and delicious breakfast pastry! I bet even your "littles" could help you make this one.
Other Favorite Breakfast Recipes From My Nest
The printable is below! Have a Fantastic Weekend! I'm off to find my "vat" of Ice Cream! (wink, wink)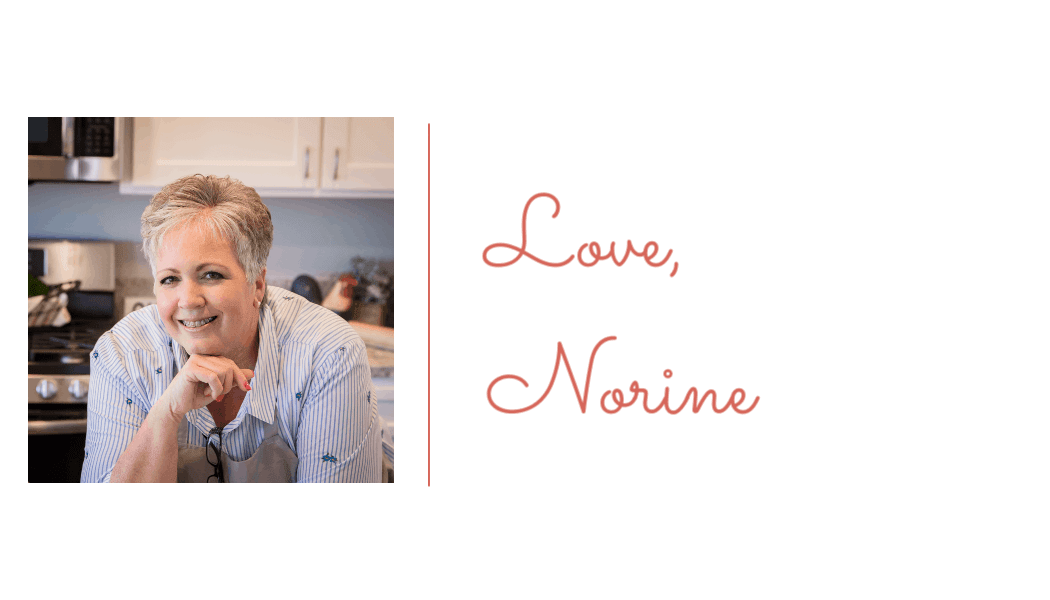 Happy Nesting!

Yield: 8 servings
Fresh Apple Danish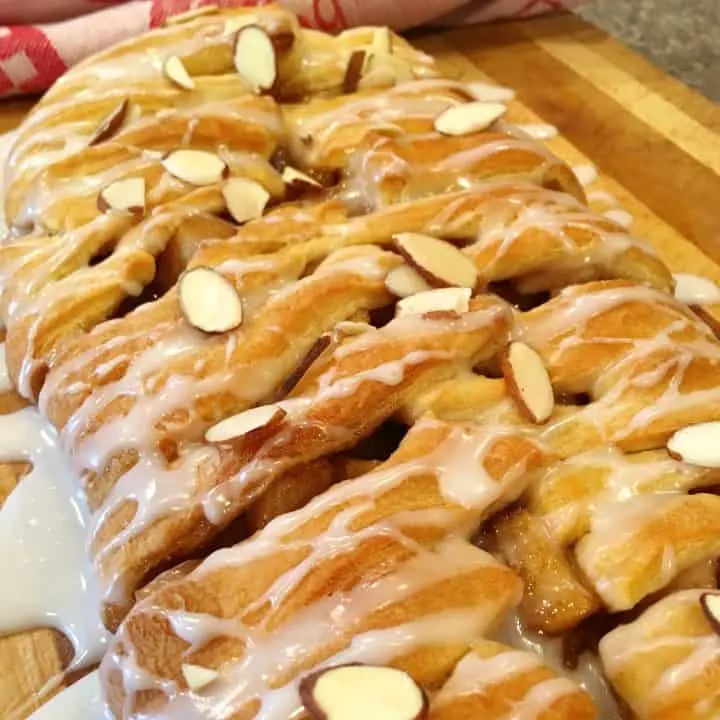 Flaky Crescent dough filled with fresh sauteed apples in a delicious caramel cinnamon filling topped with sweet glaze and sliced sliver almonds. A quick easy Danish.
Ingredients
1 can Pillsbury Crescent Rolls
2 apples, pink lady or granny smith, peeled, seeded and chopped
1/4 cup real butter
1/4 cup brown sugar
1/2 teaspoon cinnamon
dash of salt
1/4 cup powder sugar
2 teaspoons milk
Handful of slice almonds
Instructions
In a medium skillet, over medium heat, melt butter. Once melted add in the fresh chopped apples. Saute for 2 minutes. Add in the brown sugar and cinnamon. Continue to saute until the apples are tender crisp and the sauce is bubbling. Remove from heat and let rest.
Line a baking sheet with parchment paper. Flour a flat surface. Break open the can of crescent rolls. Gently un-roll onto the floured surface. Pinch the cut line together and using a floured rolling pin, gently roll out into one piece. (This is just to help flatten it out) Carefully pick up the dough and move onto the lined baking sheet. Using kitchen scissors cut 1/2 inch wide strips down the length of the dough on both sides. You want the strips to be about 1 1/2 inch deep.
Pour the apple filling down the center of the dough. Carefully bring up your first strip and lay it at an angle on top of the filling. Do the same thing on the opposite side. The dough should form a "V" on the top of the filling. Continue to do this down the entire length of the dough.
Place the finished braided dough, in the center of the rack of your oven and bake for 20-30 minutes . Check often. When dough is golden brown and the filling is bubbly it is time to remove the danish from the oven and allow it to cool slightly.
While the danish is cooling mix the powder sugar and the milk together. It should form a thick syrup. If it is too runny add more powder sugar. Using a tablespoon drizzle the glaze over the top of the danish in a back and forth motion. Top with sliced almonds and serve while still warm.
Recommended Products
As an Amazon Associate and member of other affiliate programs, I earn from qualifying purchases.
Nutrition Information:
Yield:
8
Serving Size:
1 slice
Amount Per Serving:
Calories:

284
Total Fat:

15g
Saturated Fat:

7g
Trans Fat:

0g
Unsaturated Fat:

7g
Cholesterol:

32mg
Sodium:

219mg
Carbohydrates:

36g
Fiber:

4g
Sugar:

23g
Protein:

4g