Moist tender Cherry Crumb Coffee Cake is made from a delicious scratch cake with canned pie filling and a scrumptious crumb topping! Not a fan of cherry…just change the pie filling…blueberry, apple, or mixed berry!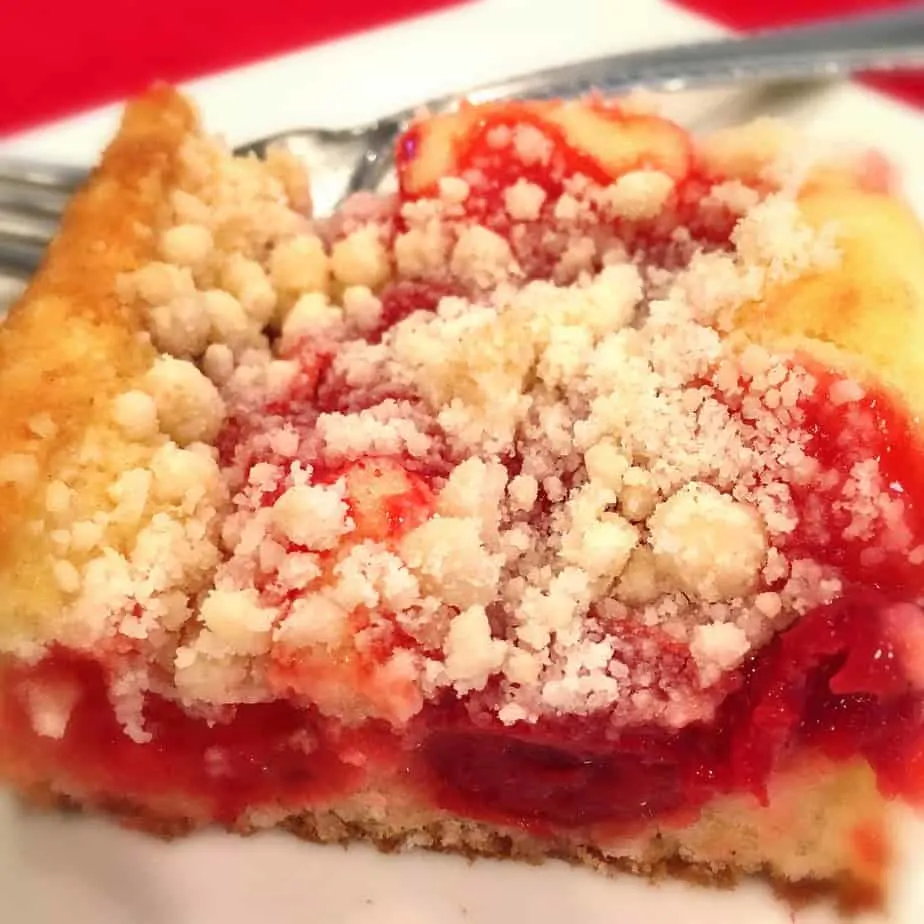 Every once in a while I run across a recipe that I know I'm going to try! Not the type that end up on your "dream about it board" on Pinterest. Nope, the REAL kind! The gut grabber recipe that you KNOW you are going to make, and soon!
This Cherry Crumb Coffee Cake was one of "those" recipes. Why was I drawn to it? First it involved cake and not just any cake, but "crumb" cake. One of my faves! Second it had Cherries. Ummmm… Hello! Put those two elements together and WHAM! I'm all in!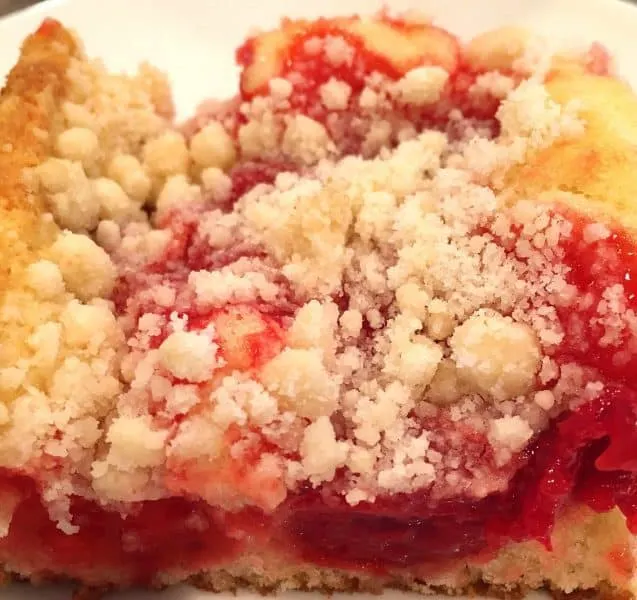 I found the recipe for this cake on "Bunny's Warm Oven".
One awesome thing about this Easy Cherry Crumb Cake is you can make it any flavor you want simply by changing the pie filling. I loved the cherry! You'll love how easy this cake is to prepare.
How To Make Cherry Crumb Coffee Cake
In a bowl combine flour, sugar, salt, and baking powder.
TIP: Use a whisk to blend it well. It works better than a sifter! Cross my heart! It also breaks up any big lumps in the flour or sugar.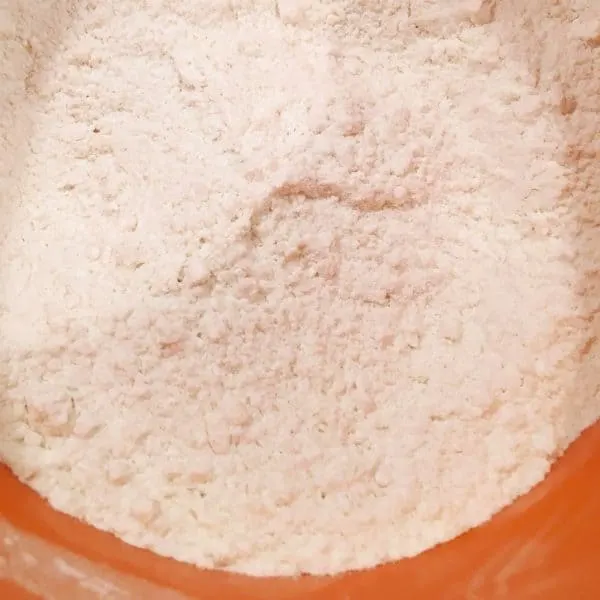 Add in melted butter. (How could any recipe with that amount of "But-ta" be bad? Not possible!)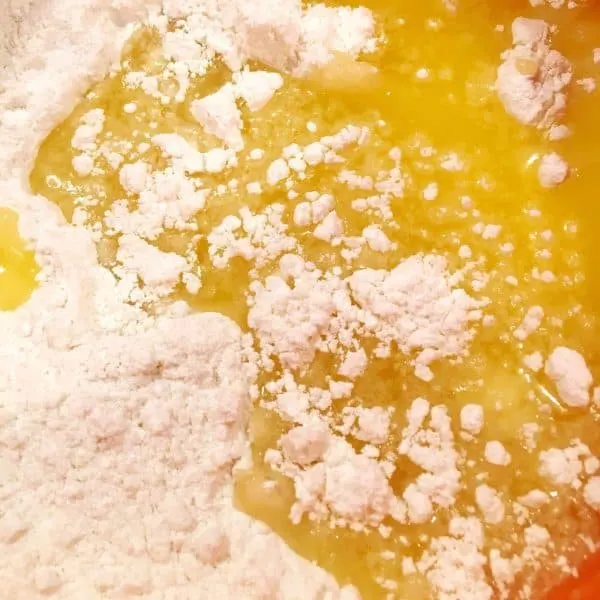 Mix till it becomes a nice crumbly mixture.
TIP: I started out using a fork and quickly threw that aside and dug into it with my hands. This was a lot easier and the texture turned out perfect! Once that is a mixed and crumbly, go wash your hands cause you've been crumbed!
Crumb Topping
Now…remove 1/2 a cup and set aside. This will be used as your crumb topping.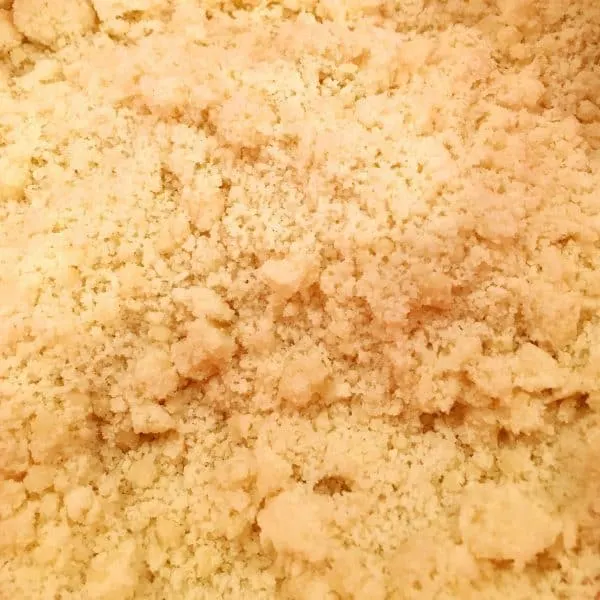 Add eggs and milk, which you have masterfully blended together, into the bowl with the remaining crumb mixture. (We are baking "Masters" are we not? Thus, we Masterfully blend! Power of positive thinking!)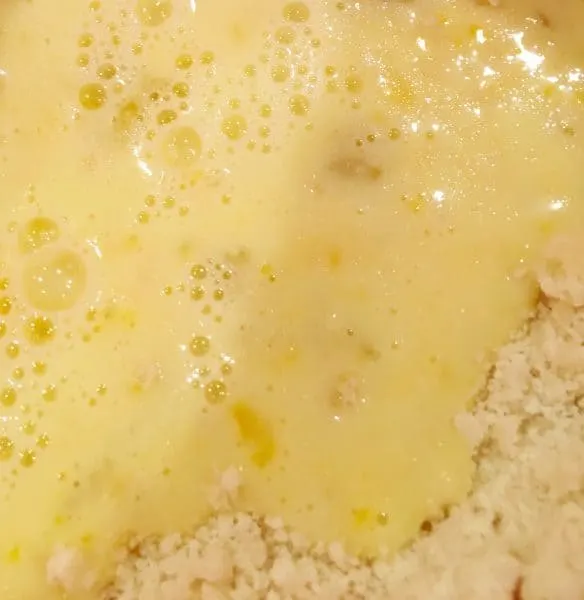 Using a large whisk, blend this all together for your cake layer. The batter will have some lumps, this is okay! We love lumps…right! YES! We do! (Said the lumpy blogger on the other side of this screen!)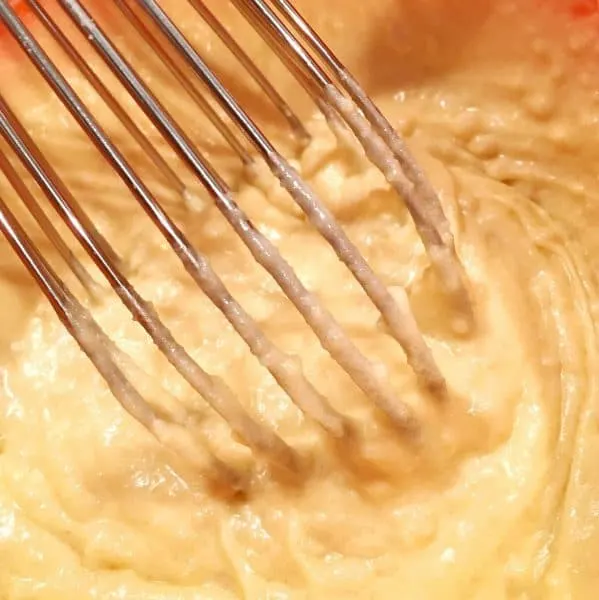 In a 9 x 13 prepared pan pour in the cake batter. Spread it evenly over the bottom of the pan.
Open one can of pie filling. For this cake it was cherry but, it's your choice. Go wild!
Using a spoon carefully dribble the cherry filling over the top of the cake batter on up past and across your tongue. (Okay, Okay… I may have snuck a little filling. You can't blame a girl for trying!) It won't cover every single inch, but it will get close. (That could be because some didn't make it that far!)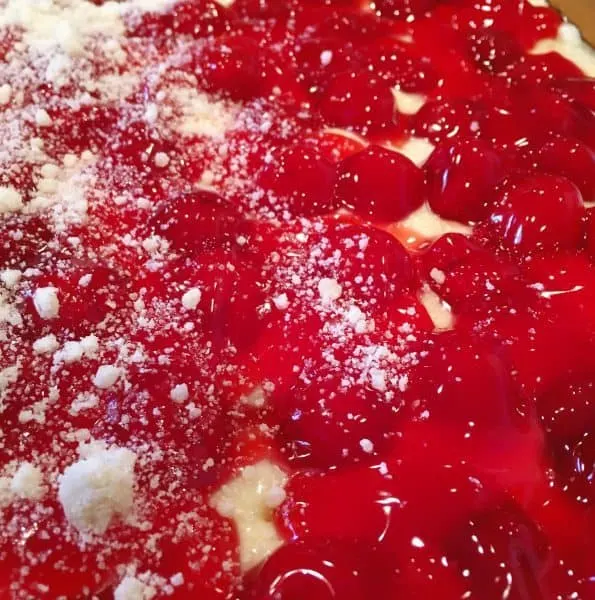 I think even this looks good, and it's not cooked yet!
Grab the 1/2 cup reserved crumble and sprinkle it all over the top of the cake. When you are done it should look like the photo below.
Baking Cherry Crumb Cake
It's ready to pop into the oven at 325 degrees for 30–45 minutes. Mine took about 40. I checked it often though to make sure it didn't burn or overcook. Bunny suggests starting to check around 35 minutes.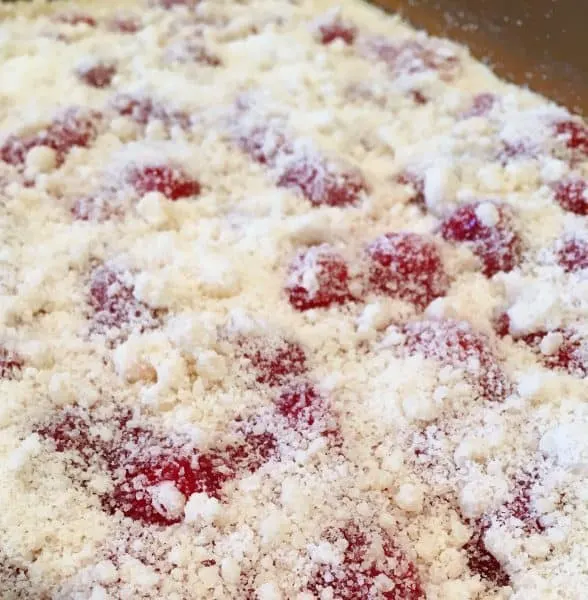 After 35- 40 minutes pull it out and allow it to cool for a few minutes before cutting and serving.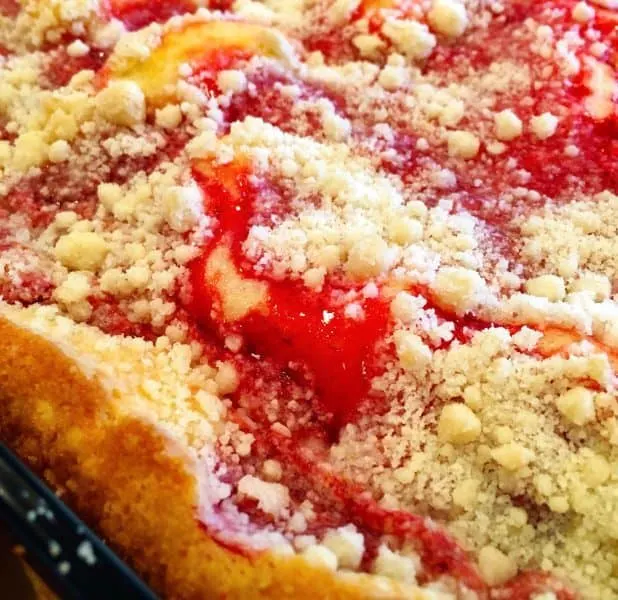 Doesn't that look good enough to eat! (It really was! I was an honorary member of the 3 piece club! I'm wearing my membership on my thighs! Ugh!)
How to Serve Cherry Crumb Cake and Other Tips
I sliced mine into nice sized squares. It came out of the pan nice and easy and didn't fall apart at all. Thank goodness! Sucking up crumbs can be a little embarrassing but, not beyond do-able!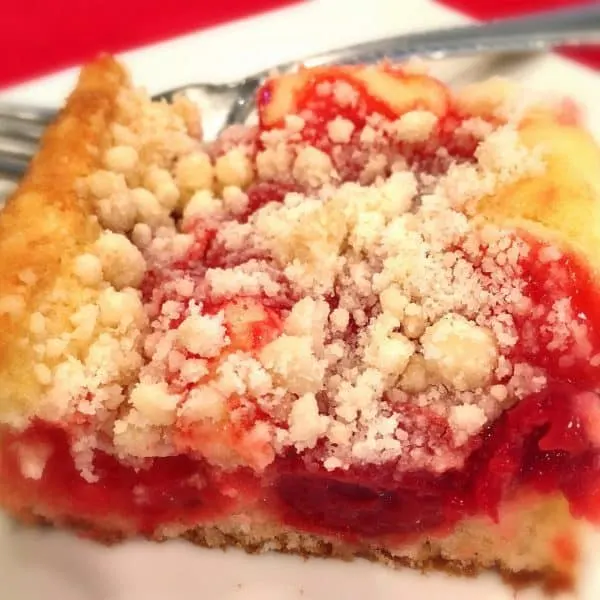 This Cherry Crumble Coffee Cake is everything you want a "coffee cake" to be. Super moist. The perfect crumb and packed with wonderful fruit flavor. The big bonus… it's not too sweet! It really is a beautiful blend of all the things you love about coffee cake. (Minus the coffee!)
I was able to whip this up in no time at all, and with the exception of the pie filling, all the other ingredients are usually in your pantry.
I'll be honest and tell you that when I make it again…and I will… I'd add 1/2 a teaspoon almond extract to the batter. I think with the cherry topping it will just make it pop!
I think this would be amazing with blueberry pie filling and lemon zest in the batter! Can you envision a cranberry with orange zest with a little cinnamon? YUM! The possibilities are endless!
I hope you give this wonderful coffee cake a try. Make one and invite a girlfriend over for a chat! Let the kiddo's play while you have some "girl" time! Never underestimate the healing and re-energizing effects of girlfriend time! Just Do IT!
Breakfast Pastry Recipes
As always… Thanks so much for stopping by and visiting with me today. The Printable recipe is below! Enjoy!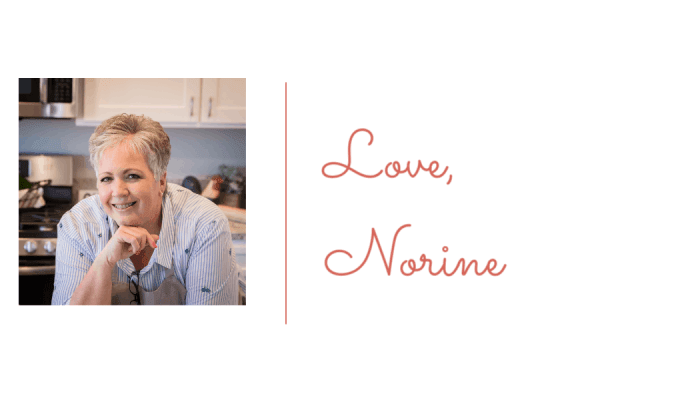 Yield: 12 square servings
Cherry Crumb Coffee Cake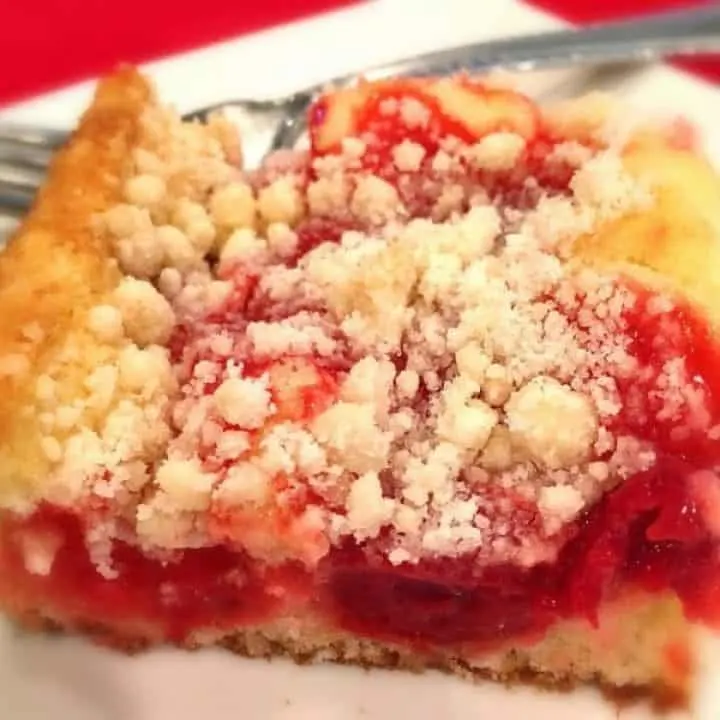 A light moist Cherry Crumb Coffee Cake that is easy to throw together and has endless combinations by changing the pie filling.
Total Time
1 hour
5 minutes
Ingredients
2 cups all purpose flour
2 teaspoons baking powder
1/2 cup butter, melted
1/2 cup milk
3/4 cup sugar (if you prefer less use 1/2 cup)
1/2 tsp salt
2 eggs, slightly beaten
1 can cherry pie filling or flavor of your choice.
(Optional 1/4 cup finely crushed nuts for the topping)
Instructions
Preheat oven to 325. Grease a 9 x 13 baking pan with shortening or bakers joy.
Place flour, sugar, baking powder, salt and melted butter in a large mixing bowl, stir together with a fork until crumbly. If you have large clumps get your hands in there and break them apart.
Take 1/2 cup of the crumbs out of the bowl. Set aside. If you're using nuts in the topping, add 1/4 cup of finely crushed nuts now, set aside.
In a small bowl whisk the slightly beaten eggs and milk together, add milk mixture to the large bowl of crumbs and stir until incorporated. There will be small lumps in the batter.
Pour the batter into your prepared 9 x 13 baking pan. Dribble the cherry pie filling over the cake. Sprinkle the reserved crumb topping over the pie filling. Bake at 325 degrees for 40-45 minutes. Start checking the cake at 35 minutes. Remove from oven, place on cooling rack.
When cool, cut into squares and serve.
Recommended Products
As an Amazon Associate and member of other affiliate programs, I earn from qualifying purchases.
Nutrition Information:
Yield:
12
Serving Size:
1 piece of cake
Amount Per Serving:
Calories:

286
Total Fat:

10g
Saturated Fat:

6g
Trans Fat:

0g
Unsaturated Fat:

4g
Cholesterol:

52mg
Sodium:

274mg
Carbohydrates:

44g
Fiber:

1g
Sugar:

13g
Protein:

4g