Rhubarb Sour Cream Coffee Cake is a fantastic way to use some of the extra Rhubarb out in the garden. It's a luscious moist coffee cake with tasty tender bits of tart rhubarb, topped off with a wonderful cinnamon crumb topping!
I know! Rhubarb is a love/hate vegetable. Yes! It's a vegetable.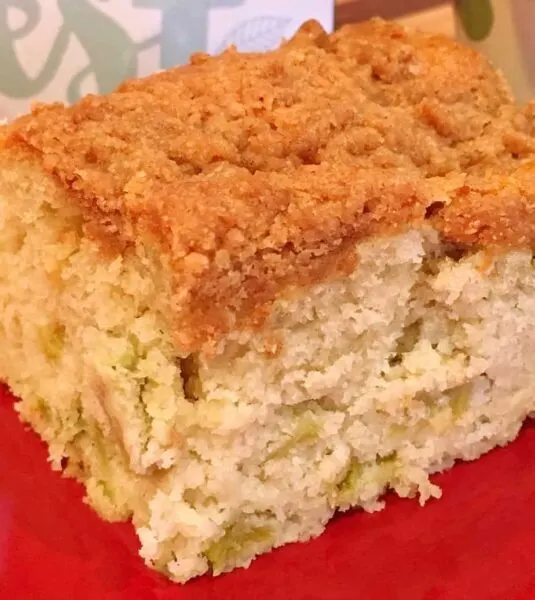 I've been putting this incredible veggie in pies, cakes, muffins, breads, jams, and ice cream toppings for years! (Look at the rhubarb lovers being healthy! Lol Next time you're eating a piece of rhubarb pie pat yourself on the back!) The founding fathers of the food pyramid are applauding you for your love of that tall skinny tart vegetable!
If you're looking for a way to get your kids to eat their veggies…maybe try this Rhubarb Coffee Cake! I know I was able to get in a good weeks worth in a day! (wink, wink)
TIP: The key to making baking a smooth experience is "preparation"! I like to have all my ingredients prepared in advance. If dry ingredients need to be whisked together…do so beforehand. If fruits or vegetables need to be chopped, prepare them beforehand. It helps prevent any slip ups and makes baking fun! That said, this is a recipe with items that can be "prepared" before you begin.
How To Make Rhubarb Coffee Cake
Like the Rhubarb… Wash and chop 3 cups of Rhubarb.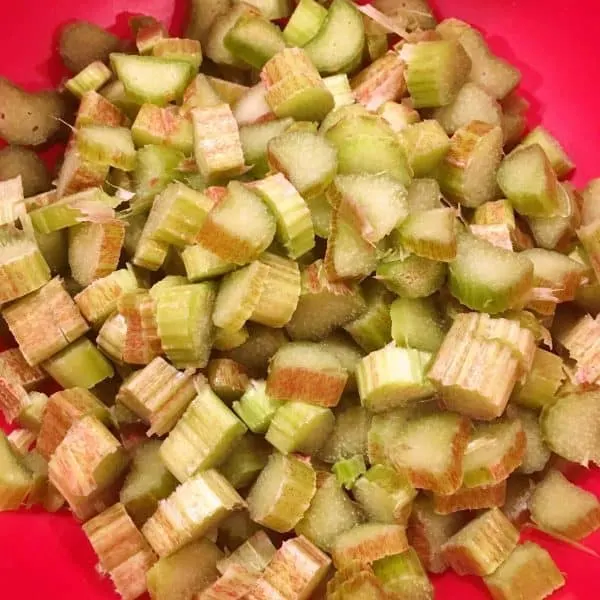 In a stand mixer add 3/4 a cup of softened Butter and 1 1/2 cups of sugar. Cream until fluffy! (Like me! I'm fluffy)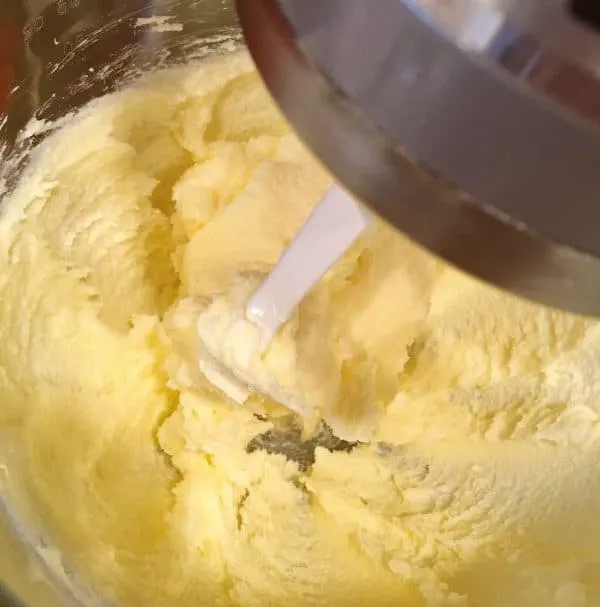 Confession time… I wasn't fully engaged when I started this cake and I used double the butter! So what does one do when they discover this fact as they are pouring the batter into the pan? They quickly double everything and make TWO cakes! (Every household of two should have TWO cakes! One each!)
WARNING: NO ONE SHOULD BE ALONE IN A HOUSE WITH TWO OF THESE CAKES! Don't be Norine! Don't double the butter!!!
Add 3 large eggs, one at a time. (We don't want any of them to miss their moment in the spotlight!) Beating after each addition.
Tip: Crack your eggs into a small bowl first. This will prevent any egg-shell from going into your cake batter. (If you prefer eggshells in your cake…skip this tip! Little extra protein never hurt anybody. Lol)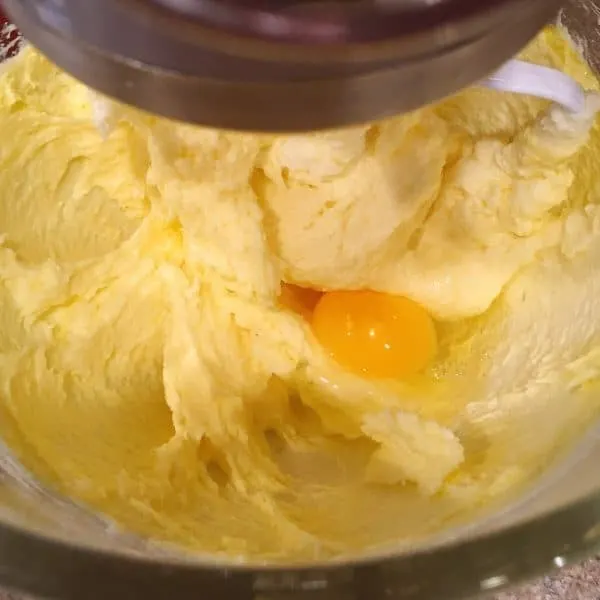 Add vanilla; Mix well.
In a medium size bowl whisk together 3 cups all-purpose flour, 2 tsp. baking powder, 1 tsp. baking soda, 3/4 tsp. salt.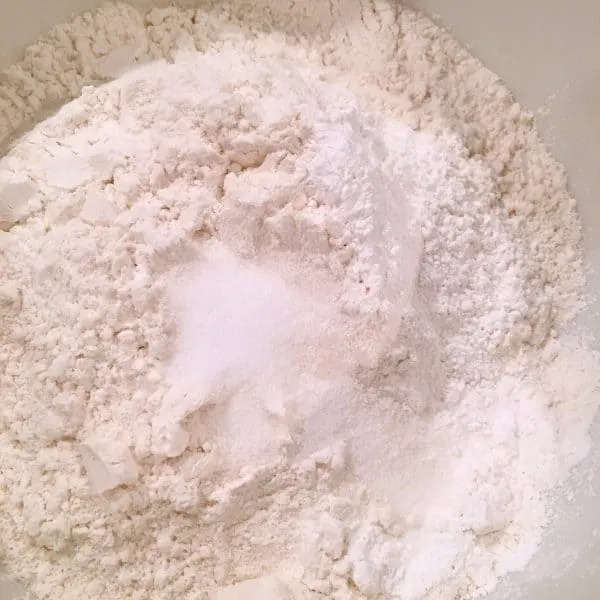 Add to creamed mixture and alternate with 1 cup of sour cream. This will fully incorporate all the ingredients.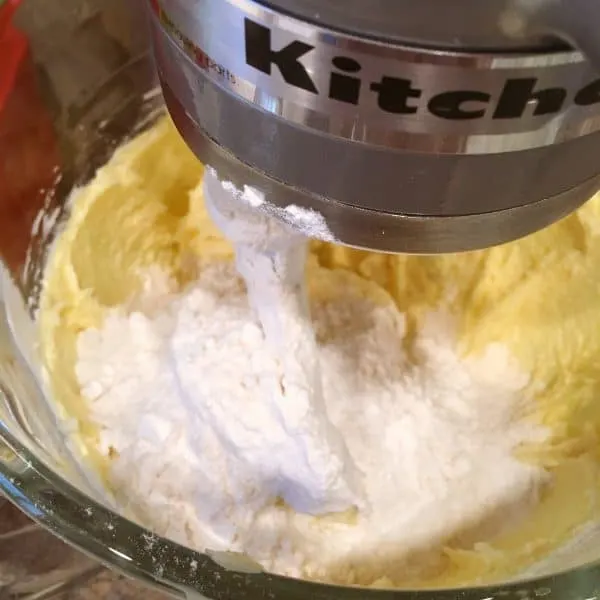 This is a VERY thick batter. It's on the verge of a soft dough. So no need for concern.
Most coffee cakes and short cakes are very thick cake batters. They tend to be a heavier cake.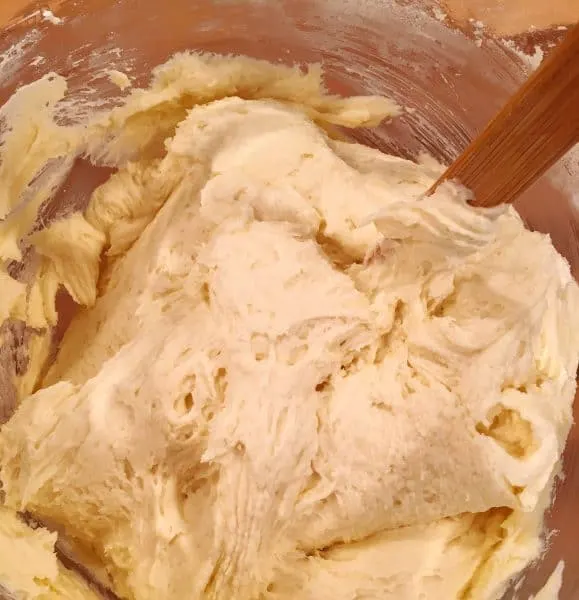 Adding Rhubarb to Cake Batter
Fold in prepared rhubarb. Fold do not stir!
The purpose of "folding" is to help you with your laundry skills. No it's not! I'm just kidding.
It's to help the rhubarb retain its moisture. It's a more gentle way of incorporating fresh ingredients that contain a lot of water into a batter. So bring that batter from the bottom to the top and repeat until the rhubarb is fully incorporated.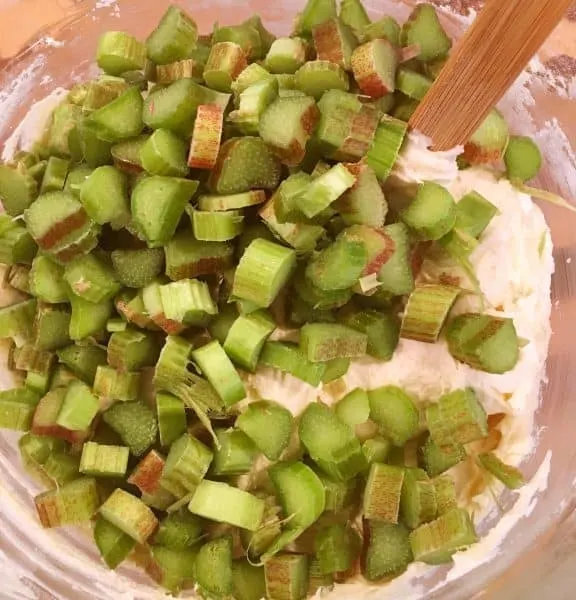 Spread into a greased 9 x 13 pan. Note I said "spread". Pouring this batter in near impossible because of how thick it is.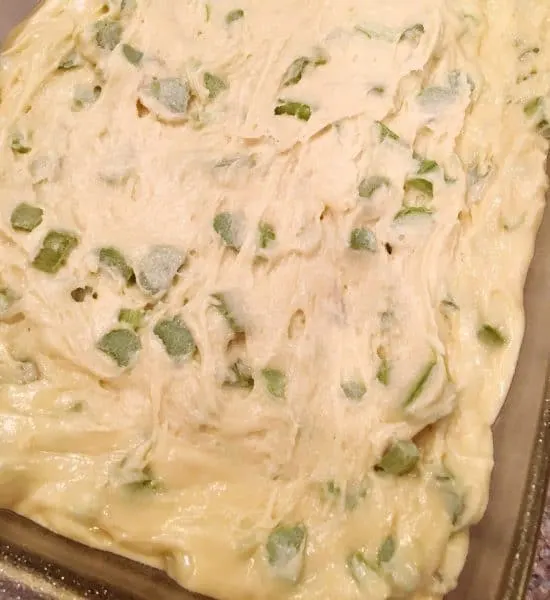 How To Make Crumb Topping
Time for the "Crumb" topping! I love crumb topping. It's my favorite. I'm not a huge frosting fan…so crumb is my topping of choice! I love the crispy bits of cinnamon.
In a bowl, combine brown sugar, flour, and cinnamon.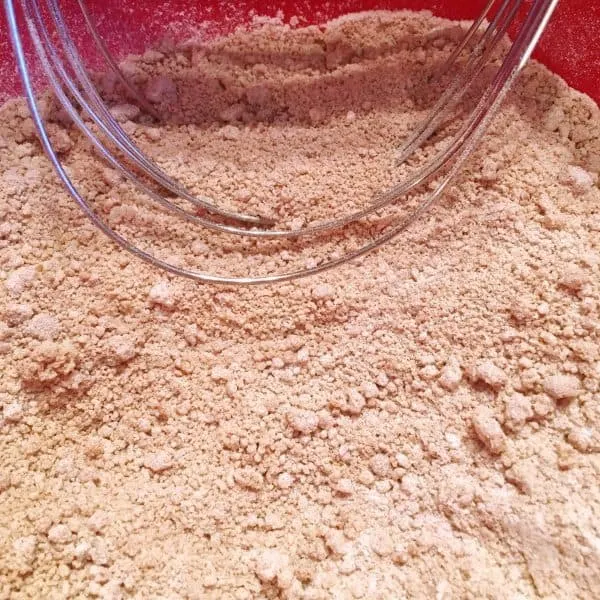 Cut in 1/4 cup cold butter.
Tip: Cut cold butter into small cubes before cutting into the sugar and flour. It will make it much easier to "cut" the butter into your dry ingredients.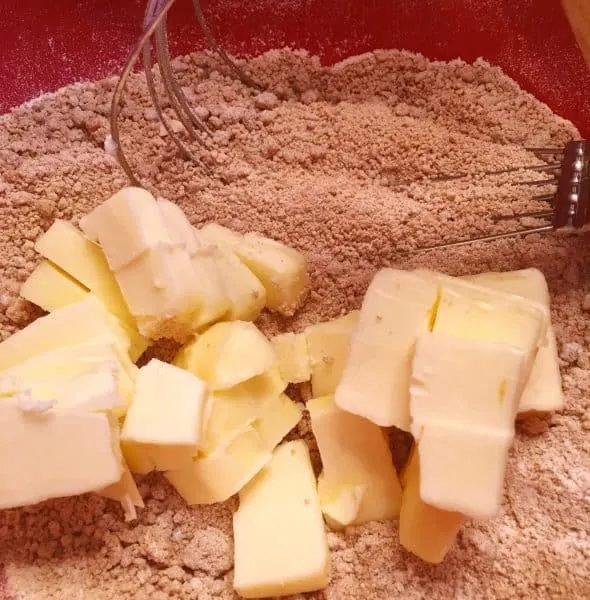 Use a pastry blender OR your hands to cut butter into flour mixture. I like to use my hands. It's just so much easier to work the cold butter into the dry ingredients.
Mixture should resemble coarse crumbs. If your mixture is sticking together and not forming crumbs..add a Tablespoon or two more of flour.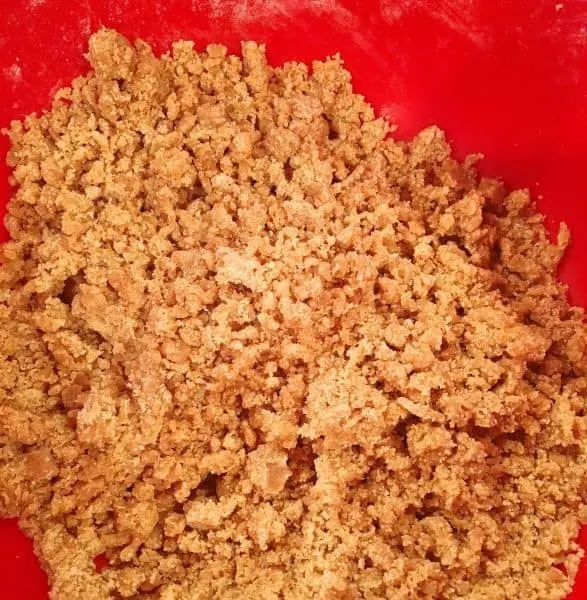 Adding Crumb Topping To Cake
Sprinkle crumb topping over the top of cake batter.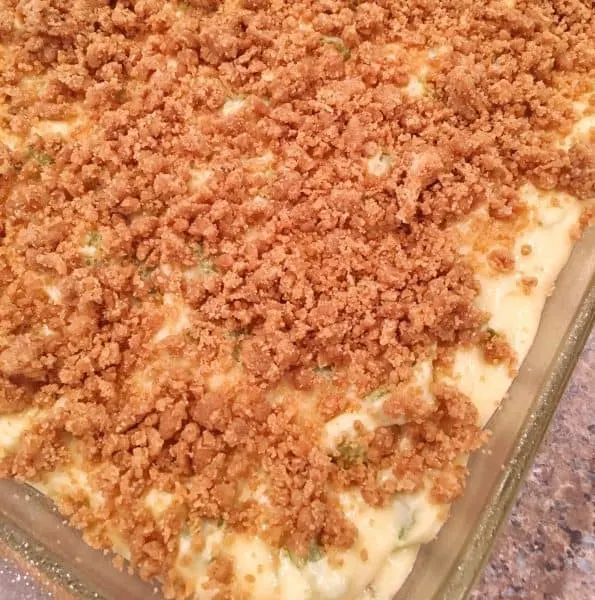 Baking Instructions for Rhubarb Cake
Bake in a preheated 350° oven until a toothpick inserted into the center of the cake comes out clean, 45–50 minutes.
Isn't that a pretty cake! I just want to hike my way across that beautiful crispy tasty crumb!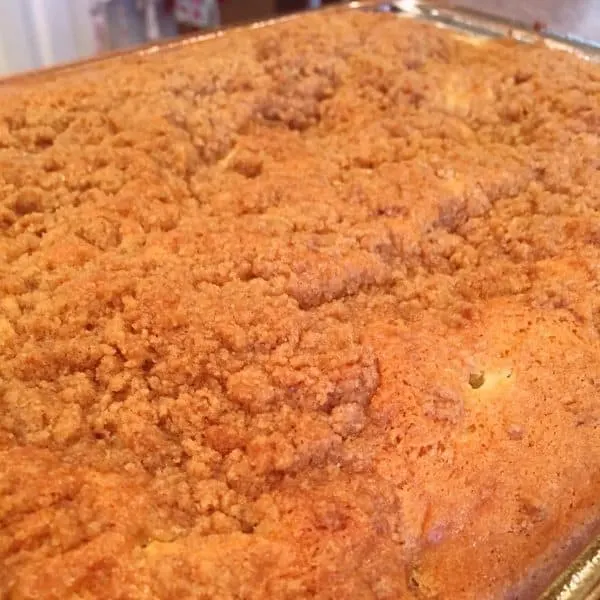 Cool cake (or "cakes", plural, if you're an accidental overachiever like myself! Go team!) on a wire rack.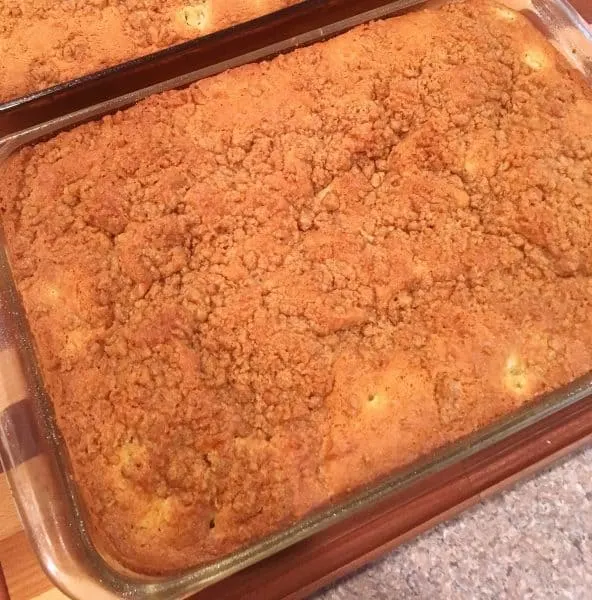 Look at that wonderful Rhubarb Sour Cream Coffee Cake! It's an awesome breakfast cake or a great afternoon "snack cake". (Hey, it's how I like to snack! Veggies…remember!)
This recipe can be modified from a Rhubarb Coffee Cake to a Peach Coffee Cake, or an Apple Coffee Cake. Reduce the sugar to 1 cup since those are naturally sweeter fruits than Rhubarb.
I can hardly wait for peach season, so I can give this recipe a try with fresh peaches!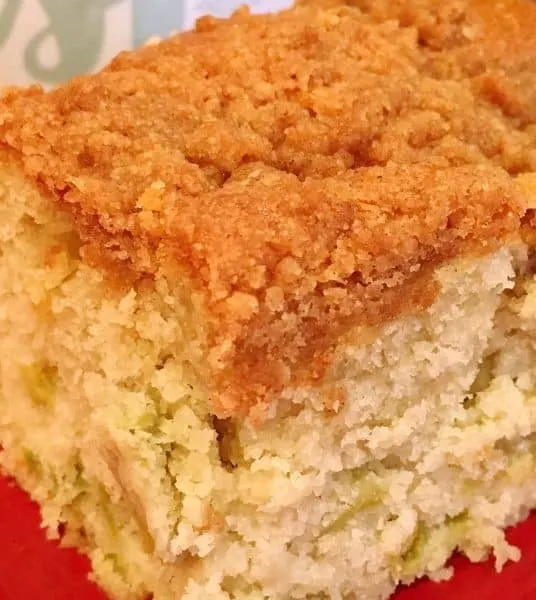 A simple, yet luscious cake the whole family will enjoy and a great way to use up that Rhubarb!
Here are a few of my other Favorite Cake Recipes
I'd love to have you to follow me on Facebook, Instagram, and Pinterest where I share all my latest favorite recipes. You can also sign up for my bi-monthly Newsletter…be one of the first to see what new recipes are headed to Norine's Nest.
I hope you'll love this cake as much as I did! It was just too good to trust myself to be alone with two of them. Thank goodness for willing taste testing friends. Thanks for joining me!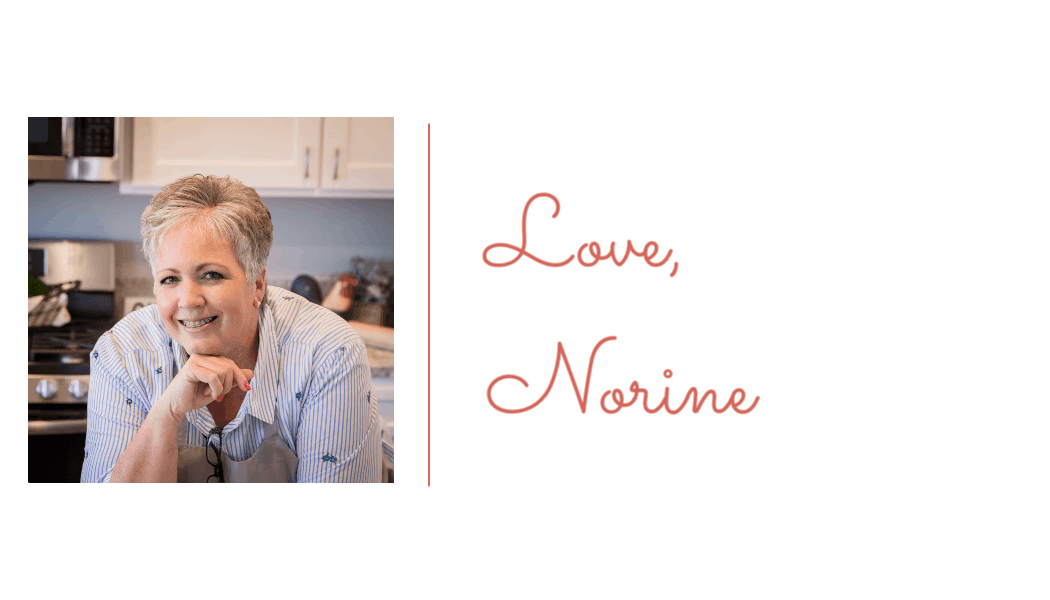 Yield: 15 servings
Rhubarb Sour Cream Coffee Cake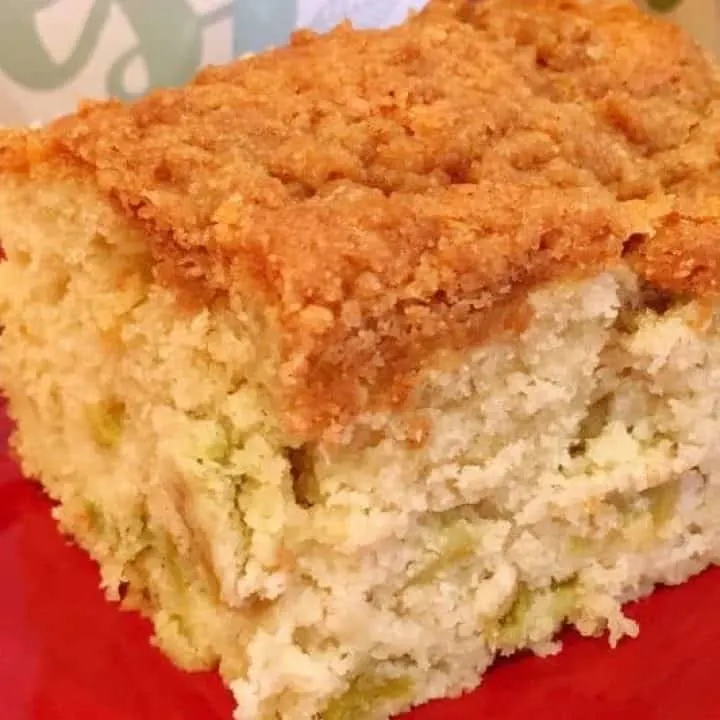 A luscious coffee cake is a tasty way to start off the day - or end it! Either way you're family will love this moist tender cake.
Total Time
1 hour
5 minutes
Ingredients
3/4 cup butter, softened
1 1/2 cups of sugar
3 large eggs, room temperature
1 1/2 tsp. vanilla extract
3 cups all-purpose flour
2 tsp. baking powder
1 tsp. baking soda
3/4 tsp. salt
1 cup (8 oz.) sour cream
3 cups chopped fresh or frozen rhubarb
Topping
1/2 cup packed brown sugar
1/4 cup all-purpose flour
1 tsp. cinnamon
1/4 cup butter, cut into small cubes
Instructions
In a bowl, cream butter and sugar until fluffy. Add eggs, one at a time, beating after each addition. Add vanilla; mix well.
In a bowl, whisk together flour, baking powder, baking soda, and salt. Add to creamed mixture alternately with sour cream. Fold in rhubarb. Spread in a greased 9 x 13 baking dish.
For topping, in a bowl, combine brown sugar, flour and cinnamon. Cut in butter until mixture resembles coarse crumbs, sprinkle over batter.
Bake at 350° until a toothpick inserted in center comes out clean, 45-50 minutes. Cool on a wire rack.
Notes
This recipe can be changed by substituting fresh peaches or fresh apples instead of rhubarb. Reduce sugar to 1 cup if changing fresh fruits.
Recommended Products
As an Amazon Associate and member of other affiliate programs, I earn from qualifying purchases.
Nutrition Information:
Yield:
15 servings
Serving Size:
1 piece of cake
Amount Per Serving:
Calories:

336
Total Fat:

14g
Saturated Fat:

9g
Trans Fat:

1g
Unsaturated Fat:

5g
Cholesterol:

72mg
Sodium:

381mg
Carbohydrates:

48g
Fiber:

1g
Sugar:

26g
Protein:

4g