Need the Perfect Vanilla Cake recipe? Here it is! The World's BEST Vanilla Cake Recipe is made with simple ingredients that combine to create a superbly moist, melt-in-your mouth vanilla cake! Finish it off with my special Vanilla Bean Buttercream Frosting.
For years, yes years… I've been trying to bake the BEST vanilla cake recipe! Each attempt was either too dry, which isn't unusual for a white cake, or too heavy, too complicated, or too bland!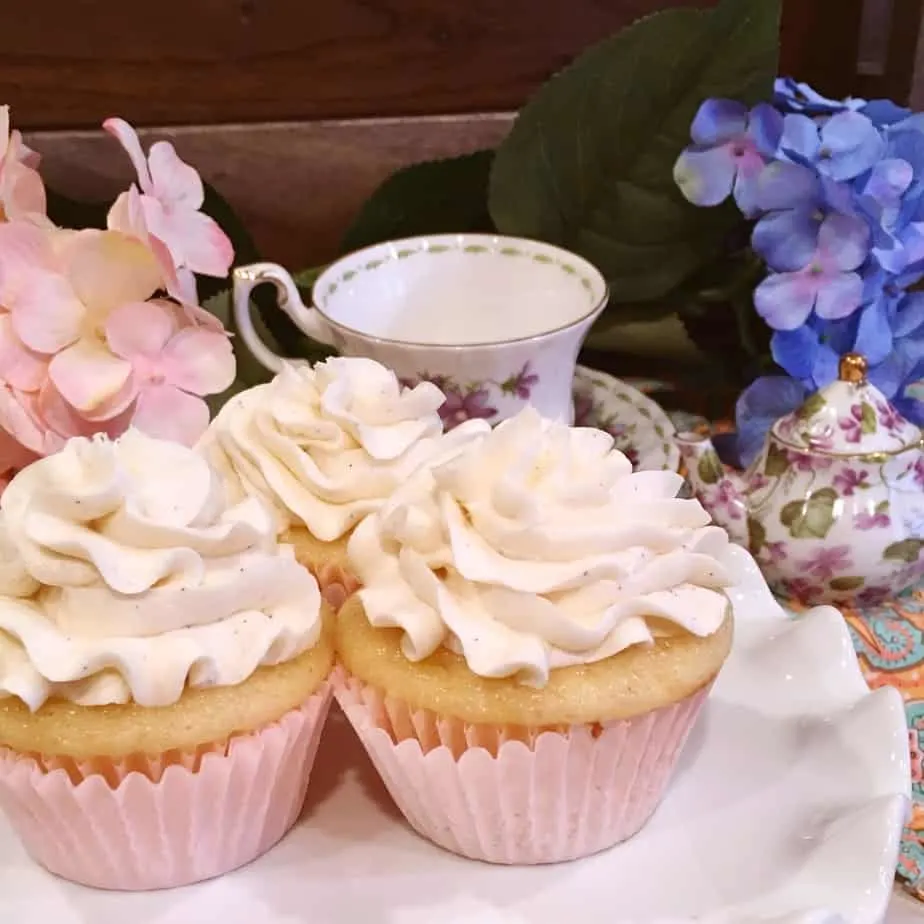 I wanted the Perfect Easy Vanilla Cake! (I don't want much do I! Hey, if I'm packing the calories on my fanny… I want them to count!)
It took a lot of trial and error…a lot of epic failures…but finally I nailed it! (Not like that Netflix show… I truly nailed it!)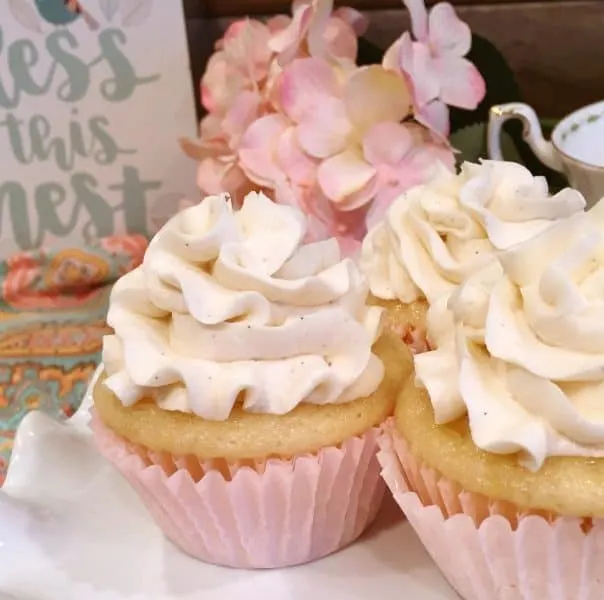 The cake is tender, moist, and truly melts-in-your-mouth from the very first bite! The flavor of vanilla shines through, but isn't overpowering! The cake rises with a slight mound and springs back beautifully when fully baked.
To top off this amazing Vanilla Cake I added my Special Vanilla Bean Buttercream Frosting!
I'm not a huge buttercream frosting fan! It has to be light and creamy and not overly greasy! Most buttercream frosting taste like someone whipped up a stick of Crisco shortening and added a sprinkle of powder sugar! GAG!
Not so with this frosting! People beg me for this buttercream frosting recipe! Let's get baking!
How To Make The Perfect Vanilla Cake
In the bowl of your mixer combine 2 cups of granulated sugar, 1/2 cup of vegetable oil, 3 large eggs (without the shells…let's not ruin this cake right from the start!), and 1 Tablespoon Pure Vanilla Extract! This is a vanilla cake so let's use the BEST vanilla we can!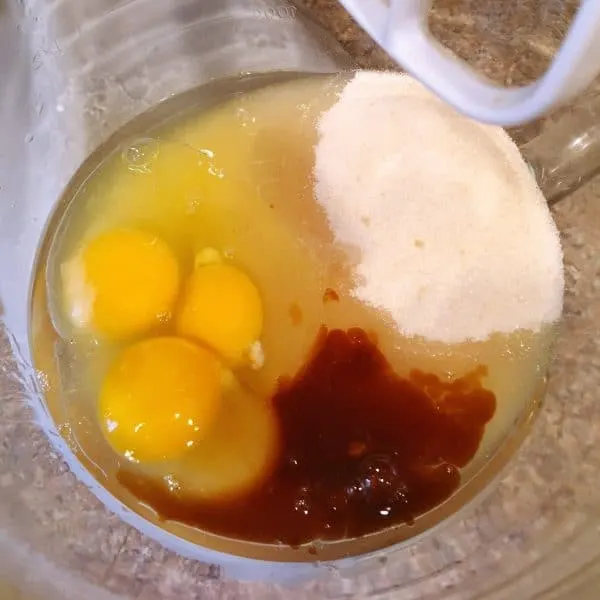 Mix on medium speed until eggs and sugar are well incorporated and batter is lighter in color. Add 1/2 cup of sour cream. Beat until well blended.
TIP: Sour Cream adds moisture and density to a cake. It also creates a unique flavor and tempers the sweetness of the sugars.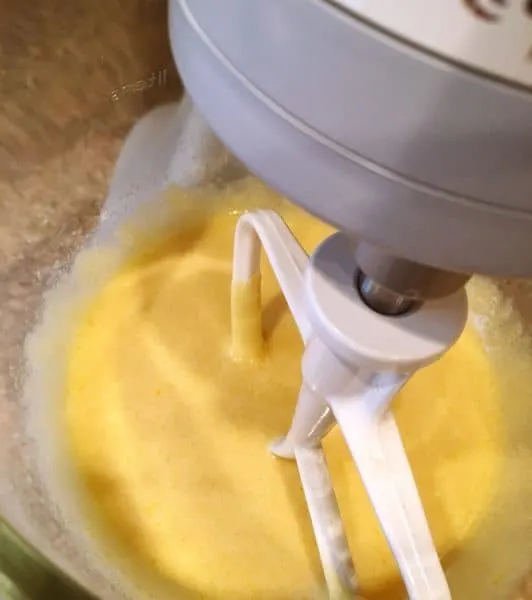 Add half the flour, 1 and 1/4 cup, 3 teaspoons baking powder, and 1 teaspoon salt. Beat on low-speed until mixture begins to combine with sugar. Add half the milk and continue mixing until flour begins to incorporate.
Add remaining flour, continue mixing on low-speed while pouring the remaining milk. Beat until all the ingredients are well combined creating a nice light batter.
TIP: DO NOT OVER BEAT cake batter. You should immediately stop mixing once you no longer see any white powder. Over mixing a cake can cause the gluten in the flour to form elastic gluten strands resulting in cake that is denser and with a chewy texture.
Use a spatula to scrape down the sides of the bowl and stir the batter from the bottom to the top making sure you get all the ingredients off the bottom of the bowl. This batter is thinner than some. So don't let that concern you.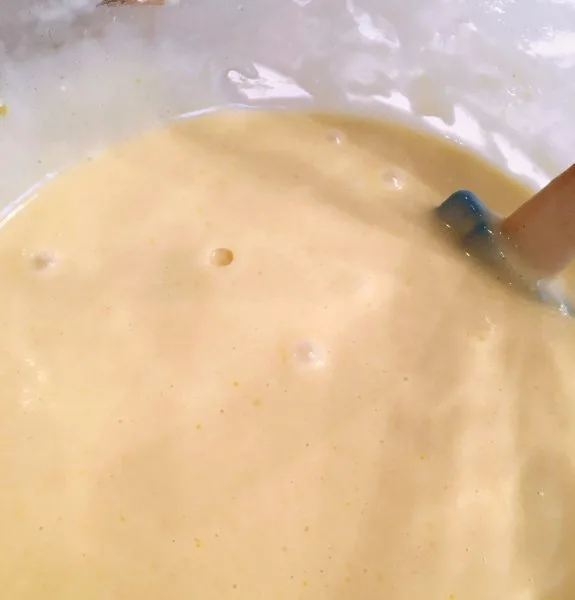 This Vanilla Cake Recipe is great for a 9 x 13, a double round cake, or cupcakes. I made cupcakes because I like to share my calories with my skinny friends! It's a secret plan…don't tell anyone! Shhhhh!
Pour batter into the baking pan of your choice. If using a 9 x 13, or two 8 inch round baking pans, be sure to prepare the pan with bakers joy or another non-stick baking spray.
TIP: I like to use parchment paper on the bottom of my round cake pans. It makes it easier to remove the cakes from the pans for a double tiered cake!
For cupcakes fill the cupcake liners 2/3 full. This batter rises beautifully so be careful not to overfill the liners. (That is one really well seasoned loved cupcake pan! I promise I wash it every time!)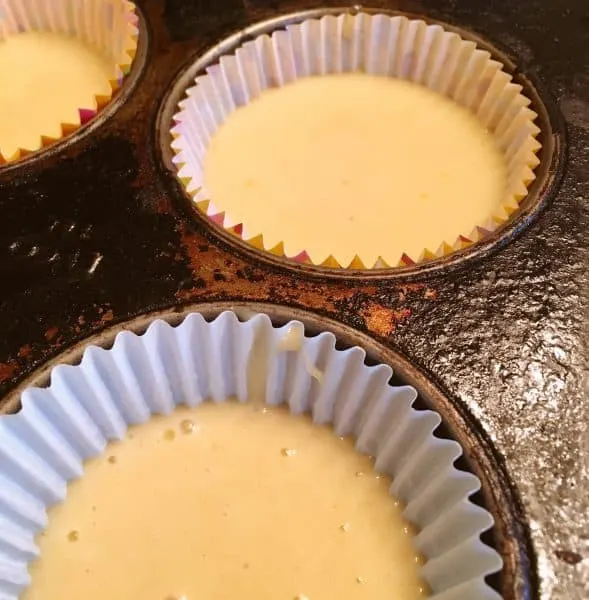 Bake in preheated 350° oven. Bake cake for 28–32 minutes on the center rack in your oven. Bake Cupcakes for 18–20 minutes.
TIP: Cake is done if gently pressed in the center, they spring back. You can also use a toothpick to test to see if the cakes are done. Poke toothpick in the center of the cake. If it comes out clean, the cakes are done.
Remove cake from oven and allow to cool on cake rake.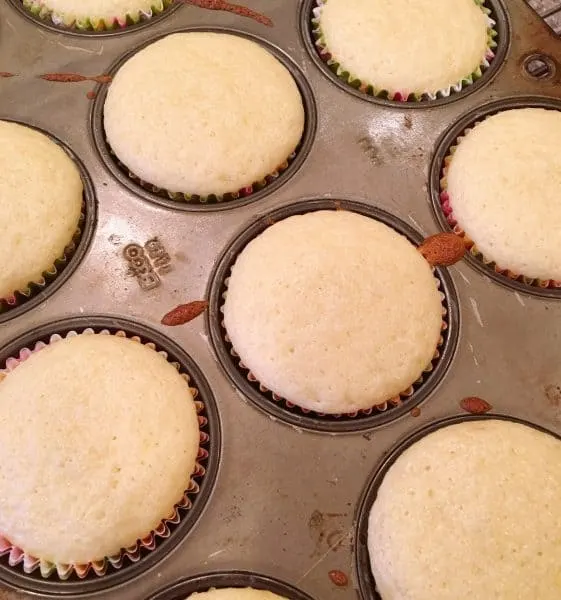 How To Make Vanilla Bean Buttercream Frosting
This is a ridiculously easy recipe for Buttercream Frosting! I'm almost embarrassed to share it…but it's just too good not to!
Like I mentioned earlier, I'm not a huge frosting fan, but this recipe is truly special! It has just the right balance of ingredients to create the ideal buttercream for frosting cakes and making borders.
I am constantly asked for the recipe when I make a cake for someone. It's just that good!
So let's do this…
In a large bowl, or the bowl of your mixer, add 1 cup shortening and 1 cup soften butter. Cream the two until fluffy!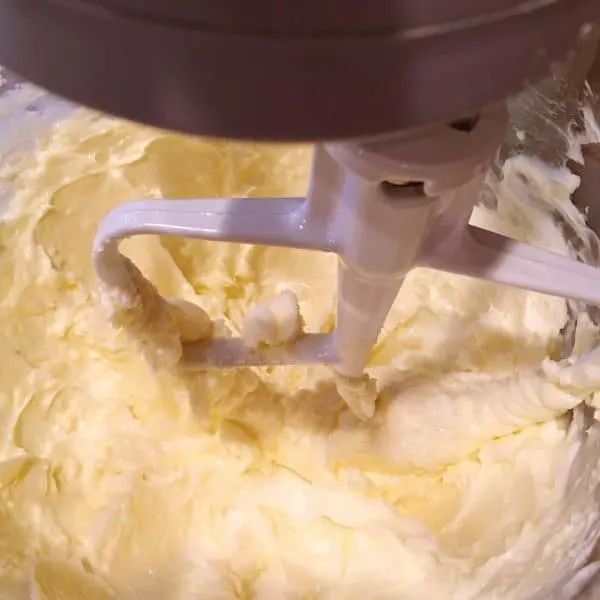 Add 8 cups confectioner's sugar….also known as…powder sugar! If you live "across the pond" it's called "icing sugar"! I once confused a poor man trying to make one of my recipes because he had no idea what "confectioner's sugar" was. So I want to be clear as mud this time!
Y'all…if you'd like to decorate your entire kitchen in powder sugar, making it look like an elf sneezed, just turn the mixer on, stand back, and watch the snow fly!
TIP: To prevent random powder sugar dusting of your kitchen…cover the mixer, by draping a kitchen towel over the top of the mixer and down the outside of the bowl. This will keep the powder sugar from flying out of the bowl when the mixer is turned on. Kitchenaid also makes a special shield for their mixers.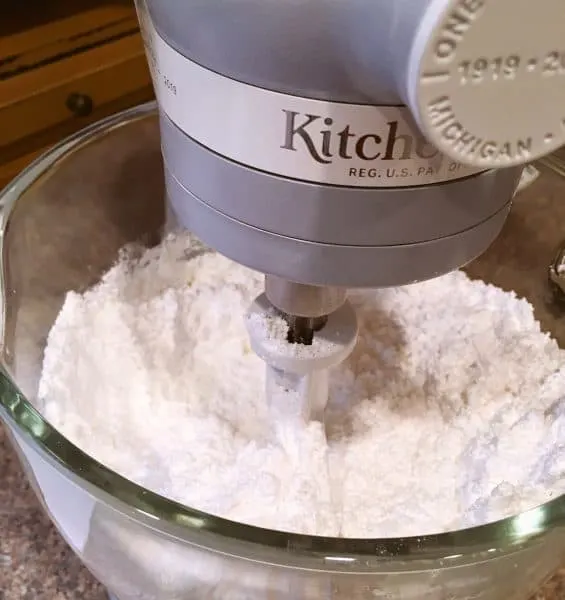 Continue creaming until well blended. Add salt, vanilla, vanilla bean paste, and the secret ingredient to making this frosting AMAZING…whipping cream!
Add additional whipping cream if necessary, to get the desired consistency. Beat on high-speed until frosting is fluffy.
TIP: Add whipping cream a few tablespoons at a time to make sure you don't add too much.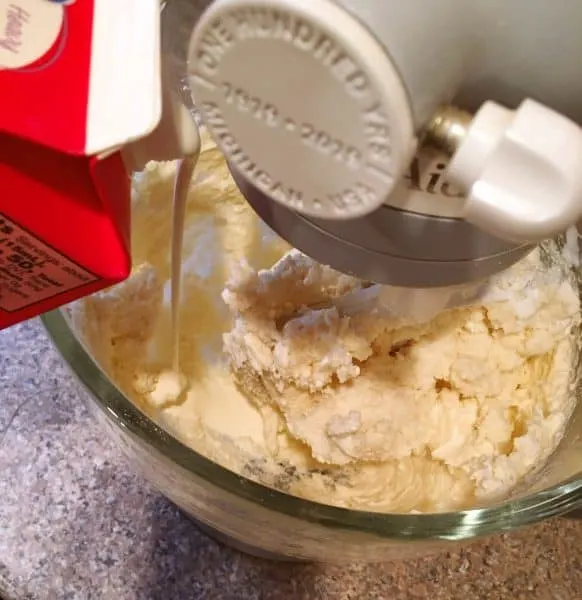 The whipping cream adds additional "fluff" and creaminess to this scrumptious frosting! This recipe makes a big batch of frosting. It will be more than enough to frost a double layer cake or 30 plus cupcakes.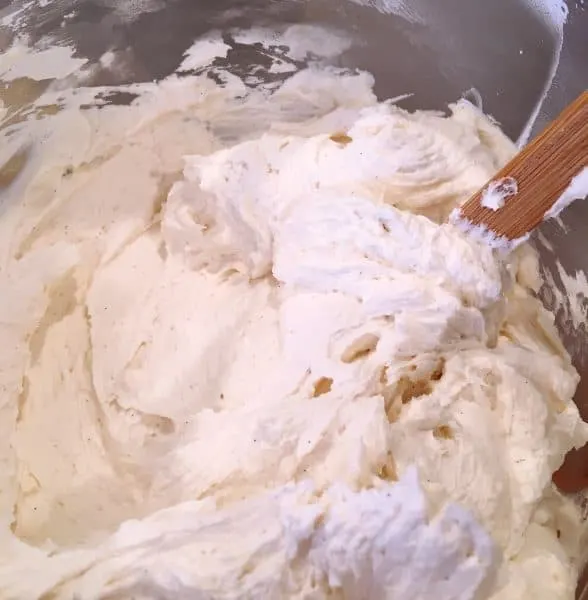 Once cake is cool you can frost the cake. However, make sure the cakes are cool, or the frosting will melt. Remember the base of this frosting is butter and shortening…then there's that whipped cream!
This Vanilla Bean Buttercream is smooth, silky, and so creamy! It's the perfect companion to the World's Best Vanilla Cake! Together they combine to create a spectacular taste treat!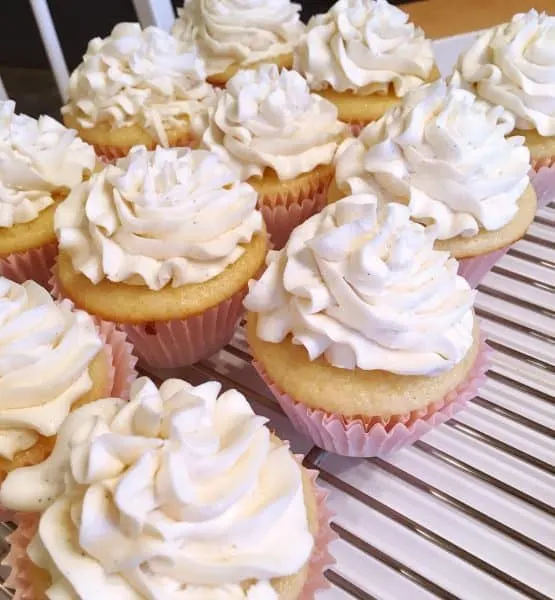 You'll be swooning after the first bite! I just had to take a bite, so I could show y'all! (I sacrifice and do what I have to do for y'all! It's okay..don't worry about me!)
Look at the composition of that cake! That my friends is a thing of beauty! So tender, and so moist! The vanilla flavor is subtle, yet makes itself known! Topped with that Special Buttercream Frosting… Heaven!!!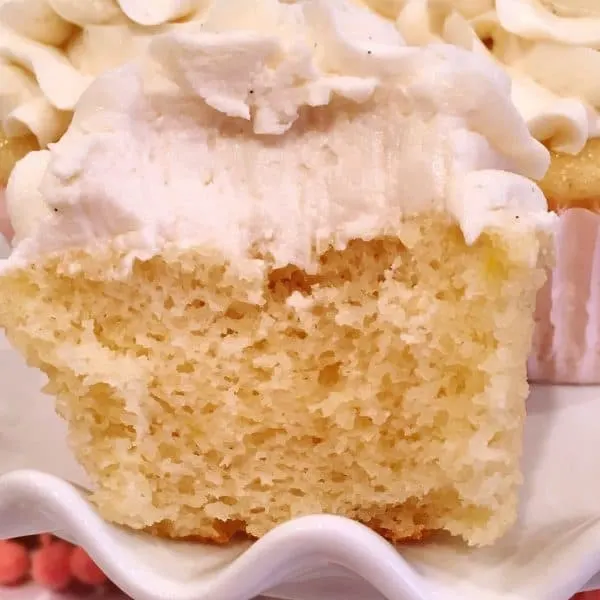 I took a plate over to my daughters house…she had one…then another…and somewhere in there she mumbled something about "These rrrrrrrr um-mazing!" (Sometimes ya can't stop eating to talk. Priorities my friends. Priorities!)
So there ya have it! The World's BEST Vanilla Cake Recipe with Special Vanilla Bean Buttercream Frosting!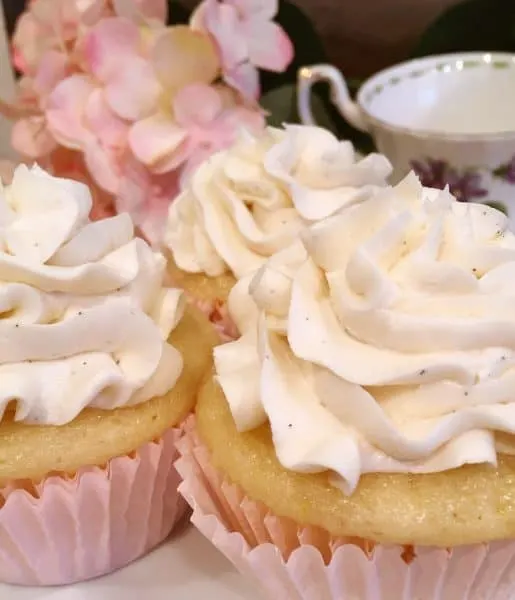 This vanilla cake recipe is perfect for Mother's Day, Bridal Shower, or Baby Shower. A fantastic birthday cake. They'd also be great for "This woman needs sugar and carbs now to keep everyone alive" day! (Just sayin'…)
Check out my other Amazing Cake Recipes!
Thanks so much for stopping by today for this Easy Delicious Vanilla Cake Recipe! You can also follow me on Pinterest, Facebook, and Instagram. Don't forget to sign-up for my bi-weekly newsletter where I share all my latest recipes. Have a Great Day!
Happy Nesting!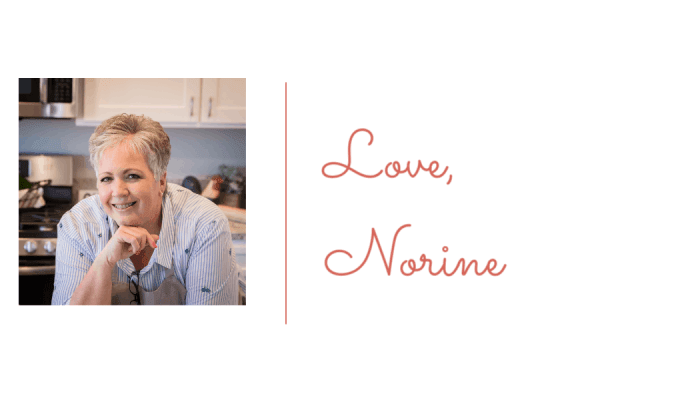 Yield: 12 servings
World's Best Vanilla Cake Recipe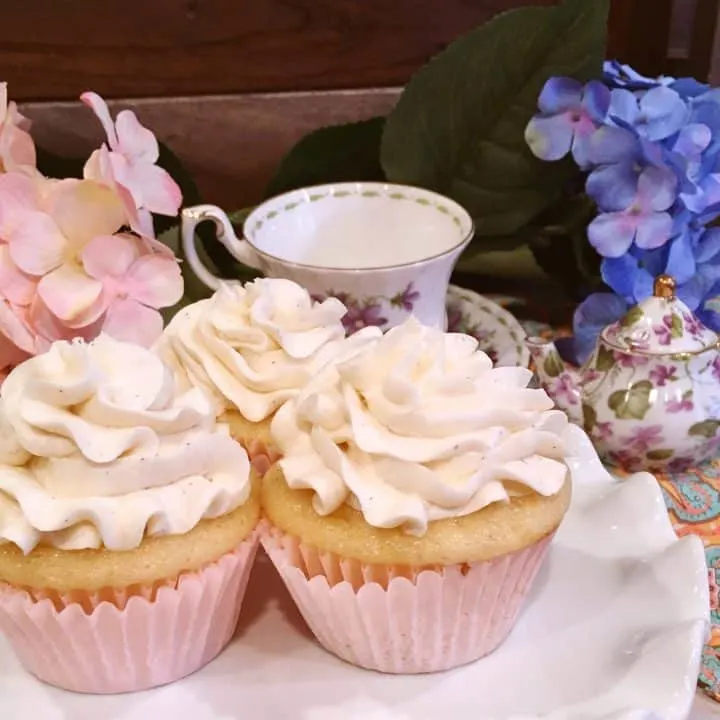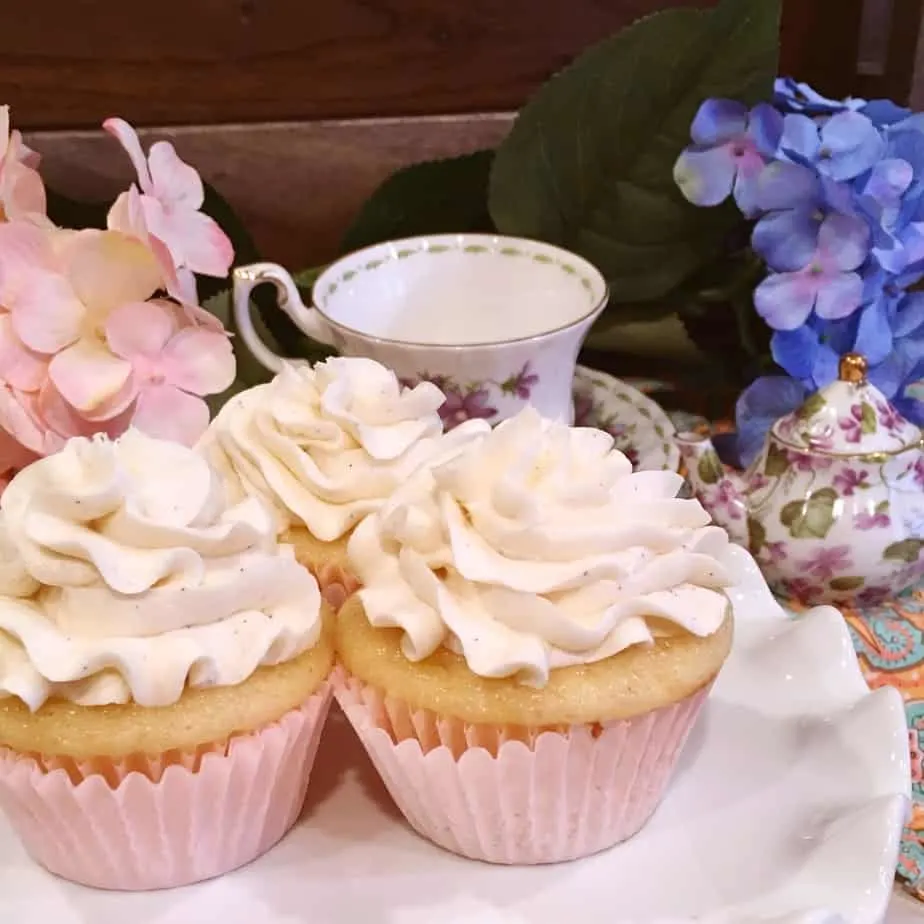 This classic homemade vanilla cake recipe is tender, moist, and has the perfect soft crumb with luscious hints of vanilla. Paired with a Special Vanilla Bean Buttercream it creates the BEST Vanilla Cake!
Additional Time
30 minutes
Total Time
1 hour
22 minutes
Ingredients
2 cups granulated sugar
1/2 cup vegetable oil
3 large eggs
1 Tablespoon Vanilla extract
1/2 cup sour cream
2 1/2 cups flour
3 teaspoons baking powder
1 teaspoon salt
1 1/4 cups milk
Vanilla Bean Butter Cream Ingredients
1 cup butter, soften
1 cup shortening
8 cups powder sugar
1/2 teaspoon salt
2 teaspoons vanilla
1 teaspoon vanilla bean paste
6 fluid ounces heavy whipping cream
Instructions
Preheat oven to 350°
In a large mixing bowl, combine sugar, oil, eggs, and vanilla extract. Beat on medium speed until eggs and oil are well incorporated and batter is lighter in color, about 2 minutes.
Add in the sour cream and beat until smooth and well incorporated.
Add half the flour, followed by the baking powder and salt. Beat on low speed and slowly add half the milk. Mix until the flour begins to incorporate.
Add remaining flour, continuing to mixing on low speed. Add remaining milk and beat until ingredients are just combined. Use a spatula to scrape down sides of bowl and stir the batter from the bottom to the top.
Batter will be thin. Pour batter into a 9 x 13 pan sprayed with non-stick baking spray. Like Bakers Joy.
Bake at 350° for 28-32 minutes. If making cupcakes adjust baking time 18-20 minutes. Cakes are done when you press the center with your finger and it springs back.
Remove from oven and cool on cake rack until completely cool then frost with special vanilla buttercream frosting.
Special Vanilla Bean Buttercream Frosting
Cream together shortening and butter until fluffy. Add powder sugar and continue creaming until well blended.
Add salt, vanilla, and whipping cream. Blend on low speed until moistened. Add additional whipping cream if necessary. Beat at high speed until frosting is fluffy.
Notes
Additional cook time is for frosting.
Recommended Products
As an Amazon Associate and member of other affiliate programs, I earn from qualifying purchases.
Nutrition Information:
Yield:
12
Serving Size:
1 slice of cake
Amount Per Serving:
Calories:

1217
Total Fat:

51g
Saturated Fat:

22g
Trans Fat:

1g
Unsaturated Fat:

25g
Cholesterol:

121mg
Sodium:

548mg
Carbohydrates:

189g
Fiber:

1g
Sugar:

168g
Protein:

6g