This dish has been a family favorite for years! This simple slow cooker Shredded Pork Roast served with steamed rice, a fresh green garden salad, roasted tortilla's, and ranch dressing, is one of our all time favorite suppers!
I'm not even 100% sure how I came up with it? I think it was on a Sunday when I was low on groceries and trying to scrape together something for the family to eat.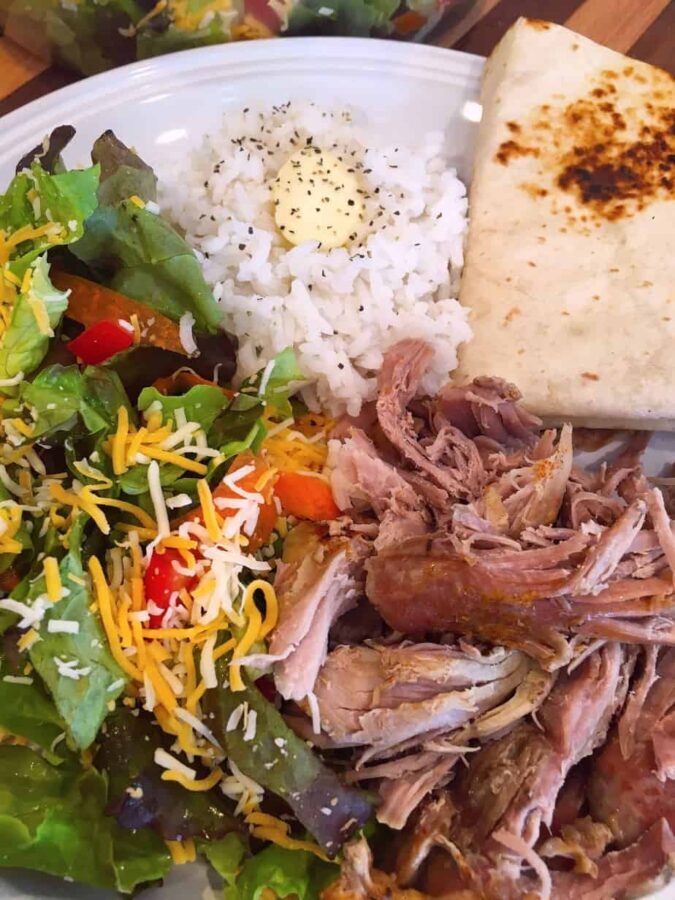 Next thing I knew…we were all exclaiming how much we loved this simple dinner idea!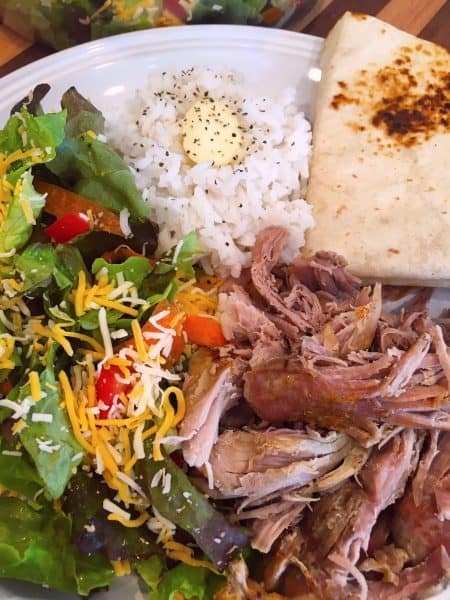 It's so good I dream about putting it on a menu for my "dream" restaurant some day! (One can dream!)
How To Make Shredded Pork Roast Wraps
It all begins with a small 2-3 pound "Swift Premium" Pork Sirloin Tip Roast. (Like all good stories…lol)
These pork roasts can be purchased at Costco in a 4 pack for about $13- $14. That's right…4 pork roasts for $13! I love these little tender moist roasts!
Place roast in slow cooker. If you have a cooking rack you can place the roast on top of that in your slow cooker, but it isn't necessary! (I just like to try to be impressive! Note I said "Try"!)
Season with 1 tsp garlic salt, 1/2 tsp coarse black pepper, 1 tsp paprika, and 1/2 tsp onion powder. Rub into the top and sides of the roast. Add 1 cup of water to the bottom of your crock pot.
Cover and cook on low for 4-6 hours. I know that is a huge time discrepancy however today's Crock Pots/Slow Cookers have such varying interpretations of "low" that you'll need to check the roast at 4 hours. Mine generally takes 6 hours.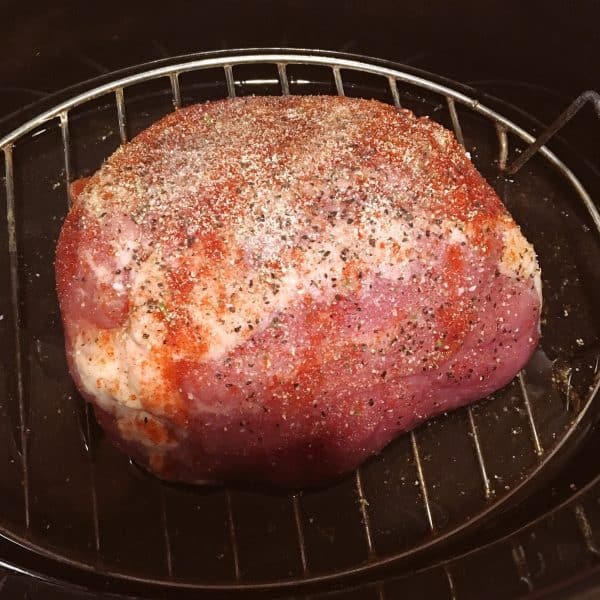 The Roast is done when you can stick a fork in it (no pun intended…seriously…this is how you check it) and gently twist it and it starts to pull apart and the thin membrane has split open.
TIP: These little roast do not have a lot of fat on them yet they are very moist and tender when not overcooked. Be sure to check it after 4 hours of cooking.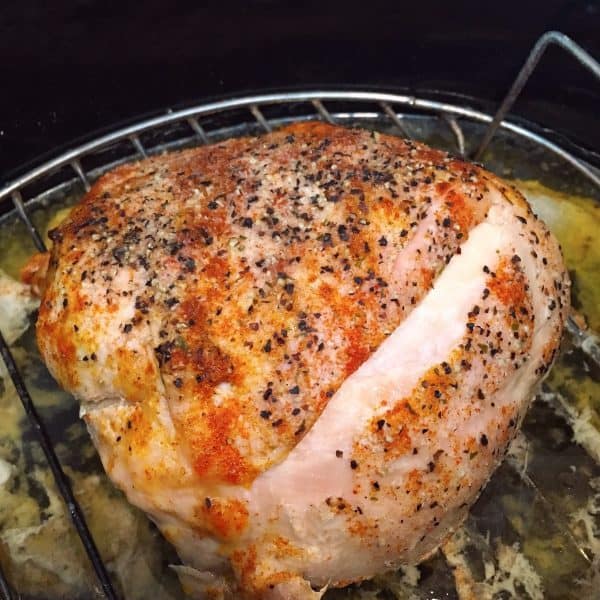 Using two forks shred the pork roast! Just dig in there and start shredding. This is a great stress reliever! (A meal and therapy! What more could ya ask for! lol)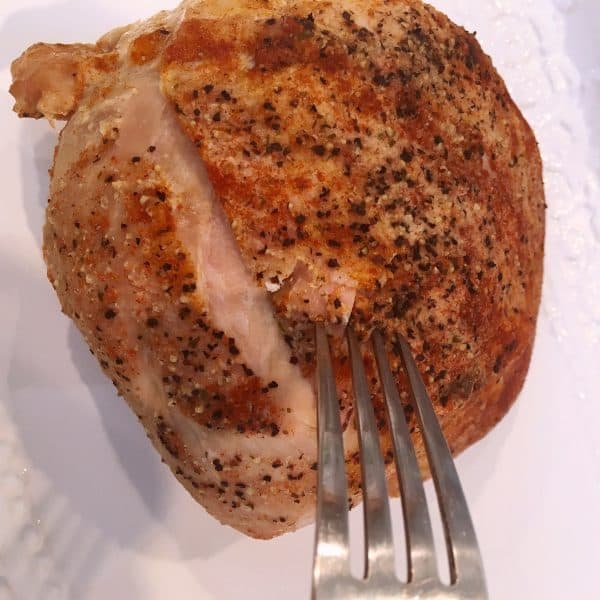 Place the shredded, perhaps pulverized, pork roast on a serving platter.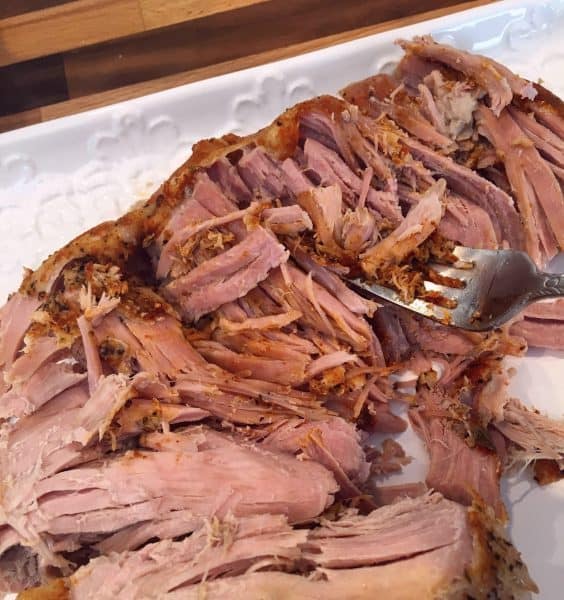 There is a lot of meat in one of these little roasts! Don't let that little piggy fool ya! They're little porkers!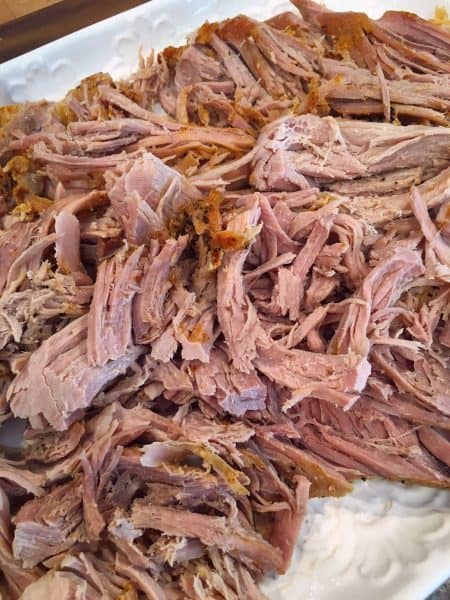 I mentioned at the beginning of this post that I make a large green salad and a bowl of steamed long grain white rice to serve alongside this roast.
For the green salad, I use wash and torn red leaf lettuce, diced tomatoes, shredded carrots, diced avocado and grated cheese.
I also roast tortilla's to serve on the side.
To roast the tortillas…lay them right on top of the grates of your stove top, and using tongs…flip them as they begin to brown.
TIP: I recommend tongs…if you're a criminal trying to burn off your finger prints…perhaps skip the tongs! That's your helpful tip for the day!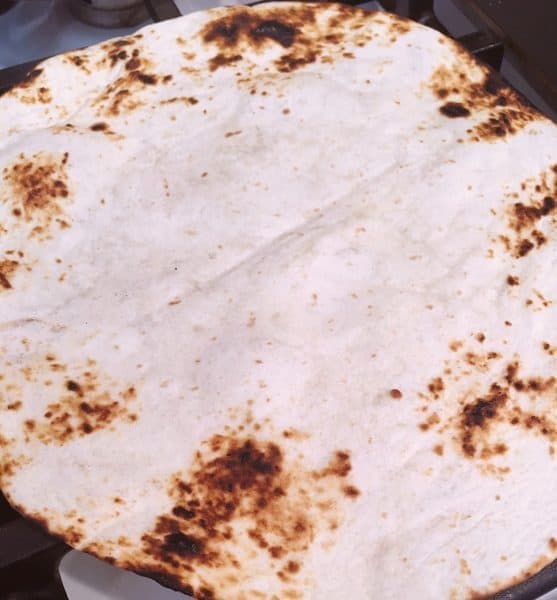 Next comes the good part! Time to load yer plate up and make that Shredded Pork Roast Wrap!
Start with your roasted tortilla, add meat, rice, and salad. Top it all off with a good squirt of Ranch! (I said a "good" squirt of Ranch! Come on…load'er up! This is farm food living at it's best!)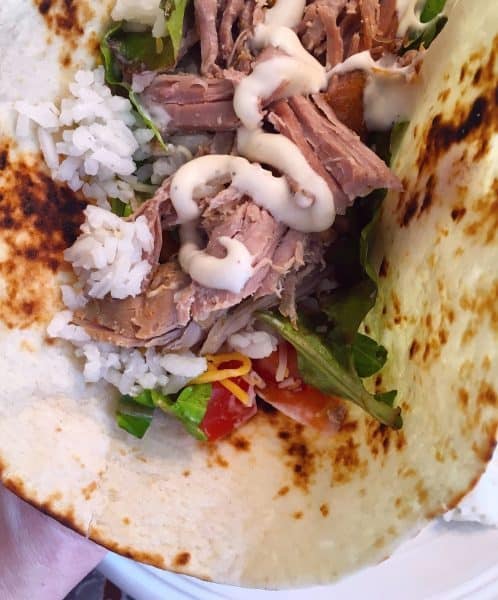 Roll it all up and dig in!
I know! This is a ridiculously easy recipe! You're probably thinking I need to have my head examined for even posting it.
That's okay. I've had it, you haven't…once you take a bite, let me know what ya think? I'm pretty sure you're going to love this supper idea as much as we do.
Everyone has their own take on this recipe. Some make a wrap or "burrito"…other's make a huge pork roast salad and use the tortilla as a "scoop".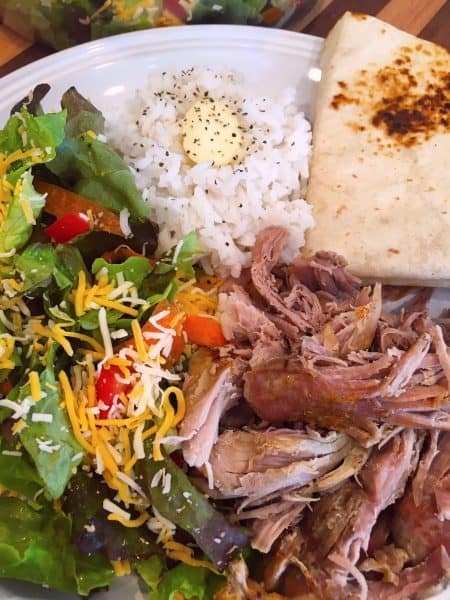 That's it! A quick, easy, delicious dinner or lunch idea that feeds four.
I love to take the left over salad the next day and load it up with the pork and rice and just have a warm pork salad. It sounds crazy…but it's SO good!
Favorite Family Dinner Recipes
I hope you'll give this family favorite a try at your Nest! I think you'll be pleasantly surprised! Who knows…maybe someday you can come to my restaurant and order it off the menu!
Thanks so much for stopping by!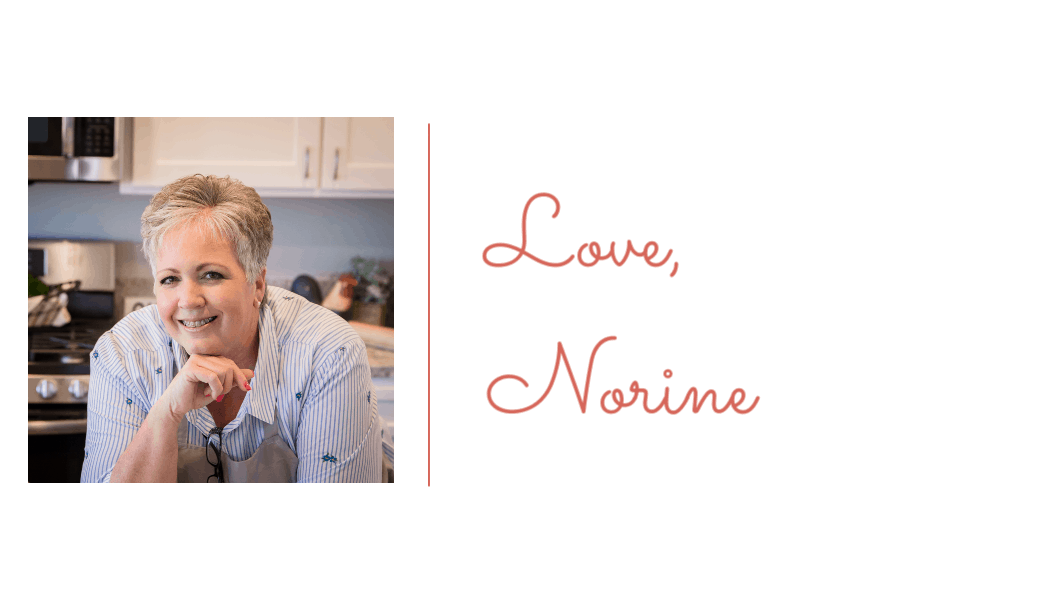 Yield: 6 servings
Shredded Pork Roast Wraps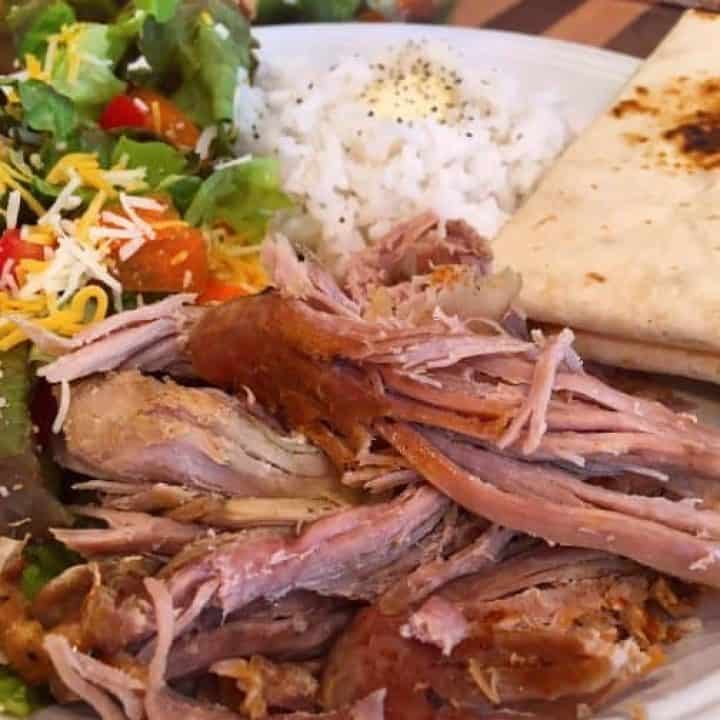 Tender Moist Slow Cooker Shredded Pork Roast is served with a fresh green salad, steamed rice, and roasted tortilla's for a easy and tasty dinner!
Total Time
6 hours
10 minutes
Ingredients
1 Swift Premium Pork Sirloin Tip Roast (2-3 pounds)
1 cup water
1 teaspoon garlic salt
1/2 teaspoon coarse black pepper
1 teaspoon paprika
1/2 teaspoon onion powder
large green salad
bowl of cooked white rice
ranch dressing
flour tortillas
Instructions
Place roast in crock pot. Sprinkle top of roast with garlic salt, onion powder, coarse black pepper, and paprika. Rub into top of roast and down the sides.
Add 1 cup of water to bottom of the slow cooker.
Cover and cook on low for 4-6 hours depending on temp of your slow cooker. Test at 4 hours by sticking fork into center of roast and twisting fork. If toast tears and separates it is done. If not continue cooking over low heat until meat falls apart easily.
Shred roast using two forks. Place on a platter.
Roast Tortillas over an open flame.
Serve with a large green salad, steamed white rice, and tortillas.
Layer meat, salad, rice in tortilla and top with a healthy squirt of ranch dressing. Roll up tortilla and eat.
Recommended Products
As an Amazon Associate and member of other affiliate programs, I earn from qualifying purchases.
Nutrition Information:
Yield:
6 servings
Serving Size:
3/4 cup of meat
Amount Per Serving:
Calories:

145
Total Fat:

3g
Saturated Fat:

1g
Trans Fat:

0g
Unsaturated Fat:

3g
Cholesterol:

13mg
Sodium:

362mg
Carbohydrates:

21g
Fiber:

1g
Sugar:

1g
Protein:

7g