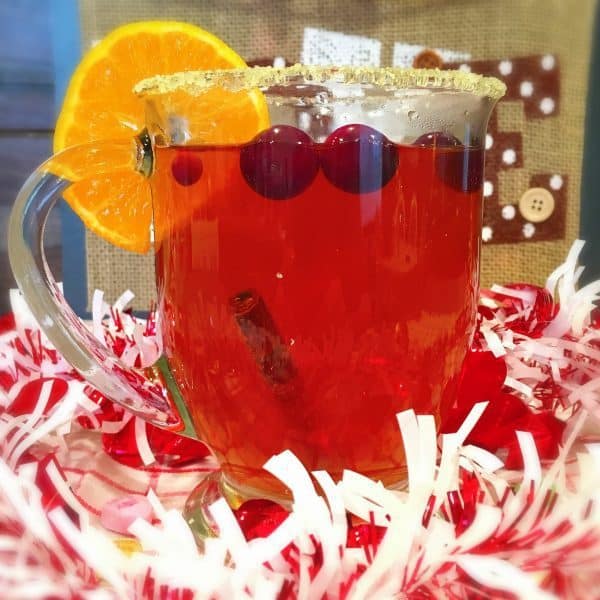 *As an Amazon Associate I earn from qualifying purchases. This post may contain affiliate links, which means that I may make a commission from any purchases at no additional cost to you. Thank you for your support!
Slow Cooker Blood Orange Spiced Cider is a great Fall and Winter beverage that warms you from the inside out!
Now, I have to be honest, I don't drink alcoholic beverages! At all! (We're dryer here than the dry years of Prohibition!)
I recall back in my Escrow Officer days, (same time as a prohibition!), attending parties where everyone was walking around with beautiful drinks and I was walking around with my diet soda can. (Not to put down diet soda. It's great with lunch, and at the movies with your popcorn. However in a fun social setting…uhhh? Not so much so!)
I wanted a fun party drink. I just didn't want the alcohol. So, with that in mind, I've created this delicious "Mock tail" of the classic Mulled Cider…minus the "mulling"!
I had so much fun mixing drinks in my kitchen and letting my creativity go wild! Believe me when I say I had a hard time picking a fun flavor to go with in this Spiced Cider. I picked Stirrings their Mixers and Rimmers are so delicious! I love Stirrings packaging and vibrant colors! Fun right?!!!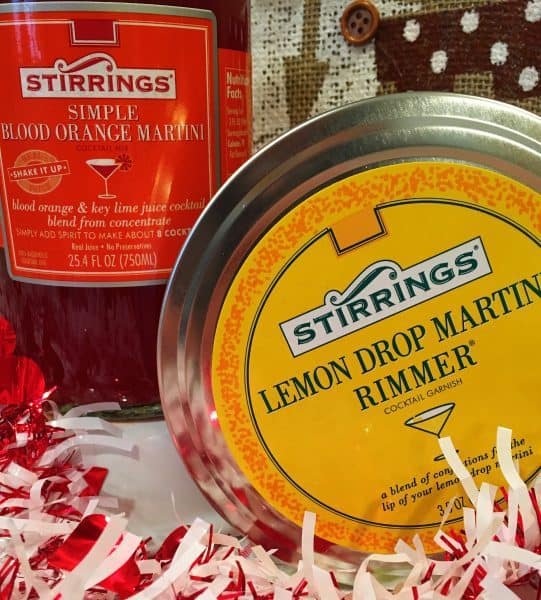 I know! I'm no cocktail expert. However, I honestly think it's an amazing drink! Even though the Christmas Holiday is over, it's perfect for cuddling up with your Valentine in front of the fire!
The best part? Your kids can join the party. Another BIG bonus…your going to let your slow cooker do all the work! Well, the slow cooker and Stirrings!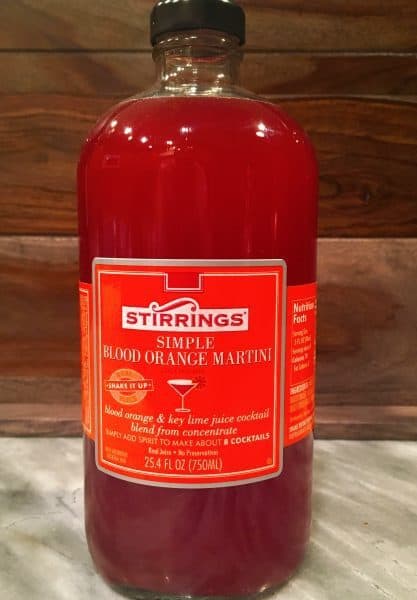 How To Make Slow Cooker Spiced Cider
To make this "mock tail" you will need a 2 quart mini slow cooker. (You can use a larger slow cooker if you don't have a mini 2 quart)
Add 4 cups white grape juice, 3/4 cup Stirrings Simple Blood Orange Martini Mixer, 10 whole cloves, 3 sticks of cinnamon, a dash of allspice, 1/2 cup fresh cranberries, and the juice of one fresh mandarin orange…
Let's just pause here for a second! I REALLY wanted to add sliced blood oranges. They are so beautiful! However, y'all know I live in the country, and evidently finding a blood orange in Country Town U.S.A., is as rare as finding a purple unicorn prancing around in my living room!
That said, I begrudgingly sliced one fresh mandarin orange and placed it in the Crock Pot with my other ingredients! Sometimes things happen for a reason! (Thank you small town U.S.A.)
The subtle hint of mandarin orange with the full-bodied flavor of Stirrings Simple Blood Orange was absolutely magnificent!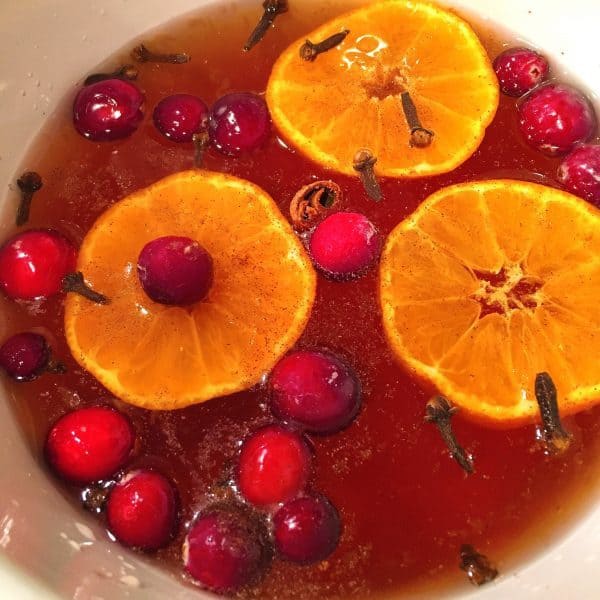 Set your slow cooker to low and allow the mixture to simmer for 2 hours.
The beauty of this recipe…the longer it simmers the stronger the flavors. So don't worry if you forget it's simmering away and you come back 4 hours later. It will be even better!
To finish the drink, take a small brush and apply a light ring of corn syrup to the rim of your mug, then dip the edge of your mug into the Stirrings Lemon Martini Rimmer.
Carefully ladle the warm Blood Orange Mock Mulled Wine into your mug over a fresh stick of cinnamon, and one or two fresh cranberries. Finish off your "mocktail" by garnishing with a fresh slice of mandarin orange.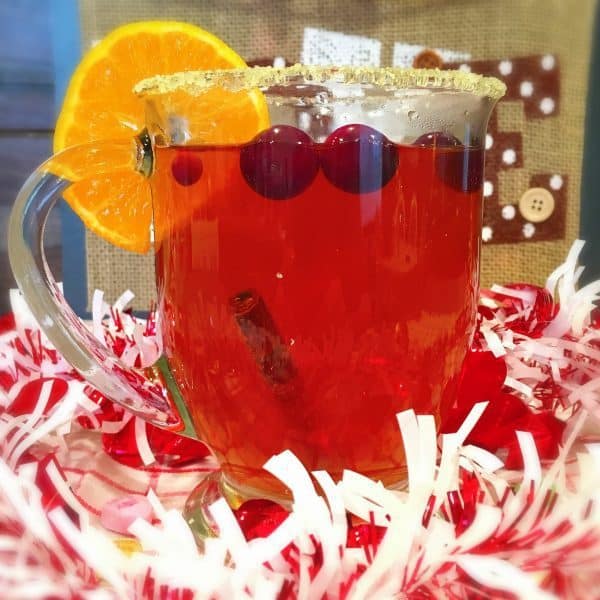 Isn't it beautiful! The aroma is mouth-watering and is matched by the amazing rich flavors of the blood orange mixer and spices. I have found my new favorite hot drink!
I loved the subtle burst of lemon flavor from the Lemon Martini rimmer. It was perfection! Not to mention the Rimmer adds a glittery festive feel to the overall appearance of the drink!
I think this delicious toasty Blood Orange Mock Mulled Wine, A cheese board, and a cozy fire with the love of your life,are all any hopeless romantic needs this Valentines day!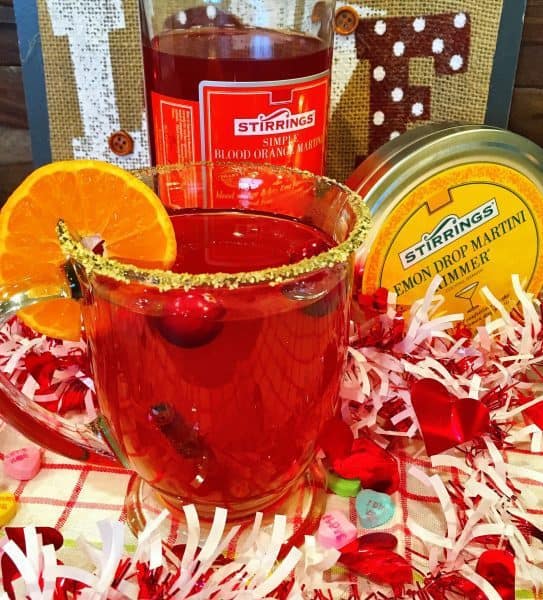 If you want to replicate this recipe you can find Stirring Products at my very favorite market…Harmon's! (Shout Out to my friends at Harmon's! I love ya!)
I'm including the printable recipe below. I hope you'll make this drink for your special Valentine! I think you'll love it as much as I do!
This is a beverage that can be enjoyed any time of the day and you won't need a designated driver! Well, unless deliciously warm drinks put you to sleep!
I had such a wonderful time creating this drink for all of you…My Nesting Friends! Great flavors, Great taste, Great packaging, and GREAT FUN!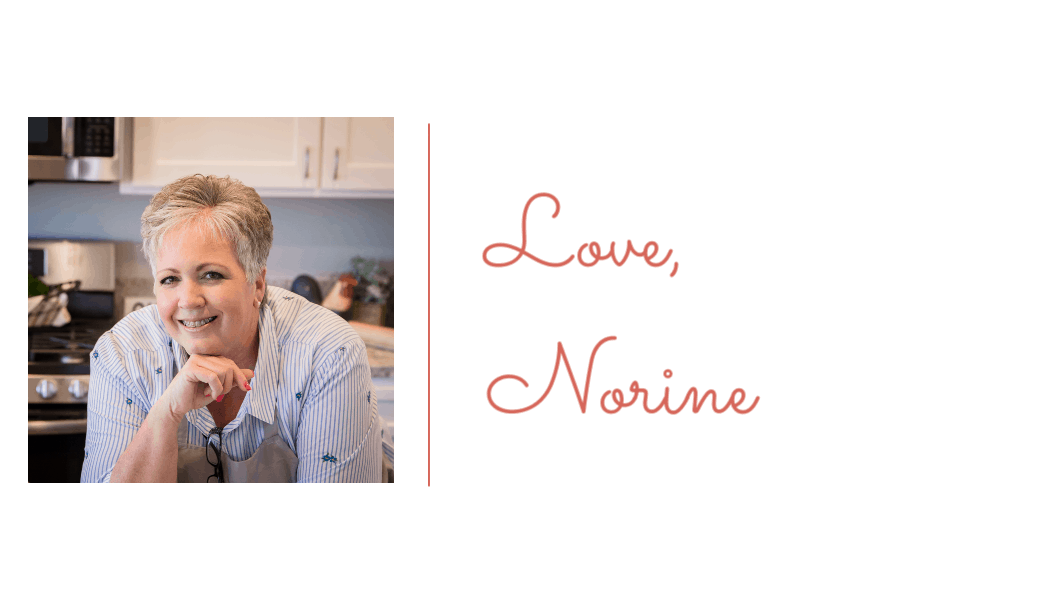 Yield: 3 - 4 servings
Slow Cooker Blood Orange Mock Mulled Wine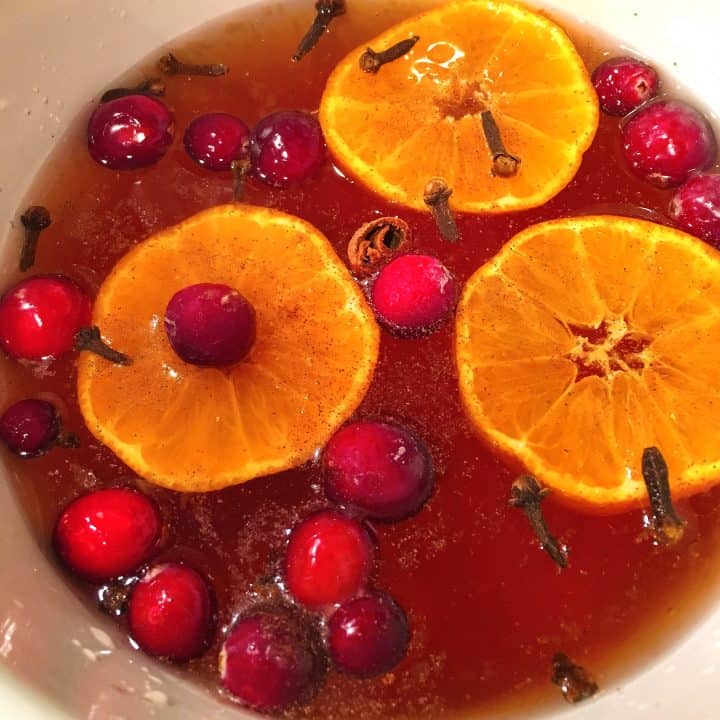 A delicious non-alcoholic Slow Cooker Blood Orange Mock Mulled Wine! A wonderful change from spiced cider this tasty hot beverage made with white grape juice and Stirrings Blood Orange Martini Mixer is the perfect drink for sharing with your Valentine!
Total Time
2 hours
5 minutes
Ingredients
4 cups white grape juice
3/4 cup Stirrings Blood Orange Martini Mixer (Found at Harmon's)
10 whole cloves
3 sticks cinnamon
dash all spice
1/2 cup fresh cranberries
juice of one fresh mandarin orange
one sliced mandarin orange
Light Corn Syrup for Rimmer application
Stirrings Lemon Rimmer
Garnish - Stick of cinnamon, 2-3 fresh cranberries, one slice fresh mandarin orange
Instructions
In a 2 quart slower cooker pour white grape juice and Stirrings Blood Orange Martini Mixer.
Add Whole cloves, Cinnamon Sticks, dash of allspice, fresh cranberries, juice of one mandarin orange, and one mandarin orange sliced.
Stir and simmer over low setting for 2-3 hours.
Use a small brush to coat the edge of a mug with light corn syrup. (This will allow the Rimmer to adhere to the edge of your mug) Dip edge of mug into the Lemon Martini Mixer.
Place fresh cinnamon stick and 2-3 fresh cranberries into your rimmed mug. Ladle hot Blood Orange Mock Mulled Cider into the mug. Garnish with a fresh slice of mandarin orange and serve.
Recommended Products
As an Amazon Associate and member of other affiliate programs, I earn from qualifying purchases.
Nutrition Information:
Yield:
3-4 servings
Serving Size:
1 cup
Amount Per Serving:
Calories:

520
Total Fat:

2g
Saturated Fat:

0g
Trans Fat:

0g
Unsaturated Fat:

1g
Cholesterol:

0mg
Sodium:

91mg
Carbohydrates:

118g
Fiber:

12g
Sugar:

94g
Protein:

4g