Tender juicy breaded fried chicken breast topped with bottled marinara and grated cheese make this an Easy Chicken Parmesan dish your whole family will love.
One of my all-time favorite Italian dishes is Chicken Parmesan! I didn't discover this delectable dish until I was sitting in the dentist office one day skimming through a magazine, obviously long before WiFi, waiting to be tortured!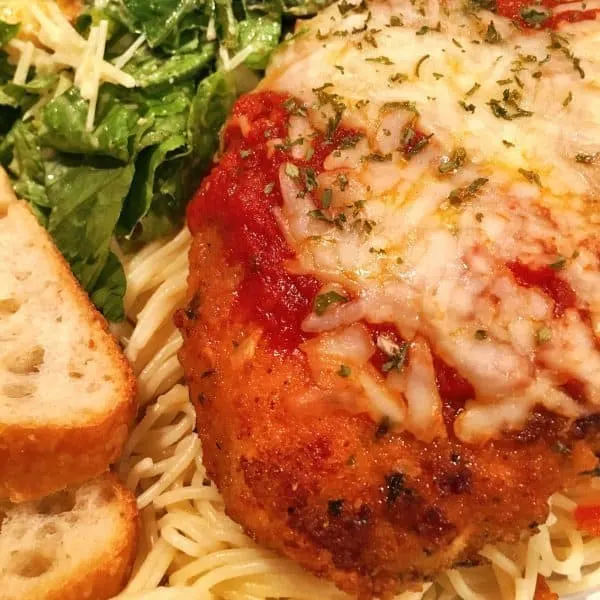 Right there in the middle of one of those wonderful foodie magazines was a shake-n-bake recipe for easy Chicken Parmesan!
WAIT! What was that loud noise?!! Oh… just the sound of a million Italians rolling over in their graves. I did just use the words Shake-n-bake and Chicken Parmesan in the same sentence. It was bound to happen!
I do apologize to the entire country of Italy for the offense. (There is a point to this story…hang in there with me!)
I digress…back to my point. Any who… It turned out pretty darn good! If you've never made Chicken Parmesan before and want an easy recipe that is the way to go. However, what if I made my own breading, fried it in a pan, and then did the other steps listed in the recipe? I bet it would be even better, and it was!
Trust me when I say this is an EASY Chicken Parmesan recipe and really delicious!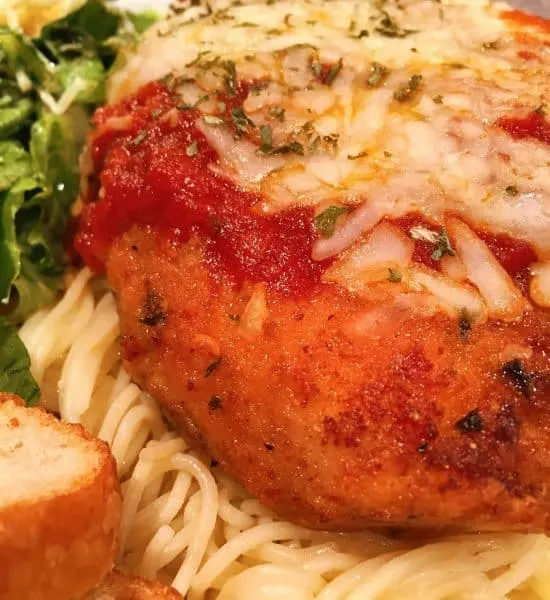 How To Make Easy Chicken Parmesan Cheese
You will need 2-4 boneless, skinless, chicken breasts.
TIP: I say 2-4 because this is a recipe that is easy to adjust for your nest! For our little nest, I only used 2 chicken breasts. If I had all the kids home, I would obviously use more. You know what will work best for your nest!
Filet your chicken breast by cutting it length wise in half. Why? Because this recipe is so much better when the chicken breast isn't too thick. It allows the meat to be more tender and juicy. Plus it cuts down on your cook time.
Place your chicken fillet between plastic wrap and using a meat tenderizer just go wild!
Okay maybe not WILD… I'm suddenly having visions of hormonal women pulverizing chicken breasts into mush! Let's bring it down a notch or two. Just give it a good whacking! (I tend to use meat tenderizing as a much-needed form of therapy. As far as I know there is no C.P.S. (Chicken Protective Services) for poultry! Sorry chickens of the world!)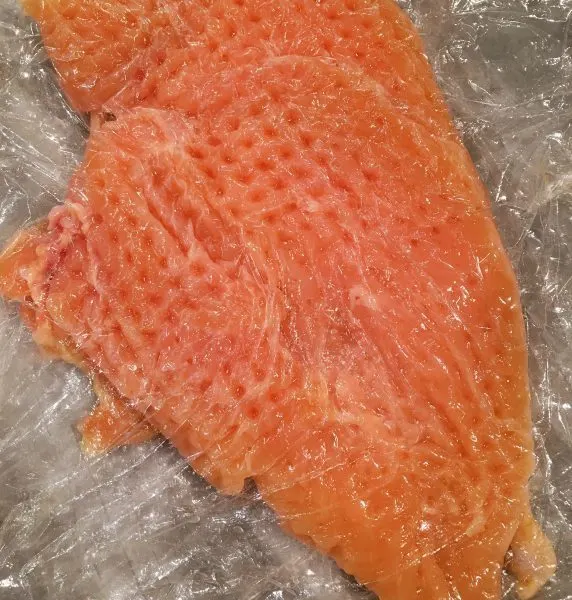 Once you have lovingly tenderized all your chicken breasts it's time to mix your bread crumbs and egg wash.
In a pie plate combine the bread crumbs, spices, and Parmesan Cheese. In a separate pie plate, or bowl, mix together the eggs for the egg wash.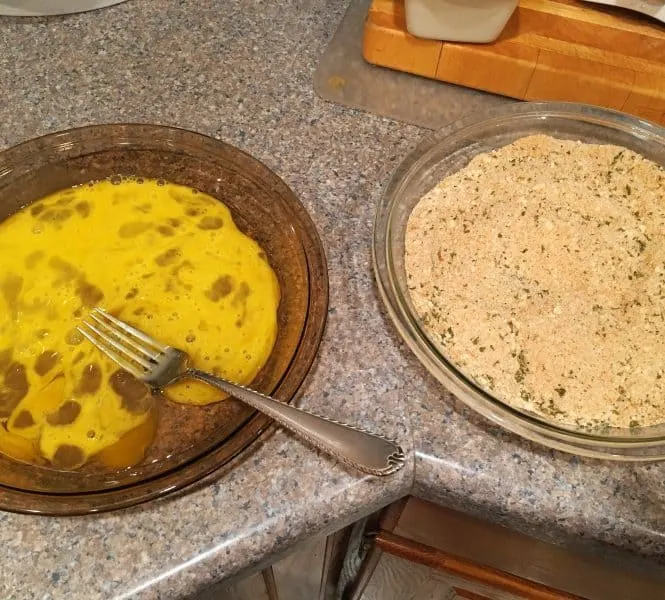 In a large skillet preheat your olive oil.
Prepare the chicken by dipping a chicken breast fillet into the egg wash and then into the bread crumb mixture. Being sure to coat both side. Continue until you have coated all the chicken breast fillets.
Place chicken fillets into your preheated large skillet, and cook until golden brown. Then turn and cook the other side until gold brown. About 10 minutes per side should do it.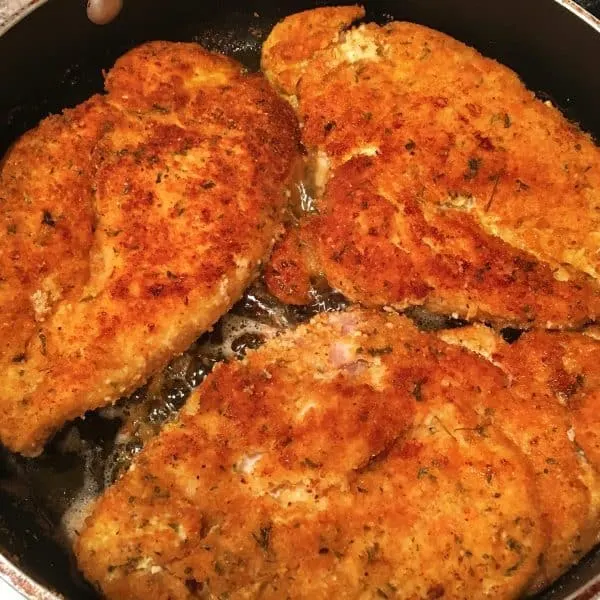 Place cooked chicken breast into a sprayed 9 x 13 pan. Preheat the oven to 350 degrees.
Now for the "easy" part of this recipe. I cheat! I use bottled sauce.
That's right… I just crack open my favorite bottle of red sauce and pour it over the top of the chicken.
TIP: You can certainly make sauce from scratch. However, I love the convenience of using bottled sauce for this recipe. (I know! I know! More grave rolling! Sorry!) I'm not too sorry though! This is a busy Mom's version of Chicken Parmesan and it's a wonderful dish!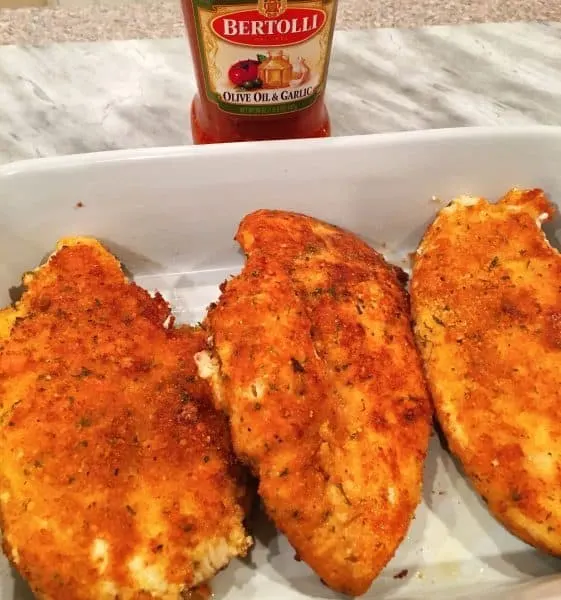 Once your chicken is covered with the sauce of your choice, top it with grated mozzarella cheese.
I use the pre grated bag by Kraft! This is an Easy dish remember? Finish it off with a sprinkle of chopped parsley.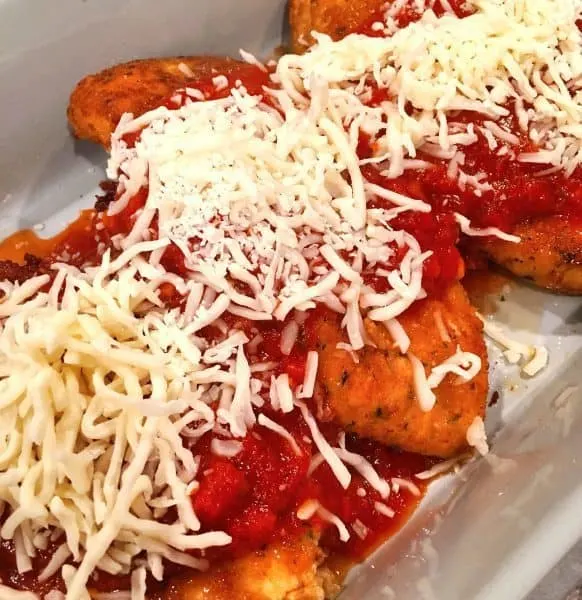 It's ready to go into the oven!
Bake in your preheated 350° oven about 30–40 minutes. Until bubbly, cheese has melted, and chicken juices are running clear.
While the chicken is baking it's a great time to cook your pasta. I like to serve my Chicken Parmesan on a bed of angel hair pasta. Any pasta will do.
Follow the cooking instructions on the back of the bag. When your pasta is done cooking, drain and add 1 Tablespoon of butter, sprinkle with Parmesan cheese, and toss gently to coat.
Tip: When your pasta is done cooking, drain and add 1 Tablespoon of butter, sprinkle with Parmesan cheese, and toss gently to coat. This will keep the noodles from sticking together and also gives them more flavor.
This is such delicious meal! A really nice change from your regular weekly spaghetti night!
It's the perfect weeknight dinner. It's warm and comforting. A real down home meal! It reheats wonderfully too! I love to serve mine with garlic bread and a side Caesar salad.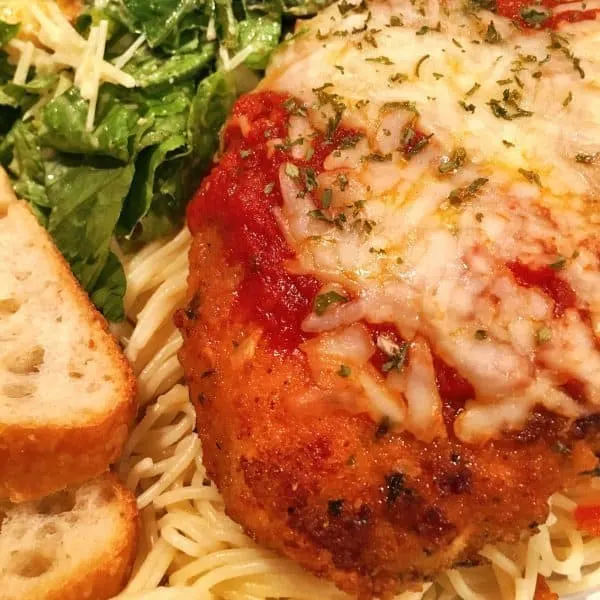 There you go! My version of easy Chicken Parmesan. I hope you'll give it a try this week and let me know what you think?
Here are some of my other Favorite Italian Main Dish Recipes
I'm excited about some of the things coming up this week so be sure to check back often and see what is happening here at my nest! Thanks for hanging out with me today!
Hugs from my Nest to Yours!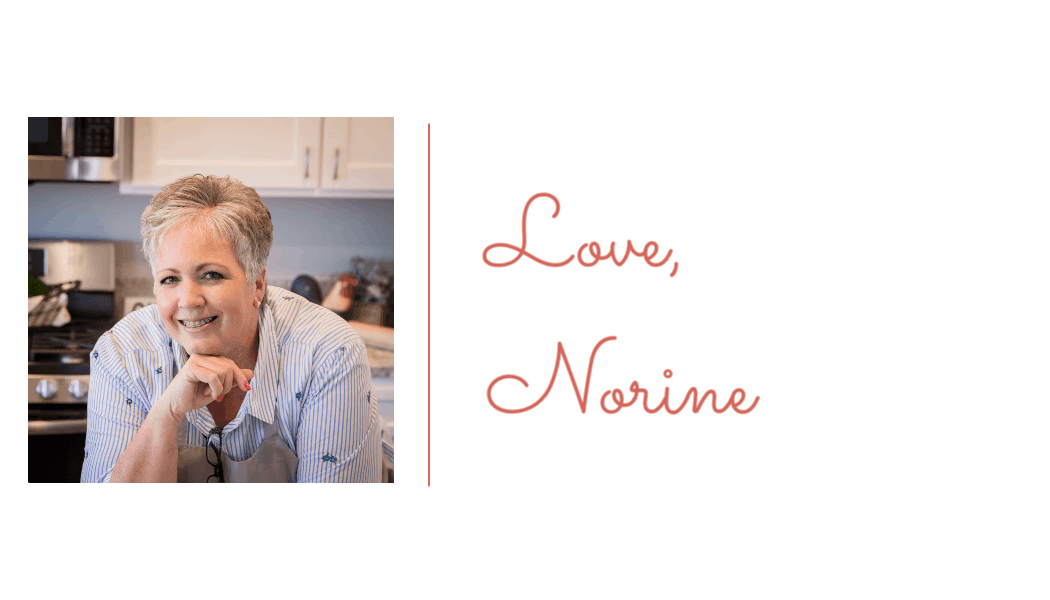 Yield: 4-8 servings
Easy Chicken Parmesan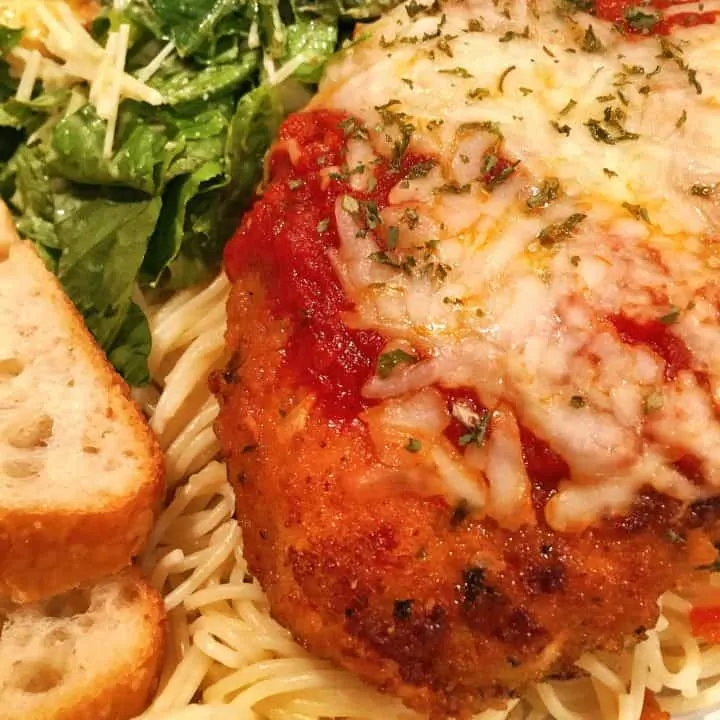 A quick easy recipe for delicious Chicken Parmesan! Sure to be a family favorite!
Total Time
1 hour
5 minutes
Ingredients
2-4 boneless skinless chicken breast (adjust to serving size needed)
1 jar pasta sauce
2 eggs, beaten and in a separate dish
1 1/2 cups bread crumbs
1/2 cup finely grated Kraft Parmesan Cheese
1 teaspoon garlic salt
1/4 teaspoon coarse black pepper
1/2 teaspoon oregano
1/2 teaspoon basil
1/4 teaspoon dried crushed rosemary
1 Tablespoon dried parsley, or fresh parsley
3 -4 Tablespoons Olive Oil for frying
1 1/2 cups shredded Mozzarella cheese
Pasta of your choice
Instructions
Wash and dry your boneless, skinless chicken breast. Pat dry. Using a sharp carving knife, fillet chicken breast length wise. Place chicken breast between two sheets of plastic wrap and using a meat tenderizer, tenderize the meat.
In a small pie dish beat eggs until creamy. In another small pie plate or bowl mix bread crumbs, finely grated Parmesan cheese, garlic salt, black pepper, dried parsley, oregano, basil, and rosemary.
Dip chicken breast into egg wash and then into bread crumb mixture being sure to coat both sides of the chicken breast well.
In a large skillet heat olive oil. Place chicken breast in hot skillet and cook until golden brown. Turn chicken breast over and cook other side until golden brown. Remove from pan and place in sprayed 9 x 13 pan.
Pour jar of sauce over cooked chicken breast. Sprinkle with grated Mozzarella cheese and top with additional parsley.
Bake in a 350° oven for 30-40 minutes until chicken juices run clear and cheese is melted and bubbly.
Serve over pasta of your choice.
Recommended Products
As an Amazon Associate and member of other affiliate programs, I earn from qualifying purchases.
Nutrition Information:
Yield:
8 servings
Serving Size:
1 chicken breast fillet
Amount Per Serving:
Calories:

393
Total Fat:

18g
Saturated Fat:

6g
Trans Fat:

0g
Unsaturated Fat:

10g
Cholesterol:

119mg
Sodium:

818mg
Carbohydrates:

24g
Fiber:

2g
Sugar:

3g
Protein:

31g