Cranberry Jello Salad is my Grandma's recipe, and it was always at all our big family Thanksgiving dinners. It's loaded with fresh ground cranberries, sweet apples, and loads of chopped walnuts. I've topped it off with vanilla nutmeg whipped cream.
Grandma made this jello salad for every Holiday Meal. It was my Dad's favorite. Dad loved tart dishes…just like me.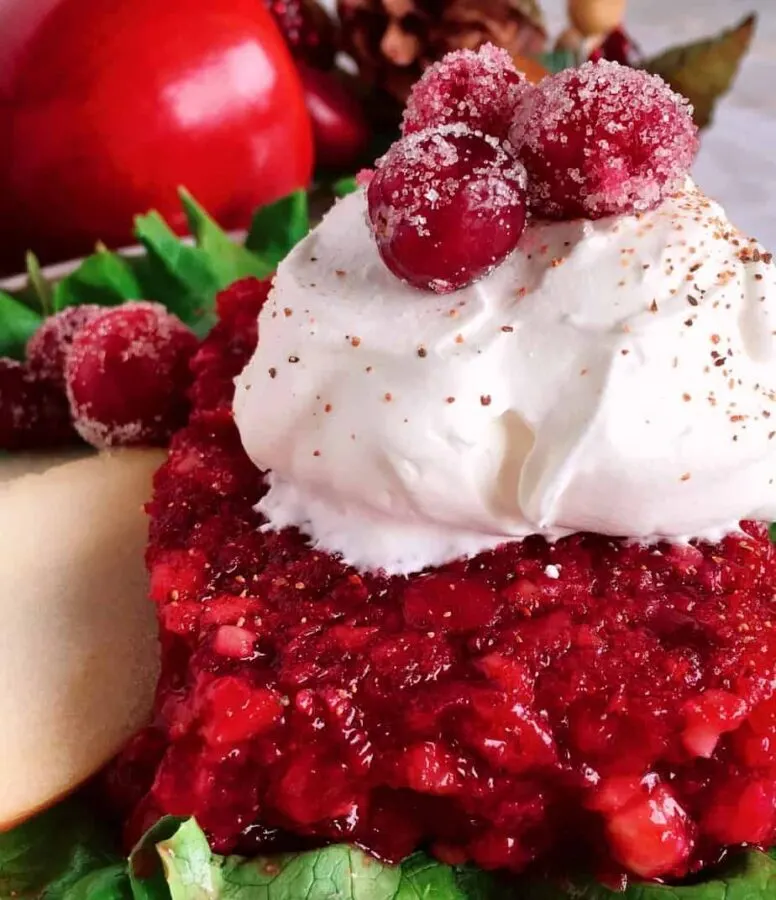 If you're a fan of cranberry sauce you'll love this salad. In fact…if you make this delicious salad…you don't even need cranberry sauce on your dinner table. (We will not debate cranberry sauce in this post! Jellied or fresh? Yes or No?… Nope…we're not doing it!)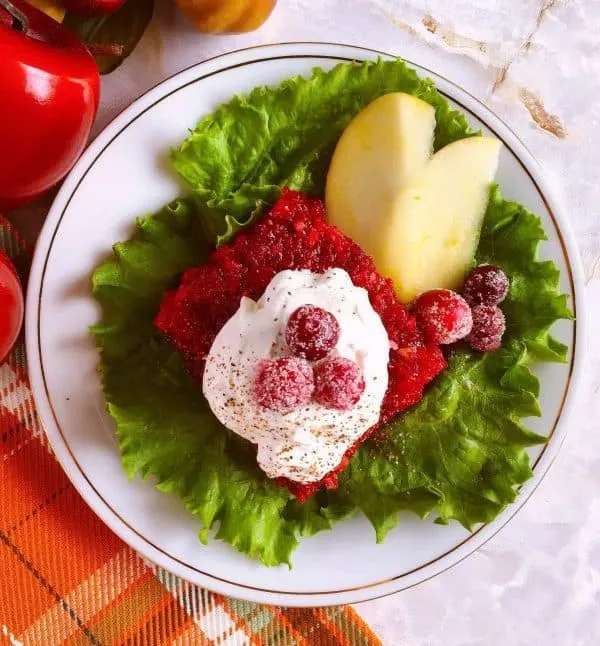 I have taken a few liberties with this salad. (Trust me… Grandma was a big fan of taking liberties with cooking! Still trying to recover from Wheat Germ in my pancakes! Scarred for life!)
Grandma used Cherry Jello…and you can too. I used Cranberry and I love the difference it makes in this retro salad. I have also added a fresh vanilla whipped cream sprinkled with nutmeg.
How To Make Cranberry Apple Jello Salad
TIP: You'll need either a food processor OR a food grinder to make this salad. Grandma used an old-fashioned hand crank food grinder. I used my KitchenAid food grinder. However, you can use a food processor.
You'll need to quarter and seed 6-7 fresh red apples. Like Gala's or Pink Ladies. DO NOT remove skin. Remember we are grinding these up, so it won't matter.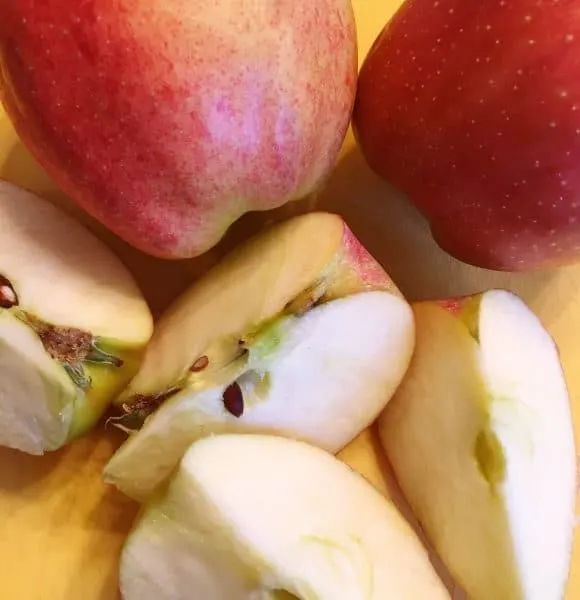 Slice apple quarters into thinner slices. This will make it easier to grind them up or process them in your food processor. (Plus it makes it less noticeable when you snitch a slice!)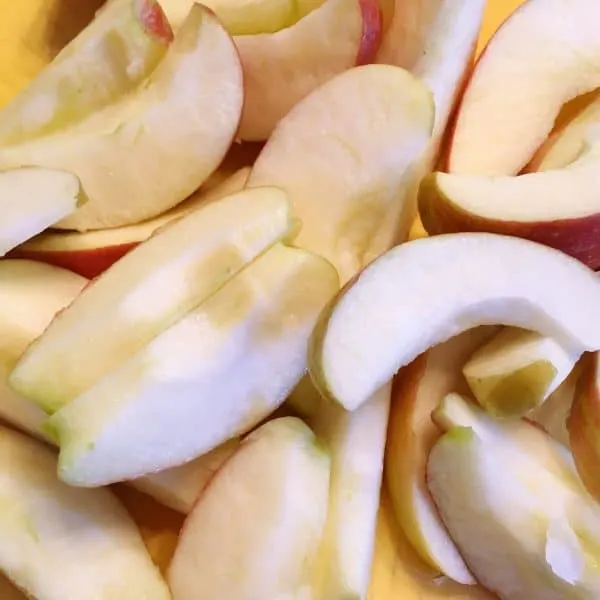 Grind them up in your food grinder or food processor.
This will create a small chunky pulp. However…we are not going for baby food! So don't over process the apples.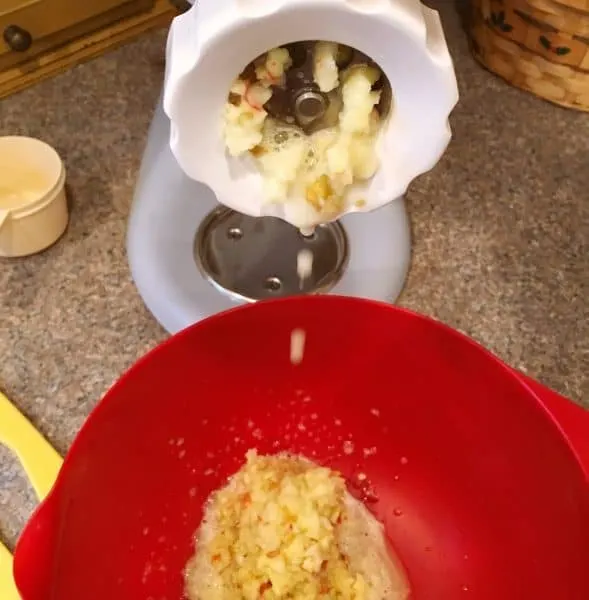 Remove the apples from the food processor if you are using a food processor.
Next grind up the fresh cranberries, or place them through your food grater.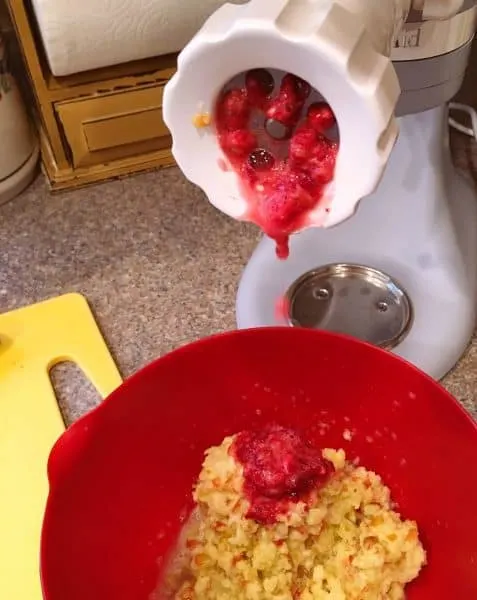 Set bowl of ground apples and cranberries aside.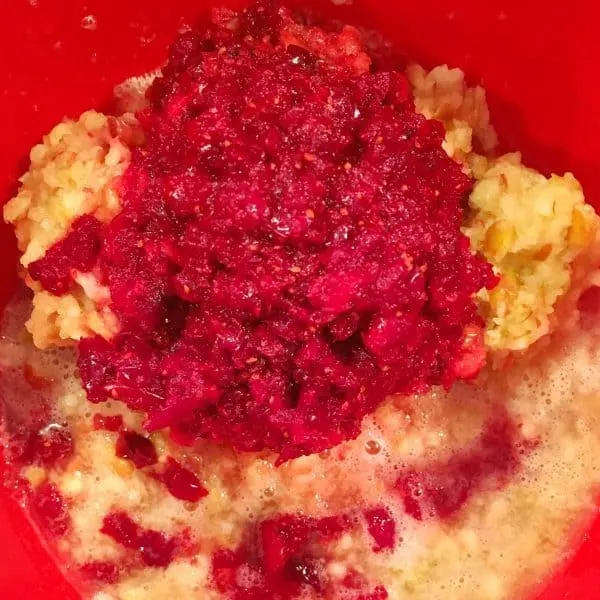 Chop 1 cup of walnuts.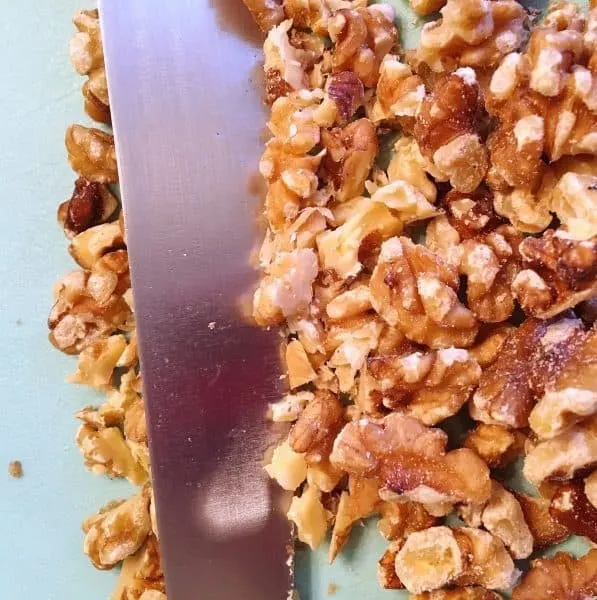 Add chopped nuts to the apples and cranberries. Mix together.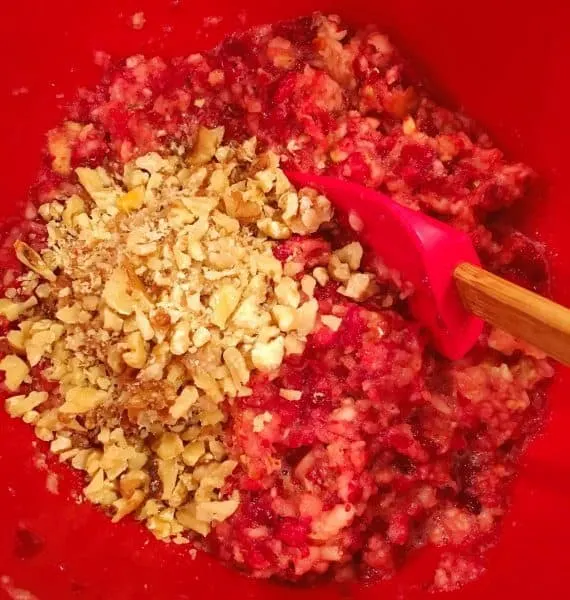 In a separate medium size bowl mix together one 6.0 oz package cranberry jello…or two smaller boxes. You can also use Cherry if you'd rather. (That'd make Grandma happy!)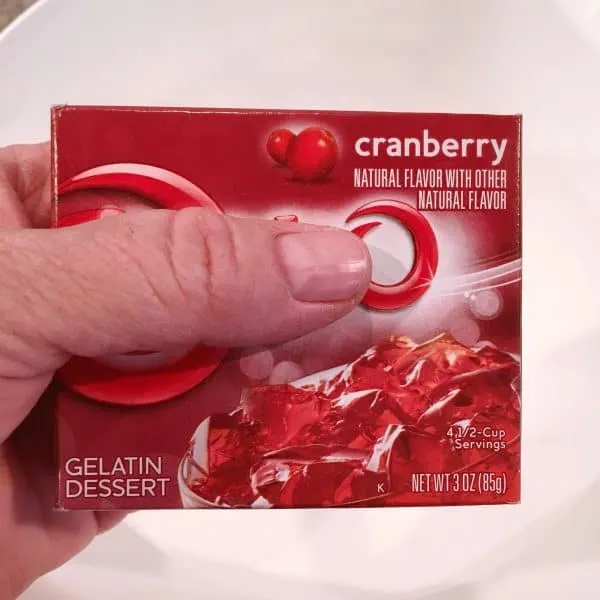 Add 1 1/2 cups of sugar.
I know…my sugar isn't white! It's okay. I had a huge 50 lb bag of sugar given to me, and it is evaporated sugar…which means it wasn't processed as much as pure cane sugar.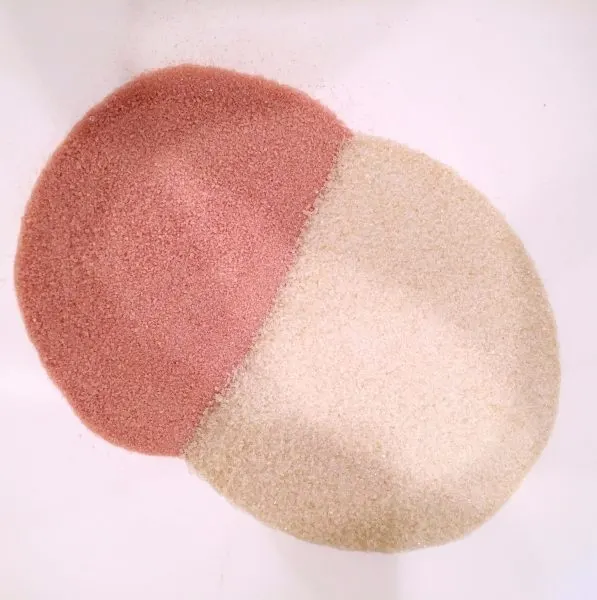 Add 2 1/2 cups boiling water. Mix until sugars have dissolved.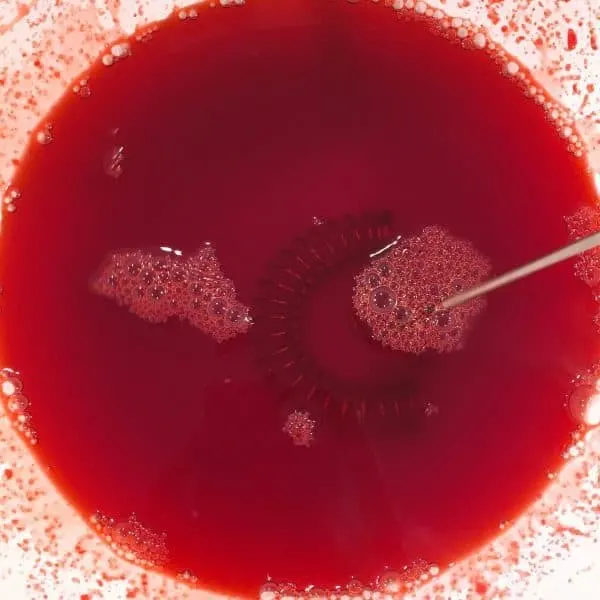 Add in Apple and Cranberry mixture. Mix well.
Pour into a 9 x 13 baking dish.
Chill until set…about 6–8 hours. I suggest you make this salad the day beforehand!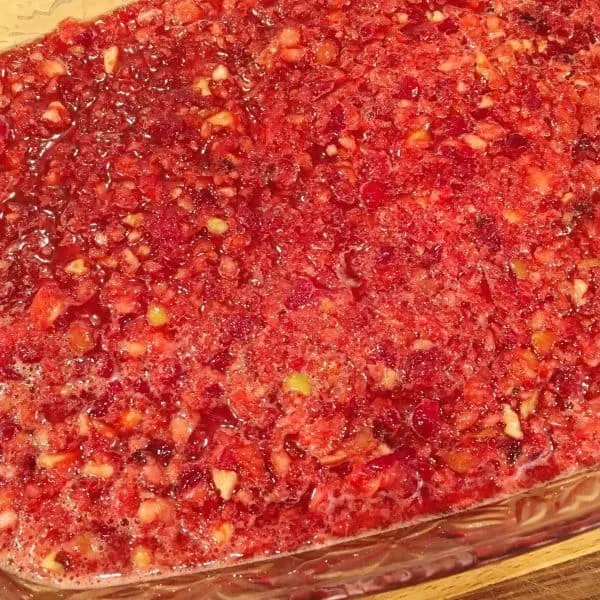 Remove from refrigerator right before serving. Cut into squares. Place set jello salad square on a bed of lettuce.
In the mixer add 1 cup heavy whipping cream. Add 1/4 cup powder sugar and 1 teaspoon vanilla. Whip until to firm peaks form.
Place a scoop of whip cream on top of jello salad and sprinkle with nutmeg. Garnish with sugared cranberries and apple wedges.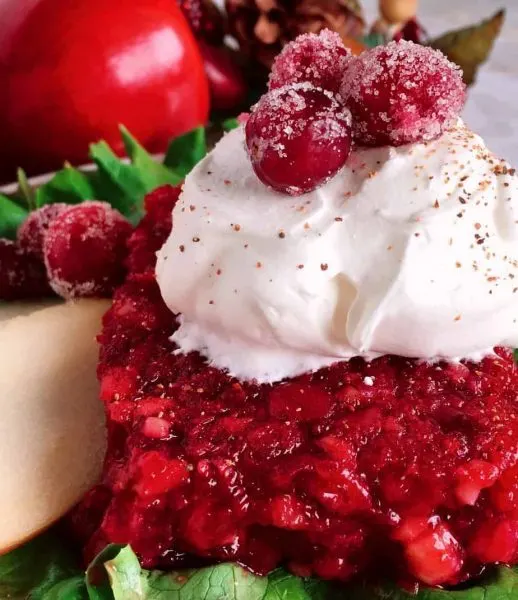 It's a beautiful salad that goes so fantastic with Turkey, Ham, or any Holiday Meal. I love the vivid stunning the colors of this salad.
It's full of fresh flavors from all the tasty fall fruit. The addition of the vanilla whipped cream adds another depth of flavor.
I've loved this salad for years. If it isn't on my holiday table at least once during the season I feel like something is missing…besides Grandma. We sure do miss her, but I'm so thankful to have some of her amazing recipes to share.
If you enjoyed this recipe you might also enjoy these other Thanksgiving Recipes
Thanks so much for stopping by. I hope you love this salad as much as everyone in my family does.
You can follow me on Facebook, Instagram, Pinterest, and Twitter.
Happy Nesting My Friends!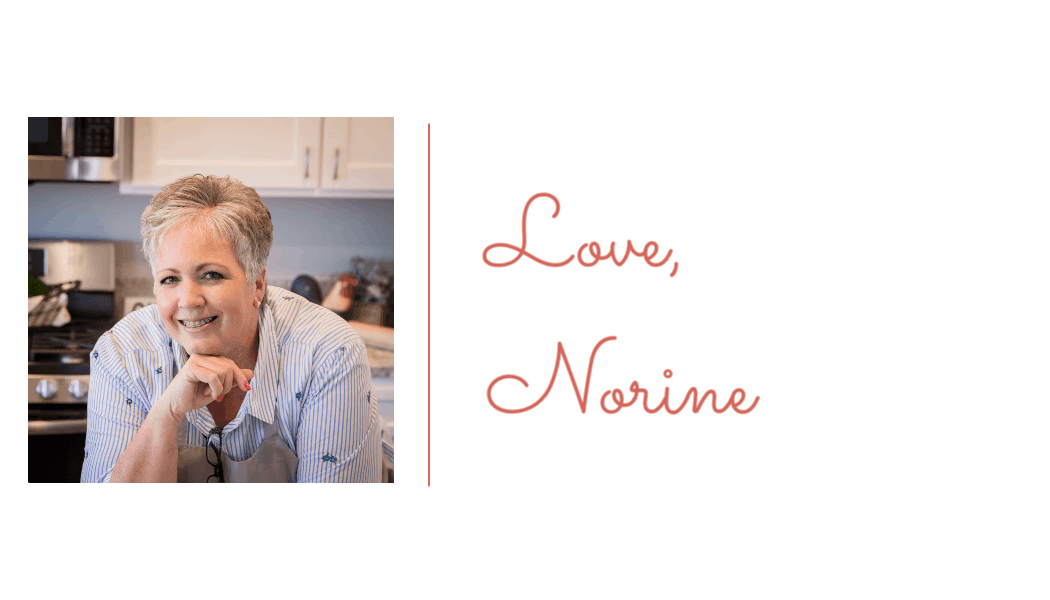 Yield: 12 servings
Cranberry Jello Salad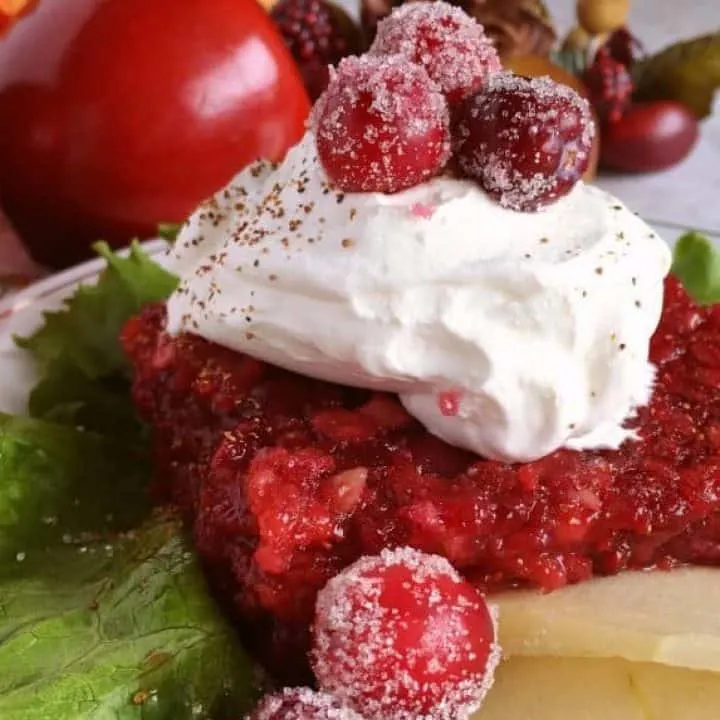 Fresh Cranberries and Apples combine with walnuts to create the perfect Holiday Salad.
Total Time
6 hours
10 minutes
Ingredients
1 large package Cranberry jello or Cherry salad
2 1/2 cups of boiling water
1 1/2 cups of sugar
7-8 medium apples
1 package fresh cranberries or 4 cups
1 cup chopped walnuts
1 Cup whipping cream
1/4 cup powder sugar
1 teaspoon vanilla
sprinkle of nutmeg
Extra Cranberries for garnish
Instructions
Dissolve jello and sugar in hot water. Mix until sugar is completely dissolved.
Grind Apples and Cranberries in a food grinder or food processor.
Chop nuts. Mix nuts with apples and cranberries.
Add to dissolved jello.
Pour into a 9 x 13 baking dish. Chill until set. 6-8 hours or over night.
In a small bowl pour cold whipping cream. Add 1/4 cup powder sugar and vanilla. Beat until stiff peaks form.
Cut cranberry salad into squares. Place on a bed of washed green lettuce. Top with a scoop of whipping cream and sprinkle with nutmeg.
Notes
Cooking time includes chill time. It's best if it sets overnight.
Recommended Products
As an Amazon Associate and member of other affiliate programs, I earn from qualifying purchases.
Nutrition Information:
Yield:
12 servings
Serving Size:
1 square
Amount Per Serving:
Calories:

334
Total Fat:

14g
Saturated Fat:

5g
Trans Fat:

0g
Unsaturated Fat:

8g
Cholesterol:

22mg
Sodium:

15mg
Carbohydrates:

54g
Fiber:

5g
Sugar:

45g
Protein:

3g