Spooky Halloween Seven Layer Taco Dip is an All-Time Favorite at this Nest! This tasty treat is layers of spicy bean dip, fresh guacamole, and flavorful sour cream…topped off with loads of grated cheddar cheese, fresh diced tomatoes, sliced black olive spiders, and chopped green onions.
Add a scary sour cream spider web and black olive spiders and you have one "boo-tiful" Party Dip!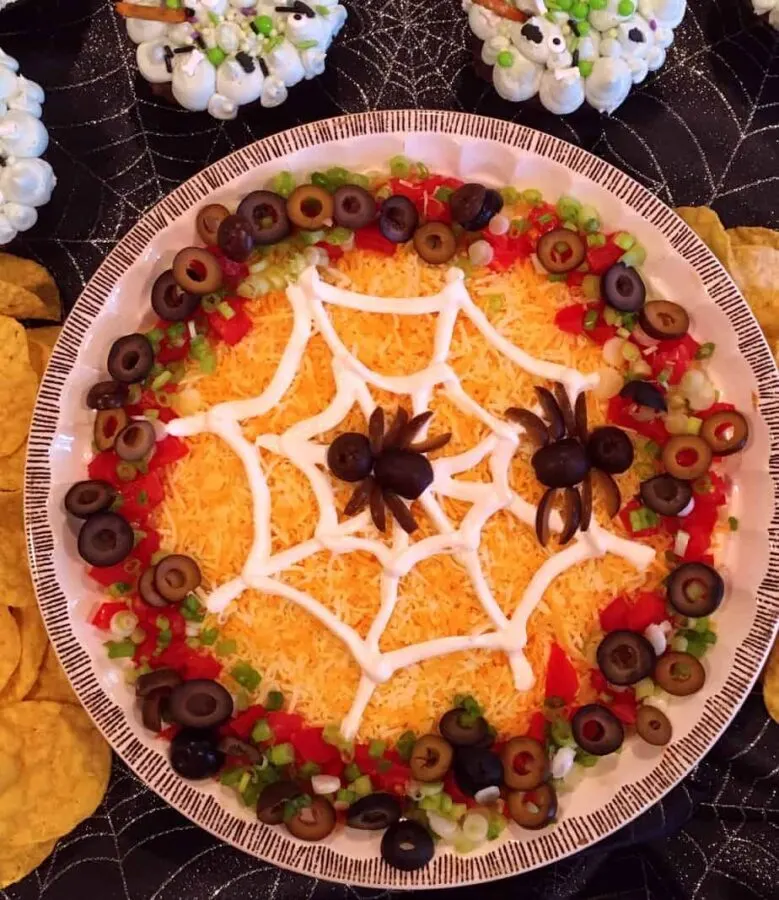 I made this dip for our family Halloween Party last year! Little did I know at that time, but it's a favorite of all the ghosts that reside at this Nest! (They have good taste…most of the time!)
The combination of yummy layers, on a crispy corn chip, creates a fantastic tasty bite. (No Dracula Puns intended! Yet! There's a strong possibility that they will still be used!)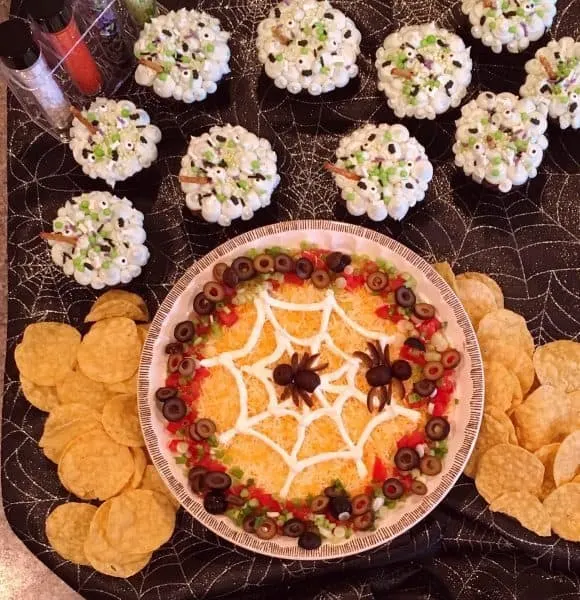 This dip isn't new. It is all over the internet…however, my "Mummy" (Puns for days my friends!) got the recipe from a good friend back in 1982…when Dracula roamed the earth…long before Vampires were cool.
Back then we called it Tex-Mex Dip. Someone got super-duper fancy and decided they wanted their labors recognized. They wanted all "layers" accounted for. Thus Seven Layer Dip was voted in and Tex-Mex kicked to the graveyard! (Yes…I know they're bad puns…but you're still reading!)
How To Make Seven Layer Spooky Spider Dip
The key to this recipe is to do as much prep as possible. So before you begin prep the following items:
Chop 1/2 cup of green onion. Slice, seed, and coarsely chop 1/2 cup of tomatoes, 1 can pitted ripe olives, drained, and sliced, reserving 6 for spiders (there's something you don't usually hear). 8 ounces of cheddar cheese grated.
In the bottom of a 9 inch deep dish pie plate, spread 1 can plain or spicy jalapeno bean dip. Spread evenly over the bottom of the baking dish.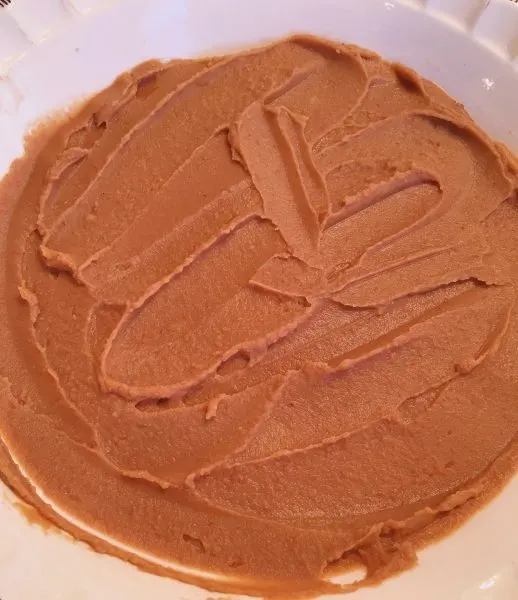 Next peel, pit, chop and mash 2 large avocados.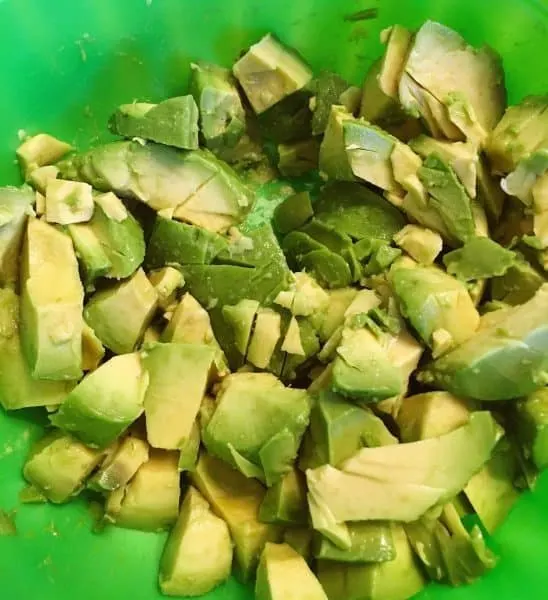 Add lemon juice, garlic salt, and pepper.
The trick now is to keep your mits out of this deliciousness! Move the chips away from the Guacamole! Move…come on…step back away from the goods!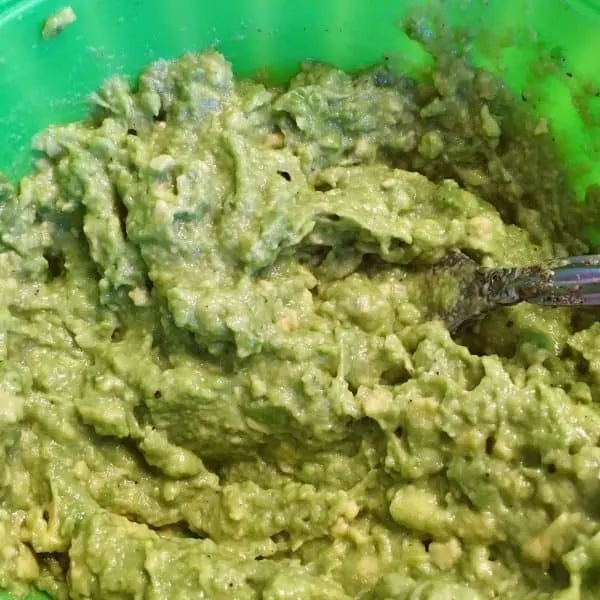 Spread layer of Guacamole (minus what you "taste tested"! I know ya did!) evenly over the bean dip.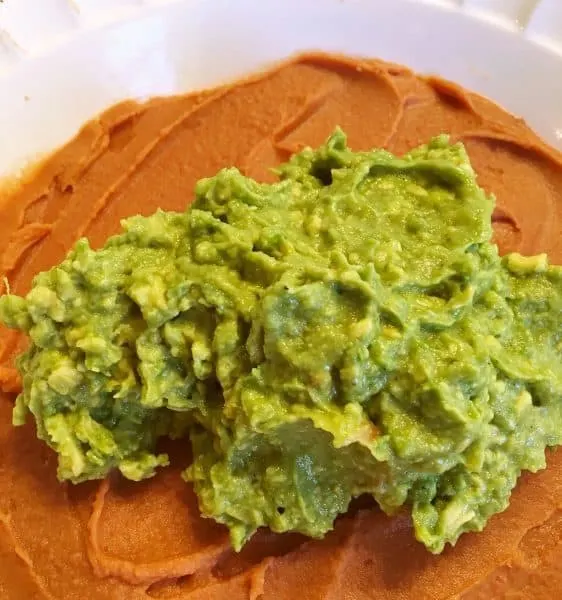 Next in a small bowl mix together 1/2 cup mayonnaise. Let me say this slowly…MAYONNAISE! Miracle Whip… is only used to kill off evil spirits.
Add 1 cup sour cream.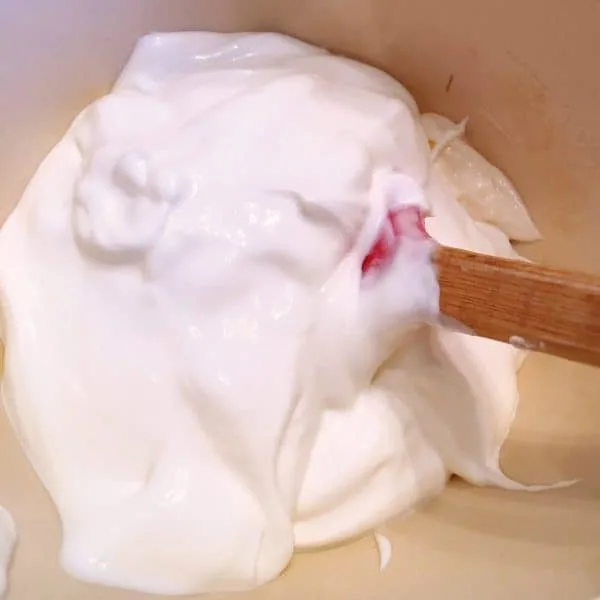 Add 1 package of taco seasoning. Mix until well combined.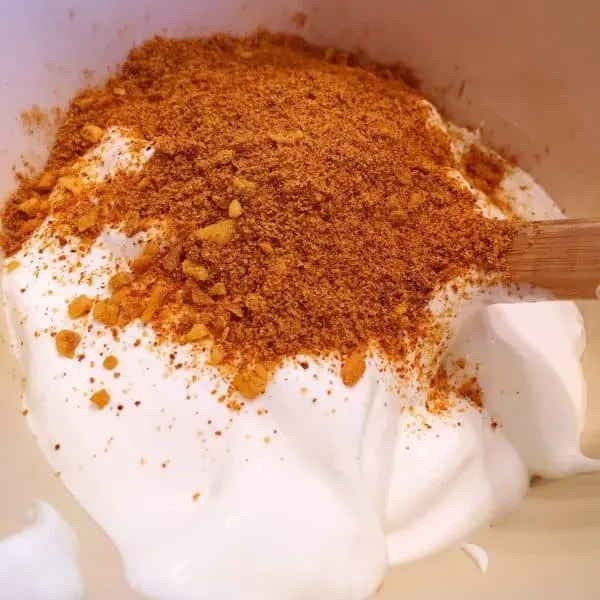 Spread sour cream mixture over avocado layer.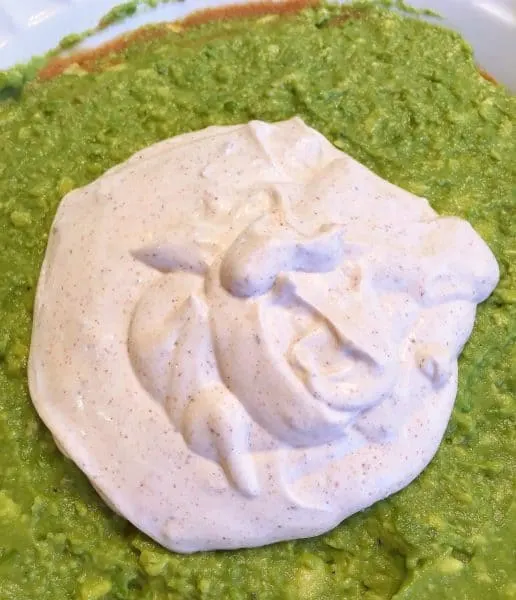 TIP: To keep Guacamole fresh and from turning brown, be sure that sour cream mixture goes all the way to the edge and completely covers the guacamole layer.
EXTRA TIP: Use saran wrap to cover guacamole in a bowl when making it for other dishes. I place the saran wrap right on top of the guacamole and press all the air bubbles out. Then I cover the bowl with another layer of saran wrap.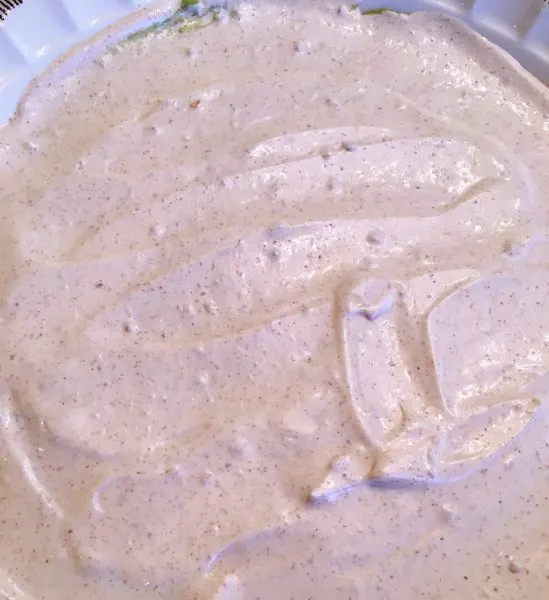 Cover with 8 ounces of finely grated Cheddar Cheese or a Cheese blend mix.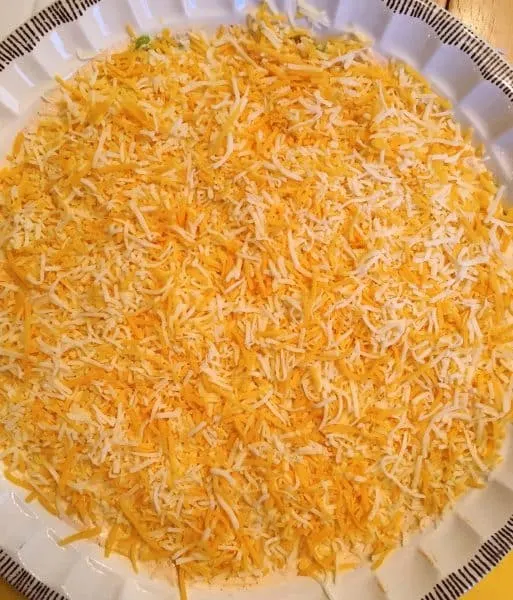 Usually at this point we would cover the entire top of the dip with the tomatoes, olives, and chopped green onions. However, since this is a "Halloween" version the toppings will go around the edge of the dip starting with the tomatoes.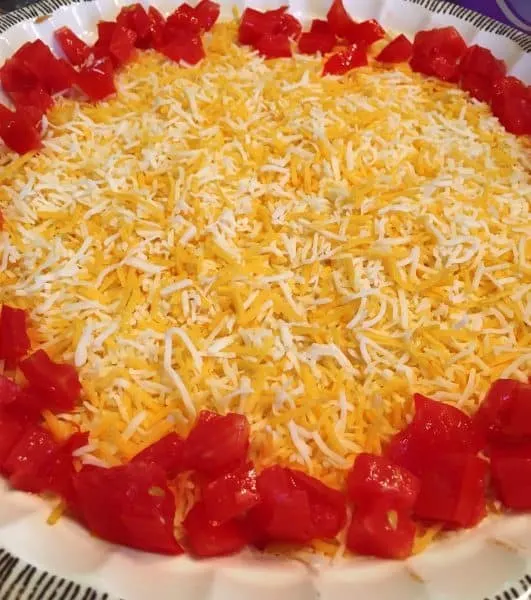 Next sprinkle with sliced olives and green chopped onions.
Place a half cup of sour cream in a small lunch sack. Snip the end off the bag and pipe the spider web across the top of the cheddar cheese.
Begin with two "X's" crisscrossed.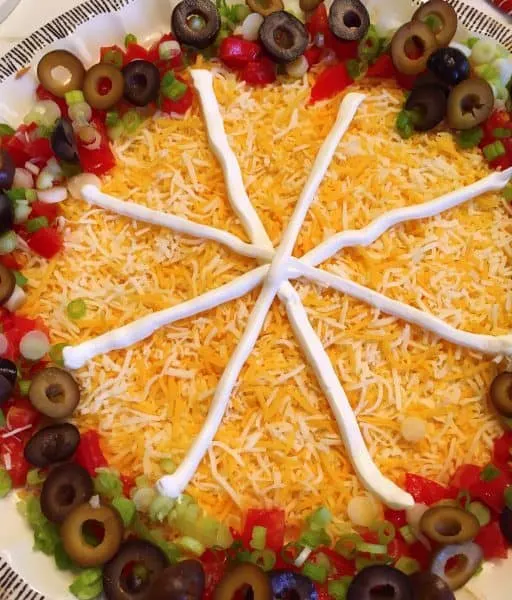 Then go around the outside in a circle to finish the spider web.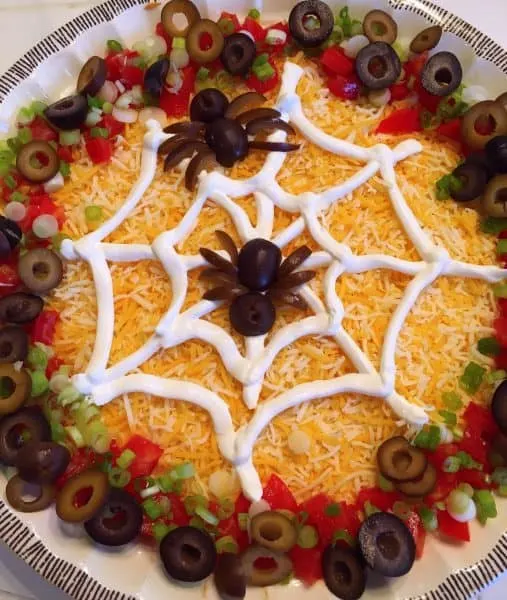 Add spiders by cutting one olive in half lengthwise for the body. Cut another olive in half width wise for the head. Create the legs with another olive by slicing thin slices of olive.
Try not to make your spider handicapped like I did by giving one spider only three legs!??? (I promise I wasn't drunk…however, apparently I can't count to four! Guess I needed…wait for it…"Count Dracula"! You were warned!)
Cover and refrigerate until ready to serve. Serve with round corn chips when ready to serve.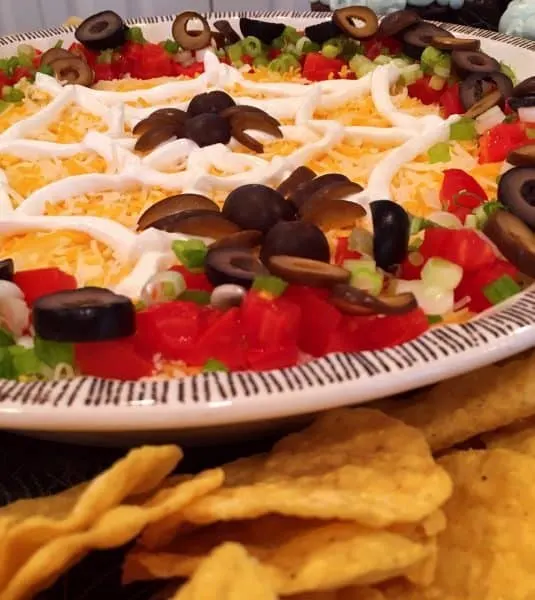 This is the perfect Halloween Party Dip! I love how it finished off my party menu! The Hot Dog Mummies in a Graveyard and the Witches Brew Cupcakes!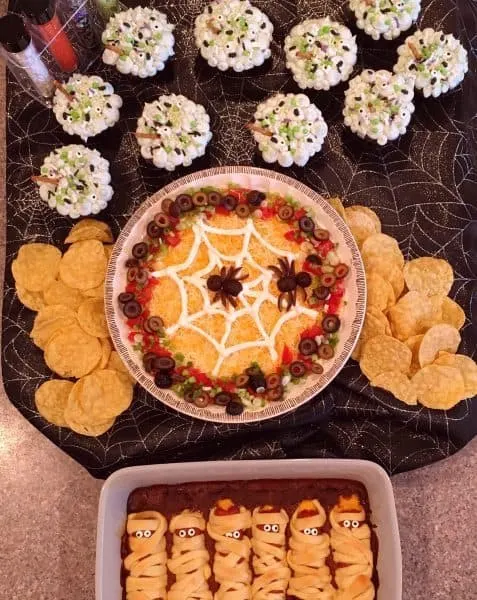 There you have it! A fun Family Halloween Dinner Menu! Complete with a fantastic dip!
I may have eaten this dip as a meal…I may have! Can ya blame a girl? Spooky Halloween Seven Layer Taco Dip is a fun appetizer that replicates mini Tostada's with every bite.
Trick-or-Treat…the free printable recipe is below!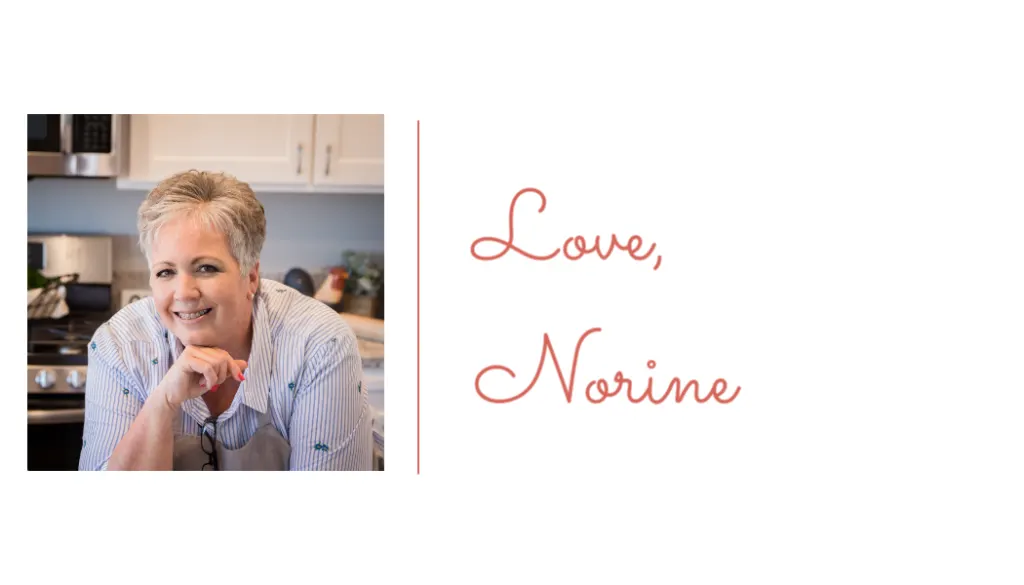 Yield: 10-12 servings
Spooky Halloween Seven Layer Taco Dip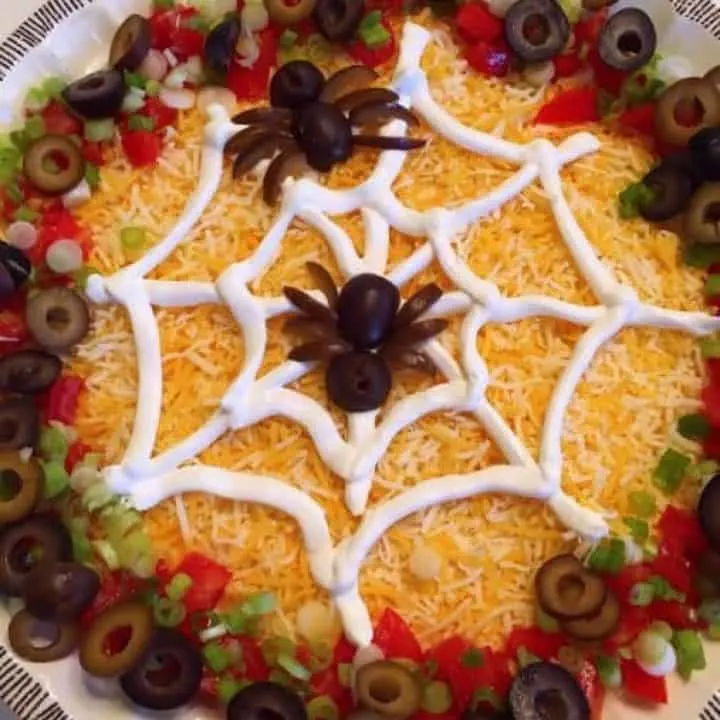 Traditional Seven Layer Dip is turned into a Spooky Spider Web Halloween Dip perfect for your Halloween Parties and get together's.
Ingredients
2 large ripe avocados
1 Tablespoon Lemon juice
1/4 tsp. garlic salt, 1/4 tsp. coarse black pepper
1 cup diary sour cream
1/2 cup Mayonnaise
1 package taco seasoning mix
1 can plain flavored bean dip
1/4 cup sliced and chopped green onions
1 large tomato, cored, halved, seeded and coarsley chopped. (1 cup)
1 can pitted ripe olives, drained, and sliced. (Reserve 6 whole olives for spiders)
8 ounces finely grated cheese
1/2 cup sour cream for spider web
round corn tortilla chips
Instructions
In a 9 inch pie plate spread bean dip.
In a small bowl mash two large avocados, add lemon juice, garlic salt, and coarse black pepper. Mix well.
Spread layer of guacamole on top of bean dip.
In another small bowl add Mayonnaise, sour cream, and taco seasoning mix. Mix until well blended.
Spread sour cream mixture on top of guacamole making sure to completely cover the guacamole.
Add grated cheese on top of sour cream mixture.
Around the edge of the dip add chopped tomato, sliced olives, and chopped green onions.
Place 1/2 cup of sour cream in plastic sandwich bag and snip off the end of one tip and make spider web over the top of the cheese.
For the Spiders: Take one olive and slice in half lengthwise for the body of each spider. Slice another olive width wise for the head. Slice other olives to create the legs.
Cover and chill until ready to serve.
Serve with round tortilla chips.
Recommended Products
As an Amazon Associate and member of other affiliate programs, I earn from qualifying purchases.
Nutrition Information:
Yield:
12 servings
Serving Size:
1/4 cup
Amount Per Serving:
Calories:

278
Total Fat:

23g
Saturated Fat:

8g
Trans Fat:

0g
Unsaturated Fat:

13g
Cholesterol:

40mg
Sodium:

415mg
Carbohydrates:

11g
Fiber:

3g
Sugar:

2g
Protein:

8g