Country Hamburger Skillet is a quick easy dinner made with fresh sliced potatoes, ground beef, seasonings, and grated cheese. Sometimes the BEST dishes are the most simple! A true meat and potatoes meal!
This recipe all began because we had been on vacation and I hadn't gone grocery shopping yet! I knew the time had come! One can only milk the "vacation blues" for as long as humanly possible. I had to cook dinner.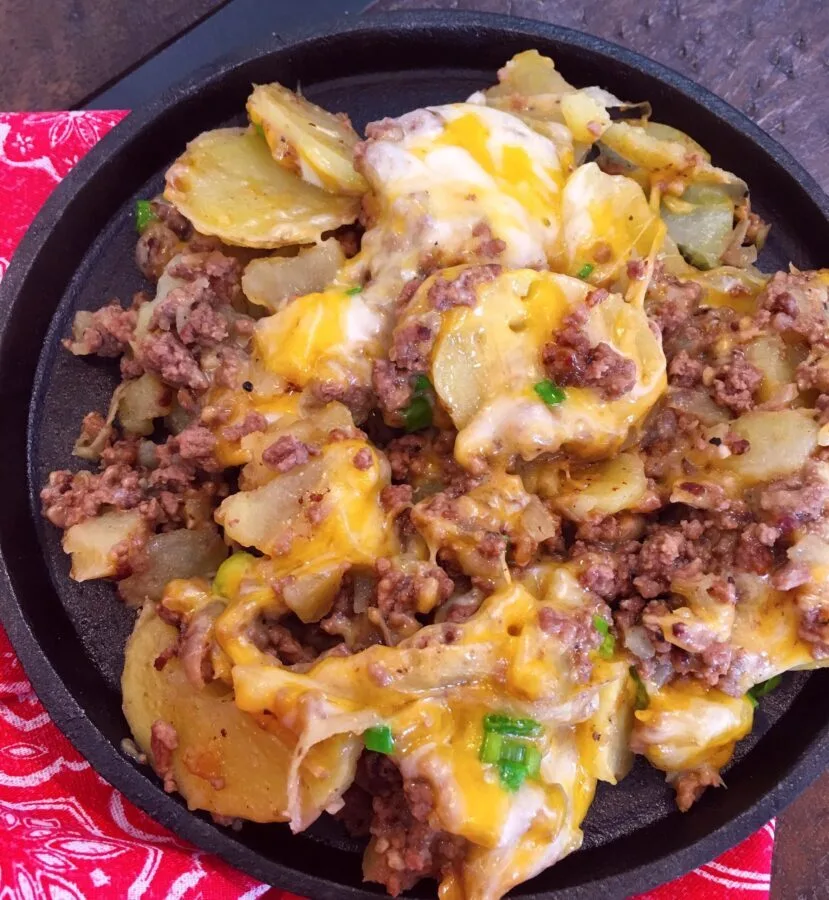 When the pantry is empty what do ya do? Ya put on that thinking cap …(this could take a while). What could I make? Then I remembered! There was a whole garden full of potato's. (I hope I did? We planted potatoes a few months ago. Surely there were little round orbs out there by now? Please let there be potatoes under those dying plants!)
I marched out the garden with great purpose. Sure I'd strike "gold". Yukon Gold! (Oh that was a beautiful segue…lol) Lucky for me…I struck gold!!! (Okay so they don't look super purty in this photo…but there's a tummy full of yum under that dirt!)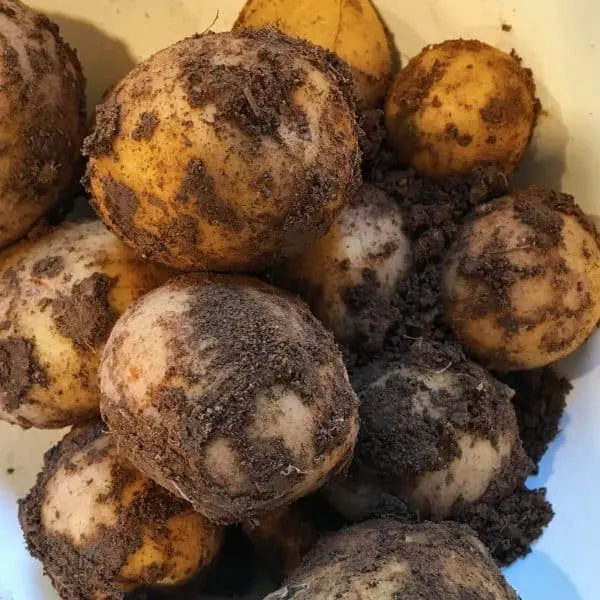 Time to take those dirty little round orbs and turn them into one quick, easy, magically delicious dinner! One that the men at your nest will absolutely LOVE! (I know cause mine each had two servings!)
How To Make Country Hamburger Skillet Dinner
First you gotta do a little food prep….like washing those taters! Give about 8 of them a good scrub and then slice them thin. (This is what I like to call "Kitchen Therapy"…saves a ton on real therapy. Just have at those potatoes! Scrub like you mean business! Whoa…leave a little skin on!)
You'll also need half of one large onion, sliced thinly.
In a large skillet with a lid, brown one pound of ground beef with 1 tsp. minced garlic. DO NOT DRAIN! We want all those flavored beef drippings for our taters! (Like how I avoided the use of "fat" in that sentence! lol)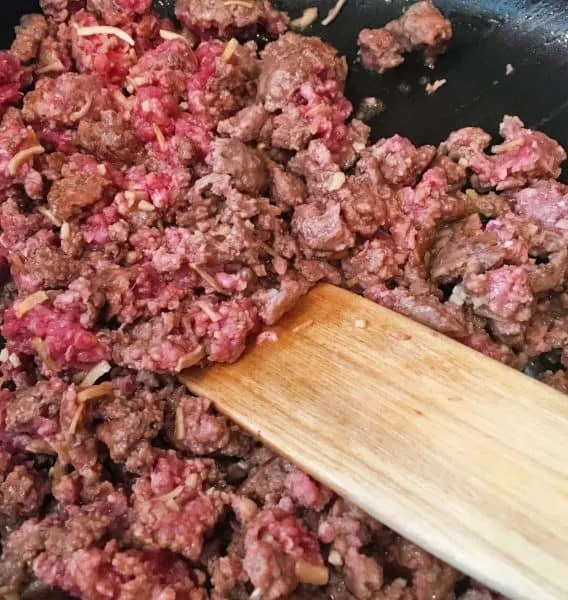 Potatoes and Seasoning
Add in the sliced onions and potatoes. Add Garlic Salt and Coarse Black Pepper. Mix it all together and cover with lid. Reduce heat to low.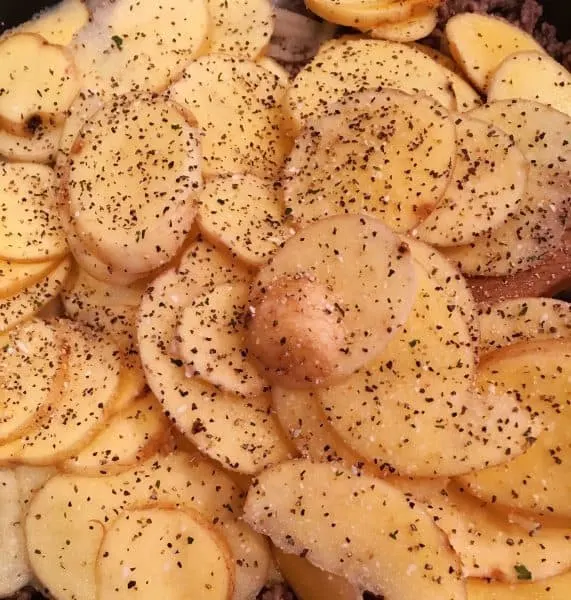 Allow to cook for 15 minutes over medium low heat. After 15 minutes of cook time, check skillet and turn mixture so that the bottom ingredients are now on the top.
Cover and cook for another 15 minutes. Repeat the process again if necessary. Once the potatoes are fork tender, remove the lid and allow the potatoes to brown and all the liquid to evaporate.
Finishing touches and garnish
Turn heat off. Sprinkle with 1 1/2 cups of grated Cheddar and Monterey Jack cheese blend. Cover for 5 minutes until cheese is melted.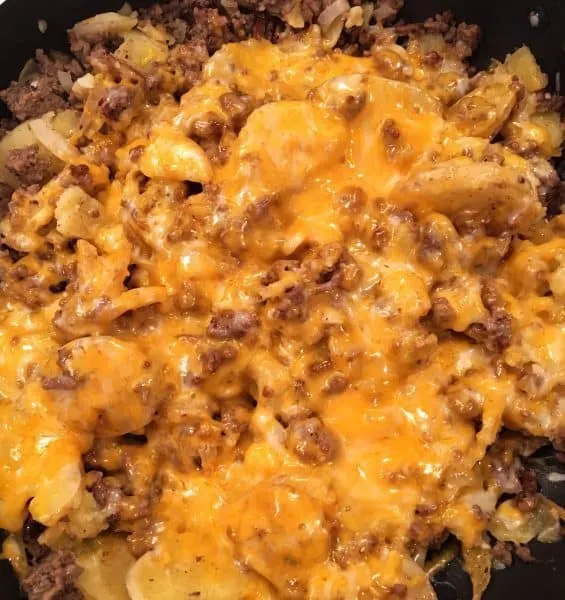 Garnish with fresh chopped chives.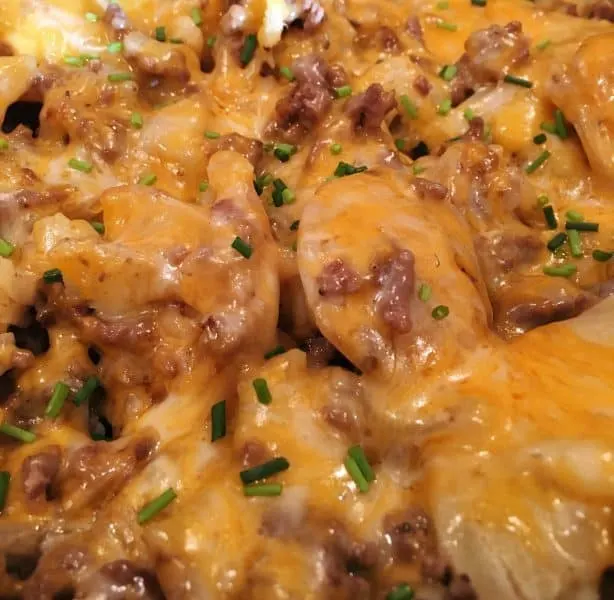 How's that for simple?! That is all there is to this wonderful skillet dinner. I didn't fancy it all up. This is meant to be a "stick ta yer ribs" ranch dinner! You can add a dollop of sour cream or salsa if your "feelin' it".
Those garden fresh Yukon Gold's were "melt in your mouth" buttery good. The flavor from the beef, onions, garlic and seasonings is sublime!
I served this dinner with my garden fresh Oven Fried Squash, thick slices of sour dough bread, and a simple fresh fruit salad! It's SO good!
Nothing like too many scrounge nights to make you appreciate a simple country meal!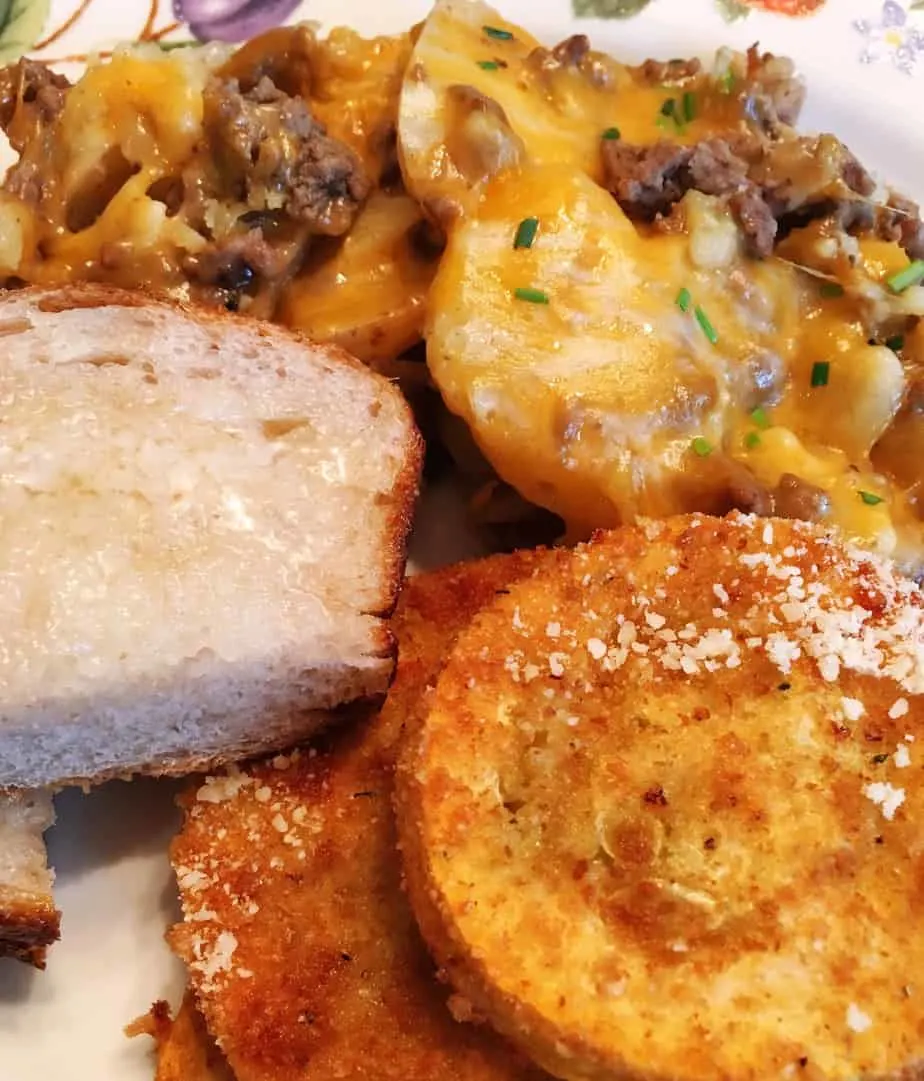 A quick, simple, yummy dinner that all the birds at your Nest will enjoy! Not to mention a great way to use up some of that delicious garden produce.
If you love this recipe you might enjoy these other tasty One Dish Meals
Remember to sign up for my weekly newsletter so you'll know about all the YUM happening here at Norine's Nest! You can also follow me on Instagram, Facebook, Twitter, and Pinterest. Come join the fun!
Happy Nesting!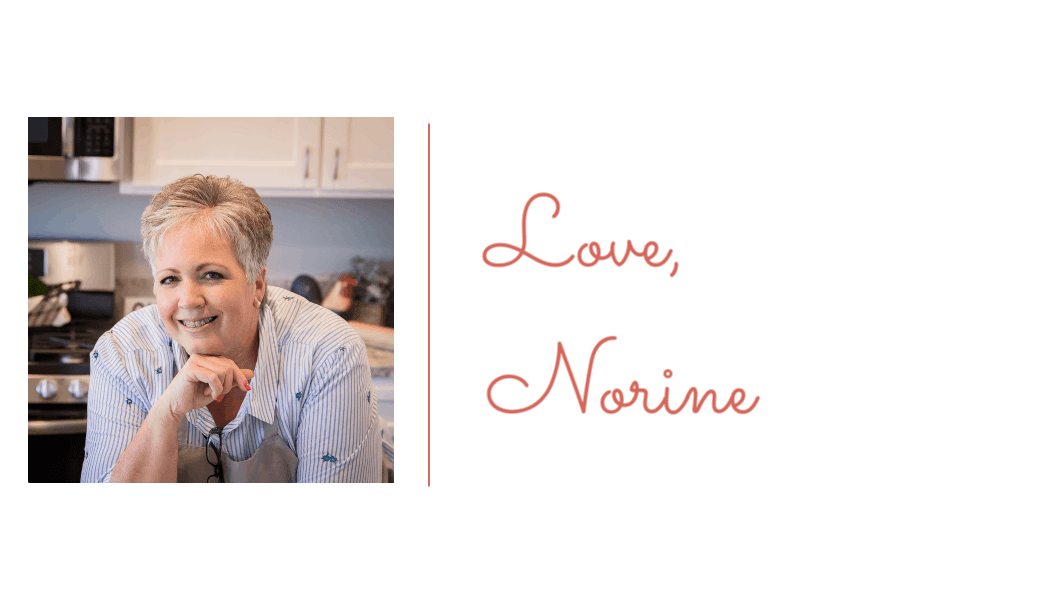 Yield: 8 servings
Country Hamburger Skillet Dinner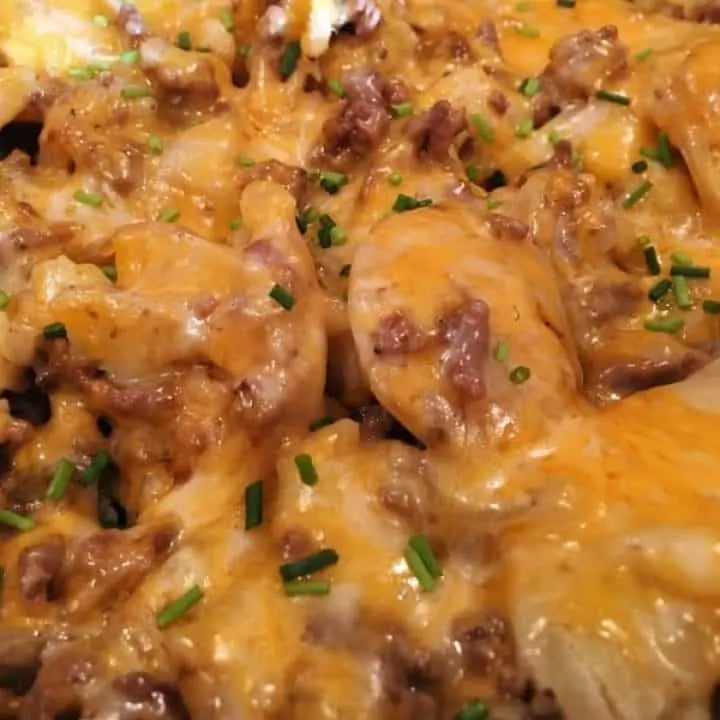 A quick simple hearty Country Hamburger and Potato Skillet dinner! Ready in minutes using just one pan! Perfect for your Nest!
Ingredients
1 pound ground beef
1/2 a large onion, sliced thinly
6-8 medium Yukon Gold Potato's, sliced thinly
1 tsp. minced garlic
Garlic Salt
Coarse Ground Black Pepper
1 1/2 cups grated mixed cheddar and monterey jack cheese
Garnish with fresh chopped chives
Instructions
In a large skillet, with a lid, over medium low heat, brown 1 pound of ground beef with 1 tsp. minced garlic. DO NOT DRAIN.
Add sliced potatoes and onions.
Sprinkle with Garlic Salt and Black Pepper to taste.
Stir and Cover with lid, keep heat at medium low.
Allow to cook for 15 minutes. Remove lid, stir bringing ingredients from bottom of the skillet to the top.
Replace lid. Cook for another 15 minutes. Check and repeat once more if necessary.
When the potatoes are "fork tender", turn off heat. Cover meat and potatoes with grated cheese. Replace the lid for an additional 5 minutes. Until cheese is melted.
Garnish with fresh chopped chives.
Serve immediately.
Recommended Products
As an Amazon Associate and member of other affiliate programs, I earn from qualifying purchases.
Nutrition Information:
Yield:
8
Serving Size:
1 cup
Amount Per Serving:
Calories:

426
Total Fat:

19g
Saturated Fat:

9g
Trans Fat:

1g
Unsaturated Fat:

8g
Cholesterol:

76mg
Sodium:

290mg
Carbohydrates:

38g
Fiber:

4g
Sugar:

3g
Protein:

26g