Crispy juicy chicken fingers in a sweet buffalo sauce on a bed of greens with avocado, blue cheese, and croutons combine to create this delicious Buffalo Sticky Fingers Salad! Pass me the dressing!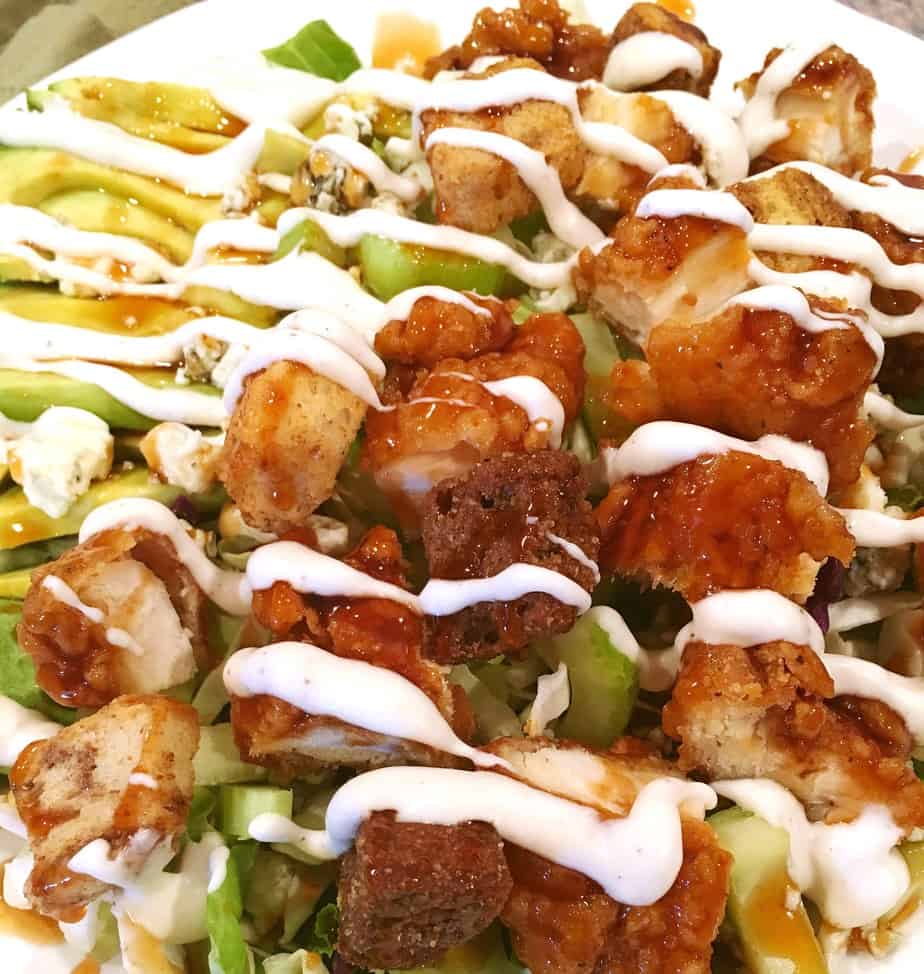 Favorite Disney Movie EVER…don't judge me…Ratatouille! Favorite scene… When he finds the mushroom and the cheese and he is valiantly trying to explain to his brother how the combinations of those flavors are going to be out of this world!
In that moment I am totally identifying with a mouse! I completely get his passion for food!
My mind is constantly thinking of food combinations and what I could create if I put this or that together. (I know, I know, I need a life!) I really get excited when what my mind thinks will be great..is! Which leads me to the introduction of this buffalo sticky finger blue cheese salad! It is…GREAT!
One of my all time foodie guilty pleasures is buffalo hot wings. I don't generally even like spicy food but, put a plate of wings in front of me and I'm a goner! I also love salads…especially this time of year. I decided it was time to marry the two, or at least let them become BFF's!
How To Make Sticky Fingers Salad
The star of this dish…the sticky fingers! To make the sticky fingers we are going to cheat because ain't nobody got time for heating up the kitchen and frying off a bunch of chicken fingers! (whoops…just slipped into my "Minny" voice) I went to the deli at my local Big Blue "W" store and ordered some chicken strips. Yep, I sure did! Cheater, cheater…that's me! Next I made the sauce.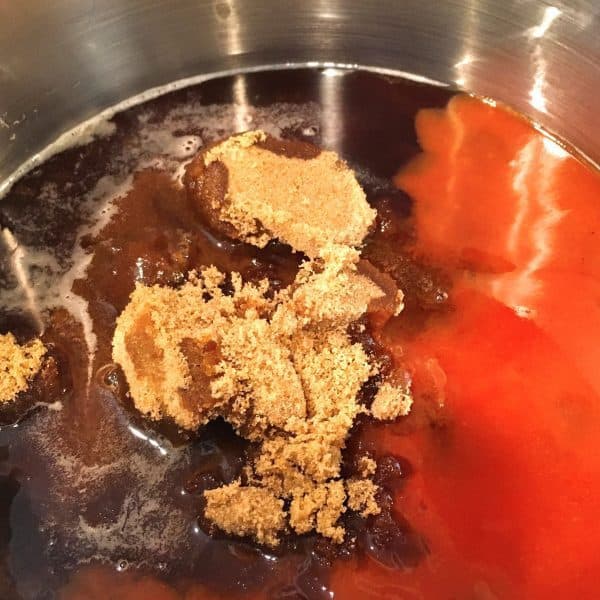 Mix brown sugar, water, and Frank's hot wing sauce together in a small sauce pan.
Stir until it comes to a boil and then cook for 3-4 minutes until you have a nice thick syrupy sauce.
TIP: Do NOT inhale directly over the pan unless your goal is to trim your nose hairs at the same time you're cooking! Honestly the heat from the Frank's could singe your eyebrows off!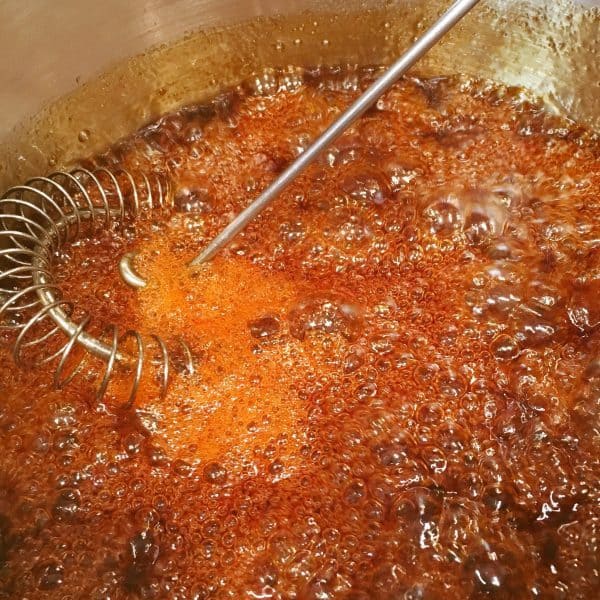 Next, dunk those chicken strips right into that amazing sticky gooey sauce! Isn't that amazing! Liquid gold!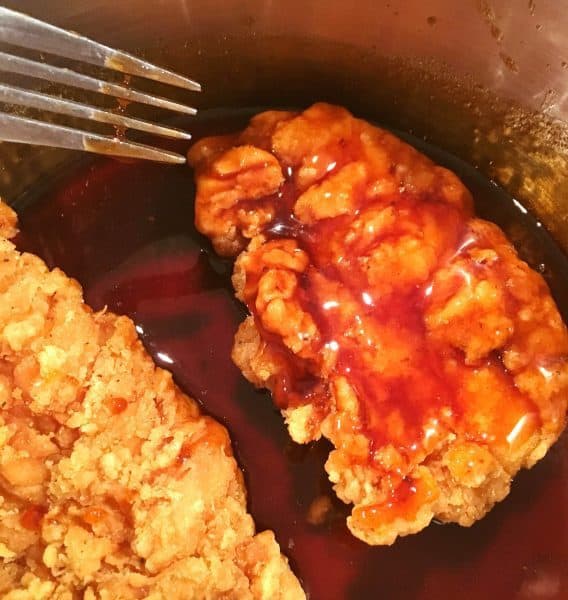 That's me Dunkin'! Aren't you impressed I remembered a picture? You should be…by now I was 3 hours past lunch and eating this dish was more important than camera shots!
And. it's. sticky. fingers. Hello? lol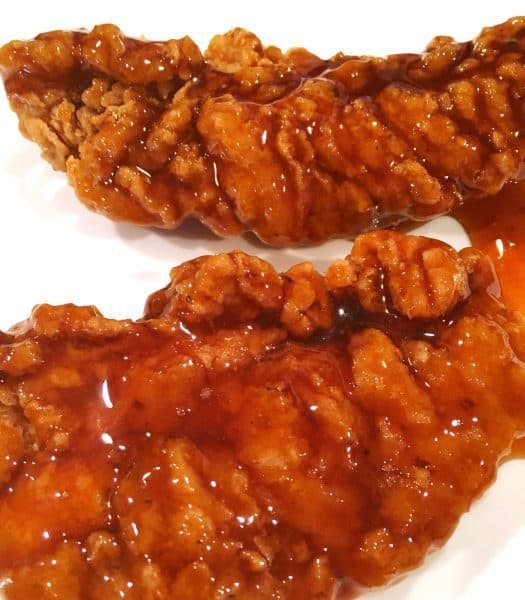 Look at those beautiful sticky fingers! (Pssst…come in close…I'll share a secret…these are JUST like Wingers wings! I'm not kidding!) So, you could stop right here and devour these, and lick your fingers for hours, or we can continue to finish the salad!
Hmmm, what to do, what to do?Come on let's finish the salad! We have to cancel out some guilt!
Let those cool off for a minute. While they are cooling finish up the salad prep!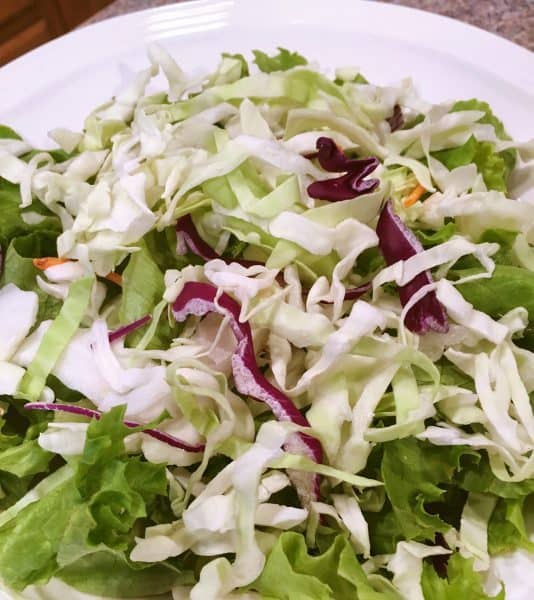 TIP: I prep my foods all in one day so that I don't have to stop and do it every time I cook. Since I don't have a "Prep" chef lurking in my kitchen… I wash, clean, tear, spin and bag all my lettuce on Saturday. That way I can throw together a salad in no time flat during the week and the lettuce is perky and fresh, not all limp, wet, and watery. The secret is to put a paper towel in your zip lock bag and it will keep your lettuce fresh all week long!
For this beautiful salad use a handful of romaine, a handful of green leaf lettuce, and a handful of packaged coleslaw… (are you loving the EXACT measurements!).
Next add the diced celery. (Because we can't have wings without celery!) Next up…the avocado. (Hail to the green Goddess of Yum!) Sprinkle with blue cheese.
TIP: You can use Feta if you aren't a blue cheese fan or even cheddar. Personal preference.
Cut up the baked sticky fingers into nice bite size chunks! Place them on top of the salad greens, and throw a few toasted croutons on top for crunch.
Salad Tip: Secret to a good salad is to have at least one crunch item in the ingredients.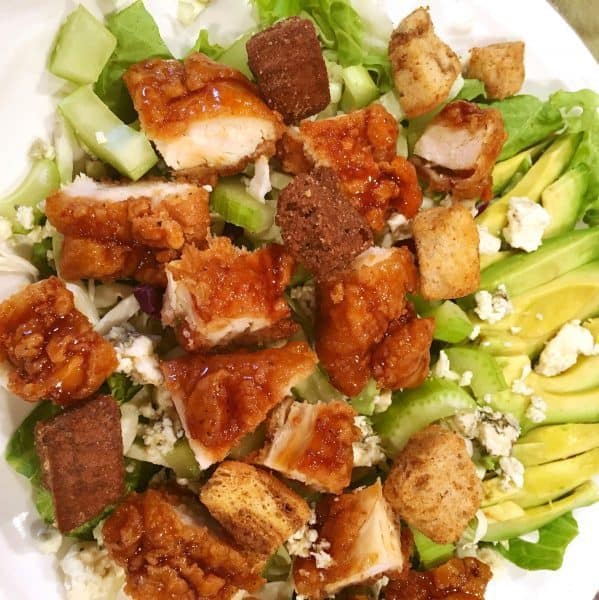 Because this sauce is not over the top spicy hot, I decided I wanted that sweet buffalo sauce to shine through. I took a spoon and drizzled a tad on top of the salad. Between you and I…I think the "Green Goddess" enjoyed it! lol
Doesn't that look AMAZING! So simple. I threw the whole thing together in about 20 minutes.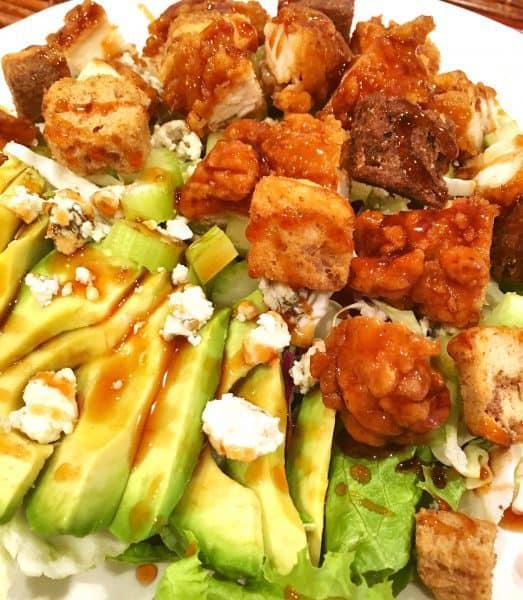 The final touch is to drizzle it with Ranch dressing but, you could use blue cheese if you prefer.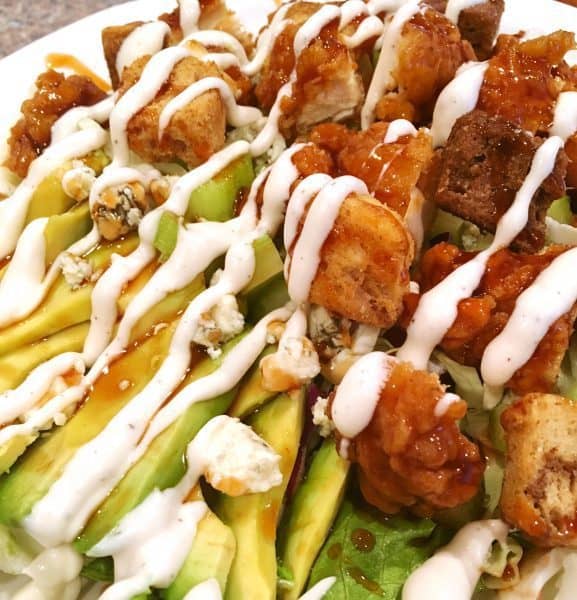 I know this is not the world's healthiest salad with the fried sticky fingers and the buttery croutons but…sometimes you just have to splurged.
Fair warning…once you take a bite you can't stop till the bowl is empty! It's just simply "De-lish"!
Favorite Family Salad Recipes
Enjoy! Let me know if you make this salad and what you think. I love, love, love feedback! It's inspires me and makes me feel connected to you! Hang in there…we are almost to the weekend!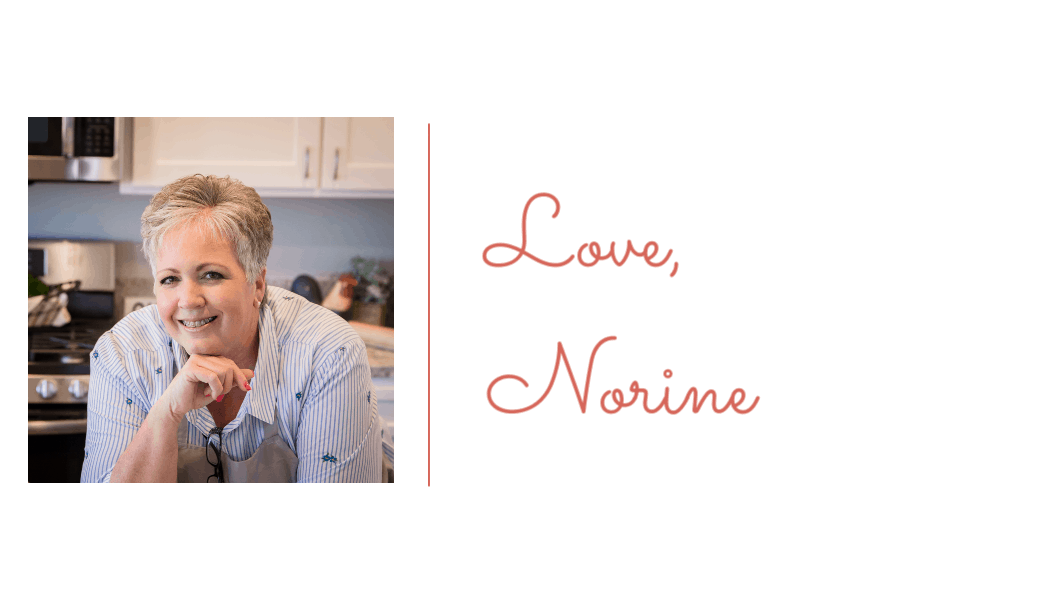 Yield: 2 individual salads
Buffalo "Sticky Fingers" Salad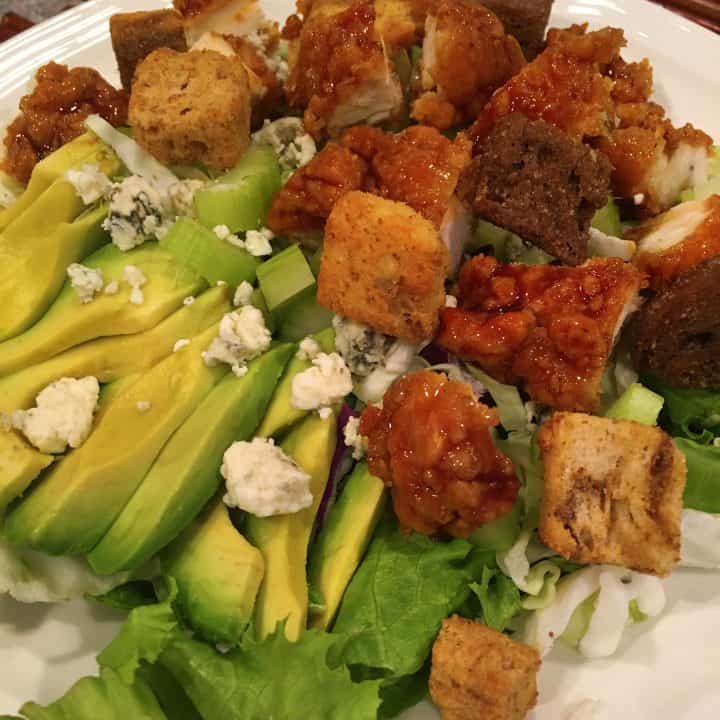 This is a great summertime salad that is a meal by itself! Filled with fresh greens, celery, blue cheese, avocado, and the star of the show...the sticky buffalo strips, it's a mouthwatering delicious salad even the men in your family will like!
Ingredients
4 breaded precooked chicken strips
4 cups of torn lettuce, I used romain and green leaf.
1 cup bagged coleslaw mix
1 cup sliced celery
1/2 cup crumbled blue cheese or Feta
1 large avocado, sliced
1 cup croutons
Favorite Ranch or Blue Cheese dressing
Sauce for sticky fingers
1 1/2 cups brown sugar
4 Tablespoons water
6 Tablespoons Franks Original Hot Sauce
Instructions
In a small sauce pan place the brown sugar, water, and franks sauce. Stir together with a wire whisk. Over medium heat,stirring occasionally, bring sauce to a boil. Cook for 3-4 minutes until sugar is dissolved.

Dip chicken fingers into the warm sticky fingers sauce. Carefully cut the sticky fingers into big chunks.

In two individual salad bowls place the lettuce and coleslaw mix. Top with Avocado slices, celery, and blue cheese. Add the Sticky Fingers and croutons. Drizzle with leftover sticky finger sauce and salad dressing.
Enjoy!
Recommended Products
As an Amazon Associate and member of other affiliate programs, I earn from qualifying purchases.
Nutrition Information:
Yield:
2
Serving Size:
1 salad
Amount Per Serving:
Calories:

1481
Total Fat:

71g
Saturated Fat:

21g
Trans Fat:

0g
Unsaturated Fat:

45g
Cholesterol:

87mg
Sodium:

1880mg
Carbohydrates:

193g
Fiber:

20g
Sugar:

154g
Protein:

29g