The easiest way to celebrate St. Patrick's Day is with this delicious Slow Cooked Corned Beef with cabbage, carrots, and potatoes. It's a traditional dish loaded with flavor and tender corned beef…and maybe a sprinkling of "ale"!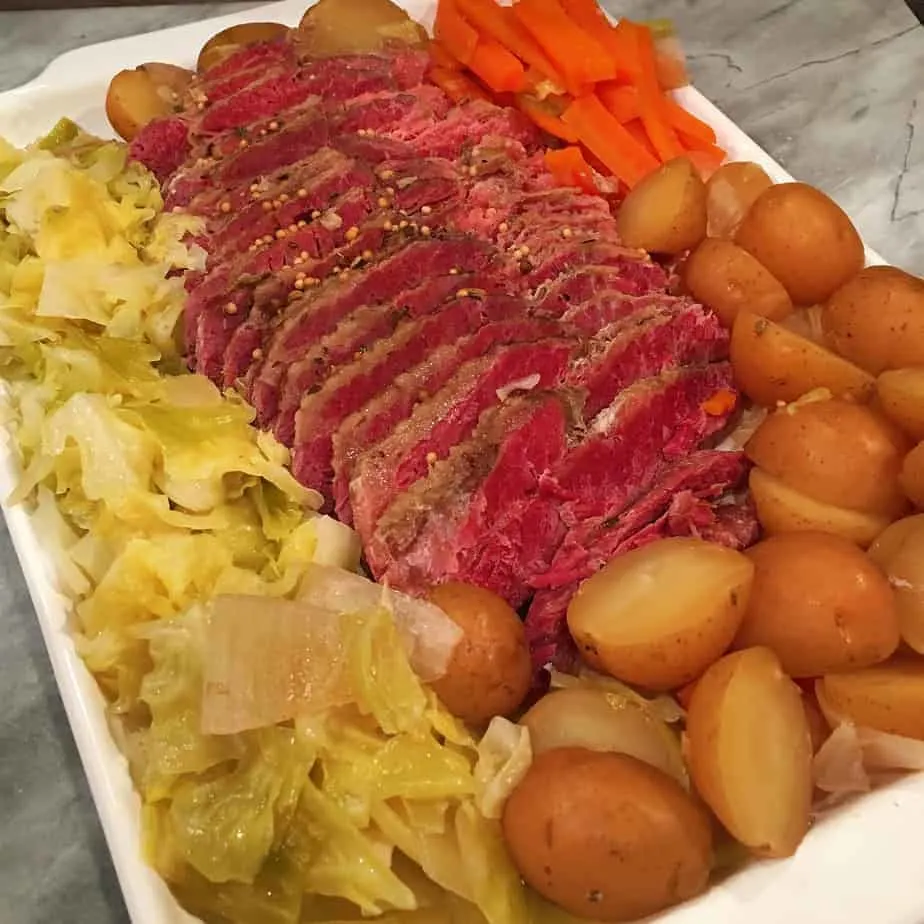 As many of you know we have three chicks at this nest, hence the "three" eggs in my nest logo. (See… I do have reason's for just about everything!) Two of whom are adopted.
One of the things I have always tried to do is celebrate their ethnic heritages. I feel it's really important. Our son, is half Irish and half Hispanic. To say he loves his "Irish" side is a bit of an understatement!
Years ago, I decided to celebrate St. Patrick's Day with a traditional Corned Beef and Cabbage dinner. To say it was NOT a huge hit would be a bit of an understatement! In my defense it wasn't a dish I had ever made before. I learned really quickly that "corned beef" can be a bit tricky and DRY if not cooked properly.
From that point on, we just skipped the traditional, and went with things like the Shamrock Shake! You know from that American Irish Family the "McDonald's" (insert eye roll)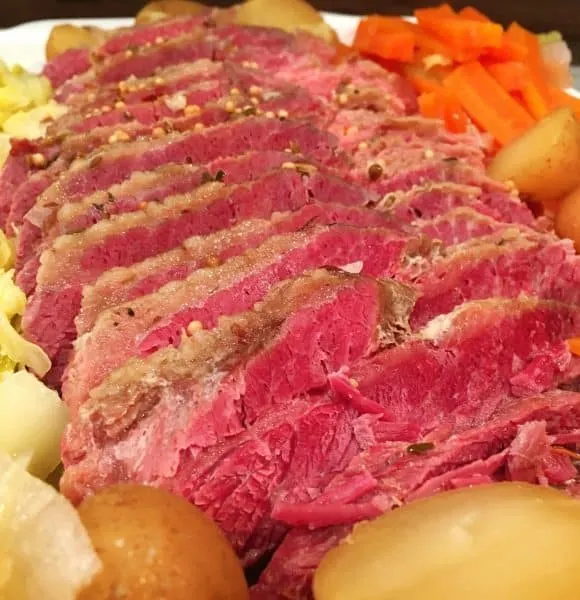 I had vowed I was done with Corned Beef and Cabbage but then the other day I was shopping and walked past a huge display of Corned Beef Brisket and a bin filled with cabbage.
I thought "Okay the kids are all gone…the only two people who will have to gag this down is me and the hubs. Worse case… I'll turn it into corn beef hash!"
I'm happy to report…the hubs ate THREE plates of this last night! Turns out that corned beef, like the Irish themselves, have a thing for "ale"! Who knew?
I've stated before that we don't drink in this house. I looked like a total idiot at the local mini-mart trying to pick out just ONE bottle of beer. I stood there like an undercover agent… glancing over my shoulder, back at the case.
It was just like Tom Cruise in mission impossible! I thought about sliding down the glass door on my back while nabbing a "cold one" but decided… "mmmmm better not!" I didn't need it announced over the intercom "Code Red… Code Red… We have another menopausal woman in the beer cooler!"
So with my one bottle of beer in hand I came home and made this absolutely delicious and amazingly easy Corned Beef and Cabbage! I found the recipe on All Recipes and it's perfect!
How To Make Slow Cooked Corn Beef and Cabbage
I used Tiny baby potatoes, so I used about 20 of them, and I cut them in half. The original recipe calls for 10 baby red potatoes cut in quarters. I'll admit I loved these tiny baby potatoes. Either would work though.
Place baby potatoes in the bottom of your large slow cooker.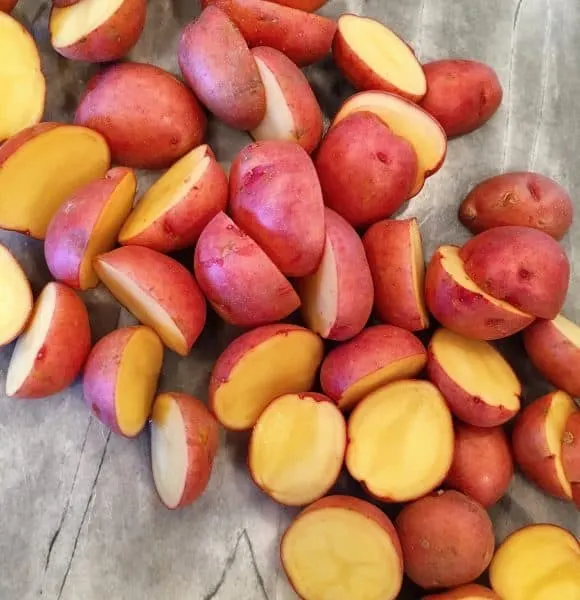 Next peel 4 large carrots and cut them in half and then into thin strips. Next you'll need 1/2 a large onion, peeled and cut into bite-sized pieces.
My onion was frozen. (Don't ask! Seems I have my own version of "Frozen" taking place on the top shelf of my refrigerator!)
Place the carrots and onion on top of the potatoes.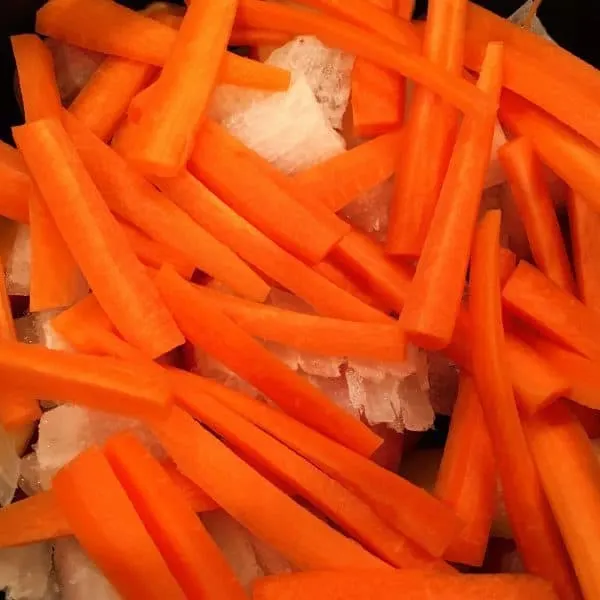 Next rinse off your 3 – 4 lb. Corned Beef Brisket. Place on top of carrots and onions. Add 4 cups of water and one bottle of your "undercover" beer.
You can see I picked a good German Dutch Beer to tick off the Irish meal I'm making! (See I have no idea about beer! I've just insulted two other countries! That's pretty impressive when ya think about it!)
I tried to find a Guinness…evidently this town doesn't carry it, or so I was told by the other non-drinker in the household.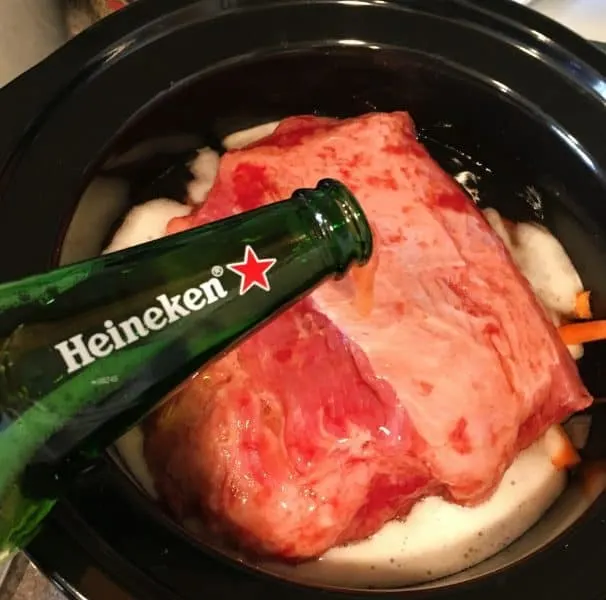 Corned Beef Brisket comes with a little seasoning packet. This is when you want to use that packet. Sprinkle it over the top of the Brisket.
Cover your slow cooker and set it for 8 hours on high heat. Now…my cooker for 8 hours cooks on low and that was perfect!
You know how your slow cooker cooks so use your best judgment. I've found that they all have different "heat" levels. It's getting a little frustrating these days.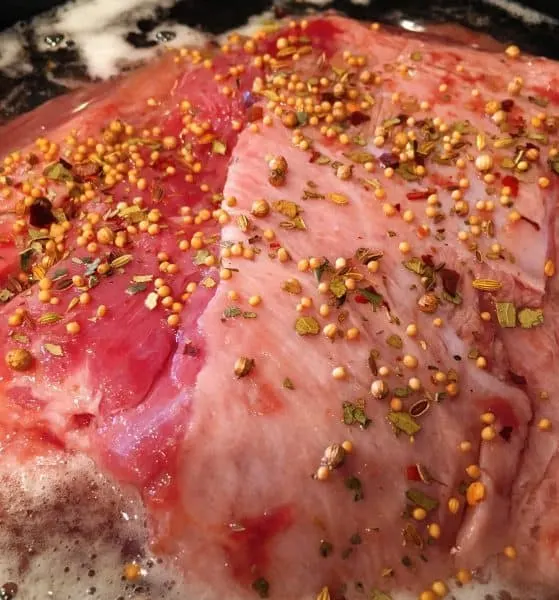 An hour before it's done cooking, coarsely chop 1/2 a head of cabbage. Stir the chopped cabbage into the broth of brisket and cook for 1 more hour.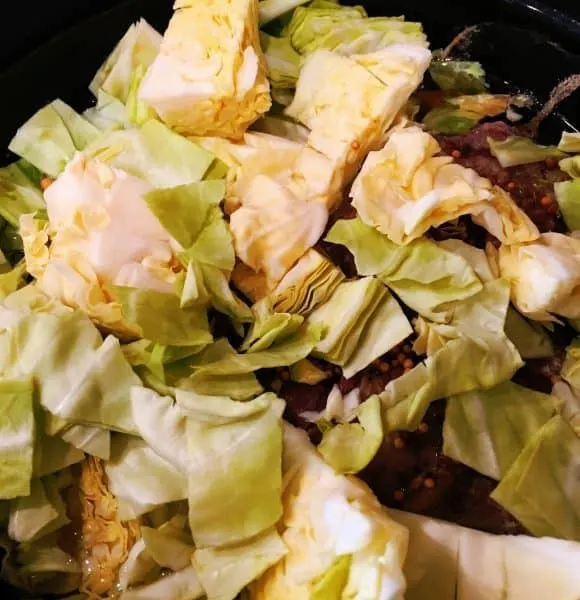 Remove the lid and pull out the brisket. Don't worry about the spices. They are nice and tender and will be fine left on the Brisket.
Slice the Brisket thinly against the grain. Place on a large platter.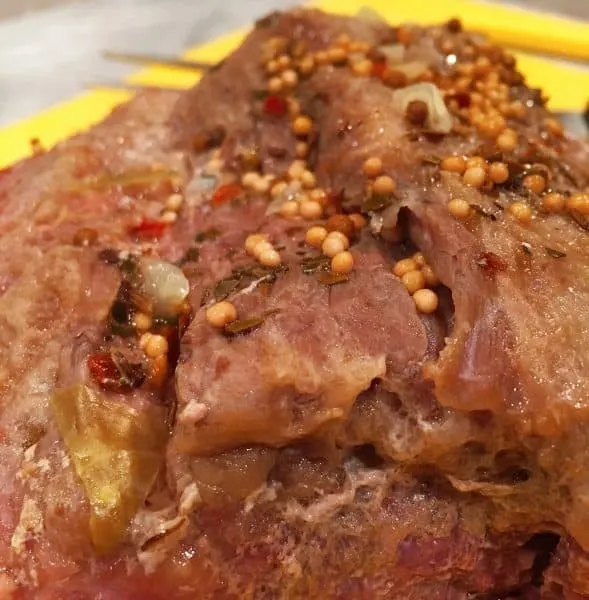 Using a slotted spoon scoop out the cabbage, carrots and potatoes. Arrange on the platter and serve.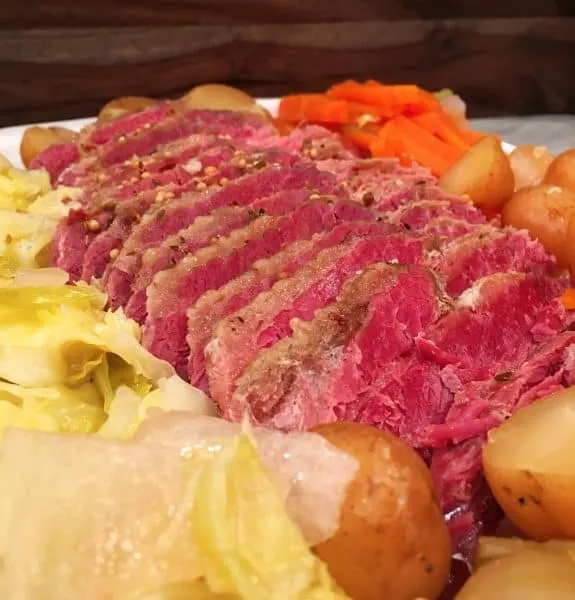 The flavor of this Brisket was delicious! The meat was so tender it was falling apart. The potatoes were tender.
The carrots still had a little "crisp" to them, and they were delicious. The cabbage was cooked perfectly! Simple, easy, delicious meal. The hardest part was buying the beer! Lol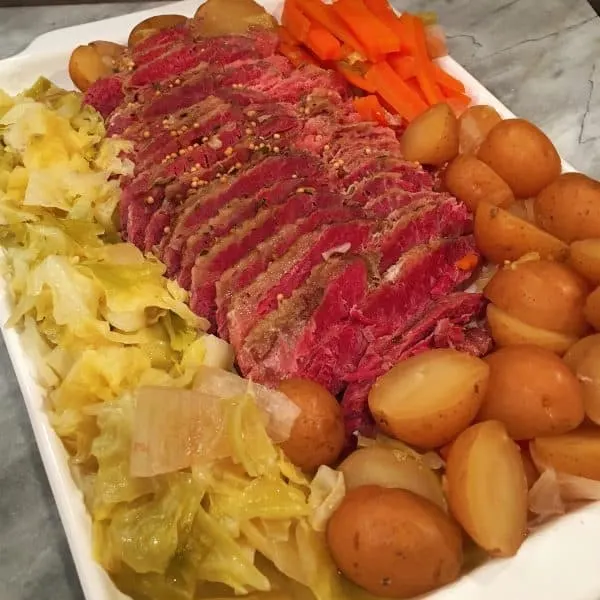 I loved how beautifully this plated too! Serve with a loaf of Irish Soda Bread and maybe a little "grass hopper" pie for dessert, and you have a wonderful traditional St. Patrick's Day meal. It's also really economical! I love that this was all done in the slow cooker!
I had plenty of Corned Beef left over, and it will be making an appearance, reincarnated, as Corned Beef Hash!
St. Patrick's Day Recipes
It's not too late to run the market and grab a brisket for dinner tomorrow, or celebrate this weekend! A little well-known secret is Corned Beef Brisket makes a mean hot sub sandwich with Mustard and melted Swiss Cheese!
Thanks for stopping by my Nest!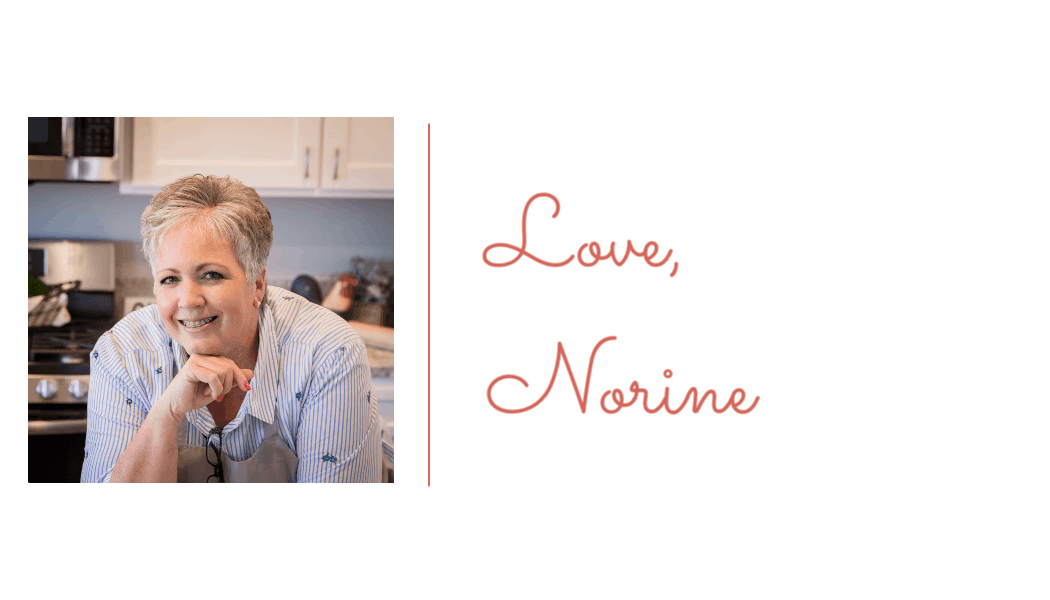 Yield: 4 servings
Slow Cooker Corn Beef and Cabbage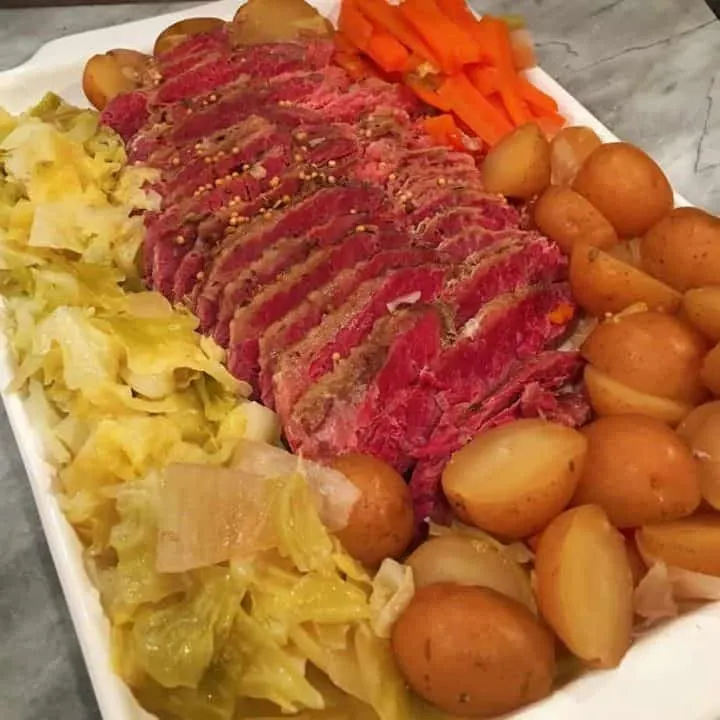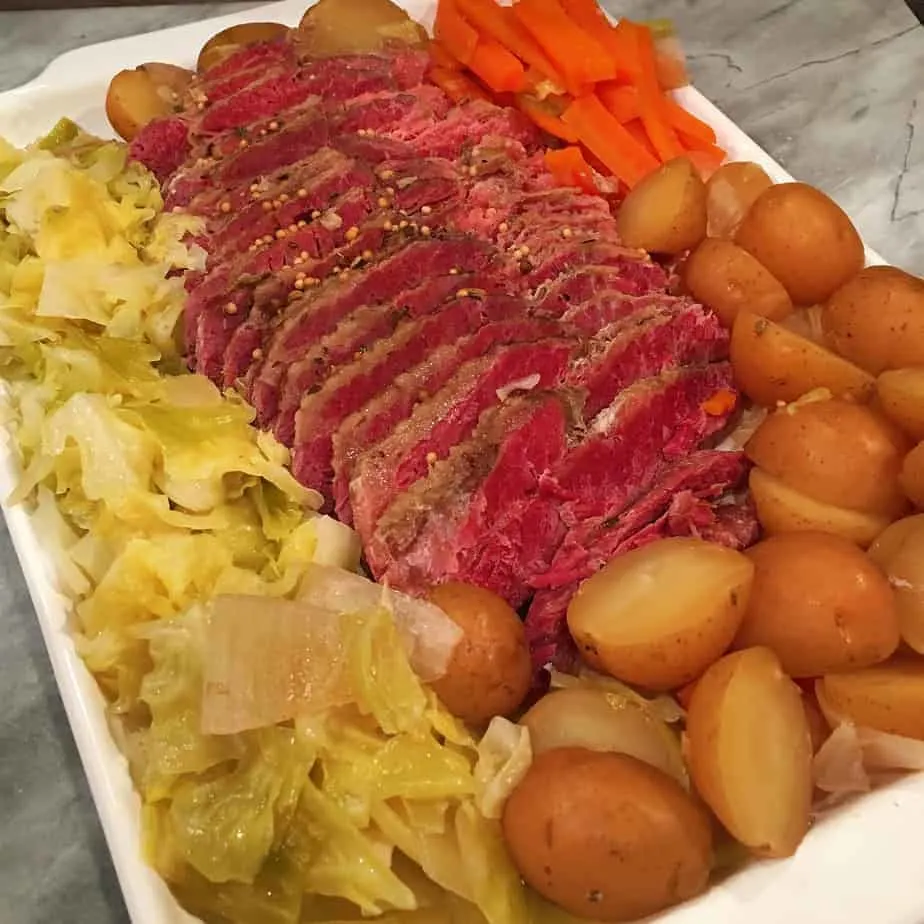 A traditional St. Patrick's day dinner of tender Corned Beef Brisket, baby red potatoes, carrots and cabbage. All cooked in your slow cooker!
Total Time
8 hours
10 minutes
Ingredients
4 large carrots, peeled and cut into thin strips
10 baby red potatoes, quartered or 20 mini baby red potatoes cut in half
1/2 onion, peeled and cut into bite-sized pieces
4 cups of water
1 (3-4) pound corned beef brisket with spice packet
6 ounces of beer
1/2 head of cabbage, coarsely chopped
Instructions
Place carrots, potatoes, and onion into the bottom of a slow cooker, pour in the water, and place the brisket on top of the vegetables. Pour the beer over the brisket. Sprinkle the spices from the packet over the brisket. Cover, and set the cooker on high.
Cook the brisket for about 8 hours. An hour before serving, stir in the cabbage and cook for 1 more hour.
Notes
I cooked my brisket on LOW for 8 hours, however the original recipes calls for 8 hours on HIGH. Use your best judgement with your own slow cooker temps.
Recommended Products
As an Amazon Associate and member of other affiliate programs, I earn from qualifying purchases.
Nutrition Information:
Yield:
4
Serving Size:
3 cups
Amount Per Serving:
Calories:

2396
Total Fat:

24g
Saturated Fat:

9g
Trans Fat:

0g
Unsaturated Fat:

11g
Cholesterol:

120mg
Sodium:

374mg
Carbohydrates:

454g
Fiber:

45g
Sugar:

38g
Protein:

87g
Norine's Nest in no way provides any warranty, express or implied, towards the content of recipes in this website. It is the reader's responsibility to determine the value and quality of any recipe or instructions provided for food preparation and to determine the nutritional value, if any, and safety of the preparation instructions.