Chicken and Pasta Rice Instant Pot Casserole is made with four simple ingredients! It's quick, easy and a family favorite at this Nest.
Wondering what the heck to make with that Instant Pot you got for Christmas? Maybe you got one this year for Christmas?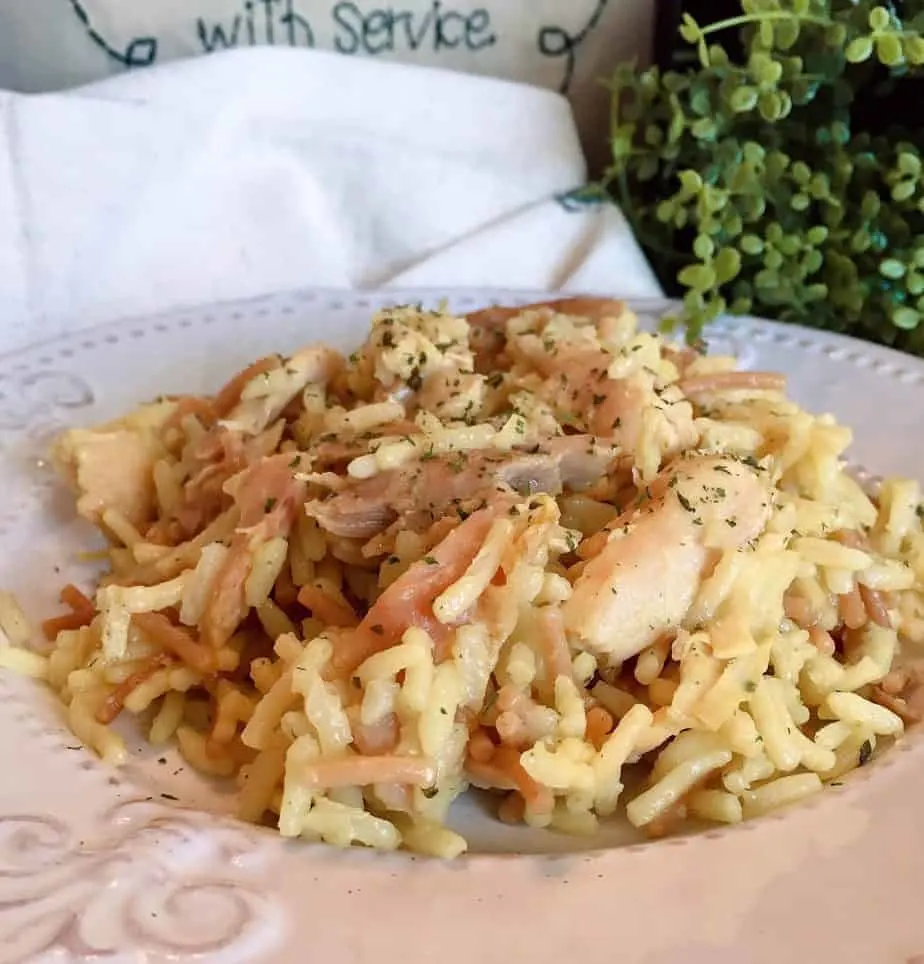 Maybe you got it last year and it's collecting dust because you're afraid that new fangled pressure cooker is gonna explode and take the ceiling out in your kitchen!
I was terrified the first time I used mine. I hid out in the hallway after I turned it on. (Brave Wonder Woman Right Here!) I made this delicious Salisbury Steak with Mushroom Gravy. I'd heard all the horror stories told by Grandma's the country over, about their old pressure cookers! However, most of those disastrous stories could usually be attributed to user error.
Today's pressure cookers have several safety measures built into them. The official Instant Pot brand has been carefully designed to eliminate and avoid most of the potential user errors.
There are numerous safety mechanisms built into today's Instant Pots! You can find more information about those safety precautions by clicking HERE.
I think the real hold out though is that so many just aren't sure what to cook in our Instant Pot for the first time. I won't lie, there is a bit of a learning curve, but this is a fantastic recipe to try out your new pressure cooker!
Let's make Chicken and Pasta Instant Pot Casserole!
You'll need four ingredients to make this dish! That's right, just four simple ingredients and in under an hour dinner will be on the table!
3 – 4 cups cubed cooked chicken (I use store bought rotisserie chicken)
2 – 5.6 oz packages Knorr Chicken Flavored Pasta and Rice Sides
4 cups chicken broth
2 Tablespoons butter
Spray your instant pot with "non-stick" cooking spray. Add two packages of Knorr Chicken Flavored Pasta and Rice side mixes. (Honestly this is an embarrassingly easy dish to make! We don't need to tell our family that though! Let them think we slaved away all day!)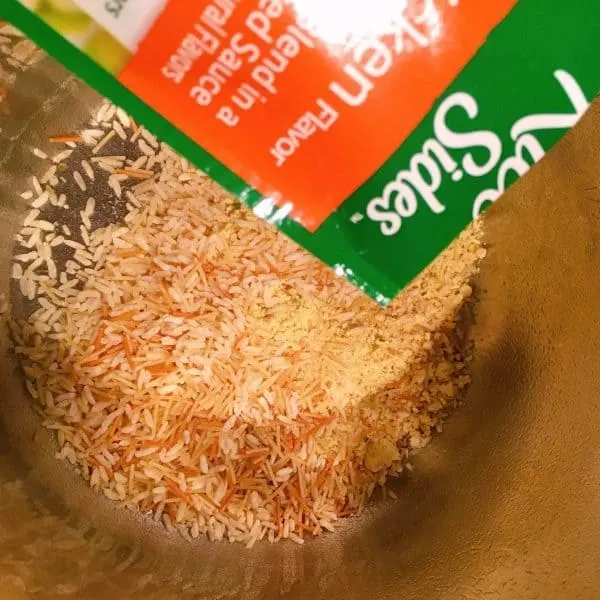 Add 4 cups of chicken broth.
TIP: You can use low sodium if you prefer. If you only have one can, add one can and two cups of water. This is seriously the most forgiving recipe on the planet!
I know! It's not pretty and it seems like too much liquid!
You're right. It's not pretty…yet! (Yet, being the key word!) And the liquid is going to magically disappear! (Remember…Rice and Pasta PUFF! Like a pregnant ladies ankles!)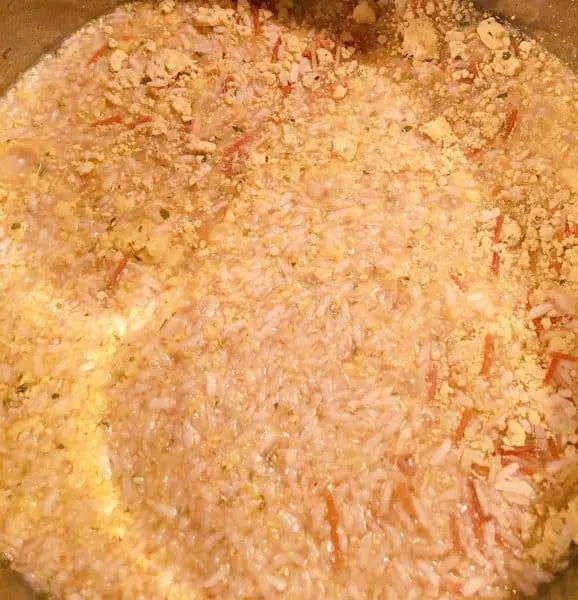 Add in 3-4 cups of cubed chicken or chicken pieces! Please note you can add as much chicken as you like. If you want more chicken than rice, feel free to add a cup or two more.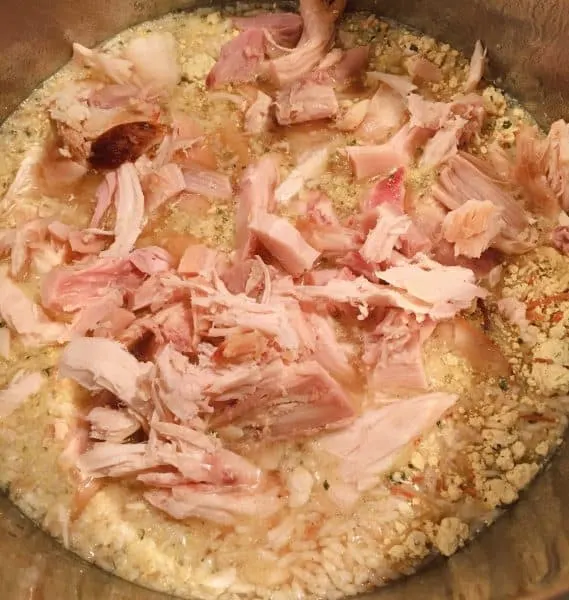 Tips On How To Use Your Instant Pot
Make sure the seal ring is in place inside the lid of your Instant Pot, place the lid securely on the pot, lock into place, and be sure the valve is in the "sealed" position for pressurized cooking.
Select the "Rice" button on the front of your pot. It should show a "10" minute cook time.
That's it! Now you can run and take cover, but it really isn't necessary!
The steam start to build up, and you'll see the steam as it escapes from the small "pressure valve". The force of pressure inside the pot causes that tiny valve to seal.
When the timer goes off (beep, beep, beep) its done cooking. Allow the Instant to pot to "natural" release for 15 minutes! The pot will automatically go into "warm" mode as the pot naturally releases the steam that has built up inside. The rice will continue to cook during the natural release time. Which is necessary for this dish!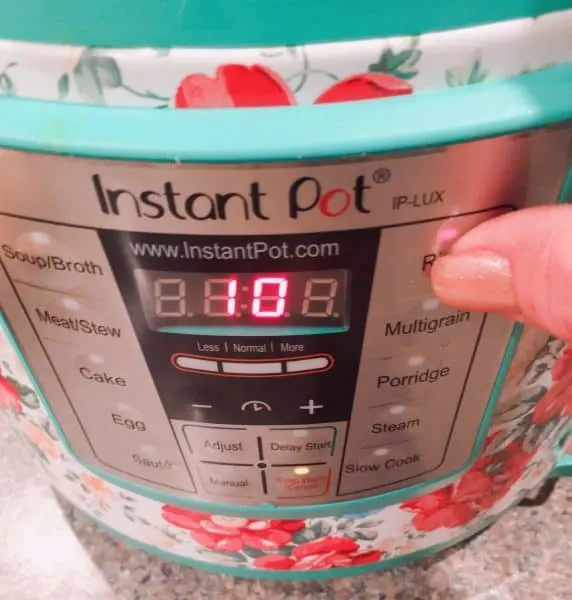 How To "Quick" Release Your Instant Pot
After 15 minutes do a "quick" release! Remember the lid to your Instant Pot will NOT open if pressurized steam is still present within the cavity of the pot.
When doing a "quick release" use a long wooden spoon to push the big valve on top over to "release" on one side or the other. It doesn't matter if you go left or right.
NOTE: Using a wooden spoon prevents you from getting to close the steam release valve where the steam escapes.
Once all the pressure has released, and the steam release valve has dropped back down into the lid (it's the tiny metal plug that goes up and down, not the big valve on the top that slides from side to side) it is safe to open the lid.
TIP: ALWAYS open the lid AWAY from you! This will help prevent the hot water from dropping on your hands and keeps any residual steam away from you.
Unplug, or turn off, the Instant Pot once the lid is removed. I like to do both.
Look at that! You have perfectly cooked Chicken and Pasta Rice Casserole! In less than an hour with very little effort!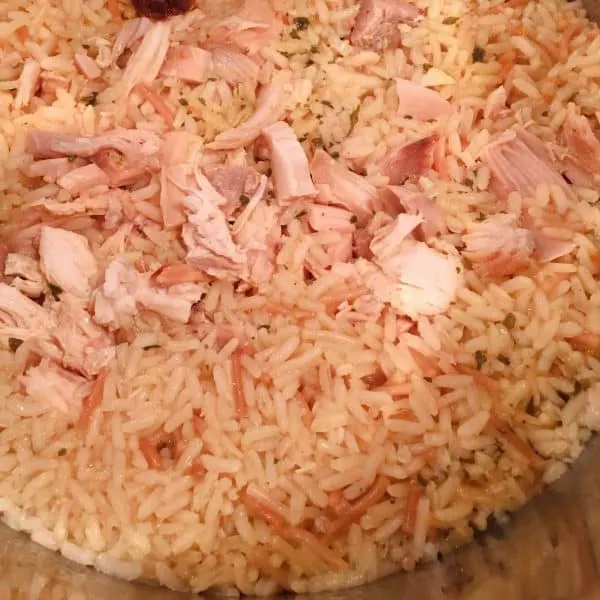 Using a fork, fluff the pasta rice and chicken casserole. Note the casserole will seem a little "wet" at first but the remaining moisture absorbs quickly!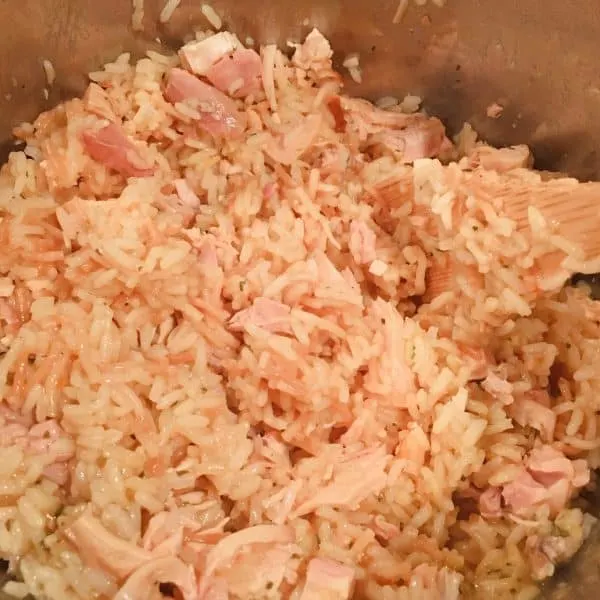 That's all there is to this Easy Instant Pot Chicken and Rice Casserole. A great casserole for your first cooking experience in the Instant Pot!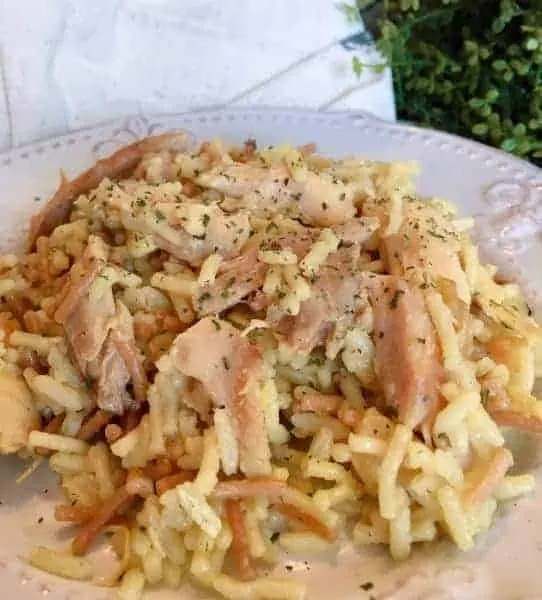 Serve with a green salad, a side vegetable, and you have a complete meal in under an hour! A huge bonus when your pressed for time and need to put a hot meal on the table for your family.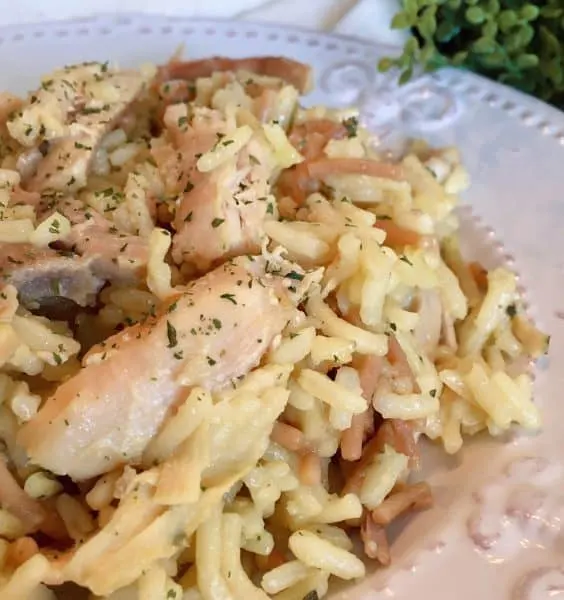 If you want you can sneak some vegetables in with this dish. Fresh broccoli florets or corn, even carrots would be great! Get creative and give that Instant Pot a try!
Easy Instant Pot Recipes For Beginners
I hope you enjoy this quick easy Instant Pot Recipe as much as we do! Thanks so much for stopping by and visiting my Nest today! You can also follow me on Facebook, IG, or Pinterest where I share my recipes every day.
Happy Nesting!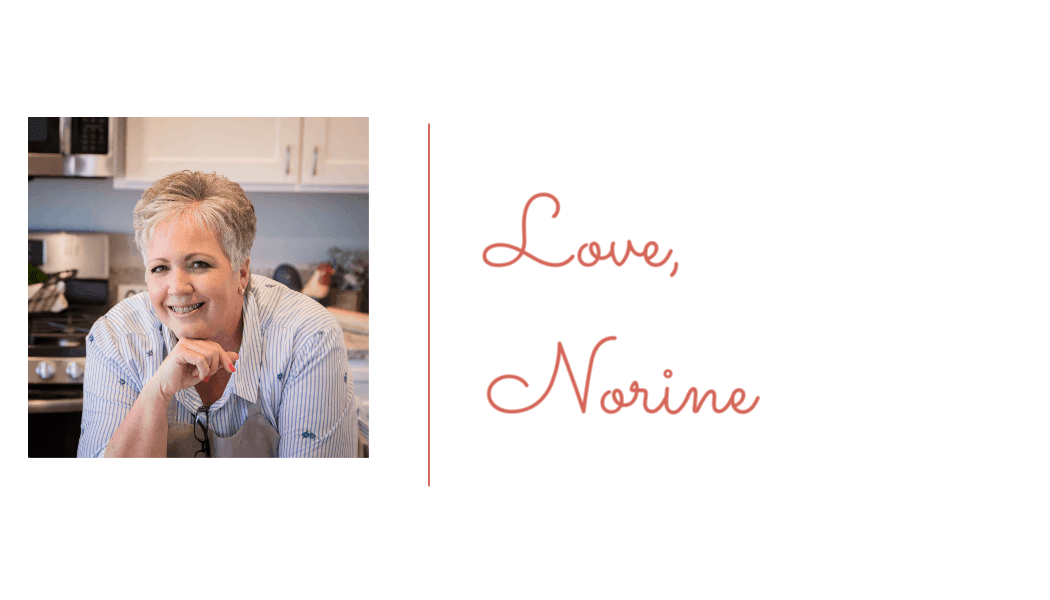 Yield: 6 servings
Chicken and Pasta Rice Instant Pot Casserole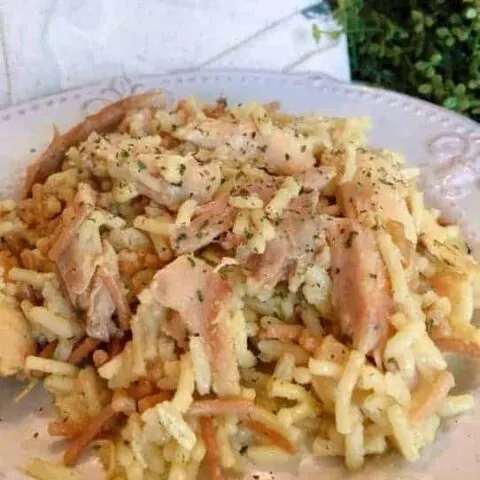 Chicken and Pasta Rice Instant Pot Casserole is made with four simple ingredients! It's quick, easy and a family favorite at this Nest.
Additional Time
15 minutes
Ingredients
4 cups cubed cooked chicken
4 cups chicken broth
2 - 5.6 oz Knorr Chicken Flavored Sides
2 Tablespoons butter
Instructions
Spray Instant Pot with non-stick cooking spray.
Add two packages Knorr Rice sides, 4 cups of chicken broth, and butter.
Add Cubed chicken.
Seal Instant pot, making sure valve is on the "sealed" position. Press "Rice" button for a 10 minute cook time. All pressure to build and Instant pot to cook for 10 minute. Natural release for 15 minutes followed by a quick release.
Fluff and stir chicken and rice. Serve immediately.
Recommended Products
As an Amazon Associate and member of other affiliate programs, I earn from qualifying purchases.
Nutrition Information:
Yield:
6 servings
Serving Size:
1 cup
Amount Per Serving:
Calories:

358
Total Fat:

23g
Saturated Fat:

8g
Trans Fat:

0g
Unsaturated Fat:

13g
Cholesterol:

148mg
Sodium:

748mg
Carbohydrates:

1g
Fiber:

0g
Sugar:

1g
Protein:

35g