A simple boxed chocolate cake mix is kicked up to epic heights with the addition of chopped walnuts, semi-sweet chocolate chips and a caramel drizzle. No need for frosting with this classic snack cake!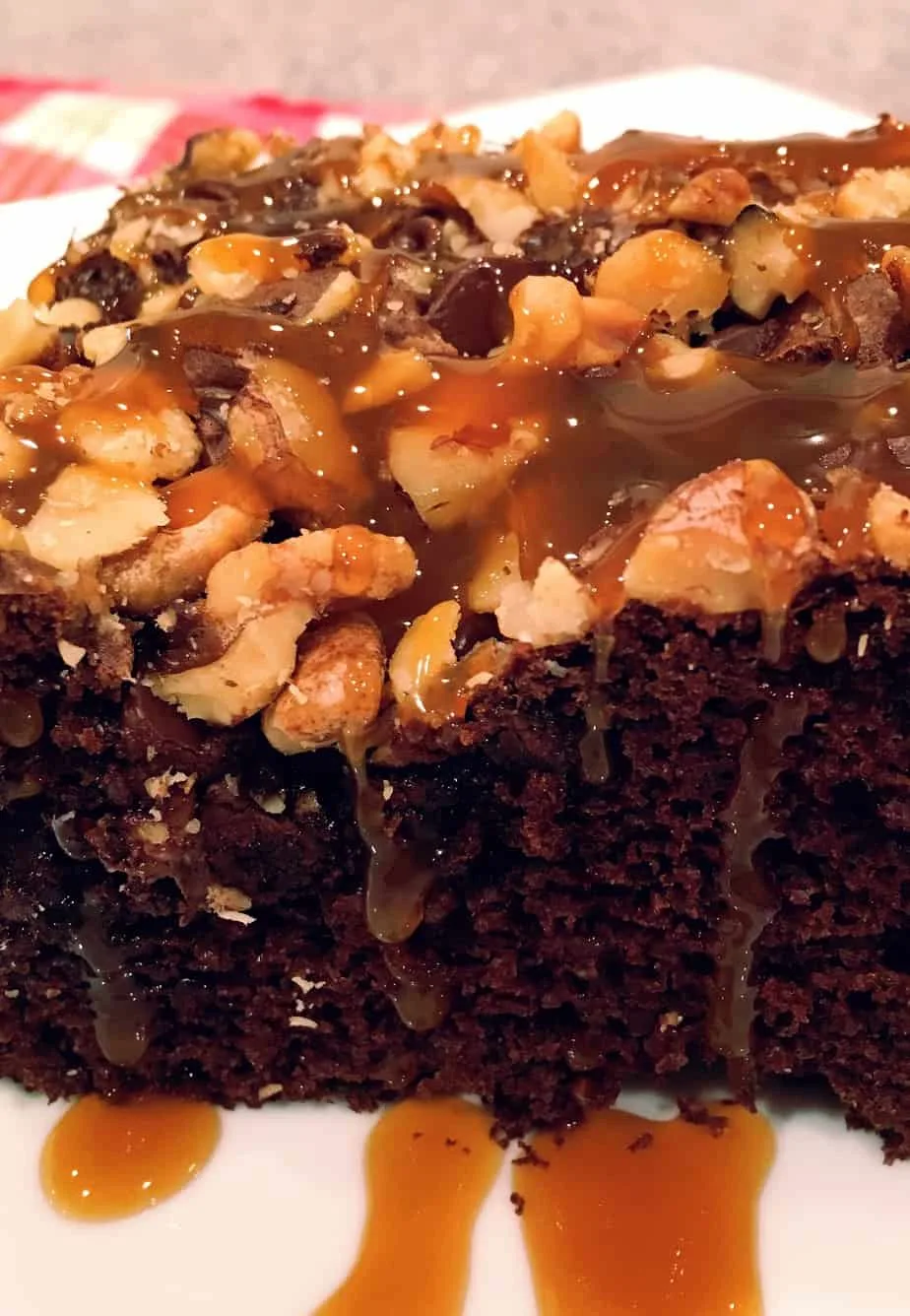 I went on a mad baking/cooking frenzy this past weekend!
Probably because I finally made out my menu's for the next two weeks and I knew exactly what I was cooking and baking. Wow! Who would have thought being organized could be so motivational? Hooray me!
One of my "go to" quick and easy dessert recipes just also happens to be Mars favorites! Mainly because it has no frosting. Mars is not a frosting fan. (He actually scrapes the delicious frosting off my cupcakes! Gasp! Poor little bare cupcakes.)
This chocolate chip walnut cake is a little inspiration I had early in our marriage, during one of the lean years! (The lean years only lasted… Hey, if you have kids, and you aren't having lean years…you're doing it wrong! Lol)
Anyway, we had company coming over, and I had to come up with a dessert with what I had on hand. I dug around in the pantry and found a chocolate cake mix, walnuts and chocolate chips! I could do something with that.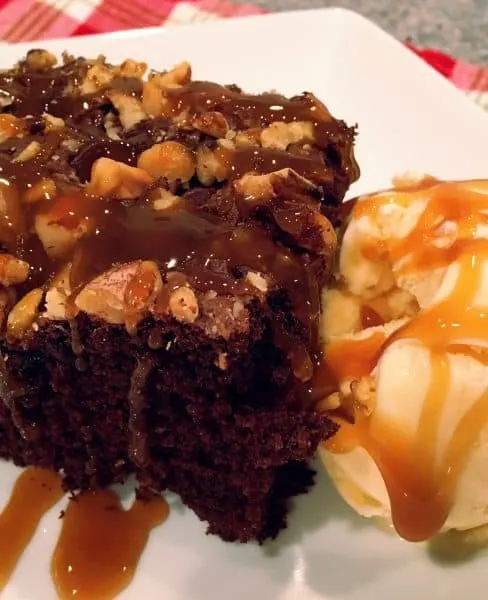 How To Make Chocolate Chip Snack Cake
This cake starts with a simple chocolate cake mix. Follow the cake instructions and mix up the batter. Pour it into a 9 x 13 prepared baking dish and sprinkle chocolate chips over the top. That looks good but…it needs more…
Chop up a handful (or two) of walnuts and sprinkled those over the top making sure to cover the entire cake. (Much better…nothing worse than naked cake!)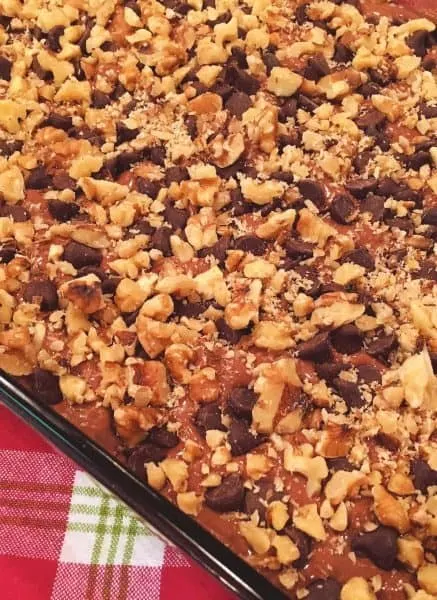 Place that masterpiece…(fingers crossed)… into the oven.
First time I made this I prayed a mighty prayer that it would turn out okay! I had no idea? I was just winging it. If the smell was any indication I was on to something. Well, when it came out of the oven… Hello my pretty…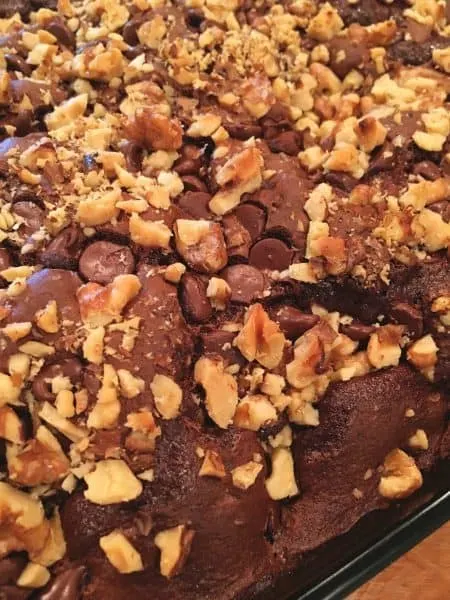 Come to Momma! The wonderful thing about this cake is that while it is baking those walnuts are toasting! While the walnuts are toasting the chocolate chips are getting soft, melted and extra yummy.
Once the cake cools the chocolate chips will set but, they won't be as hard as when originally placed on the cake. They stay soft! It's like… MAGIC. Honestly this is like a light fluffy brownie on steroids! Lots and lots of steroids!
Serving Chocolate Chip Snack Cake
As if it wasn't pumped up enough, I like to drizzle mine with caramel ice cream topping and serve it with a scoop of ice cream! I don't want that poor little cake to feel lonely on the plate. Doesn't that cake look happier having his friends there with him? I know I was happier!
There you have it! The story of how I created Mars favorite cake! It also happens to be everyone's favorite!
I'm going to prove it to you… You know what happens when you're on the phone long distance with your brother in another room and the family decides to cut into dessert BEFORE Momma blogger has a chance to do all her photography? (Remember, I am keeping it real here on the Nest!)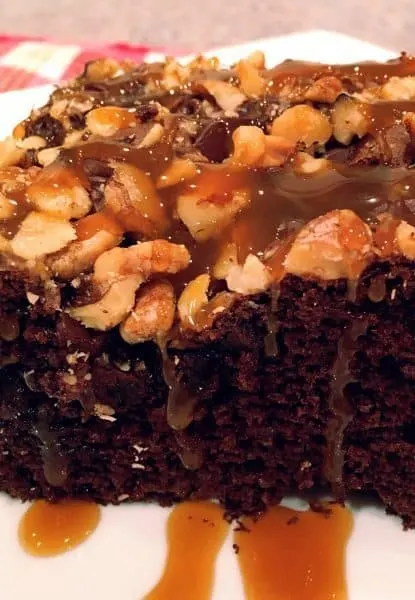 That's what happens! They all wanted a "center" piece! (eye roll) It's a miracle I had any left to take a photo for this post!
I've posted a printable of the recipe but, let's be honest, you probably won't need it. It's pretty easy to remember… One cake mix (follow the directions on the box), some chocolate chips and a couple handfuls of chopped walnuts!
Try it…just don't let my kids or Mars cut it for you!
Other GREAT Cake Recipes you might enjoy!
Thanks so much for stopping by my Nest Today! I hope you have a great day and remember you can always follow me on Facebook, Instagram, and Pinterest where I share my favorite recipes every day.
Happy Nesting!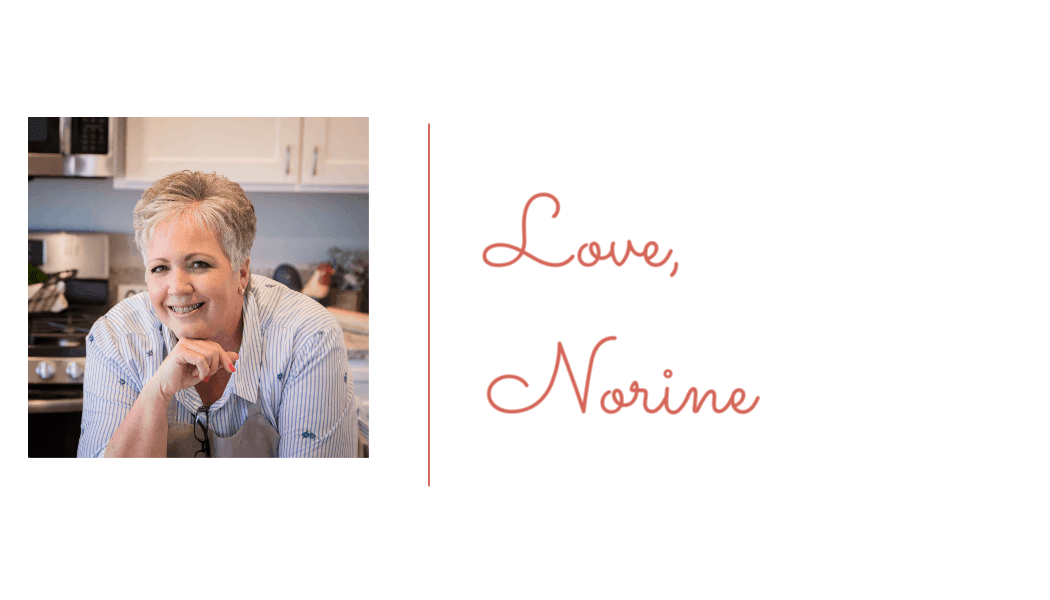 Yield: 12
Chocolate Chip Walnut Cake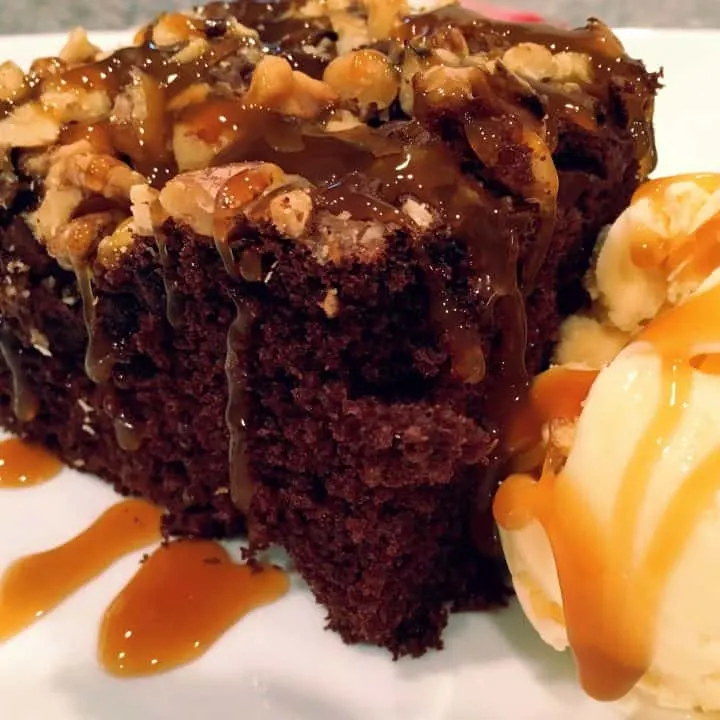 A quick and easy cake topped with chocolate chips and walnuts. Perfect for any gathering. Serve with ice cream and drizzle with caramel topping for a rich and delicious dessert!
Ingredients
1 chocolate cake mix
3 eggs
1 cup water
1/3 cup vegetable oil
1 - 1 1/2 cups chocolate chips
1 1/2 cup chopped nuts
Instructions
Preheat oven to 350 degrees
Grease sides and bottom of a 9 x 13 glass baking dish. Flour lightly.
Blend cake mix, water, oil, and eggs in a large bowl at low speed until moistened. (about 30 seconds). Beat at medium speed for 2 minutes or until well blended.
Pour batter into pans.
Sprinkle cake top evenly with chocolate chips.
Sprinkle walnuts over entire cake.
Bake for 26-31 minutes. Cake is done when toothpick inserted in center comes out clean.
Cool in pan. Serve when cool. Cover to keep moist.
Nutrition Information:
Yield:
12
Serving Size:
1 slice
Amount Per Serving:
Calories:

286
Total Fat:

23g
Saturated Fat:

6g
Trans Fat:

0g
Unsaturated Fat:

16g
Cholesterol:

47mg
Sodium:

85mg
Carbohydrates:

19g
Fiber:

3g
Sugar:

14g
Protein:

6g
Norine's Nest in no way provides any warranty, express or implied, towards the content of recipes in this website. It is the reader's responsibility to determine the value and quality of any recipe or instructions provided for food preparation and to determine the nutritional value, if any, and safety of the preparation instructions.