Hundreds of have spoken…this is The World's Best Carrot Cake! Layers of moist flavor filled cake with coconut, crushed pineapple, carrots, spices, and nuts come together with a delectable cream cheese frosting.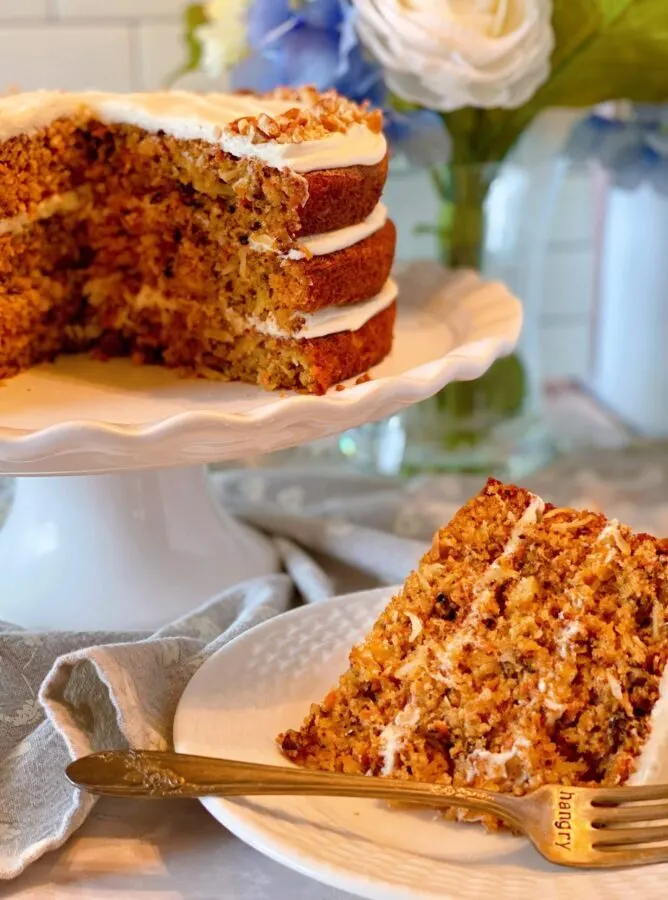 I felt like I needed to add more veggies to my diet so I made my favorite carrot cake! Ummm…Heck yeah! I'm happy to report that about three more slices of this baby and my eye sight should be back to normal!
I'm obsessed with this carrot cake recipe! It truly is the "World's Best Carrot Cake"! That is no exaggeration. This recipe ALWAYS receives rave reviews! (It makes me look good!)
It's the perfect balance of everything I love! This cake is bursting with flavor and ultra moist, but not overly sweet like some traditional carrot cakes.
How To Make The World's BEST Carrot Cake
First you are going to place your wet ingredients into the mixer and blend.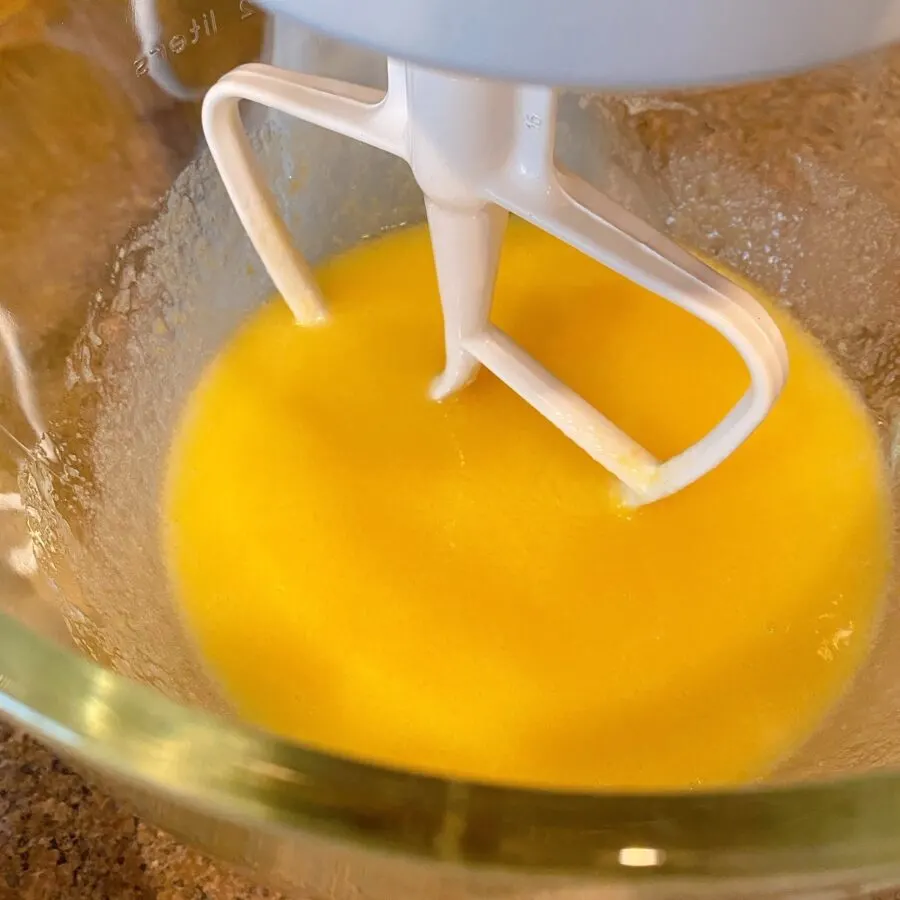 Next add your dry ingredients and mix.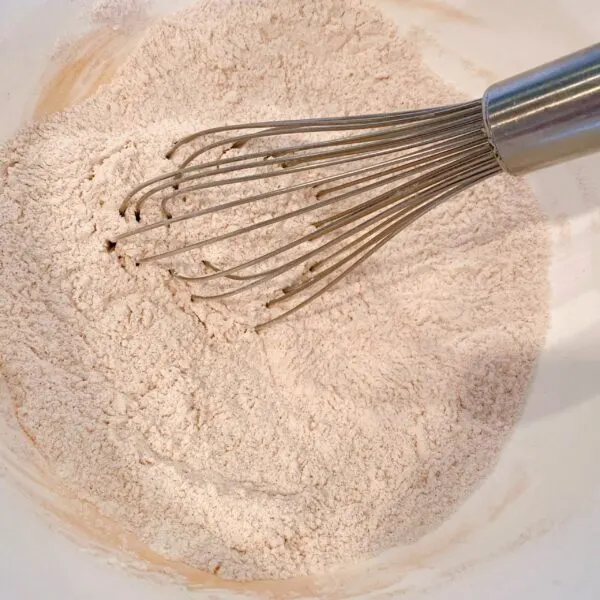 Then add your carrots, pineapple, coconuts and lastly the nuts and mix again. (Nuts are optional)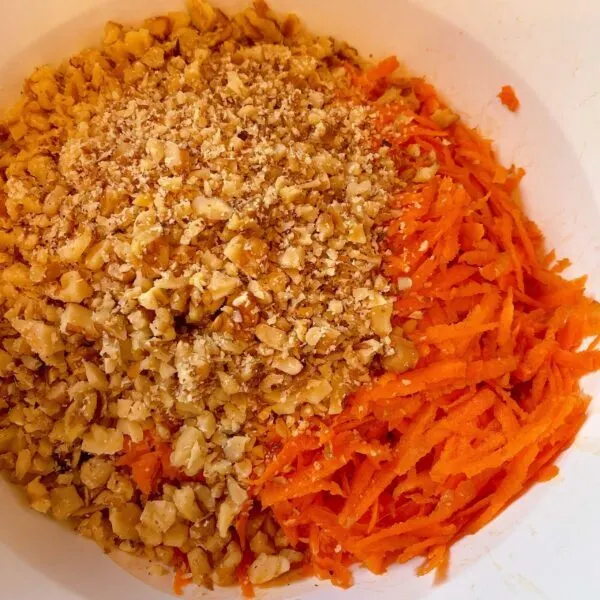 When you have blended all the ingredients together you'll have a very thin batter like pictured below.
Grease and flour three 8 inch cake pans, or you can do two 8-9 inch cake pans too. I wanted a three layer cake with thinner layers because I love how this cake looks with three layers. It's a personal choice and totally up to you!
Tip: I only had two cake pans so I baked two, and then did the third after the first one had slightly cooled and I could invert it onto my cake plate.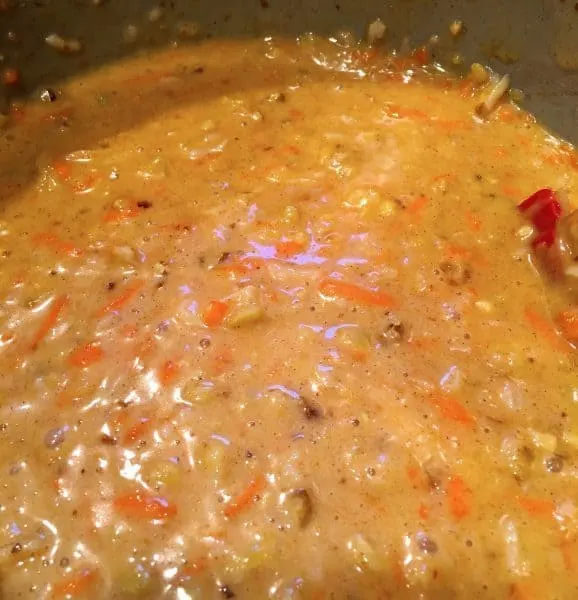 Once you have baked your cakes in a 350 degree oven for about 30-40 minutes, place on a cooling rack and allow them to completely cool in the pans!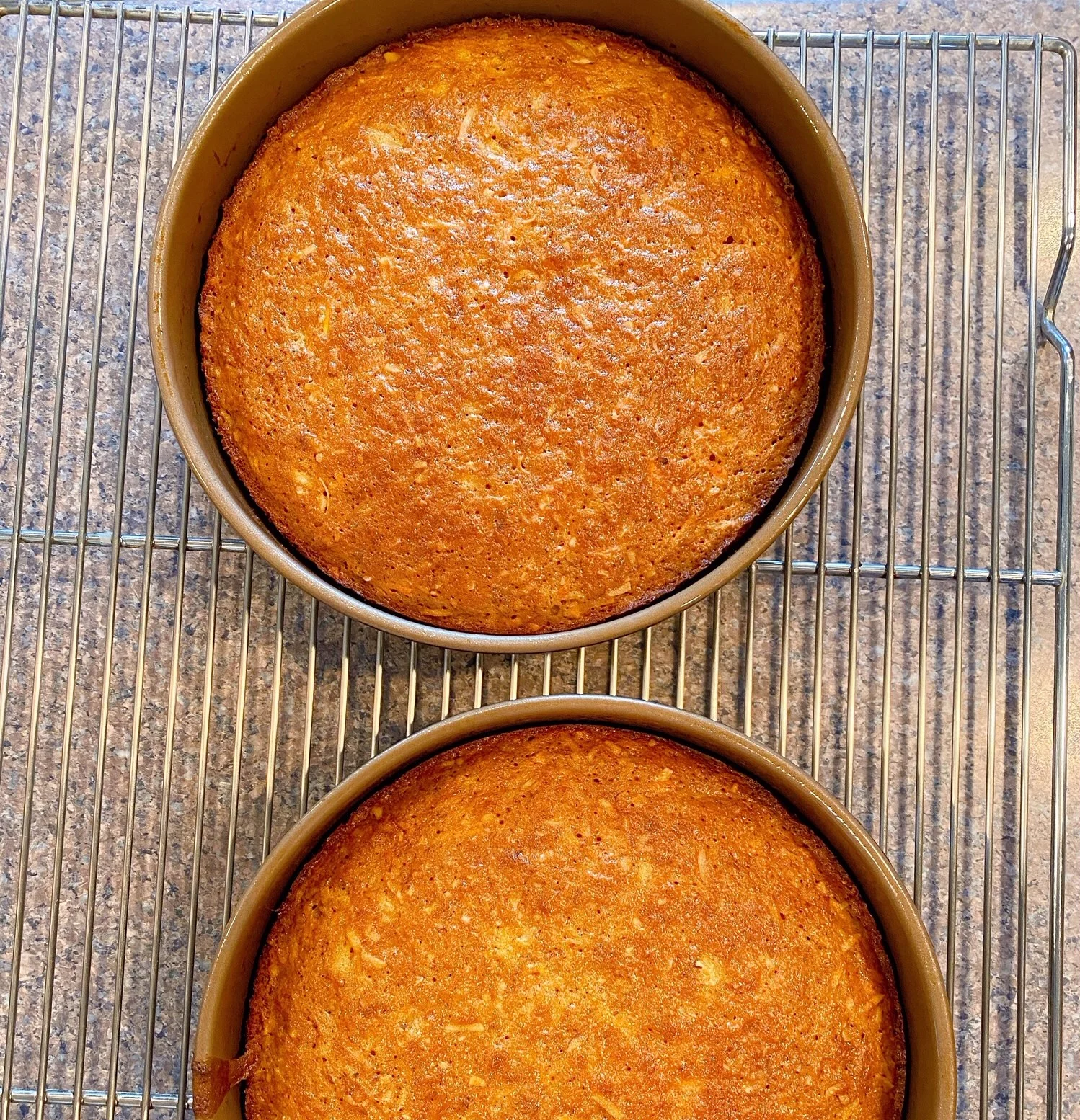 The reason for this… remember how I said this cake is "moist"…it's really moist! I placed mine face down on a cooling rack the first time, and had to carefully lift mine with two spatula's. (It's a nightmare you don't wanna live through! Trust me!) Place your cake pan up against your cake plate and invert.
Use your favorite cream cheese recipe (I'll include mine…I promise) Frost the tops of each cake layer.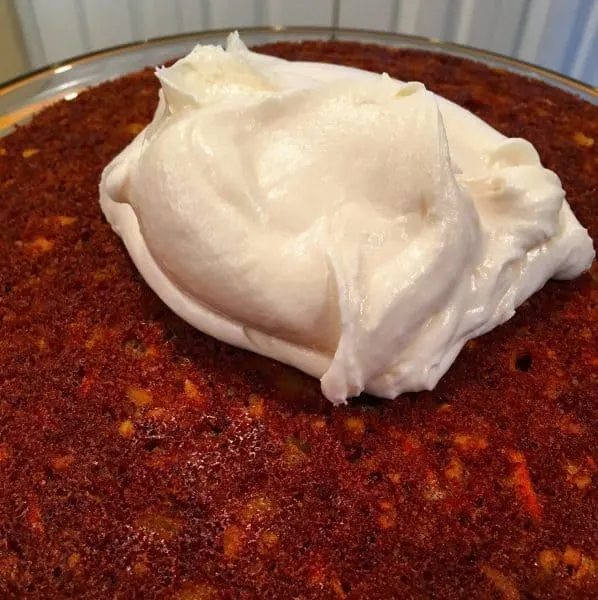 I love that this cake is only frosted between the layers. You could go around the outside if you really want to, but Mars and I are not huge frosting fans so this method of just frosting in between the layers and on top is perfect for us.
I don't do a ton of frosting either, just a nice medium layer. Again this is a personal choice. You can do whatever floats your boat! (Don't take all your baking advice from me! lol I'm the lady eating cake to get her vegetable count in!) (wink, wink)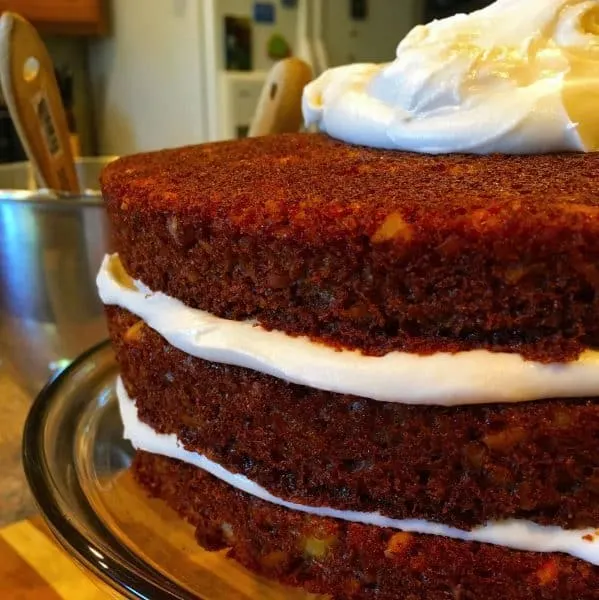 Here is the finished cake. I didn't go all fancy with piping frosting around the edges or adding any garnish. I really believe sometimes more is just that…more! Not necessarily better.
This cake so beautiful on it's own! It doesn't need all that "Froufrou"! (I hate my kitchen table and am re-doing it soon!!! Just in case you were wondering.)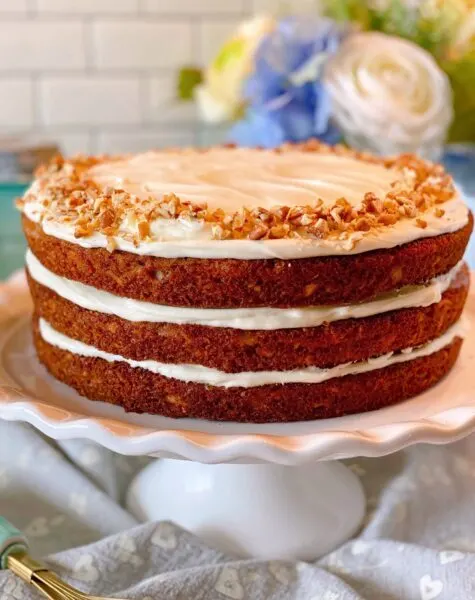 I do think it deserves a moment of silence…. tick- tock…tick-tock….
Okay… enough of that! Let's get to the good part…the eatin'! Ooooh…so super moist and so yummy! Makes eatin' your veggies a divine pleasure!
One bite and you can feel yourself start to elevate to new heights! (I said "heights" not "weight"! This cake has fruit and veggies it cancels out all calories!… Your Welcome! lol)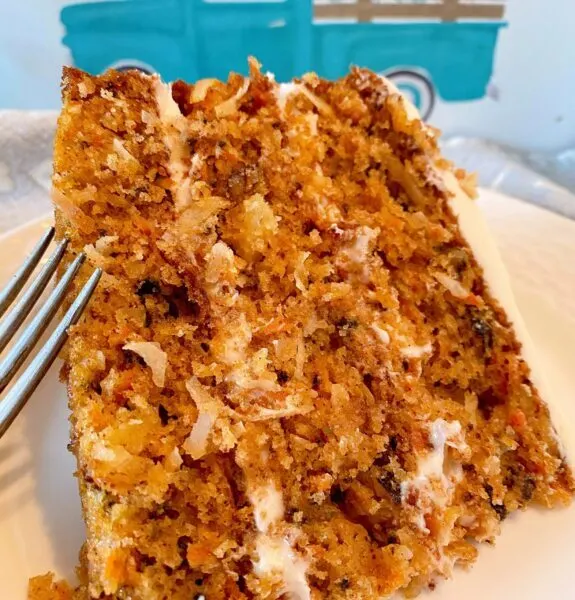 Frequently Asked Questions About Carrot Cake
Can I use desiccated coconut? Yes you can!
What is the bake time for a 9 x 13 cake? It's about the same cook time, but be sure to check the cake and if it springs back in the center its done.
How long should I bake these if I make cupcakes? Adjust the cook time to 18-22 minutes.
Why did my carrots turn green and is the cake safe to eat? The carrots turned green because they contain pigments that are sensitive to to changes in pH balance. When shreds of carrots come into contact with the alkaline baking soda, a chemical reaction takes place that causes pigments to change color. Make sure that the baking soda is well mixed into your batter. The cake is safe to eat. It just doesn't look super pretty. Side note…I've never had this happen. That's because I mix my flour and baking soda well before adding wet ingredients.
Can I use fresh pineapple instead of canned? YES! Just be sure to pulse in your food processor or chop finely. Reduce amount by 1/4 cup.
Can I bake this cake the day before hand or several days before hand? Yes! Be sure to cover the cake well so that it won't dry out.
Can I freeze the cake after baking and frost it later? You can, but I caution that it will be extremely moist and very hard to handle. DO NOT FROST the cake and freeze it.
I made this for dessert the other night and my kids… who both told me they don't usually like carrot cake…loved it! Mars who has always "Passed" on my carrot cake asked for a slice and then proceeded to "ewww and ahhhh" and ask me why he's never tried it before? (Mmmmm…That's a question only the other martians can answer! Us Venusians eat any carb covered in frosting!)
If you like this Carrot Cake here are some other great Cake Recipes
The printable recipe is located below.
If you try this recipe…I'd REALLY love to hear from you! I want to know if you love this splendid carrot cake as much as I do.
Have a GREAT day! Happy Veggie Eatin'!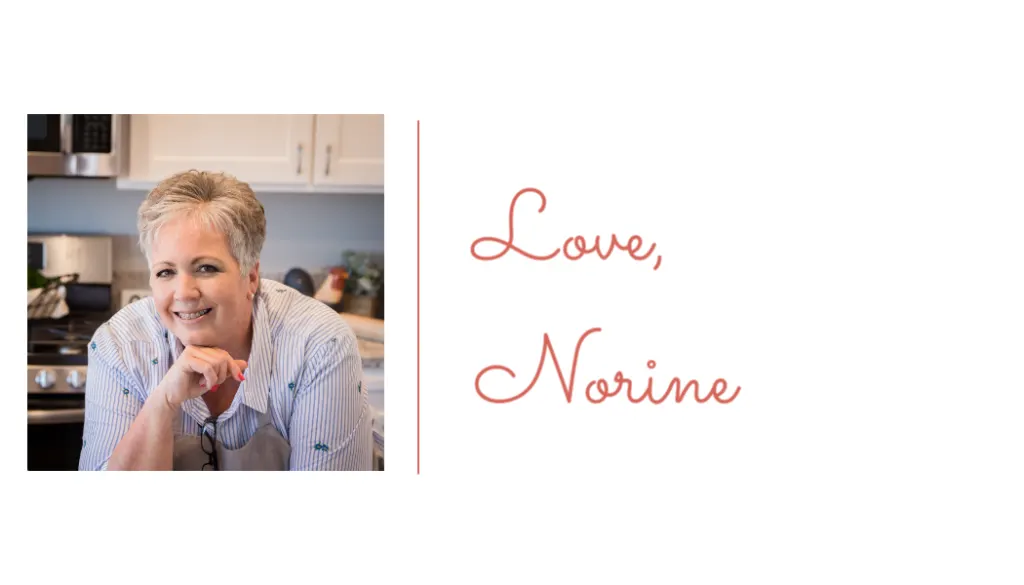 Yield: 16 servings
World's Best Carrot Cake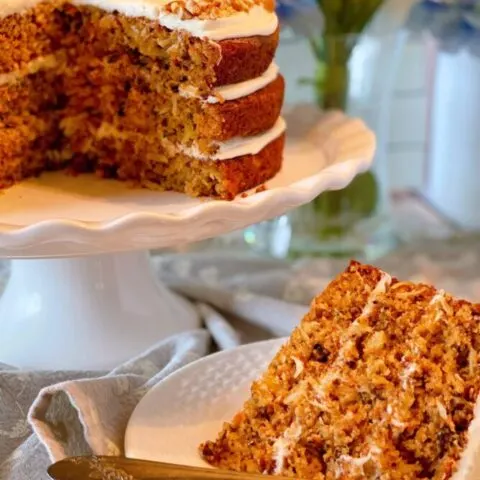 This recipe makes a fabulous and moist carrot cake. Five stars all the way! I always get rave reviews whenever I serve this cake! It makes amazing cupcakes too!
Ingredients
3 eggs
3/4 cup buttermilk
3/4 cup vegetable oil
1 1/2 cups white sugar
2 teaspoons vanilla extract
2 teaspoons ground cinnamon
1/4 teaspoon salt
2 cups all-purpose flour
2 teaspoons baking soda
2 cups shredded carrots
1 cup flaked coconut
1 (8 ounce) can crushed pineapple with juice
1 cup chopped walnuts
Instructions
Preheat oven to 350 degrees. Grease and flour two or three 8 inch pans, depending on if you are doing a two layer or three layer cake. You can make either two thicker 8 inch cakes or three thinner layers. It's up to you and the desired look you're trying to achieve.
In your mixer bowl, combine eggs, buttermilk, oil, sugar and vanilla. mix well.
Add in your flour, baking soda, salt, and cinnamon. Mix till well blended.
Next add your carrots, coconut, crushed pineapple with juice and chopped walnuts. Mix till just blended.
Pour into prepared 8 inch cake rounds, bake at 350 degrees for 35 minutes. Check to see if done. If finger lightly pressed in center bounces back it is done.
Allow to cool in cake pans. Invert onto cake plate and frost each layer.
Cream Cheese Frosting
1/2 cup butter (softened)
8 oz. cream cheese (softened)
1 tsp vanilla extract
1 lb. powdered sugar
Beat the butter and cream cheese until nice and fluffy. Add in the vanilla and sifted powdered sugar and beat until nice and smooth. Test the consistency of the frosting. Too thin? Add powdered sugar 2 Tablespoons at a time. Too thick? Add a teaspoon of milk at a time.
Recommended Products
As an Amazon Associate and member of other affiliate programs, I earn from qualifying purchases.
Nutrition Information:
Yield:
16
Serving Size:
1
Amount Per Serving:
Calories:

328
Total Fat:

18g
Saturated Fat:

3g
Trans Fat:

0g
Unsaturated Fat:

14g
Cholesterol:

35mg
Sodium:

251mg
Carbohydrates:

39g
Fiber:

2g
Sugar:

24g
Protein:

5g