Frozen fruits and blended with fruit juice to create delicious smoothies like this Banana Peach Smoothie!
*As an Amazon Associate I earn from qualifying purchases. This post may contain affiliate links, which means that I may make a commission from any purchases at no additional cost to you. Thank you for your support!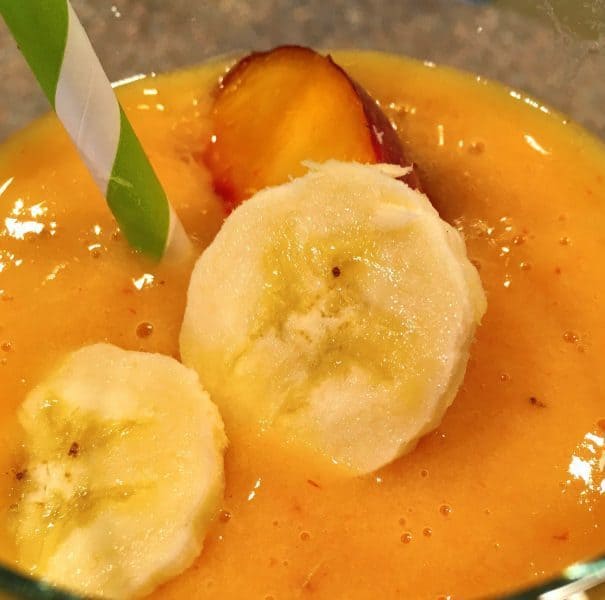 *This post contains affiliate links, which means I receive a small commission at no additional cost to you. I appreciate your support. Thank You.
Today I'm sharing my tip for making ultra quick, delicious, and cost-effective smoothies! (*Disclosure: This post contains an affiliate link.)
When our daughter was in her Senior year of High School it became very apparent to us that her crushing schedule wasn't going to allow time for breakfast! She was Student Body President and she was our "all around athlete" competing in numerous sports. Her favorite being basketball. (I loved the days of cheering in the stands….sniff, sniff…I digress…as usual! Sorry!)
Both Mars and I were worried she would run herself into the ground if she didn't have breakfast before school. (The crap High School students eat for lunch is staggering! Mom moment…they still happen!) I knew whatever I came up with for a "quick" breakfast had to be nutritious so that I knew she was having at least one healthy meal before dinner time. Fruit smoothies were the answer to our dilemma.
To make my smoothies I use all types of different fruits. I always use banana's as my base. They add the perfect creamy texture I want when blending a smoothie. We all have "those banana's"! You know the ones that are about to turn on us if we don't hurry and do something with them. They are awesome for smoothies. I like to slice mine up, lay them on a wax lined tray and freeze them so they don't stick together and I don't have one solid ice block I'm dumping into the blender.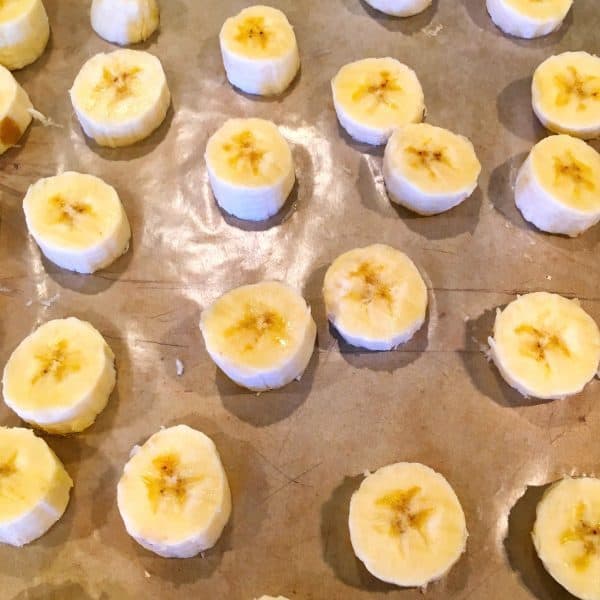 After they are frozen I find another fruit, or two, I think will blend well with banana's. Which is pretty much everything! This time I picked peaches because I had a bowl full of them starting to turn bad, however they were perfect for these smoothies! I just peeled, pitted, and cut out the bad spots, then I diced them into chunks.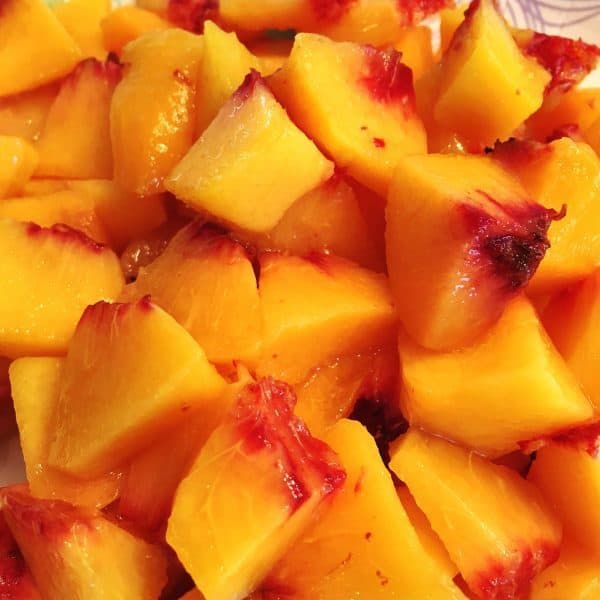 I divide the frozen banana's and the fresh peaches up equally, about 1 1/2 cups, into single serving smoothies, and placed them in plastic baggies. This makes it so easy to whip up a smoothie in the morning when your schedule is hectic.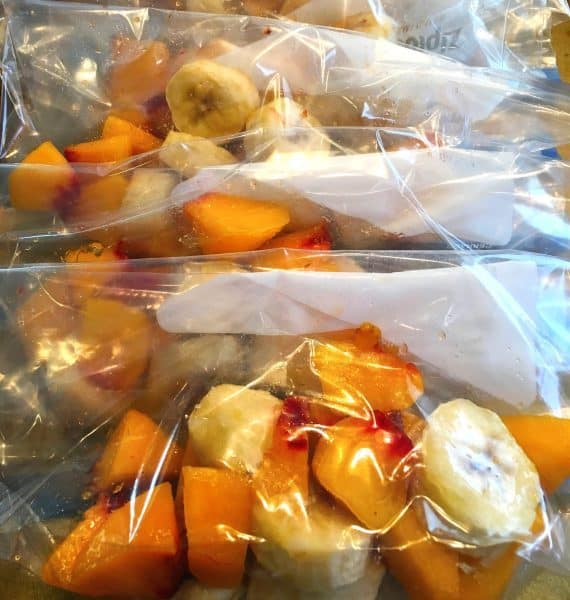 To make your smoothie pour one cup of juice into your blender. I like Orange Juice! I like the added punch of vitamin "C" but… you can choose any juice you like. Carrot juice would be heavenly! I want to share something with y'all, but before I do, I want to let you know this post contains an affiliate link, however this is a product I absolutely love!
It's my Cuisinart 7 speed blender! It whips up a smoothie in no time at all. It's powerful and I love the heavy glass detachable pitcher. If you are interested in checking one out click here for the link. It may seem a little pricey, but I have found that when you spend money on good quality cooking products and appliances they last for years! It's worth the investment. They do have more expensive models but, I'm sharing the exact same one I use. (I would never recommend something I myself haven't used and love!) With this beauty you can make smoothies for life!
After you have all your ingredients in your blender or smoothie maker, blend away until everything is nice and smooth…(I think this is where the word "smoothie" comes into play! lol)
When I was sending these frozen drinks of delight to school with Taryn I poured them into a plastic cup, but since this one was for me, and I wanted to feel special this morning,(as we all should)…I went with my fancy glass and a pretty straw! I threw in a few slices of fresh peach and a couple of slices of fresh banana as a garnish. They turned out to be a wonderful treat at the end…nice and ice-cold and coated in that luscious smoothie mix! Mmmmmm!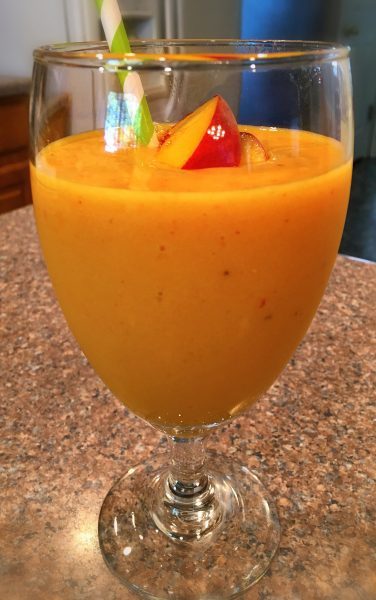 The frozen fruit makes it cold and thick without the added "icy" texture you get in some smoothies that have ice, and without the added calories you get when you add frozen yogurt, ice cream, or sorbet. So if you're looking for a quick breakfast that your High School kids will actually devour, I suggest trying smoothies! The small bags of prepackaged frozen fruit make this a breeze to whip up! The recipe is simple…One cup juice to one and half cups frozen fruit and blend, blend, blend! Enjoy!
That's my Tuesday Tip! My "Early" (wink, wink) Tuesday Tip! Thanks for coming by! See ya soon!