CHICKEN CORN CHOWDER WITH WARM FLAVORFUL MEXICAN SEASONINGS, MADE IN YOUR INSTANT POT AND READY TO SERVE IN 40 MINUTES!
This Creamy Mexican Corn Chowder is loaded with tender juicy rotisserie chicken, fresh roasted corn, potatoes, onions, chili Verde, and cheese! Lots of cheese! It's a creamy comfort soup loaded with layers of delicious fiesta flavors! Ready in under an hour, it's sure to be a crowd pleaser!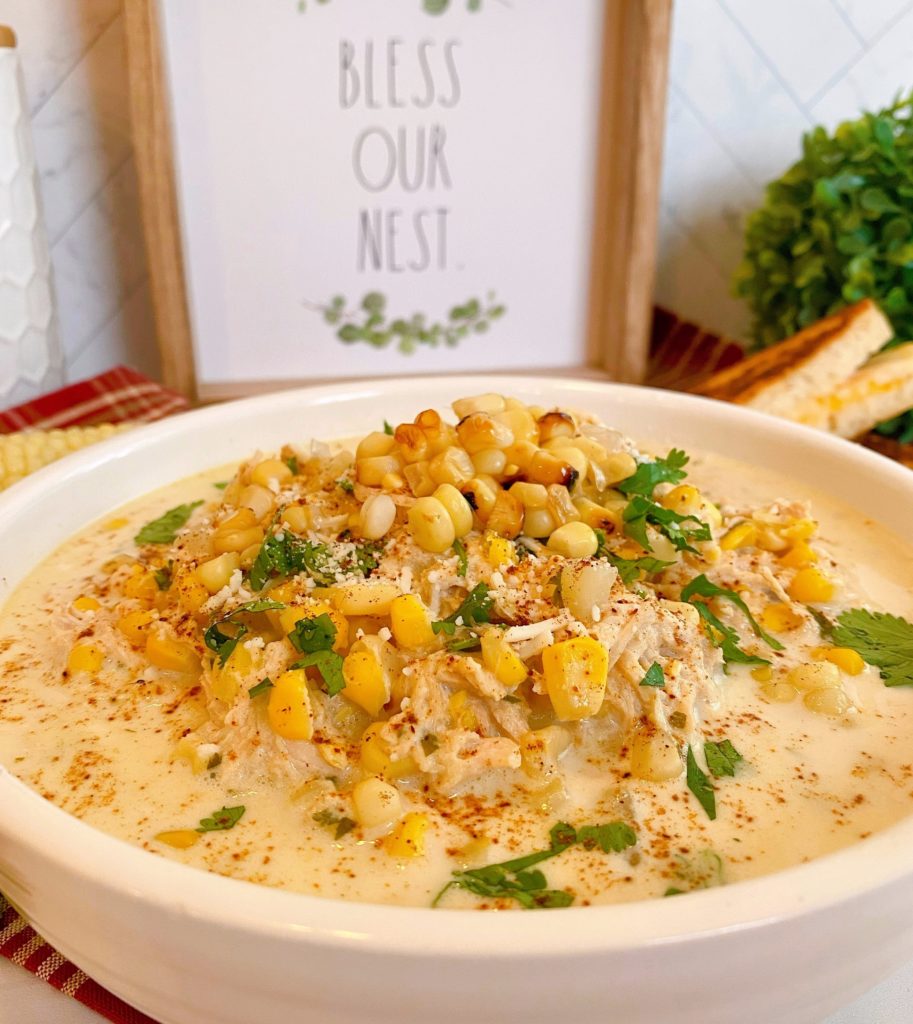 Creamy Chicken Corn Chowder
I wasn't always a lover of soups and chowders! With age comes soup wisdom…and regrets that it has taken me this long to appreciate that soups are not just a "starter" to a great meal. Now I know they can be an easy quick main dish! Favorites like my Cream of Broccoli, Traditional Clam Chowder, and Slow Cooker Chicken Tortilla Soup!
This One Pot Fresh Chicken Corn Chowder recipe comes together quickly with the help of your Instant Pot and rotisserie chicken. The creamy spicy flavors of Mexican Street Corn shine in this soup! We loved every single last drop of this New Favorite!
What Ingredients Will I Need to Make Mexican Chicken Corn Chowder
Fresh Roasted Corn – 4 ears boiled or roasted ears of corn. Kernels cut off of the cobs. You can substitute two cans of whole corn.
Chicken – Store bought shredded rotisserie chicken makes this recipe a breeze to make.
Onion – I diced 1/2 a large white onion. I prefer the more mild flavor of white onions. You can use yellow onions.
Potatoes – Peeled and cubed 2 medium size russet potatoes.
Chicken Stock – 4 cups of low sodium chicken broth. Fresh chicken stock can be substituted.
Half & Half – For a lighter "chowder" I use half-and-half for the "cream" portion of this soup. Creams help thicken the broth. Note you can substitute heavy whipping cream for a thicker richer chowder.
Salsa Verde – Any store bought Salsa Verde will work in this recipe.
Cheese -You can use any blended Mexican Cheese or a Pepper Jack Cheddar blend. Cotija cheese is also used in this soup too. Feta is a good substitute for Cotija if you have it on hand.
Seasonings – onion powder, garlic powder, cumin, chili powder, salt and pepper, and fresh cilantro are all used in this flavorful soup!
How To Make Instant Pot Chicken Corn Chowder
If you haven't used your instant pot yet…go dig that baby out, dust it off, remove the Christmas Paper, lol, and open her up! It's time! I'm going to be sharing this recipe as though the reader has never used an Instant Pot. For you "Old Pro's" just bask in your knowledge for a few minutes. (wink, wink)
Set your instant pot to Sautè. Melt 3 Tablespoons of butter in the bottom of your pot. Add corn, either fresh corn, roasted on the grill, or boiled, cut from the cob, or two cans drained whole kernel corn. Saute in the bottom of the pot, continually stirring, until kernels begin to separate. About 3-4 minutes.
Add 1 teaspoon salt and 1/2 teaspoon ground black pepper.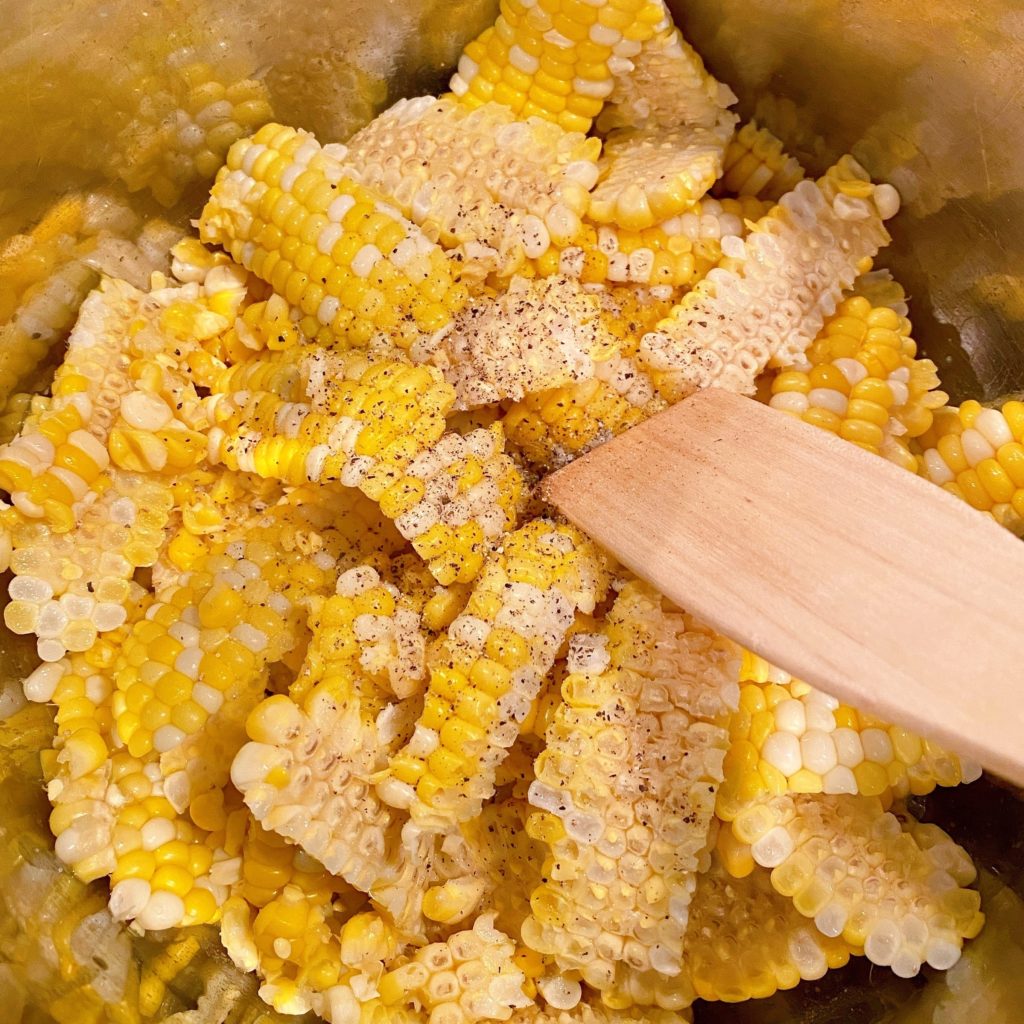 Add diced onion! Continue to saute until onions are semi-translucent.
Turn off the saute function on your instant pot. It has done it's job for now! You'll be "steaming" in a minute so keep that lid near by!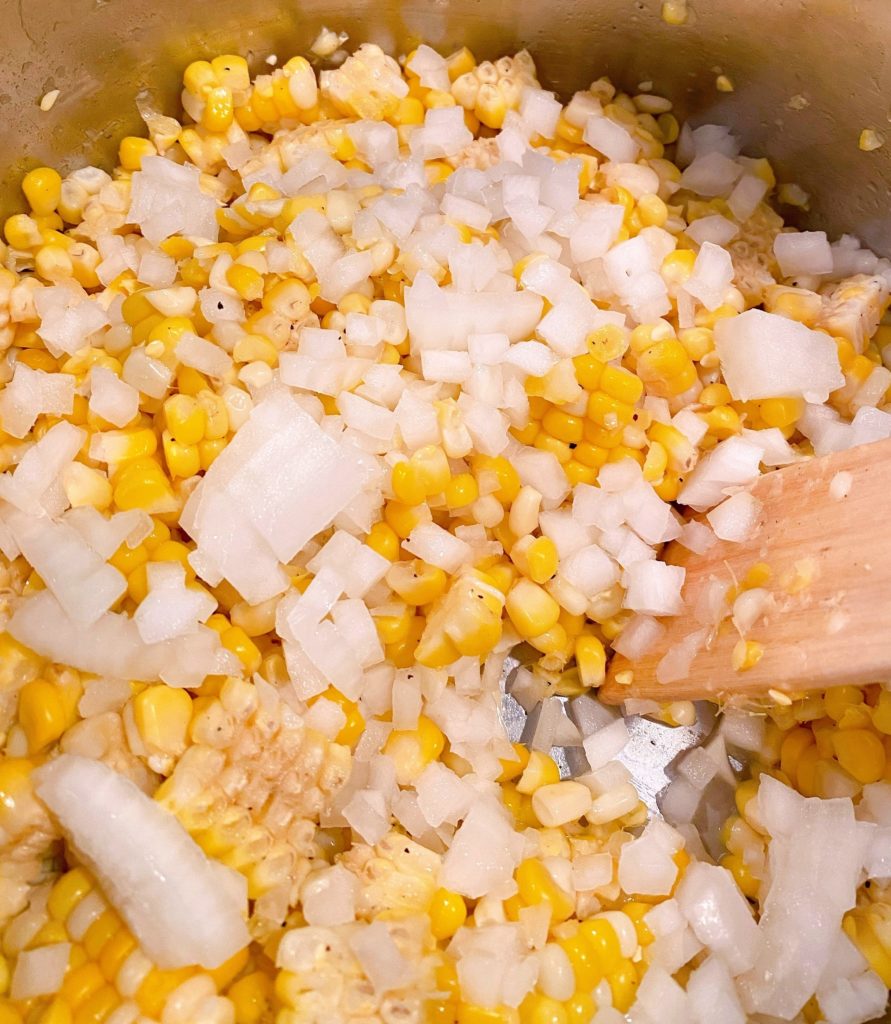 Add two peeled and cubed potatoes, 1 teaspoon onion powder, 1 teaspoon garlic powder, 2 teaspoons ground cumin, and 1 teaspoon chili powder.
If you like a little extra heat you can add a dash of Tom Selleck to the mix! (Oops! Okay not really! But it works for me! lol Course I'm always having my own personal summer!) You can add red chile pepper flakes or hot sauce. Diced jalapeno can also be added.
TIP: You can substitute 3/4 a cup Wild Rice or Long Grain Rice for the potatoes.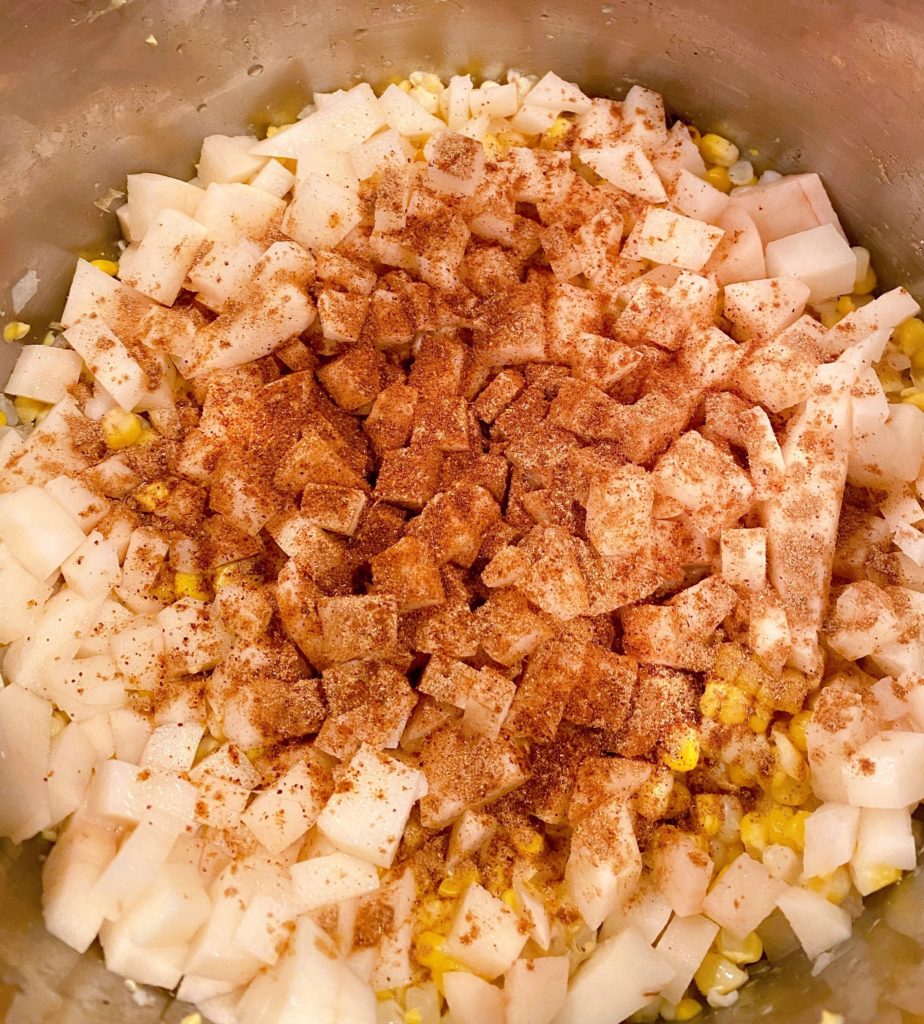 Add 1/2 cup of your favorite store bought Salsa Verde. This will not add heat to the chowder, but a wonderful depth of flavor!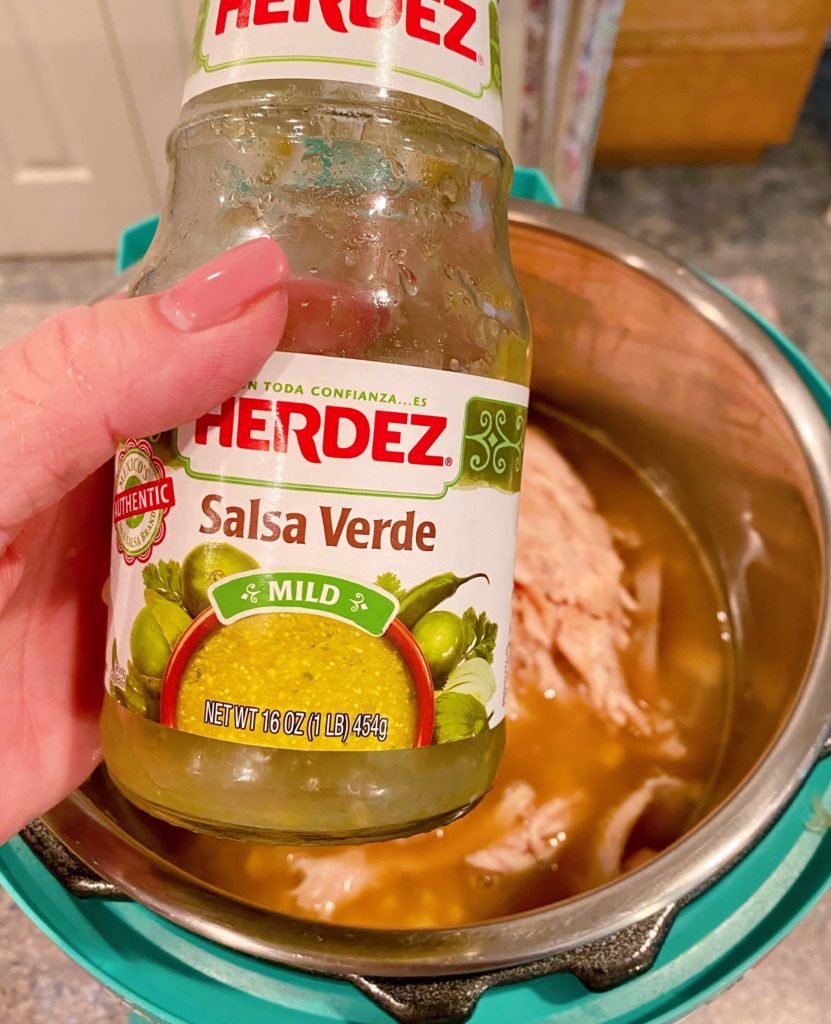 Add 3 cups shredded rotisserie chicken. You'll notice mine is still frozen! Because I'm "THAT" woman who forgets to take her meat out to thaw! There! I've confessed!
That's why I love this recipe! It cooks up quickly even when the meat is frozen!
TIP: I buy several Costco Rotisserie chickens at once. I remove the meat from the bone, bag it in 3-4 cup portions in freezer bags and freeze it for quick easy dinners like this one.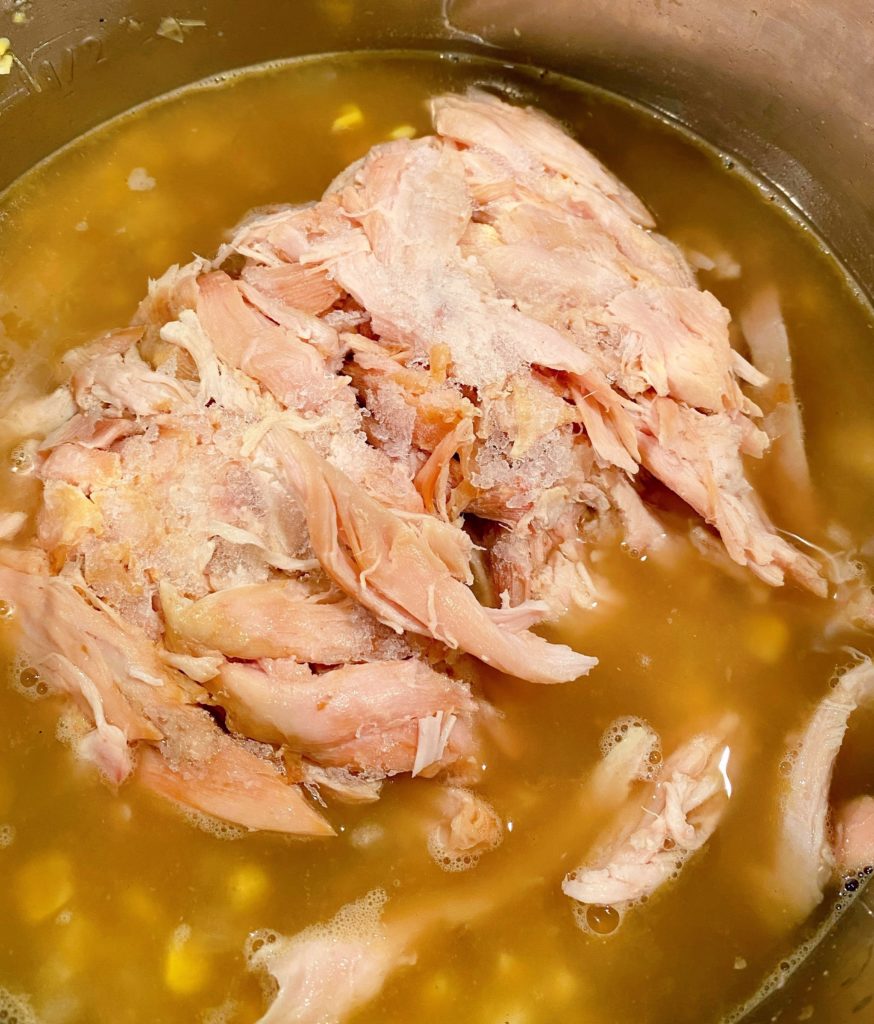 Cooking Chicken Corn Chowder
Place the lid on your instant pot and turn to the "lock" position. Set the valve to the center position. Select the Soup button and adjust the cook time to 35 minutes by pressing the "+" button until the display shows 35 minutes.
Walk away! That's right new Instant Pot users…just walk away. You can duck and cover, we all do the first time, but that lid is locked in place … you'll be fine! The instant pot will begin to heat and build up steam inside the pot. Once the pressure builds the noises you hear will subside. You can come out now. It's all good!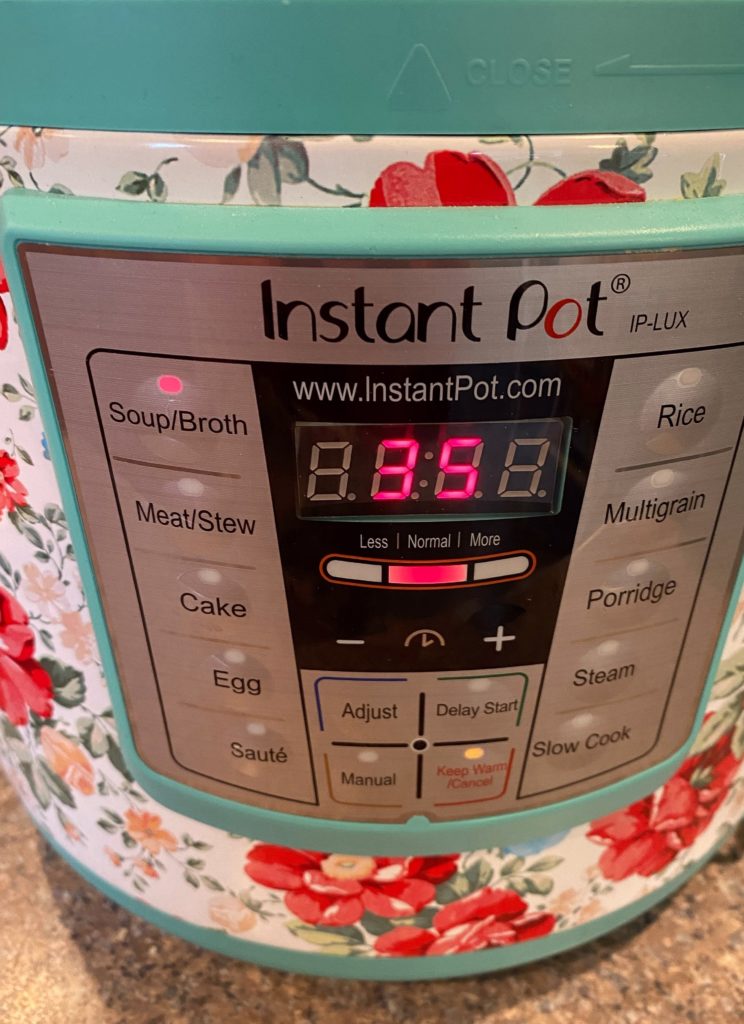 Once the soup is done, and your pots beeps, CAREFULLY quick release the pot by using long handle tongs to push the release valve to the side. Steam will immediately escape like a mad volacno about to irrupt! (This is me making you feel comfortable using that new appliance!)
It is EXTREMELY important that you keep your hands and arms out of the way of the steam release so you do NOT burn yourself. Once all the steam has released the lid will unlock. It cannot, and should not, unlock if there is still any steam built up inside your Instant Pot.
IMPORTANT: Remove the lid AWAY from you so that the hot water on the inside of the lid does not drip on your skin and burn you!
Finishing the Corn Chowder
Stir the ingredients in the pot. The potatoes should be soft. Add 2 Cups of half & half. Mix until combined.
Lighter Version of Chicken Corn Chowder
If you are watching your calories and want a lighter version of this soup, you can remove 1 cup of hot broth and stir in 2 Tablespoons of Corn Starch until smooth. Slowly add back into the soup, stirring until mixture thickens. Add 1 Cup half and half and continue following directions below.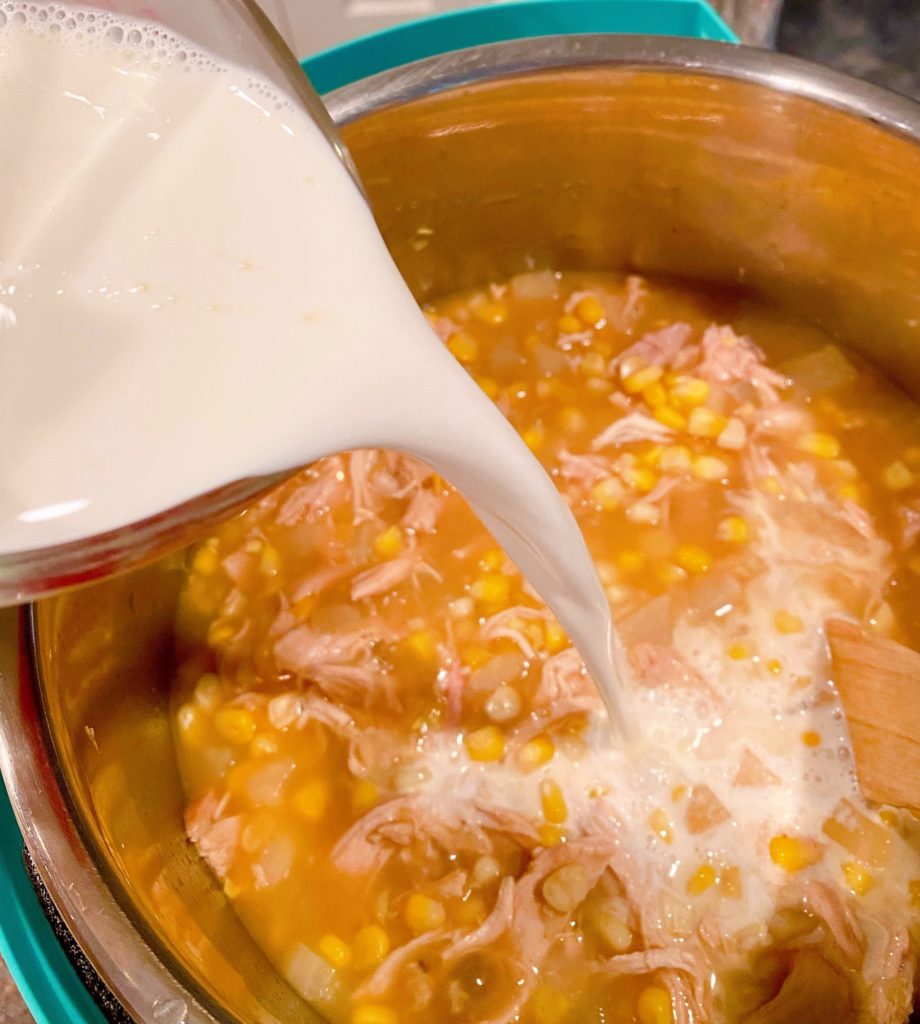 Add 1/4 cup Cotija Cheese. Most stores carry Cotija Cheese already crumbled, bagged, and ready to use.
Note: You can skip adding Cotija Cheese. Not everyone cares for it's tangy flavor. I love it and love the depth of flavor it adds to this Mexican Soup.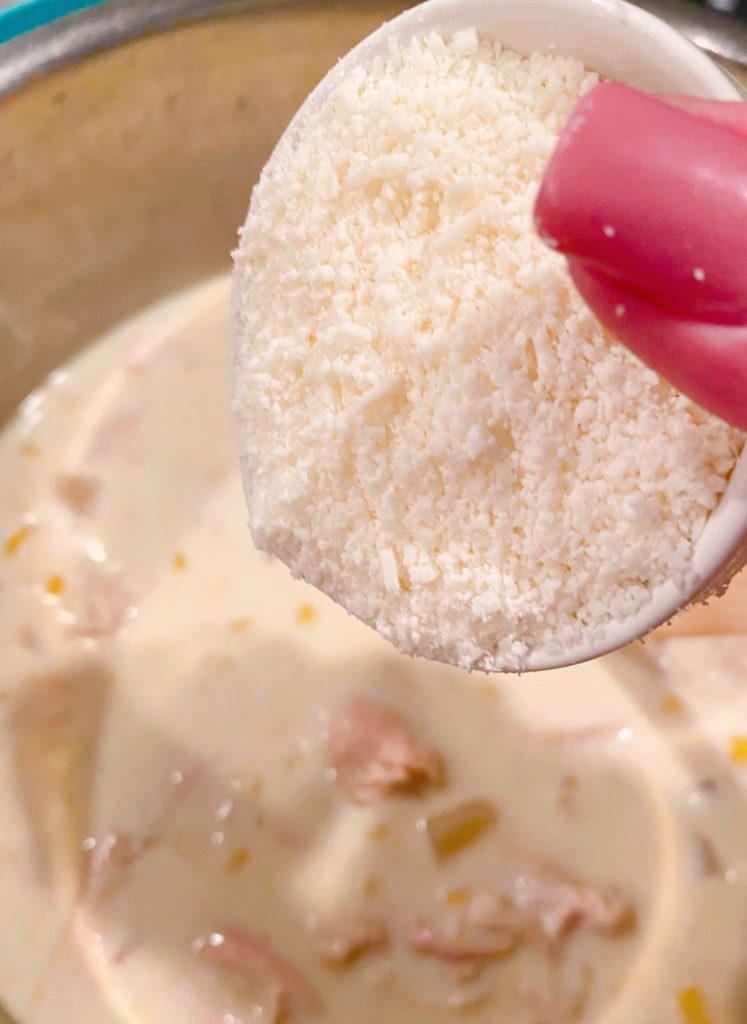 Add 1 Cup shredded Pepper Jack and Cheddar cheese.
Stir cheese into the chowder until it is completely melted and blended into the chowder.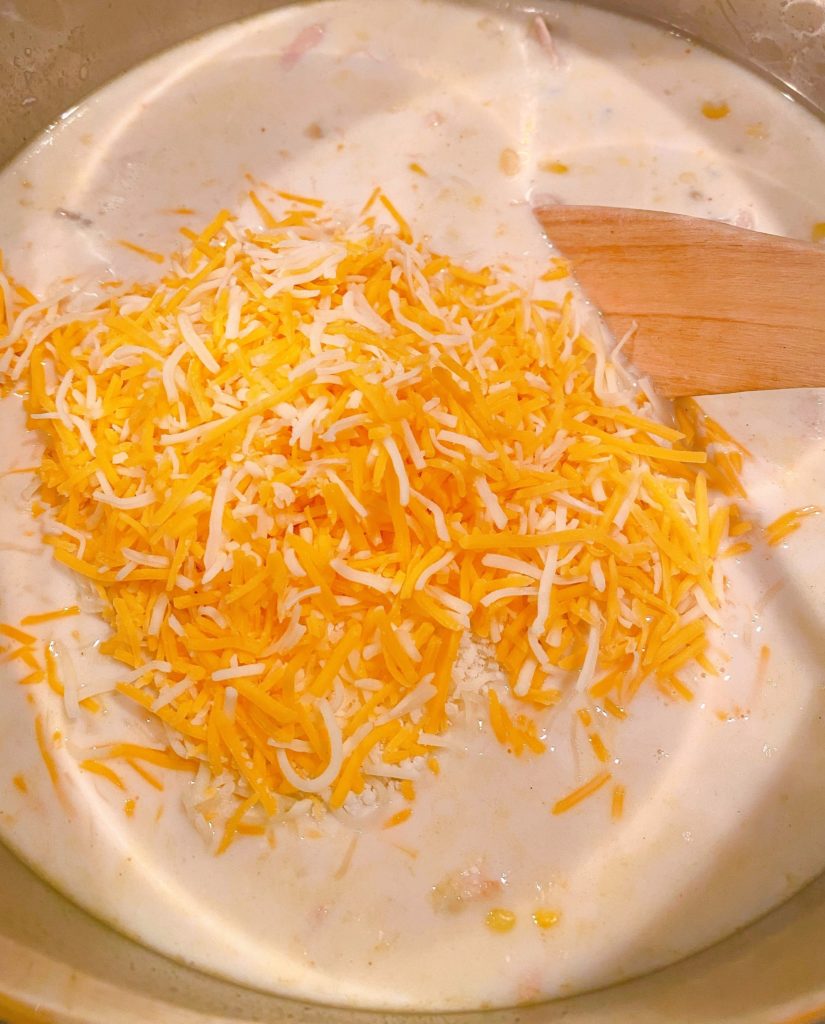 The soup will continue to thicken as it slightly cools.
Add Freshly chopped Cilantro and stir. The soup is ready to serve!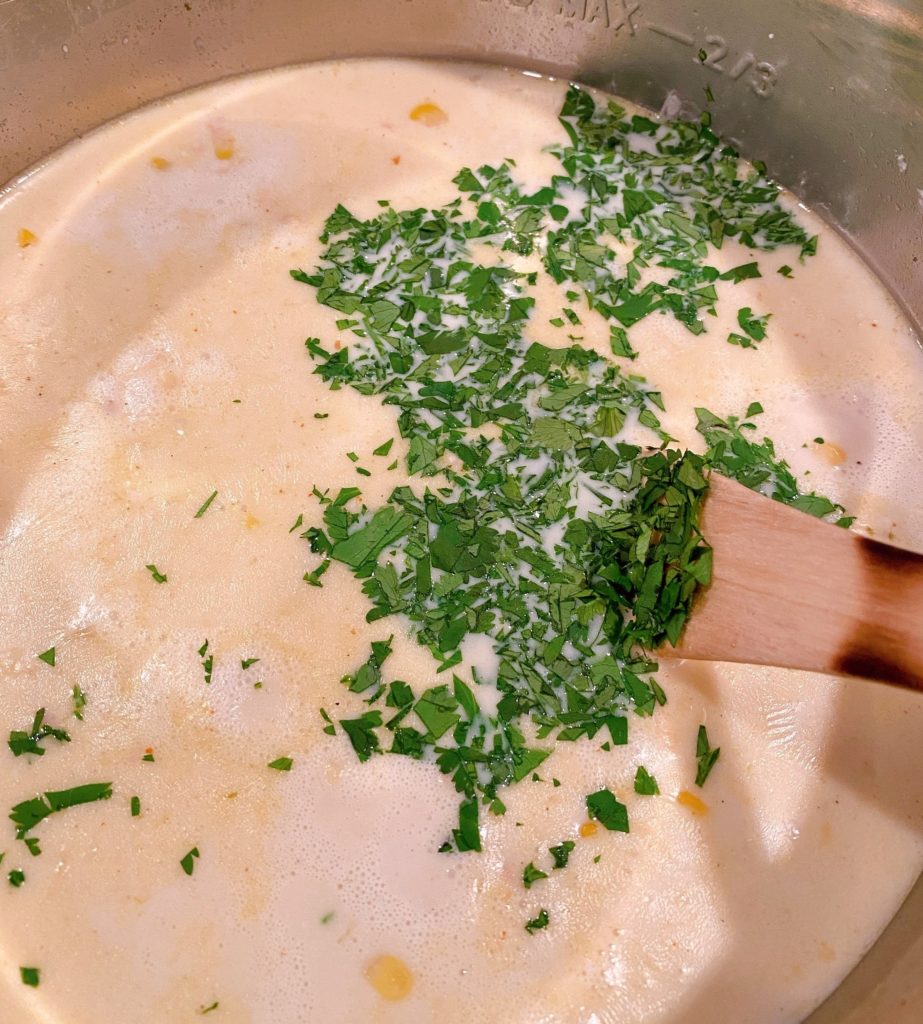 Toppings for Creamy Mexican Chicken Chowder
You can finish this chowder off with any of the following garnishes! You can choose one or two…or all of them!
Sour Cream
Additional Roasted Corn
Cilantro
Avocados
Tomatoes
Tortilla Chips
Cheese
I love topping mine off with roasted corn, more cotija cheese and chopped fresh cilantro with a little sprinkle of chili powder! If you like heat you could sprinkle it with hot sauce!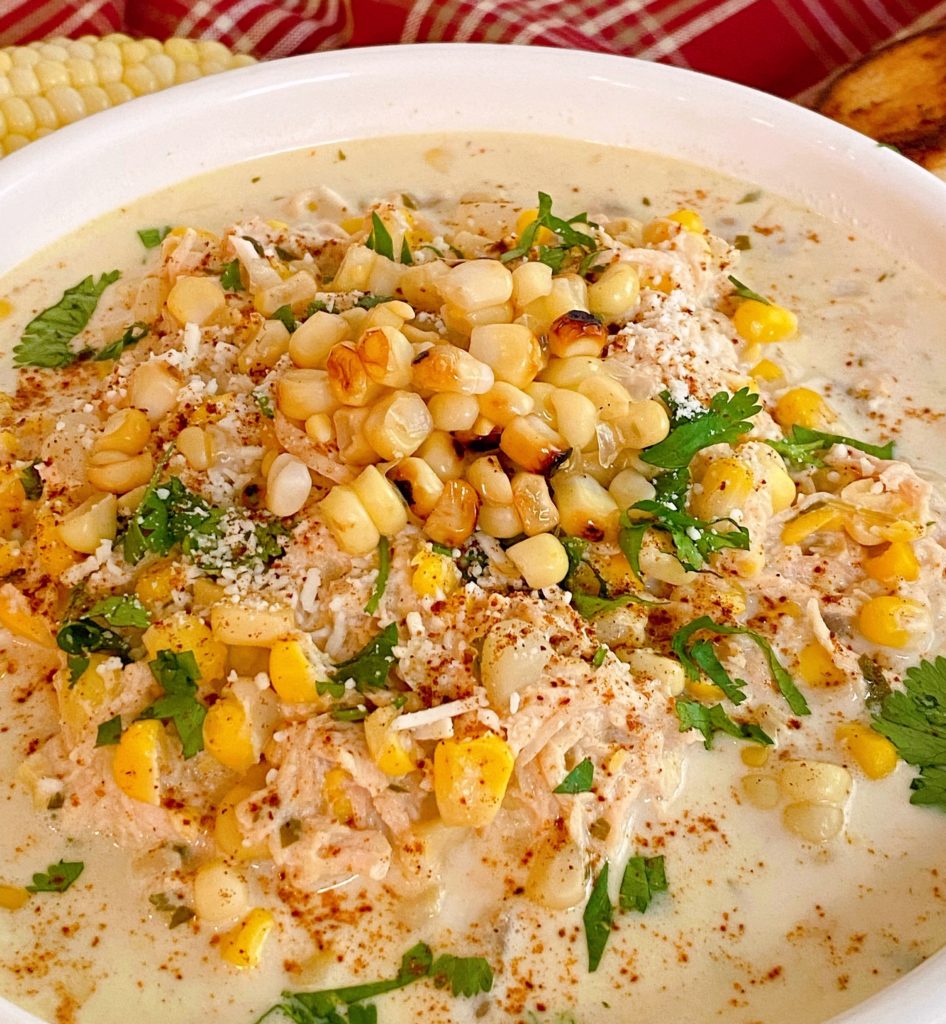 What can I serve with Chicken Corn Chowder?
I love serving this dish with Buttery Sweet Corn Bread, Shrimp Taco Salad, or a Easy Classic Wedge Salad.
Questions and Answers about Chicken Corn Chowder
Can I use frozen corn? You can, however, I prefer to use fresh or canned as the texture holds up better.
Can I add other vegetables to Chicken Corn Chowder? Yep! Red Peppers, Zucchini, Carrots, Pinto or Black Beans, Roasted Poblano Peppers, etc.
How long does this Instant Pot Chicken Corn Chowder last? If stored in an air tight container, it can be stored up to 5 days in the refrigerator.
Can I freeze Chicken Corn Chowder? I don't recommend freezing this soup! Because it contains dairy, particularly cheese, it can separate during freezing and cause a funny texture when reheating.
Can this recipe be made on the stove top or a slow cooker? Yes to both! If preparing on a stove top increase your cook time to 45 minutes. If cooking in a slow cooker add all the ingredients and cook on low for 6 hours.
Looking for more Soup Recipes?
Thanks for stopping by today! I hope this Mexican Chicken Corn Chowder becomes a New Favorite at your Nest too!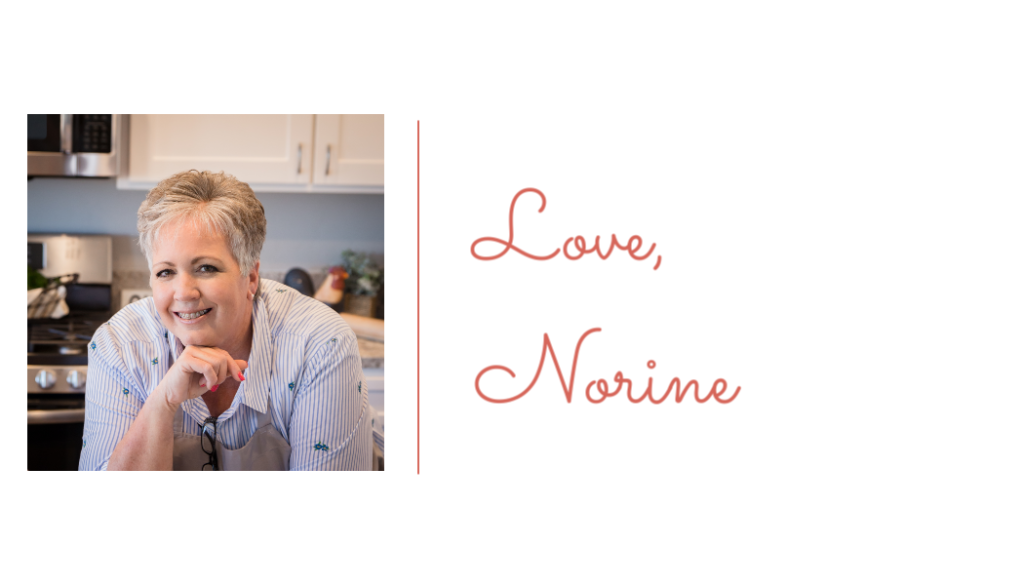 Yield: 6-8 servings
Mexican Chicken Corn Chowder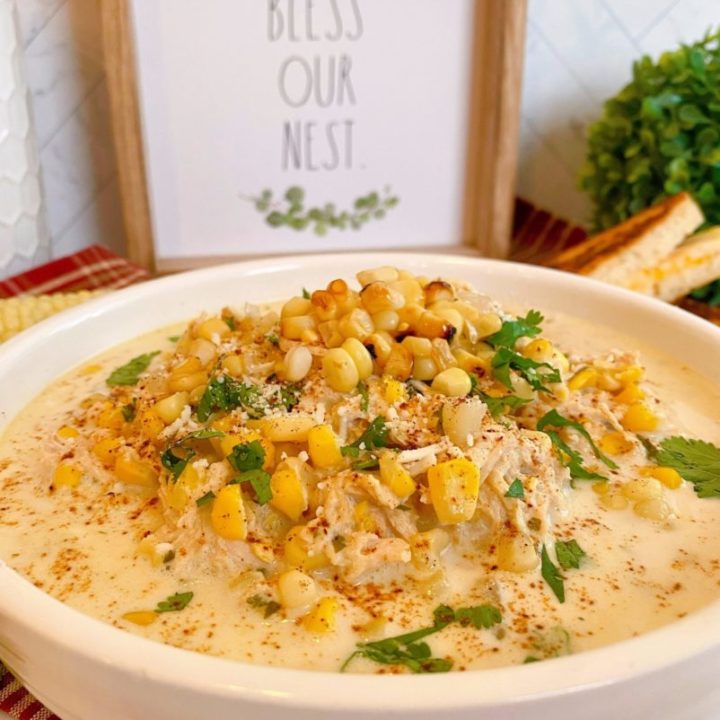 This Creamy Mexican Corn Chowder is loaded with tender juicy rotisserie chicken, fresh roasted corn, potatoes, onions, chili Verde, and cheese! Lots of cheese! It's a creamy comfort soup loaded with layers of delicious fiesta flavors! Ready in under an hour, it's sure to be a crowd pleaser!
Ingredients
3 Tbs butter
3 C roasted fresh corn kernels
½ Large White Onion, chopped
2 medium russet potatoes, peeled and cubed
3 C shredded rotisserie chicken
½ C Salsa Verde, any brand
1 tsp onion powder, garlic powder, chili powder, and salt.
½ tsp black pepper
2 tsp ground cummin
4 C Chicken broth
2 C half and half
¼ C Cotjia Cheese
1 C Pepper Jack and Cheddar Cheese, Shredded
2 Tbs Fresh Cilantro, chopped
Instructions
Set your instant pot to saute. Melt butter. Add corn, onion, salt and pepper. Saute until onion is semi-translucent. Turn-off saute function on instant pot.
To the corn and onions, add onion powder, garlic powder, ground cummin, and chili powder. Stir. Add potatoes, salsa verde, chicken and chicken stock. Place lid on top of the pot and turn to the "lock" position. Make sure the release valve is in the "lock" position as well. Select the "Soup" option and increase the cook time to 35 minutes.
When the soup is finished "quick release" the instant pot by using tongs to push the valve to one side. BE CAREFUL TO STAND AWAY FROM THE Pressure valve to prevent being burned by the steam releasing! Once all the steam has been released, and the lid unlocks, remove the lid away from you and set down.
Add 2 cups of half and half. Stir in Cotija and shreeded cheddar cheese until creamy and well blended. Add chopped cilantro. Serve immediately.
Garnish with more cheese, sour cream, avocado, tortilla strips, corn, and fresh cilantro.
Nutrition Information:
Yield:
8
Serving Size:
1
Amount Per Serving:
Calories:

496
Total Fat:

29g
Saturated Fat:

14g
Trans Fat:

1g
Unsaturated Fat:

13g
Cholesterol:

160mg
Sodium:

1184mg
Carbohydrates:

27g
Fiber:

3g
Sugar:

7g
Protein:

34g