Soft, Fluffy, Buttery, melt-in-your mouth Peaches and Cream Scones are the perfect breakfast treat!
Every year, on New's Year day, I make Lemon Poppy Seed Scones with lemon curd. I can't think of a better way to start the new year than to have a big, fluffy scone, with lemon curd. Which got me too thinking what an absolute shame it is that I save this baking tradition for only one day a year?
*As an Amazon Associate I earn from qualifying purchases. This post may contain affiliate links, which means that I may make a commission from any purchases at no additional cost to you. Thank you for your support!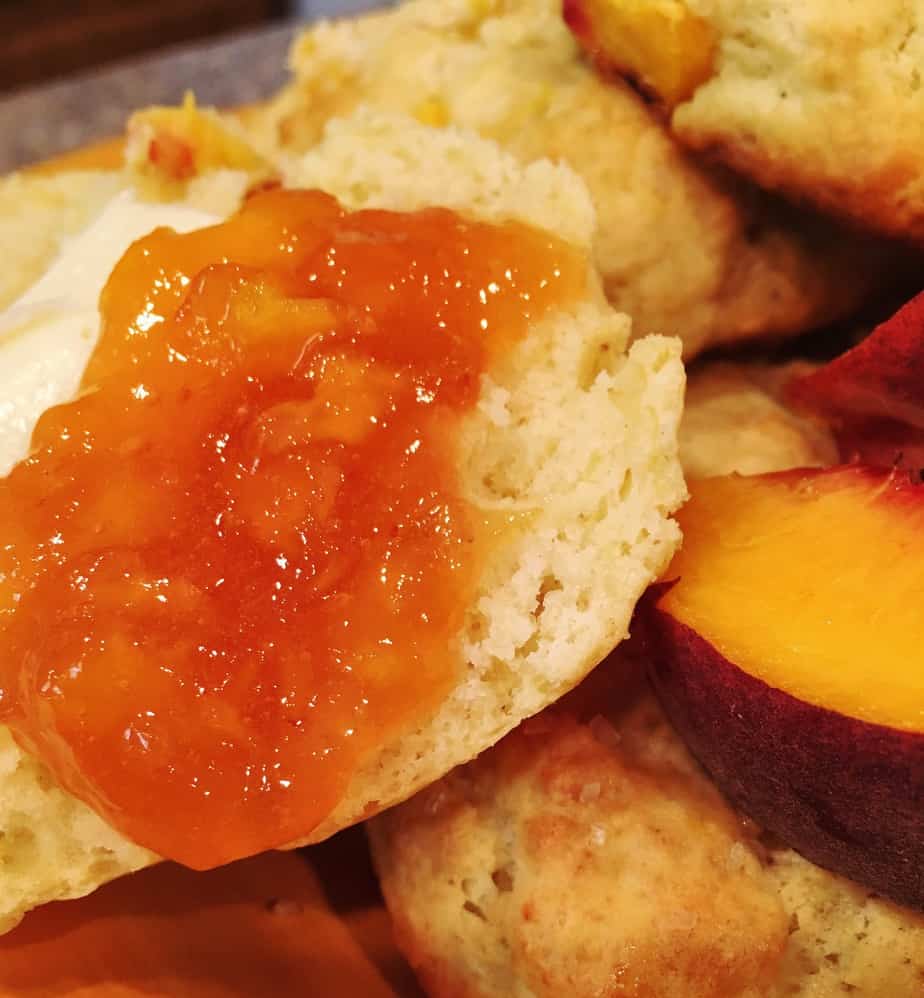 I mean…last time I checked there was no law on the number of days you can make and eat scones. No "scone police" come after you and throw you into bakers prison because you've…gasp…made scones twice in one year! Which is a really good thing because I'm pretty sure all my English ancestor's would have died an early death if they could have only had scones one time a year!
When I was up to my eyeballs, last week, in fresh peaches, I started dreaming of things I could put my freshly canned peach jam on? Besides toast and pb&j! (Nothing against toast or pb&j's! I love all carbs equally)
Suddenly, I thought "Hey! What about fresh peach scones with fresh peach jam!" Baaa-zinga! So I started digging out ingredients, cutting, chopping and blending and….Voila! Melt in your mouth, fluffy, moist, fresh peaches and cream scones! (By the way…in case you are wondering…the jam and the scones are dating now! Wedding invites are coming soon!)
How To Make the Perfect Peaches and Cream Scones
Preheat your oven to 375 degrees.
Measure out the dry ingredients. Flour, sugar, baking powder, and nutmeg. (You can use cinnamon if you are not a nutmeg fan! However, I will have to report you to the fan club! lol)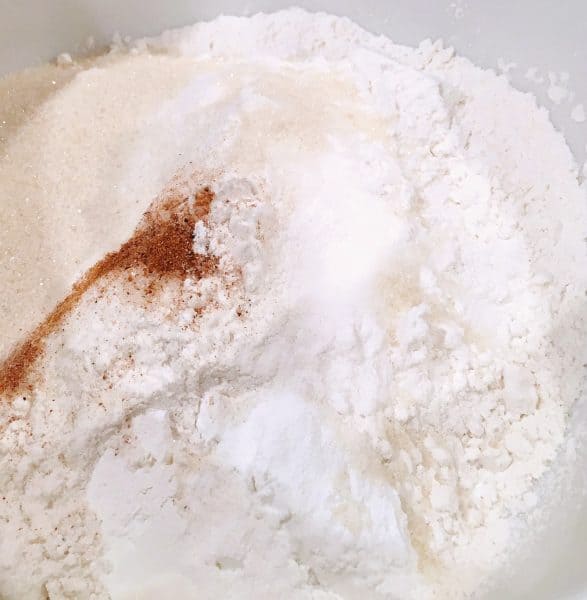 Next "cut" in your cold butter, or you can grate the butter if it's frozen!
Tip: Rule of thumb for those of you who have never made "English" scones… ALWAYS use cold butter! I cut mine into small pieces…because I'm lazy and like less work!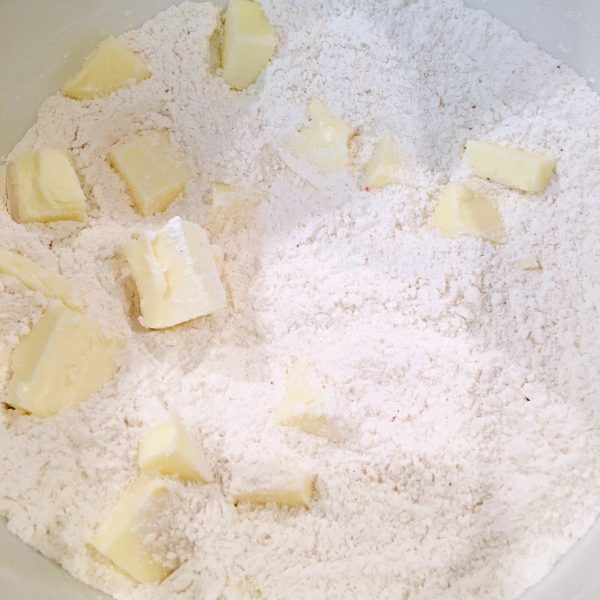 Use a pastry blender to cut those little butter bits into the dry ingredients till you have a fine crumble. (Those cold little butter bits are going to create the wonderful pockets of air that make your scones light and fluffy!)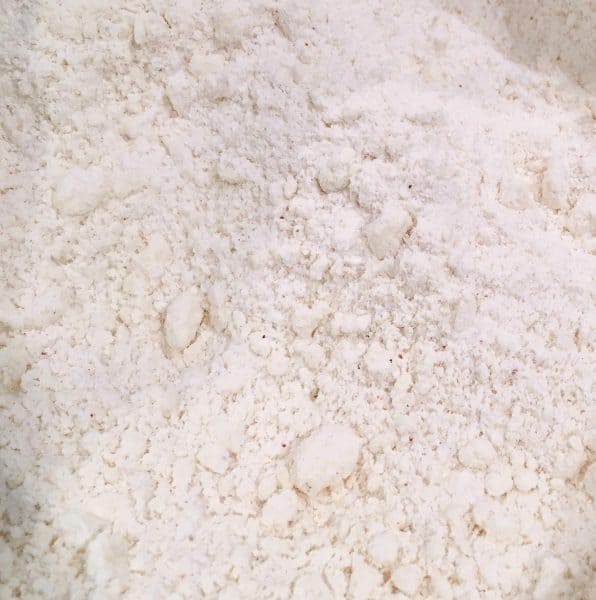 Blend together your wet ingredients. First the eggs and sour cream and then add in the heavy whipping cream and almond extract. Whip, whip, whip…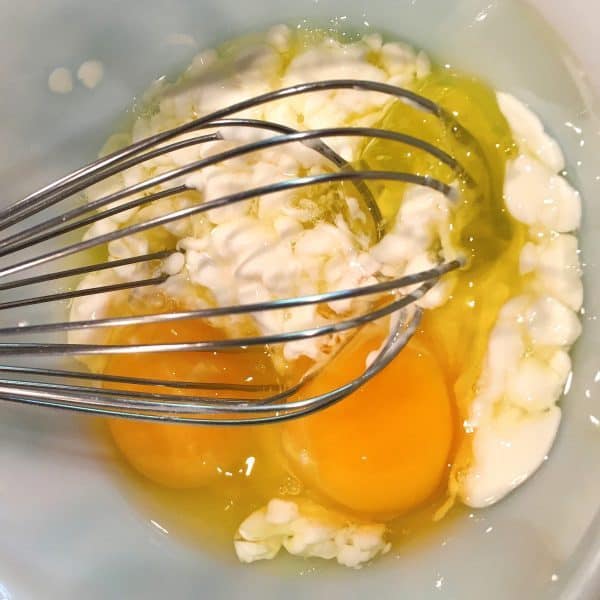 Time to mix the wet ingredients with the dry ingredients. (Hooray… Christmas Spatula! I think we need to name her if she's going to be a regular here on the Nest! Any idea's?)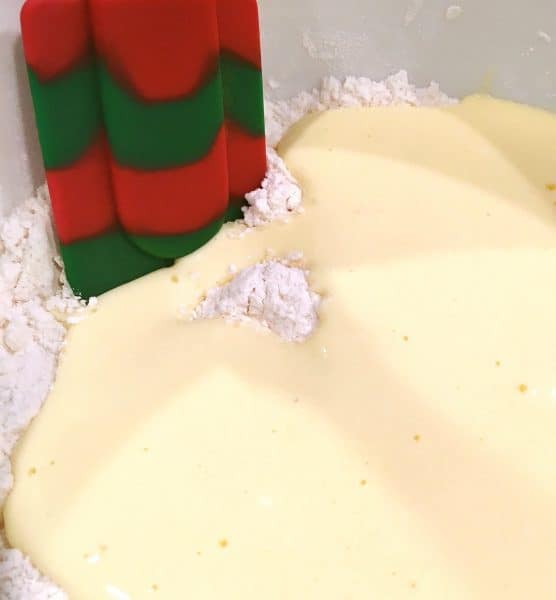 Add the peaches, stirring gently, just until everything is combined. (Don't those peaches look beautiful?!)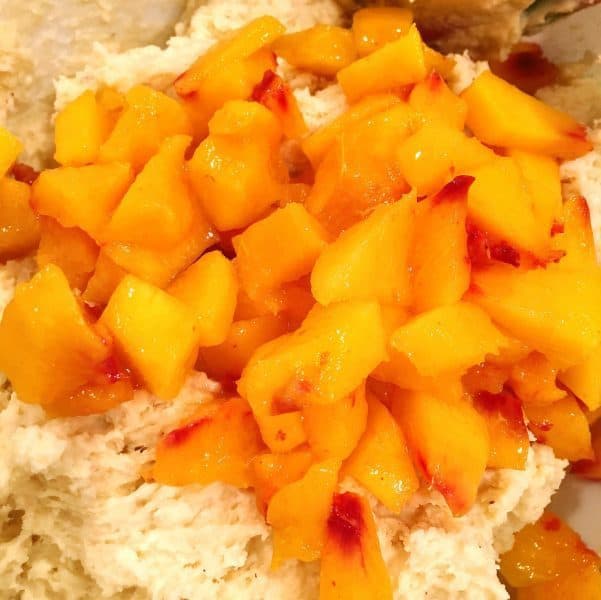 This is a wet, sticky dough so don't be worried if you think it is too wet. It should look just like the picture.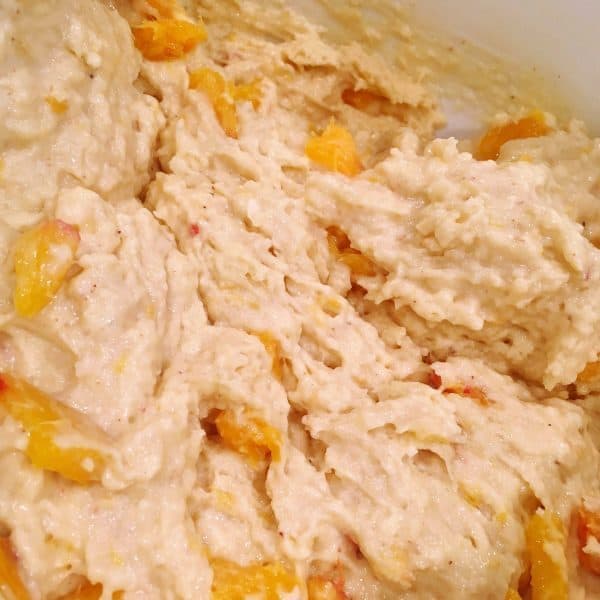 Line a baking sheet with parchment paper and drop the dough by the 1/4-cupful onto the prepared pan. You can use a muffin scoop or I used a big serving spoon. Whichever works best for you. Sprinkle with coarse sugar and pop into your preheated 375 degree oven.
Baking Scones
Bake for 20-25 minutes. I would check them at 15! You don't want burnt bottoms. Ewwwwe! (wink, wink)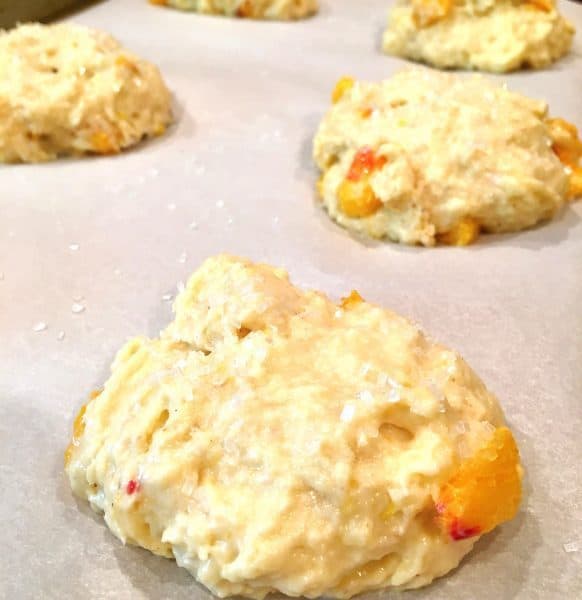 I love how big and fluffy these turned out! The small pieces of peach sticking out is such a tease! I loved the coarse sugar on top! Look how golden and beautiful these are. They are perfect for….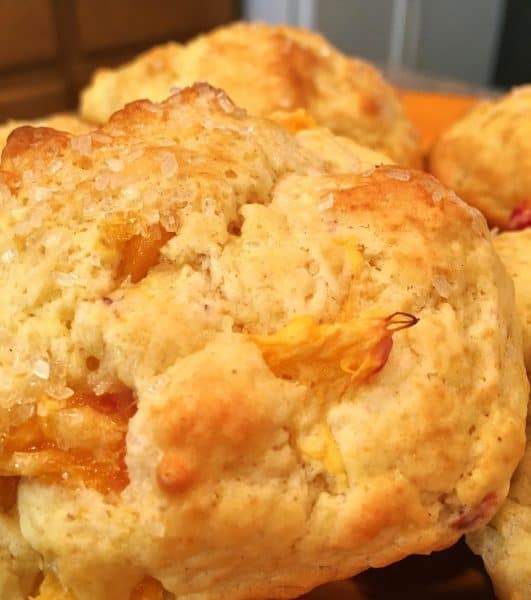 Fresh Peach Jam! Hellooooo side kick! A big "YUM" for those buttery air pockets! That is the sign of a perfect scone! The first bite was heaven…pure heaven!
They just melt in your mouth and are so creamy, and peachy, and everything you want a really great scone to be! Best part…they were EASY! No kneading, no rolling out, no cutting into perfect triangles, just drop, sprinkle and bake! The hardest part? WAITING for them to come out of the oven!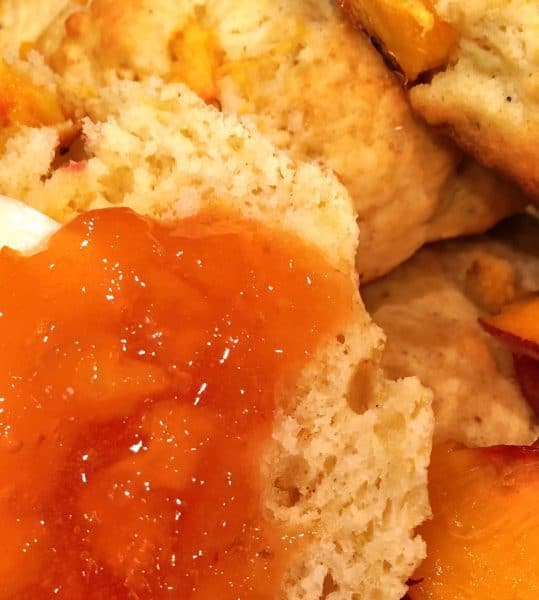 Tips On Making the Perfect Scone
One plus with this recipe…if you don't have peaches…use another fruit you have on hand. Raspberries, Strawberries, Blueberries, etc.
If your dough isn't wet enough add a little extra heavy whipping cream.
I'm envisioning a pumpkin chocolate chip with a cinnamon whipped butter! Doesn't that sound divine?!
I hope you love these Peaches and Cream Scones as much as we did! Taryn and I kind of "pigged" out on them and Baby "B"…well she was screaming when hers was all gone! Yikes!!! When they're baby screaming good you know you gotta try'em! Don't let the thought of the "Scone" Police scare you off!
Other Great Breakfast Bread Recipes
I've got so many great recipes coming this month and next! I hope you'll share my Nest with your friends and family! Thanks for stopping by! Hope to see ya soon!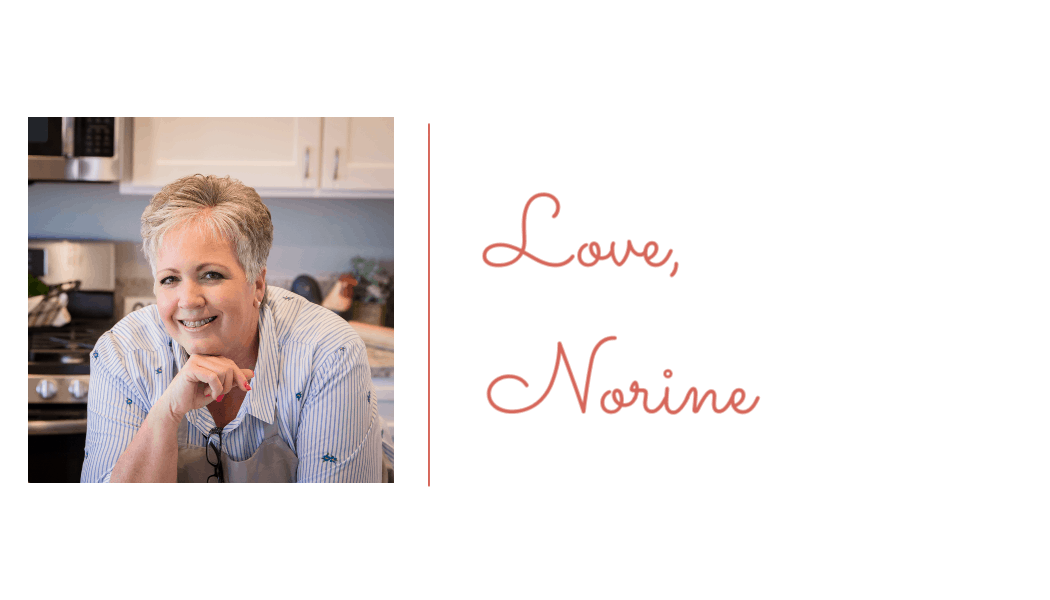 Yield: 12 scones
Peaches and Cream Scones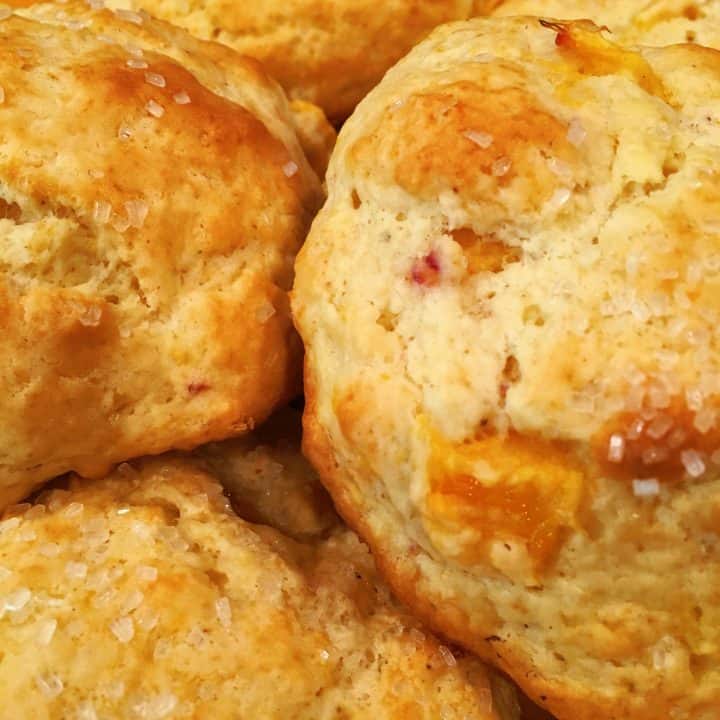 Fresh Peaches and Cream Scones are a light, fluffy, golden brown scone that melts in your mouth! Packed with fresh peaches in every bite!
Ingredients
2 cups all purpose flour
1/2 teaspoon salt
1/4 cup granulated sugar
1/4 teaspoon nutmeg
1Tablespoon Baking Powder
6 Tablespoons cold butter
2 large eggs
1/3 cup sour cream or vanilla yogurt
1/2 teaspoon almond extract
1/4 cup heavy whipping cream
1 cup diced fresh, canned or frozen peaches
coarse sparkling sugar
Instructions
Preheat oven to 375 degrees. Lightly grease a baking sheet, or line it with parchment.
In a large bowl, whisk together the flour, salt, sugar, nutmeg, and baking powder.
Cut the butter into small pieces. Using a pastry blender cut the butter into the dry ingredients.
In a separate bowl, whisk together the eggs, yogurt or sour cream, almond extract and heavy whipping cream.
Stir the wet ingredients into the dry ingredients.
Add the peaches, stirring just until everything is combined. This is a wet, sticky dough.
Drop the dough by the 1/4-cupful onto the prepared pan; a muffin scoop works well here.
Sprinkle with the coarse sparkling sugar, if desired.
Bake scones for 20-25 minutes, until they're light golden brown. Remove them from the oven, and let them cool on the pan for a few minutes before transferring to a rack to continue cooling.
Serve warm, or at room temperature. Store at room temp., well wrapped, for several days.
Recommended Products
As an Amazon Associate and member of other affiliate programs, I earn from qualifying purchases.
Nutrition Information:
Yield:
12
Serving Size:
1 scone
Amount Per Serving:
Calories:

204
Total Fat:

10g
Saturated Fat:

6g
Trans Fat:

0g
Unsaturated Fat:

3g
Cholesterol:

56mg
Sodium:

199mg
Carbohydrates:

24g
Fiber:

1g
Sugar:

8g
Protein:

4g