I'm always looking for new ways to make pork chops! I especially love finding casseroles or slow cooker idea's…so this delicious creamy wild rice, mushroom, and Minnesota Pork Chop Casserole is a great way to use pork chops!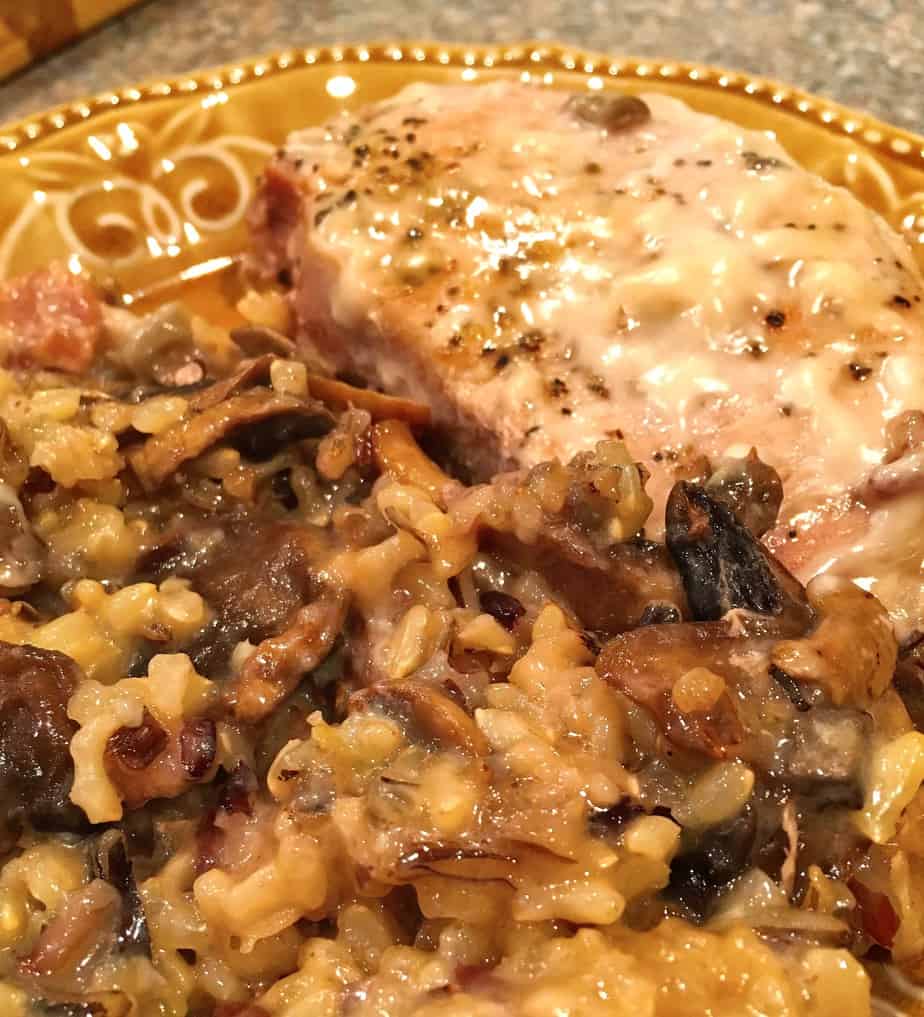 Several years ago I stumbled upon this recipe at Allrecipes.com and I was instantly crazy about it and my kids loved it! (An even bigger bonus!) I love that it is made with wild rice and not long grain, although I love both, I think the nutty rich flavor of the wild rice is perfect with pork chops!
It goes together in a matter of minutes and is super easy to make! Lastly, I love that this is a "hearty" dish. One of those "stick to your ribs" kind of meals. (As you can tell "I love it"!) I actually think you could take the rice portion of this recipe alone and just make one amazing side dish! (Which I will do at some point! You can count on it!)
Now a little 411. I've never been to Minnesota so I don't where this recipe get's its name from?
Maybe because it's so cold there and this is such a warm comfy dish?! Anywho…dontcha know…(that's as Minnesota as I get folks!) I made this dish exactly as the recipe called for. However, after making it, I remembered one of the things I'm not super crazy about with regards to this recipe! The good news is that it can be easily fixed. This is comfort food at it's best and a perfect "Fall" Family Casserole. Let's do this…
How To Make Minnesota Pork Chop Casserole
First rinse off your wild rice and place it in the bottom of a greased casserole dish. (Don't you just love all the beautiful color in this wild rice? It even looks like Fall!)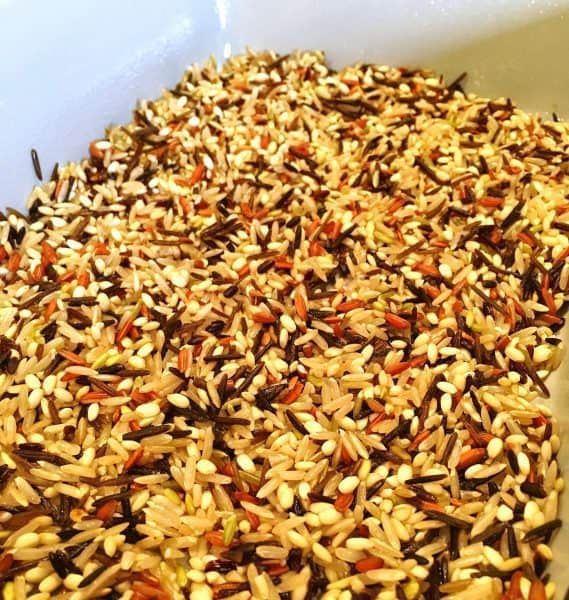 In a very hot, preheated skillet, you are going to sear your pork chops! You want the skillet very hot for a "quick" sear to quickly brown the meat! You do not want to cook it. If you'll notice in the picture mine are just cooked enough to give it color, the rest of the chop is still raw.
TIP: Remember I said there was one thing I wasn't crazy about with this recipe? Well, here it is… this recipe calls for wild rice, and it's a "whole grain", it takes longer to cook than long grain rice. This recipe has you place everything into one dish all at once then bake it.
Great! Well…maybe not! Unless you're cooking a 4 inch thick frozen pork chop with this wild rice you are going to end up with one dried out pork chop! This casserole bakes for 1 hour and 45 minutes! That's too long for a pork chop!
TIP: The secret to great pork is never over cooking it! Since it is such a great casserole I came up with a solution so keep reading! One little change is going to make this a "perfect" recipe!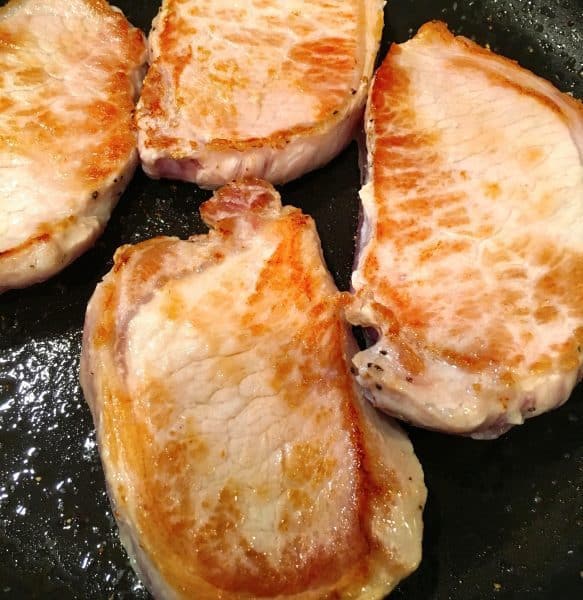 Once you have your pork chops seared a beautiful golden brown you want to place 1 and 1/2 cups of fresh mushrooms on top of your wild rice.
Tip: You can use canned mushrooms. I just prefer fresh. Then add 1 & 3/4 cups of water and sprinkle with 1 Tablespoon of chicken bullion crystals.
Tip 2: If you don't have chicken bouillon crystals you can use two chicken bouillon cubes smashed up! Which is exactly what I did because I was out of crystals.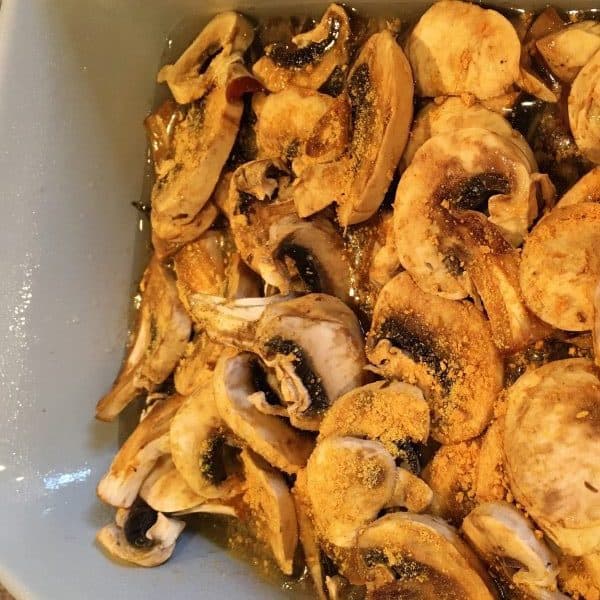 The original recipe calls for you to place the seared pork chops on top of the rice and mushrooms and then cover it with your can of cream of mushroom soup.
However, let's hold off on putting the pork chops in until the last 30 – 45 minutes of bake time!
Go ahead and add 1/2 the can of soup over the mushrooms, cover it with foil, and place it in the oven to bake for 1 hour and 15 minutes. Then remove it from the oven and add your pork chops and the rest of the soup. (The recipe will reflect these changes! I don't want you having pork chop leather!)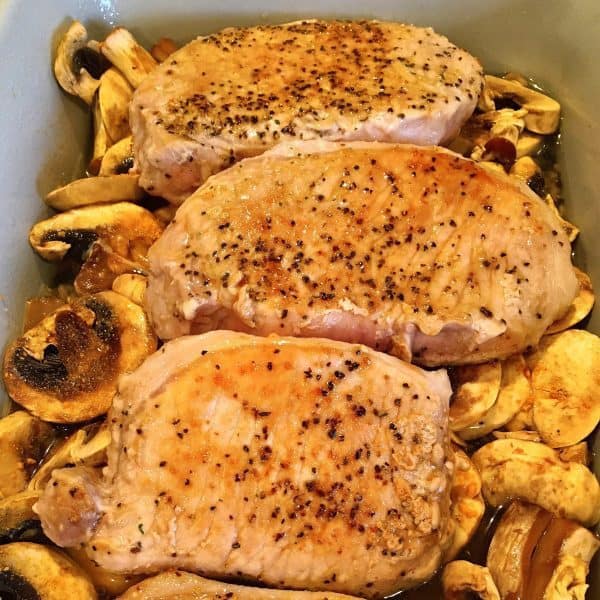 After baking for 1 hour and 45 minutes to 2 hours in a 350 degree oven it comes out perfect! The rice is plump, beautiful and loaded with wonderful rich flavors! Honestly it is going to be the best rice you have ever had and you'll understand why I said I think it would make an amazing side dish by itself!
By waiting to add the pork chops till the last 30- 45 minutes of bake time you end up with a nice juicy pork chop which is perfect with that amazing rice!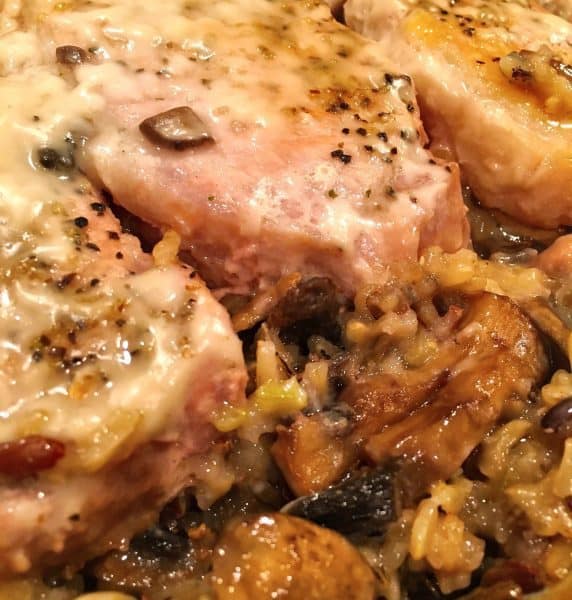 The soup on top of the pork chop creates a "gravy" topping and the rice is so moist and flavorful. Such a delicious casserole.
Great news … you could do this one in the crock pot on low, and just add the chops the last 2 hours of cooking. I think you'll get the same great results.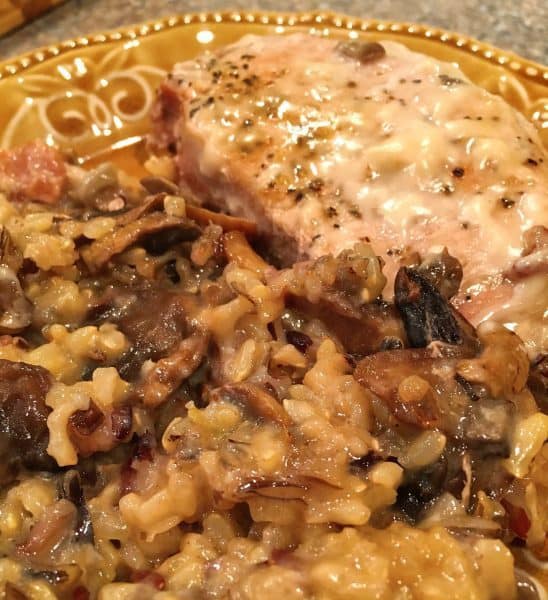 I served this Minnesota Pork Chop Casserole with a big green salad. It was the perfect meal combo! A nice juicy pork chop with a side of mushroom wild rice and a serving of green salad. What more could you ask for?! This casserole is so easy to put together and so flavorful! I know your family will love it so much they'll come back for seconds!
Other Family Favorite Casserole Recipes
I'm including the free printable below. Have a fantastic day and thanks for stopping by my Nest!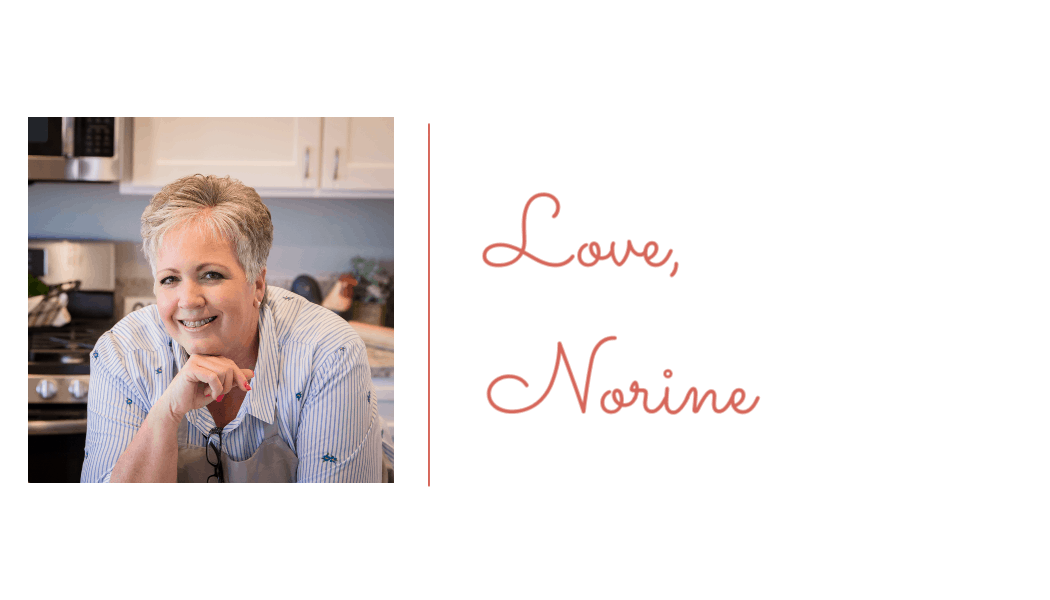 Yield: 4-6 servings
Minnesota Pork Chop Casserole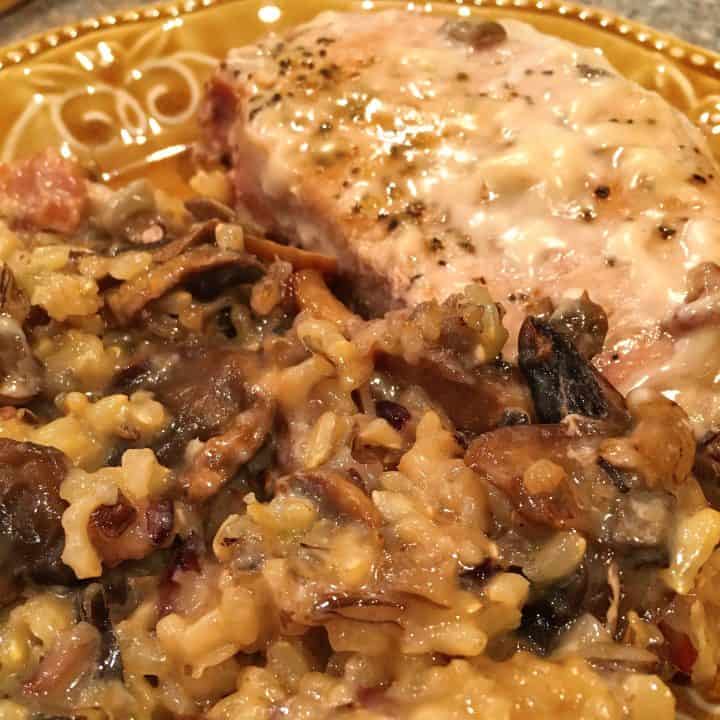 A rich, hearty, and comforting dish this pork chop and mushroom wild rice casserole will quickly become a family favorite!
Total Time
2 hours
20 minutes
Ingredients
6 pork chops
salt and pepper to taste
1 cup uncooked wild rice, rinsed
1 3/4 cups of water
1 (8 oz.) can canned mushrooms or 1 1/2 cup of fresh mushrooms
1 Tablespoon chicken bouillon granules
1 (10.75 ounce) can condensed cream of mushroom soup
Instructions
Preheat oven to 350 degrees
In a hot skillet with a small amount of olive oil, quickly sear the pork chop. Season with salt and pepper.
Spray a 9 x 13 inch casserole dish with nonstick spray. Sprinkle the washed rice evenly in the bottom of the dish.
Add water and mushrooms. Sprinkle with chicken bouillon granules. Spoon 1/2 of the cream of mushroom soup over the mushrooms and rice. Cover with foil and bake for 1 hour and 15 minutes.
Remove casserole, uncover, add the pork chops, spoon remaining soup over pork chops. Cover casserole again and place back in the oven for an additional 30-45 minutes or until pork chops are done.
Notes
This could also be made in a crock pot on low. Do the rice, water, mushrooms, bouillon and soup for 4 hours on low then add the seared pork chops for another 2 hours or until done.
Recommended Products
As an Amazon Associate and member of other affiliate programs, I earn from qualifying purchases.
Nutrition Information:
Yield:
6
Serving Size:
1 1/2 cups
Amount Per Serving:
Calories:

403
Total Fat:

19g
Saturated Fat:

6g
Trans Fat:

0g
Unsaturated Fat:

10g
Cholesterol:

134mg
Sodium:

748mg
Carbohydrates:

12g
Fiber:

2g
Sugar:

1g
Protein:

44g