Sausage and Herb Stuffing is simply scrumptious! It begins with freshly toasted bread cubes, cooked sage pork sausage, sautéed onions and celery, then sprinkled with savory herbs to create the BEST side dish on the Thanksgiving table!
When I was a little kid…stuffing scared me! Seriously…it SCARED ME! I thought…"mushy bread"…ewwww! Keep that bowl away from me!
*As an Amazon Associate I earn from qualifying purchases. This post may contain affiliate links, which means that I may make a commission from any purchases at no additional cost to you. Thank you for your support!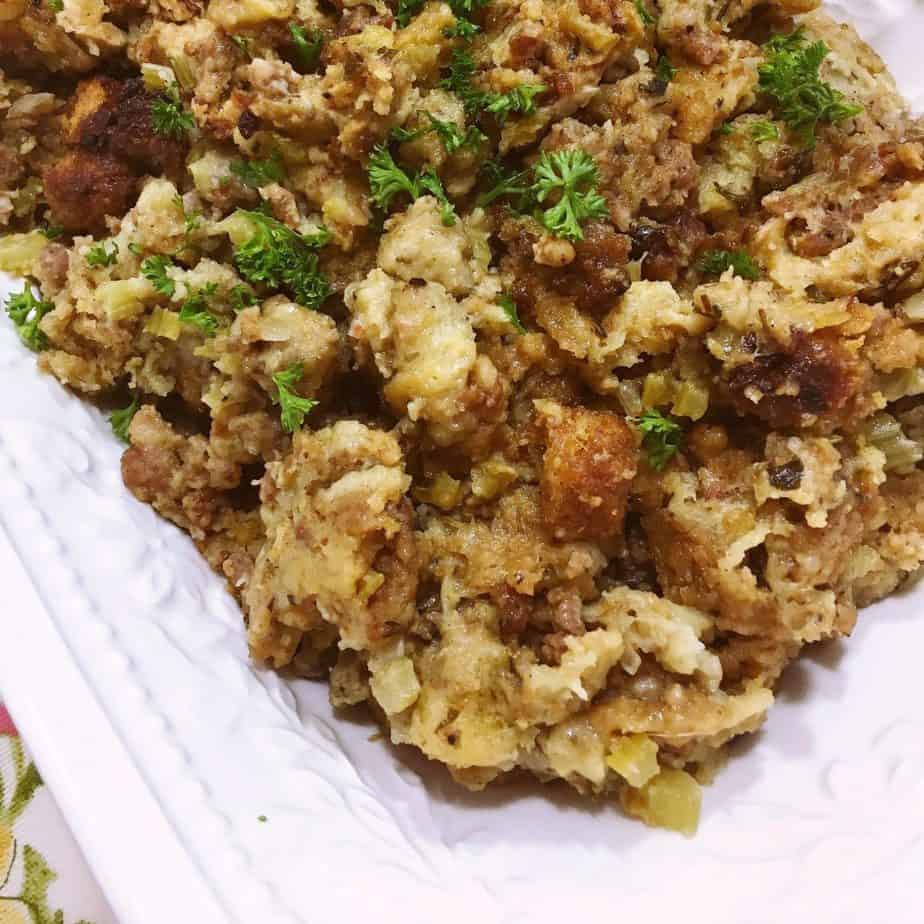 Fast forward to today. That beautiful bowl of stuffing is right next to me on the Thanksgiving dinner table. "Come to Momma precious!" It's amazing what can happen with time and age! (Wrinkles, Knee's that crack, age spots, gray hair, wings bigger than the Turkey's…yep…ya gotta love time and age!)
One ingredient that makes this stuffing so exceptional is the homemade toasted bread cubes. They're super easy to make and so much tastier than the dried crumbs you buy at the market.
I double this recipe. I'm generally feeding a huge crowd! This recipe will stuff a 10 pound Turkey. I usually cook a 26 pound Turkey. So plan accordingly. I'll let you do the math! (Cause math and my brain…we aren't friends! It happened when they added the alphabet?!!!)
How to Make Superb Stuffing
Cut up one loaf of wheat bread and 1 and a half loaves of white bread into cubes.
Trim the crust off the bread. You can leave the crust on…however, I like my stuffing to be consistent through out…both in texture and looks. So, I trim the dry crusts right off. (Save them to feed the ducks…I'd say to feed the Turkeys…but it's too late for the Turkeys! lol Poor Turkey's!)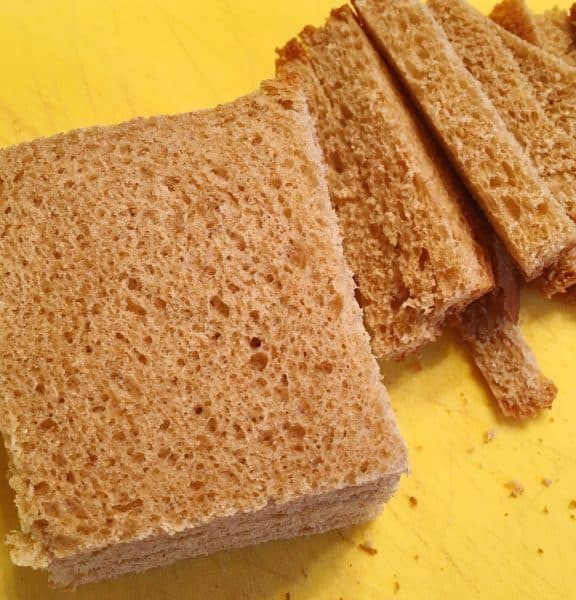 TIP: You can make the bread cubes up to a week ahead of time. Store them in an air tight container until ready to use.
Toasting Bread Cube Options
Spread the white and wheat bread cubes in a single layer on large baking sheets. If you have a convection oven preheat it to 275 degrees. If you have a conventional oven preheat to 350°.
In a conventional oven bake for 7-10 minutes until bread cubes toast evenly. You may want to leave them in longer…just be careful not to burn them.
If using a convection oven leave in the oven for 20-30 minutes until bread cubes are dry and toasted.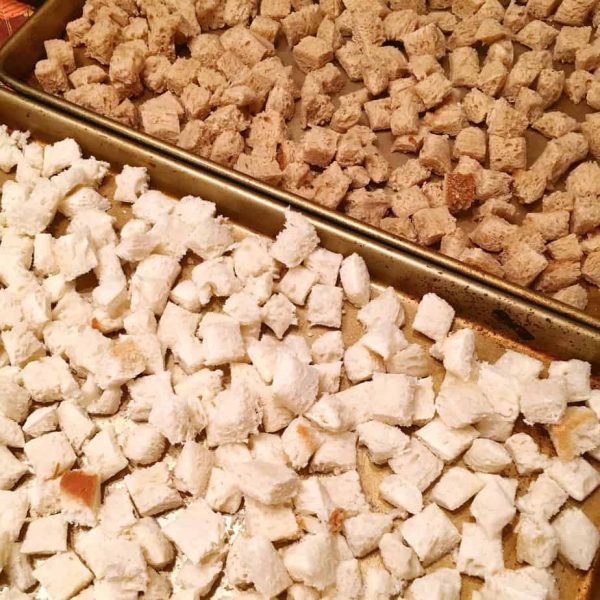 Transfer bread cubes into a large bowl.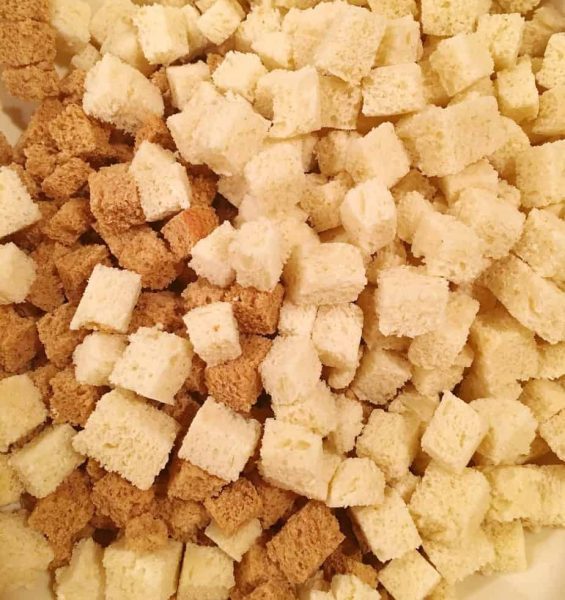 Cut up 1 cup of chopped onion and…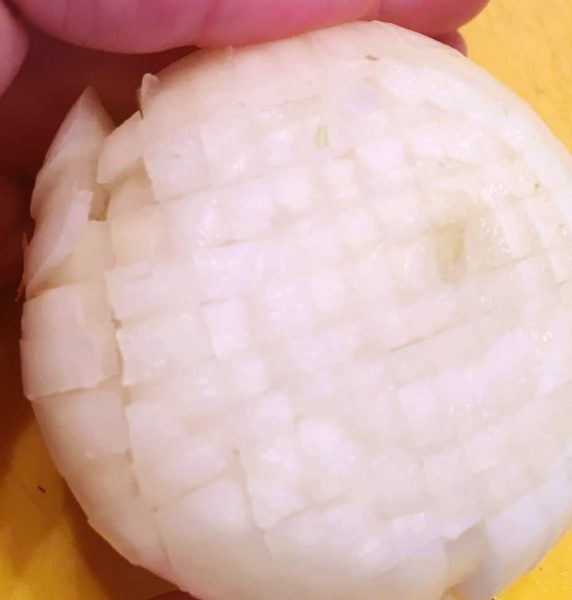 3/4 cup of chopped celery.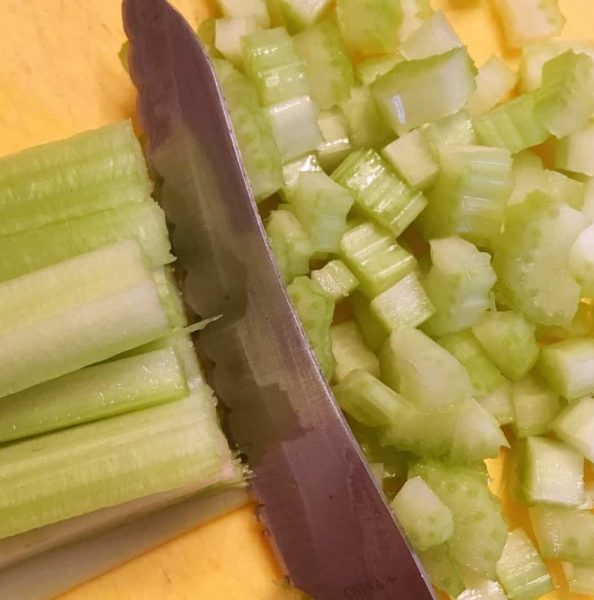 In a large skillet, cook the sausage over medium heat, stirring and breaking up the lumps until evenly browned.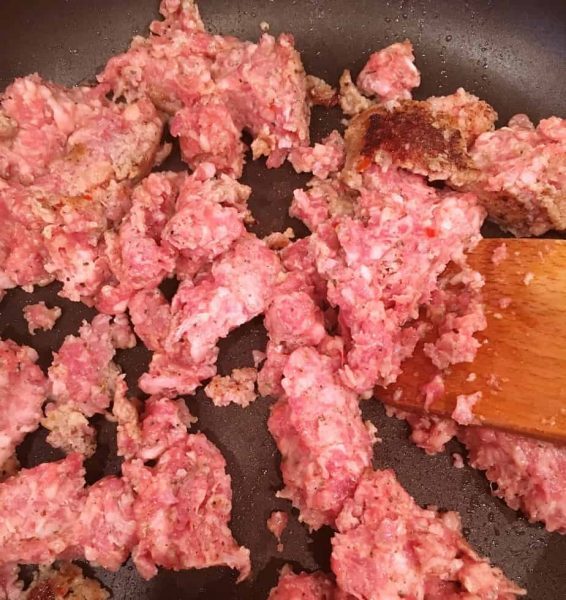 Add sausage and drippings to bread cubes. Don't get rid of the sausage drippings…that's a whole lot of yum!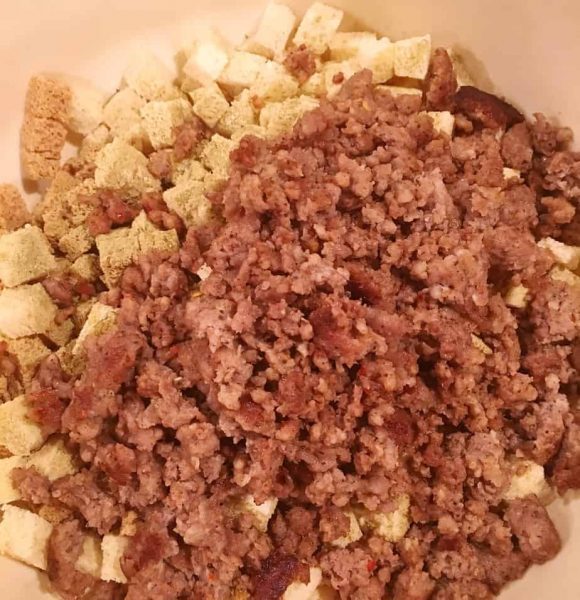 In the large skillet add 1/2 cup butter. Uh-huh! A whole stick of Buttah is going in this sausage. (I told you it was the BEST…I didn't say it was fat-free!)
Over medium heat melt butter. Add onion and celery. Saute until tender and onions are translucent.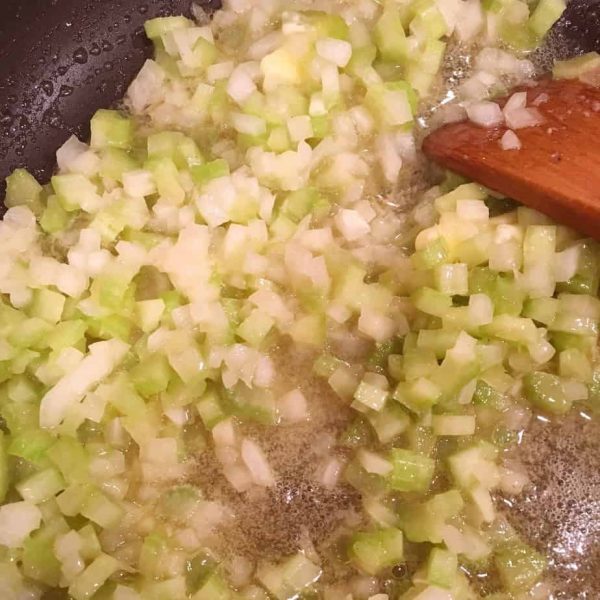 Add onions, celery and all that glorious butter in with the bread cubes and sausage. Add 1/3 cup minced parsley.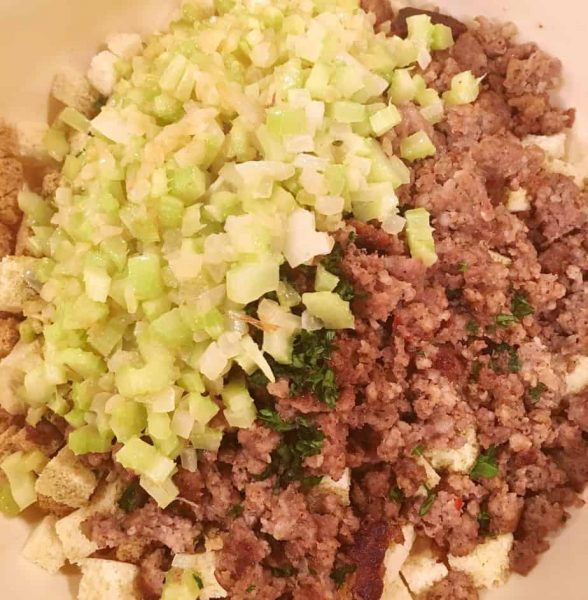 Add 1 can chicken broth or 2 cups of chicken stock. If you like a dryer stuffing only add one cup of broth.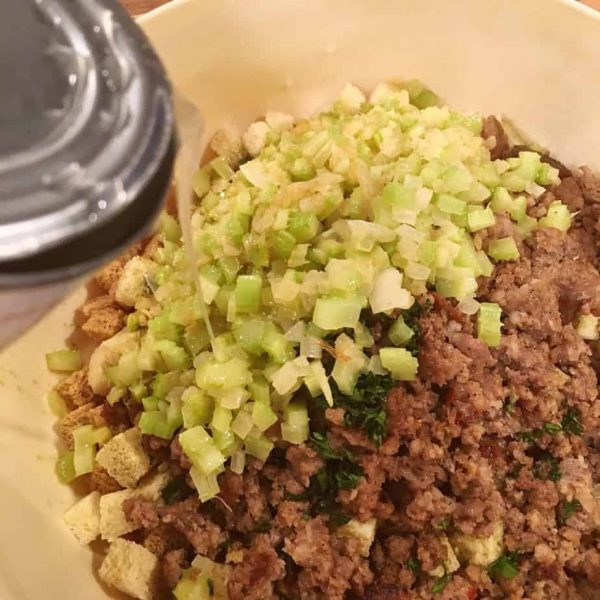 Add two whole eggs. Why eggs? Eggs are a "binding" ingredient. It helps bind all the stuffing ingredients together.
Time to add the herbs!
One of the things I love the most about this stuffing…the savory flavors from all the herbs! 2 1/2 teaspoons dried sage. 1 1/2 teaspoons dried rosemary, 1/2 teaspoon thyme.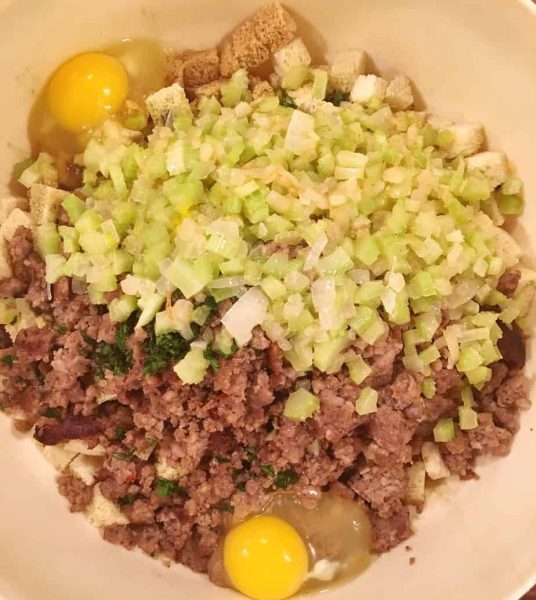 Gently mix all the ingredients together.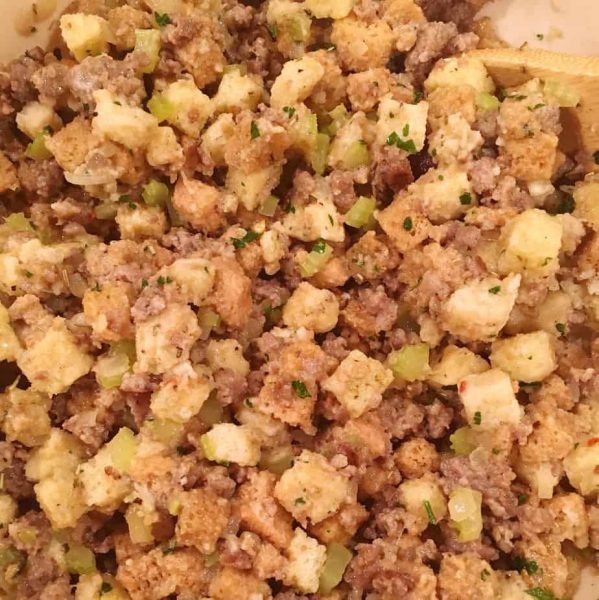 Baking Options
Now that you have that big bowl of delicious stuffing made…what to do? You have two choices with an optional third.
1. You can Stuff that stuffing into your Turkey. I L.O.V.E. to stuff my Turkey. All the flavorful juices that bake into the stuffing as the Turkey cooks…sublime!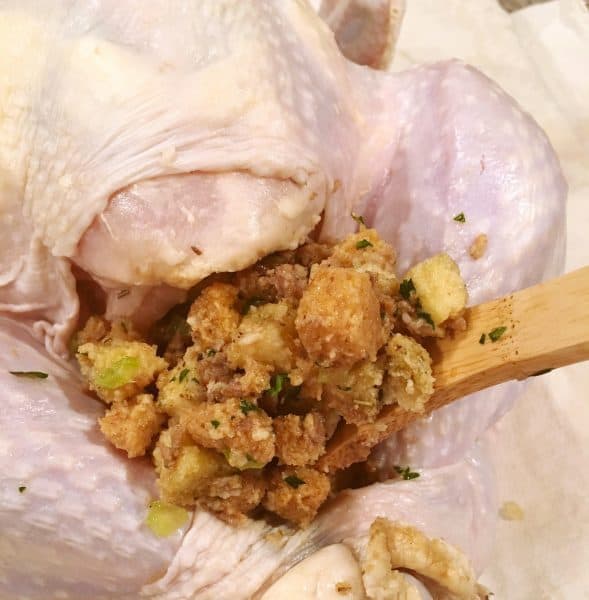 2. You can place all that "stuffin'" (That's country for Stuffing!) in your slow cooker on low for 4-5 hours, while that big ol' bird is cooking. If you own 4 ovens…you can place it in a greased baking dish and bake for 1 hour at 350° . (I don't own 4 ovens…I have one…and that bird takes up every inch of it!) So I love to use all four of my Crock Pots at Thanksgiving.
I also use the Reynolds Slow Cooker Liners to make clean-up a breeze! Nobody wants to be cleaning more dishes on Thanksgiving day.
The optional 3rd choice is to stuff and use the slow cooker. This is what I do. I stuff the bird and then place the remaining stuffing in a greased slow cooker and cook for 4-5 hours on low. Once the turkey is ready…I combine the two. It makes the perfect stuffing.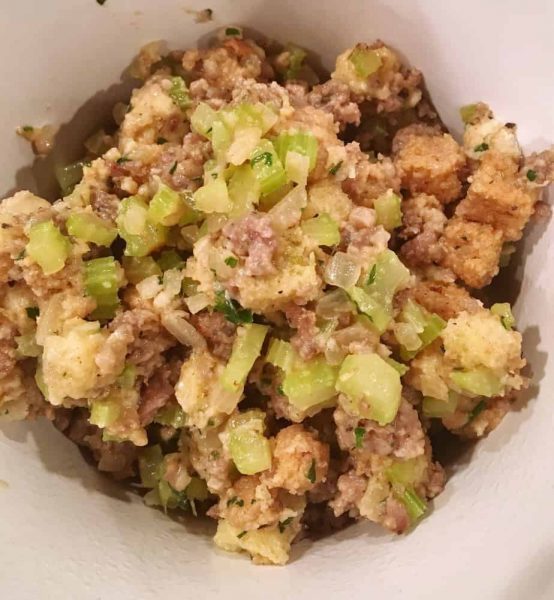 This stuffing is packed full of flavor. It's not too dry… and it's not too wet. Like Goldie Locks said…"It's just right!" Truly the perfect stuffing!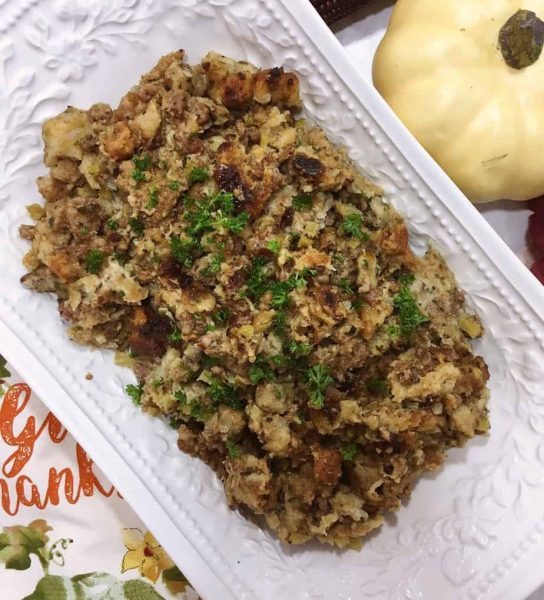 Top it off with a hearty drizzle of gravy … it's spectacular! Every blissful bite! Like a great big warm hug!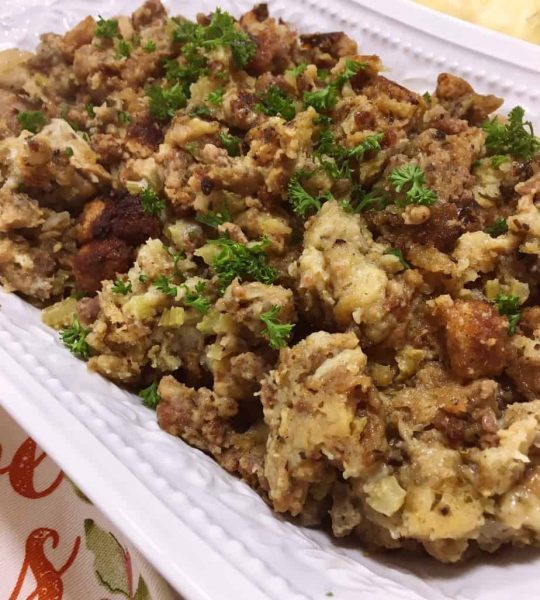 Additional Stuffing Mix-ins…
TIP: If you prefer a "fruity" sausage you can add 1 Golden Delicious Apple, cored and chopped and 3/4 cup dried cranberries! It's amazing…however, the "MEN" at our Nest don't like all that fluff! Just give'em the manly stuffing!
So manly stuffing it is!
Stuffing Q & A!
Q – Can I make the Stuffing ahead of time?
A – YES! You can mix all the ingredients together ahead of time, up to two days, and store it in the refrigerator until you are ready to stuff the Turkey or bake it.
Q – What if I can't find dried Sage or thyme leaves?
A – You can use ground sage or thyme leaves. Reduce the measurement to 1/4 a teaspoon of GROUND thyme and 1 teaspoon sage.
Q – Can I make the stuffing in my Slow Cooker or Crock Pot?
A – Yes! Bake on low for 4-5 hours making sure you gently turn it (stir bottom up to the top) at least once.
Q – Can I use Fresh Herbs?
A – Heck YES! Same measurements as dried.
Q – What if I mix it all together and realize I don't have enough?
A – Toss in a box of "Herbed Stuffing Mix"…just the bread crumbs and seasonings. Add more Chicken Stock.
I hope the birds at your Thanksgiving table enjoy it as much as all my guests do. There just isn't a better side dish on the table…unless you're a kid…and it's scary! Then it's all about the rolls!
Enjoy and Happy Nesting!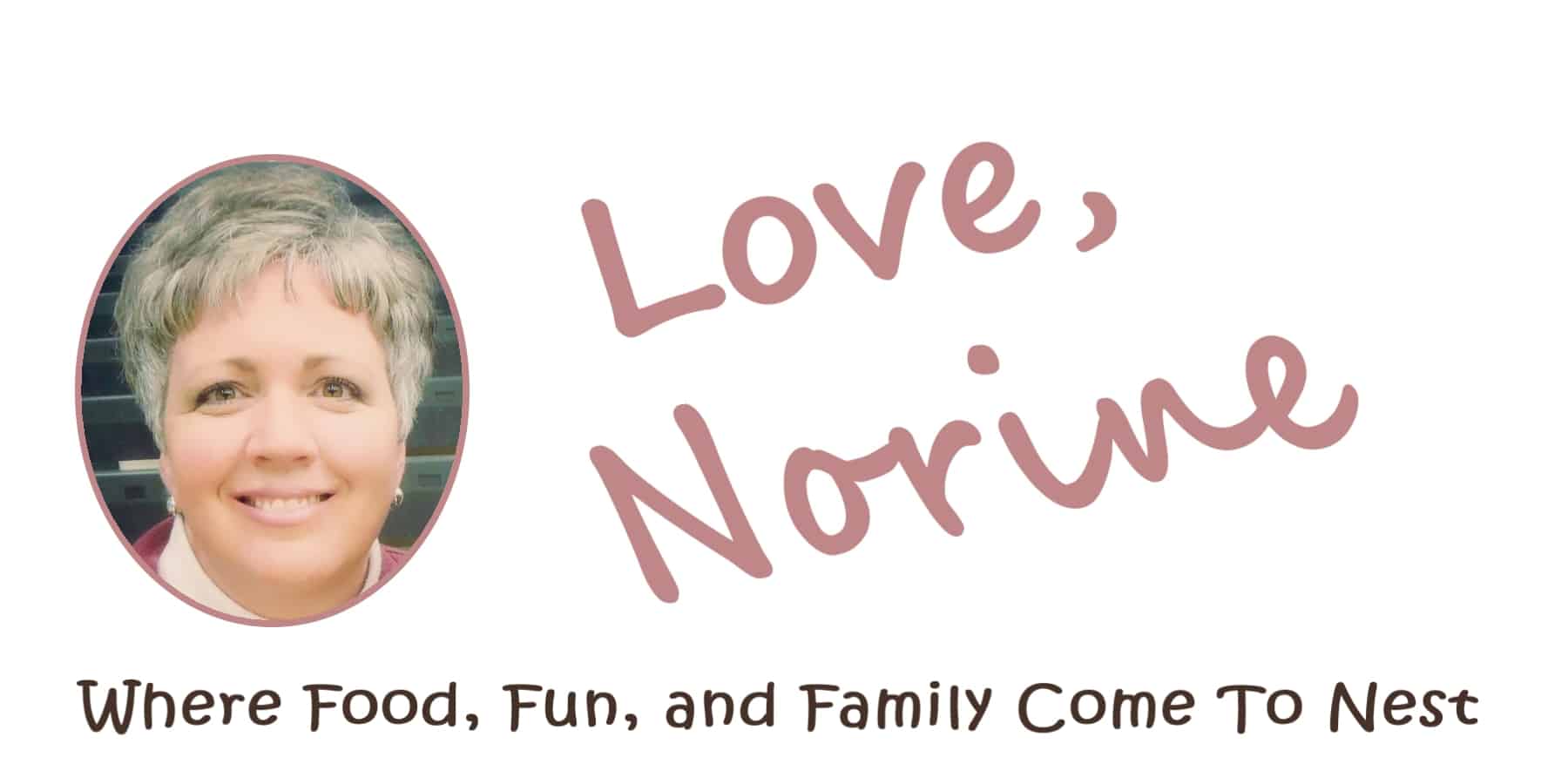 Yield: 10 servings
Best Sausage and Herb Stuffing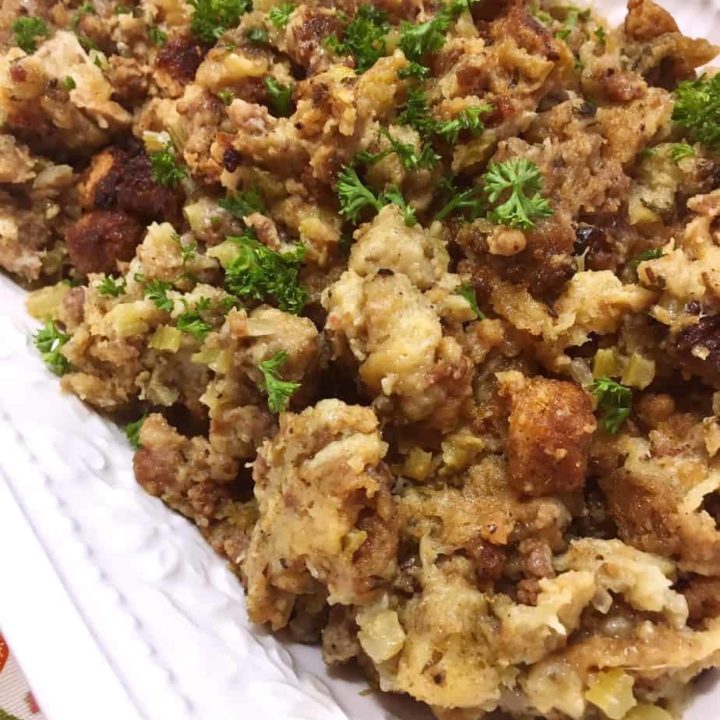 Freshly toasted bread cubes, sage sausage, and savory herbs combine to make the BEST Thanksgiving Stuffing.
Additional Time
30 minutes
Total Time
5 hours
50 minutes
Ingredients
1 loaf of wheat bread, trimmed and cut into cubes
1 1/2 loaves of white bread, trimmed, and cut into cubes
1 pound sage pork sausage
1 cup finely chopped onion
3/4 cup chopped celery
2 1/2 teaspoons dried sage
1 1/2 teaspoons dried rosemary
1/2 teaspoon dried thyme
1/3 cup minced fresh Parsley
2 cups chicken stock
1/2 cup salted butter
2 eggs
Salt and Pepper to taste
Optional :
1 Golden Apple, cored and chopped
3/4 cup dried cranberries
Instructions
Trim crust off bread, cut into cubes. Spread cubes in a single layer on a large baking sheet. Preheat conventional oven to 350° or Convection Oven to 250°. Bake in Conventional oven 7-10 minutes or in a Convection Oven for 20-30 minutes. Until bread cubes are toasted. Place bread cubes in a large bowl
In a large skillet, cook sausage over medium heat, breaking up the lumps until evenly browned. Add to bread cubes with drippings.
In same large skillet, melt 1/2 cup butter. Add Celery and Onion. Saute until tender.
Add melted butter sauteed vegetables to bread cubes and sausage.
Add chopped fresh parsley, dried sage, dried rosemary, and dried thyme. Mix ingredients until combined. Salt and pepper to taste.
Add chicken stock and eggs and mix until all the ingredients are well combined.
Spoon into cavity of Turkey, to loosely fill, or spoon into greased slow cooker. Cook with Turkey for designated amount of time or in slow cooker 5-6 hours on low, stirring occasionally, to prevent burning, until ready.
Notes
Note the bread crumbs can be made in advance and stored in air tight container up to one week.
You can cook the stuffing in the turkey, or in a slow cooker, see instructions for cook times.
Recommended Products
As an Amazon Associate and member of other affiliate programs, I earn from qualifying purchases.
Nutrition Information:
Yield:
10 servings
Serving Size:
3/4 cup
Amount Per Serving:
Calories:

354
Total Fat:

18g
Saturated Fat:

10g
Trans Fat:

0g
Unsaturated Fat:

6g
Cholesterol:

67mg
Sodium:

253mg
Carbohydrates:

49g
Fiber:

20g
Sugar:

14g
Protein:

10g