TRADITIONAL LASAGNA IS DECONSTRUCTED IN THIS DELICIOUS, QUICK, AND EASY STOVE TOP SKILLET LASAGNA READY IN 30 MINUTES.
All the flavors of your favorite rich and meaty lasagna without all the fuss…is what you'll find in this One Pot Skillet Lasagna. Made with egg noodles, ricotta cheese, and a rich ground beef tomato sauce, this yummy recipe is sure to become a must on your monthly meal rotation.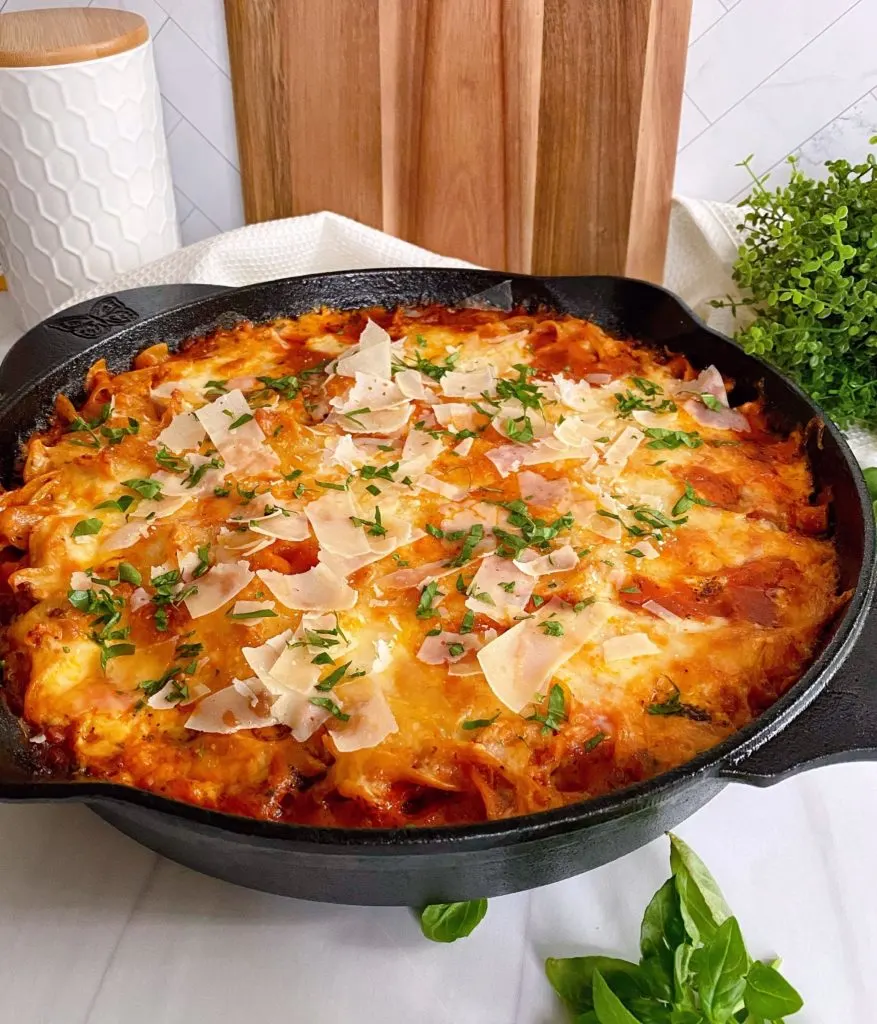 Is there anything better than a deep baking dish filled with layers of pasta, cheese, ricotta, and long ruffly lasagna noodles? There really isn't! Not a lot can top the original favorite!
If you're like me most days you don't have the time it takes to make a casserole dish filled with all those luscious layers!! So what do you do? (You still love lasagna! You're not dead…just busy!)
You can make my Quick Easy One Pot Skillet Lasagna! Ready in 30 minutes, from start to finish!
All you need is a big deep dish 12 inch skillet. Yep! One Pan! I love using my cast iron skillet for this recipe, because it transfers well from stove top to oven. However you can use any oven safe skillet for this dish that has a lid. (A lid is key for cooking the pasta in this one pot dish!)
I wasn't sure how my guys would like this new take on the classic. To my surprise they inhaled it…and went back for seconds…and thirds. There were still leftovers too!
Like traditional lasagna this dish is even better on day two and three…if you're lucky enough to have any leftovers! I wouldn't hold my breath though. This is one dish that will disappear as quickly as it took you to make it!
What You'll Need to Make The BEST Skillet Lasagna
2 Tablespoons of Olive Oil. You can use vegetable or canola oil, but I prefer Olive Oil in Italian dishes and when browning ground beef.
1 pound 90/10 Ground Beef. Yes, you can use 85/15% or even 80/20%. I just prefer less fat in my ground beef for this recipe. So whatever fits your budget, use that.
2 teaspoons minced garlic. You go ahead and bust open that jar! No judgments here!
1 Tablespoon chopped dry Onion. Half a Fresh chopped onion can be substituted. I wanted to keep this quick and easy and used dried.
1 (24 ounce) jar Spaghetti Sauce. I used Bertolli Organic Olive Oil, Basil, and Garlic that I purchase in bulk from Costco. You can use your favorite.
1 (14.5 ounce) can, Diced Petite Tomatoes, undrained.
1 ½ Cup Water
2 Tablespoons Italian Seasoning Blend. If you don't have any on hand, you can mix together 1/2 Tablespoon each of basil, oregano, rosemary, and parsley.
Salt and Pepper to taste! I know you want an exact measurement. Not going to do it! We all have different tastes when it comes to this! Add a little, taste, add more if you need more.
3 Cups, uncooked, Egg Noodles.
2 Cups Ricotta Cheese, or less depending on your likes.
2 Cups Mozzarella Cheese, shredded
1/4 cup shaved Parmesan Cheese
1 Tablespoon Chopped fresh Basil, optional.
How To Make 30 minute Skillet Lasagna
In a 12 inch, oven safe skillet, over medium-high heat, add Olive Oil. Add in crumbled ground beef, Dried onion, and garlic. Cook until brown. Drain off any excess fat. If you are using extra lean beef you will not need to do this.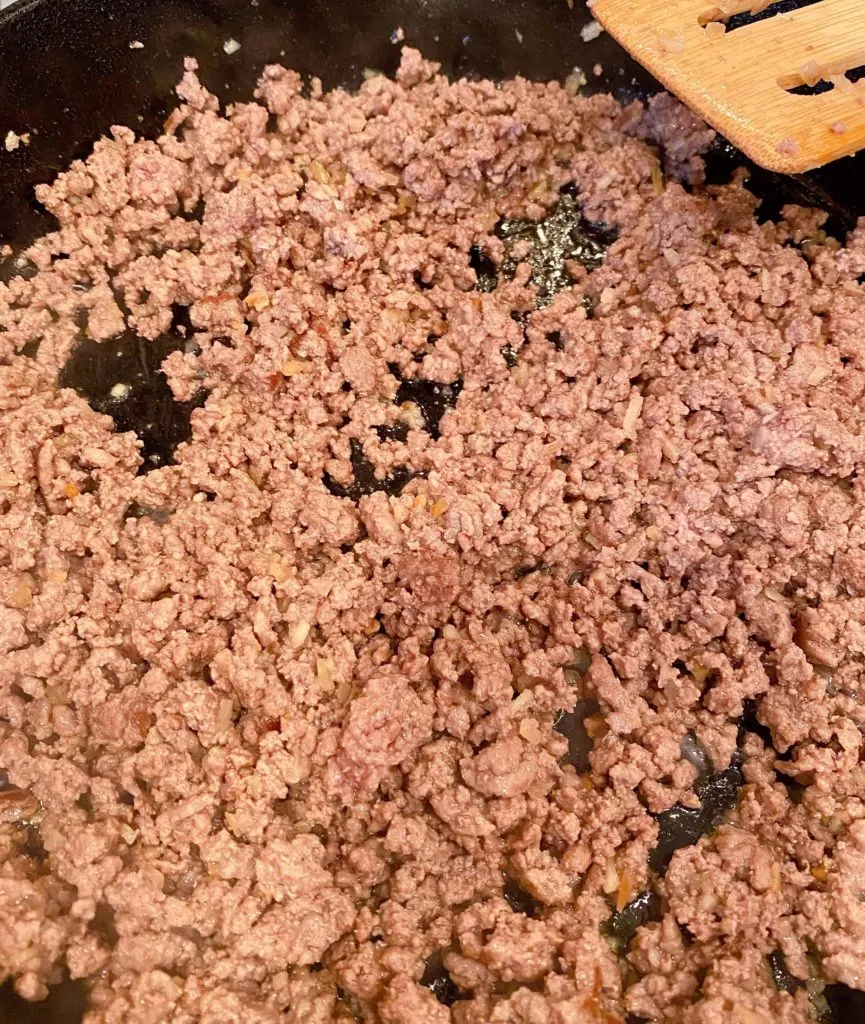 Add 1 jar of your favorite spaghetti sauce. I love the Bertolli Organic Olive Oil, Basil, and Garlic from Costco. The flavor is outstanding! However, any jarred sauce will work. It's all about personal preference.
Add the can of diced tomatoes and water.
One of the things I love about this recipe is that the majority of the ingredients came straight out of my pantry! From my food storage! It's a great way to use up some of your back-stock if you have it.
Stir to combine. Reduce heat to medium-low.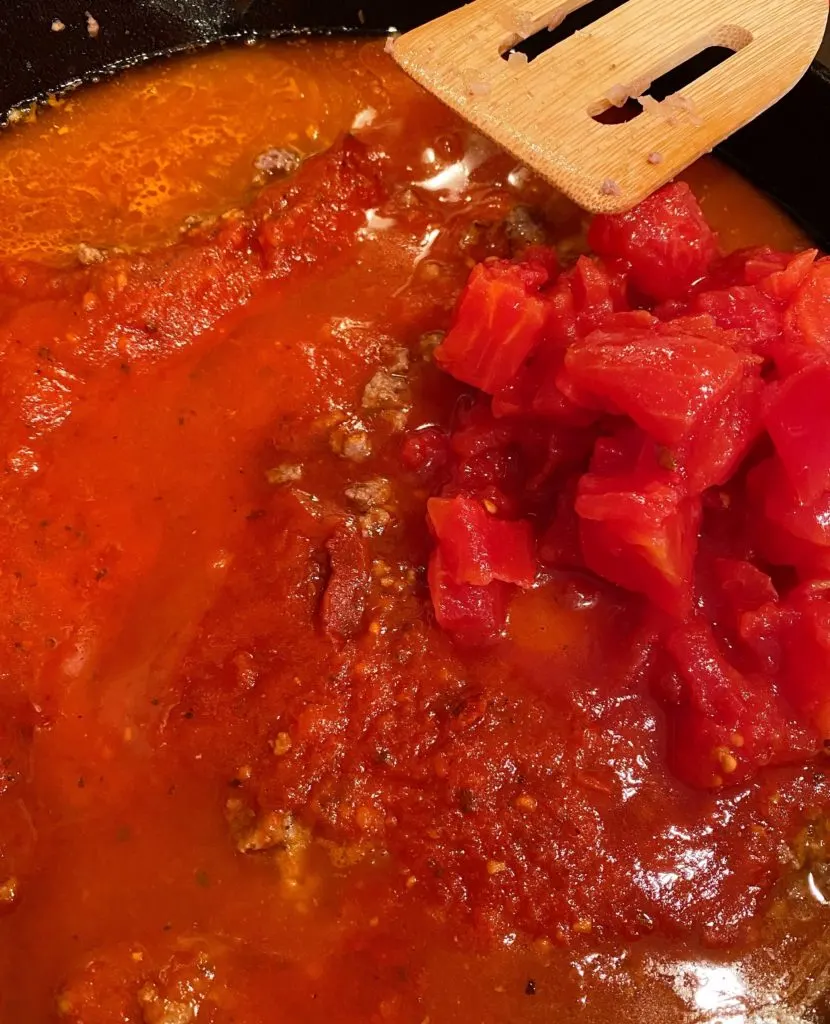 Even though that jar of sauce has seasonings…it's not enough! Trust me!
You will want to add 2 Tablespoons of Italian Seasonings Blend, ground pepper to taste, and a pinch or two of salt.
Again, it all about your taste. I find seasoning is a very personal thing! (My Mom could bathe her food in salt and not have enough! No two salters are the same!)
Stir until well blended. Cover and let simmer for 5 minutes.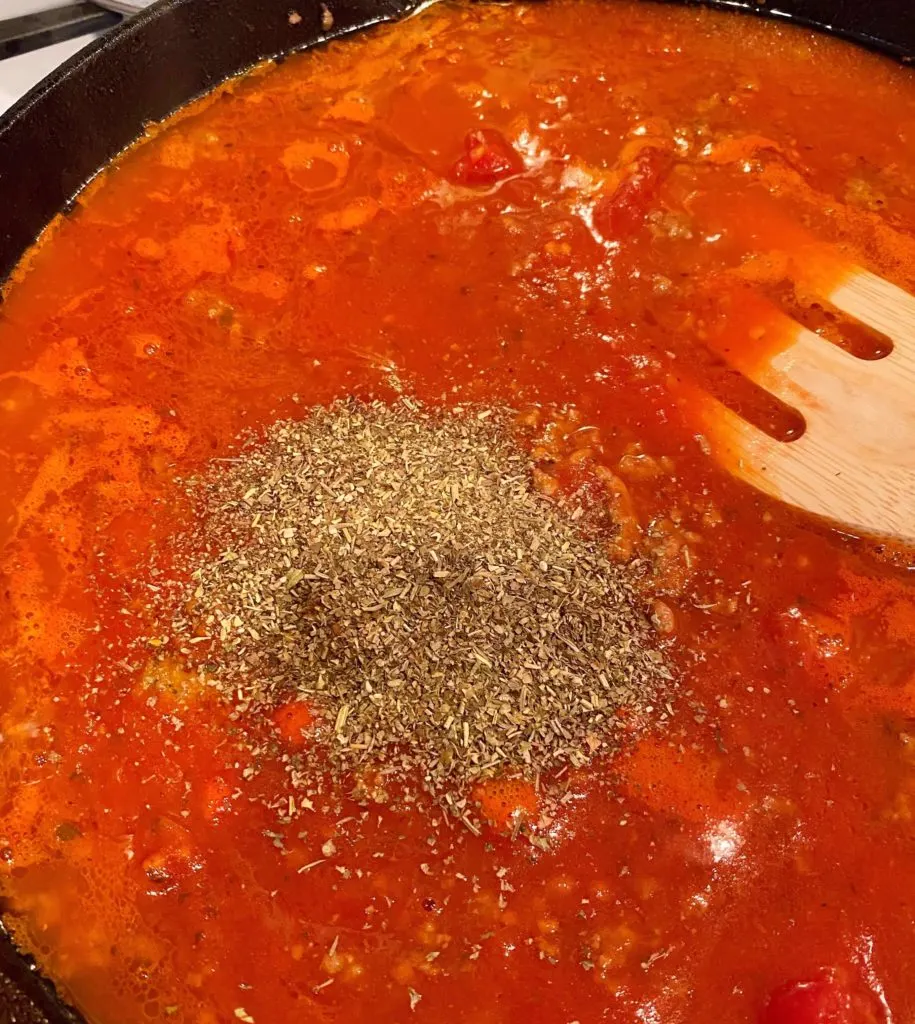 Cooking Pasta for Skillet Lasagna
Add 3 cups uncooked egg noodles. Stir until incorporated into the sauce.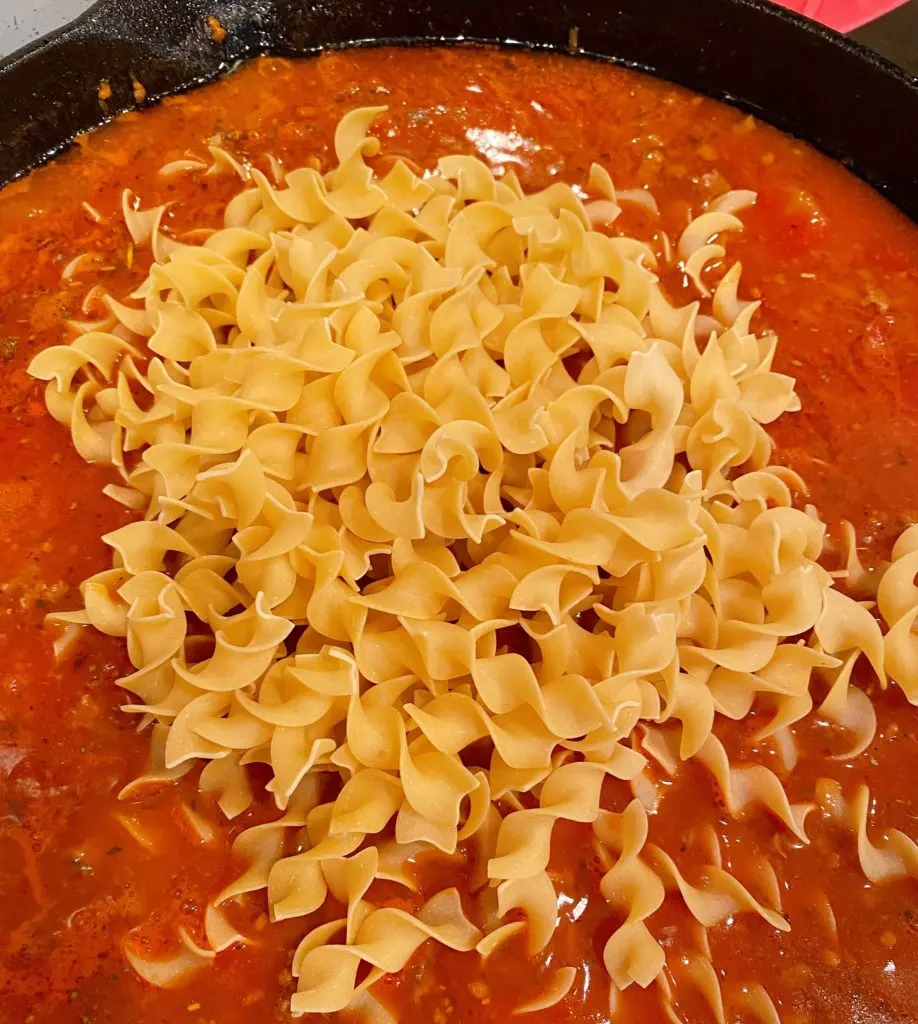 Cover and cook on low heat for 10 minutes.
I know what you're going to say! "Norine my Cast Iron Pot, or oven safe skillet, doesn't have a lid"! It's okay! You can lay a piece of aluminum foil carefully over the top of the skillet! You'll notice my lid is from another pot. Whatever works!
The main goal here is to hold the steam in so the pasta can cook quickly!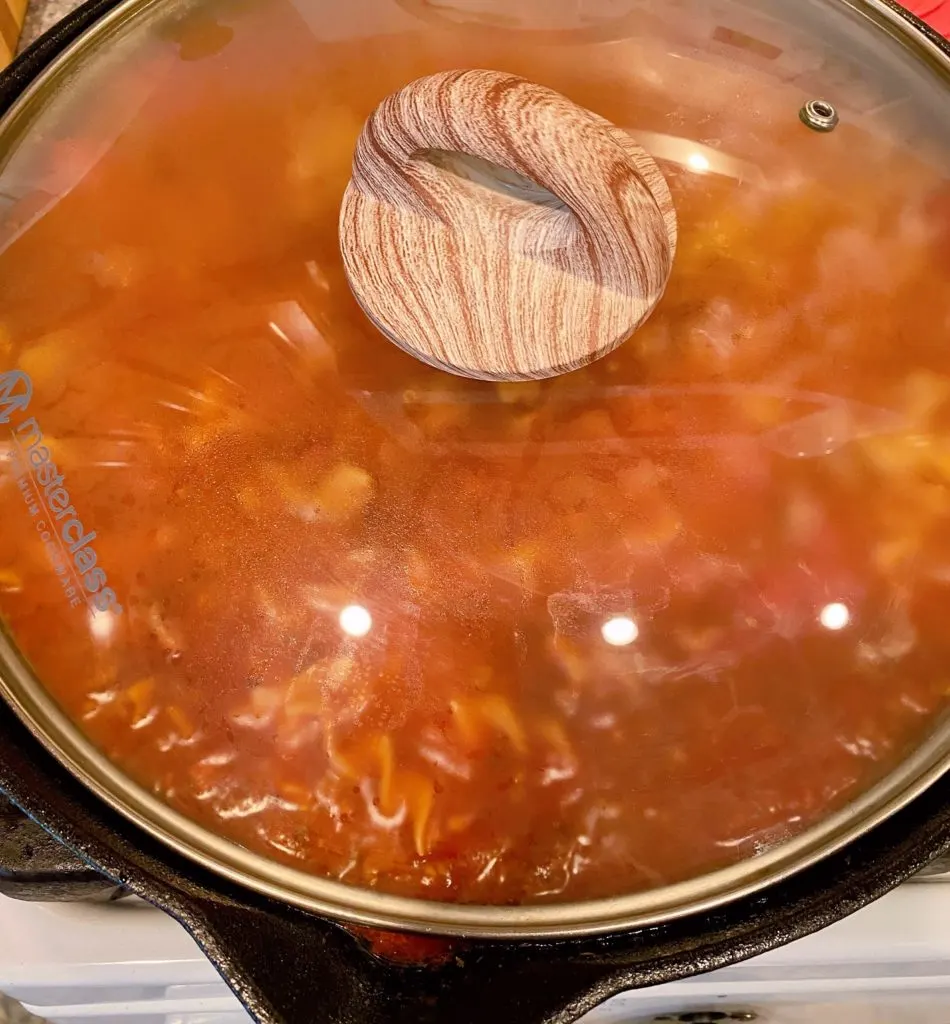 Finishing off the Skillet Lasagna in the oven!
Now before all the "ghosters" out there jump me…YES! You can finish this dish off on the stove top!
However, if you'd like your cheese a little brown on top, I recommend finishing this dish off in the oven.
Preheat your oven to 350°F.
Carefully remove the lid from the skillet. Place the lid aside. The pasta should be just past "al dente" and a majority of the liquids absorbed, as mentioned above. It will still be slightly "saucy" and that's okay!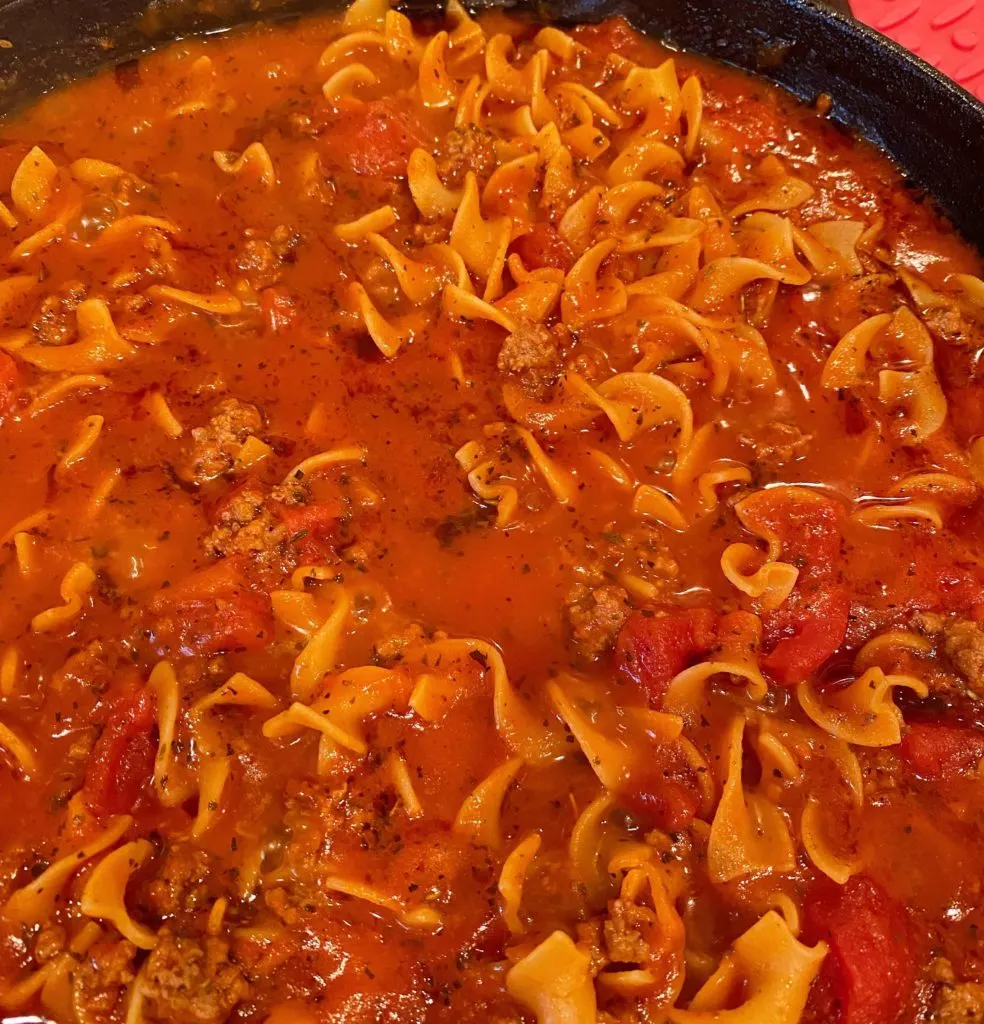 Add large rounded tablespoons of ricotta cheese all over the top of the pasta and meat sauce. I used a cookie scoop and pressed the ricotta down into the pasta.
It doesn't have to be perfect and you can use as much, or as little, ricotta as you like. All I ask is you do NOT put cottage cheese in this dish! (Honestly we are pushing the boundaries of every Nona out there with this deconstructed version of her classic. Show a little mercy!)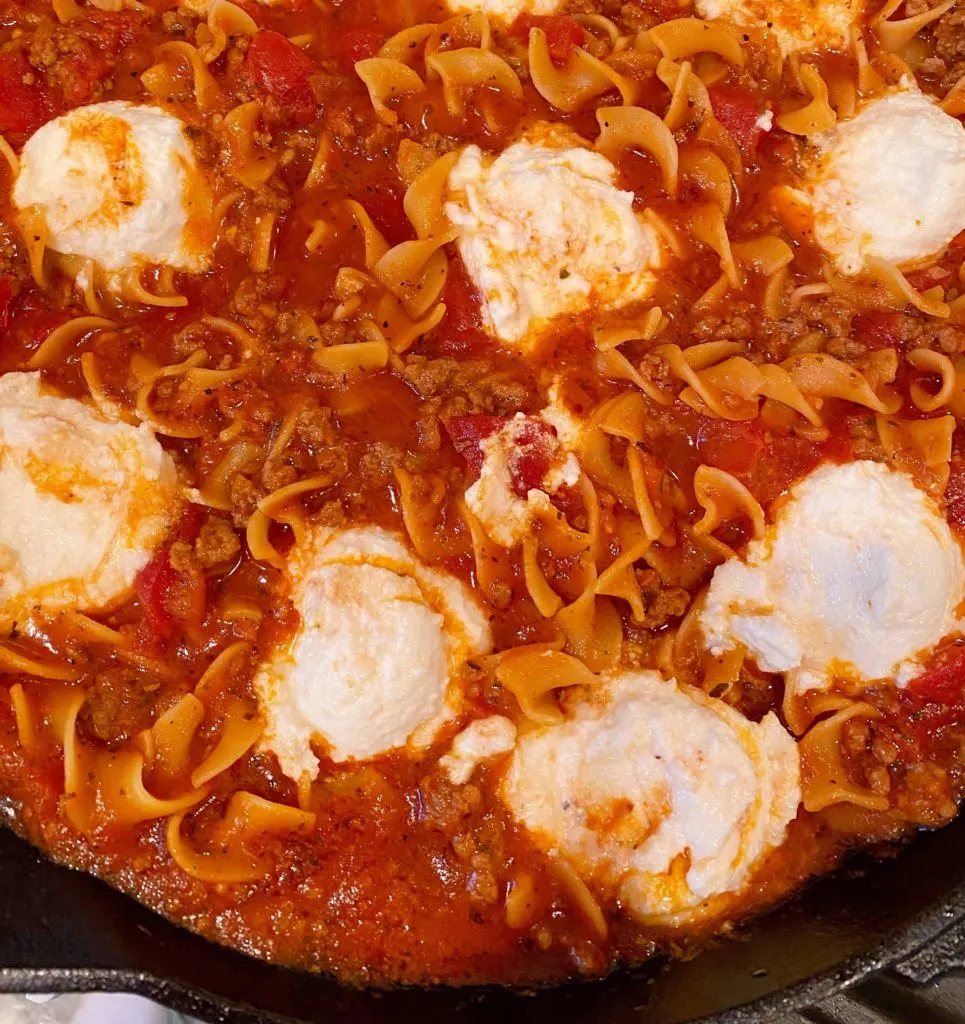 After you have your ricotta all nestled in amongst the pasta…top that baby off with 2 cups of shredded mozzarella cheese.
Pop it in your preheated oven for 15 minutes, or until your cheese is melted and bubbly!
TIP: If you are not using the Oven method you can just cover the skillet and cook over low heat until the cheese is melted.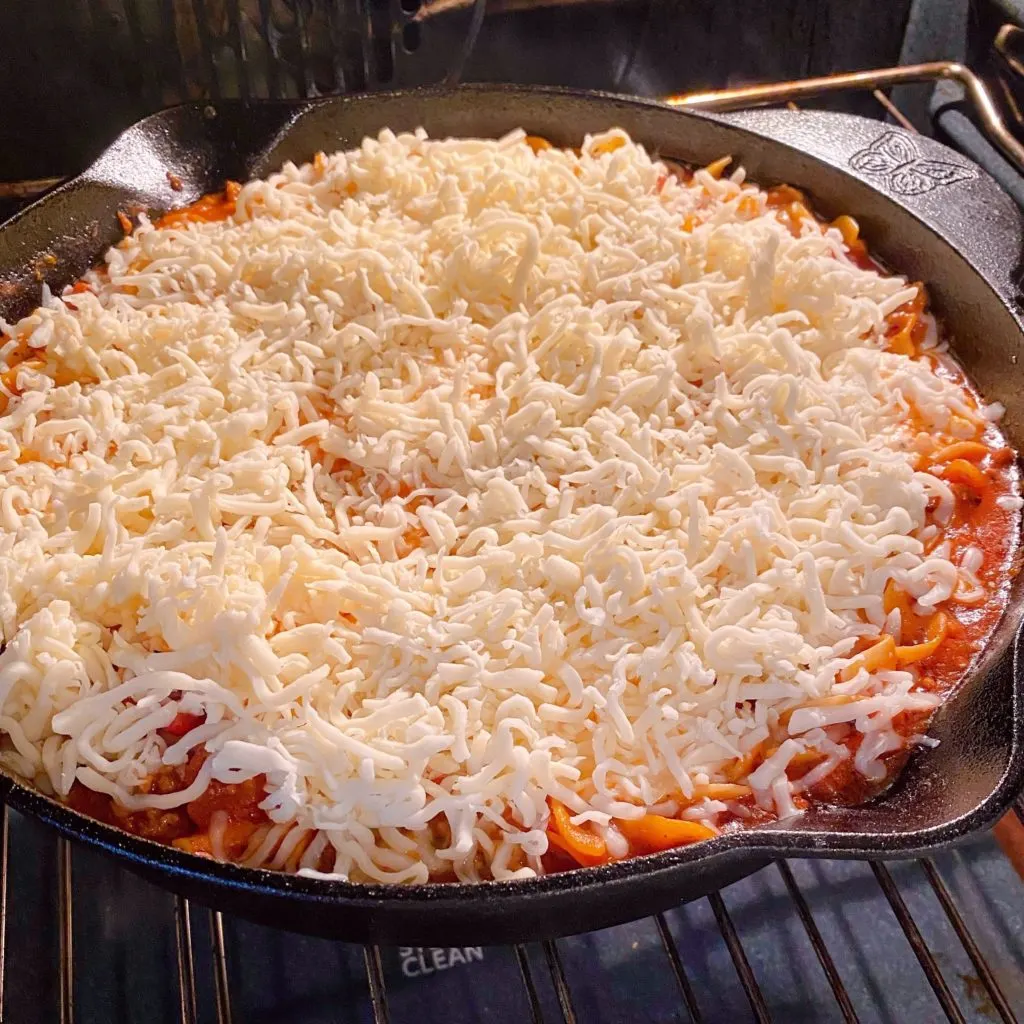 Once the lasagna is done, carefully remove from the oven, sprinkle with shredded Parmesan Cheese and sprinkle with freshly chopped basil. Allow the dish to "rest" for 5 minutes before serving.
I recommend serving this dish with my Homemade Three Cheese Garlic Bread and my Caesar Wedge Salad.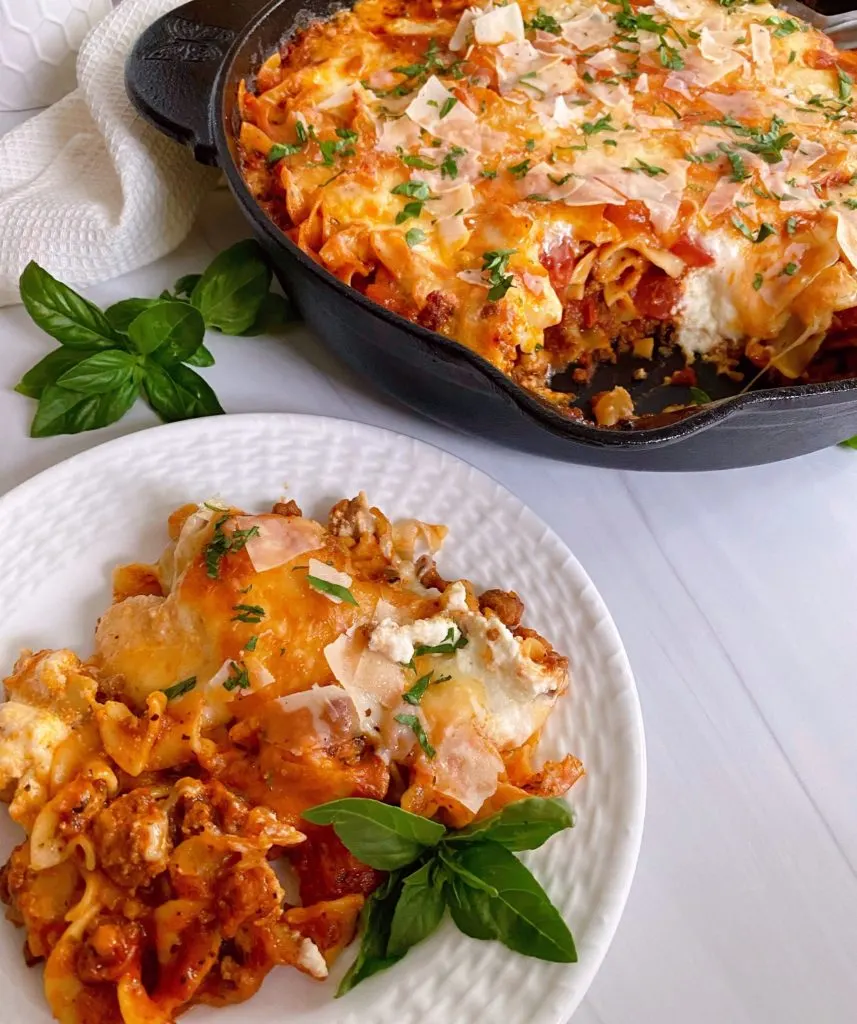 This simple version of an old world favorite is SO good! All the flavors, and textures of your favorite lasagna without all the time and energy required in the original version.
Let's be clear…this is NOT hamburger helper lasagna! Noooooo! This is the real deal with all the cheese, savory spices, and hearty rich meat sauce you love! Dinner this good doesn't come from a box! It comes from Mom's Kitchen!!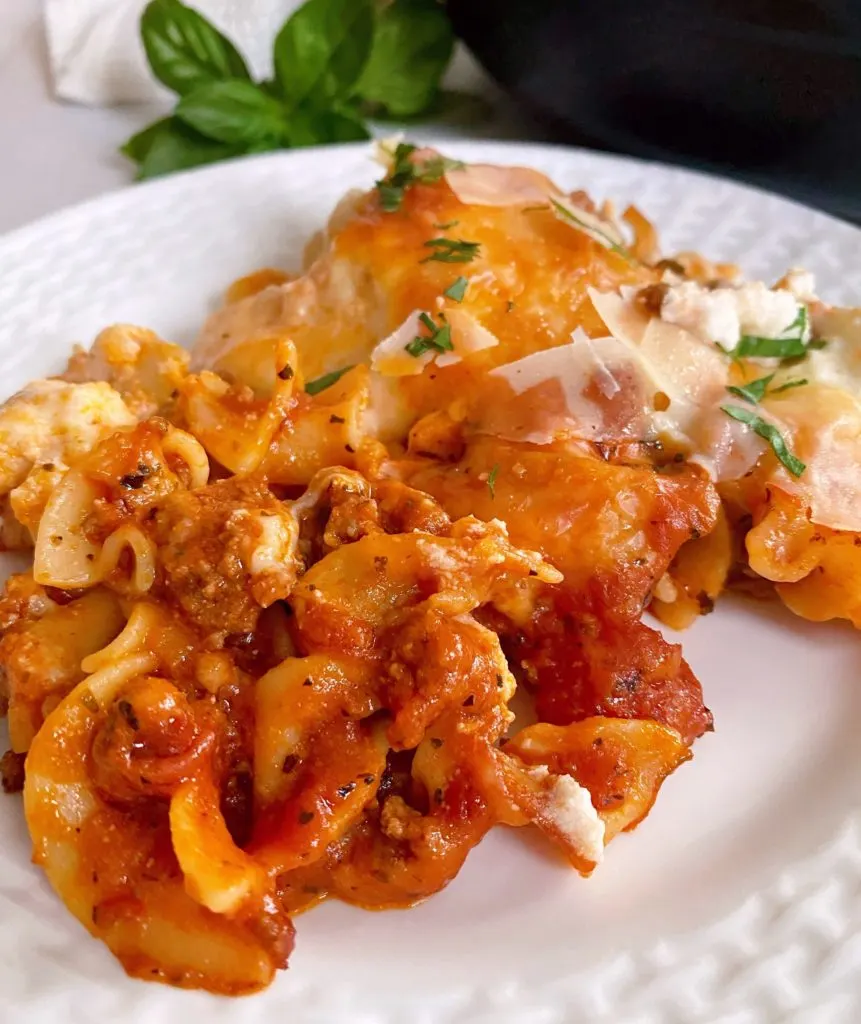 Frequently Asked Questions About Skillet Lasagna
Should I add egg to the ricotta cheese? Most lasagna recipes call for the addition of an egg with the ricotta cheese to help bind it and keep it from running out when cut into squares. Since this is a skillet version it isn't necessary.
Can I use Cottage Cheese instead of Ricotta Cheese? You can, but I may have to hunt you down! Just kidding. YES! You can. I'm not a huge fan of Cottage cheese in ANY lasagna dish. I grew up with Ricotta, and that is just where my heart lies. You do you! Substitute with exact same measurements.
Do I have to use a Cast Iron Skillet? No! You do not have to use a cast iron skillet. Any oven safe skillet will work perfectly.
Do I have to use Egg Noodles? No. With current supply issues you may need to change things up. You can substitute any pasta you prefer. Just know if you use a thicker pasta like Rigatoni, or Penne, you may need to adjust your cook times.
Can this be made with just marinara sauce? Yes! If you prefer a meatless version of this dish I would omit the ground beef. You could also substitute with Italian Sausage…or Egg Plant for a vegetarian version.
Other Family Favorite Skillet Stove Top Recipes
If you're looking for a quick and easy recipe to enjoy this week, add this Easy Skillet Lasagna to your meal plan. I know it's sure to be a hit at your dinner table!
As always, Thank you for stopping by and…
Happy Nesting!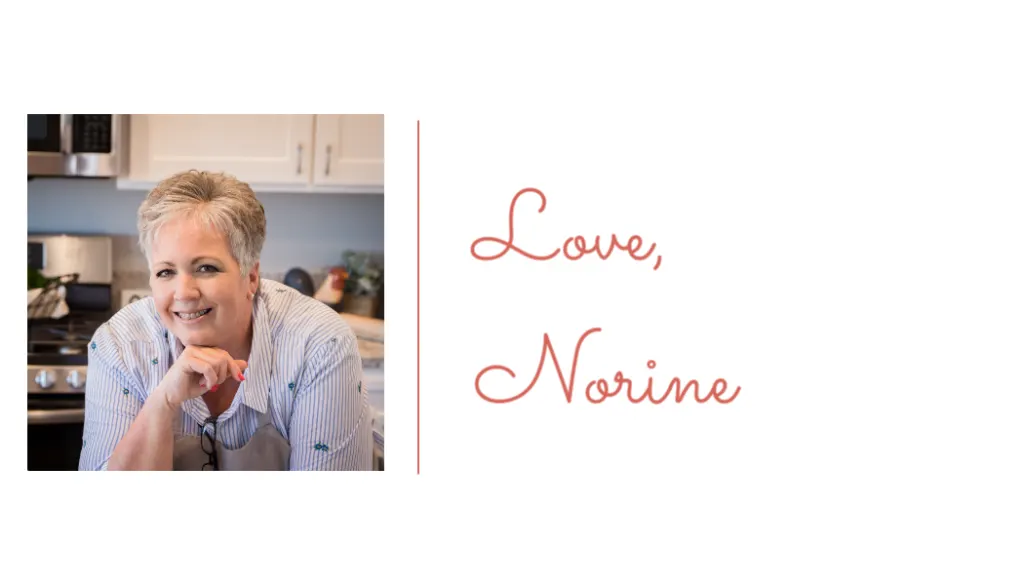 Yield: 8 servings
Easy Stove Top Skillet Lasagna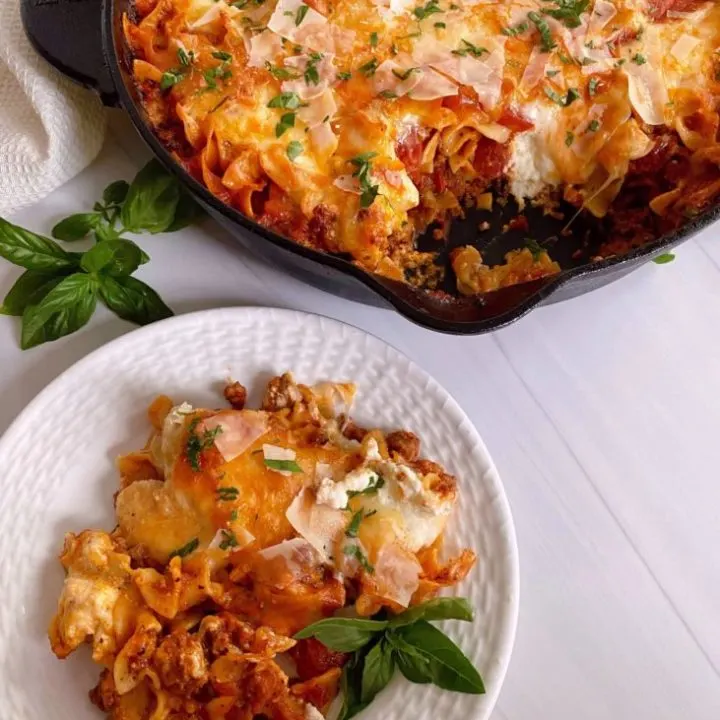 All the flavors of your favorite rich and meaty lasagna without all the fuss...is what you'll find in this One Pot Skillet Lasagna. Made with egg noodles, ricotta cheese, and a rich ground beef tomato sauce, this yummy recipe is sure to become a must on your monthly meal rotation.
Ingredients
2 Tablespoons Olive Oil
1 lb. Ground Beef
2 teaspoons minced garlic
1 Tablespoon Dry Minced Onions
1 (24 oz) jar Spaghetti Sauce
1 (14.5 oz) can petite diced tomatoes, undrained
1 ½ Cup Water
2 Tablespoons Italian Seasonings
Salt and Pepper to taste
3 C Egg Noodles, uncooked
2 C Ricotta Cheese
2 C Mozzarella Cheese, shredded
1/4 C Parmesan Cheese, shaved
1 Tablespoon Fresh chopped Basil (optional)
Instructions
In a 12 inch oven safe skillet, with a lid, over medium-high heat,add olive oil. Crumble ground beef over preheated skillet and add dried onions and garlic. Cook until meat is browned. Drain off any excess fat.
Add Spaghetti sauce and diced tomatoes to ground beef. Add water. Stir.
Add Italian seasonings, salt, and pepper. Stir to combine. Add Egg noodles and stir. Cover.
Reduce heat to medium-low and simmer, covered for 10 minutes until pasta is tender and most of the liquid is absorbed. Preheat oven to 350° F.
Uncover. Add Scoops of ricotta cheese to the top of the pasta. Push down slightly to nestle in the noodles and sauce. Sprinkle with Mozzarella Cheese.
Place uncovered skillet in preheated oven and bake for 15 minutes until cheese is melted, edges are slightly bubbly, and slightly golden brown. Carefully remove from the oven. Top with shaved Parmesan Cheese and fresh basil. Serve.
Nutrition Information:
Yield:
8
Serving Size:
1
Amount Per Serving:
Calories:

465
Total Fat:

27g
Saturated Fat:

12g
Trans Fat:

0g
Unsaturated Fat:

12g
Cholesterol:

112mg
Sodium:

486mg
Carbohydrates:

22g
Fiber:

2g
Sugar:

2g
Protein:

33g