Tender melt in your mouth Pork Roast with a delicious Cranberry Apricot Glaze. A delicious dish that is perfect for your Holiday parties and meals.
It's December!!! Hooray! I promise Christmas Cookies and Candy are coming SOON.(I know, I know… I'm behind! Sorry!)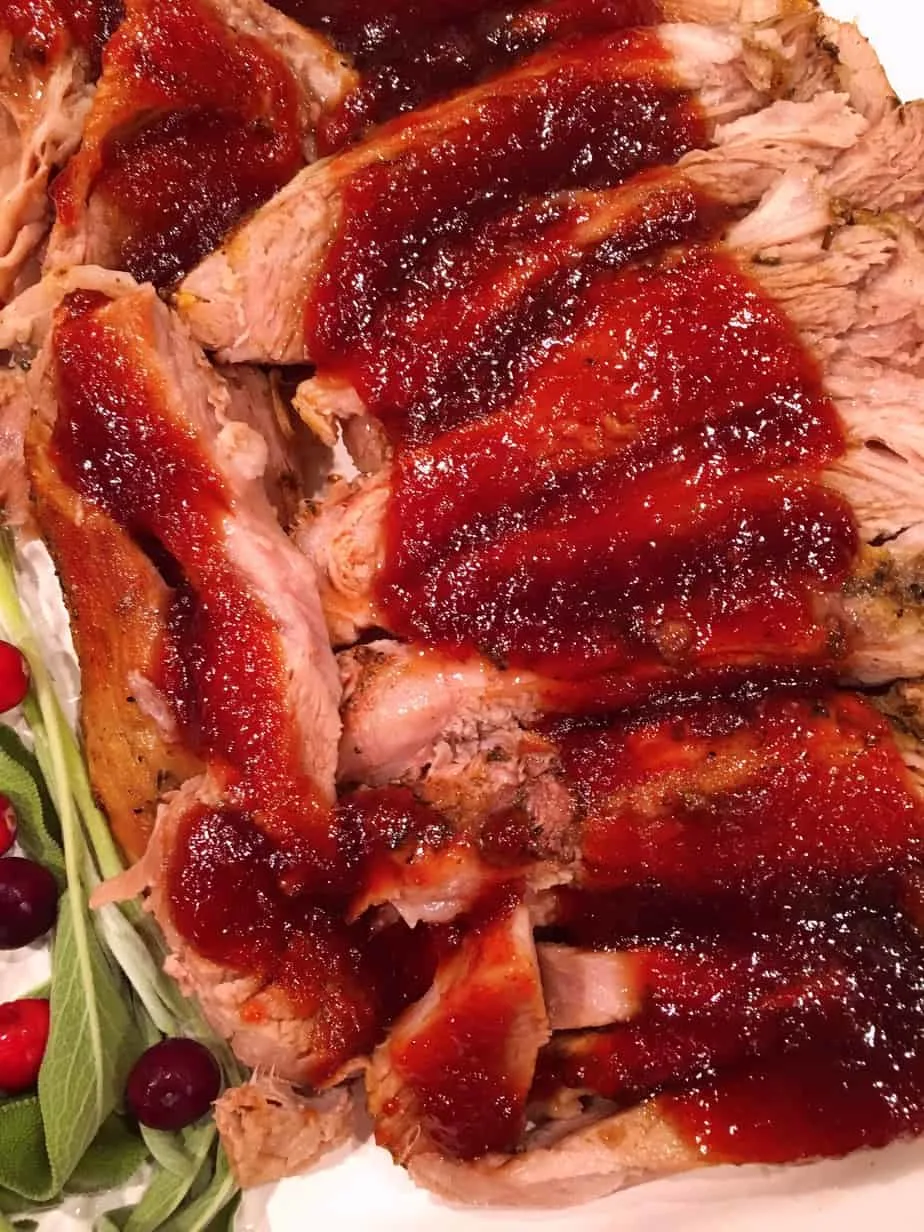 My friend tells me I have an obsession with Cranberries! I might have…or… I might have a serious addiction to cranberries. I love those tart juicy little globes this time of year. They're not only festive…they're darn tooting delicious!
I thought…why not make a cranberry apricot glaze for a pork roast? Something that would be really easy, cost-effective, and yet still elegant enough for a Christmas dinner. A main coarse that would be simple for all the exhausted "Mrs. Claus's" out there! (I know friends! There's a reason the "fat man" delivers the gifts. We're passed out from doing the work of 1,598 elves!)
This roast is so good I had a hard time getting it to the plate for photos. Mar's was eating it right off the cutting board!
How To Make Pork Roast with Cranberry Apricot Glaze
You'll need one large pork shoulder roast, or pork butt roast. I prefer the shoulder for this recipe, but either will work.
Rinse and pat dry.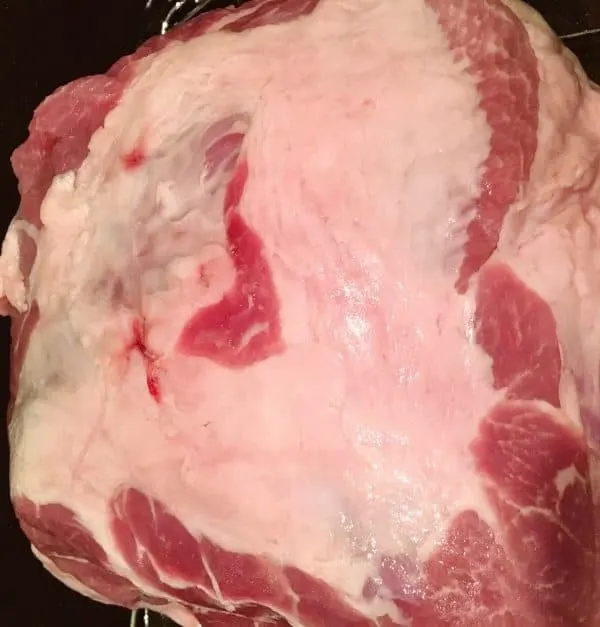 Place in a roasting pan, on a roasting rack, fat side up. Season with Garlic Salt, Coarse Black Pepper, Rosemary, Paprika, sage, and Thyme.
Add 2 cups of water to the base of the roasting pan. Cover and place roast in a preheated 250° oven and bake for 6–8 hours. (You can go sit down, put your feet up, and watch "It's A Wonderful Life"!)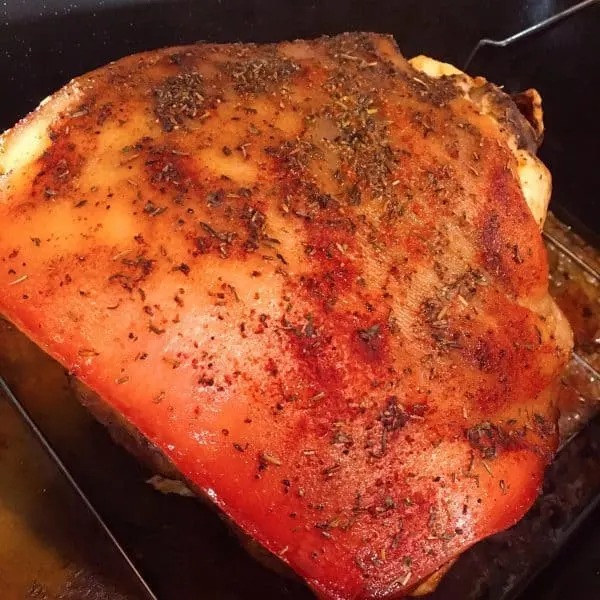 Remove Roast from oven and brush with Cranberry Apricot Glaze! Pop back in the oven for another 20 minutes.
Let's talk Glaze!
Place 1 cup Apricot Jam, On can of jellied cranberry sauce, 2 tsp. pumpkin pie spice mix in a medium sauce pan over medium heat. Bring to a low boil. That's it… Stir until ingredients become incorporated and smooth.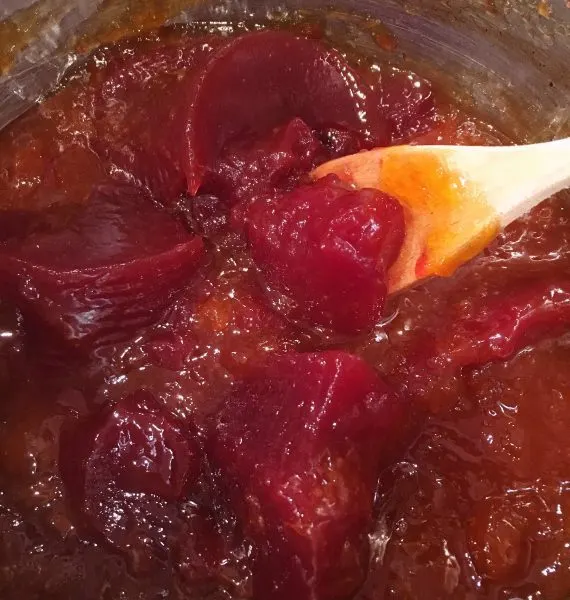 Remove roast from oven and let rest for 20 minutes. This will allow the juices to settle into the meat before cutting and serving.
See that thick sheath of fat? The juices have been dripping down into that meat all day, creating a tender juicy pork roast. That is why you want the "fat" side up and not down on the bottom! Let this meat baste itself.
TIP: Remove the fat layer before cutting.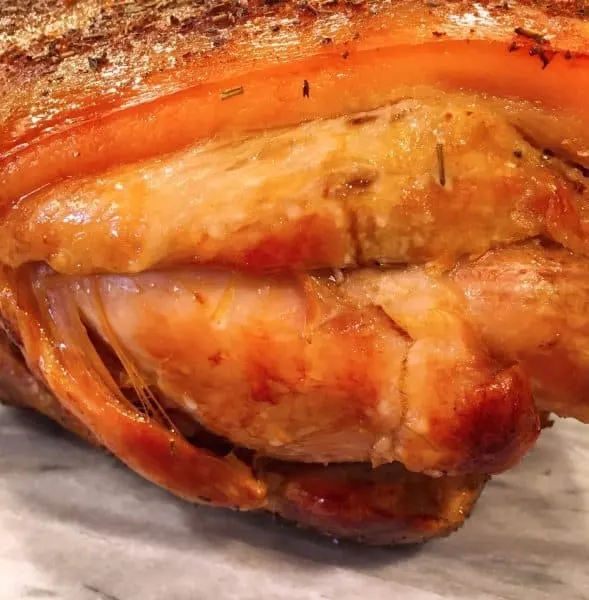 Now I'll warn you…this meat is so tender and juicy that it may not carve into slices, but rather fall apart. That's okay. We'd rather have meat that is so tender and moist that it is falling apart. That's better than dry slices that we're trying to choke down? To me, it's a no-brainer!
Lay the meat out on a platter and spoon more of that delicious glaze over the top of the meat garnish with a little fresh sage and cranberries. You can also just serve the glaze on the side if you have picky eaters.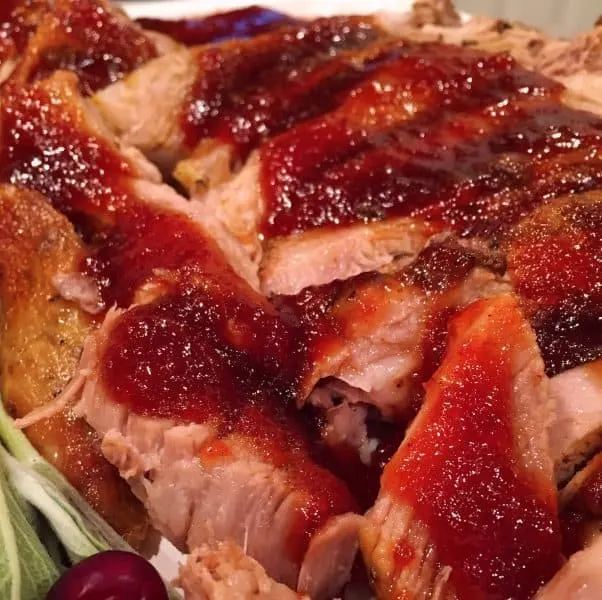 I think my husband said it best…"The roast is good, but it's just a pork roast. That GLAZE! That Glaze takes it to a whole new level of YUM!"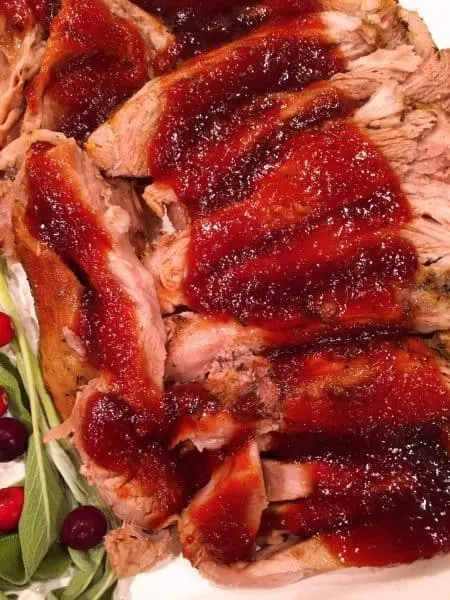 He's right! It's a good pork roast. However, that glaze makes it a GREAT pork roast. One worthy of your Holiday dinner table.
It's a fantastic substitution if Prime Rib isn't in the budget, and the thought of Turkey has you running for cover. I paid about $13.00 for this roast. It easily fed 13–16 guests.
Delicious Side Dishes that pair well with Pork Roast
You'll have the perfect Holiday Meal for Christmas.
If you haven't signed up for my bi-monthly newsletter be sure to do that, so you can see all the upcoming Holiday Yum I have planned. I'm even going to be making Tamales! You don't want to miss out!
Thanks for stopping by…
Happy Nesting!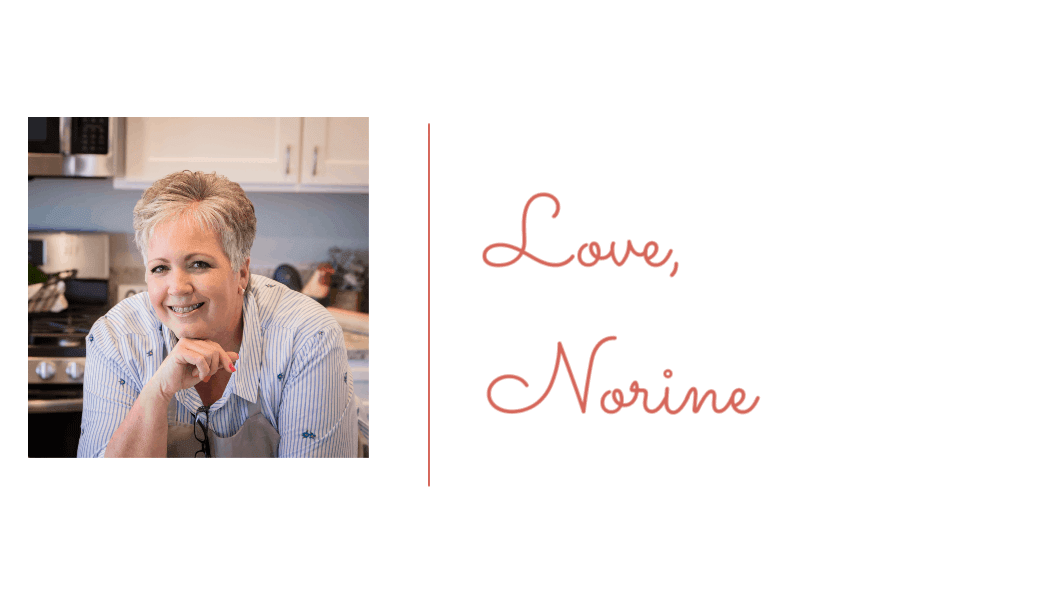 Yield: 12-18 servings
Pork Roast with Cranberry Apricot Glaze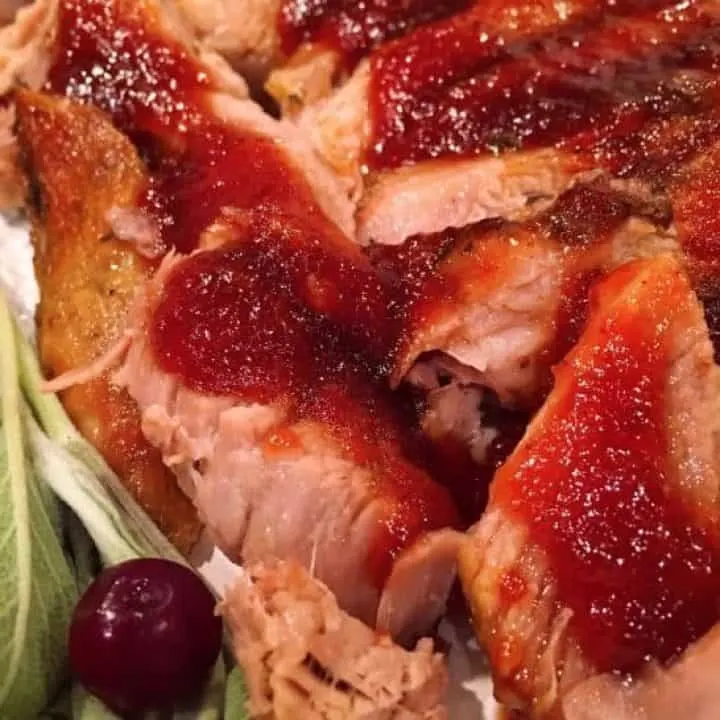 A Tender, Juicy, Delicious pork roast with a Scrumptious Cranberry Apricot glaze. Perfect for your Holiday dinner table!
Total Time
8 hours
10 minutes
Ingredients
1 10lb pork shoulder roast or pork butt roast.
1 tsp Garlic Salt
1 tsp Coarse black pepper
1/2 tsp crushed Rosemarry
1 tsp Paprika
1/2 tsp dry sage
1/2 tsp dry thyme
2 cups of water
Fresh Sage and Cranberries for garnish
Cranberry Apricot Glaze
1 cup apricot preserves
1 can jellied cranberry sauce
2 tsp pumpkin pie spice
Instructions
Preheat oven to 250° degrees.
In a medium, or large roasting pan, with a roasting rack place rinsed and dried pork roast fat side up.
Mix spices, garlic salt, coarse black pepper, thyme, rosemary, sage, and paprika together. Rub into the top of the pork roast.
Add 2 cups of water into the bottom of the roasting pan. Cover and bake at 250° for 6-8 hours until pork is done and juices are running clear.
In a medium sauce pan, over medium heat, mix together the apricot preserves, cranberry jelly, and pumpkin pie spice. Bring to a low boil. Stir until ingredients are well incorporated.
Remove roast from oven. Brush with glaze.
Place roast back in the oven for an additional 15-20 minutes.
Remove roast and allow to rest for 20 minutes. This will allow juices to settle in the meat.
Cut roast into slices, or pull apart, and place on serving tray.
Spoon additional sauce over meat or serve on the side. Garnish with fresh sage and cranberries.
Notes
*Please note that roast will reduce by 40% when cooking.
Recommended Products
As an Amazon Associate and member of other affiliate programs, I earn from qualifying purchases.
Nutrition Information:
Yield:
18 servings
Serving Size:
1 1/2 cups
Amount Per Serving:
Calories:

821
Total Fat:

55g
Saturated Fat:

20g
Trans Fat:

0g
Unsaturated Fat:

30g
Cholesterol:

231mg
Sodium:

272mg
Carbohydrates:

19g
Fiber:

1g
Sugar:

13g
Protein:

60g