A thick rich hearty slow cooker beef stew loaded with chunks of tender beef, vegetables, and seasonings all in a delicious stew.
The Holidays are finally over and the temps are dropping at an extremely impressive rate! (The only other numbers to drop that fast around here would be in my bank account!) The dropping temps mean one thing… it's the perfect time to share this wonderfully easy and delicious Slow Cooker Beef Stew!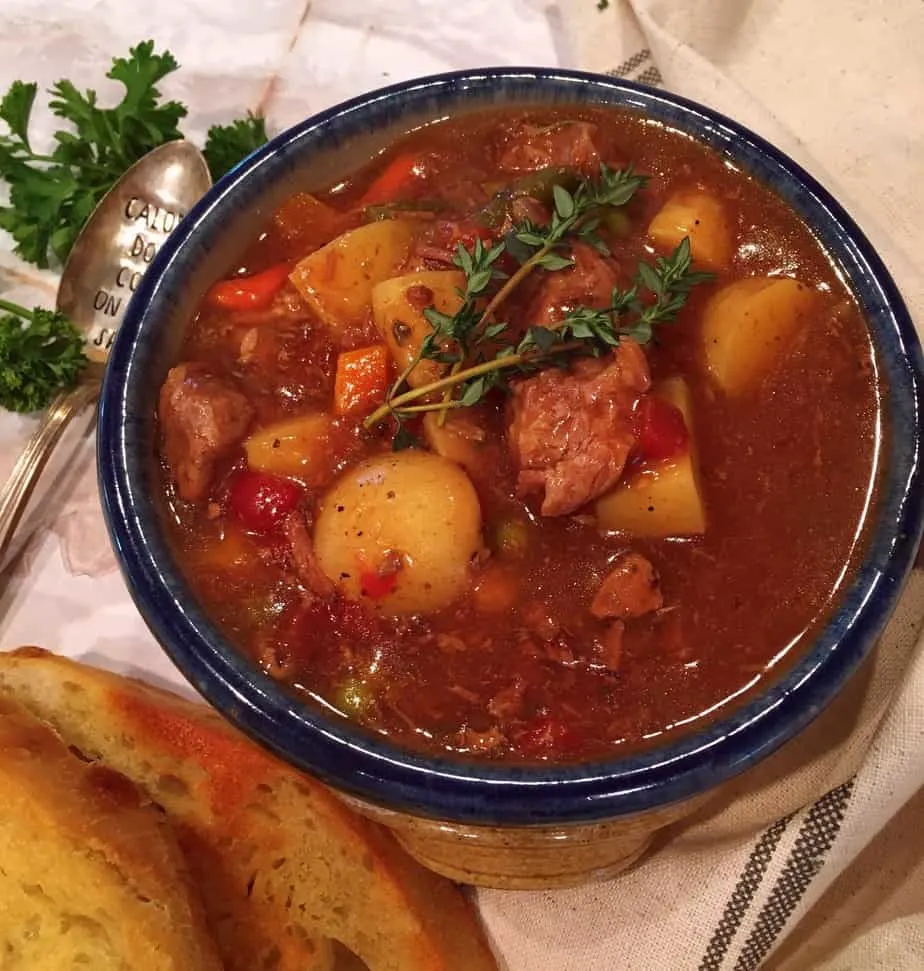 You can make this Slow Cooker Beef Stew two ways… The First, from left over Roast Beef and gravy! (Which at this Nest only would happen if all the menfolk suddenly dropped off the face of the planet!)
It did happen once…when I hid the leftovers from my Hot Open Face Beef Sandwiches!
I love when a meal turns into a BOGO deal! (I guess it's technically a MOMGO! Make one Meal Get One! Yup…that's a BIG "MOM GO" Win!)
The Second option, if you don't have leftover Roast Beef and Gravy, is to make this delicious Old Fashioned Homemade Beef Stew from beginning, cooking the beef with the veggies. Either will work and both will be amazing!
Let's Make Slow Cooker Beef Stew
In a 5 quart slow cooker add 1.5 lbs of stew meat OR Add your leftover beef and gravy. If you don't have 1.5 lbs of left over beef…don't worry! The other ingredients will fill in the gaps.
Add the following:
1 envelope beefy onion soup mix
1/2 teaspoon oregano, crushed rosemary, basil, black pepper, and salt.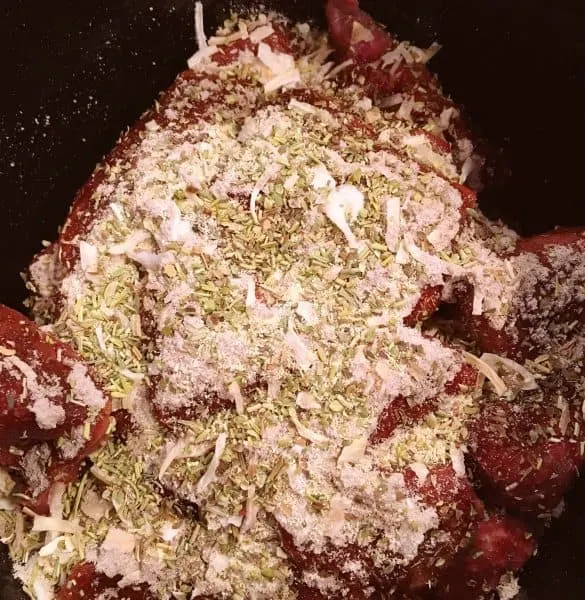 To the seasonings and the beef Add:
2 cups beef broth
2 cups of water
8 oz. can of tomato sauce
1 16 oz. can of diced petite tomatoes.
If you're making this from scratch it should look like the photo with the raw beef, seasonings, and broth.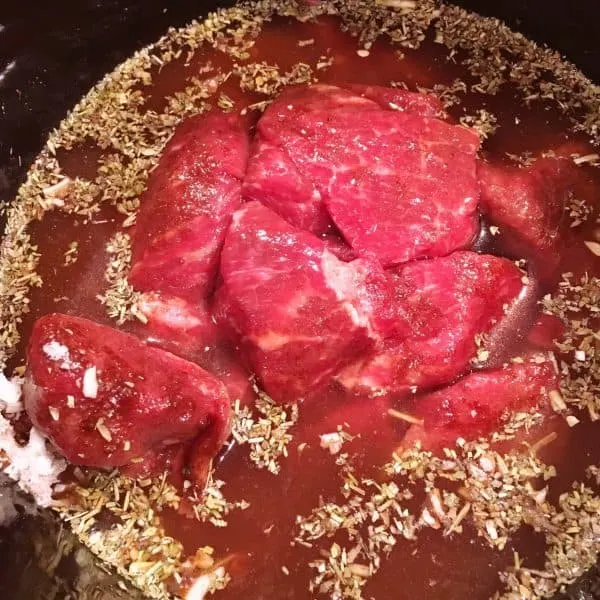 If you're making this from leftover beef and gravy, it will look like the photo below with bits of fat already in the broth. (I'm kinda like this photo…little bits of fat in my broth! Lol)
Don't be shy about using those leftovers! Just dump it all in the slow cooker…gravy, meat, and of course the fat! Remember…FAT equals FLAVOR! (I'm extremely flavorful! Lol)
I think it's sad when we don't use and re-purpose leftovers! (Provided they're not growing green stuff on them! I have my limitations!)
It's no wonder our Great-Grandparents, who survived the depression, are stunned by our waste of food! They'd stand in lines to get a hot bowl of soup and a slice of bread!
We are truly blessed to have so much, and it should be used rather than thrown out! This recipe allows you to do just that. Get creative in the kitchen! You'd be surprised what you can use to create entirely new meals for your family out of leftovers!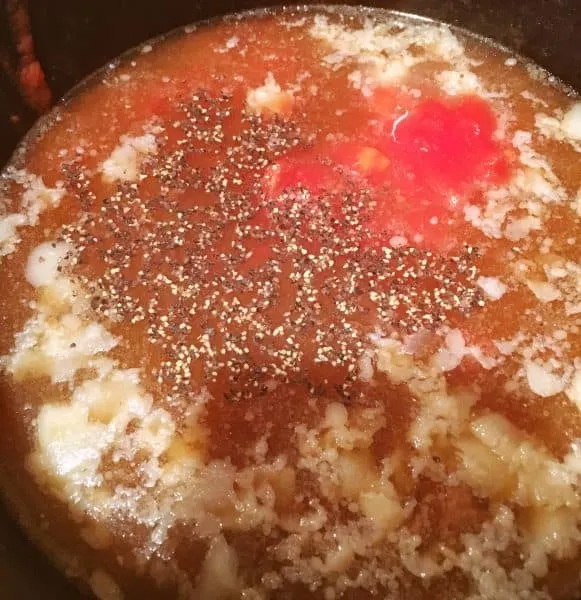 Okay… I'll step down off my soap box now! Back to Stew making…
Add 2 cups of frozen mixed vegetables. 1 1/2 cups of whole baby carrots, 2 large Yukon Gold Potatoes washed and cubed.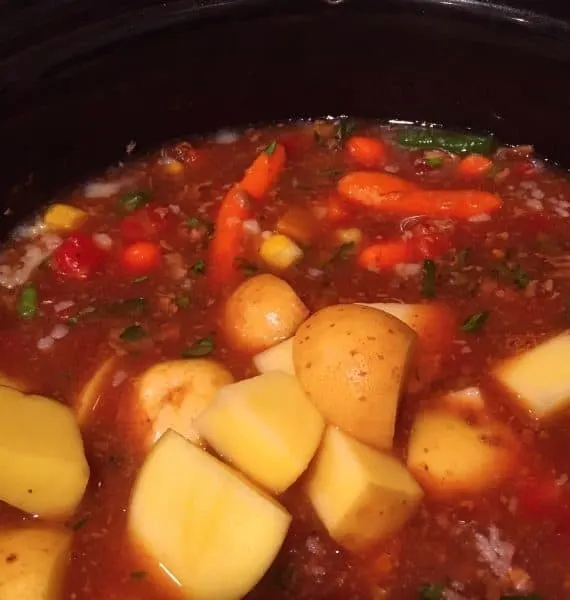 Add in 2 Tablespoons fresh chopped parsley.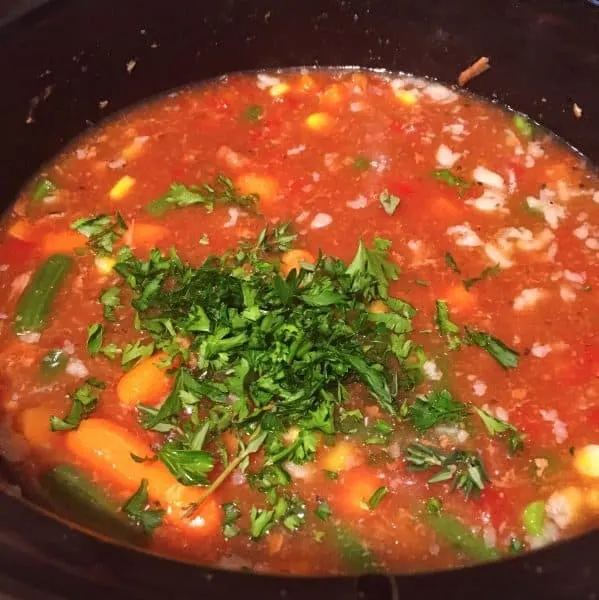 Stir, Cover, and Cook on low for 6–8 hours, depending on how your individual slow cooker cooks… until meat, potatoes, and carrots are tender. Your house will smell heavenly all day as this savory stew cooks. You'll start to warm up with the anticipation of dinner!
The last hour of cooking…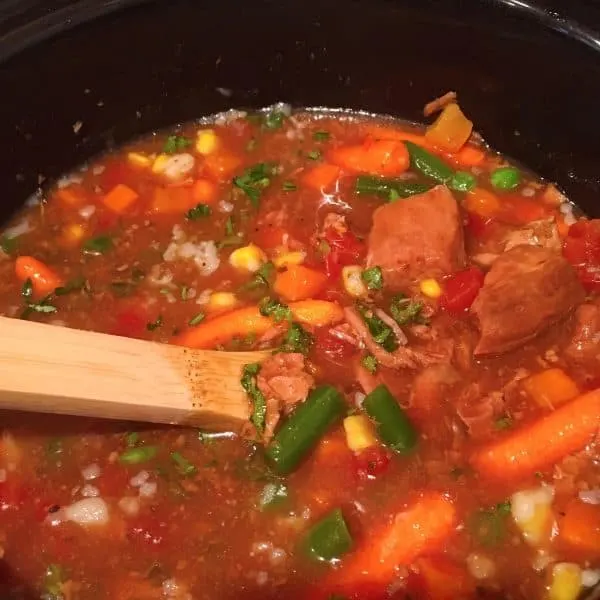 Whisk together 1 cup of water with 1/4 cup of corn starch until smooth. Add to beef stew. This will thicken the broth making it more of a "stew" than a "soup".
Stir until well mixed. Cover and allow to finish cooking until broth is thick! Be sure to stir occasionally during that last hour.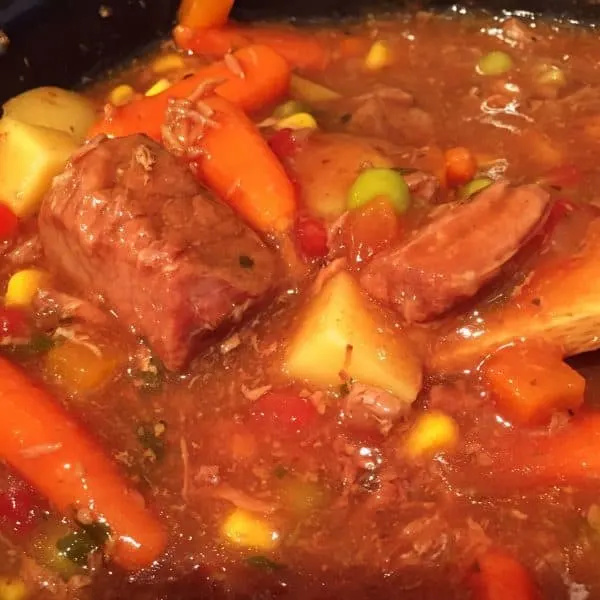 This is a "True Stew" in every sense of the word! All the necessary ingredients are there…and then some!
Stews have been around since 4th Century A.D. So I think it's safe to say…they're not going anywhere! (That was your history lesson for the day! Pat yourself on the back! Hooray us!)
I can't think of a rich hearty bowl of stew like this and not think of Early English Peasants or Cowboys out on the prairie. It's a one bowl meal loaded with everything a body needs to sustain it.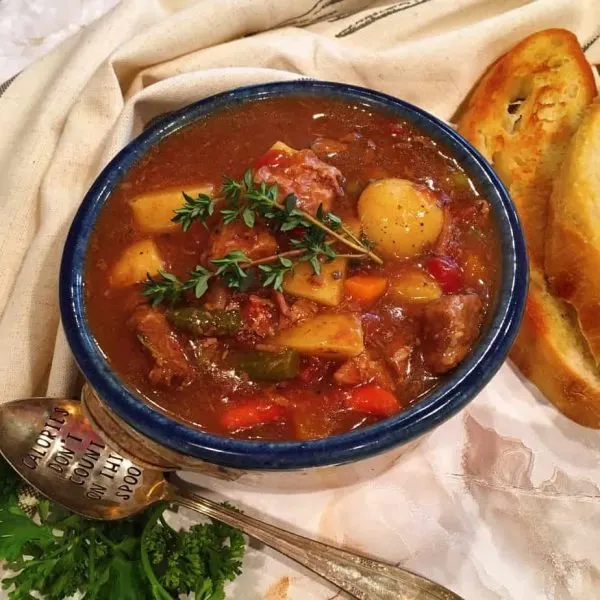 Richly seasoned broth is loaded with big chunks of tender beef and scrumptious vegetables to create this delectable Slow Cooker Beef Stew.
Throw in a thick slice of buttery toasted Sour Dough Bread and you have everything you need to warm you up and melt away those winter blues.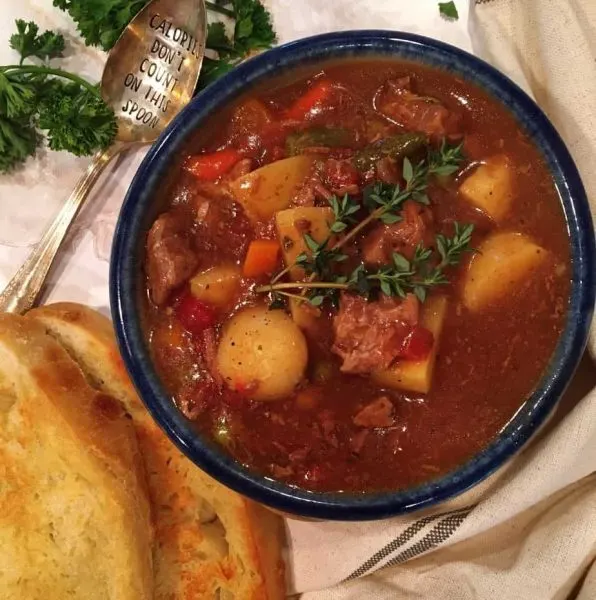 Find a big spoon, dig in, and Enjoy!
Favorite Soup Recipes
If you're not following me on Pinterest I'd love to have you follow my Pinterest boards at Norine's Nest. I spend a lot of time searching for the perfect scrumptious recipes to share…recipes that are easy home-cook friendly. Recipes I want to make myself.
You can also follow me on Instagram, Facebook, and Twitter! Feel free to send me a message with any cooking questions you may have. I'm always happy to help!
Happy Nesting!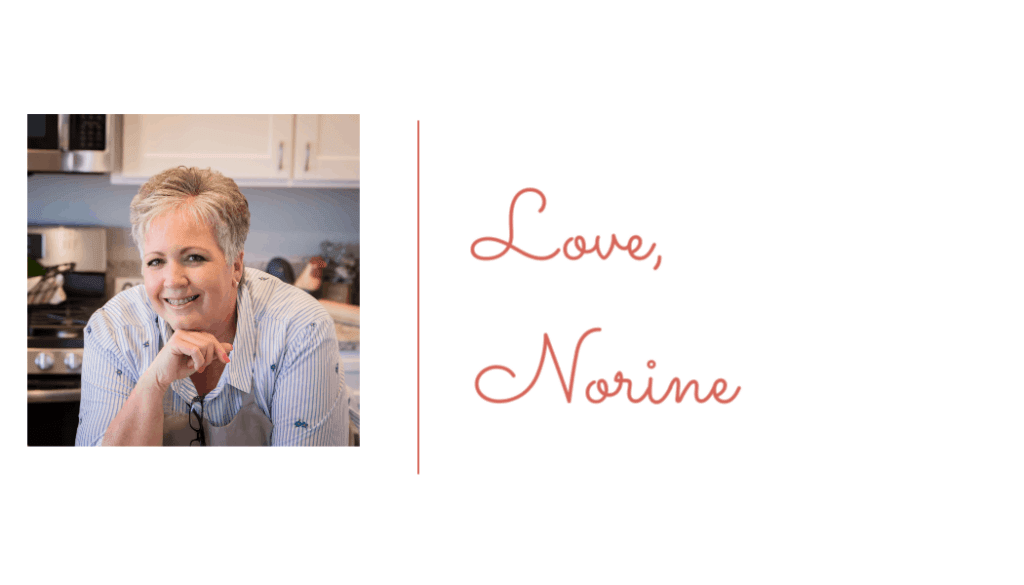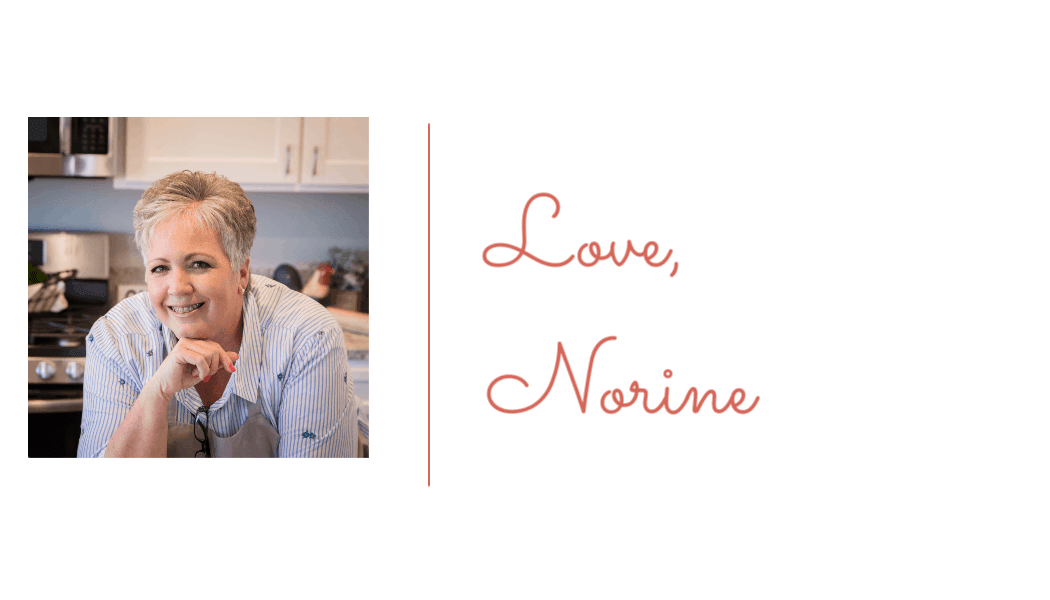 Yield: 8 servings
Slow Cooker Beef Stew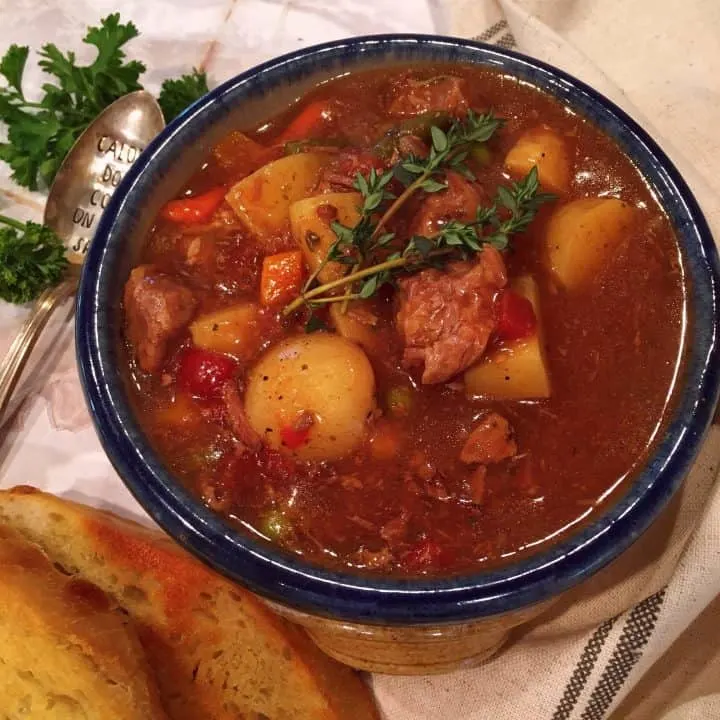 Tender chunks of slow beef, potatoes, savory broth, and mixed vegetables create this delicious hearty beef stew.
Total Time
8 hours
10 minutes
Ingredients
1.5 pounds lean stew beef
2 cups beef broth
2 cups of water
1 envelope beefy mushroom soup mix
1- 8 oz. can tomato sauce
1 - 16 oz. can petite diced tomatoes
1/2 teaspoons oregano
1/2 teaspoon crushed rosemary
1/2 teaspoon dried basil
1/2 teaspoon black pepper
1/2 teaspoon salt
2 Tablespoons chopped fresh parsley
2 cups frozen mixed vegetables
1 1/2 cups whole baby carrots
2 large Yukon Gold Potatoes, cubed
1 cup of water
1/4 cup cornstarch
Instructions
In a 5 quart slow cooker add stew beef, 1 envelope of beefy mushroom dry soup mix, 1/2 teaspoon of oregano, crushed rosemary, dried basil, black pepper, and salt.
Add 2 cups beef broth and 2 cups of water.
Add Tomato sauce and petite diced tomatoes.
Add 2 Tablespoons freshly chopped parsley.
Add 2 cups frozen vegetables, 1 1/2 cups whole baby carrots, and two washed and rinsed, cubed potatoes. Mix well.
Cover and cook for 6-8 hours or until potatoes, carrots and beef are tender and fully cooked.
In a small bowl mix together 1 cup of water and 1/4 cup of corn starch until smooth. Add to stew last hour of cooking stirring occasionally.
Recommended Products
As an Amazon Associate and member of other affiliate programs, I earn from qualifying purchases.
Nutrition Information:
Yield:
8
Serving Size:
2 cups
Amount Per Serving:
Calories:

315
Total Fat:

7g
Saturated Fat:

3g
Trans Fat:

0g
Unsaturated Fat:

4g
Cholesterol:

84mg
Sodium:

703mg
Carbohydrates:

31g
Fiber:

6g
Sugar:

5g
Protein:

32g
Norine's Nest in no way provides any warranty, express or implied, towards the content of recipes in this website. It is the reader's responsibility to determine the value and quality of any recipe or instructions provided for food preparation and to determine the nutritional value, if any, and safety of the preparation instructions.