Ready-made pizza crust is stuffed with all your breakfast favorites. Sausage, ham, peppers, eggs, and cheese in this amazing Breakfast Calzone.
Let's talk about the "Most" important meal of the day…Dessert! I mean… Breakfast! (Although truthfully I consider Dessert a "meal" and it is the "MOST" important meal! Just ask my friend "Menopause" and those who live with us!)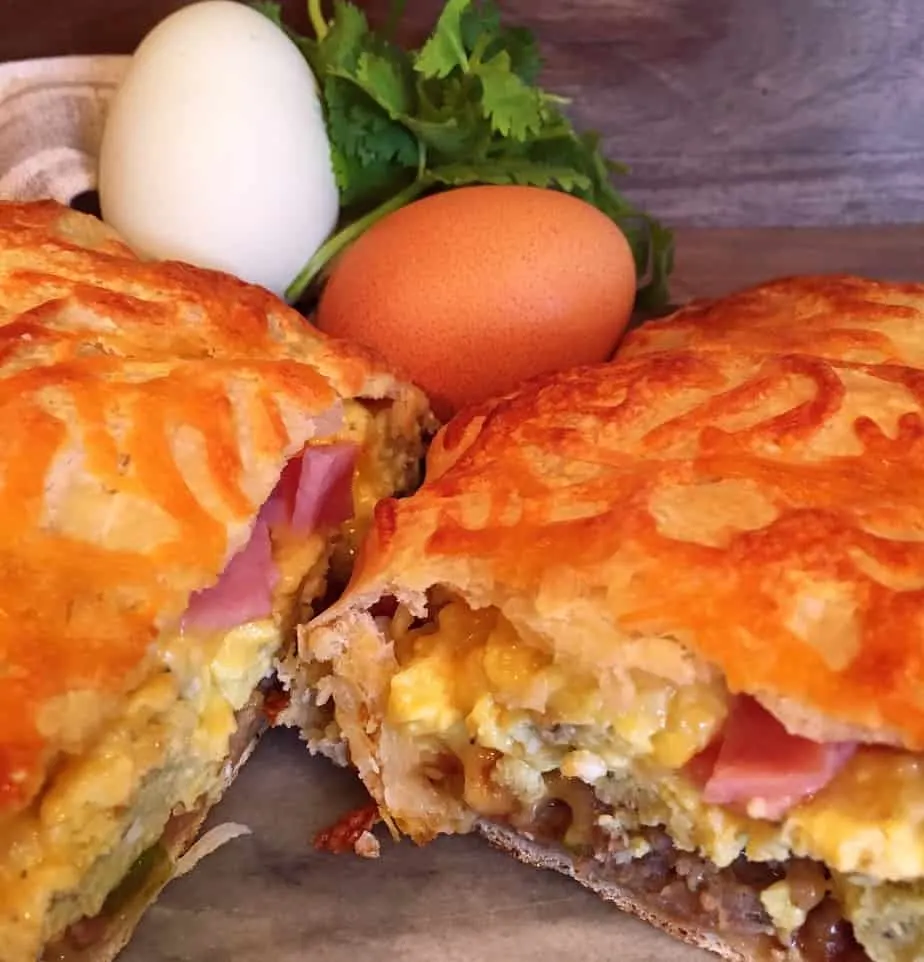 Where were we? Awww yes… Breakfast! I was getting tired of the "same ol' same ol' " every single weekend. I mean a girl can only eat so many pastries….naaaaw…that's not true…there's no limit to pastries!
However, those pastries got me to thinking…about "pizza"! Huh? (I can hear ya…"Where is she going with this? Poor thing… Menopause has killed off all her brain cells! Nope that happened years ago…we refer to it as " the children years"!) You heard me right… Pizza! More especially…Calzones. Why not a breakfast calzone?!!!
This is such a delicious and easy recipe. You will love it. Keep in mind that you can put anything inside this that you like. It's very versatile.
How To Make Breakfast Calzones
Preheat your oven to 350°. Start by chopping up 1/4 cup green pepper and onion.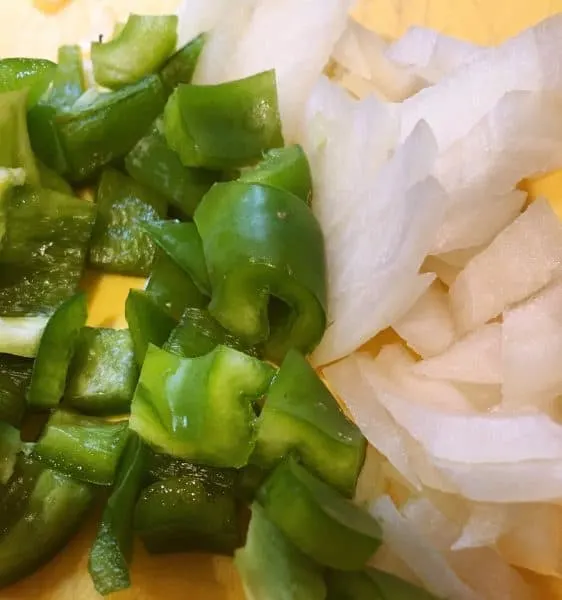 In a medium skillet, over medium heat, cook 1 cup bulk pork sausage with the onion, and green pepper. I love to use Jimmy Dean Natural Pork Sausage. It's VERY lean. However, any bulk chub pork breakfast sausage will work.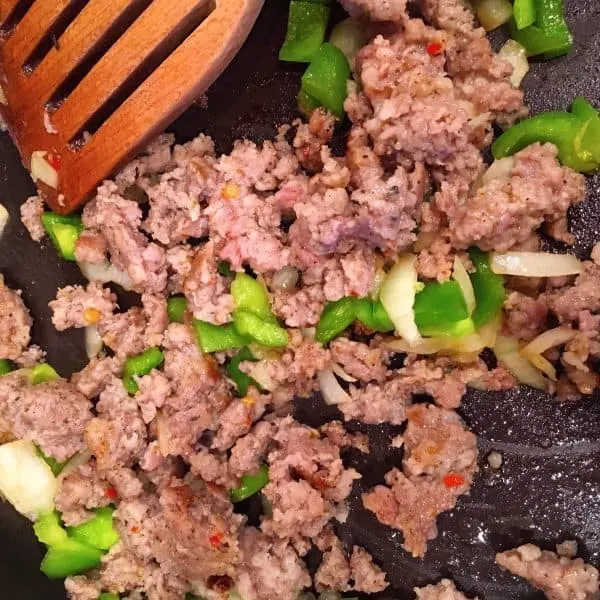 When onions are translucent and the sausage is lightly golden brown remove from skillet and allow to drain on a paper towel.
In a small bowl, beat eggs, salt, and pepper until blended. Add eggs to the same skillet you used for the sausage. Cook over medium heat, pulling, lifting, and scraping the bottom of your non-stick skillet until the eggs are soft cooked. Not runny, but not dry either.
TIP: DO NOT OVER COOK THE EGGS! Remember this is going to be baked in the oven, so you want them "under cooked".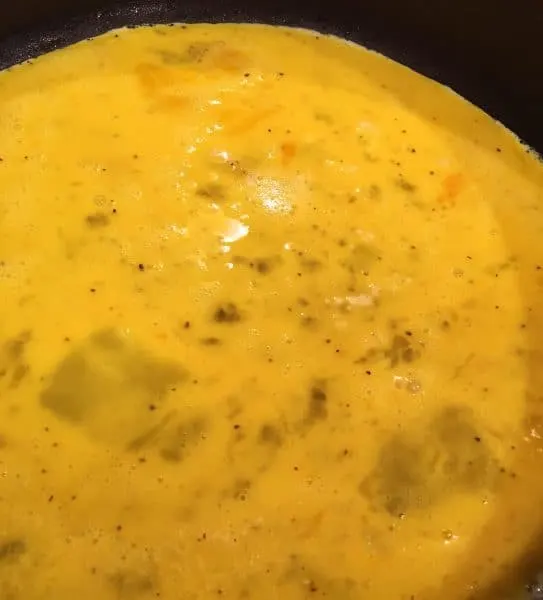 Time to get that refrigerator pizza dough. I use Wewalka dough. I've found it at all major grocery stores, and Walmart, in the refrigerator dough section. Any Pizza dough will work.
One of the things I love about Wewalka dough is that it comes on parchment paper ready to bake! Roll the dough out onto your baking sheet. (I used my pizza pan.)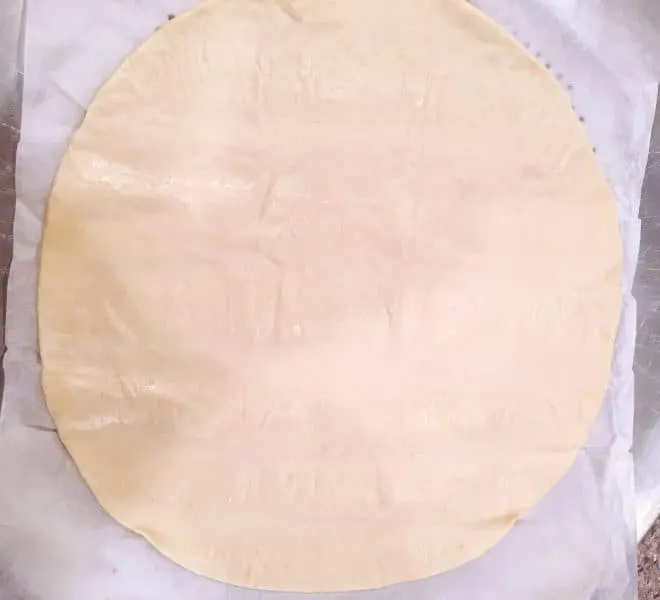 On one half of the dough lightly spoon on 1/4 cup prepared salsa. That really doesn't look pretty…so let's hurry and move along…shall we. (Cause I'm pretty sure donuts are looking better right about now! Hang in there with me.)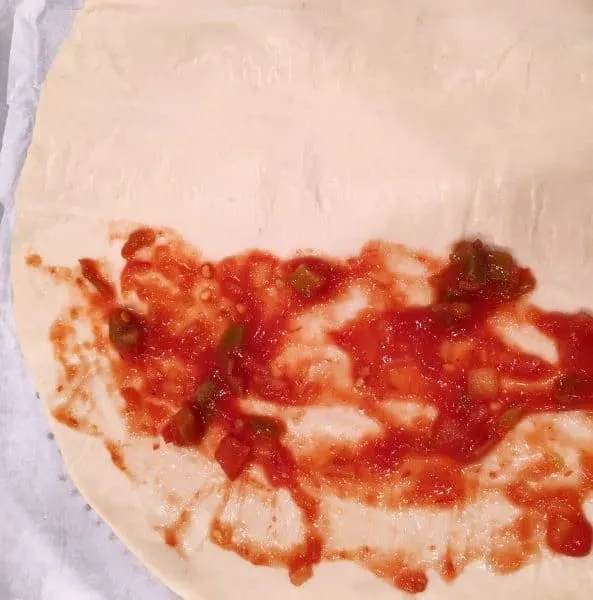 On top of the Salsa, cover half the pizza with the cooked sausage and veggies. Keeping everything on one half of the pizza dough. Add your "soft" scrambled eggs and sprinkle with 1/2 cup grated cheese. I used a combo of cheddar and jack cheese.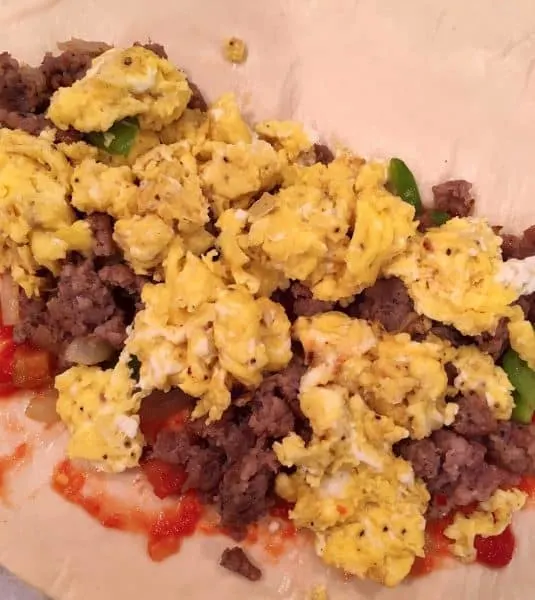 Add chopped Canadian Bacon or regular cooked and crumbled bacon. Your choice.
This one is a fully loaded meaty calzone! I don't mess around when it comes to food! Especially breakfast.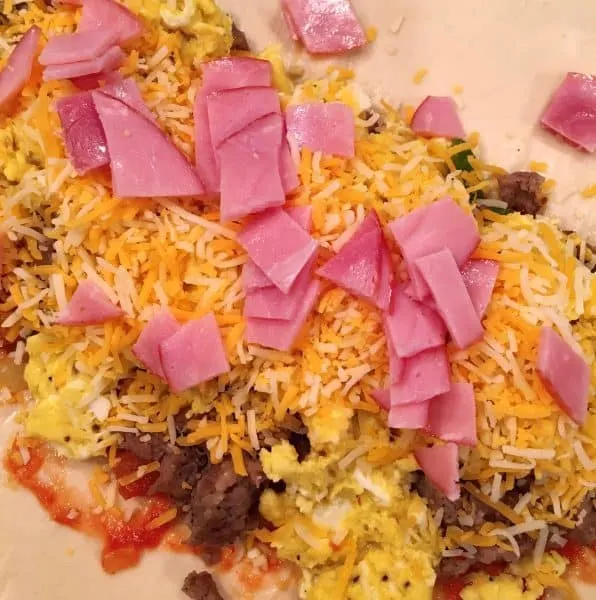 Fold the empty dough half over the toppings, making sure to cover them completely. It's okay if your top doesn't reach the edge of the bottom dough.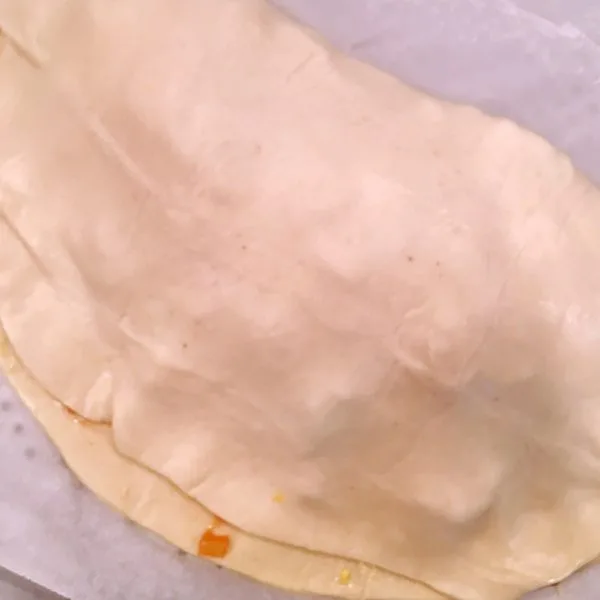 Time for a little "nip and tuck". (I wish I could use this technique on my face! Lol) This is a lot easier than it looks. Begin at one end, grab the bottom of the dough, and pull it about 1 inch, over the top half edge of the dough and press down. Then grab another little piece and do the same thing going all the way around until you reach the other end.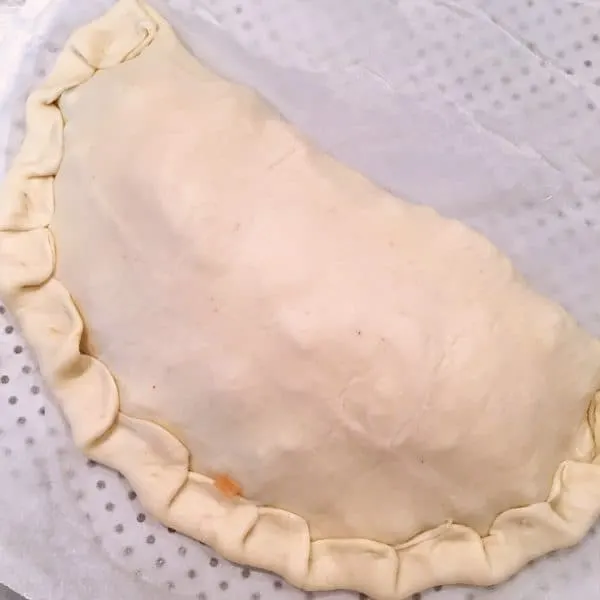 Cut a few small slits on top of the dough. Carefully spread soften butter over the top.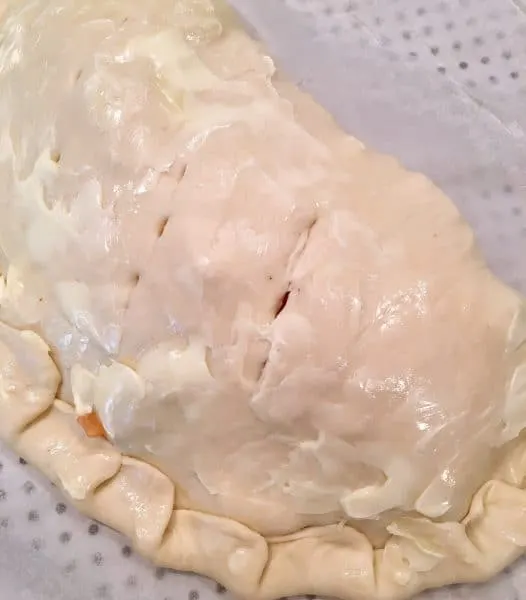 Sprinkle with cheese.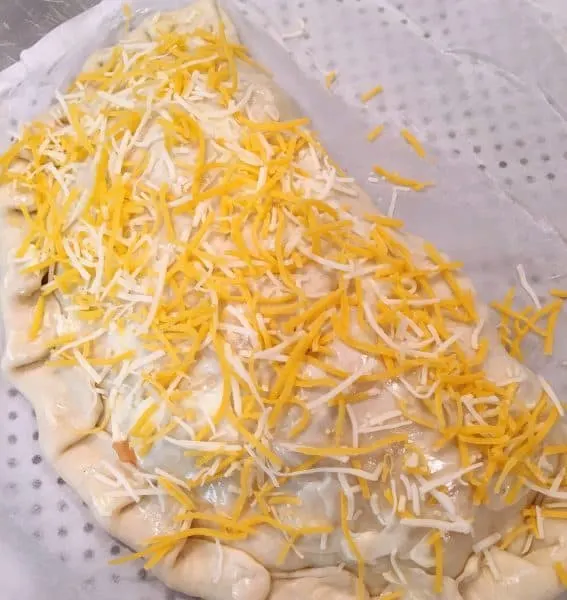 Baking Breakfast Calzone
Pop in a 350-degree oven for about 15–20 minutes until the top is golden brown.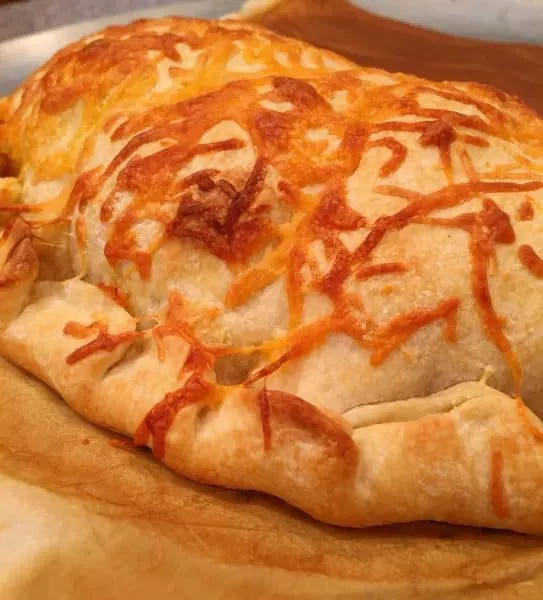 Allow to cool about 5 minutes. Use a sharp knife to cut into wedges.
Look at all those mouth-watering fillings! Mmmmm, melted cheese! I like to think of this as a "glorified" hot pocket! One that is a lot healthier… and even more scrumptious!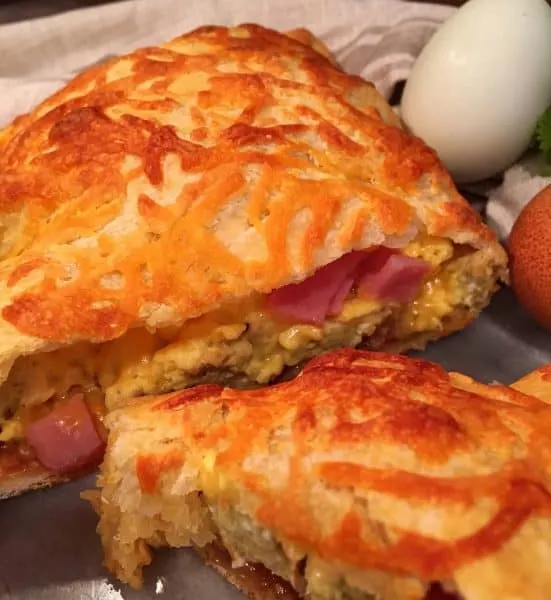 The crust is crispy and flaky with a wonderful hint of cheddar. The eggs, meat and cheese are a fantastic rich flavor combination. Serve with a side cup of Salsa for dipping!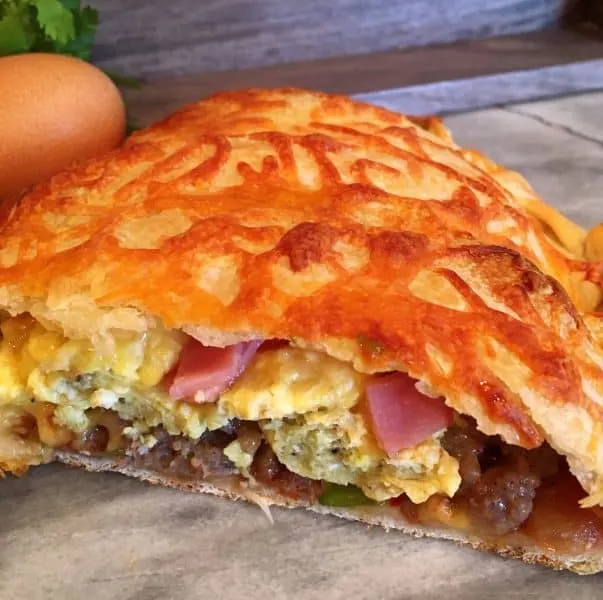 Now… these delicious Breakfast Calzones almost make that first meal of the day, the MOST important! Lol
They reheat wonderfully too so don't be afraid to make them ahead of time and put them in the refrigerator for a quick week day "grab-n-go" breakfast idea! Just cut them up into slices, wrap in parchment paper, and place inside a plastic bag and store in your refrigerator.
Take out one wrapped slice, keep it wrapped in the parchment paper and heat for 1 – 2 minutes in the microwave. Bam! Breakfast is ready!
If you enjoyed this breakfast idea, here are some other Quick "Grab-n-go" Breakfast Recipes
Happy Nesting!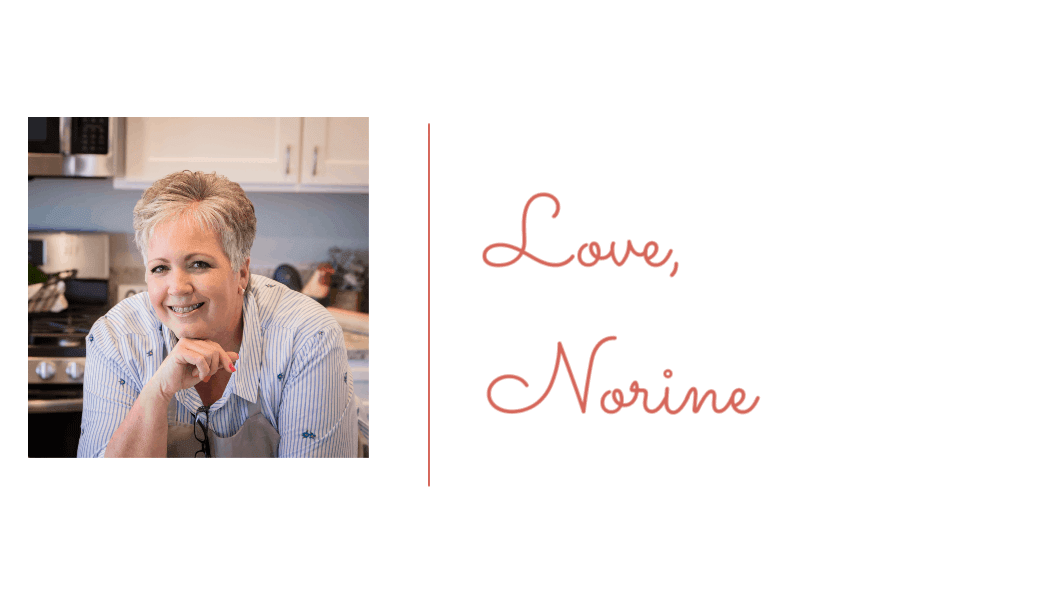 Yield: 5 servings
Breakfast Calzone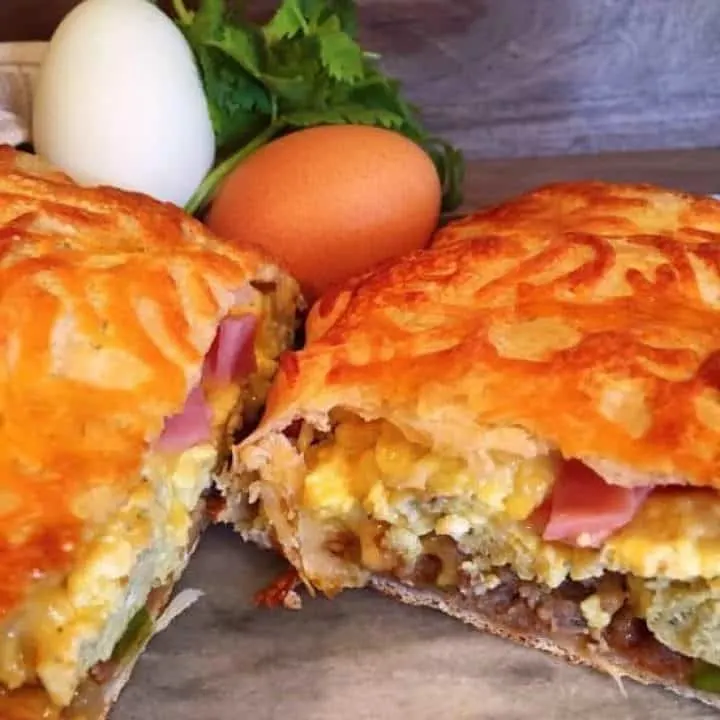 Refrigerator Pizza Dough Stuffed with all the Yummy Breakfast goodies you love! They're "Grown-Up" Hot Pockets!
Ingredients
1 refrigerator dough pizza crust
1/4 cup chopped bell pepper
1/4 cup chopped onion
1 cup cooked, fresh bulk, breakfast pork sausage
4 eggs, beaten
salt and pepper to taste
3/4 cup of grated cheddar cheese, 1/4 cup reserved
3 Tablespoons prepared salsa
3 slices Canadian Bacon, cut into small pieces
1 Tablespoon soften butter
Instructions
Preheat oven to 350°
In a medium skillet, over medium heat, cook sausage, onions, and green peppers until onions are translucent and sausage is golden brown.
Remove from skillet and drain on paper towel.
In a small bowl, beat eggs, salt, and pepper until well beaten.
Cook eggs in same skillet you cooked sausage, over medium heat. Lift, scrape,and fold until eggs are a "Soft" scramble. Do NOT over cook eggs as they will continue baking in oven.
Roll out pizza dough on a parchment lined baking sheet.
On one half of pizza dough spread 3 Tablespoons prepared Salsa. Add sausage and vegetables.
Top with soft cooked scrambled eggs.
Top with 1/2 cup grated cheese.
Add chopped Canadian Bacon.
Pull empty half of pizza dough over the fillings. Go almost, but not quiet, to the edges of bottom crust.
Starting at one corner, pull a one inch piece of bottom dough up and over the top edge of the crust folding over about 1 inch. Press down and grab another piece of dough, folding and pressing as you go around the edge.
Cut 2-3 small slits in the top of the crust. Carefully spread top of calzone with soften butter.
Sprinkle with reserved 1/4 cup of shredded cheese.
Pop into your preheated 350 degree oven and bake for 20-25 minutes or until top is crisp and golden brown.
Allow to cool 5 minutes.
Cut into triangles. Serve with additional salsa for dipping.
Recommended Products
As an Amazon Associate and member of other affiliate programs, I earn from qualifying purchases.
Nutrition Information:
Yield:
5 servings
Serving Size:
1 slice
Amount Per Serving:
Calories:

756
Total Fat:

38g
Saturated Fat:

13g
Trans Fat:

0g
Unsaturated Fat:

22g
Cholesterol:

205mg
Sodium:

1357mg
Carbohydrates:

76g
Fiber:

3g
Sugar:

3g
Protein:

26g