Make Ahead Freezer-Friendly Breakfast Burritos are loaded with Fajita steak or sausage, golden hash browns, sweet peppers, onions, fluffy scrambled eggs, jack cheese or cheddar, and wrapped up in a lightly toasted flour tortilla. They're basically the BEST thing since…well…scrambled eggs!
I know. I know! What's the big deal about Breakfast Burritos! They've been around forever…almost as long as the old broad writing this post! Lol (Note… I said "almost"! Let's not be cruel! Dirt and breakfast burritos' still beat me! Lol)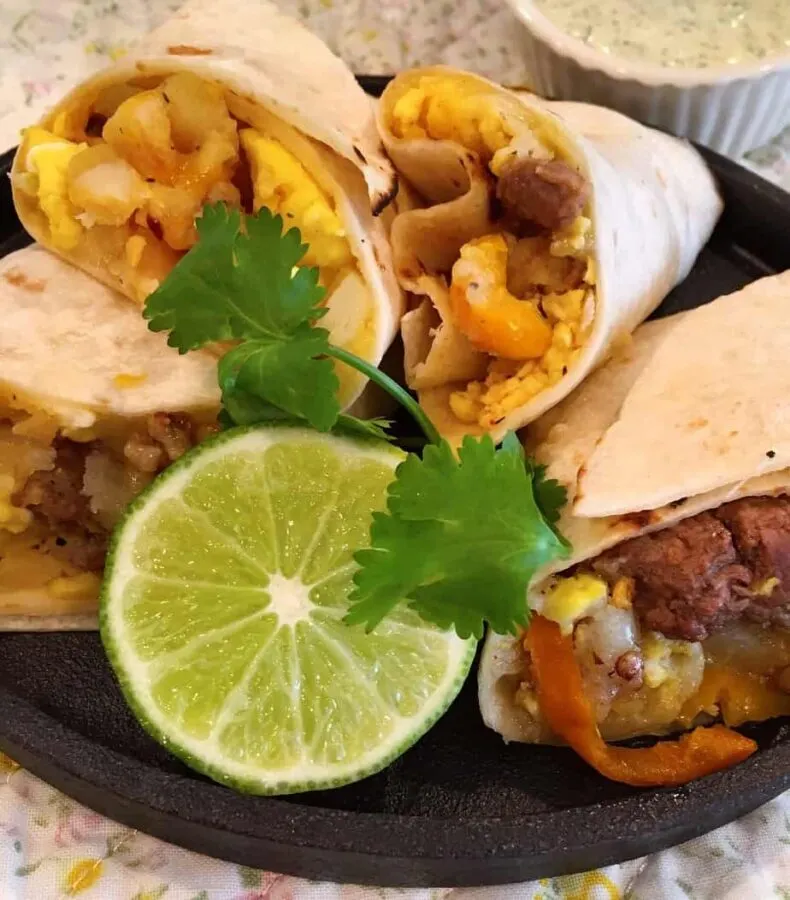 The "big deal"? These breakfast burritos' are made in bulk, ahead of time, and are freezer-friendly! It allows you to make a BIG batch to have on hand. Plus… they're a much healthier choice than your favorite "fast food" joint and for about the same cost.
I make these all in ONE pan! Just follow the steps… Let's do this.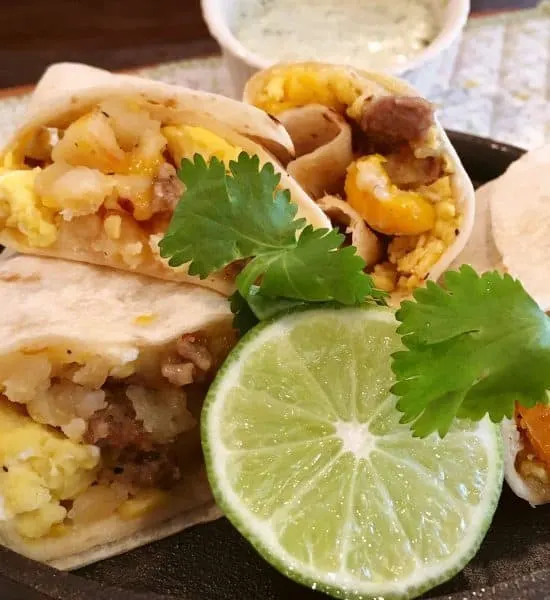 How To Make Freezer Breakfast Burritos
Note: Before we begin I made two different types of burritos because I knew "Mars" would want steak with a little kick. Between the two I ended up with a 25 soft taco size burritos. The ingredients I'm sharing is to make both. If you just want one type then cut the recipe in half.
I purchased a 1 lb package of this Angus Beef Fajita Seasoned Steak Strips from Walmart. Cut the strips into chunks. Add 1 Tablespoon Vegetable Oil to a large skillet and heat over medium high heat.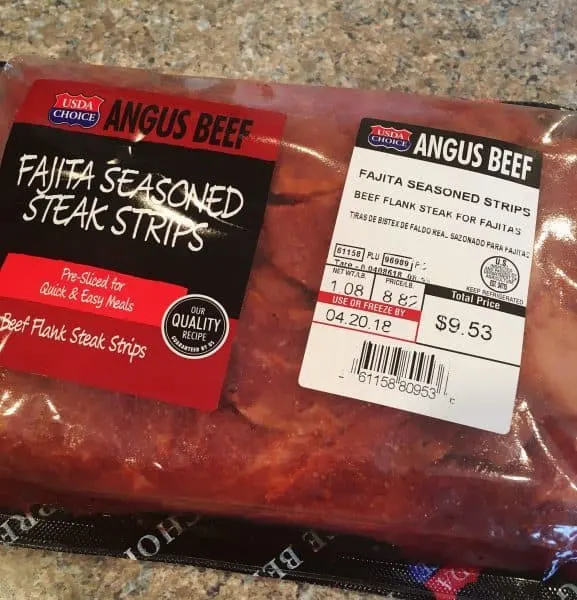 Brown Steak until thoroughly cooked. (We don't want these burritos' mooing at us! That'd be frightening first thing in the morning!)
Remove the meat and set aside. (I'm going to be saying this a lot during this post…my apologies. It's like when you tell your kids "Let's go. LET'S GO. LET'S GO NOW! I'm leaving! I'm serious… I'm leaving! Lol)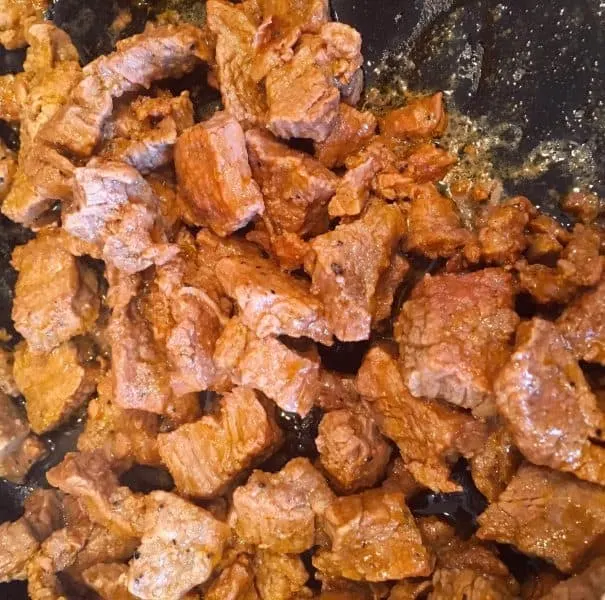 Next, if you're preparing the sausage burritos', brown 1 lb of breakfast sausage until completely cooked through. (We don't want "oinking" either!)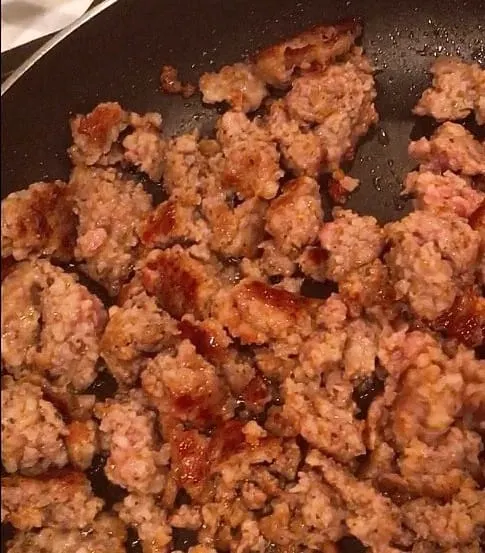 Remove sausage and set aside. (I warned ya…)
In the same skillet add the chopped onions and sliced peppers.
Note these are "sweet" peppers. The husband is not a big fan of bell peppers, but he loves the subtle flavor of these little sweet peppers. I have to agree the add a wonderful flavor to these Breakfast burritos'.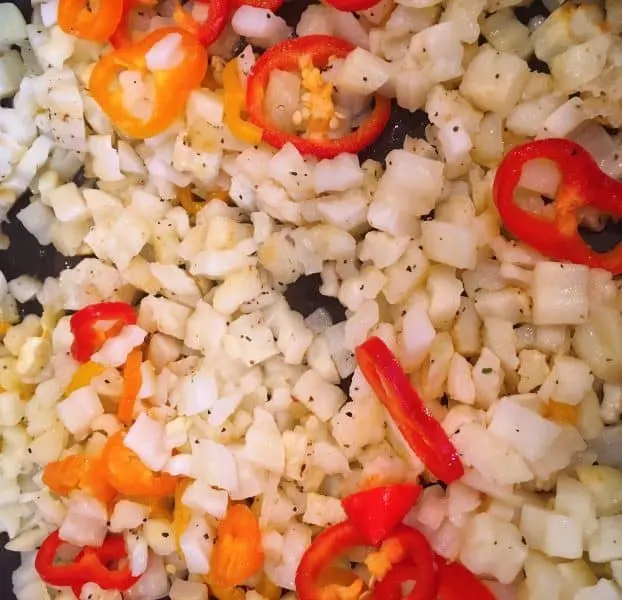 Sauté until tender crisp. Add 4 Cups Country Hash Browns, Garlic Salt and Coarse Black Pepper to taste. Stir frequently, until potatoes are lightly golden brown and tender. You may need to add more butter or cooking oil to finish cooking.
Remove potatoes and peppers from pan and set aside. (Oh look… I said it again! Lol You'll thank me later that you didn't have to do more dishes!)
How To Prepare Eggs for Freezer Burritos
Place ALL your eggs in one basket! Lol Okay seriously… I want you to crack ALL those eggs and place them in a large bowl. Add Salt and Pepper to taste. (About 1/8 – 1/4 of each).
TIP: Let's talk Scrambled Eggs. Everyone has their favorite way of making scrambled eggs. Adding "Cream or Milk" to eggs will give you creamier scrambled eggs. Which is fine. Adding water…which is my preference…will give you "fluffier" scrambled eggs.
If you ever meet me…you'll know I'm about "fluffy"! Lol (Lots of fluff going on over at this Nest! Rest assured you'll never see me in Yoga pants. It's the 11th commandment. Google it! It's under "Why you'd want to burn your eyeballs out!" lol)
Add 1/4 cup of water to your eggs and beat with a whisk until foamy.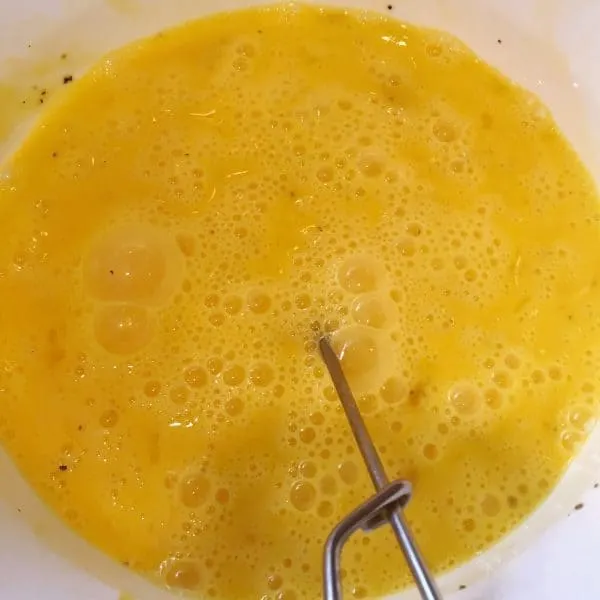 Back to our friend "Mr. Skillet". (It's getting a work out! So are you! It will be worth it in the end)
Melt 2 tablespoons of butter over medium low heat. Pour egg mixture into skillet. Using a rubber spatula scrape eggs from sides and bottom, repeat until eggs are lightly cooked. Note the soft folds in the egg mixture. That's what you're looking for my friends.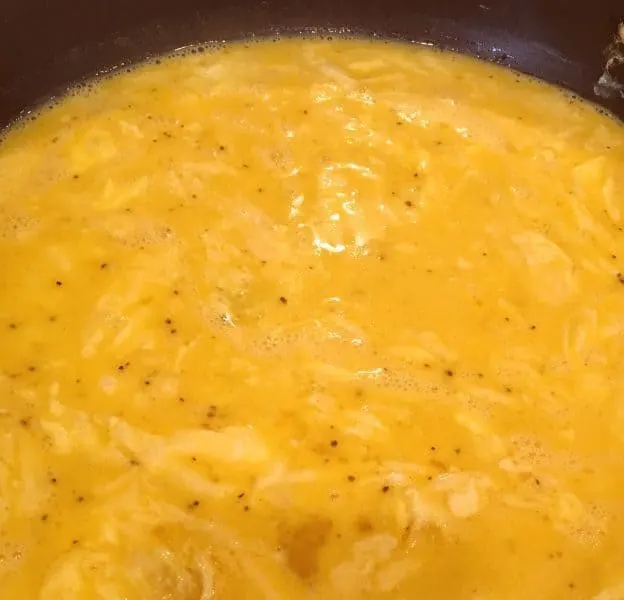 We are not out to desecrate our eggs. (We have a couple of "Egg desecrators" in our family…we try to love them despite this flaw! All I know is when chickens see them…they actually try to fly!)
If they are slightly under cooked that's great. Remember…they will be "reheated" and that will add additional cook time and make them perfect.
Divide Eggs in Half. Place one half in a large bowl. Keep the other half in the skillet.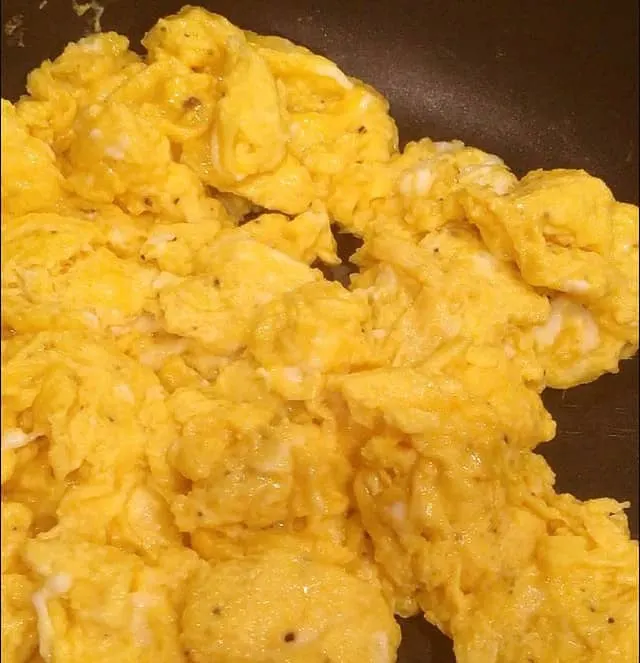 In your large skillet add half the potato mixture and all the steak. I said…excuse me…add ALL the Steak! I see you!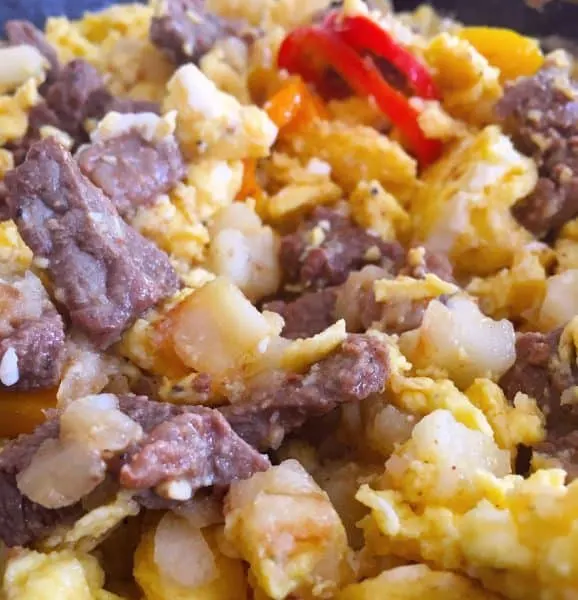 In the large bowl, combine the other half of the potatoes and sausage with eggs.
Heat the Soft Taco Size Flour Tortillas. I lightly toast mine over an open flame on both sides until lightly golden.
TIP: You can use burrito size…but that will make a REALLY big breakfast burrito, and you'll only get about half the amount. AND…your Yoga Pants won't fit! Lol
How To Prepare Breakfast Burritos for Freezing
Time to gather the troops to help with the assembly line production! However, if you have O.C.D. like myself you just do it yourself! Lol
Lay a tortilla down on a flat surface. Place a large scoop of filling down the center of the tortilla. Add your choice of Cheese. I used Pepper Jack with the Steak and Cheddar with the sausage.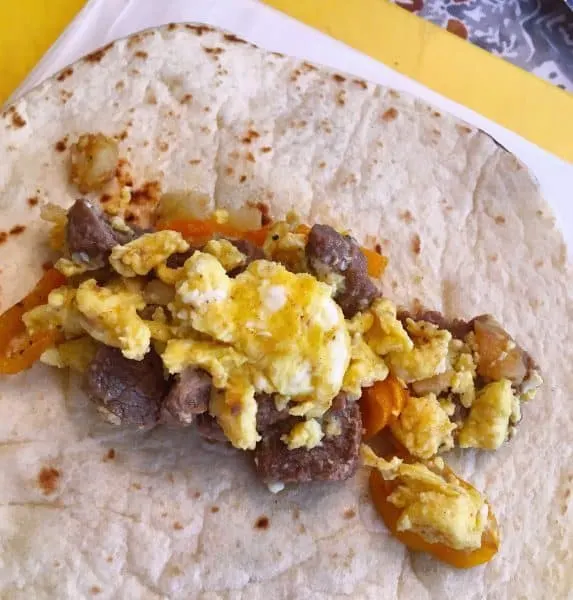 Fold one end up about 1/4 of the way. Roll one side over the filling and then roll to other side.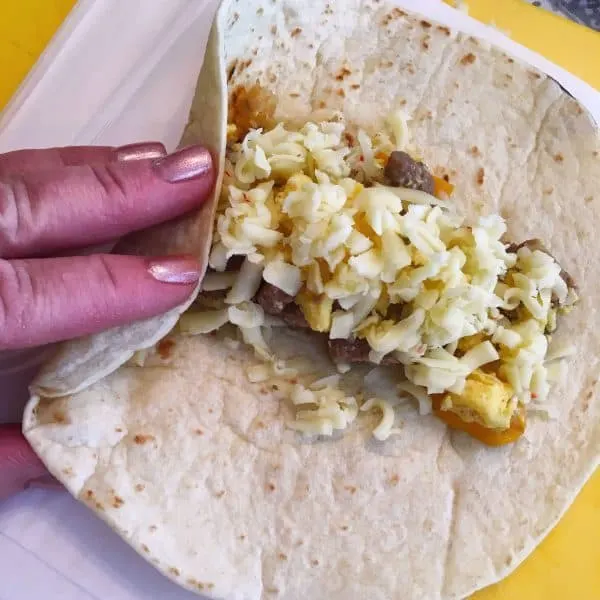 Now here comes my secret tip to help you keep these fresh and tasty when storing and reheating!
Wrap a piece of parchment paper around the outside of the burrito! You can purchase Reynolds Parchment sheets and cut them in fourths, and they are the perfect size for wrapping around the outside of the burrito.
I wrap all my burritos in parchment first and then go back and wrap them in plastic wrap.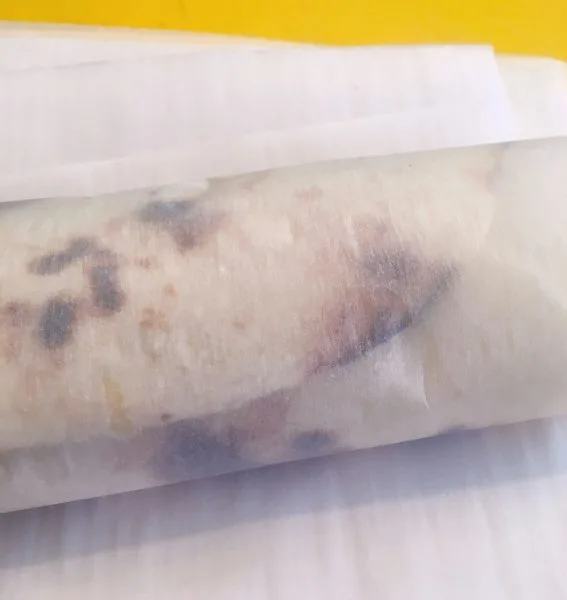 Wrapping Burritos for Freezing
Next, wrap tightly in plastic wrap!
I used a piece of tape to mark the sausage from the steak. I didn't want to use a marker and have the fumes penetrate the plastic wrap. YUCK!
For this Nest, I Placed half in a gallon size zip lock bag, and placed them in the refrigerator for breakfast all week. The other half went into another gallon size zip lock bag in the freezer for later this month.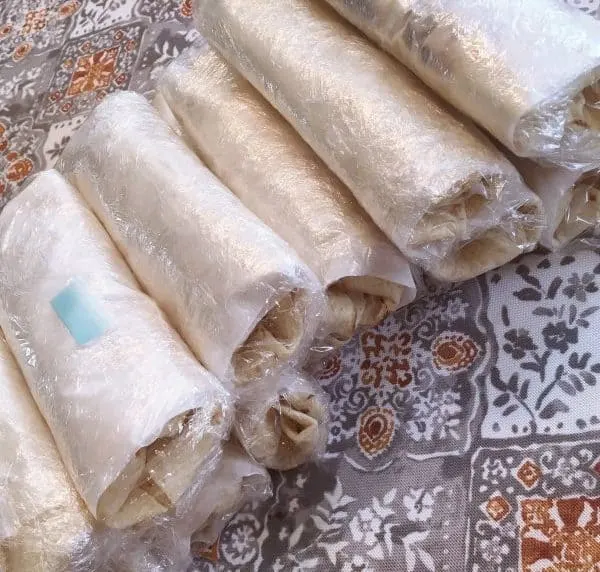 How to Heat Frozen Breakfast Burritos
To reheat, remove plastic wrap. Leave parchment paper wrapped around burrito. For fresh burritos' in the refrigerator, place in microwave on high, for 45 seconds. Remove parchment and Enjoy!
To reheat frozen burritos, remove plastic wrap, keep parchment paper on burrito. Place in microwave, on high, for 1 minute 20 seconds. Check center. If still slightly frozen repeat for another 5 seconds.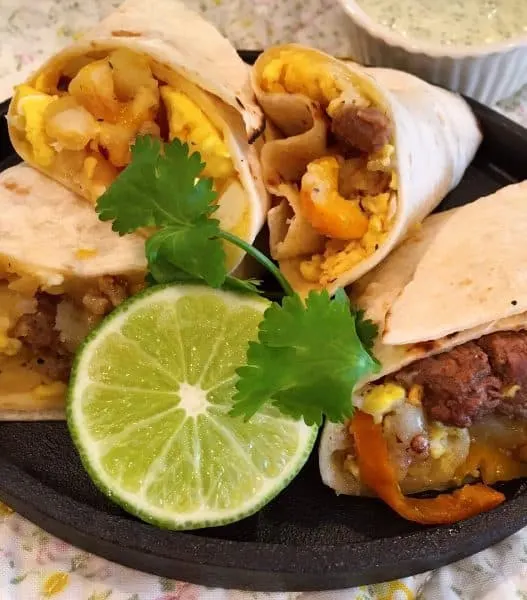 These are truly Fantastic! The combinations of flavors is out of this world. It's a great "stick with ya" breakfast. Something I think kids need before going off to school.
Shoot! It's something we all need in this "skip breakfast" century! We demand so much out of our bodies and give so little back. A healthy hearty breakfast is a GREAT way to start the day.
These can be eaten in the car on the way to school, or work. You can serve them at home with salsa or sour cream. Big bonus…NO KITCHEN CLEAN UP every morning! You do it once and you're done!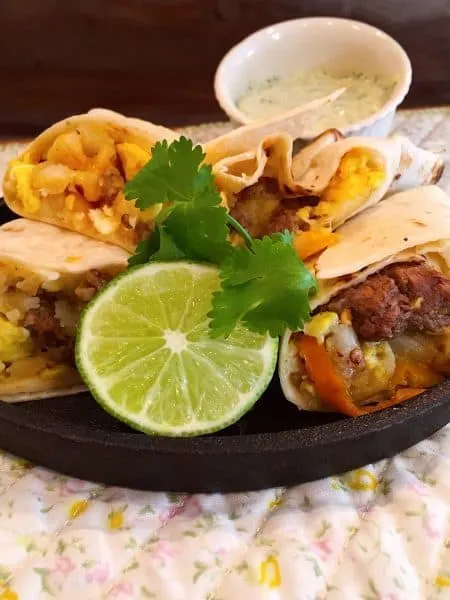 Remember your choice of fillings are unlimited. If the birds at your Nest prefer Ham…switch out the meats for ham. Just want egg…just make egg and cheese. They are totally customizable. Which is great!
I hope your family enjoys this delicious filling breakfast as we do!
It's been a great time saver and a great piece of mind for me knowing that the first meal of the day my love is eating has come out of my kitchen prepared by my hands!
Other favorite Easy Breakfast Recipes
Thanks for stopping by! I love to hear from you so feel free to leave a comment or ask any questions below. Remember you can always follow me on Facebook, Instagram, and Pinterest.
Happy Nesting and Happy Breakfast!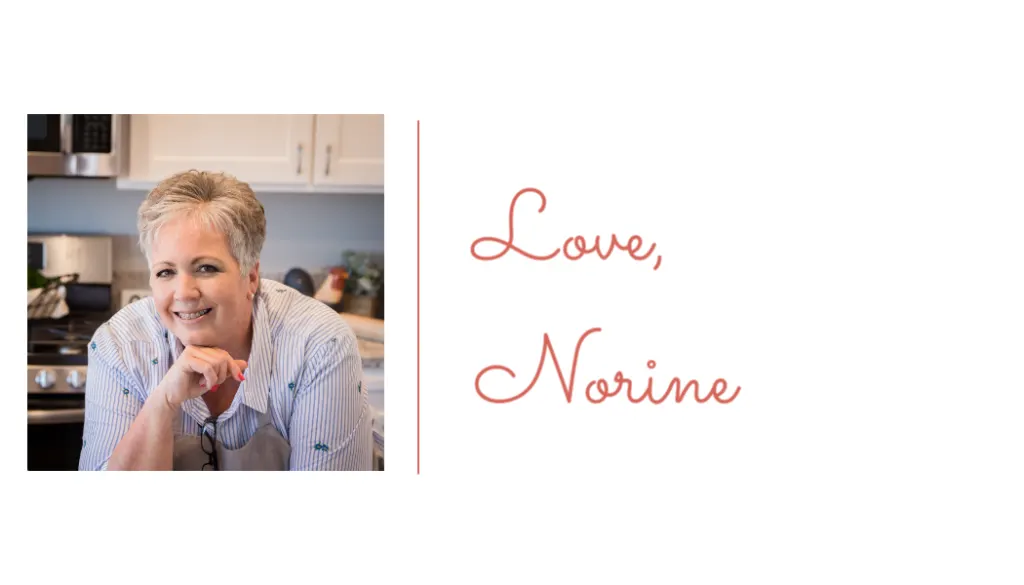 Yield: 20 - 25 Soft Taco Size Burritos
Make Ahead Freezer-Friendly Breakfast Burrito's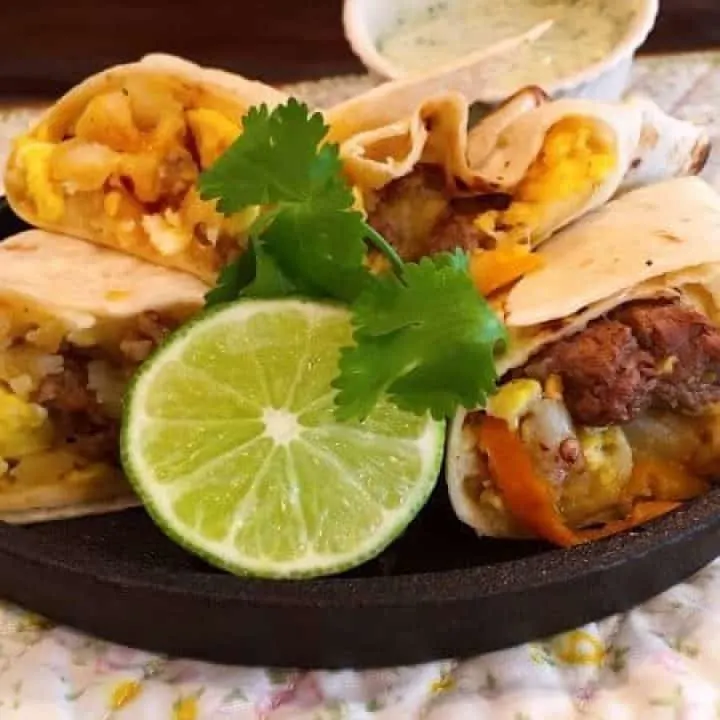 Start the morning off with these easy make ahead freezer-friendly Breakfast Burritos. Flour tortillas are loaded with steak or sausage, golden hash browns with onion and sweet peppers, lightly scrambled eggs and cheese. The perfect "on-the-go" breakfast!
Total Time
1 hour
20 minutes
Ingredients
*Please Note if you are only making one type of burrito you'll need to cut the remaining ingredients in half, minus the meat.
1 lb. Black Angus Prepared Marinated Fajita Steak Strips, cut into cubes
Oil to cook steak
1 lb. Breakfast Sausage
18 eggs
1/4 cup water
2 Tablespoon butter
Salt and Pepper to taste
4 cups frozen Country Hash Brown Cubes
6-8 Sweet Colored Peppers, sliced
1/2 cup chopped onion
Garlic Salt and Coarse Black Pepper for Potatoes to taste
2 cups grated Pepper Jack Cheese
2 cups grated Cheddar Cheese
20-25 soft taco flour tortillas
20 squares of parchment paper
Plastic Wrap
2 Gallon Freezer Storage Bags
Instructions
In a large skillet over medium high heat add 2 Tablespoons vegetable oil. Cook steak cubes until done. Remove from skillet and set aside.
In same skillet brown sausage until crumbly and completely cooked. Remove from skillet and set aside.
In same skillet over medium high heat add 2 Tablespoons oil. Add onions and sliced peppers. Saute until tender crisp. Add 4 cups of Hash Browns and cook until lightly golden brown and tender. You may need to add extra butter or oil to brown. Season with Garlic Salt and Coarse Black Pepper to taste.
Remove from pan and set aside.
In a large bowl crack and scramble all 18 eggs. Add 1/4 cup water, salt and pepper. Whip with wire whisk until light and foamy.
In the same skillet you've cooked the meat and potatoes add 2 Tablespoons of butter and melt over medium low heat. Add scrambled egg mixture. Using a rubber spatula scrape bottom and sides, repeating until eggs are a soft scramble. Lightly cooked. (Remember you'll be reheating these so we don't want the eggs completely cooked or they will be overcooked once reheated in microwave)
Divide cooked eggs in half. Keep one half in original skillet. Place the other half in a large bowl.
Add half of potatoes to each of the scrambled eggs. In the skillet add the steak. In the large bowl add the sausage. Mix each container well.
Heat tortillas over open flame until lightly golden or heat in microwave until soft.
On a flat surface lay a flour tortilla. Add a large scoop of steak and egg mixture. Top with a healthy pinch of Pepper Jack Cheese. Fold bottom up 1/4 of the way. Fold one side of tortilla over the filling and roll towards the other edge.
Cut Reynolds Parchment Squares into fourths.
Roll burritos in parchment paper and then wrap tightly in plastic wrap. Mark each burrito. Place in Freezer bag and freeze. You can also divide them in half and place half in the refrigerator and half in the freezer.
To reheat fresh burritos' in the refrigerator. Unwrap from plastic wrap. Keep parchment wrapped around the burrito. Heat for 45 seconds on high.
To reheat Freezer burritos remove plastic wrap. Keep parchment on burrito. Heat in microwave on high for 1 min and 20 seconds. Check center to see if it is done. If not repeat for 5 more seconds.
Nutrition Information:
Yield:
25 servings
Serving Size:
1 burrito
Amount Per Serving:
Calories:

542
Total Fat:

30g
Saturated Fat:

10g
Trans Fat:

0g
Unsaturated Fat:

17g
Cholesterol:

192mg
Sodium:

913mg
Carbohydrates:

43g
Fiber:

4g
Sugar:

2g
Protein:

25g