Chicken Broccoli Casserole is a layered casserole made with frozen or fresh broccoli, shredded chicken, a delicious creamy sauce and topped off with grated cheese and toasted buttery bread crumbs. It's the perfect family casserole.
I love dishes with chicken and broccoli cuddling up next to each other. So does my family. Must be why we also love my Grilled Chicken Broccoli Alfredo. Chicken, Broccoli and creamy sauces. What can I say?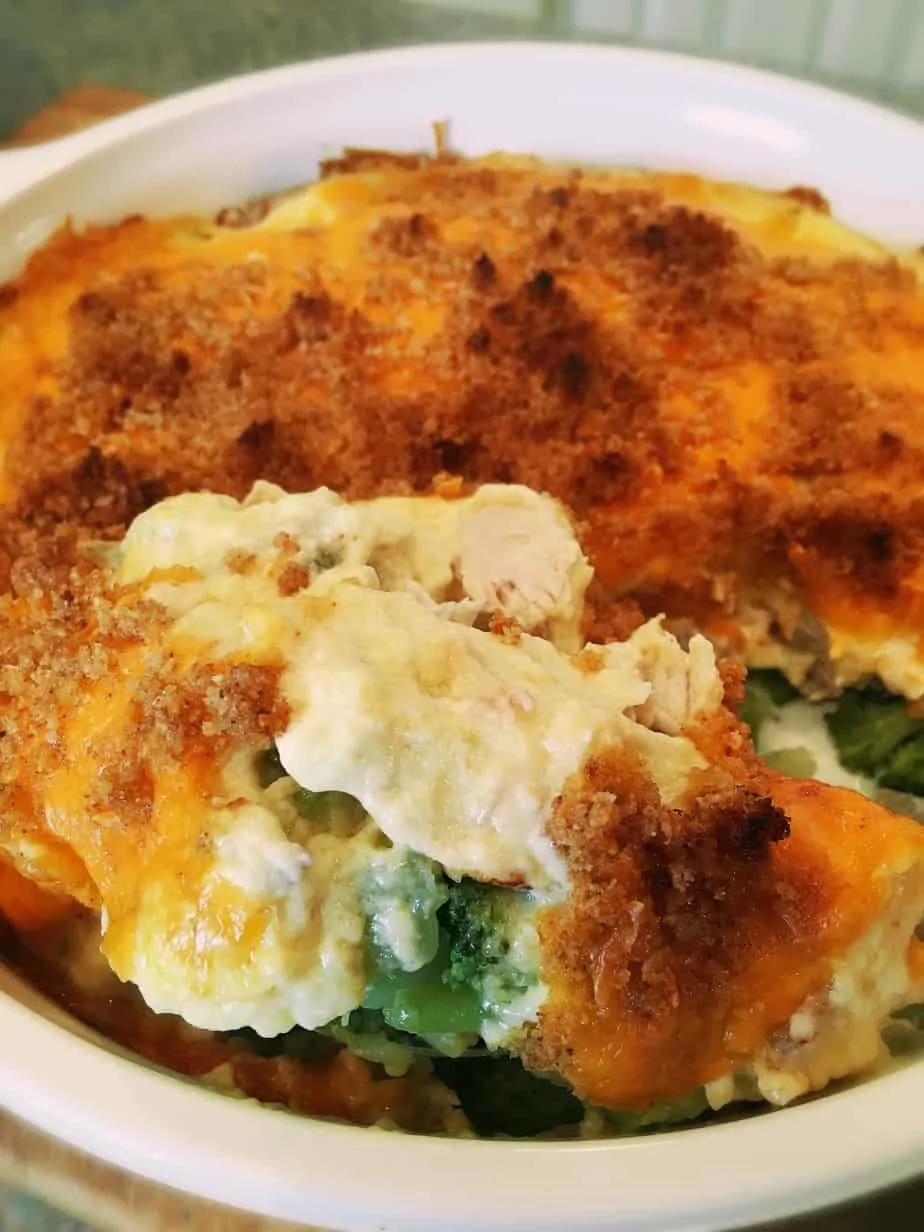 How To Make Chicken and Broccoli Casserole
This really is an easy dish to put together. I precook one whole chicken. I usually buy mine at Costco but, any whole chicken will do.
Place the chicken into a large stock pot and boil it, until it is falling apart. Let it cool completely.
Once cool, debone the chicken. You will need about 3 cups of shredded chicken.
TIP: You could also use rotisserie chicken if that is easier.
Pre-cook the frozen chopped broccoli. Drain. Place on the bottom of a 9 x 13 casserole dish. Layer with shredded chicken.
Mix together Cream of Chicken Soup, Milk, Mayonnaise, and Lemon Juice. Spread on top of chicken. Top with a layer of grated cheddar cheese. (Lots of cheese please! It's the BEST!)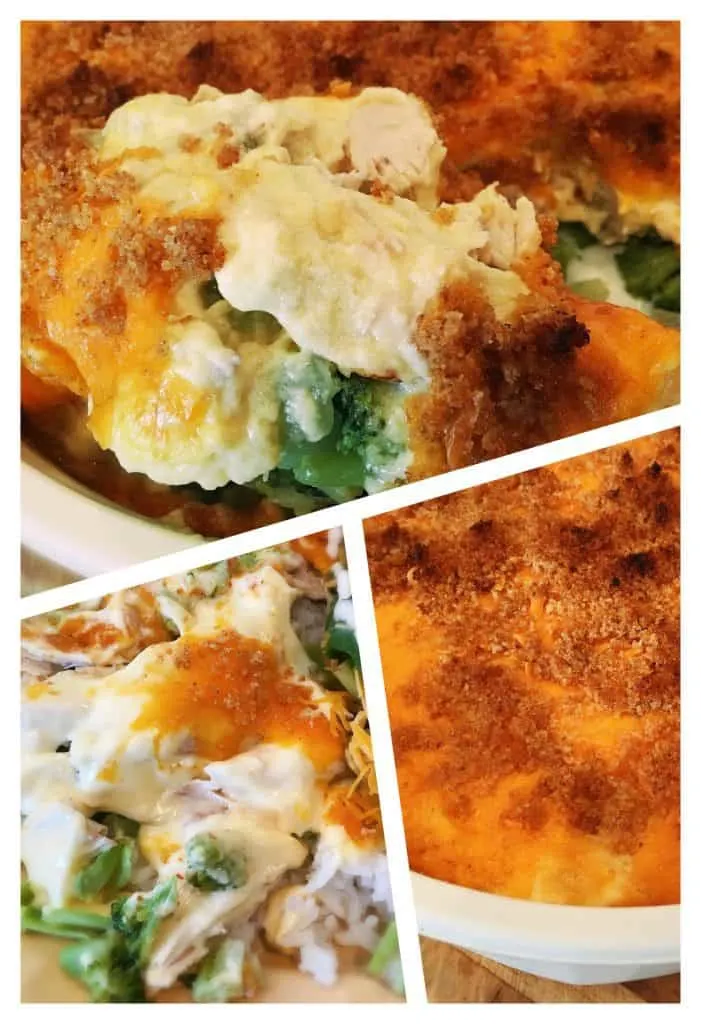 In a bowl mix together bread crumbs and melted butter. Sprinkle on top of the cheese.
Bake in a 350 degree oven for 35-40 minutes until bread crumbs are golden and sauce is bubbly.
Doesn't that look yummy! A layer of broccoli, then chicken,cream sauce, cheddar cheese and topped off with buttery toasted bread crumbs! The flavor combinations in this casserole blend together so beautifully.
The nice thing about this dish is that most of the ingredients are things found in your pantry or freezer. Just like my Cheesy Chicken Broccoli Rice Casserole…everything thing you need right at home to create another fantastic family friendly dish!
I know there are some non-casserole-loving folks out there. Gasp! (Say it isn't so!) I grew up on casseroles! With a family of six and a tight budget, casseroles were a main stay in our house. Thankfully mom could stretch one chicken to feed all six of us!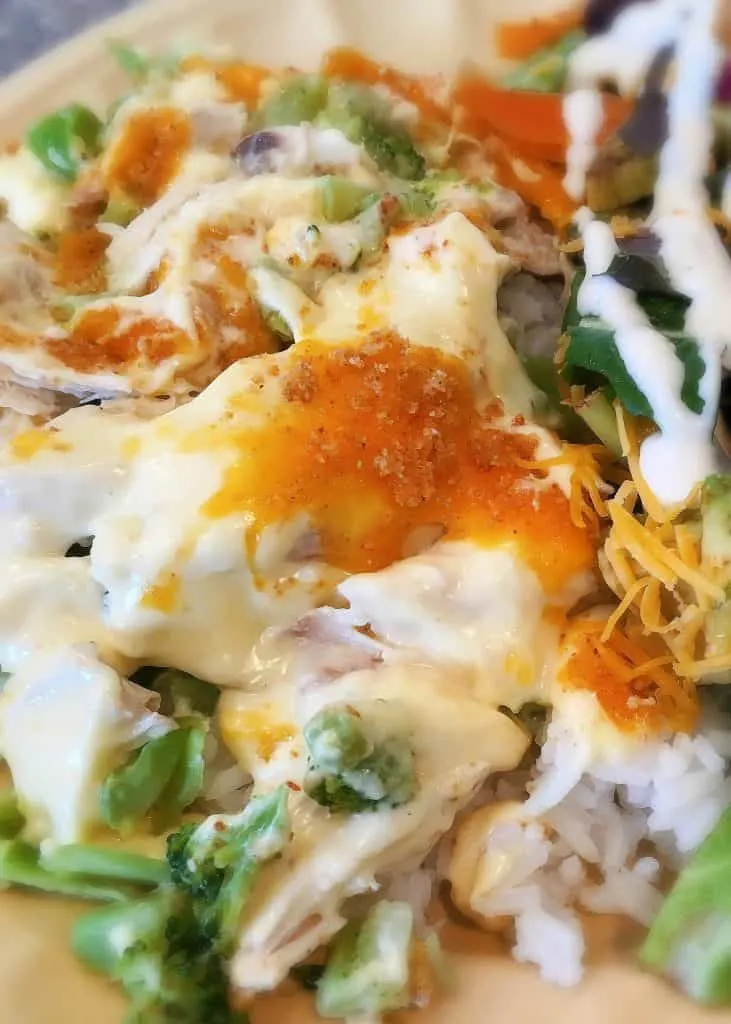 I serve this casserole over steamed rice. You don't have to. It's perfect just the way it is! I usually make a green salad to serve alongside it.
The casserole is so rich with ingredients that it's a meal by itself.
I've shared this recipe many times over the years. It's instantly a favorite!
I hope your family will love it as much as our family does! Please let me know if you try it and if your family enjoyed it in the comments below. I look forward to hearing from you.
Happy Nesting!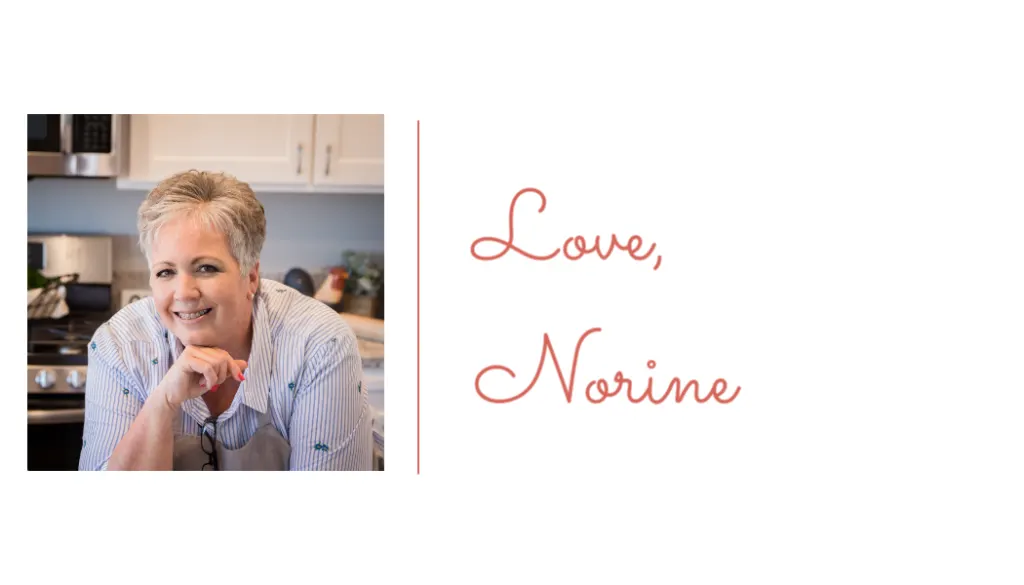 If you love this recipe you'll love these other delicious, easy, family friendly casseroles
Yield: 6-8 servings
Chicken Broccoli Casserole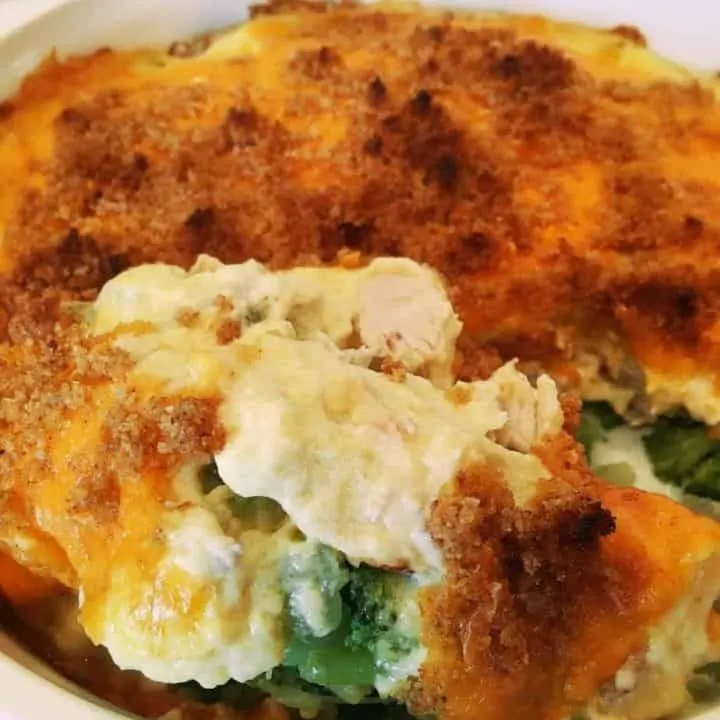 *I do not precook the broccoli. I just place thawed broccoli in the bottom of the casserole dish. Either way works fine.
** The sauce will be thick. It is supposed to be.
Casserole can be made up a day ahead of time, covered, and kept in the refrigerator until ready to use.
Ingredients
2 - 10 oz packages frozen chopped broccoli or two small bags
3 cups boned chicken
2 10.5 oz cans of condensed cream of chicken soup
3/4 cup mayonnaise
1/2 cup milk
1 Tbs lemon juice
1 cup shredded medium cheddar cheese
1 cup bread crumbs
1 Tbs melted butter
Instructions
Cook broccoli according to package direction in salted water till tender; drain well.* Preheat oven to 350 degrees. Arrange broccoli in the bottom of a 9 x 13 casserole dish. Layer chicken on top of broccoli. In a separate bowl, combine cream of chicken soup, mayonnaise, milk and lemon juice. Mix until well blended.** Pour over chicken and spread out evenly. Cover with shredded cheddar cheese. In a small bowl combine bread crumbs and melted butter. Sprinkle bread crumb mixture over the top of cheese. Bake at 350 degrees until sauce is bubbly, cheese is melted and the bread crumbs are a nice deep golden color.
Recommended Products
As an Amazon Associate and member of other affiliate programs, I earn from qualifying purchases.
Nutrition Information:
Yield:
8
Serving Size:
1
Amount Per Serving:
Calories:

452
Total Fat:

32g
Saturated Fat:

9g
Trans Fat:

0g
Unsaturated Fat:

21g
Cholesterol:

80mg
Sodium:

726mg
Carbohydrates:

19g
Fiber:

3g
Sugar:

2g
Protein:

21g
Norine's Nest in no way provides any warranty, express or implied, towards the content of recipes in this website. It is the reader's responsibility to determine the value and quality of any recipe or instructions provided for food preparation and to determine the nutritional value, if any, and safety of the preparation instructions.