Chicken Rice Casserole is a quick and easy family favorite. Rice is mixed with cream of mushroom, cream of celery, cream of chicken soup and chicken broth and topped with shredded chicken.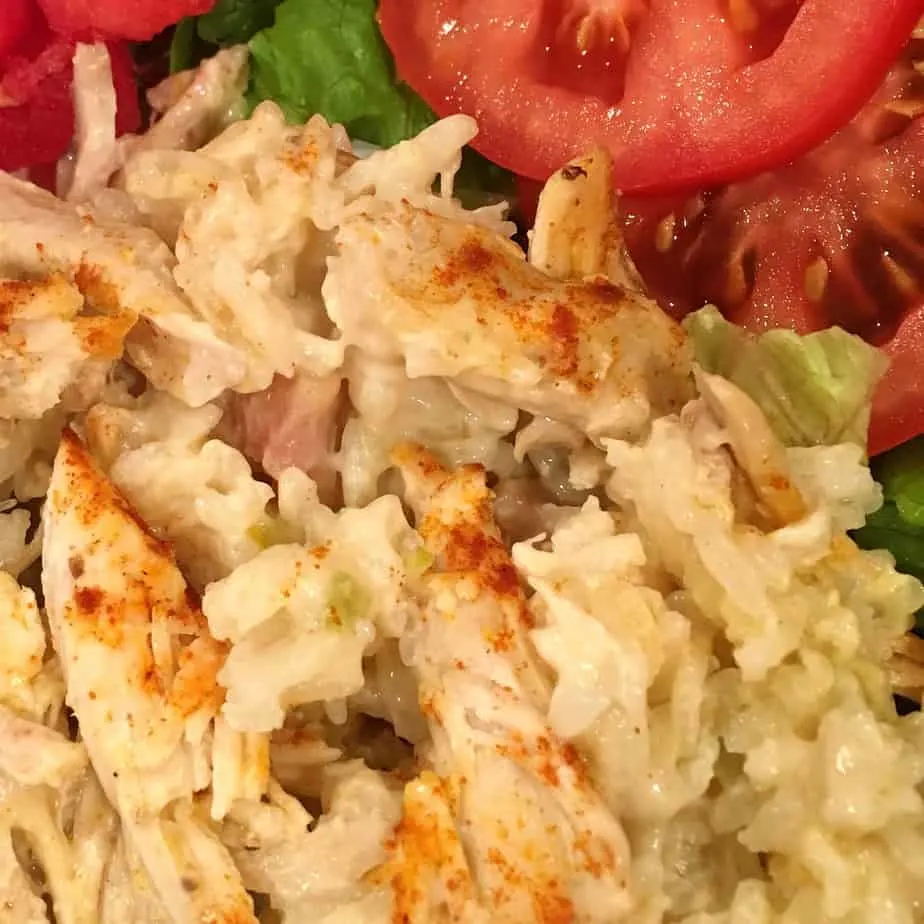 I don't know about you but, with school back in session and the leaves beginning to turn, I've been dreaming of yummy comfort foods!
Simple down home comfort foods! The kind you want to scoop into a bowl, sneak over to your favorite corner of the couch, snuggled in a soft blanket, turn on your favorite guilty pleasure TV show, and just SNARF … and go "Mmmmm" with every mouthful! (That is just pure mommy bliss right there!)
So in honor of that craving, I'm sharing one of my all-time favorite comfort food dishes! Chicken Rice Casserole! It's not fancy. It doesn't have any highfalutin ingredients. It's not complicated to make, in fact you can have it whipped up in no time! Your youngest to your oldest will love this one! My kids still L.O.V.E. this dish! (Get Ready…Pick out that spot on the sofa and grab your blanket !)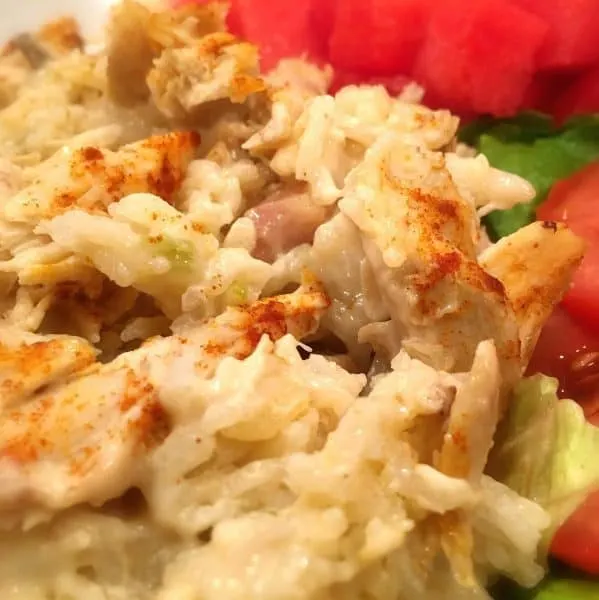 How To Make Easy Chicken Rice Casserole
You will need to have on hand 3 – 4 cups of shredded chicken.
TIP: You can make this chicken rice casserole easily and use a store-bought Rotisserie chicken and just pick the meat off the bones. That is perfectly fine. You can also boil a whole chicken, bone it, and freeze all that wonderful chicken broth for your holiday stuffing! Which ever you prefer. No judgement here folks! We do what works best for us and our families!
To make this super-duper easy you are going to mix it all together in the same pan it's going to cook in. (I know, I know, I'm awesome like that! lol) You can mix it in a separate bowl if you like. I just don't like doing more dishes than I have to.
Easy Steps to making Chicken Rice Casserole…
In a 9 x 13 casserole dish pour 1 and 1/4 cup of long grain white rice.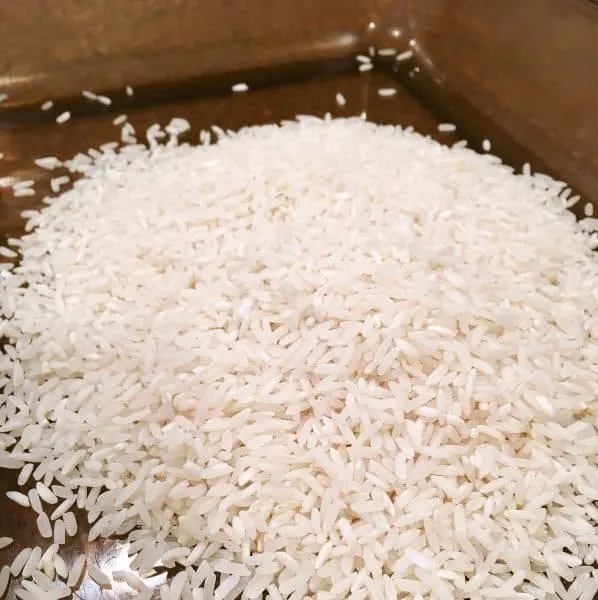 Add one can each of Cream of Chicken Soup, Cream of Mushroom Soup, and Cream of Celery Soup.
TIP: If you boiled your chicken, you can add one cup of chicken broth. If you didn't, that's okay, just add one cup of water. (I know, not so purty but, hang in there with me…you'll be thanking me later!)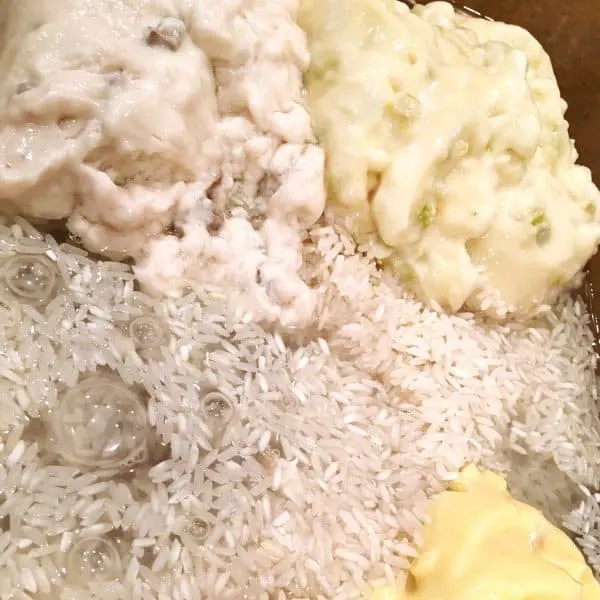 Grab your handy wire whisk and carefully, so as not to splash all that icky soup water on you, mix that all together really well. You can use a spoon but, it won't work nearly as well. You want a nice creamy mixture.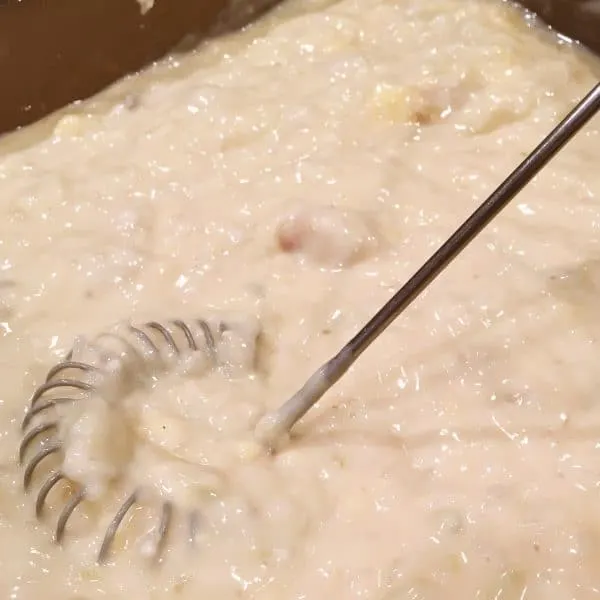 Once it's all blended it should look like this. (See… "creamy mixture!" That's a high-tech cooking term!)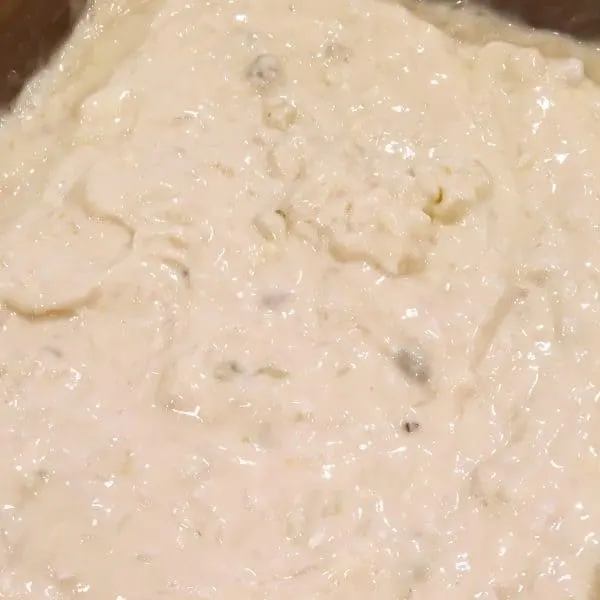 Add the shredded chicken!
You are going to place it all over the top of the soup/rice mixture. (Remember this is not a pretentious dish!) I love mine loaded with chicken.
TIP: I usually cook up a Costco whole raw chicken. They are so big! I can get two separate dishes out of one chicken. You can use half now and bag the other half and freeze it for later. It makes life easier the next time you need chicken for another dish. (Who doesn't like to make life easier?)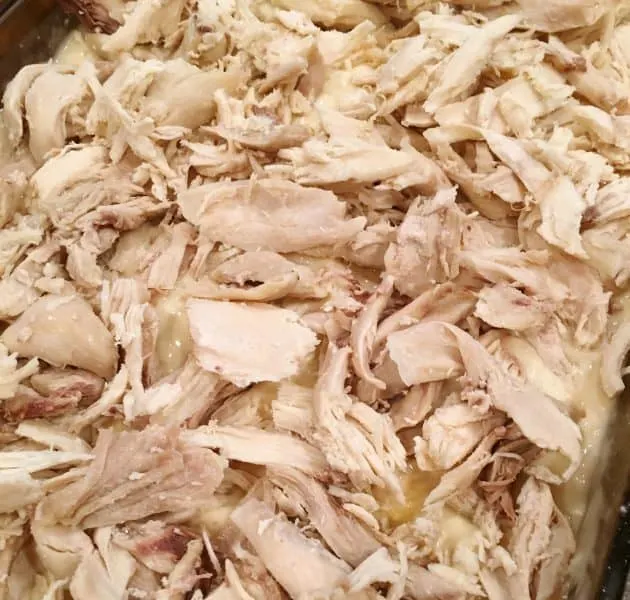 The last step, before we pop it into the oven, is to sprinkle it with paprika for a little color.
Right now it's kind of a homely plain Jane "comfort food" dish. We need to kick it up just a little bit. Paprika will do the trick! (You gotta admit…that looks better!)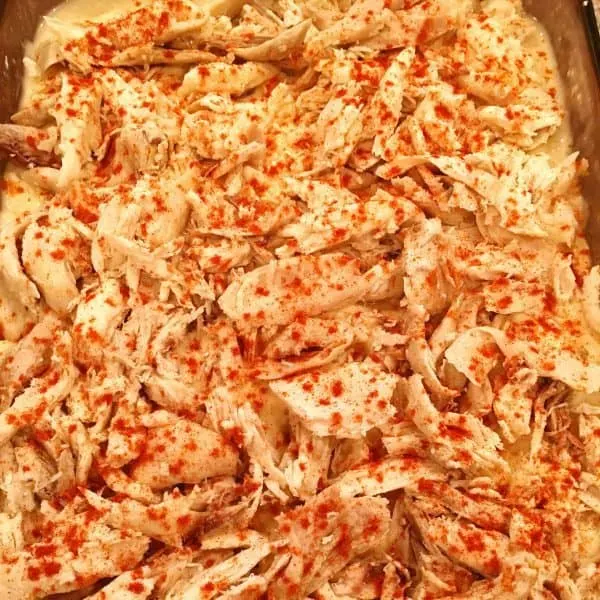 Baking Chicken Rice Casserole
Now cover it tightly with aluminum foil. You want it to hold in all the steam from the soups and broth so that the rice will get nice and soft, and fluffy. Place it in a 350 degree oven for one hour and 15 minutes.
Remove from the oven and allow to sit for 15- 20 minutes BEFORE removing foil. Once it is done the rice will be perfectly cooked and the soup mixture will be bubbling up in between the nooks and crannies of the chicken. Hooray! It's time to go grab that bowl!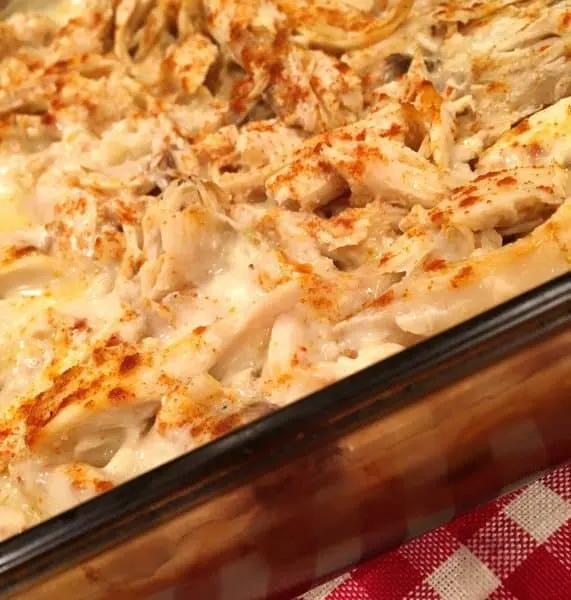 This casserole is pure deliciousness!
Seriously… delicious! It's creamy and flavorful. The chicken is tender and juicy. This is one of those simple yummy family dishes that is perfect after a long day at work or school. It's warm and inviting! Pure perfection! It's "home" in a casserole dish.
The house smells AMAZING when this is cooking! You will feel like Super Mom or Super Comfort Chef! The best things in life are the simple things! This is one of those simple things!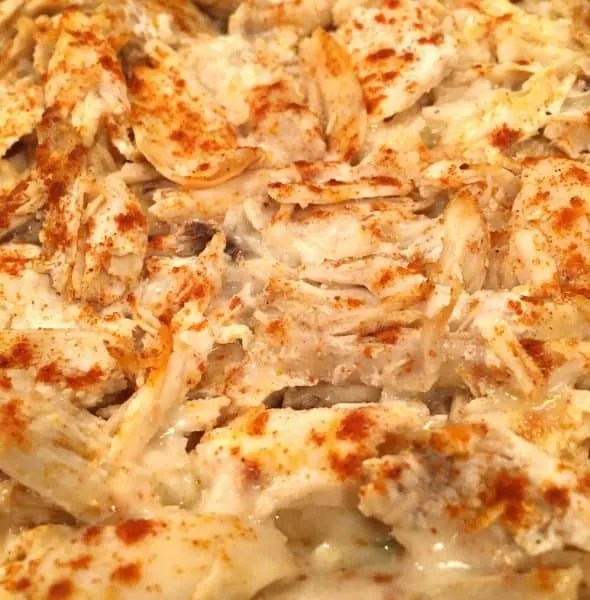 The great part of this dish? Besides how yummy and easy it is, are the leftovers!
If you are lucky enough to have any, which I will be surprised if you do, but if you do, the leftovers make for a wonderful lunch the next day.
There may be a little fighting that has been known to go on over the leftovers at this Nest with this particular casserole!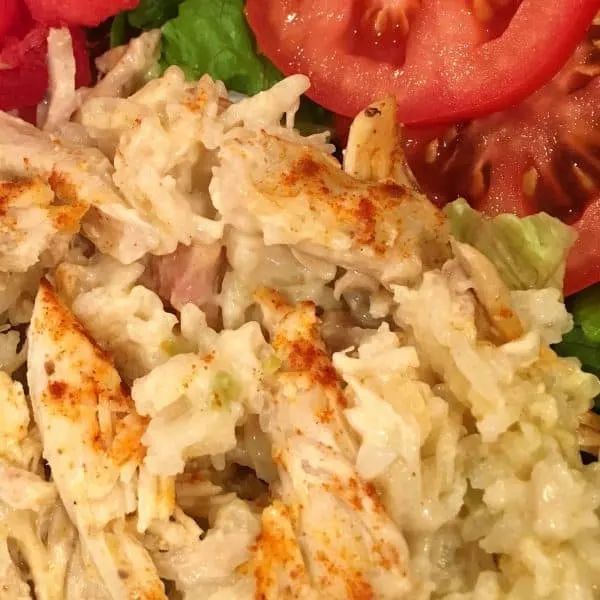 I served mine with a simple lettuce salad with tomato slices and some cut up watermelon. It's not fancy! It's not putting on "airs" for anyone so I like to keep my side dishes simple. I wouldn't want them to feel out-of-place! (wink, wink)
There you have it! One of my all-time favorite comfort foods! Chicken Rice Casserole.
Great Family Favorite Casserole Recipes
Have a GREAT day! Thanks for popping by! You bring JOY to my life!
If you're not already… be sure to follow me on Facebook and Pinterest! I'm always sharing all my favorite "Nesting" idea's and loves there every day! See ya soon!
Happy Nesting!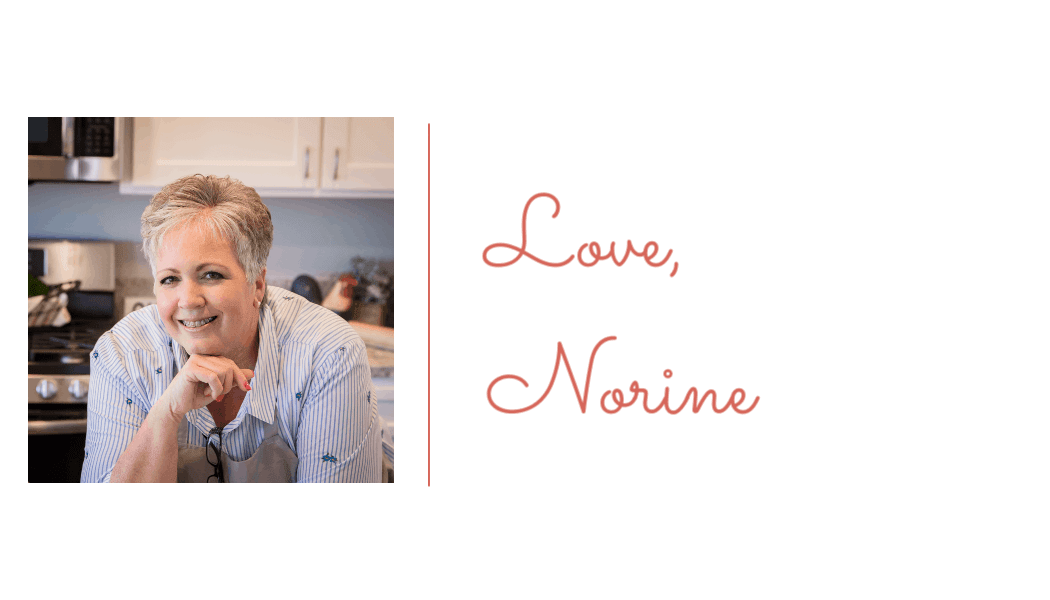 Yield: 6-8 servings
Chicken Rice Casserole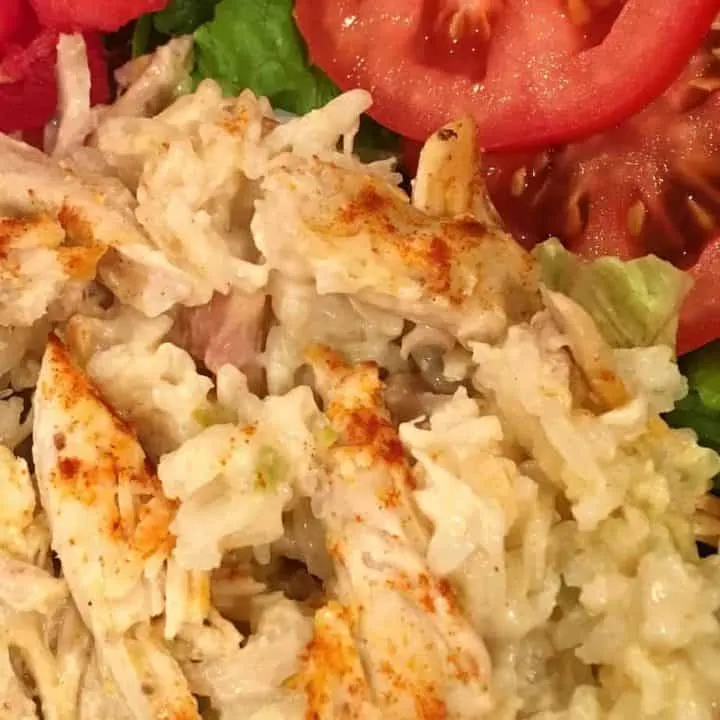 Down Home Pure and Simple Comfort food is what this Chicken Rice Casserole offers your family! It is one of our "Nests" favorite dishes and the left overs make a wonderful lunch the next day...if you're lucky enough to have any!
Cook Time
1 hour
15 minutes
Total Time
1 hour
30 minutes
Ingredients
3- 4 cups cooked, shredded chicken
1 1/4 cups traditional uncooked white long grain rice
1 can Campbell's Cream of Chicken Soup
1 Can Campbell's Cream of Mushroom Soup
1 Can Campbell's Cream of Celery Soup
1 Cup Chicken Broth or Water
Paprika for topping
Instructions
In a large bowl mix together the rice, soups and chicken broth or water with a wire whisk. Mix until well blended. (You can just mix this directly in the casserole dish)
Pour into a 9 x 13 casserole dish.
Place the shredded chicken on top of the rice/soup mixture.
Sprinkle with Paprika for color.
Cover tightly with aluminum foil.
Bake in a 350 degree oven for one hour and 15 minutes.
Remove from oven. Keep covered. Allow to sit for 15-20 minutes. Remove foil and serve.
Nutrition Information:
Yield:
8
Serving Size:
1 Cup
Amount Per Serving:
Calories:

442
Total Fat:

18g
Saturated Fat:

5g
Trans Fat:

0g
Unsaturated Fat:

11g
Cholesterol:

159mg
Sodium:

682mg
Carbohydrates:

12g
Fiber:

0g
Sugar:

1g
Protein:

54g