These Cake Mix Cinnamon Rolls are easier to make than your typical homemade cinnamon bun, yet still packed with all the fluffy cinnamon goodness of a traditional yeast cinnamon bun!
If making cinnamon rolls has always intimidated you …you're in luck! This recipe is the perfect solution. Cake Mix Cinnamon Rolls! (I'm like the carb fairy of baking…sprinkling my magical sugary dust every where I go!)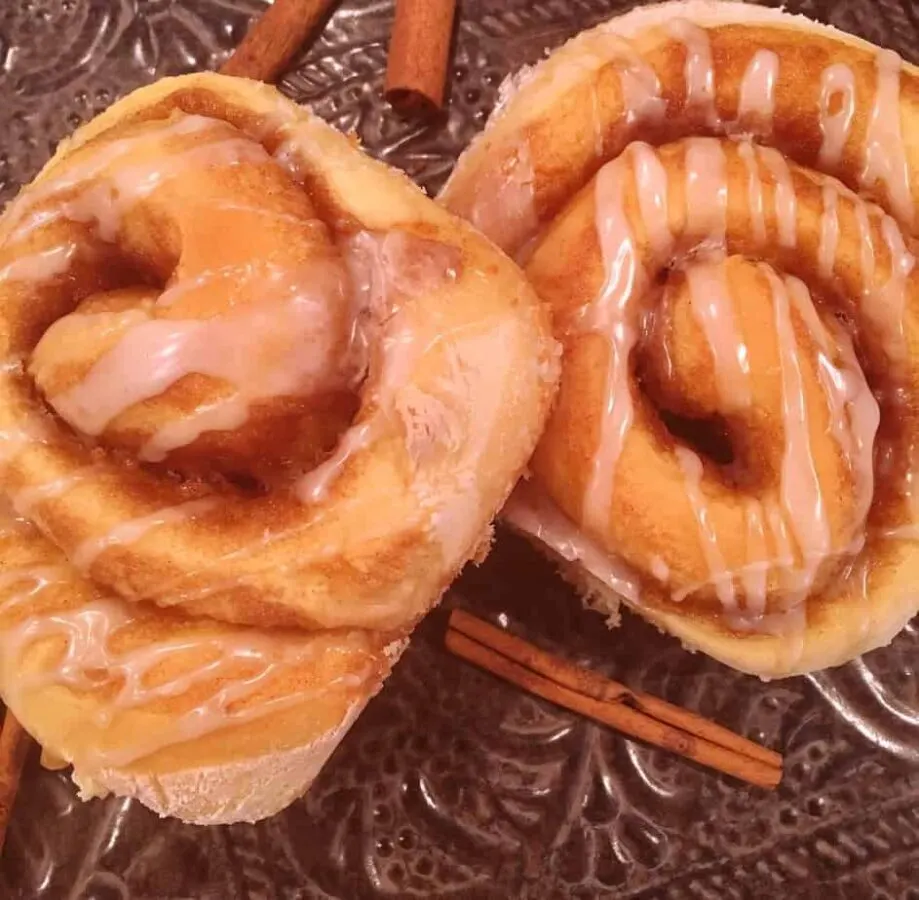 The dough comes together in about 5 minutes in your mixer! Yes… it has to rise, but face it…that's basically one episode of your current Netflix obsession. (We won't discuss how I know this!)
Then you are going to punch the dough down…or as I like to call it…"anger management therapy"…then you roll it out…"controlled anger management"…followed by…you get the picture!
These delightful soft rolls are great for holidays, bake sales, or a church brunch. The recipe makes about 14 BIG cinnamon rolls! All you need is a cake mix and a few other simple ingredients hanging around in your pantry!
How To Make Cake Mix Cinnamon Rolls
The original recipe calls for a LOT of kneading and mixing….I didn't want to do that! So…I used my dough hook attachment on my KitchenAid Mixer.
In the bowl of your mixer, or in a mixing bowl, add 1 White or Yellow Cake Mix. I used Duncan Hines Yellow Cake Mix. 2 packages of yeast, 1 teaspoon of salt, and 2 cups of flour.
Mix on low until well combined.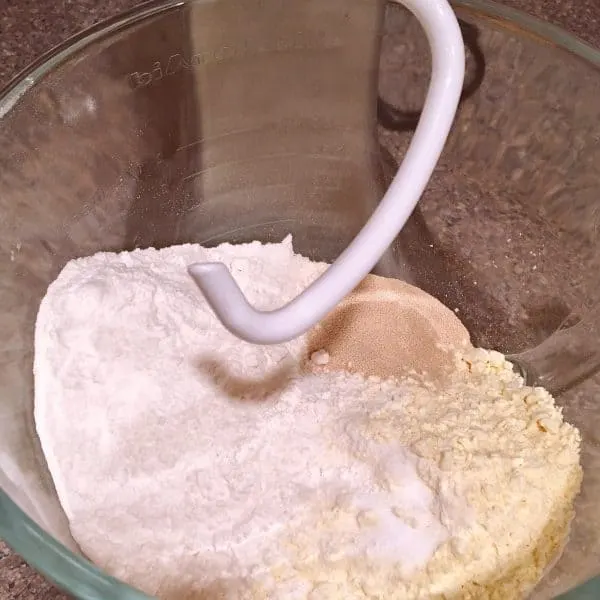 Add 2 1/4 cups HOT water.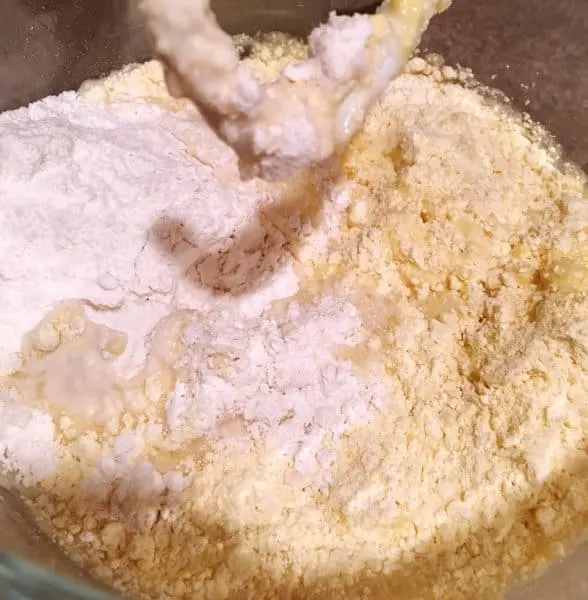 Mix on low until a very sticky wet dough forms.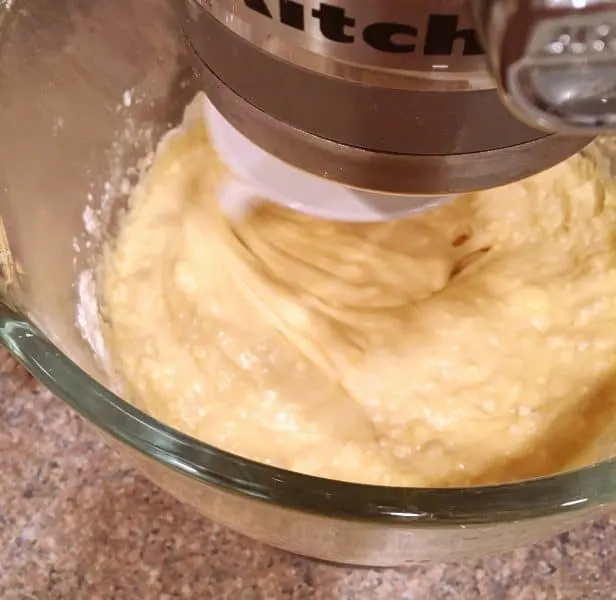 Add an additional 3 cups of flour, one cup at a time, until each cup is incorporated into the dough and the dough begins to pull away from the sides of the bowl and cling to the dough hook.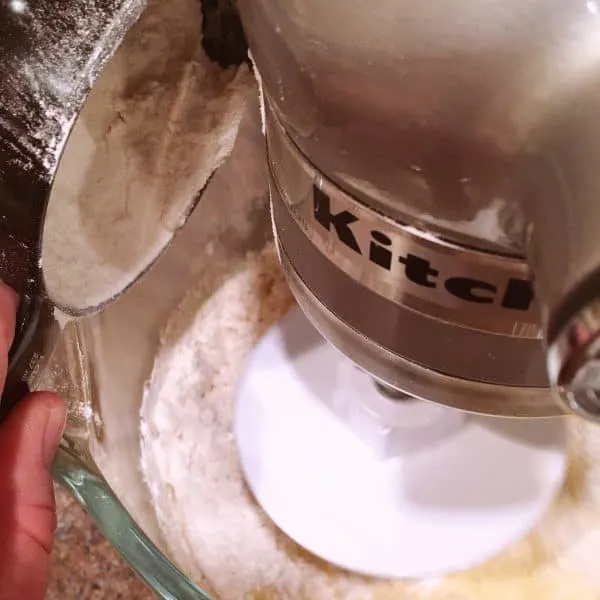 Once the dough is clinging to the dough hook, like a two-year old to your leg when you're trying to go to the bathroom…remove dough from hook. Place dough on a well floured surface.
If you've followed me for any time, you know I have a passionate love affair with my cloth-covered, "dough disc". I'm taking it with me into the next life! You can find them on Amazon.
Knead dough 3-5 times until a nice large ball, non-sticky ball forms. You won't have any issues kneading this dough. It's ultra soft and easy to work with. Plus the mixer has done the bulk of the work.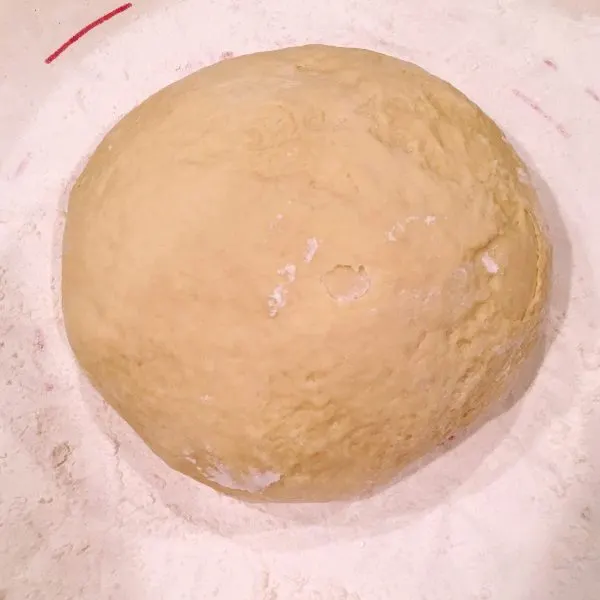 Cover with a light cloth until double in size!
This was eye-opening for me! Friends…I know what's been happening since I had kids! I go to bed every night…and I pull the covers over me…I've been rising for 30 years!!! I just "need" to be punched down! Problem solved! lol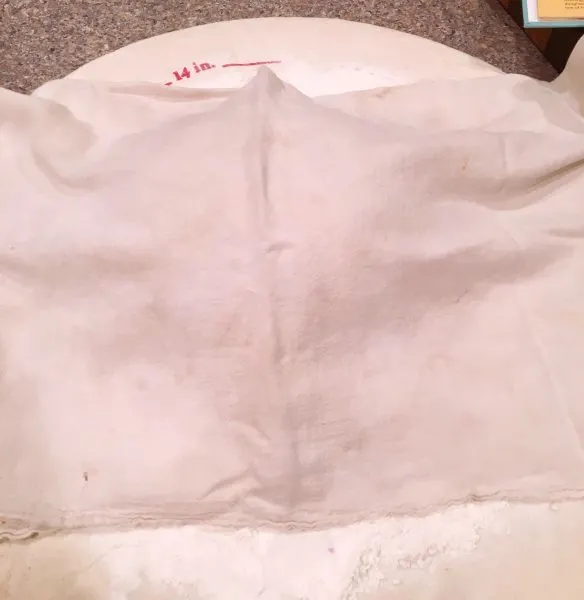 Let me tell you…this dough RISES! They should be called Lazarus rolls! Whoa!!! So impressive. I uncovered this dough and stood there admiring the miracle that had taken place!
Talk about great "Before" and "After" photos! It's like my very own Lifetime movie! (Let's hear it for reverse before and after shots…skinny…to "risen"! lol)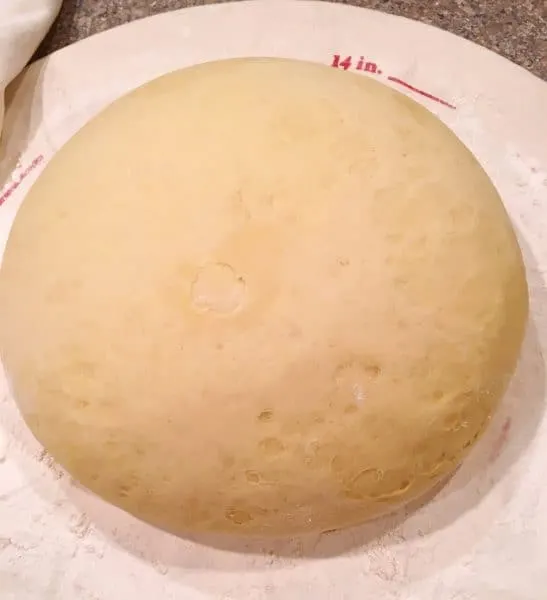 Now the fun part…PUNCH IT DOWN!
DANG!!!! Someone had a little pent-up anger going on when she slugged that dough!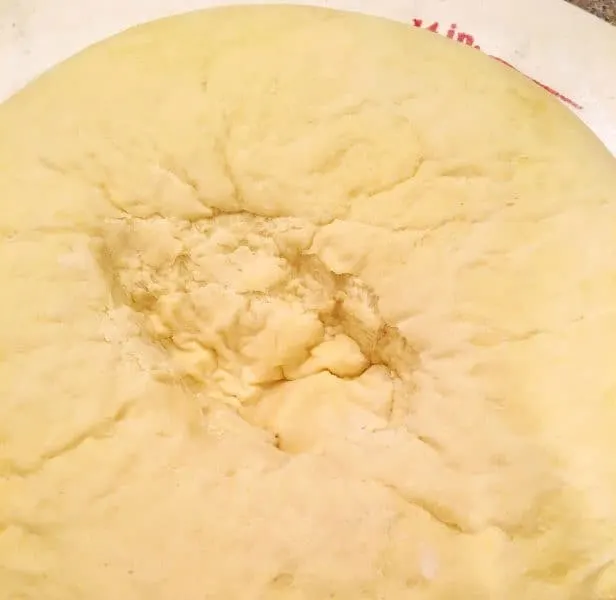 Flip the dough over and sprinkle with a little flour. Roll dough out in a large rectangle, about 1/4 inch thick.
One of the things I love about this dough was that it rolls out beautifully. A lot of yeast dough will pull back, and you have to keep rolling and rolling to get it the size and shape you need it. This one won't do that. Such a fantastic dough.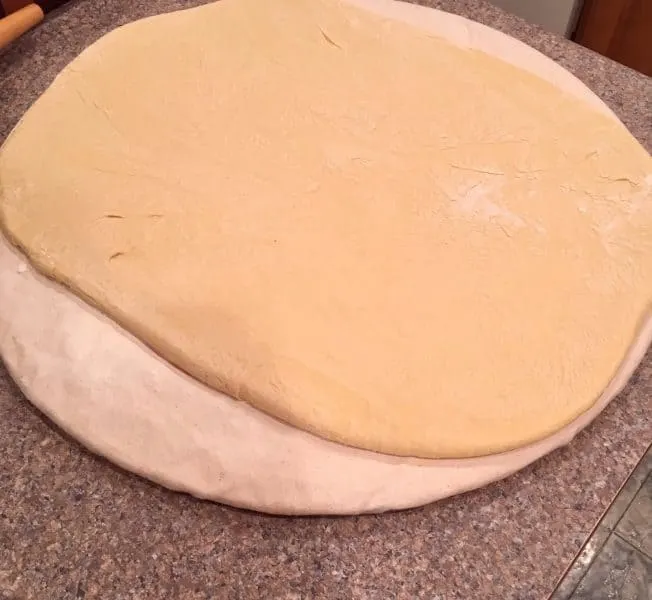 In a small mixing bowl add 6 Tablespoons of Butter, 2 teaspoons of cinnamon, and 1 1/2 cups of brown sugar. Sprinkle on top of the dough.
TIP: I melted mine in the microwave on high for 1 minute or until butter was melted and a thick paste formed. It was just so much easier to spread than trying to mix the butter into the dry ingredients.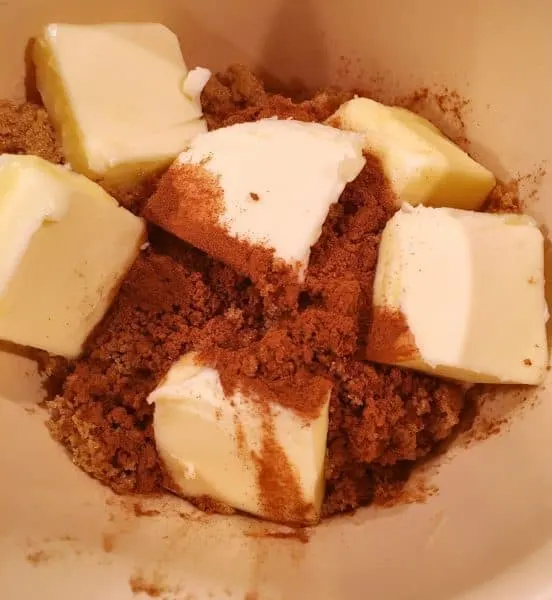 Spread Cinnamon mixture over roll dough.
TIP: It doesn't have to look pretty or be spread out perfectly. When they bake it will all even out.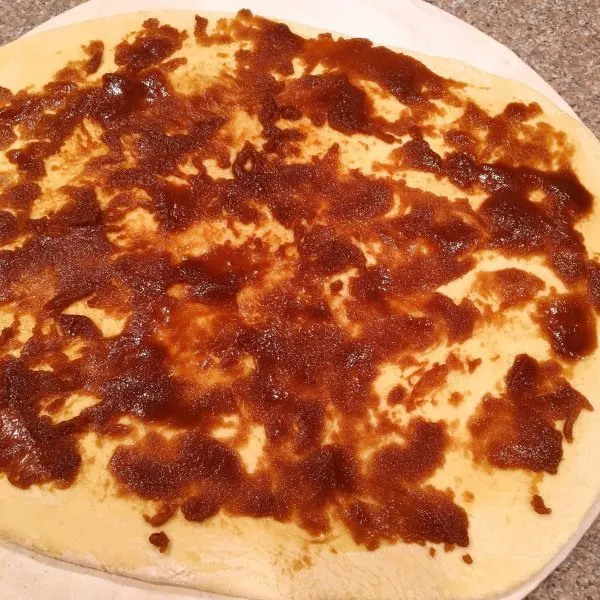 Starting on one long side, roll towards the other side. It's gonna be a HUGE roll…Keep rolling! Push your ends in to square it up. This will allow for a nice "end" cinnamon bun off your big dough roll.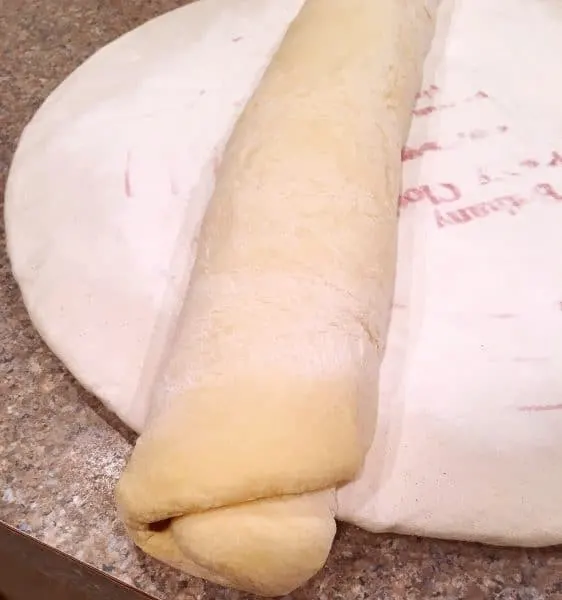 I cut my dough in half so that you could see how perfectly that filling spreads… and how beautiful the "roll" looks.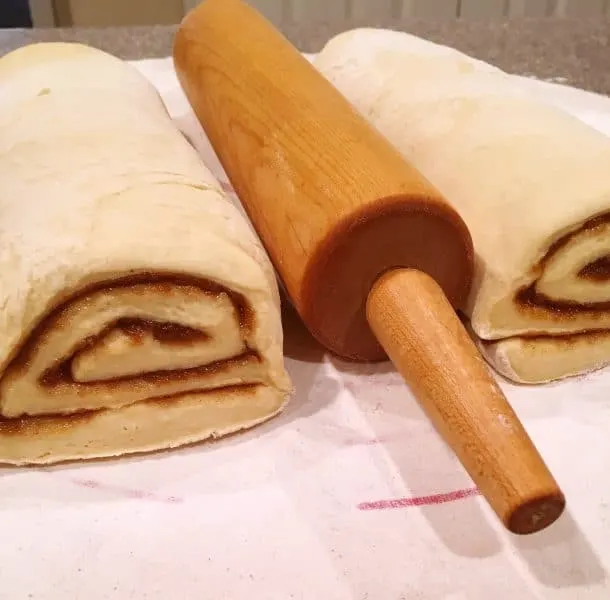 Cut in 1 1/2 inch slices. Place in a greased baking dish. Cover with the cloth and allow to rise until doubled in size. It should take about 30 minutes.
TIP: If you have a gas stove place rolls on top of the stove covered. The warmth from the pilot light will help them rise quicker. (Thank goodness there isn't a pilot light under my bed!)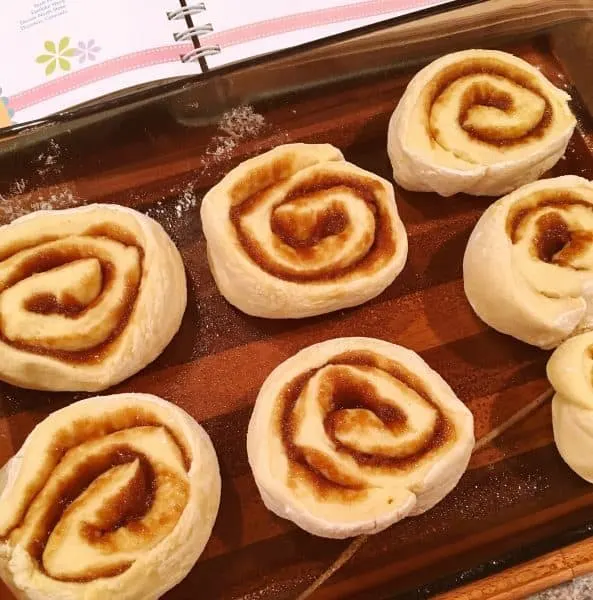 Once the rolls have doubled in size, place in preheated 350° oven for 20 minutes or until tops are lightly golden brown.
(I'm sorry for the "haze" in the photograph…I got flour on the lens of my camera…blogger problems are real! I realize someone younger with better eye sight would have caught this…you'll see I didn't!)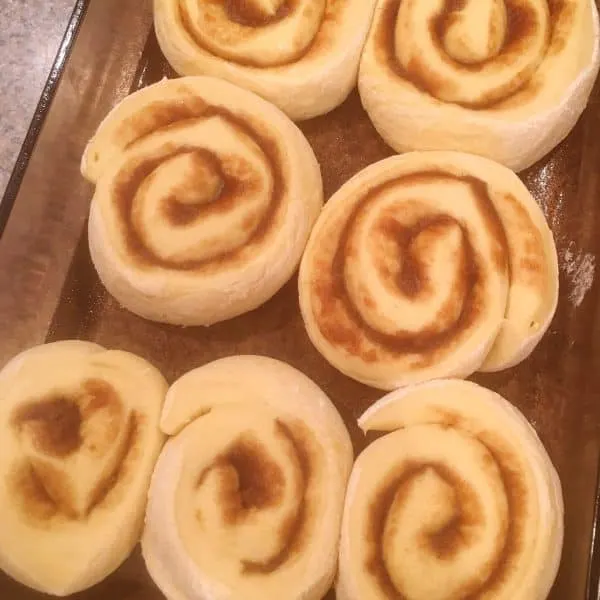 While the rolls are baking…this is the perfect time to mix up the vanilla glaze topping.
In a small bowl add 1 1/3 cups of powdered sugar, 2 Tablespoons milk, and 1/2 teaspoon of vanilla.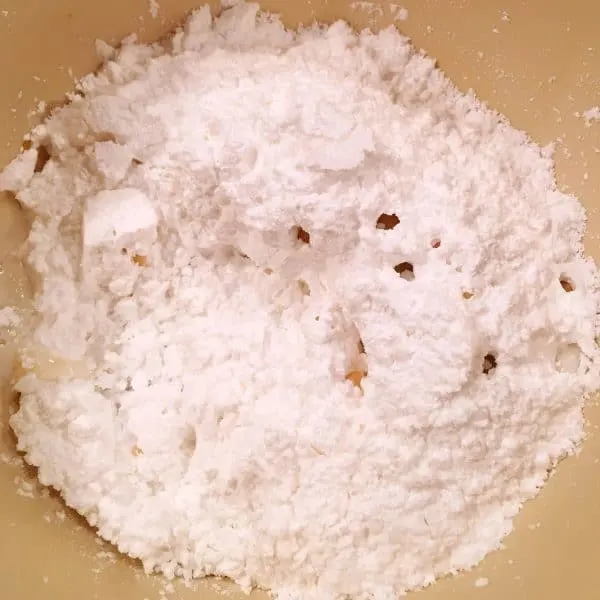 Mix together with wire whisk until smooth and sugar has dissolved. Set aside until Rolls are done baking and have cooled slightly.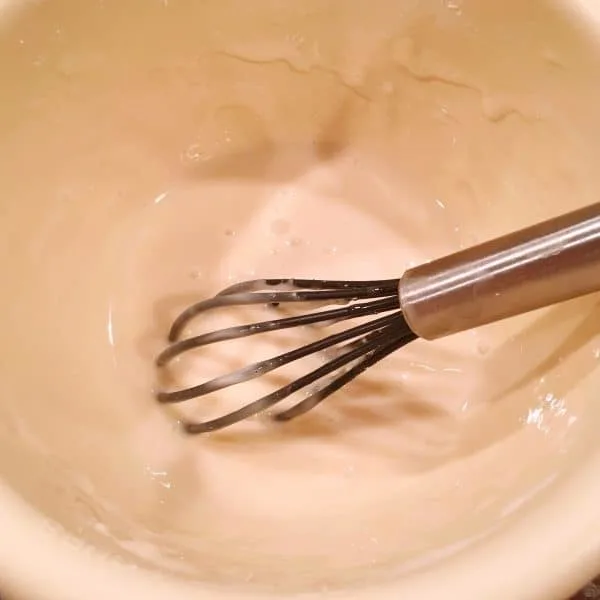 Remove baked rolls from oven. Allow them to cool slightly. (Using that new "hazy" photography technique…invented by moi! Just keeping it real friends!)
Aren't they beautiful…haze and all! So big and puffy with loads of caramelized buttery cinnamon filling. I was so excited with how these turned out.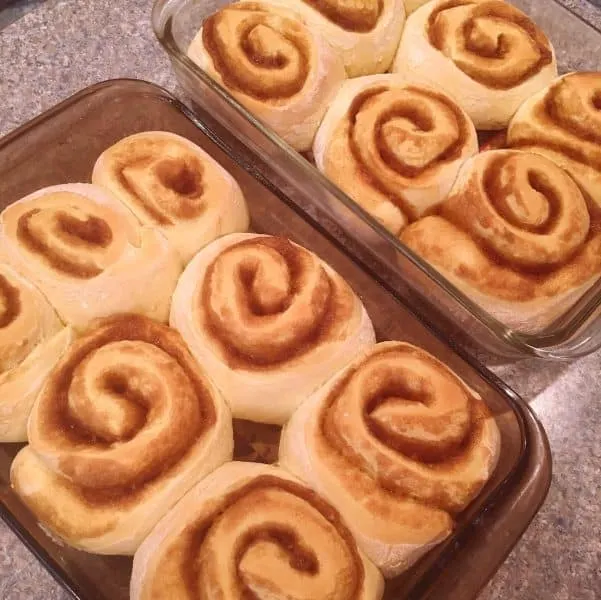 Drizzle tops, using whisk or a spoon, with Vanilla Glaze. Can you see my second pan peeking in the background…who knew cinnamon rolls where photo bombers?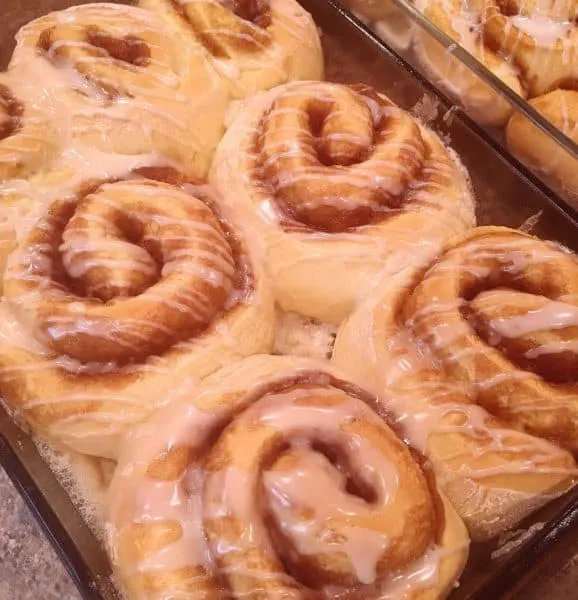 Let's get up and close and personal with these wonderful easy to make Cake Mix Cinnamon Rolls.
A Few Basic TIPS and IDEAS before we move on…
The recipe calls for either a White or Yellow Cake Mix. However, get creative and try Lemon, Red Velvet, or even Pumpkin Spice.
Place rolls in a warm place to rise.
You can use dental floss, wrapped around your rolled dough, to cut the cinnamon rolls.
Store rolls in an air tight container or wrap them individually.
You can make this recipe without a mixer. Just be sure to work out at the gym first! You'll need to hand knead in the extra 3 cups of flour.
Mix glaze ahead of time and keep covered. This will allow it to thicken before drizzling it over your rolls.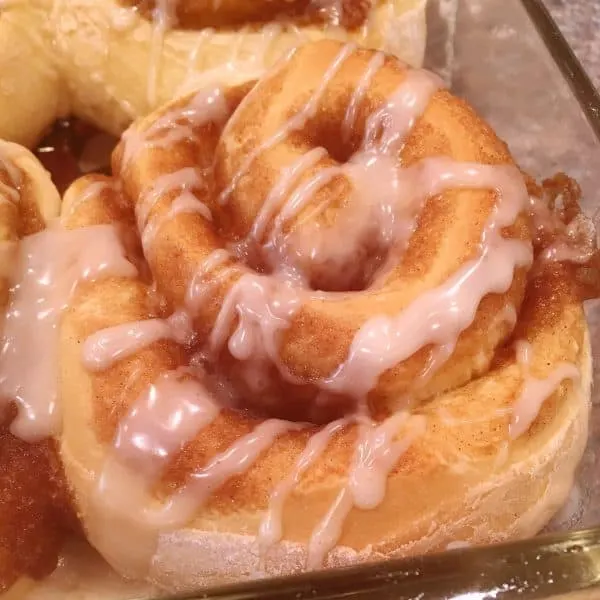 From first bite to last…it's pure HEAVEN! Everything you want a truly spectacular Cinnamon Roll to be! Big, puffy, loaded with cinnamon goodness, a light drizzle of glaze for added flavor…Mmmmm!
I'll be honest and tell you the texture is slightly…and I do mean SLIGHTLY…different from a traditional yeast dough. However, the time element involved with making this version far outweighs any small differences.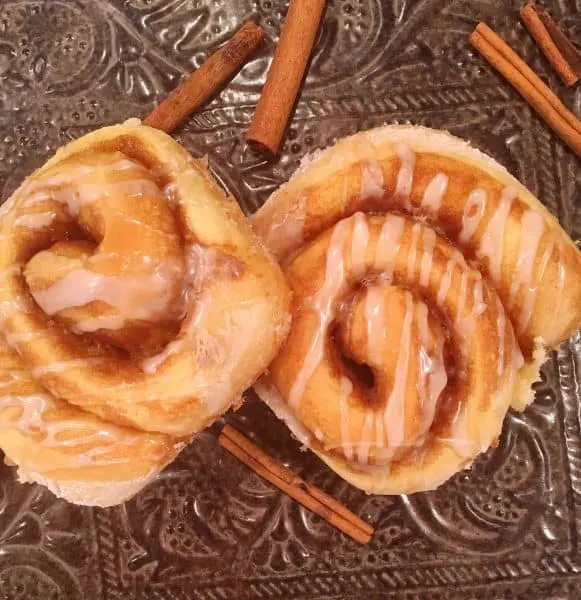 I truly love the ease of this recipe! They are going to be my new "go to" cinnamon roll recipe! Perfect for Christmas morning when you need a quick easy breakfast, or for a last-minute bake sale. (I know my kids were not the only children to tell me at midnight they needed a school treat for the next day!)
If you're not a baker and cinnamon rolls have terrified you…DROP what you are doing and make a batch of these beauties! You will impress yourself…and the birds at your Nest!
Other Family Favorite Breakfast Recipes
Remember to sign-up for my bi-weekly newsletter where I share all the latest YUM from my kitchen. You can also follow me on Facebook, Instagram, and Pinterest!
Happy Nesting!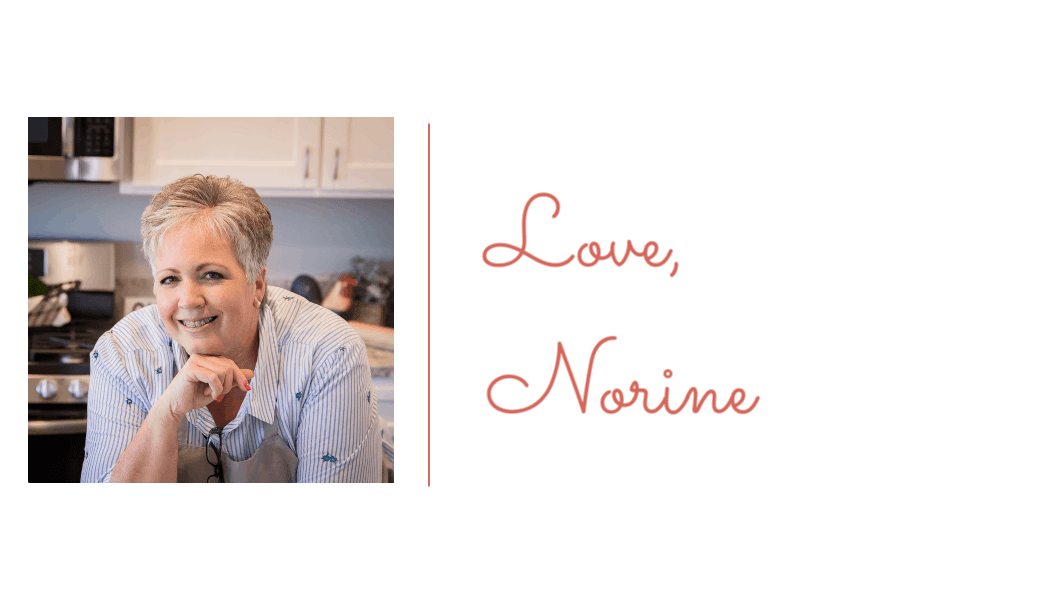 Yield: 14 servings
Cake Mix Cinnamon Rolls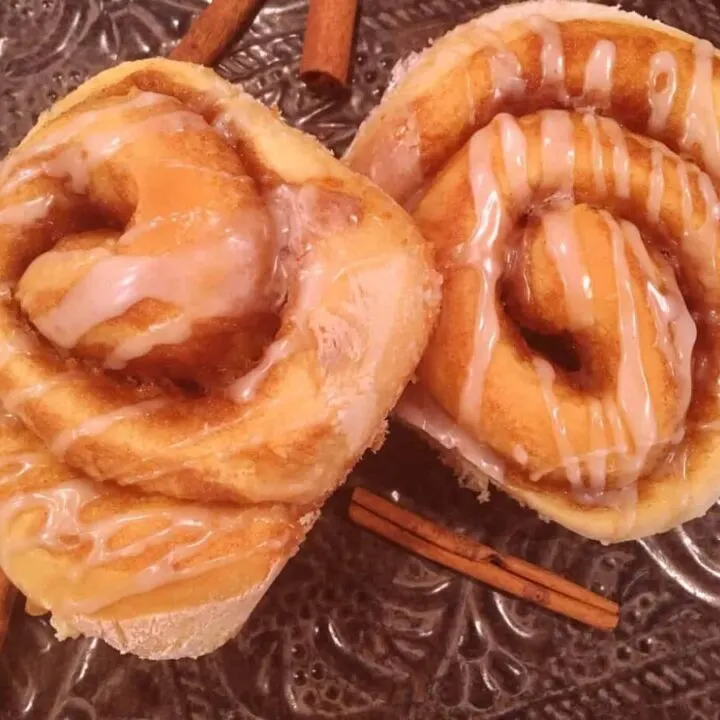 Cake Mix Cinnamon Rolls are a quick, easy, and delicious way to make traditional homemade yeast cinnamon rolls without all the fuss and stress.
Prep Time
1 hour
20 minutes
Total Time
1 hour
40 minutes
Ingredients
1 White or Yellow Cake Mix
2 pkg. yeast
1 tsp. salt
5 C. Flour
2 1/4 C. Hot Water
Filling
1 1/2 cups Brown Sugar
6 Tablespoons Butter, Softened
2 tsp. cinnamon
Icing
1 1/3 cups powder sugar
2 Tbsp Milk
1/2 teaspoon vanilla
Instructions
Combine 1 package of cake mix, 2 packages of yeast, 1 teaspoon of salt, and 2 cups of flour in bowl of your mixer. Using the dough hook mix ingredients together until well combined.
Add 2 1/4 cups of hot water slowly mixing well.
Add additional 3 cups of flour, one cup at a time, until well incorporated and dough sticks to dough hook and forms a soft ball.
Place dough on a well floured surface.
Sprinkle top of dough with additional flour. Knead 3-5 times until a nice shaped ball forms.
Cover and allow to rise until double in size.
Punch dough down. Roll into a large rectangle about 1/4 inch thick.
In a small bowl combine filling ingredients. Sprinkle over top of dough.
Starting at one side, roll dough towards other side lengthwise.
Cut into 1 1/2 inch thick slices. Place sliced rolls in two greased 9 x 13 glass baking dishes. Cover and allow to rise till double in size, about 30 minutes.
Bake in preheated 350° oven for 20 minutes or until tops are lightly golden brown.
Mix icing ingredients together until smooth. Drizzle over tops of warm rolls. Serve immediately or reheat in Microwave.
Recommended Products
As an Amazon Associate and member of other affiliate programs, I earn from qualifying purchases.
Nutrition Information:
Yield:
14
Serving Size:
1 large cinnamon roll
Amount Per Serving:
Calories:

498
Total Fat:

7g
Saturated Fat:

4g
Trans Fat:

0g
Unsaturated Fat:

2g
Cholesterol:

13mg
Sodium:

487mg
Carbohydrates:

104g
Fiber:

2g
Sugar:

54g
Protein:

6g
Norine's Nest in no way provides any warranty, express or implied, towards the content of recipes in this website. It is the reader's responsibility to determine the value and quality of any recipe or instructions provided for food preparation and to determine the nutritional value, if any, and safety of the preparation instructions.