It's GRILLIN' Season! Break out the Bar-b-que… and let's say "Howdy Sunshine!" with this glorious Grilled Honey Mustard Chicken! Boneless Skinless Chicken Breast are marinated in a simple 4 ingredient Honey Mustard Marinade!
Yep… I said FOUR ingredients! (I know… I impress myself occasionally too! Like when I walk into a room and remember why! Granted it's the bathroom…but let's not get picky!)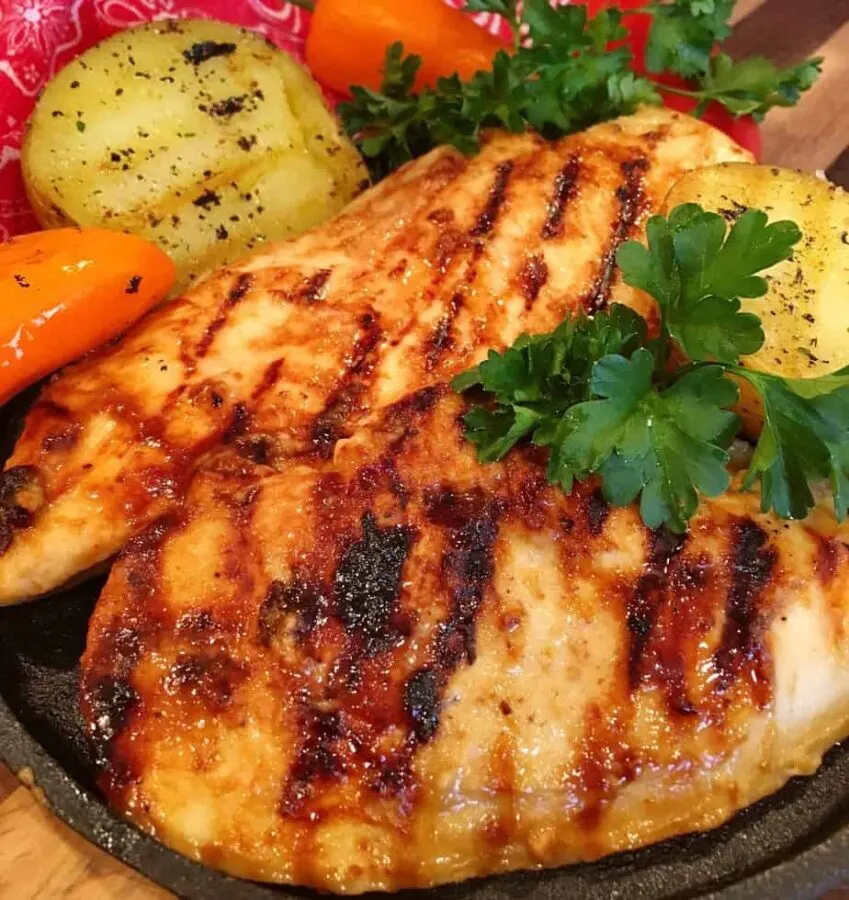 I should feel guilty for even doing a post about such a simple recipe, except for the fact that this particular recipe is OUTSTANDING!
It's one of my all-time favorites ! It makes regular appearances during the summer months at this Nest, and I wanted to share it this year with you and the birds at your Nest.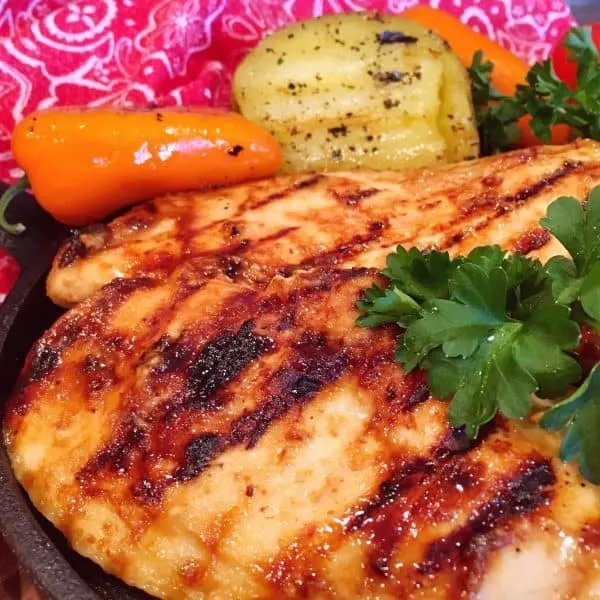 How To Make Grilled Honey Mustard Chicken
In a large zip lock bag… place 4 boneless skinless chicken breast halves. Add 1/3 cup Dijon Mustard, 1/4 cup honey, 2 Tablespoons mayonnaise, 2 teaspoons steak sauce. (I have mad photography skills! National Geographic will be calling any day! Insert eye roll!)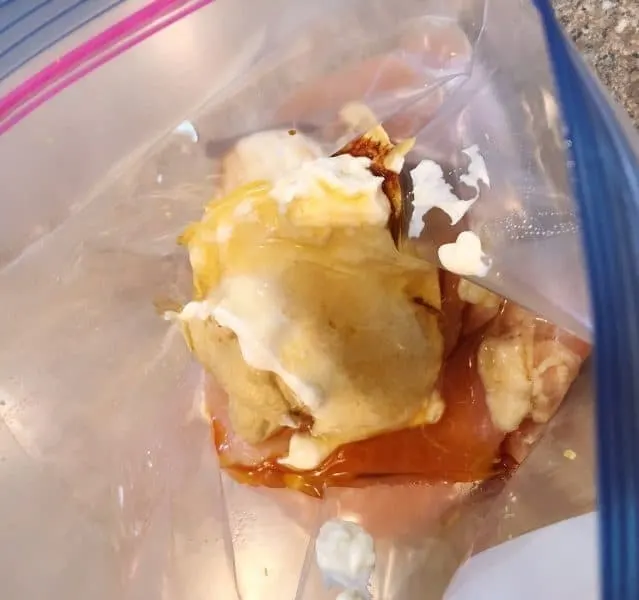 Zip the bag shut! (I just want to make sure…sometimes it's the small things that can make a BIG difference!) Then squish it all around and place in the refrigerator for 30 minutes…up to 24 hours. I don't want you to feel rushed. Lol The longer it marinades, the better the flavors.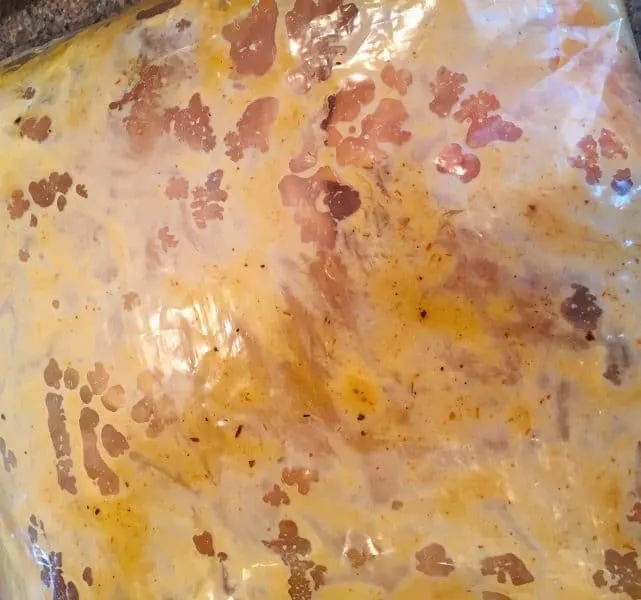 Let's Talk Honey!
TIPS: Let's talk Honey! Since one of the main ingredients in this recipe is Honey, I feel it is really important to use a really good quality honey! REAL Honey is expensive!
If you're getting a bottle of honey for less than $5.00 You are not getting Honey! I don't know what you're buying…but it's not real honey! The 50,000,000 bees from the Bee Workers Union want you to know this!
I recommend a raw honey! The flavor is outstanding and the Queen Bee gives her stamp of approval!
TIP: I like to fillet my chicken breasts. It's a great way to stretch a meal and cut down on cook time. The breasts I buy from Costco are ultra thick. In addition, if you fillet them, you can make a great Honey Mustard Chicken Sandwich! Skip the burgers and go for a chicken sandwich instead.
How To Grill Chicken Breast
Preheat the grill for medium heat. Lightly oil the grill grate. Grill Chicken over indirect heat for 18–20 minutes, turning occasionally, or until juice run clear.
Note: I used an indoor grilling pan because it was too windy to grill outdoors. However, if you can, I highly recommend grilling this over an open flame. The smoke adds an extra depth of flavor. It's excellent either way… I just prefer outdoor grilling when I can.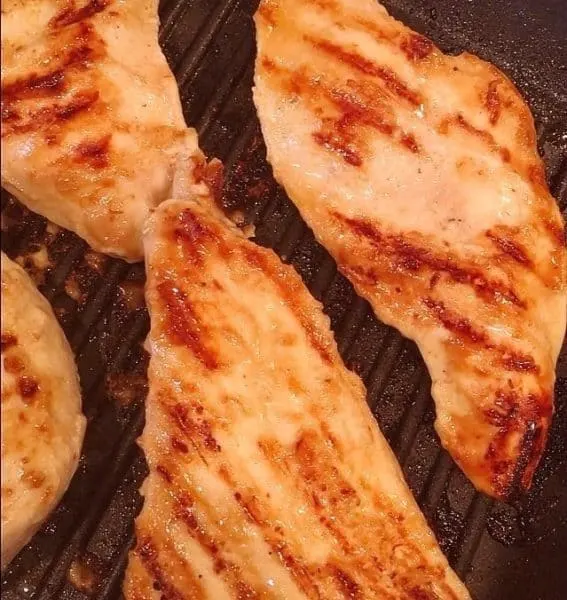 I like to mix up a second batch of the marinade and use it for basting the chicken the last 10 minutes of cook time.
Once the chicken is done remove from grill and allow to rest for 5–10 minutes. Isn't that a beautiful dish!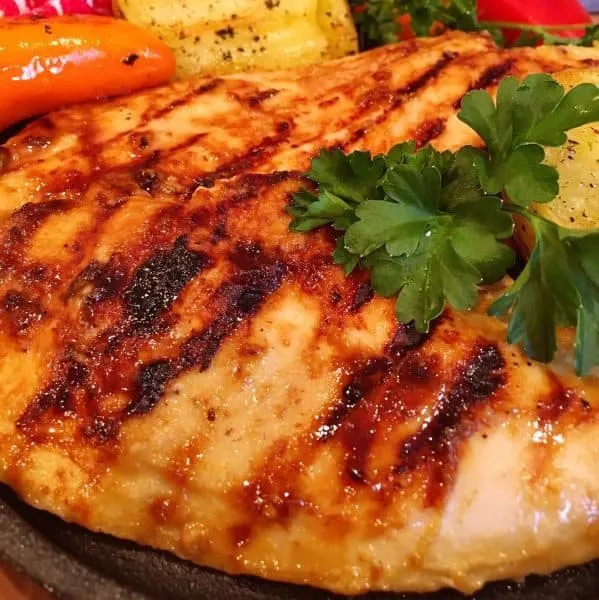 I serve this with grilled left over baked potatoes and grilled sweet peppers! The chicken is covered in a creamy honey mustard glaze that gets added zip from the steak sauce. The flavors are rich, deep, slightly sweet, and truly so spectacular! They truly compliment each other.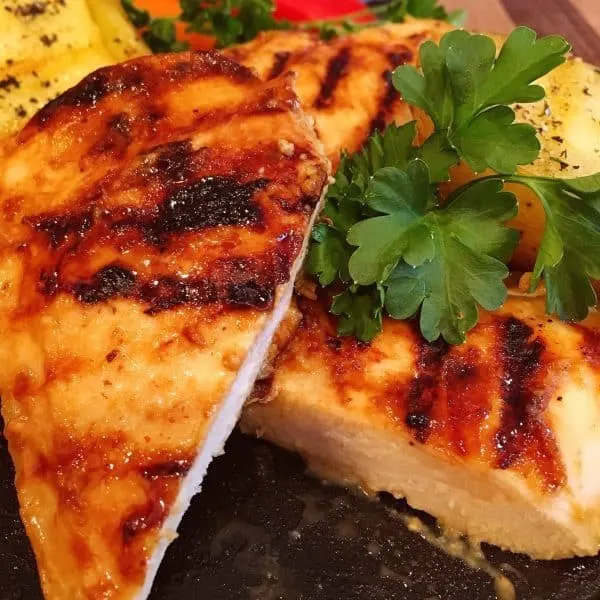 You can use this recipe with Chicken Tenders and thread them on skewers for an amazing fun family dinner menu main course.
Here are a few Great Grilling Recipes you may enjoy at your Nest
I know your family will love this Grilled Honey Mustard Chicken as much as our family does. I see long summer nights and lots of "family" time with this dish front and center stage! Perfect!
Enjoy! Happy Nesting Friends!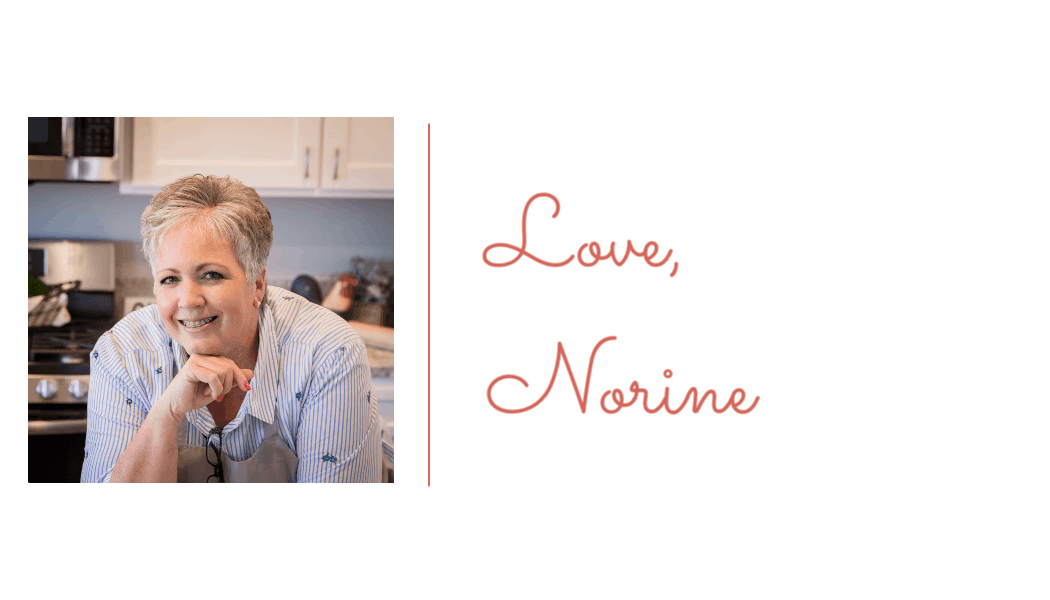 Yield: 4 servings
Grilled Honey Mustard Chicken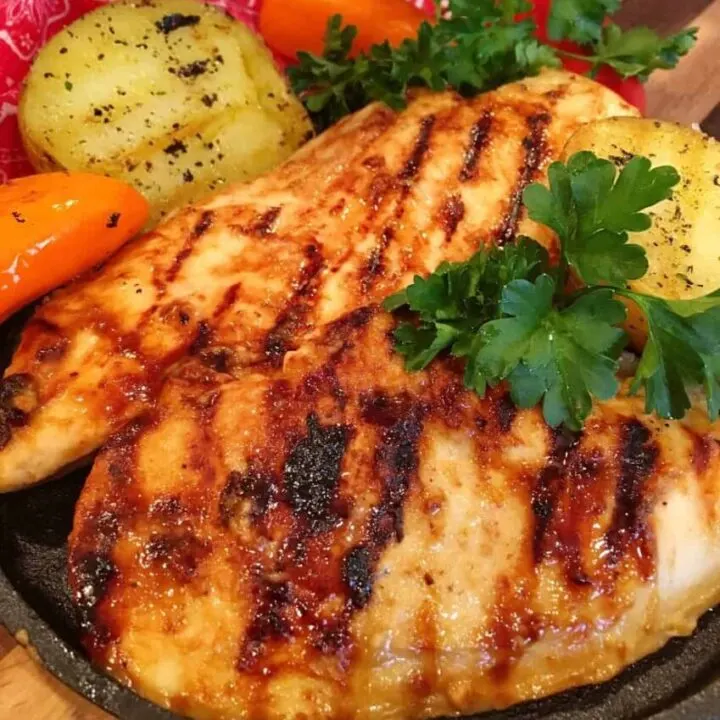 A creamy honey mustard marinade gets added zip from steak sauce. A delicious easy summer grilled chicken recipe.
Total Time
1 hour
5 minutes
Ingredients
1/3 cup Dijon Mustard
1/4 cup Honey
2 Tablespoons Mayonnaise
2 teaspoons steak sauce
4 Skinless, boneless chicken breast halves
Instructions
Place all ingredients in a large gallon size zip lock bag. Mix and refrigerate for 30 minutes up to 24 hours.
Remove chicken from refrigerator about 30 minutes before grilling.
Preheat the grill for medium heat.
Lightly oil the grill grate. Grill chicken over indirect heat for 18-20 minutes, turning occasionally, or until juices run clear. Watch carefully to prevent burning.
Tip: I mix a second batch of the marinade for basting the last 10 minutes of cooking.
Nutrition Information:
Yield:
4 servings
Serving Size:
1 chicken breast half
Amount Per Serving:
Calories:

324
Total Fat:

10g
Saturated Fat:

2g
Trans Fat:

0g
Unsaturated Fat:

7g
Cholesterol:

105mg
Sodium:

715mg
Carbohydrates:

19g
Fiber:

1g
Sugar:

18g
Protein:

38g