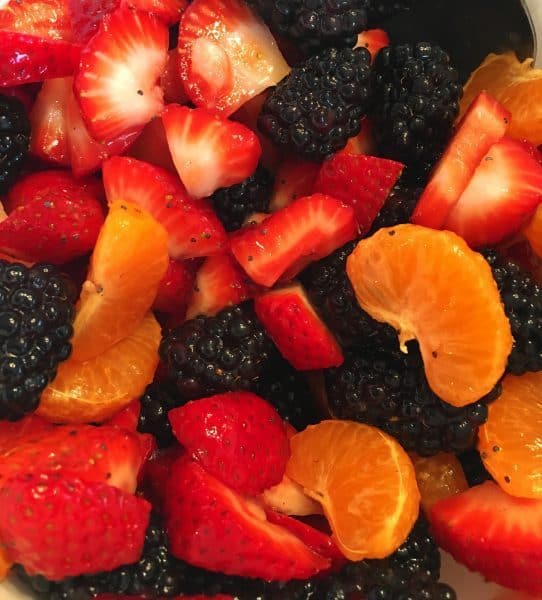 The fresh fruits of summer combine to create this beautiful and simple delicious Honey Poppy Seed Fruit Salad.
*As an Amazon Associate I earn from qualifying purchases. This post may contain affiliate links, which means that I may make a commission from any purchases at no additional cost to you. Thank you for your support!
I think it's just human nature to want to over complicate the simple things in this life. Cooking is oft the same. Don't get me wrong, I love the complicated complex combinations that arise in cooking or baking, but sometimes it's so amazingly beautiful to take simple uncomplicated ingredients from nature and just let them be! Such was the case when I was trying to create a side dish for my Mother's Day Brunch post.
I knew I wanted a colorful fruit cup to serve and I was leaning towards all berries. However, the day I went to the market there were no raspberries and the price of blueberries nearly caused me to have a heart attack! (Yikes!) So I changed things up a bit and went with what I had on hand. The older I get, the more I find it's just easier to go with the flow of life than to fight against it.
How to Make Fresh Fruit Salad with Poppy Seed Dressing
This salad has three beautiful fresh fruits and a simple Orange Honey Poppy Seed dressing. Never again will I use sugar on fruit after creating this recipe. It goes back to that "simple" thing I was talking about and going with the "flow".
I had a bunch of Halo mandarin oranges in my fruit bowl. Which is exactly how they ended up in this salad. I peeled six of them and sectioned them. I did try to remove as many of the "strings" as I could so they would look purty! Then I added two pints of sweet juicy blackberries and 4 cups of sliced fresh strawberries.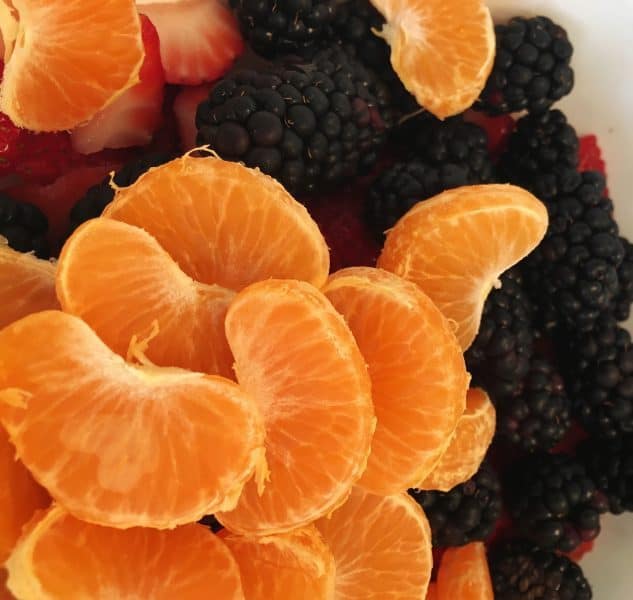 Originally I had planned on making some type of cream cheese fruit dip or fluffy cool whip dressing. It just didn't feel right. Why hide the beauty of this fruit behind thick blankets of creamy dressings. I wanted them to be the star of the show! So I went with simple again!
The Honey Poppy Seed dressing is 1/2 cup orange juice, 6 Tablespoons honey, and 2 tsp poppy seeds.
Whisk that all together.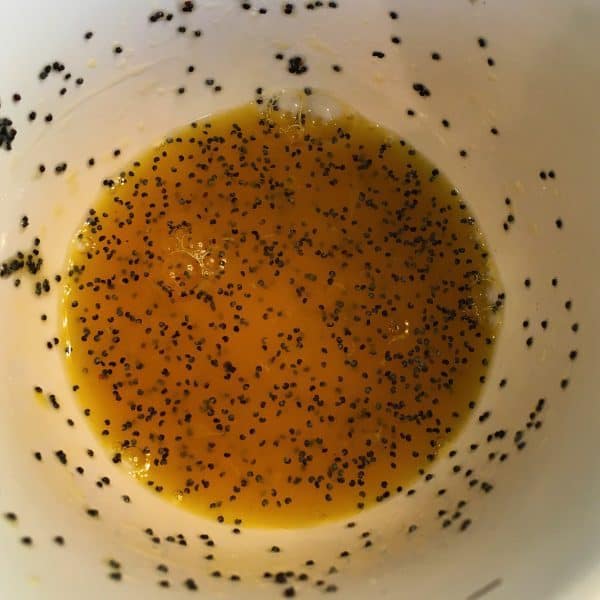 Pour the Honey Poppy Seed dressing over the fruit, just before serving, and gently toss. You don't want to allow the fruit to sit in the honey for too long. It can actually cause the fruit to ferment…now if ya wanna a bunch of naturally drunken people at your Nest go for it! (I'm joking folks…no one is getting drunk, but the fruit will begin to soften and the juices extract if left over night.)
The subtle "pop" of flavor this dressing adds to the fresh fruit is splendid! It's light, yet so flavorful, all while allowing the fruits individual flavors to shine through! It's perfect and SO easy!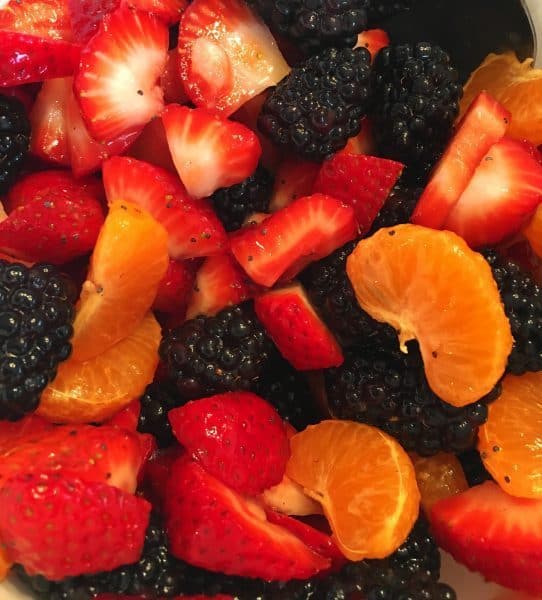 I filled individual fruit cups for the party I was planning. However you can serve it in a big bowl. This fruit salad is great for any of your backyard cook outs this summer or a pot luck at the park. It's perfect for breakfast too!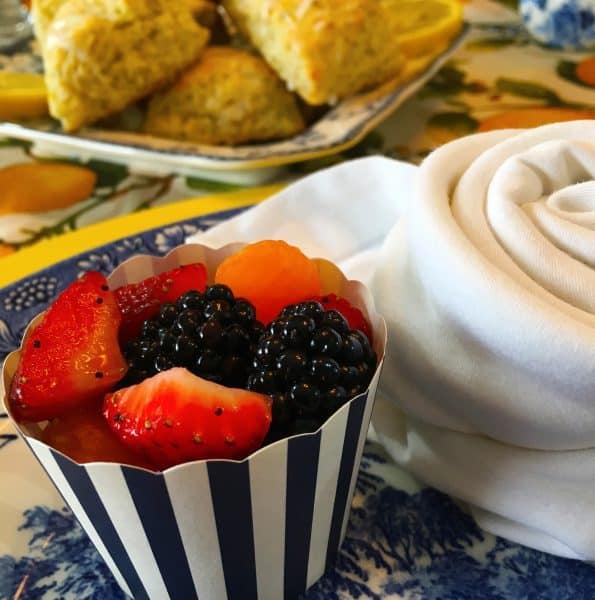 The key is the fruit! Make sure the berries are sweet and not "tart". Make sure the same is true for the mandarin oranges. When going "simple" quality is EVERYTHING! Otherwise you just have a mediocre dish. This goes for any simple recipe you are making. Top notch ingredients are key!
If you love simple dishes this one is sure to become a new favorite! What can beat an ice-cold fresh fruit salad with a hint of a honey orange poppy-seed dressing? Not too much my friends! Summer is about enjoying the simple things… sitting back and soaking it all in.
If you love this recipe you might also enjoy these Fruit Salad Recipes
Happy Nesting My Friends!!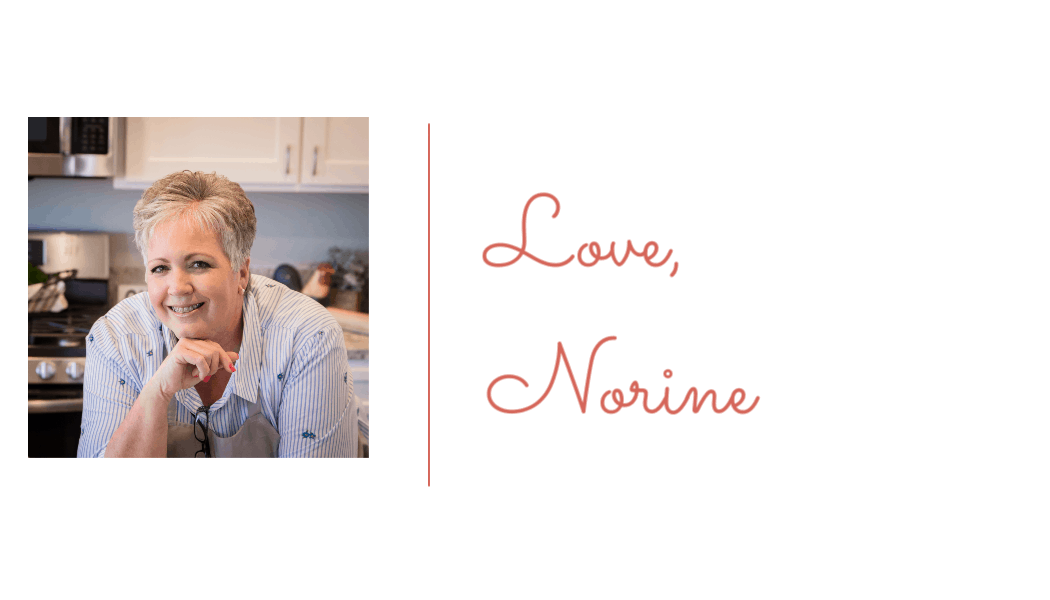 Yield: 1/2 cup
Honey Poppy Seed Fruit Salad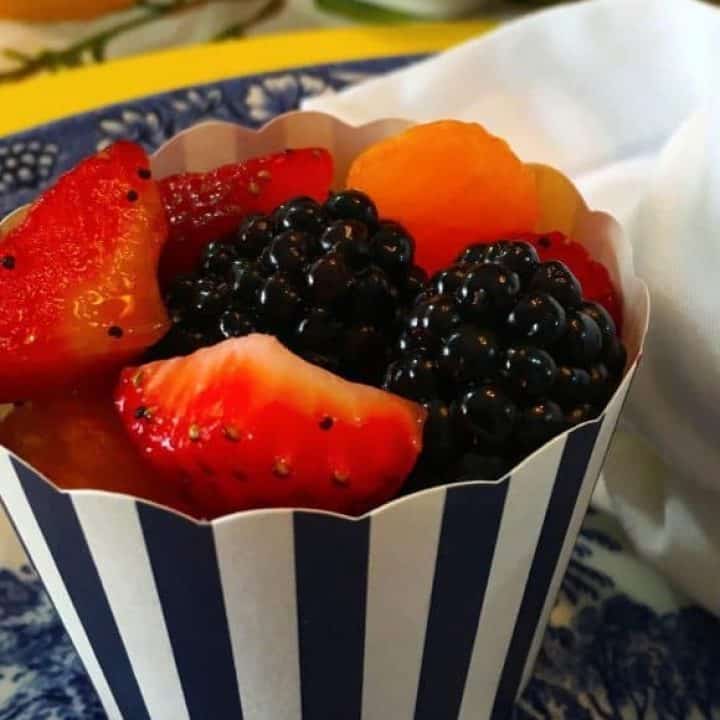 The fresh fruits of summer combine to create this beautiful and simple delicious Honey Poppy Seed Fruit Salad.
Ingredients
6 fresh mandarin oranges, like Halo's or Cuties, peeled and divided into segments
2 pint fresh blackberries
4 cups sliced fresh strawberries
Honey Poppy Seed Dressing
1/2 cup orange juice
6 Tablespoons Honey
2 tsp. Poppy Seeds
Instructions
Place all the fresh fruit into a large bowl. Keep cold until ready to serve.
Combine all the dressing ingredients. Mix with a wire whisk.
Pour over fresh fruit just before serving, and gently mix.
Recommended Products
As an Amazon Associate and member of other affiliate programs, I earn from qualifying purchases.
Nutrition Information:
Yield:
16 servings
Serving Size:
1/2 cup
Amount Per Serving:
Calories:

103
Total Fat:

1g
Saturated Fat:

0g
Trans Fat:

0g
Unsaturated Fat:

0g
Cholesterol:

0mg
Sodium:

3mg
Carbohydrates:

25g
Fiber:

4g
Sugar:

20g
Protein:

2g