Some recipes become instant family traditions! It happened the first time we tasted Grandma's Pea Salad With Peanuts! Sweet Peas, Roasted Peanuts, Sweet Pickles, and simple dressing combine for one tried and true family favorite!
I've never dedicated a post to anyone. Today's post is the exception… and it's dedicated to my Grandma Helen! My number one "Shero"! She understood children, loved playing in their magical world, and knew their hearts!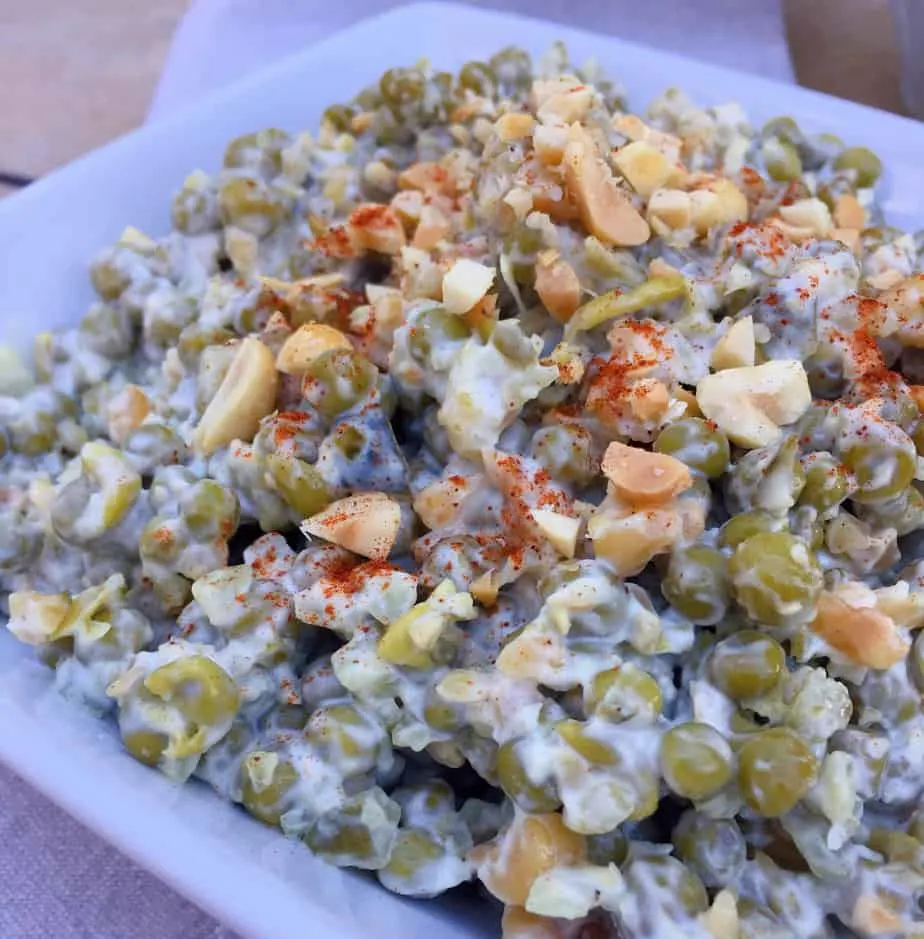 Grandma loved Life! She loved working! Seriously she LOVED hard work! She was an example to her family her entire life of the joy of work! She loved family, exploring, travel, learning, laughing, and having fun!
If she could have been the first woman to the moon…she'd have jumped at the chance! She loved being a Mom and a Grandma! My childhood is filled with the most wonderful memories of times spent together!
She was fearless in the kitchen! FEARLESS! Which at times was a jewel to her creativity crown…and at others…was a test to the rest of us "less fearless" souls! (Word to the wise…don't EVER kill your granddaughters pancake breakfast dreams by adding wheat germ to the batter! DO NOT DO IT!)
That lack of fear in the kitchen made her eager to try new recipes! She loved reading cookbooks and magazines in search of new and exciting dishes. New recipes like this Pea Salad.
What makes this Pea Salad different from all the others? Canned Peas! That's right…most Pea Salad recipes call for thawed frozen peas with all kinds of other delicious ingredients added in.
Grandma's was simple. Four ingredients…one of them being "canned Peas! (Don't run away…keep reading! I promise this recipe will "Wow" ya!)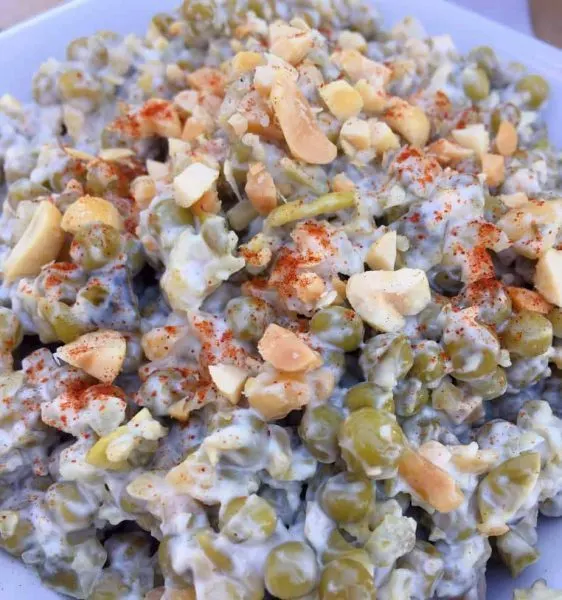 I still remember the first time it made its grand appearance at a Family gathering. We all looked at it skeptically. (I'm completely downplaying this…there was a lot of whispering and "Oh heck No I'm not eating that!)
One thing about Grandma…y'all were gonna try any new recipe! It was an unspoken LAW! (I'm not kidding… there was the great "pig stomach" dinner of 1979! Yes…you read that right! I should be in therapy over that one!)
So no one was escaping the "taste testing" of what would soon become the newest food member of the family tree!
So…gulp… I took a scoop of that Pea Salad and picked up my fork with two little peas teetering on the edge and "Plop" in they went! Chew, chew, chew…as fast as you can…and WAIT a second… Hey…HEY! This is GOOD! It was REALLY good!
So before you turn your nose up at Grandma's Pea Salad give it a try. Even my guys like it! My son-in-law openly admitted it wasn't as good as the Frito Corn Salad.… how can Peas compete with Fritos…but he did say it was good!
How To Make Grandma's Pea Salad
Start out by draining two cans of baby sweet peas. Grandma just used canned Peas. I like to use the baby sweet peas. They are perfect in this salad.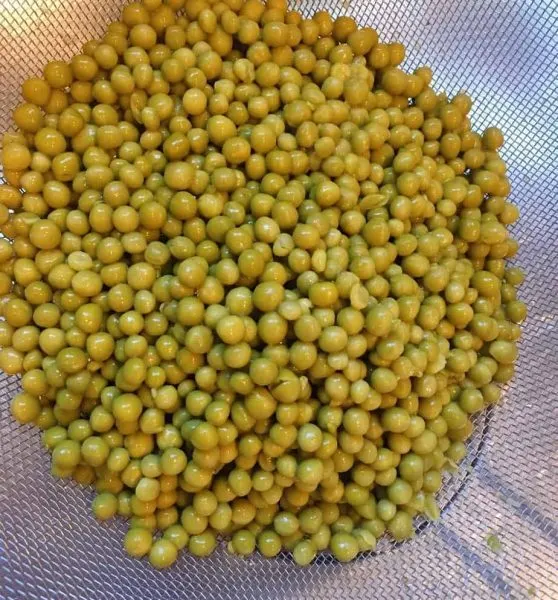 Chop one cup of roasted salted peanuts! They should be chopped small, we want them to blend with the Peas not overpower them. I'm pretty sure these peanuts were the big "lure" for Grandma. She loved…L.O.V.E.D. nuts!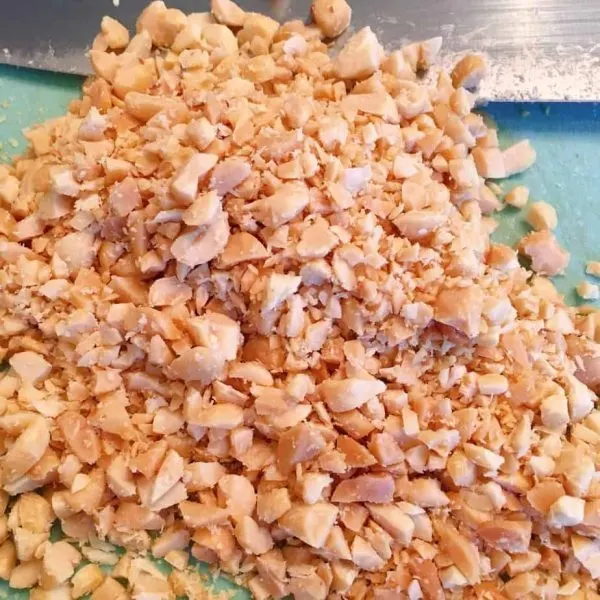 Drain 1 small jar of sweet pickles. About 8–10 pickles. Chop finely.
TIP: Do NOT use sweet pickle relish! I know it's tempting. But don't do it. The juices in the relish don't bode well for this salad. Thus, you need to get down to work and chop up those slick little sweet pickles.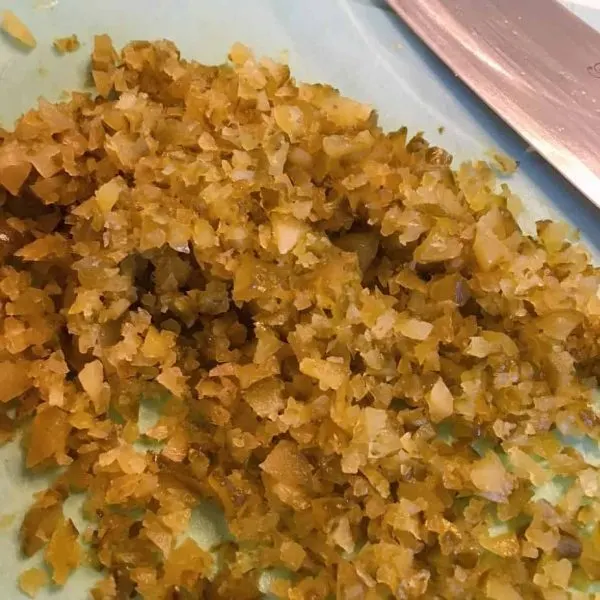 Place chopped peanuts and pickles to a medium mixing bowl.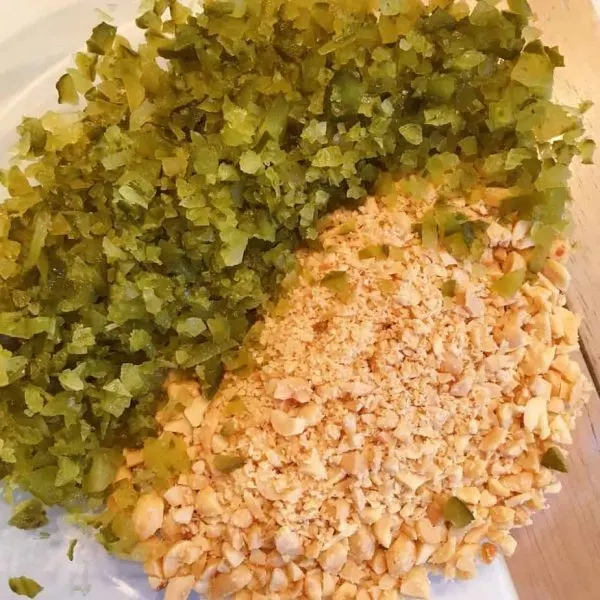 Place drained Peas in the mixing bowl on top of the peanuts and pickles. (Yes! I know how strange this recipe sounds…you're just gonna have to trust me!)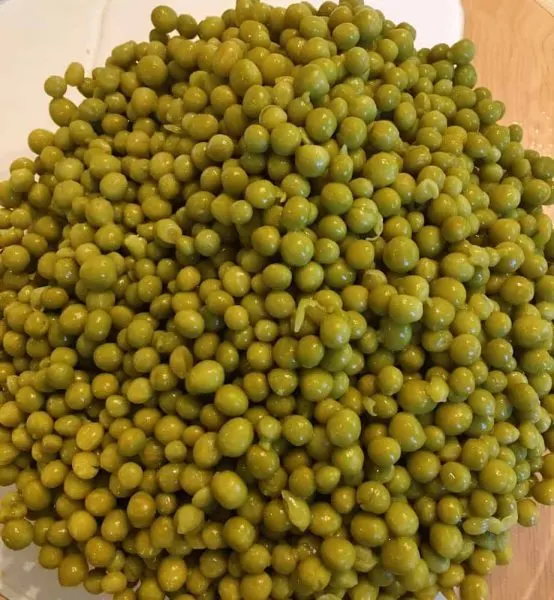 Using a rubber spatula carefully mix the peas, pickles and nuts together giving them a gentle toss. This will help when it's time to add the dressing.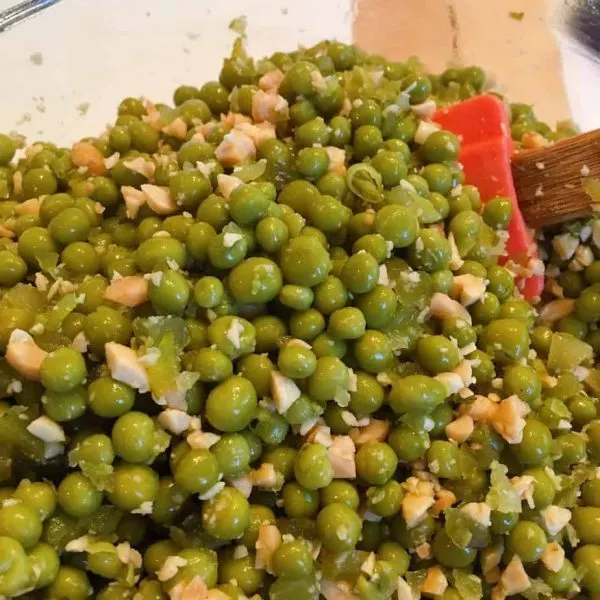 Which is right now!
Time for true confessions… Grandma didn't write down exact measurements. When it came to the "dressing" for this salad she just wrote "Add mayonnaise or salad dressing" (Miracle "Gag" Whip! This is the one thing Grandma and I didn't see eye to eye on. I use Mayonnaise. She used Miracle Whip half the time. Don't do that. Please. Petty, please! Mayo is much better in this recipe!)
I added 1 cup of Mayonnaise which was plenty. If you think it is too dry…add more. Salt and Pepper to taste! Remember that the peanuts are salty, the peas have been in a salt liquid, and the pickles are salty. So be sure to taste BEFORE you salt!
Gently fold in the mayonnaise being careful not to crush the peas!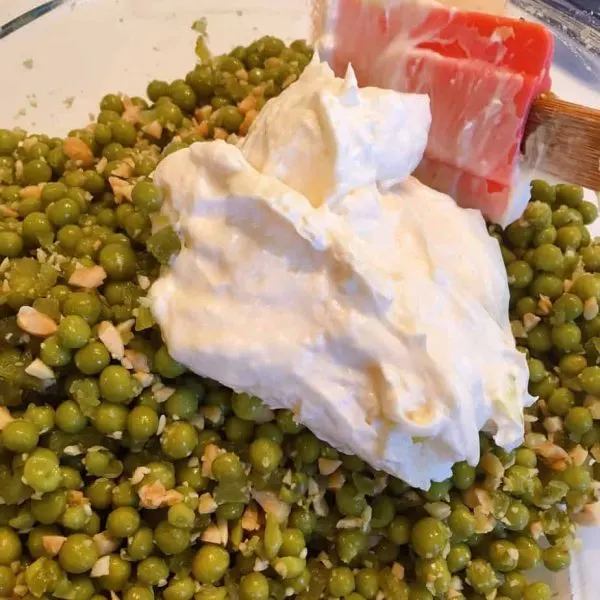 Once all the ingredients are combined, cover and chill 4 hours or overnight! As the salad chills the flavors from the sweet pickles blends with the mayonnaise and create a wonderful base for this salad.
I know this salad is super easy, and you might be thinking "Can just those four ingredients really create a delicious unique salad?" My response… "Cheese and corn chips equals Nachos!" Sometimes simple ingredients create the most delicious recipes!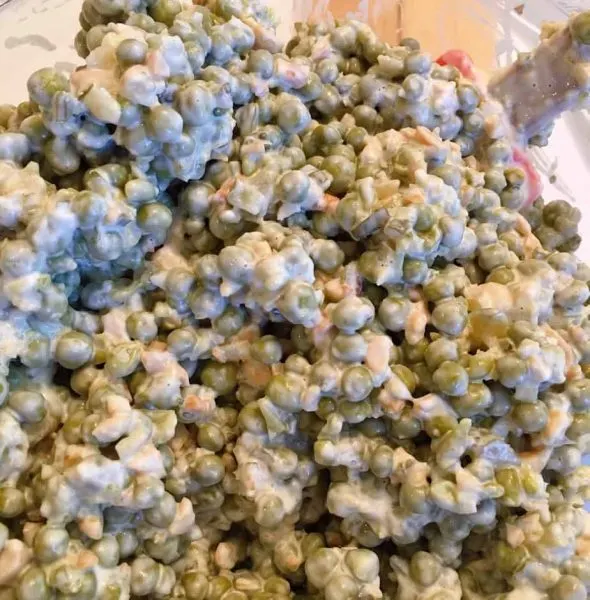 Serve Grandma's Pea Salad with Peanuts right out of the refrigerator. Give it a little stir beforehand and you're good to go. You can garnish with a few extra crushed peanuts like I did and a sprinkle of Paprika! Just to spruce it up a bit.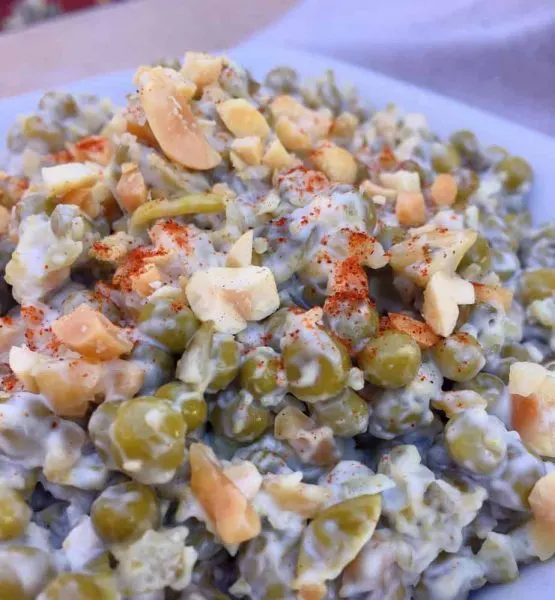 It's creamy and crunchy all in one thanks to the Pea and Peanut combination! This recipe is going to surprise you! It always takes everyone by surprise.
Now, if you're no a fan of Pea's I wouldn't expect you to like this salad. If you like Peas, then I'd expect you to love this salad, and I wouldn't be a bit surprised if it became a regular at your family gatherings, like it did at ours.
I think Grandma would be tickled that I shared her recipe here with all of you today! Grandma truly believed that good food and family went together hand in hand.
Cooking was a way to demonstrate to those you loved just how much they meant to you! (Even if it meant wheat germ in your pancakes!)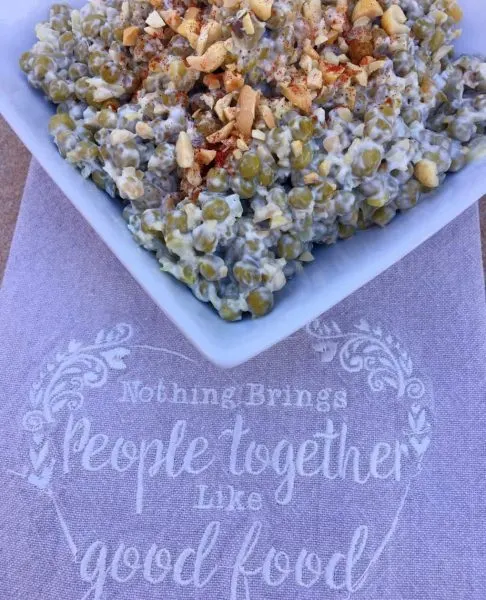 I believe the same thing. Food made with love is one of the greatest gifts we can give to family and friends.
Other Family Favorite Salad Recipes
Thanks so much for stopping by today! I hope you have a great week and come back soon!
Happy Nesting!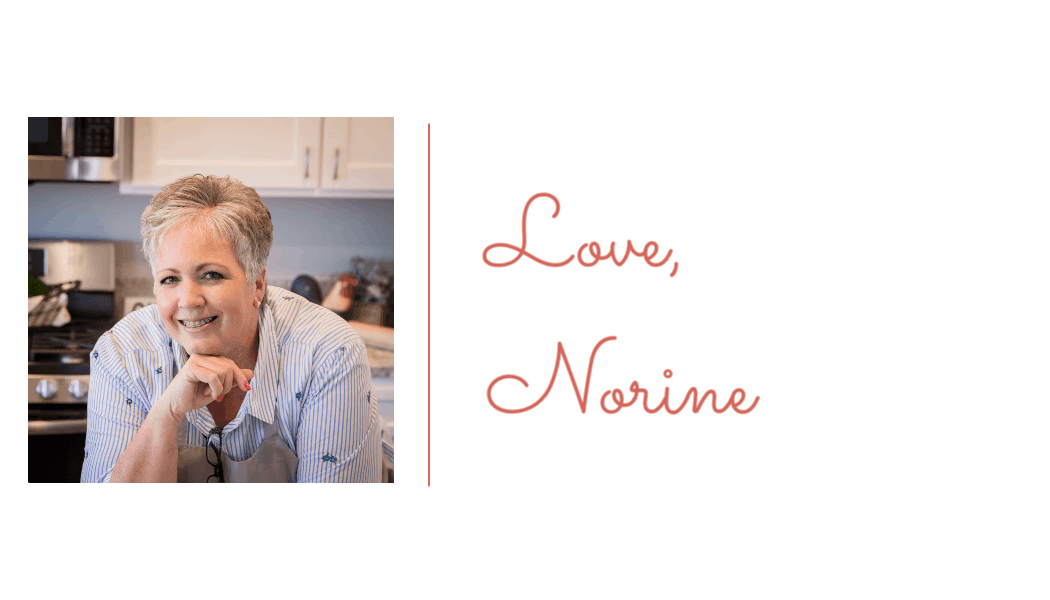 Grandma's Pea Salad with Peanuts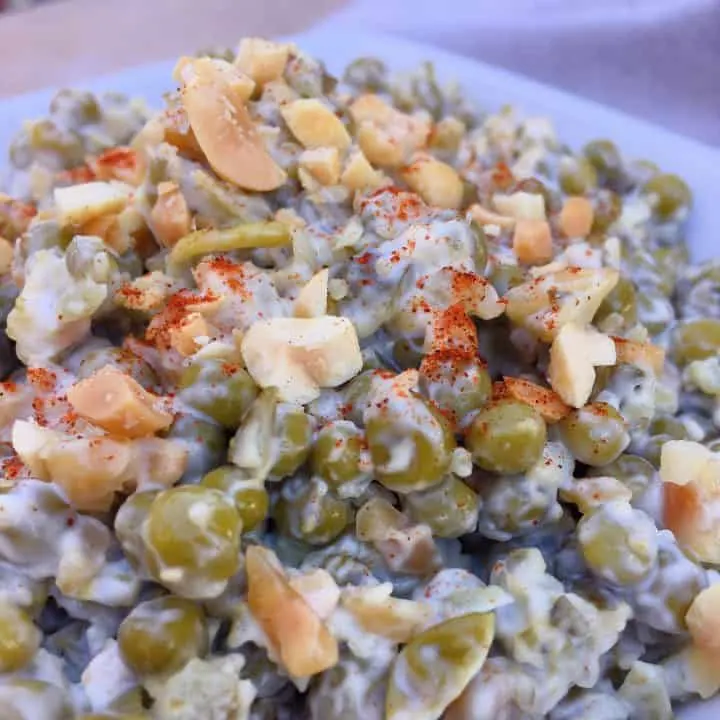 Tender young canned baby sweet peas are combined with crushed roasted peanuts, sweet pickles and dressing to create a unique and delicious Retro Pea Salad.
Ingredients
2 cans sweet peas, drained
1 small jar sweet pickles, about 10 pickles. Drained and chopped.
1 cup roasted salted peanuts, finely chopped
1 cup mayonnaise
Salt and Pepper to taste
Additional chopped nuts and paprika for garnish
Instructions
In a large bowl combine drained peas, chopped peanuts and chopped pickles.
Add 1 cup mayonnaise and stir gently until all ingredients are mixed. Salt and pepper to taste. Cover and chill 4 hours or overnight.
Stir right before serving and garnish with additional chopped nuts and Paprika.
Recommended Products
As an Amazon Associate and member of other affiliate programs, I earn from qualifying purchases.
Nutrition Information:
Yield:
6-8 servings
Serving Size:
3/4 cup
Amount Per Serving:
Calories:

334
Total Fat:

30g
Saturated Fat:

5g
Trans Fat:

0g
Unsaturated Fat:

25g
Cholesterol:

15mg
Sodium:

781mg
Carbohydrates:

12g
Fiber:

4g
Sugar:

5g
Protein:

5g