Beautiful fresh ripe ruby red cranberries are oven baked with orange zest and brandy to create this delicious candied cranberry Holiday Side Dish.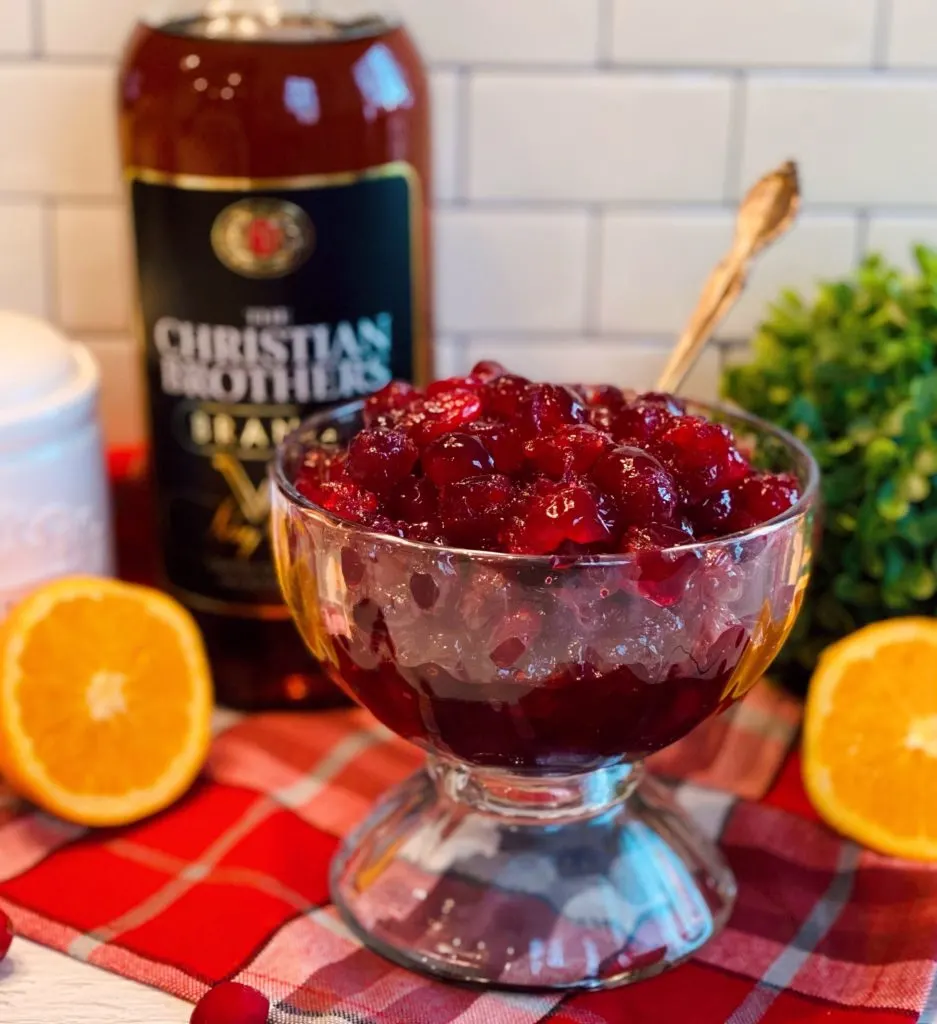 Thanksgiving is only 8 days away!! How in the world did that happen?
If you're like me, you're running behind, (Oh goodness was that ever understated!) and trying to figure out how you're going to make all those scrumptious side dishes that everyone loves?!! Have no fear…this delicious Easy Oven Baked Cranberry Dish can be made several days, up to a week, ahead of time and chilled until it's time for the Big Day!
Just to be sure I'm clear… this is not Cranberry Sauce. I do have an amazing recipe for Homemade Spiced Cranberry Sauce. However, this dish has very little "sauce" to it after it cools from baking. It's like each berry had a secret mission to soak up every last drop of the Brandy! (Kind of like that one relative on the family tree!) So…there's not much in the way of "sauce" to truly call it "cranberry sauce"!
This is more of a "candied" fruit dish! (At least I ate them like candy! I ate a LOT of them as candy!) As the cranberries bake in the brandy they become infused with fruity flavors and…each berry glistens like bright deep glazed rubies!
How To Make Baked Brandied Cranberries
Have you noticed when you purchase a bag of fresh cranberries from the market that there are varying shades of red from light to dark to nearly black? The assorted reds don't represent degrees of ripeness, but rather, different varieties! Who knew cranberries had "variety"? Now you do!
Cranberries also have a lot of pectin in them, which makes them perfect for sauces and conserve. It also makes them wonderful for this easy recipe!
Four simple ingredients and a hot toasty oven, and you're good to go!
Preheat your oven to 350°.
You will need a 1-1/2 quart casserole with a lid. You can use a 2 quart dish as well. Less chance of spillage! (It just dawned on me this is kind of like a bra….hmmm! Let it simmer…it will come to you! Lol)
In the casserole dish combine 1 (12 oz.) package of cranberries, 1-1/2 cups sugar, and 2 teaspoons grated orange peel. I love orange zest with cranberries! It screams "HOLIDAY HAPPINESS"! (Course so does Brandy from what I hear?)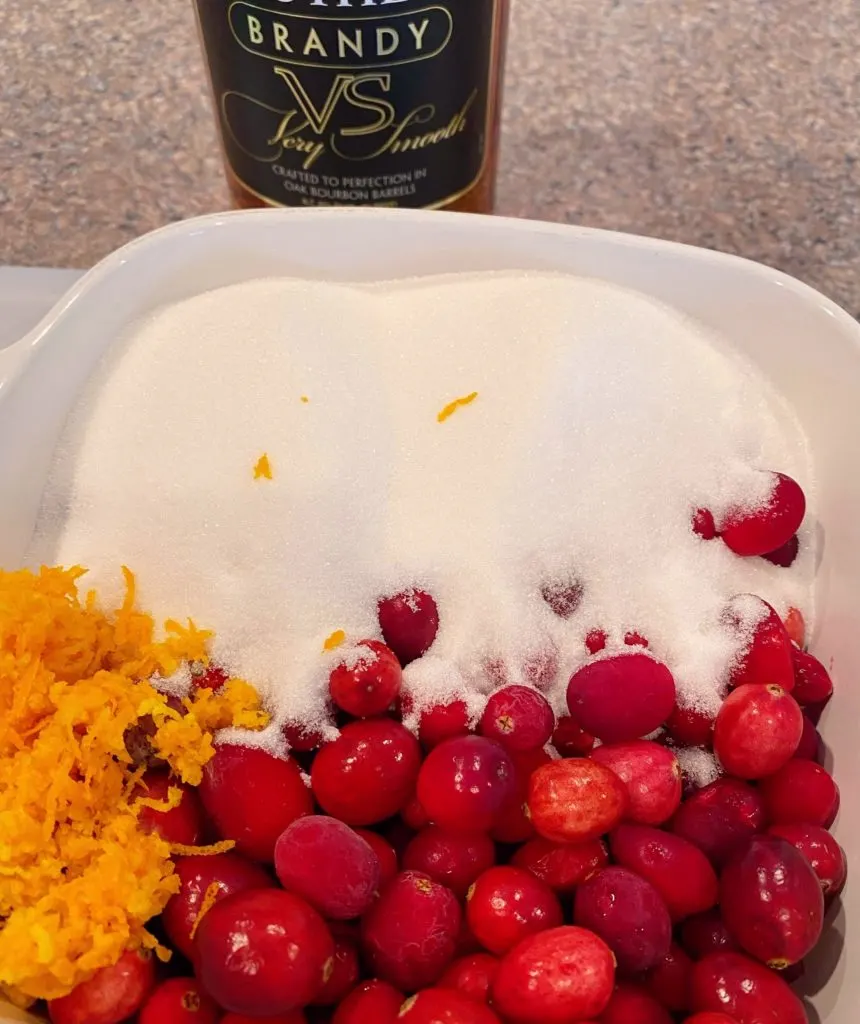 Let's Talk Brandy!
Okay full disclosure… I don't drink! Not even a drop! However, I do love cooking with alcohol! You can't get the flavors infused into your dishes that come from alcohol! Plus there's a science that happens when cooking with alcohol! It's awesome!
You can imagine what it's like going to the State Liquor Store with me. I walk around like an alien on his first visit to planet earth….or a two-year-old in a candy store for the first time! Completely and totally overwhelmed. If there weren't signs above the bottle and a helpful clerk, my panic and total confusion would be comical!
Even though I had never had brandy…I just knew that this dish was going to be amazing!! The brandy smelled wonderful! (I don't drink…sniffing however…Oh, I can hear the church ladies now!)
What is Brandy? Since I don't drink, and there maybe others out there, I thought it might be helpful to discuss what exactly Brandy is! Brandy is a spirit that is distilled from fermented fruit. Pears, apples, grapes, berries. All can be used, but generally it is made from grapes. Knowing that it can be made from all those delicious fruits makes it clear why it pairs so beautifully with the cranberries and orange zest!
You'll need 1/4 cup! WAIT!!! Whoa! The recipe needs 1/4 cup…what you need is a personal matter between you and the brandy! Lol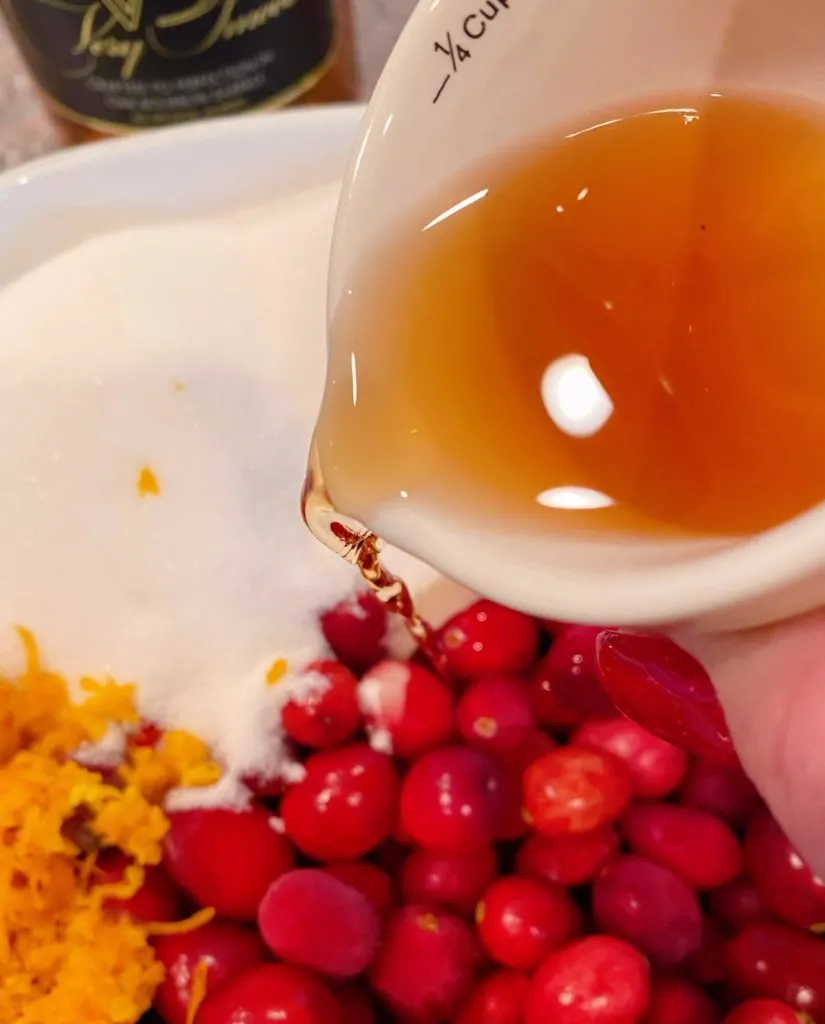 Baking Brandied Cranberry Relish
Combine all the ingredients by mixing well. They will look like sugared cranberries…but have no fear…that sugar is going to dissolve into the most glorious glaze that will soak into each one of those berries.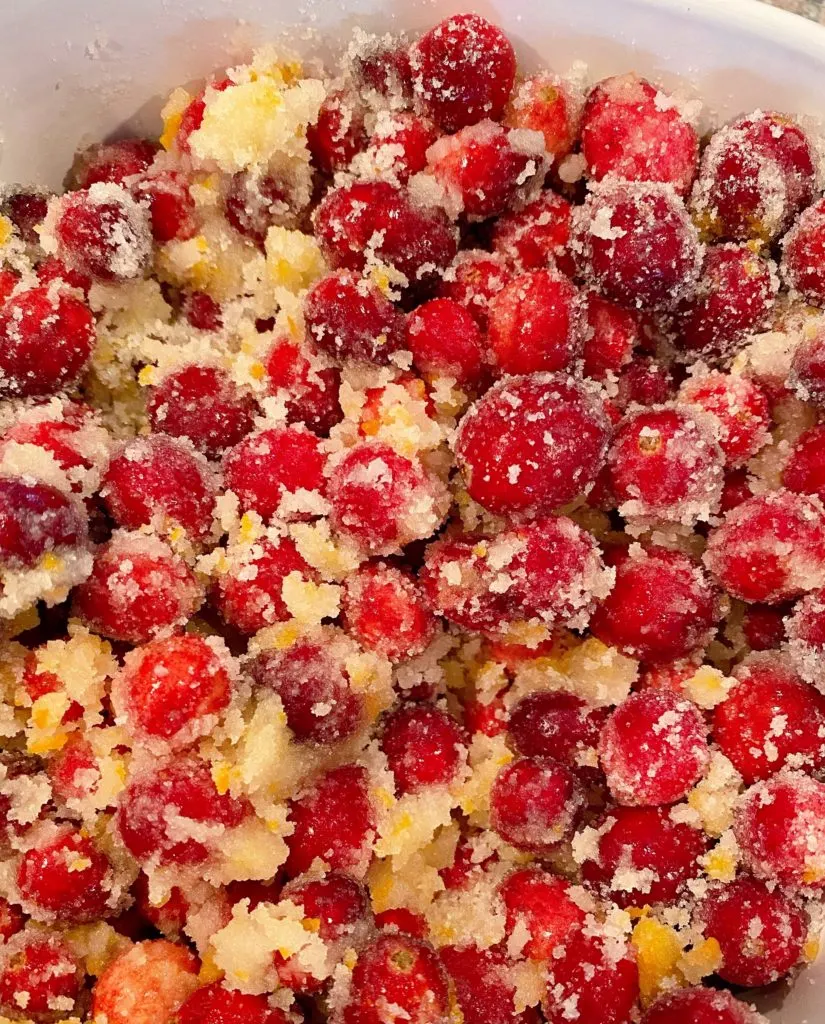 Place lid on the baking dish and place the baking dish in the center rack of your oven.
Bake for 20 minutes covered.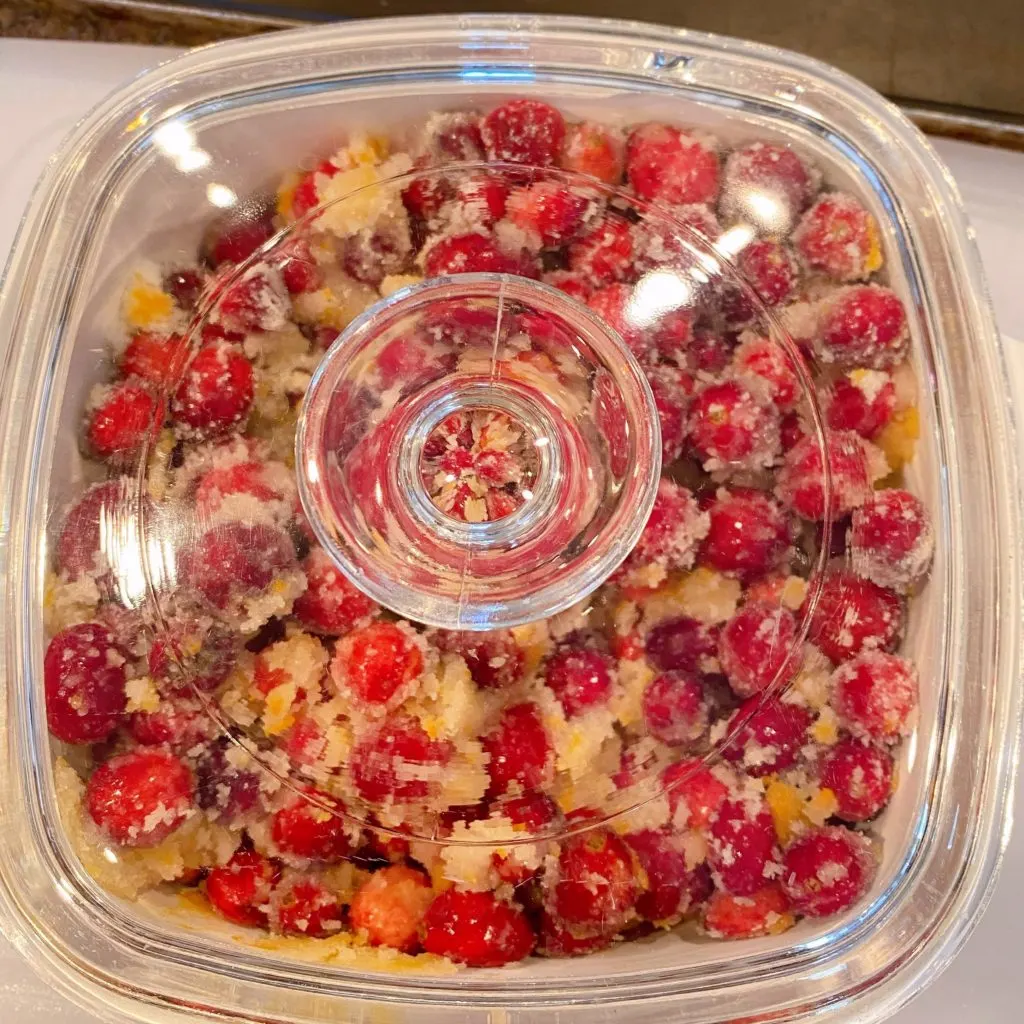 Uncover casserole; stir mixture. This will help move the juices from the bottom of the pan up to the top and help the sugar to further dissolve. Note the sugars are beginning to dissolve in the photo below.
Bake uncovered an additional 30 to 40 minutes or until cranberries pop and mixture is slightly thickened.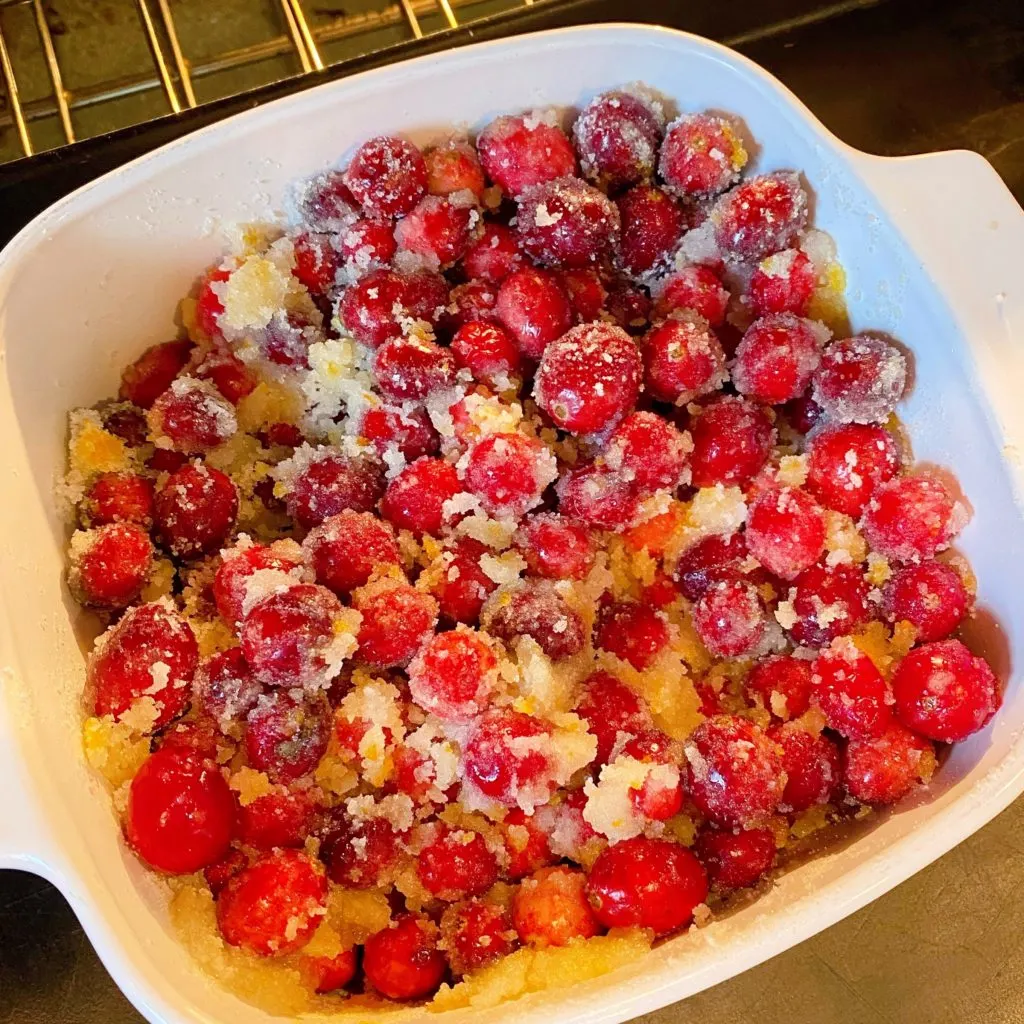 Finishing Brandied Cranberries and Helpful Tips
Carefully remove brandied cranberries and set on cooling rack. Gently stir the berries, making sure not the mash, or break them. Allow the berries to cool slight as they will continue to thicken as they cool!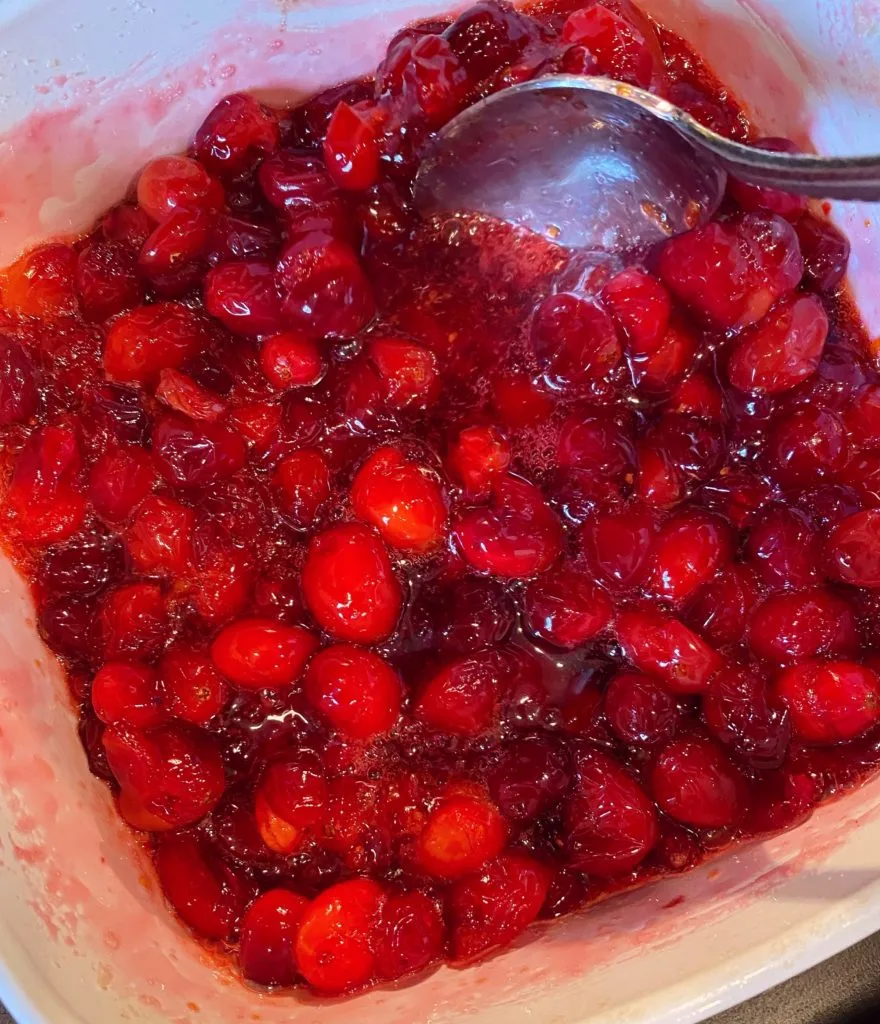 Baked Brandied Cranberries can be served warm or cold. Warm would be amazing over ham or Thanksgiving Turkey. Like a warm compote.
I love them chilled! Honestly, I couldn't stop popping them into my mouth as I was photographing this recipe! They plump up with the sweetened brandy and are so scrumptious!
You can see why they remind me of a "candied" fruit! They resemble candied cherries! Slightly sticky sweet on the outside, tender and juicy inside.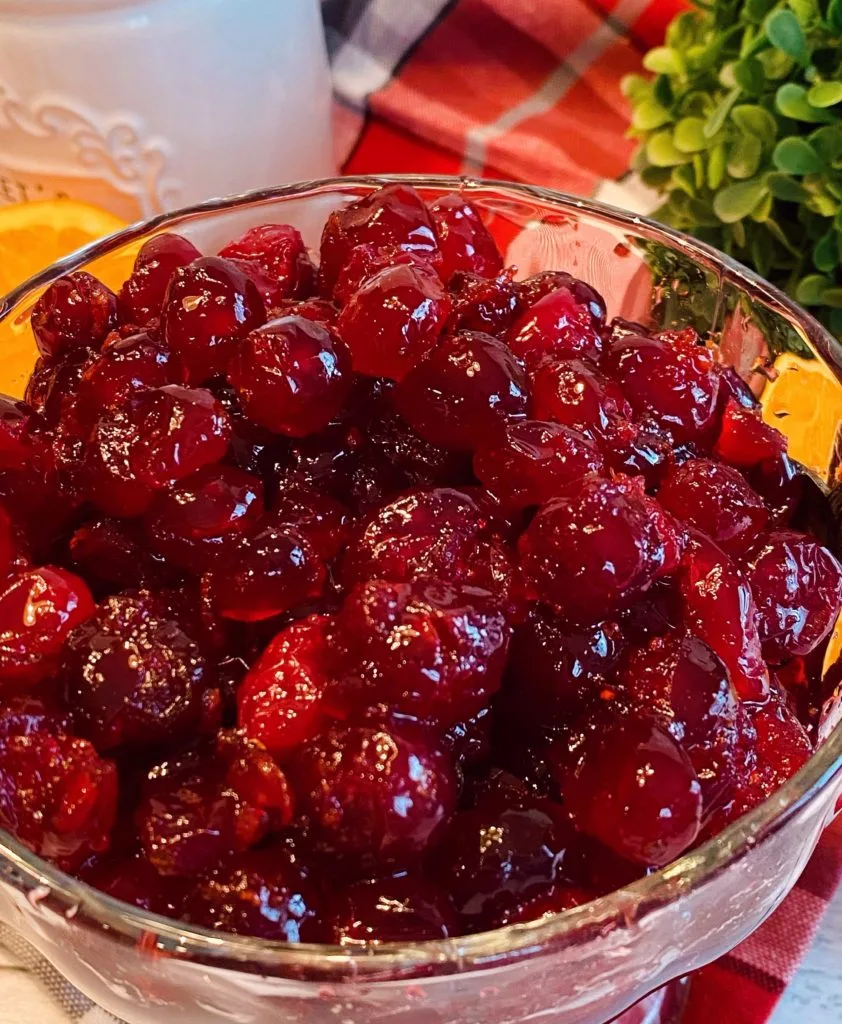 A splendid new addition to our Holiday Table! I can't wait to serve these Brandied Berries on Thanksgiving. I love that I can make them ahead of time, snack on them, and have them ready for the Big Day!
Other Favorite Holiday Cranberry Recipes
I hope that you enjoy this new Cranberry Relish as much as I do! I love how quick and easy it is to prepare and that the oven does all the work! Now to get the elves to do the dishes! Thankfully there's only dish with this recipe. You're welcome!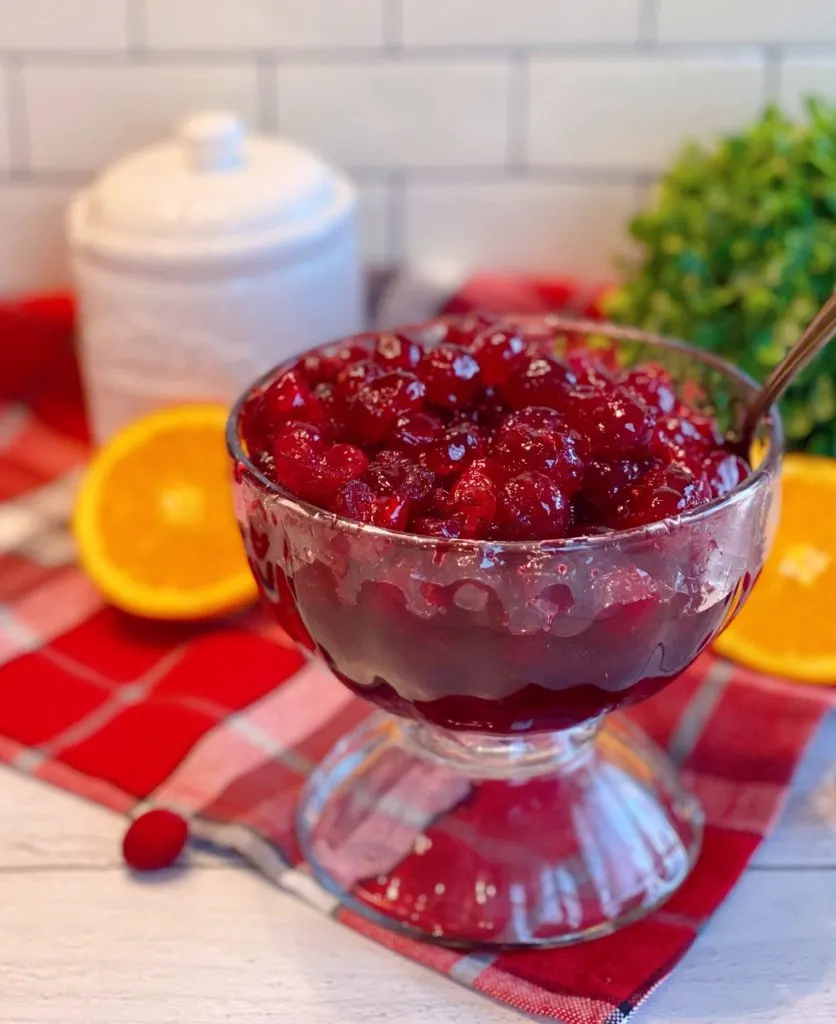 As always, Thank You for visiting my Nest! It's my hope and prayer that this Holiday Season will be filled with Food, Fun, and Family! All the blessings you deserve and desire!
Happy Nesting!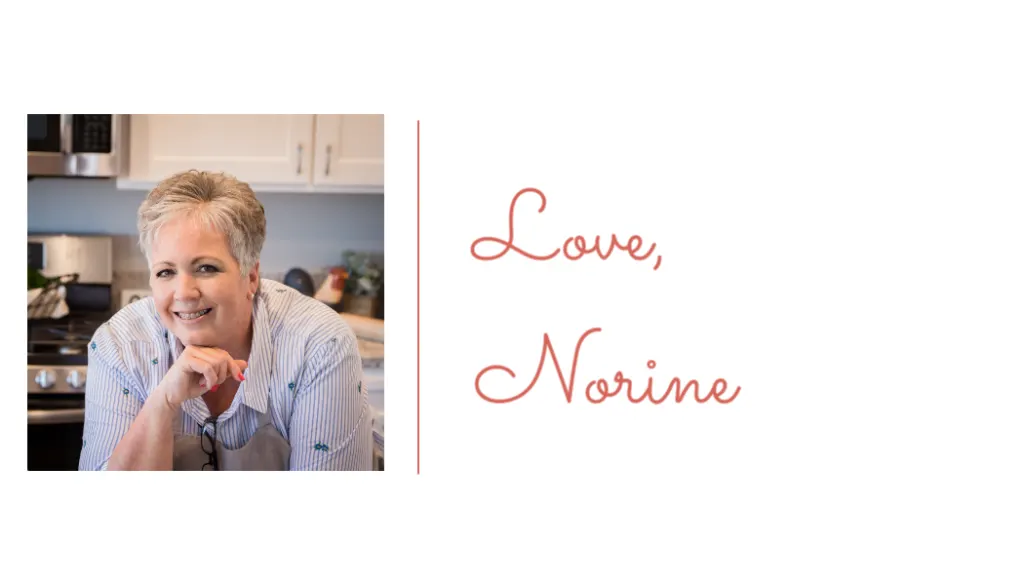 Yield: 8 servings
Easy Baked Brandied Cranberries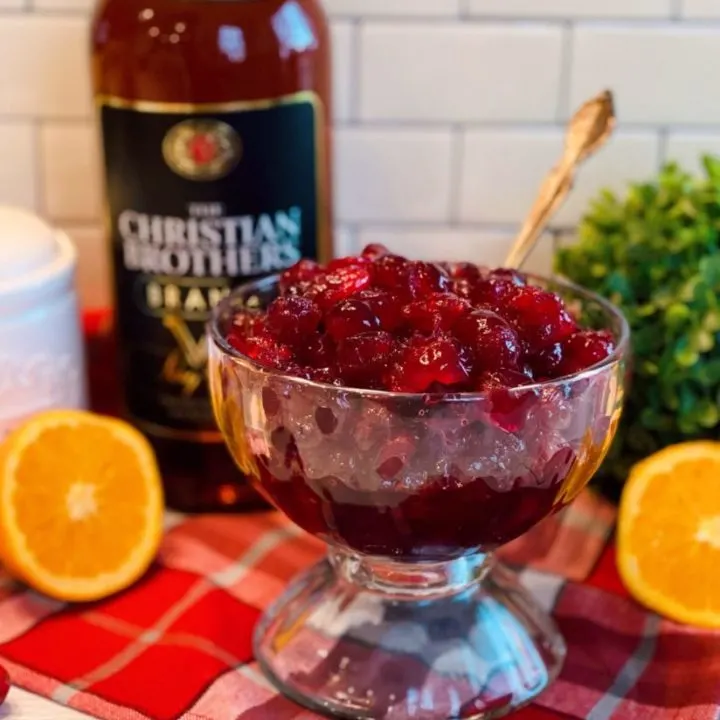 Beautiful fresh ruby ripe cranberries are oven baked with orange zest and brandy to create this delicious candied cranberry Holiday Side Dish.
Total Time
1 hour
5 minutes
Ingredients
1 (12-oz.) pkg. fresh cranberries
1-1/2 cups sugar
2 teaspoons grated orange peel
1/4 cup brandy
Instructions
Heat oven to 350°. In 1-1/2 quart casserole, combine all ingredients; mix well. Cover.
Bake at 350°F. for 20 minutes. Uncover casserole; stir mixture. Bake uncovered an additional 30-40 minutes or until cranberries pop and mixture is slightly thickened. Serve warm or cold.
Recommended Products
As an Amazon Associate and member of other affiliate programs, I earn from qualifying purchases.
Nutrition Information:
Yield:
8
Serving Size:
1/4 cup
Amount Per Serving:
Calories:

213
Total Fat:

0g
Saturated Fat:

0g
Trans Fat:

0g
Unsaturated Fat:

0g
Cholesterol:

0mg
Sodium:

1mg
Carbohydrates:

52g
Fiber:

1g
Sugar:

50g
Protein:

0g