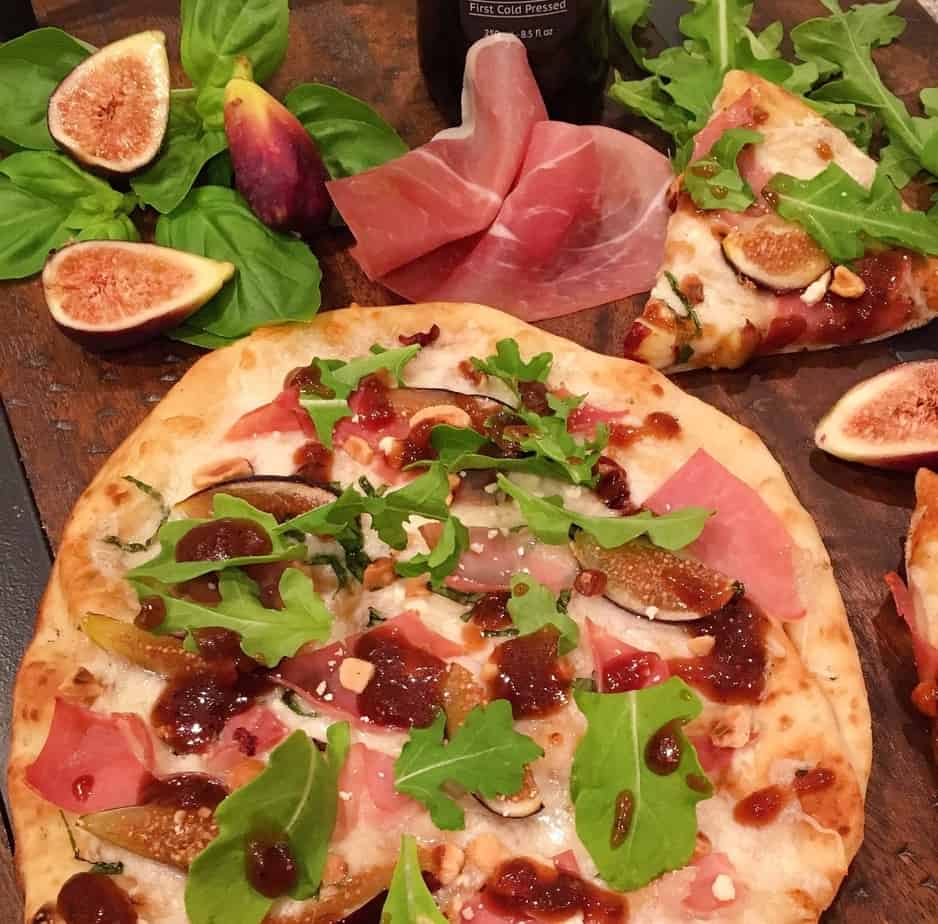 Fig Prosciutto Hazelnut Pizzas with a Balsamic Glaze are ready in 20 minutes! These delicious pizza's made on Garlic Naan Bread topped with fresh basil, prosciutto, hazelnuts, and fresh figs topped off with baby arugula and a fig balsamic glaze are a delectable gourmet taste treat!
*As an Amazon Associate I earn from qualifying purchases. This post may contain affiliate links, which means that I may make a commission from any purchases at no additional cost to you. Thank you for your support!
Years ago in this sweet little country town I call home, a local restaurant served a scrumptious Fig Arugula Pizza. I was intrigued! So for kicks and giggles I ordered one. I stepped totally outside my "pizza comfort zone", ya know, pepperoni, mushrooms, olives, loads of cheese and tomato sauce, and I ordered this unique pizza.
It was, in a word, AMAZING! A total game changer!
That was the day my pizza taste buds "grew up"! The Chef's of Restaurants Pasts all sang in Heavenly Rejoicing . (They'd been waiting years for those little "buddies" to join the real world of food!)
The flavors combined to create a wonderful dinning experience. Unfortunately the quaint cool local pizza placed had a wood burning oven to cook their pizza's and I don't. I also don't have a recipe for their amazing thin crust artisan dough.
So, what's a girl supposed to do to recreate such a delicious treat?
Naan bread! Yep, Naan bread was the answer to my crust dilemma! It grills beautifully and creates a fantastic easy crust for these gourmet pizzas.
With just a few ingredients you can recreate this tasty treat too. If you can't find, or don't like figs, you can use thinly sliced apples or pears. Peaches and apricots would be equally delicious. Don't be afraid to mix it up a bit with this recipe.
Let's make these pizza!
How To Make Fig Prosciutto Hazelnut Pizza
Preheat your oven to 450°. If using a BBQ use the outside burners only, keeping the center burners off, and heat the grill to 500 degree. This will create heat without burning the crust on the pizzas.
For the pizza crust, you'll need a package of Garlic flavored Naan Bread, containing two large Naans.
Naan bread can be purchased at any market. It is a traditional bread from India that is leavened with Yeast and cooked in a tandoor. You can make it from scratch, but I recommend purchasing it to keep it simple.
Placed both Naan's on a large baking sheet. (See…that was easy!) We won't actually be baking them on the baking sheet, but it does make it easier to prepare them and move them to the grill.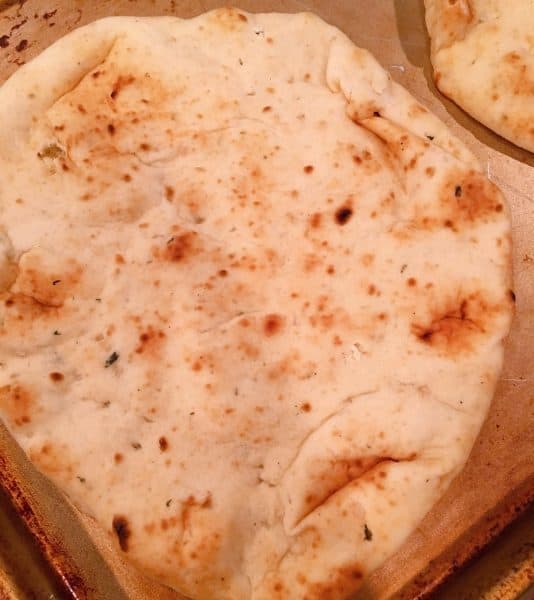 Brush each Naan with 1/2 a Tablespoon of Garlic infused Olive oil. I found mine at TJ Maxx. If you can't find a Garlic flavor Olive Oil you can use regular olive oil.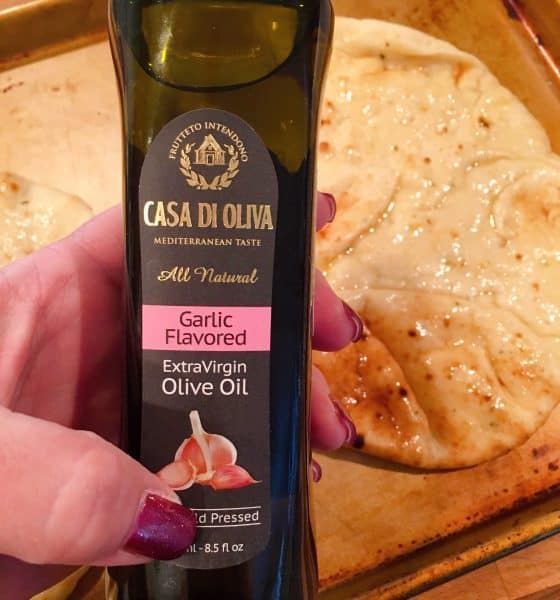 Time for my "secret" ingredient in this recipe…Kraft Balsamic Dressing! The perfect Balsamic dressing. It won't over power the other flavors like straight balsamic, and is slightly sweet with the perfect blend of seasonings and spices.
Brush each Naan with 1 Tablespoon of Balsamic dressing.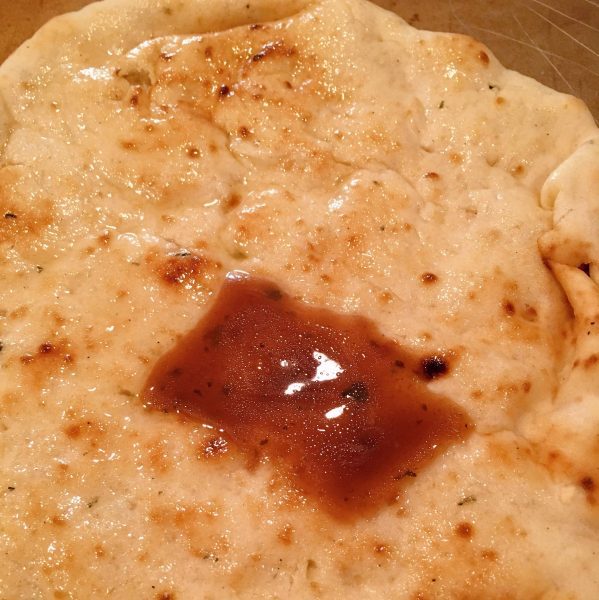 Sprinkle each Naan pizza with 1/2 cup of grated mozzarella cheese. If you like more cheese…then by all means…go for it!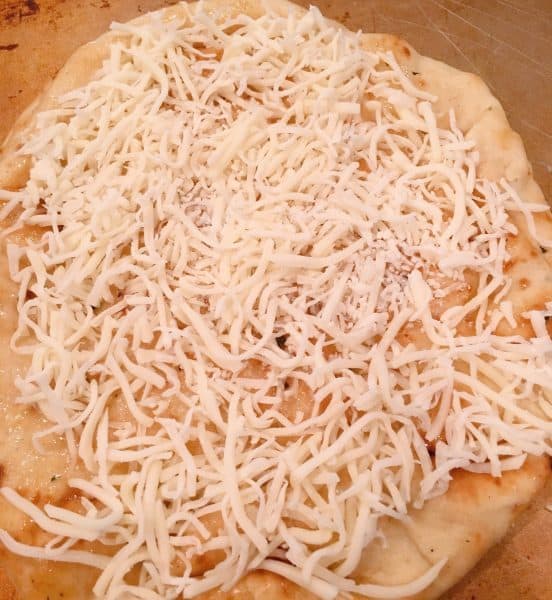 Sprinkle each pizza with 1/2 Tablespoon chopped fresh basil and one slice of Prosciutto cut into bite size pieces.
Prosciutto is a dry cured thinly sliced uncooked ham. It's a little pricey, but the flavor can't be copied or replaced. One package can make several pizzas.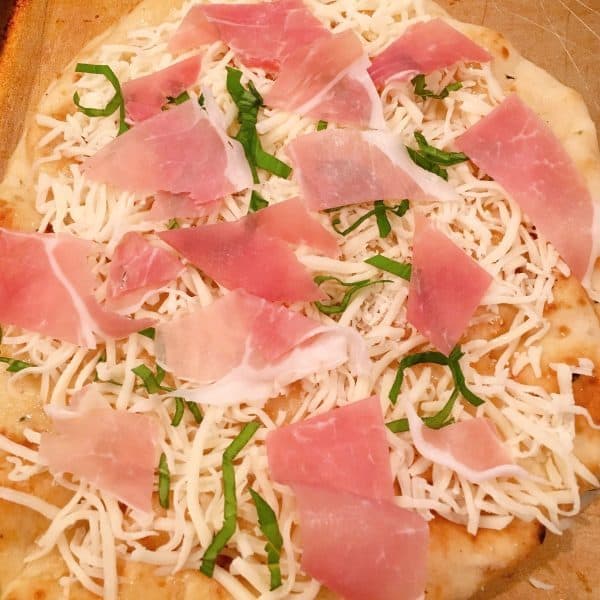 I found my fresh figs at the Farmer's Market. They may not be easy to find…but worth the hunt! You could use dried figs too. If you can find fresh I highly recommend them.
Cut each fresh fig into eight slices. Place the fig slices on top of each pizza. I'll say this again…if you are not a fig fan, you can add thinly sliced apples, pears, peaches, or apricots. Explore the various flavors these fruits can bring to this dish. I'll be honest though…give Figs a Chance! That's my plea for this pizza.
Give Figs a Chance! Give Figs a Chance! (Chant it with me!)
Sprinkle each pizza with a healthy dose of crumbled Feta. I know…crazy huh? What is she doing? Adding Greek Feta to this pizza? It's called flavor my friends. A perfect blend of flavor.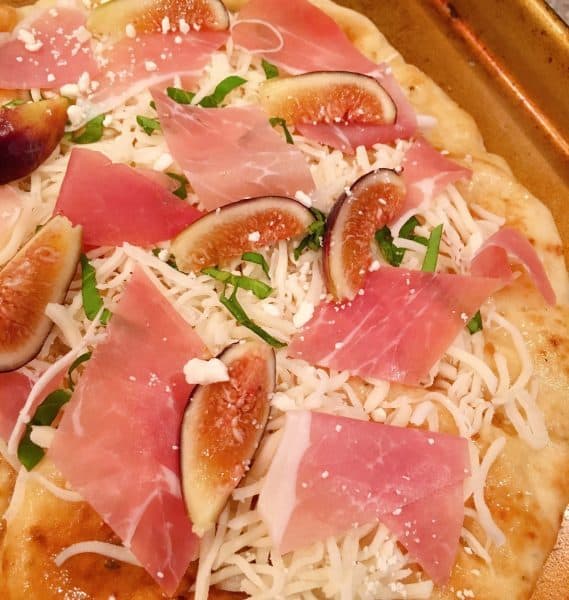 Last, but not least…a good sprinkle of chopped Hazelnuts! This was my own nod of stepping out of the norm. They work beautifully on this pizza. Isn't this pizza pretty! Yep, I said it…pretty. This pizza hits all the senses. As all good food should.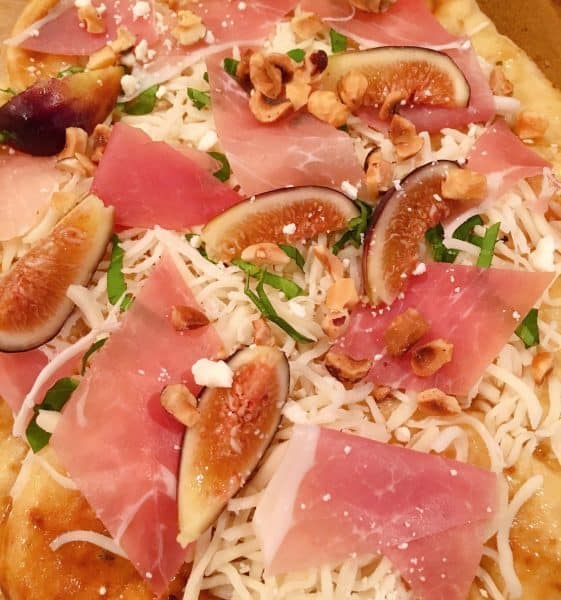 Time to get cooking! Place each pizza in your preheated oven, or on your preheated grill. I used our grill. It works great with this recipe. I recommend placing each pizza directly on the grill racks of your oven or BBQ. If using your BBQ remember to place them in the center where the burners are turned off. The outside burners will do all the work and create an "oven".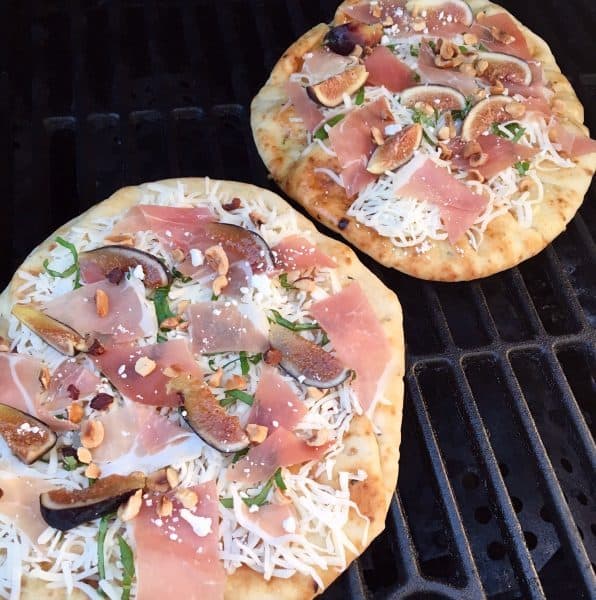 Watch the pizza's as they cook. It doesn't take long. On the BBQ two pizza's took about 10 minutes. The pizza is done when the cheese is melted and the ham is cooked.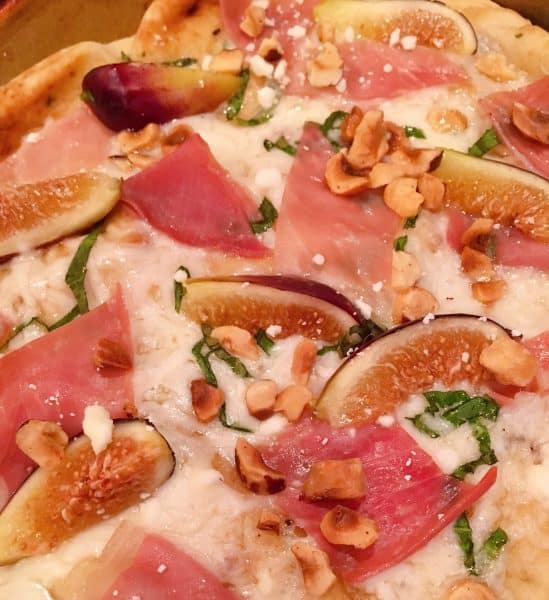 While the pizza's are baking you can whip up the Balsamic Glaze. It's easy peasy.
In a small bowl mix together 4 Tablespoon of Fig Jam with 2 Tablespoons of that Kraft Balsamic Dressing. Whisk together until well combined.
Sprinkle each pizza with baby arugula and drizzle with Fig Balsamic Glaze.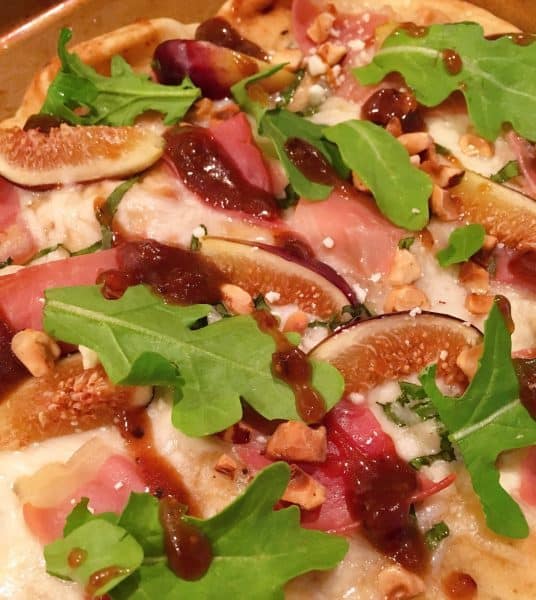 It's time to eat! The best time! Cut each pizza into slices and….inhale!!! Seriously this pizza is swoon worthy!! I kid you not. The flavors are a party in your mouth! Everything is fresh and blends perfectly…you could say "They play well together!".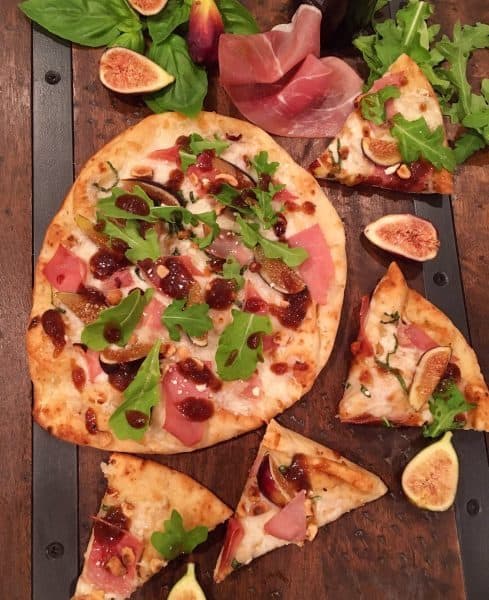 What I love about this particular recipe is it's versatility. You can serve it as a main course OR you can cut it into smaller slices and serve it as an appetizer.
I'm the kind of person who feels that if you put pineapple on a pizza, you're dead to me! That's how strongly I feel about "fruit" on pizza.
What makes this different? There's no red sauce on this pizza. The flavor of "sauce" on this pizza comes from that spectacular Fig Balsamic Glaze. So much flavor…glorious delicious flavor.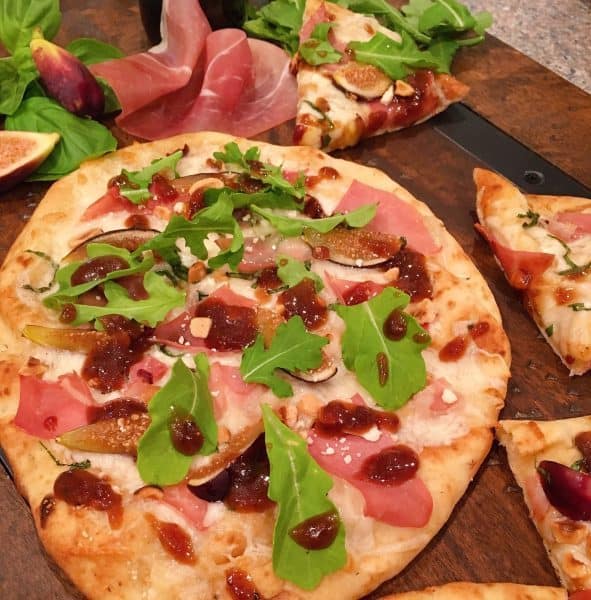 The flavor from the fresh figs is out of this world. The nutty taste from the arugula divine. The subtle smokey salty flavors from the Prosciutto, mozzarella cheese, and the bold flavors from the feta and basil…YUM!
I love how quickly and easy this recipe is to make. Something this decadently delicious shouldn't be so easy. I ate the entire thing! All. By. Myself! Yep…not one ounce of guilt here my friends!
If you enjoyed this recipe you might also enjoy these other delicious Appetizer Recipes
I promise this Fig Prosciutto Hazelnut Pizza with Balsamic Fig Glaze will pleasantly surprise you! I know it surprised Mr. Nest. He was pretty impressed with how yummy this unusual and unique pizza is.
Id' love to have you follow me on Facebook, Instagram, and Pinterest where I share all my favorite recipes each and every day.
Happy Nesting!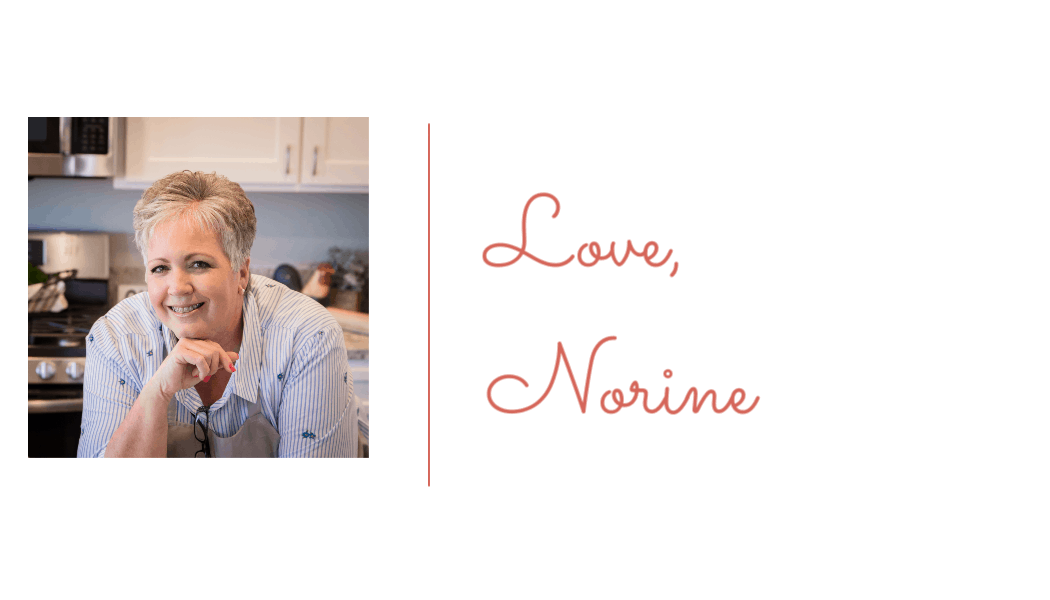 Yield: 2 - 4 servings
Fig Prosciutto Hazelnut Pizza With Balsamic Glaze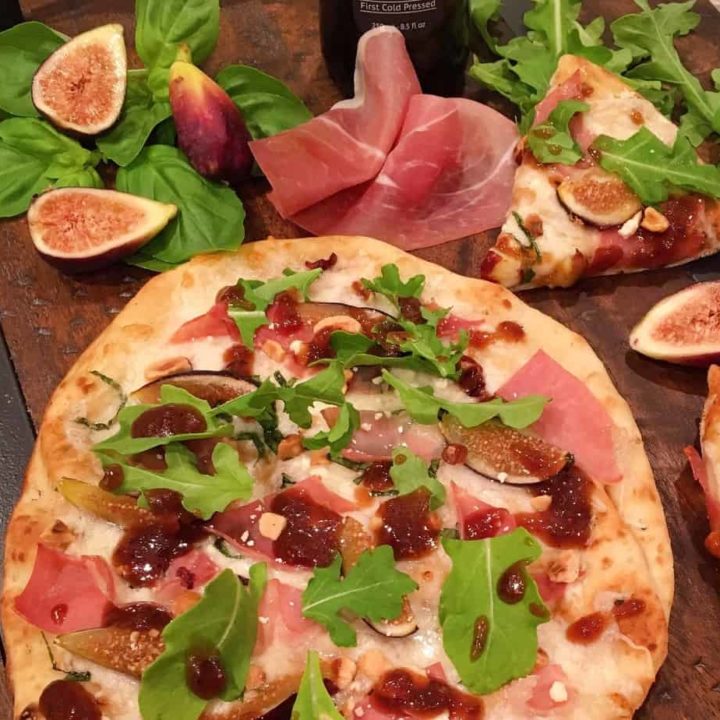 Fig Prosciutto Hazelnut Pizza with Balsamic Glaze ready in 20 minutes is made with Naan Bread, Prosciutto, Hazelnuts, fresh figs, feta, basil, nutty baby arugula and a scrumptious delicious Fig Balsamic Glaze.
Ingredients
2 Garlic Flavor Naan breads
1 Tablespoon Garlic Flavored Olive oil
2 Tablespoons Kraft Balsamic dressing or Balsamic Vinaigrette
1 Tablespoon fresh chopped basil
1 cup grated mozzarella cheese, divided in half
2 fresh figs cut into 8 slices each
4 Tablespoons chopped hazelnuts
2 slices Prosciutto, cut into pieces
1 cup fresh baby arugula
2 Tablespoons Feta cheese crumbles
Fig Balsamic Glaze
4 Tablespoons Honey Fig Jam
2 Tablespoon Kraft Balsamic dressing
Instructions
Preheat oven to 450 degrees or BBQ to 500 degrees. If using a BBQ only turn on the outside burners keeping the inside burners off.
Place Two Naan's on baking sheet. Brush each Naan with Garlic infused olive oil. On top of that brush each Naan crust with 1 Tablespoon Balsamic Dressing.
Place 1/2 cup of grated cheese on top of each crust. Sprinkle each pizza with 1/2 Tablespoons of fresh chopped basil and 1 Tablespoon crumbled feta.
Top each pizza with one slice chopped prosciutto, 1 fig cut into 8 slices, and 2 Tablespoons chopped hazelnuts.
Place each pizza directly on the grill grate of either the oven or BBQ. If using the BBQ place the pizzas in the center of the grill. Bake for 10 minutes or until cheese is melted.
While pizzas are baking combine ingredients for Fig Balsamic Glaze. Whisk until well combined.
Remove pizzas from oven and top with baby arugula. Drizzle with Fig Balsamic Glaze. Cut and Serve immediately.
Recommended Products
As an Amazon Associate and member of other affiliate programs, I earn from qualifying purchases.
Nutrition Information:
Yield:
4 servings
Serving Size:
2 slices
Amount Per Serving:
Calories:

422
Total Fat:

22g
Saturated Fat:

7g
Trans Fat:

0g
Unsaturated Fat:

14g
Cholesterol:

36mg
Sodium:

929mg
Carbohydrates:

43g
Fiber:

2g
Sugar:

28g
Protein:

15g