Fresh plump cranberries with hints of orange and spice come together to create this amazingly delicious Spiced Cranberry Orange Sauce.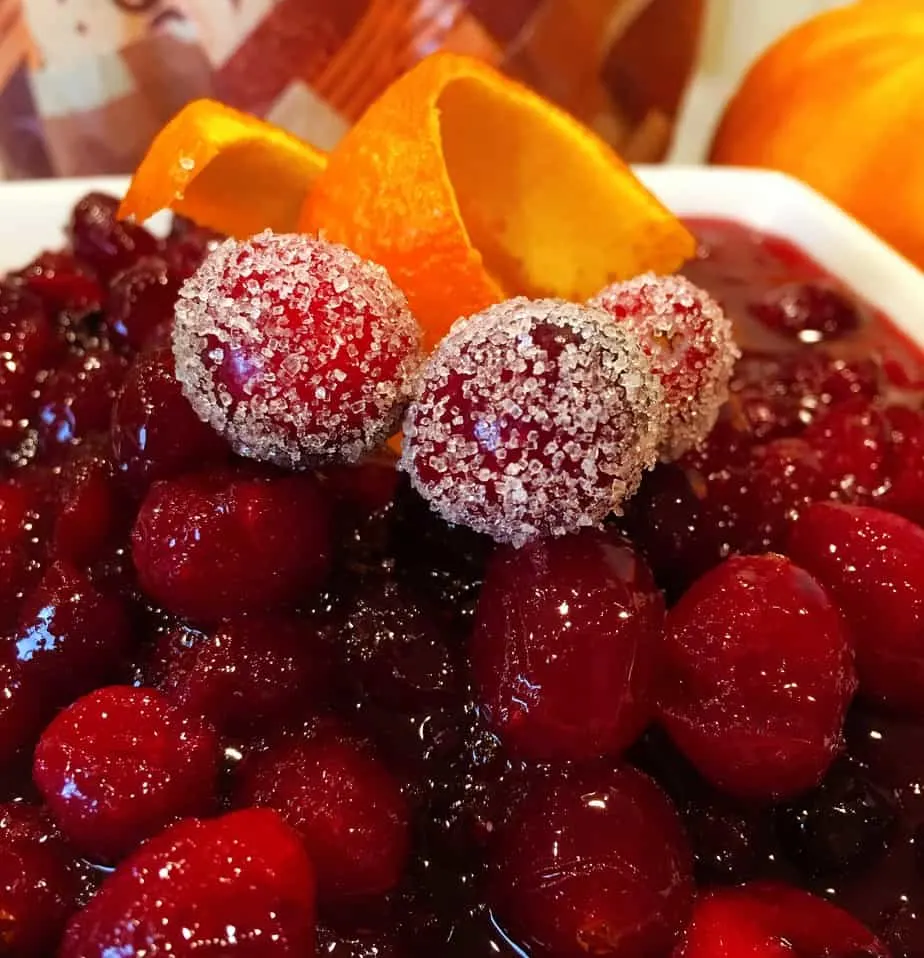 It's Thanksgiving Week! Hooray! Who doesn't love a holiday that's ENTIRE focus is around food and how much of it we can eat in one sitting! (My kind of Holiday!) Throw in a football game and a parade with giant inflatable balloons, a long nap, and… hot diggity I'm in!
Oh sure, there's that gratitude thing! However, admit it…we're all dreaming of golden big birds, mashed potatoes, stuffing, pumpkin pie and how to avoid sitting next to Uncle Charlie with that "gas" problem! Lol
Alright, in all seriousness… It is a day of immense gratitude! How can we help but feel anything less than grateful for all that we have been given? Especially when our tables are laden down so heavily with such bounty!
I always think of the scene in "A Christmas Carol" where Tiny Tim's family has so little to eat at their holiday table. I realize there are many who suffer the same fate. Gratitude should always be served during the Holidays!
One of the things that makes our holiday tables so yummy are the "side dishes". One of my favorite side dishes is homemade cranberry sauce. It compliments the Turkey so well!
A fork loaded with juicy white turkey meat and a dab of this beautiful sauce, and I'm in heaven. This recipe is so simple! Don't do canned if you can squeeze making this in! You can, and should make it…like TODAY!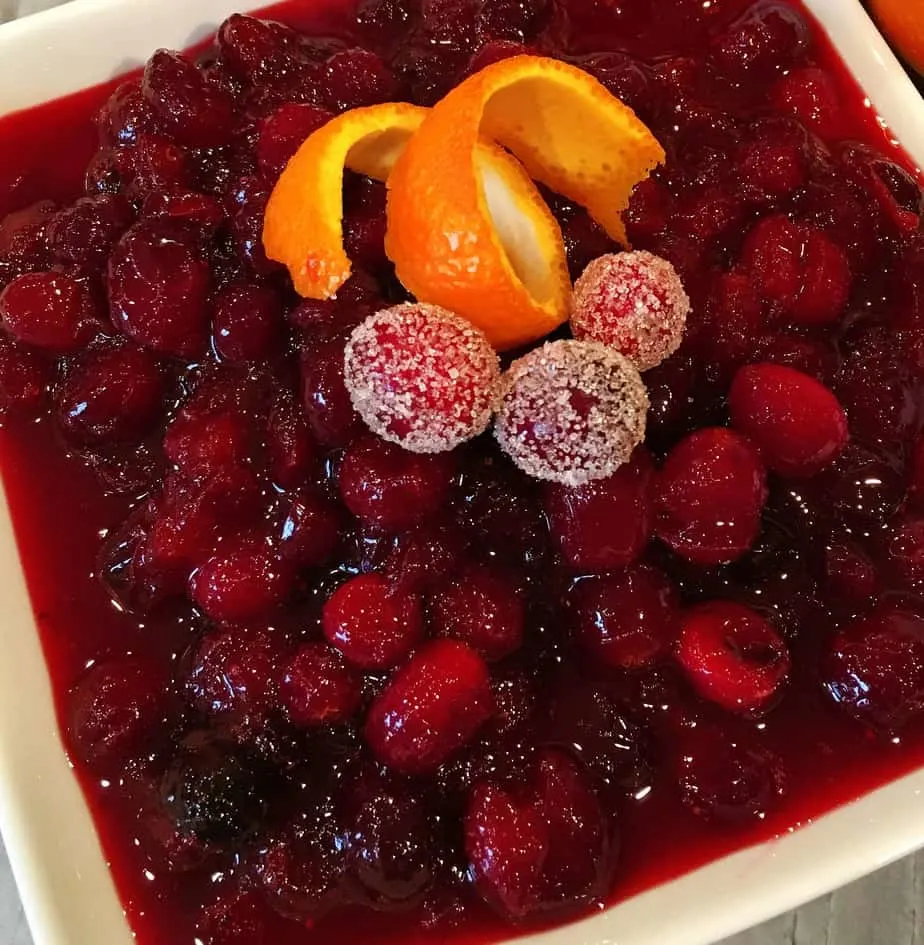 I'm sure you've seen several cranberry orange sauces by now, and you are saying "Norine…what's so special about yours?" I'll tell you…I spice mine up a bit with some cinnamon. The addition of the cinnamon is…um, in a word…WOW! I beg you…PLEASE make this sauce this year. It is life changing!
Don't blink or you'll miss this one!
How To Make Fresh Spiced Cranberry Orange Sauce
In a medium sauce pan place one cup of orange juice. (I used minute maid country with pulp!) 1 cup sugar. 1 – 12 oz package fresh ocean spray cranberries, and 1/2 teaspoon cinnamon. That's it! (I know…right?)
TIP: You can add 1 cup frozen or fresh raspberries to kick this sauce up.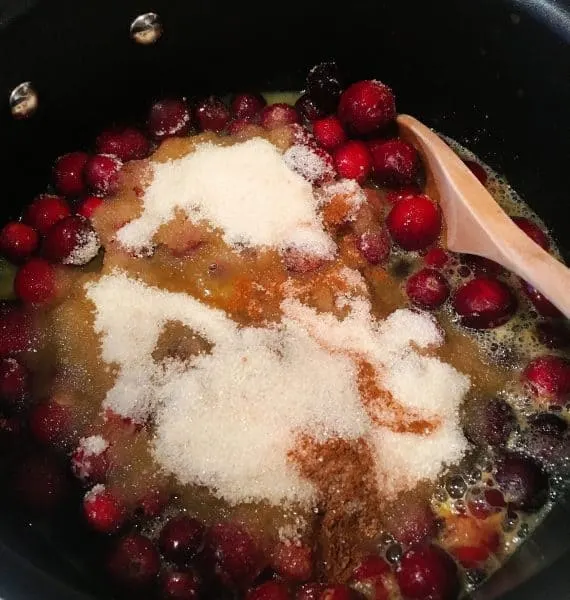 Bring the mixture to a low boil stirring occasionally. Now for the fun part. The cranberries will "pop" as they heat up and expand breaking the skins. (The littles love this!) That's exactly what you want to have happen. It releases the "meat" of the berry. It thickens the sauce.
Continue cooking the sauce on low for about 35–40 minutes. Some, not all, of your juices should have evaporated during cooking.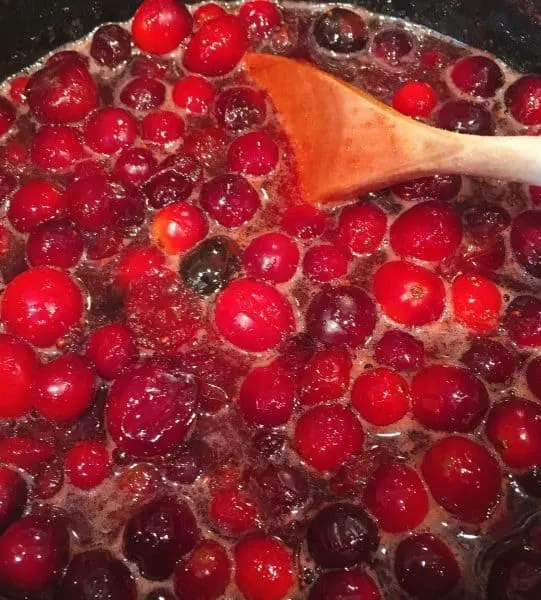 Allow the sauce to cool to room temperature. Place the Spiced Cranberry Orange sauce into an airtight storage container and keep in your refrigerator until ready to serve.
TIP: I make mine several days in advance, so the flavors have a chance to really blend together. The sweetness of the oranges with the tang of the cranberries and the hint of the nutty cinnamon is so yummy!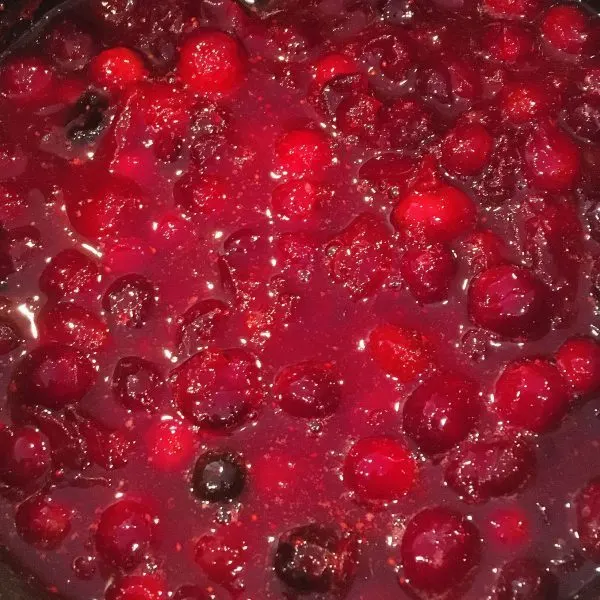 Place in a small serving dish. Garnish with an orange curl and a few sugared cranberries! Isn't that beautiful! Those ruby-red cranberries look like jewels of sparkling deliciousness in that dish!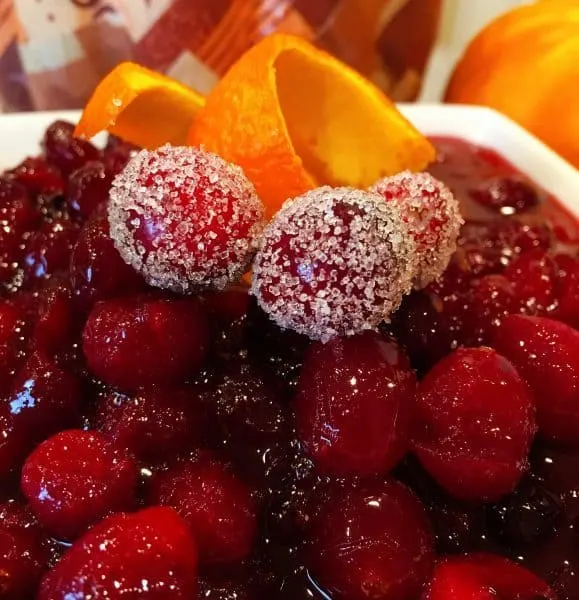 Don't worry about leftovers! This sauce can be used for so many other wonderful dishes! Cranberry Cinnamon rolls! On Turkey sandwiches! On top of your Christmas Ham! A facial mask! (Okay, not that one! Lol) This is one "condiment" that you will want to lick the bowl after it is long gone!
I hope your family and friends will love this cranberry sauce as much as the family at this Nest! I'm so excited for this holiday! To have my table filled with all those that I love.
I've spent my day doing lots of prep work and I hope you are doing the same. Don't weigh yourself down on the day of with too much to do! This is a big meal, and it takes a lot of preparation.
Here are a few of my other Favorite Cranberry Recipes
I'm so grateful for each of you! Thanks for stopping by my Nest today! If I can help with any Thanksgiving cooking questions please feel free to comment or email me. You can comment below or reach me by email under the "Contact Me" tab. Have a fantastic day!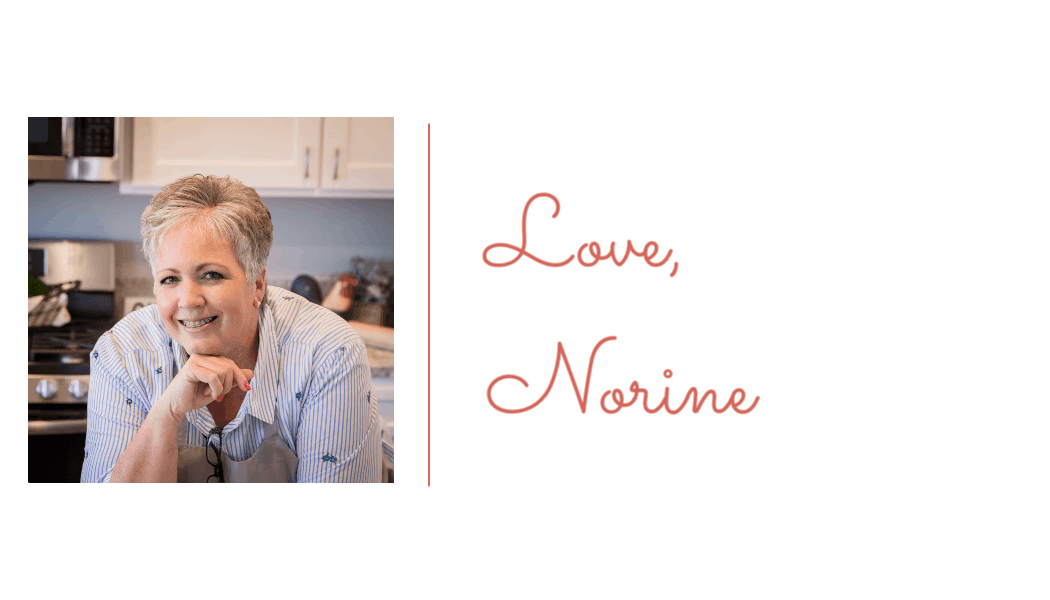 Yield: 10 servings
Spiced Cranberry Orange Sauce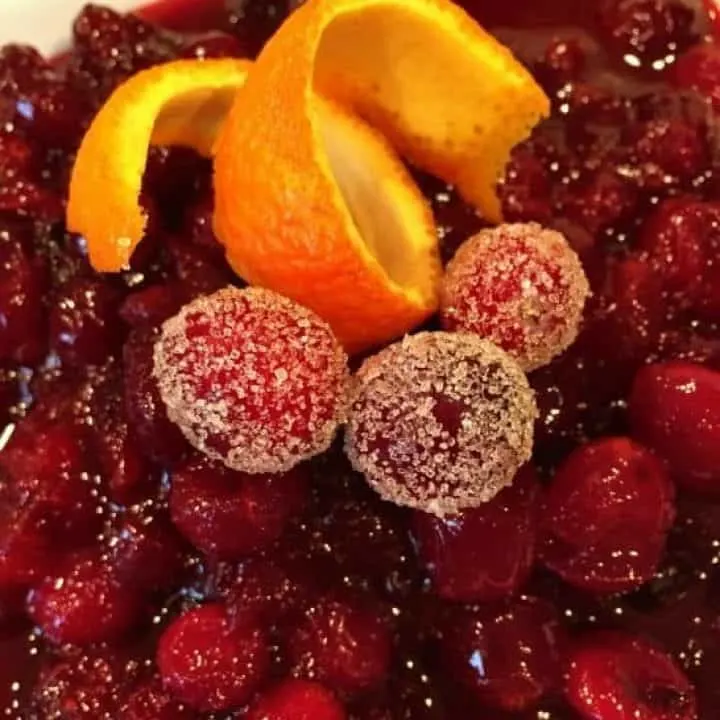 Fresh plump cranberries, orange juice, and spices blend together to create the most delicious Spiced Cranberry Sauce for your Thanksgiving table.
Ingredients
1 cup orange juice
1 cup sugar
1 - 12 ounce package Ocean Spray Cranberries
1/2 teaspoon cinnamon
Optional Addition : 1 cup frozen or fresh raspberries
Instructions
In a medium sauce pan, over low heat, place all the above listed ingredients. Bring to a low boil, stirring occasionally. Allow to simmer for 35-45 minutes until berries have popped and sauce is thickened. (If you want it thicker you can mash the berries with a potato masher)
Cool completely.
Place in air tight storage container and refrigerate over night or up to a week before serving.
Recommended Products
As an Amazon Associate and member of other affiliate programs, I earn from qualifying purchases.
Nutrition Information:
Yield:
10
Serving Size:
2 Tablespoons
Amount Per Serving:
Calories:

94
Total Fat:

0g
Saturated Fat:

0g
Trans Fat:

0g
Unsaturated Fat:

0g
Cholesterol:

0mg
Sodium:

1mg
Carbohydrates:

24g
Fiber:

1g
Sugar:

23g
Protein:

0g