Tender Roasted Savory Acorn Squash with Sweet Pears drizzled in a Maple Bourbon Glaze and sprinkled with toasted Pecans creates a delightful easy side dish for your Thanksgiving Dinner Table.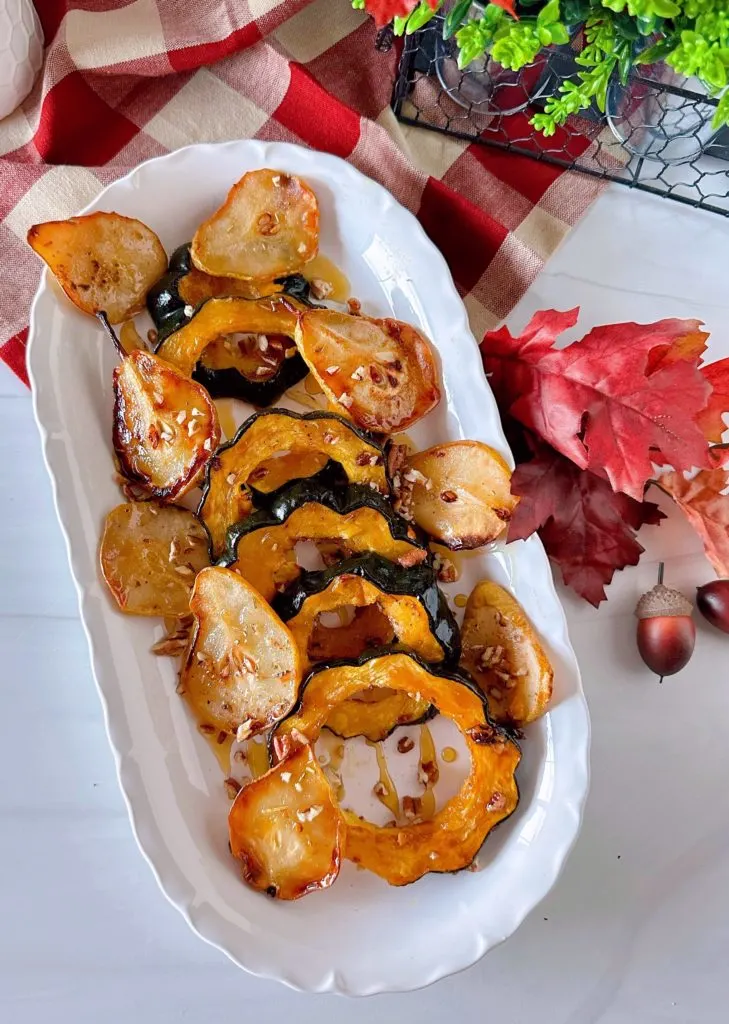 Fall brings the Garden Harvest…and with it a variety of Winter Squash. Butternut, Banana, and Acorn! Just to mention a few. Acorn Squash is a personal favorite of mine.
They are sweet, creamy, and slightly nutty. Not as creamy as butternut, but a tad sweeter! The contrast of the green and deep orange is stunning when stuffed, or roasted and plated, as in this dish.
For several months I had been tossing around the idea of a Roasted Acorn Squash recipe for the Holidays with a drizzle of Crown Bourbon Maple Syrup. As I was preparing the recipe I happened to glance over at my fruit basket and noticed a couple of ripe pears. Inspiration struck!
Instantly I was slicing two pears and adding them to my baking sheet to roast alongside my sliced acorn squash! The results were AMAZING! This dish is a stunning, and tasty, presentation! Perfect for your Holiday Dinner parties and meals.
Ingredients you'll need for Roasted Acorn Squash
2 Acorn Squash
2 Bartlett Pears
Salt & Pepper to Taste
Crushed Rosemary, Thyme & Sage (There's a song in there somewhere)
1/4 Cup Brown Sugar
3 Tablespoons Bourbon Maple Syrup or Maple Syrup
1/2 Cup Chopped Pecans, plus extra for garnish
Olive Oil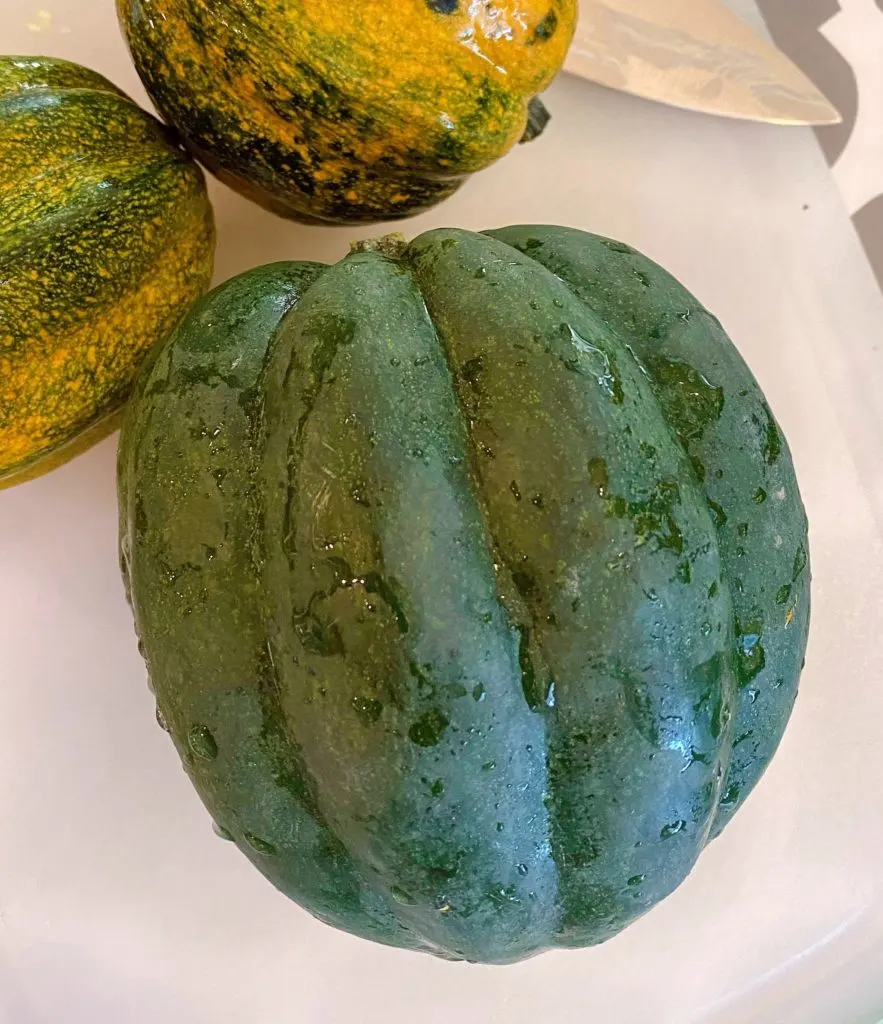 How To Make Roasted Acorn Squash and Pears
This recipe can easily be double or tripled to feed a crowd. You will need additional baking sheets in order to accommodate the additional squash and pears. (I love stating the obvious…sorry! It drives my family nuts!)
To begin with, cut your Acorn squash in half and scrape out the seeds, it's much easier than doing it the way I did. (Trust me! Do as I say…not as I do).
After you have cleaned out the squash, use a sharp knife and carefully slice your squash into 1/2 inch rings.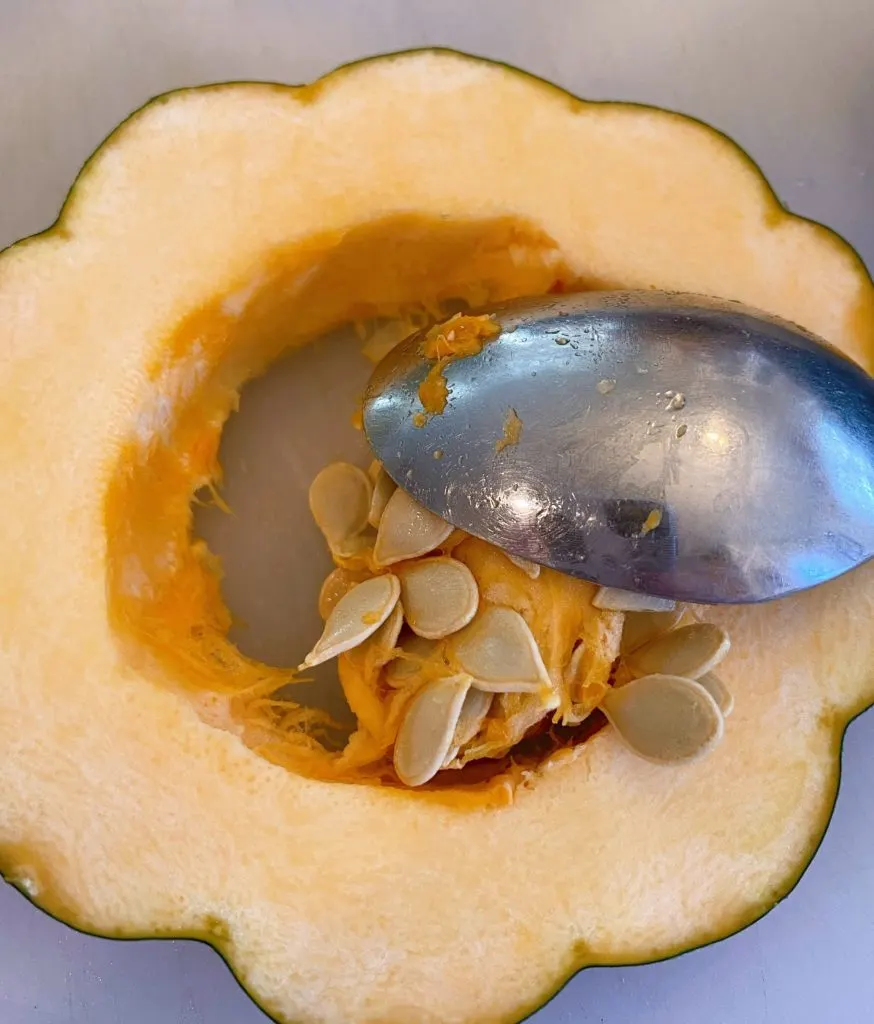 Place the squash rings, in single layer, onto a non-stick large baking sheet.
TIP: You can line the baking sheet with parchment paper if you don't have a Non-Stick baking sheet pan.
Slice your pears' length wise, into 1/4 inch thick slices. Do not remove the seeds or stem! This will make for a more beautiful presentation of this dish. (People can eat around them…just like they do when the pear is fresh. It's an acquired skill they have already developed! Unless they're two!)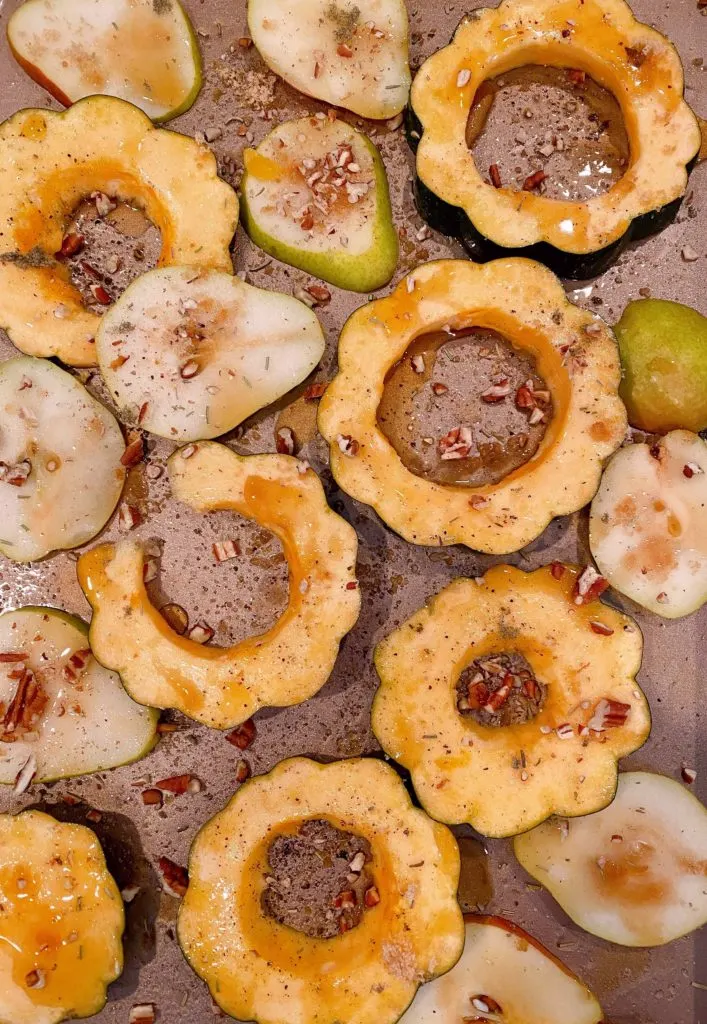 Preparing the Squash and Pears for Roasting
Preheat oven to 375 °F.
Drizzle 1–2 Tablespoons of Olive Oil over the squash! Gently toss to coat.
TIP: Whenever "roasting" vegetables on a baking sheet in the oven it is important they be in a single layer and stacked on top of each other. They can slightly overlap, but never in layers.
Sprinkle Acorn squash with salt and pepper to taste. Sprinkle squash with 1/2 teaspoons crushed rosemary, thyme, and ¼ teaspoon of ground sage.
Add sliced pears, again in a single layer, onto the baking sheet.
Sprinkle the squash and pears with 1/4 cup of brown sugar. Drizzle with 2 Tablespoons of Bourbon Maple Syrup. (That's one happy baking sheet now!)
Roasting Squash and Pears
Sprinkle the entire pan with pecans.
Place baking sheet in preheated oven and bake for 15 minutes. Turn slices of pears and squash over with tongs and bake for an additional 15 minutes.
Turn oven to broil high for the last 3–4 minutes of roasting to give a golden crisp to pears and squash. Be careful not to burn the Pecans!
Remove from oven. Using a long platter plate squash. Nestle pears in and around squash. Drizzle with an additional tablespoon of maple syrup and sprinkle with additional chopped pecans.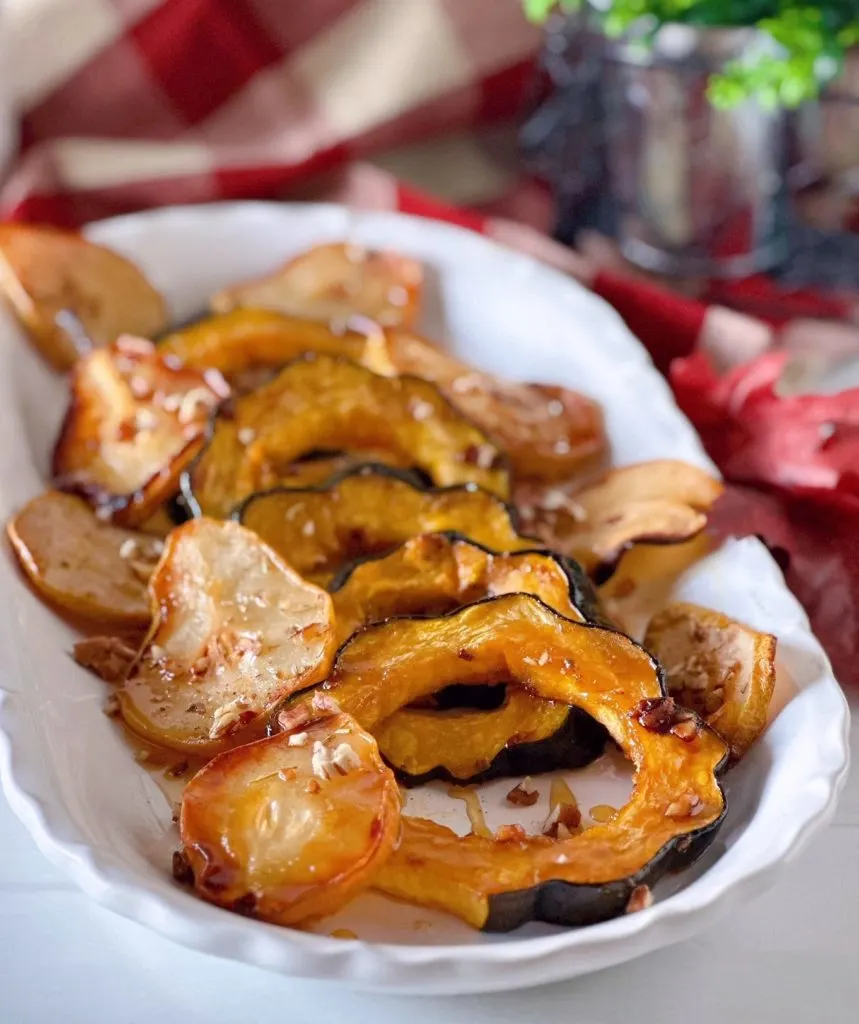 What a perfect pairing! The sugars release from the pears as they are baking and caramelize into the most luscious sweet sugar that goes beautifully with the subtle nutty flavors of the squash! I couldn't get enough of those pears!
Add the touch of Maple Syrup, which generally I'm not a huge fan of on anything but pancakes…and it's heavenly! The pecans roast during baking and have a richer deeper nutty flavor.
This is a fabulous side dish with swirls of savory and sweet!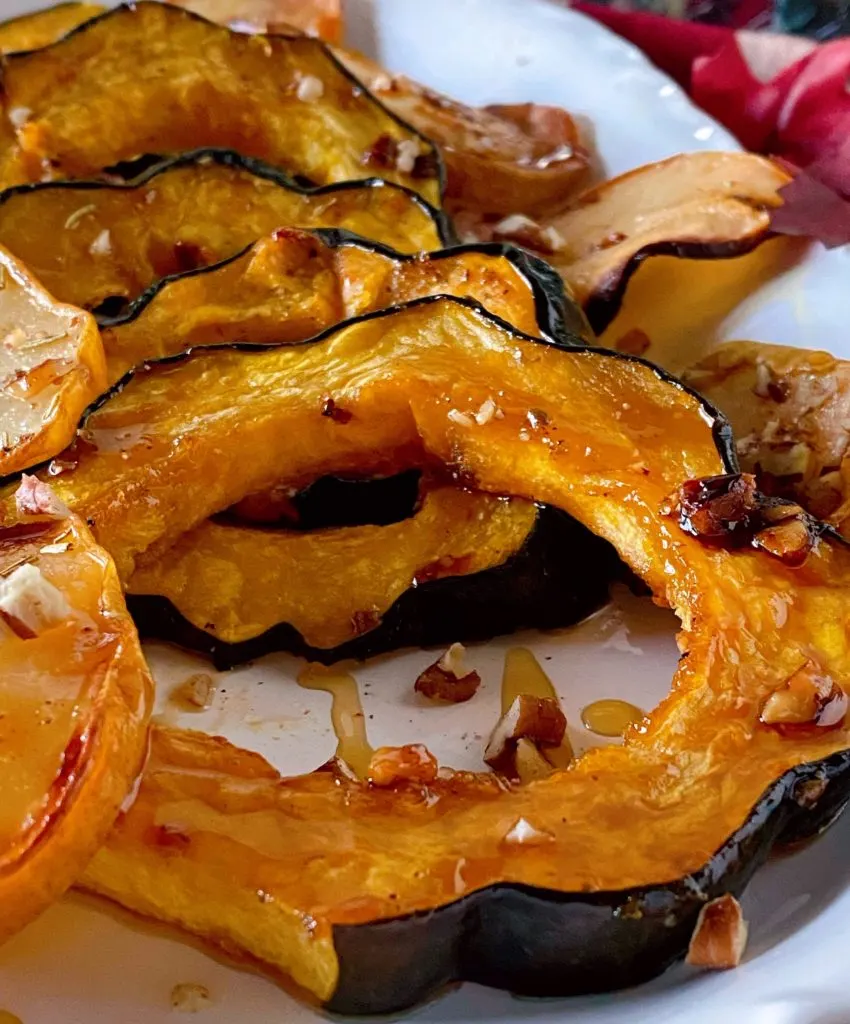 I promise this is a dish that will surprise you! You'll rise to Julia Child status my friends! Who doesn't want "show up" Aunt Sally with their mad cooking skills at the Thanksgiving dinner table this year?!!
Questions and Answers about Roasted Acorn Squash and Pears
What's the difference between Acorn Squash and Butternut Squash? Butternut squash has a smoother and creamier texture than Acorn Squash once baked. Butternut is great for soups and mashed squash dishes. Acorn is slightly sweet with a more fibrous texture.
Can I switch Butternut for Acorn Squash? You can, you will not have the same results though as far as flavor and texture. However, it will be a delicious dish regardless.
Can I use regular Maple Syrup in this recipe? YES! I love the additional flavor the bourbon adds, but it isn't a recipe breaker!
What if I can't find ripe Pears for this recipe? That's okay! Since we are baking the pears, their natural sugars will release during baking. They cut more like an apple, but they will still bake beautifully for this dish!
Can I substitute Apples for the Pears? YES! They may not hold up as firmly as the pears do, but they would be wonderful in this recipe. You won't need to adjust baking times or other ingredients.
Other Favorite Fall Dish Recipes
Thanks for stopping by my Nest today. If you make this recipe take a photo and share on my Instagram Hashtag Norinesnest!
Happy Nesting Friends!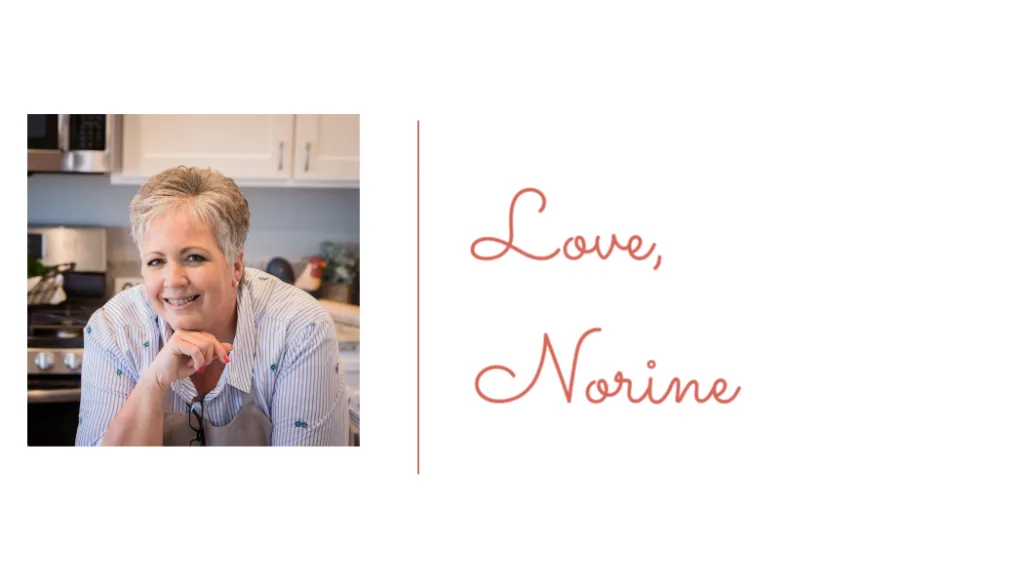 Yield: 8 servings
Roasted Herbed Acorn Squash and Pears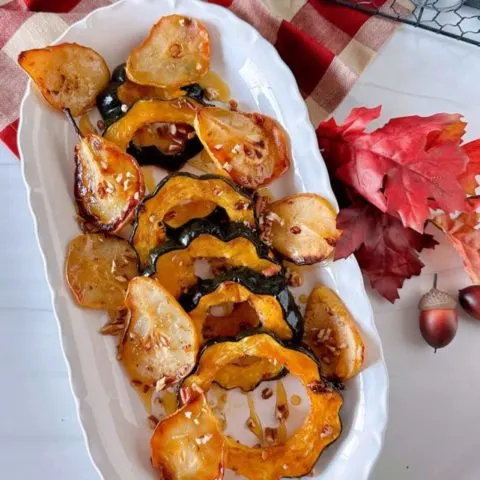 Tender Roasted Savory Acorn Squash with Sweet Pears drizzled in a Maple Bourbon Glaze and sprinkled with toasted Pecans creates a delightful easy side dish for your Thanksgiving Dinner Table.
Ingredients
2 Large Acorn Squash, seeded and sliced into ½ inch thick slices
2 Bartlett Pears, sliced, lengthwise, into ¼ inch slices.
Salt and pepper to taste
½ teaspoon of crushed rosemary
½ teaspoon dried thyme leaves
¼ teaspoon dried sage
¼ cup Brown Sugar
3 Tablespoons Bourbon Maple Syrup, divided
½ Cup chopped pecans
Olive Oil
Instructions
Preheat oven to 375°F.
Clean and slice acorn squash into ½ inch rings. Place on non-stick baking sheet, or line a baking sheet with parchment paper. Drizzle with about 1-2 Tablespoons of olive oil. Toss gently to coat.
Slice Pears lengthwise, leaving the seeds and stem in, into ¼ inch slices. Place on the baking sheet.
Season acorn squash with Salt and Pepper to taste. Sprinkle Acorn slices with herbs.
Sprinkle pears and acorn squash with brown sugar. Drizzle both with Maple syrup. Sprinkle pears and acorns with chopped pecans.
Place in oven on center rack and bake for 15 minutes in preheated 375° oven. At the 15 minute mark, turn squash slices and pear slices over. Roast an additional 15 minutes.
Switch oven to broil high. Broil for an additional 3-4 minutes, making sure pecan do not burn, until squash and pears are slightly golden in color on top. Remove from oven and plate. Drizzle with additional Tablespoon of Maple Syrup and serve.
Nutrition Information:
Yield:
8
Serving Size:
1
Amount Per Serving:
Calories:

149
Total Fat:

7g
Saturated Fat:

1g
Trans Fat:

0g
Unsaturated Fat:

6g
Cholesterol:

0mg
Sodium:

41mg
Carbohydrates:

21g
Fiber:

4g
Sugar:

11g
Protein:

1g