Strawberry Pineapple Fluff Jello Salad is a light fluffy strawberry and pineapple jello salad with marshmallows, fresh chopped strawberries, pineapple bits, and topped off with crunchy coconut cookie crumbs. It's Spring happiness in a salad bowl!
I have a confession! I L.O.V.E. Fluff Salad! (I like to think we are soul sista's! Both embracing our fluffiness!)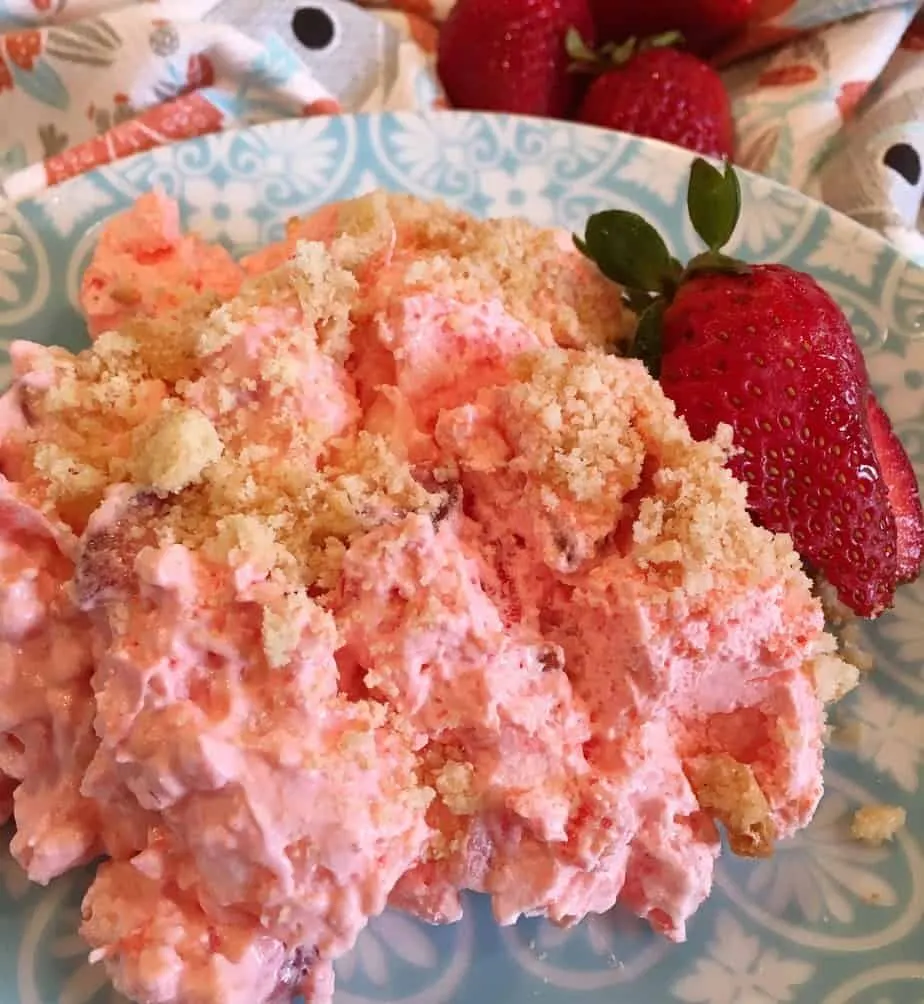 What's not to love? It's light, creamy, fluffy, and… it's like legally having dessert on your dinner plate! SCORE!!!
The day before Easter I had "bits" of things lying around that needed to be used up! I had a half a can of crushed pineapple from the Carrot Cake. A couple handfuls of strawberries left over from the Strawberry spinach salad and there were the coconut cookies from that Coconut Raspberry Cheesecake.
Ya know…odds and ends. I didn't want a refrigerator full of little containers of leftovers! (I can't toss them out…my Grandmother would rise from the grave and haunt me FOREVER! I'm not kidding! It's serious my friends!)
So my brain kicked into gear. Why not a Fresh Strawberry Pineapple Fluff Salad? I had a moment of hesitation because I was concerned the fresh strawberries would release too much liquid and would turn the "fluff" into "flop"? Then I said "Eh…why not?" (This is pretty much my motto in life! Thank goodness Mars is a VERY understanding man and puts up with all my hair brained ideas! I like to think I've saved him from a life of boredom! lol)
I'm so glad I just went for it! This is…wait for it…THE BEST FLUFF Salad I've EVER had! EVER! It's "Hide in the back of the closet with the entire bowl and a spoon" Good!!! (Sister Closet eaters UNITE!!)
How To Make Strawberry Pineapple Fluff Salad
What You'll Need to Make This Salad
Closet Space (lol…sorry I couldn't resist!)
1 – 3 oz. package of Strawberry Jello (dry mix)
1 – 3.4 oz. package of french vanilla pudding
1 – 8 oz. container of Cool Whip
1 1/2 cups undrained crushed pineapple
1 cup chopped fresh strawberries
2 cups mini marshmallows (Okay maybe 2 1/2 cup cause ya know you're gonna eat at least a half cup before they hit the salad)
1 Cup Hot Water
1/2 cup crushed ice cubes
1/4 cup crushed cookies (I used Mother's Coconut Cocada Cookies)
In a large mix together French Vanilla Pudding and Undrained Crushed Pineapple. Cover and set aside.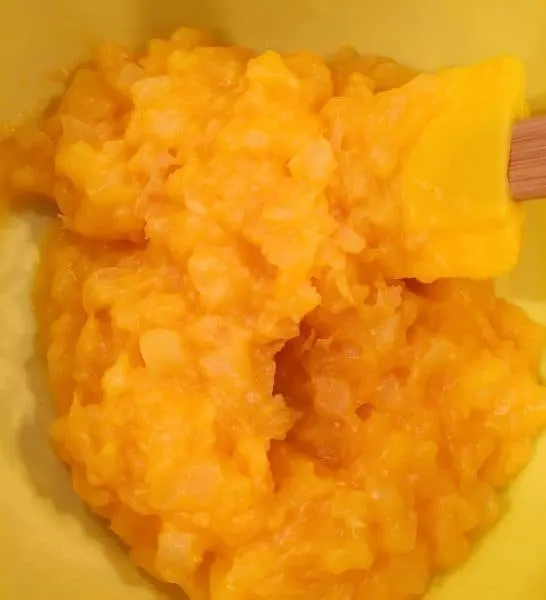 Making Strawberry Fluff Jello Salad
In a small bowl or large glass measuring cup, combine 1 package of Strawberry Jello with 1 cup of boiling water. Mix until Jello has completely dissolved.
Add 1/2 cup crushed ice chips. Stir until thick and ice chips have melted.
Place in the refrigerator, stirring occasionally, until jello mixture thickens and is slightly lumpy. (Kind of like me! lol) It should take 30 – 45 minutes.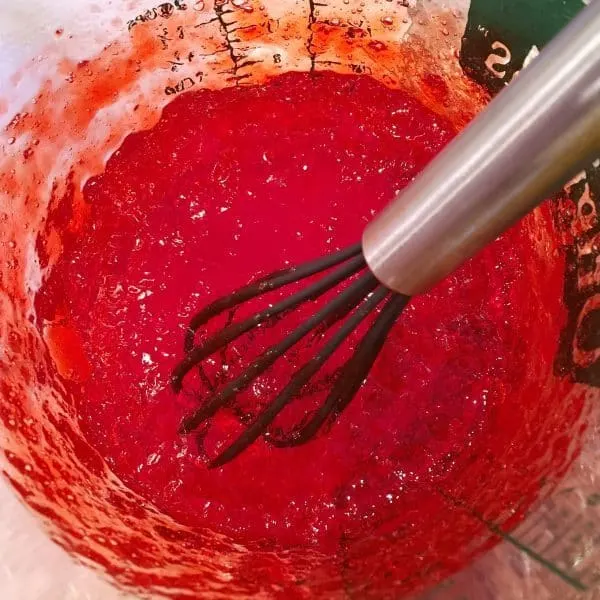 In the large bowl with the pineapple pudding mixture add the thickened jello mixture. Fold together until combined.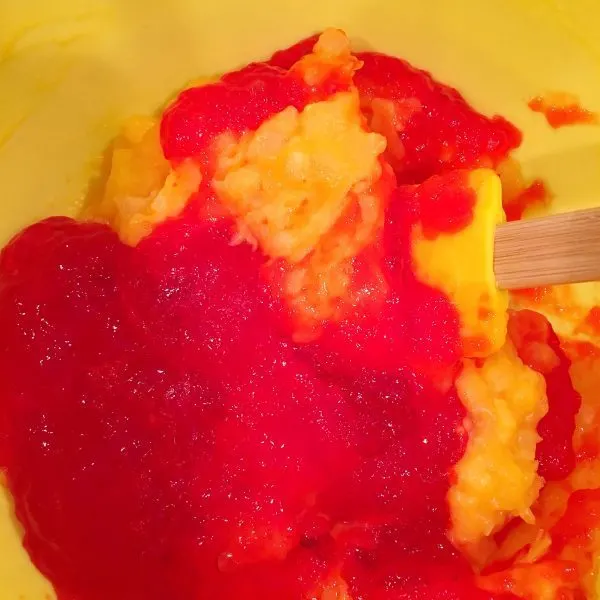 Add one 8 oz. container of Cool Whip. Gently fold together.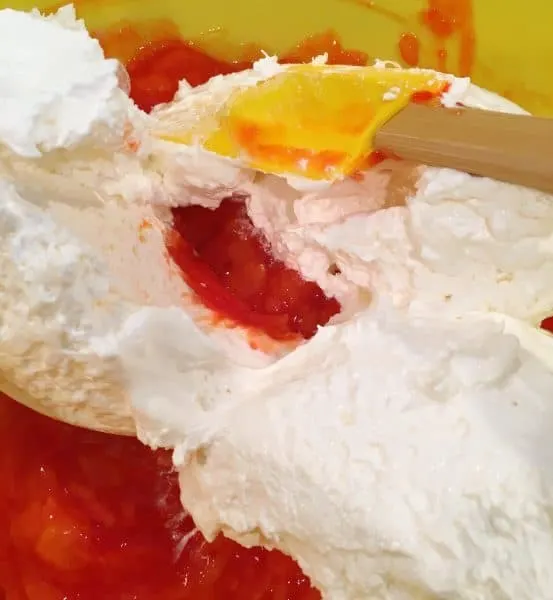 Fold in 2 cups of little heavenly pillows! (Remember you've been munching on them while you've been making this salad. Don't LIE! I know you! Not to mention ya tossed the rest of the bag at the kids to get them to leave ya alone! I've lived on planet Mommy! Keep going…remember there's a closet and spoon with your name on it when we get done! lol)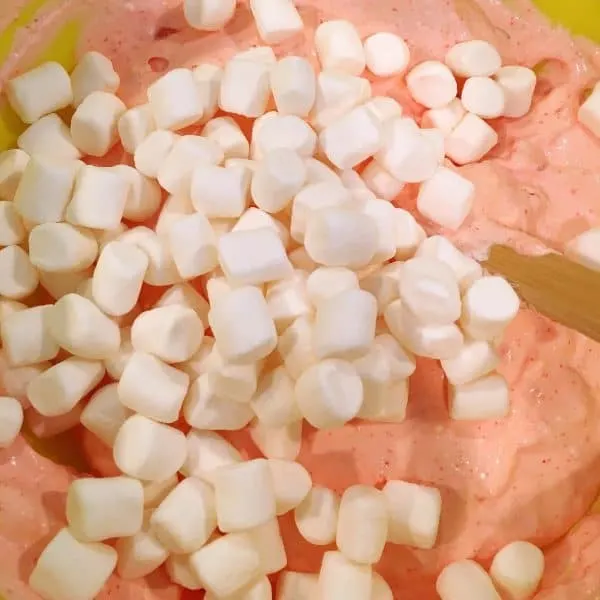 Next add those delicious fresh chopped strawberries. You want them small bite sized pieces. You can make them bigger if choking your guest is part of your dinner plans. If not…I'd go with smaller bits!
Fold those little bits of juicy red gems into that delightful fluffy concoction that you've been sneaking samples of. (I think I'm giving away WAY too much info on how the making of this salad went down at this Nest!)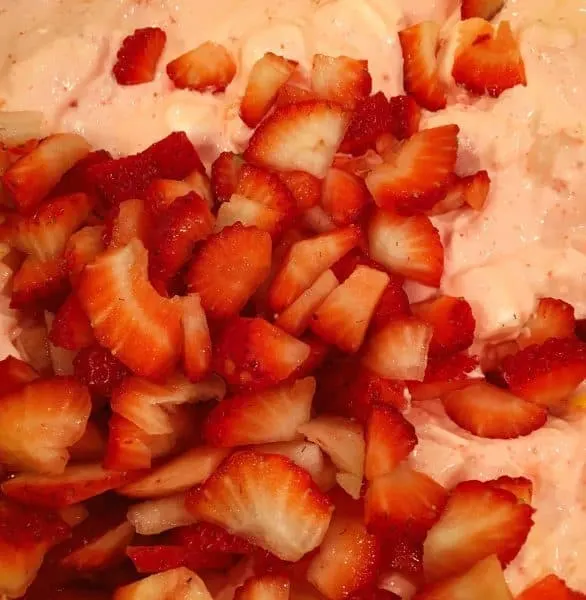 Spoon all that scrumptious salad into your serving bowl. It will be a little runny. Don't panic. It's going to set up beautifully!
Cover with plastic wrap and store in refrigerator for 6 hours or overnight until "set".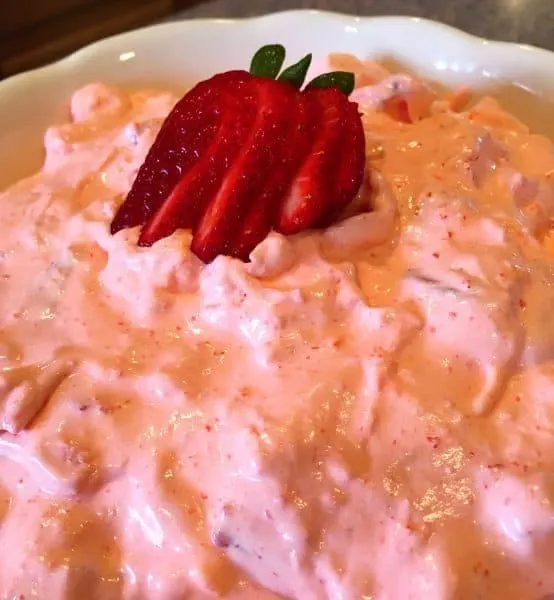 Garnishing Jello Fluff Salad
Crush cookies. You can use the coconut cookies I used or vanilla wafers. Sandies would be great too! Sprinkle them around the edge of the salad just before serving to add a little "crunch". Garnish with a sliced strawberry.
Isn't that a pretty bowl of "Fluff"! Such a fantastic Spring or Summer Salad. Great for Picnics, Family Gatherings,BBQ's or Pot Lucks!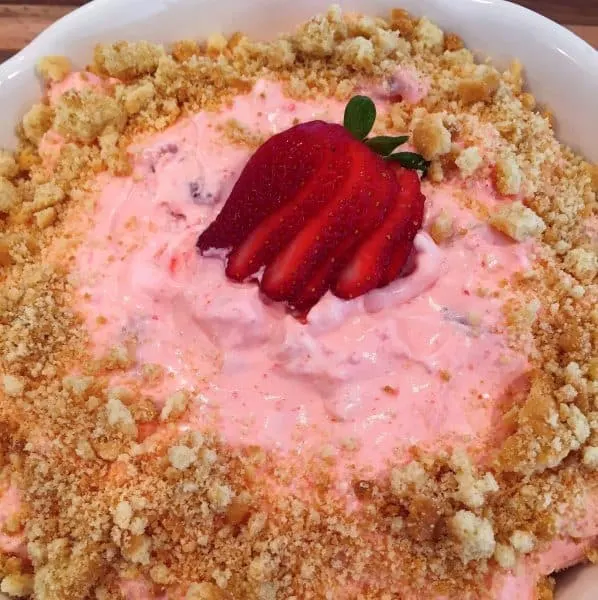 A lot of "Fluff" Salad recipes call for all canned fruits. The addition of the fresh strawberries in this salad, kicks it up and over the "Fluff Salad" Goal Post!
I wanted to make sure it was as good as I thought it was…my three helpings hadn't totally convinced me. Even though my family loved it I wanted to make extra sure.
So…I called my friend and sent the leftovers over to her house with her 5 munchkins. She texted me 5 minutes later and said that her oldest came running in and said "Mom if you want to try the salad you better hurry! The kids have almost eaten it all!"
There ya have it. Kid approved. Nuff said! That's all I needed! It's now an official "Norine's Nest" Salad!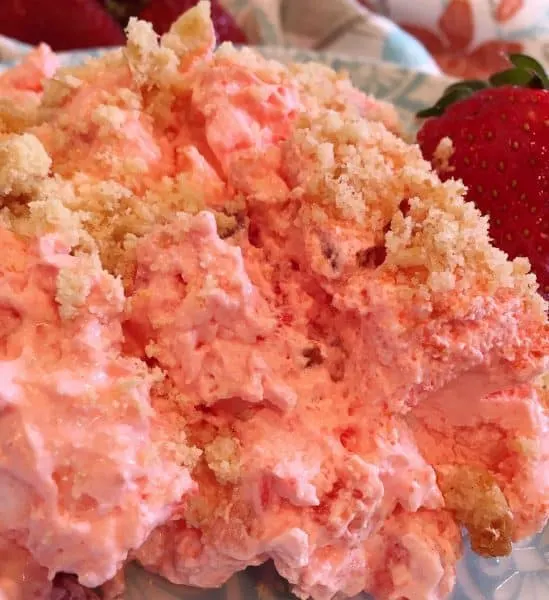 This Strawberry Pineapple Fluff Jello Salad slowly melts in your mouth with its subtle fresh strawberry flavor. It brings a smile to your face as you dream of warm sunny days!
I hope this amazingly simple salad makes it to your table this Spring and Summer. If not…I'll come looking for you in the closet! (wink, wink)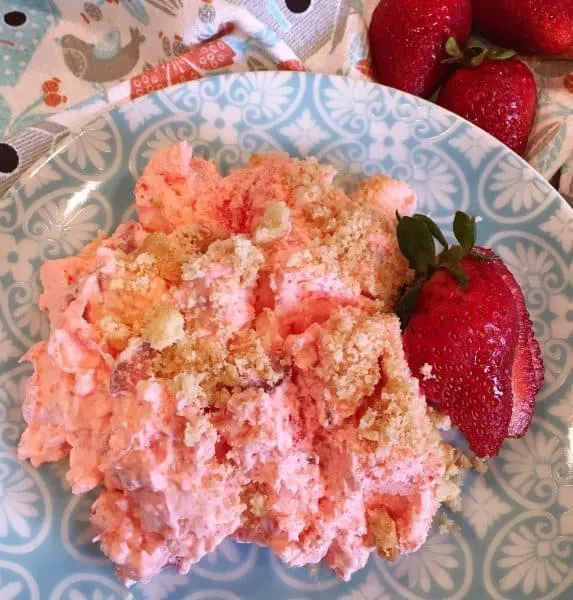 Have a wonderful beautiful day! Thanks so much for stopping by and visiting with me. Remember you can sign up for my bi-weekly Newsletter. You can follow Norine's Nest on Pinterest, Facebook, or Instagram. Just look for "Norine's Nest". I'll be there.
You can also follow my Insta-stories where I share cooking videos each week and my crazy sense of humor! Come cook with me!
Happy Nesting!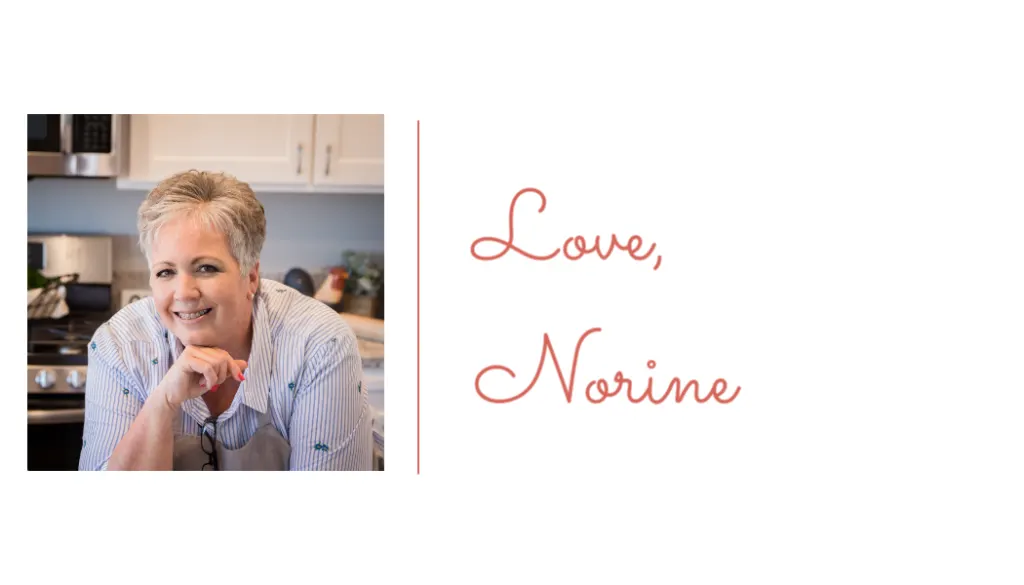 Yield: 12 servings
Strawberry Pineapple Fluff Jello Salad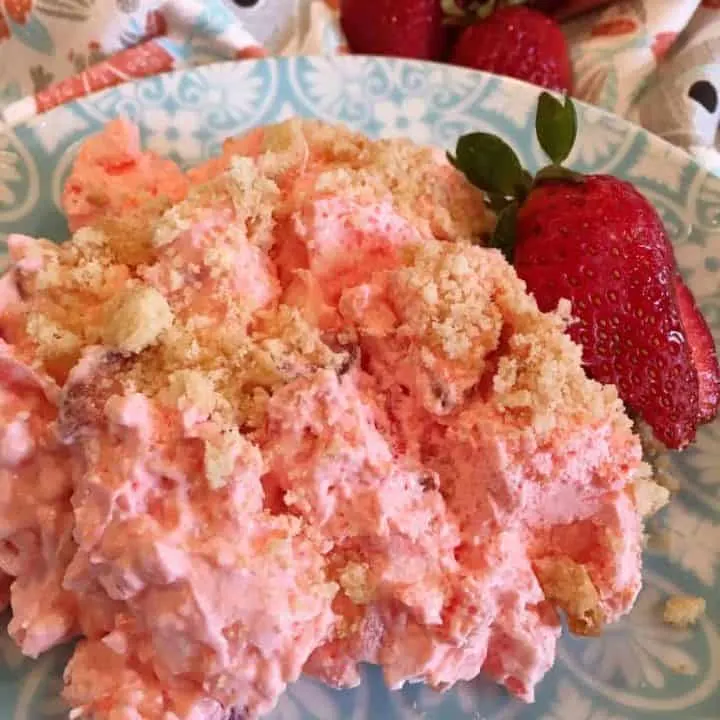 A light flavorful fresh Spring or Summer Fluff salad. Perfect for Family Gatherings, Pot Lucks, or Summer BBQ's.
Total Time
6 hours
40 minutes
Ingredients
1- 3oz. package dry strawberry jello
1 - 3.4 oz. package instant french vanilla jello pudding
1 1/2 cups undrained crushed pineapple
1 cup boiling water
1/2 cup crushed ice
2 cups mini marshmallows
1 cup chopped fresh strawberries
1 - 8oz. container cool whip
1/2 cup crushed cookies either vanilla wafers, coconut cocada's, or sandie's
Instructions
In a large bowl mix together instant french vanilla pudding with 1 1/2 cups of undrained pineapple. Cover and set aside.
In a large glass measuring cup, or small bowl, mix together 3 oz.package of strawberry jello with 1 cup of boiling water. Mix until jello is dissolved. Add in 1/2 cup crushed ice cubes. Mix until thickened. Place in refrigerator and chill, mixing occasionally until mixture become slightly lumpy and thick. Do not allow to set.
Add thickened jello mixture to pudding and pineapple mixture. Fold together until combined.
Add container of cool whip. Fold ingredients together.
Add 2 cups of mini marshmallows. Gently stir together.
Add 1 cup chopped Strawberries. Mix until completely combined.
Spoon into serving bowl. Cover and chill for 6 hours or over night.
Before serving add crushed cookie crumbs around edge of salad and garnish with sliced fresh strawberries.
Notes
*Note that time includes "chill" time.
Recommended Products
As an Amazon Associate and member of other affiliate programs, I earn from qualifying purchases.
Nutrition Information:
Yield:
12
Serving Size:
1 cup
Amount Per Serving:
Calories:

225
Total Fat:

10g
Saturated Fat:

7g
Trans Fat:

0g
Unsaturated Fat:

2g
Cholesterol:

0mg
Sodium:

93mg
Carbohydrates:

32g
Fiber:

1g
Sugar:

24g
Protein:

2g