This Traditional Strawberry Shortcake is similar to a delicate buttery biscuit topped off with beautiful ripe spring strawberries and whipped cream! It's the perfect dessert! Oops! I meant dinner! That's right…DINNER!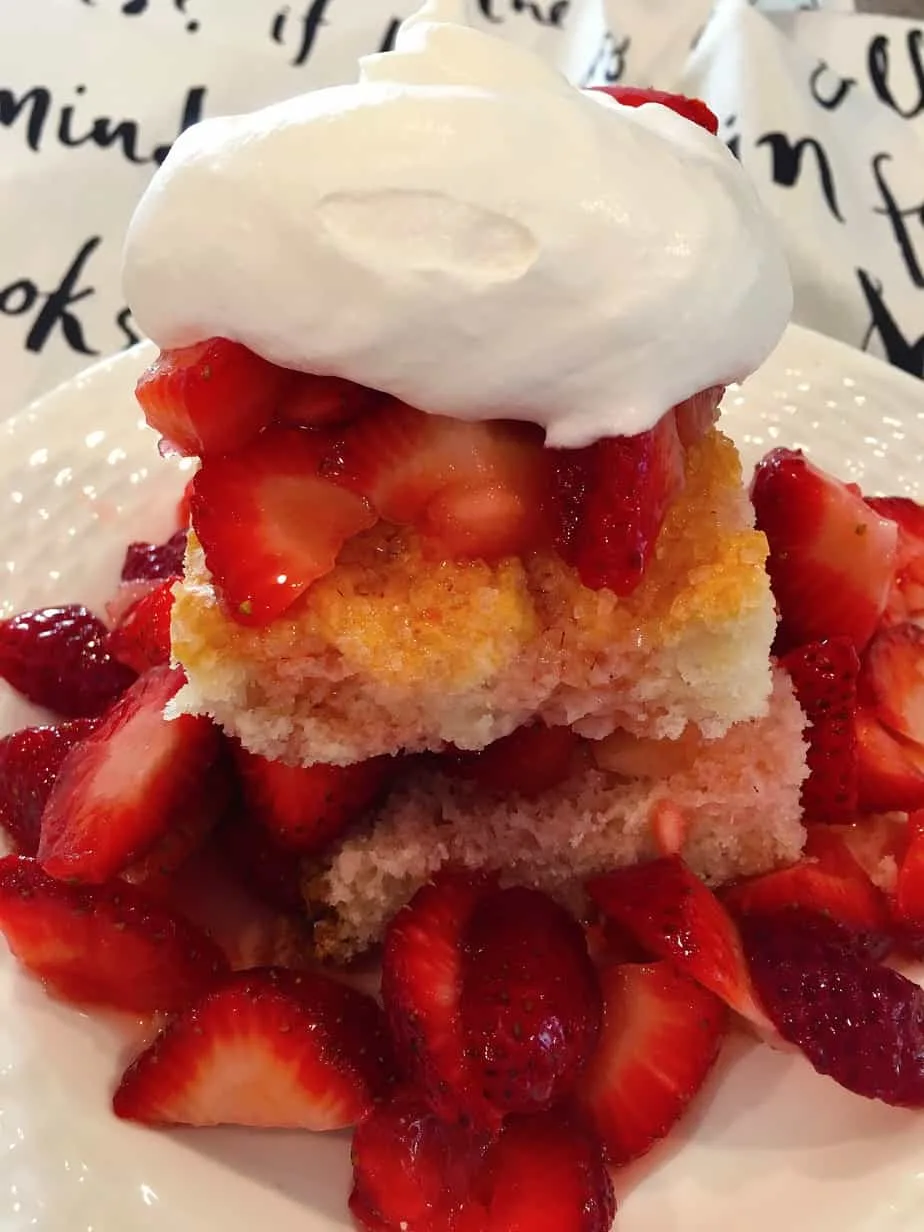 In my family growing up, strawberry shortcake was not a dessert! Say What?! You read that right! Grandpa Howard insisted that strawberry shortcake was, in fact, the main course! (There's a man after my own heart!)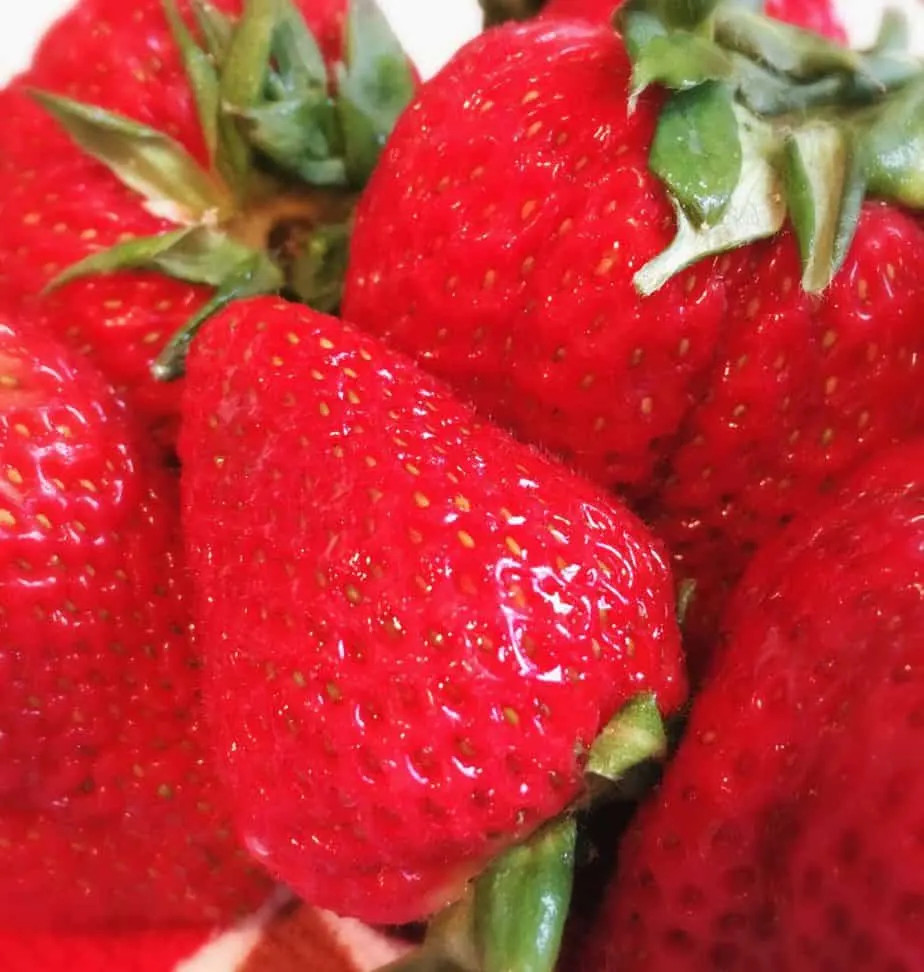 So, if you happened to come on a night strawberry shortcake was being served, you best not be looking for chicken and potatoes, because there was none to be had!
In this nest, we are pretty particular about our shortcake.
I still remember the first time I made it for my in-laws. It was Easter. I had this beautiful golden shortcake that was fresh out of the oven. I sat it on the counter. I anticipated the typical familial reverence that happens within my family.
Instead, my mother-in-law said, "I thought we were having strawberry shortcake?" With knife in midair I turned, a little shocked, and said "We are!" She said, "Where's the little round sponge cakes?". Whoa! Say What? Oh, no she didn't?!
I looked at her and she was totally serious! You may as well have shoved that knife right into my heart!
So, let's get one thing straight right now friends, sponge cake is sponge cake, pound cake is pound cake, and shortcake is SHORTCAKE! Shortcake is like a biscuit on steroids! It is crispy and sugary on the outside, tender, buttery and porous on the inside. Those little pores are sacred! (Thus, the reason for the familial reverence! Hello!) They absorb every delectable ounce of juice! Hump! Now that we've cleared that up, let's move along…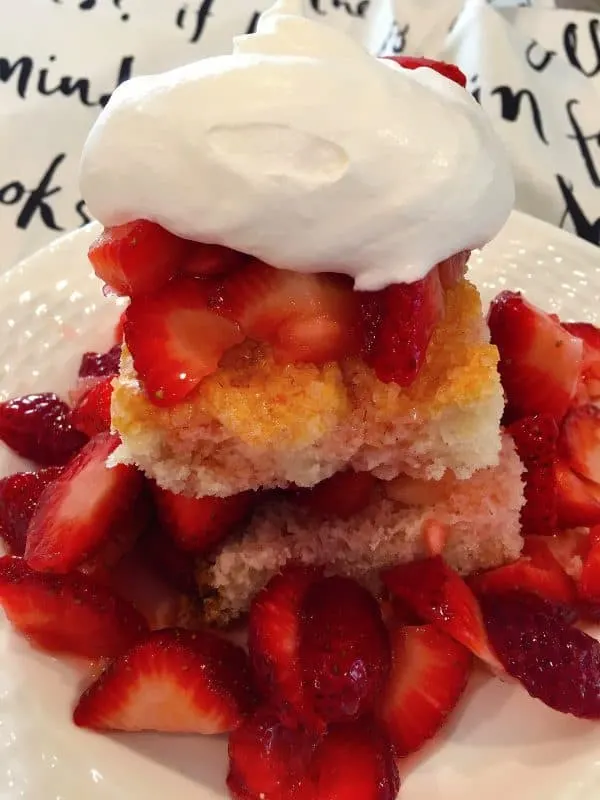 Introducing the…BERRIES! I just love fresh ripe strawberries.
Fresh cut up strawberries, tossed with a bit of sugar (or a lot, slurp!) to bring out the juices, then piled high on top of that warm shortcake… it's no wonder Grandpa wanted nothing else for dinner! Why on earth would you ruin a perfectly amazing shortcake with dinner! (wink, wink!!)
That my friends, is how we do strawberry shortcake at our nest! It's been a family favorite for as long as I can remember.
Everyone has their special way of eating it. Some like a lot of juice, some want more berries than juice. Some want lots of whip cream, some want none. The great thing about it, is that everyone can have it exactly how they want it.
It's a quick fast beautiful dessert to serve. You feel less guilt because of all those wonderful fresh strawberries, and it really is one way you can fall in love with spring!
The printable recipe card is below. Please let me know if you decide to do dinner right and whip up some of this shortcake. Grandpa and I would love that!
I enjoy hearing from you in the comments! Thanks so much for joining me.
Easy Homemade Strawberry Dessert Recipes your family to enjoy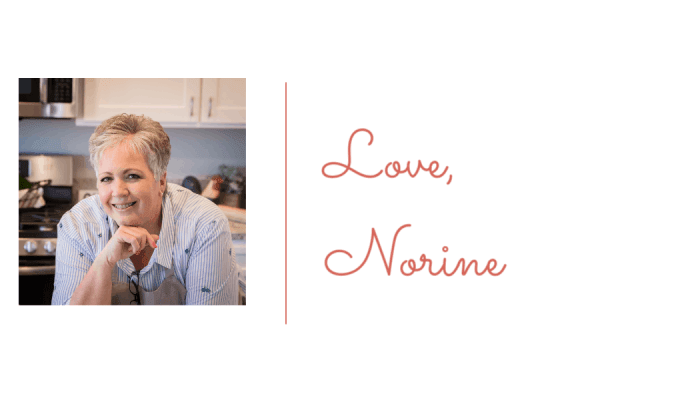 Yield: 9 servings
Let's get started with … Traditional Strawberry Shortcake!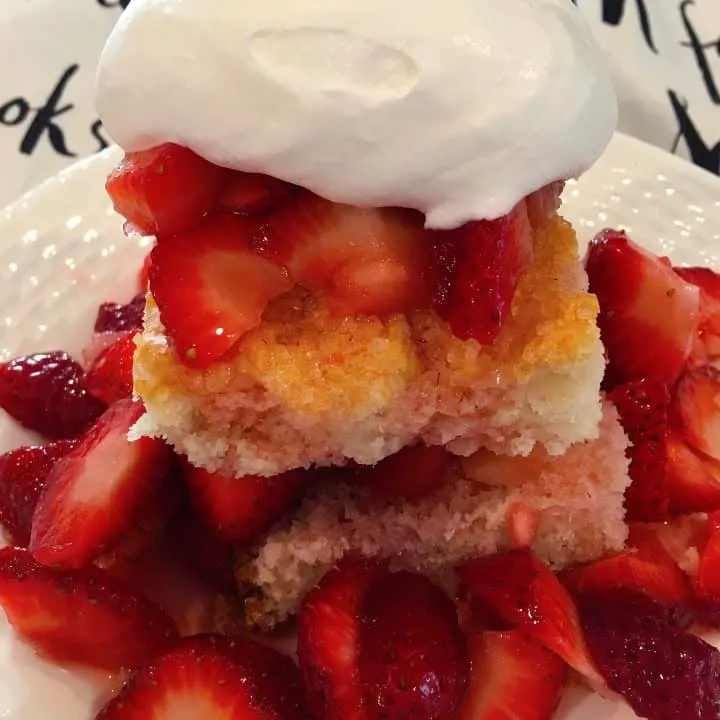 It never hurts to slice up extra strawberries. I usually double the berries just to be sure I have enough on hand! Enjoy!
Ingredients
4 cups washed and sliced fresh strawberries
1/2 cup white sugar
2 1/3 cups Bisquick baking mix
2/3 cup milk
3 heaping Tbsp sugar
3 Tbsp butter, melted
1 container (8 oz) frozen whipped topping, thawed
Instructions
In a large bow, mix washed and sliced strawberries and 1/2 cup of sugar; set aside or refrigerate. Heat oven to 425.
Stir Bisquick mix, milk, 3 Tbsp sugar and the melted butter until a soft dough forms. (I usually add a little extra milk to make the dough more of a thick batter.) Grease and lightly flour a 8 x 8 baking pan. Spread batter out evenly until it reaches the corners of the pan. It should be rough on top. Not smooth. Sprinkle with sugar. I like to use sugar crystals.
Bake for 20-25 minutes until golden brown. Remove from oven and let cool slightly. Cut into squares. Split squares in half; fill and top with strawberries and top with whipped topping.
Nutrition Information:
Yield:
9
Serving Size:
1 square
Amount Per Serving:
Calories:

321
Total Fat:

12g
Saturated Fat:

5g
Trans Fat:

0g
Unsaturated Fat:

6g
Cholesterol:

13mg
Sodium:

610mg
Carbohydrates:

51g
Fiber:

2g
Sugar:

24g
Protein:

5g
Norine's Nest in no way provides any warranty, express or implied, towards the content of recipes in this website. It is the reader's responsibility to determine the value and quality of any recipe or instructions provided for food preparation and to determine the nutritional value, if any, and safety of the preparation instructions.