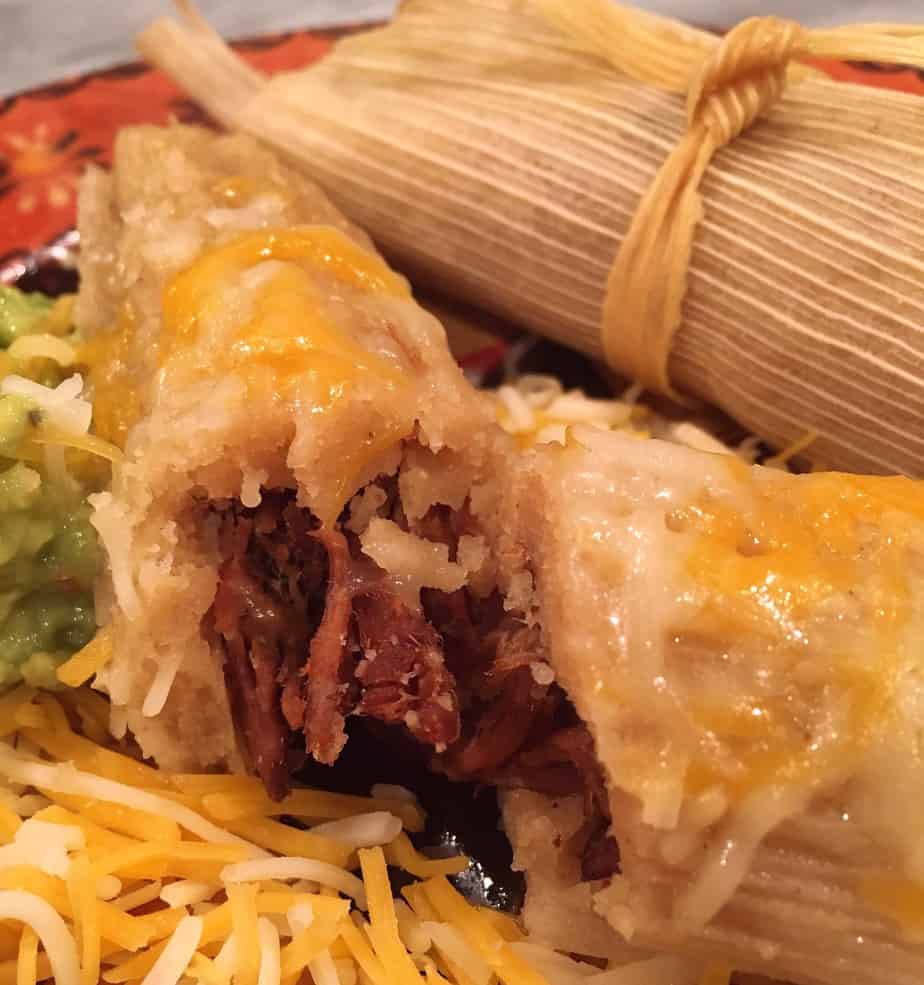 A traditional Mexican Holiday Treat…Homemade Tamales are made with a delicious beef and salsa verde flavored Masa and stuffed with shredded beef and steamed to perfection.
*As an Amazon Associate I earn from qualifying purchases. This post may contain affiliate links, which means that I may make a commission from any purchases at no additional cost to you. Thank you for your support!
**Updated December 19th, 2019
If you've ever visited my "About Me" page…you'll know the birds at this Nest do not all look the same. We're good with that. It's who we are! (I think it's who we should all be!)
Years ago…I wanted our adopted Hispanic children's heritage and traditions honored during the Holidays. I decided one way, to do that, would be to have a "Mexican Fiesta" the day before Christmas Eve.
I knew Tamales are considered a special Holiday dish for the people of Mexico, so I wanted to learn how to make them.
Thankfully I had a friend who knew how, she came over one year, and taught me. It's one of my favorite memories.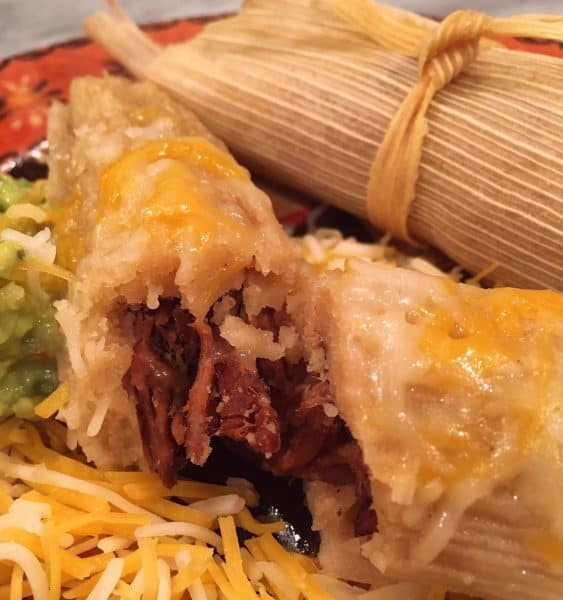 Truthfully they are not as hard as you would think! A couple of helpful tips before we begin…
Have all the prep work done the night before. (cook the meat the day before)
Find a friend who can help you, or put the kids to work!
You'll need a big steamer, or a big pot with one of those fold-able steamer inserts. You can also do them in smaller batches in your Instant Pot on the "Steam" setting for 25 minutes with a natural release of 20 minutes, followed by quick releasing any residual steam.
How To Make Homemade Tamales
Ready? Here we go…Remember…you are doing this part the night before.
You can use chicken, pork, or beef. We like beef. I used 8 lbs of Costco Stew Beef or two whole chuck roast. I prefer the Chuck roast because it contains more fat and fat equals flavor! Place your meat in a slow cooker.
Add 1 can of beef broth, 1/4 cup dried onion flakes, 1 cup finely shredded carrot (this sweetens the meat a bit) 1 cup salsa Verde, I love the Walmart brand, 1 teaspoon cumin, 1 teaspoon garlic salt, 1 teaspoon coarse black pepper, and 1 teaspoon Cajun or Mexican spice blend.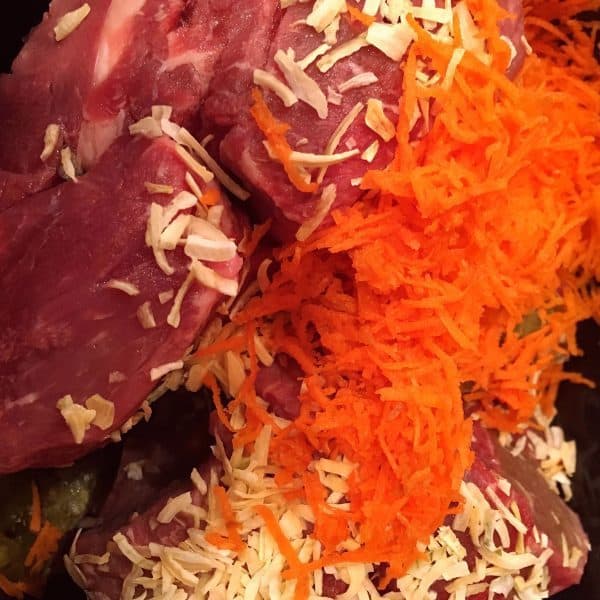 Cover and cook the meat on low for 8-10 hours.
TIP: This is why I said to start the night before. If you do this during the night then you're ready to go in the morning.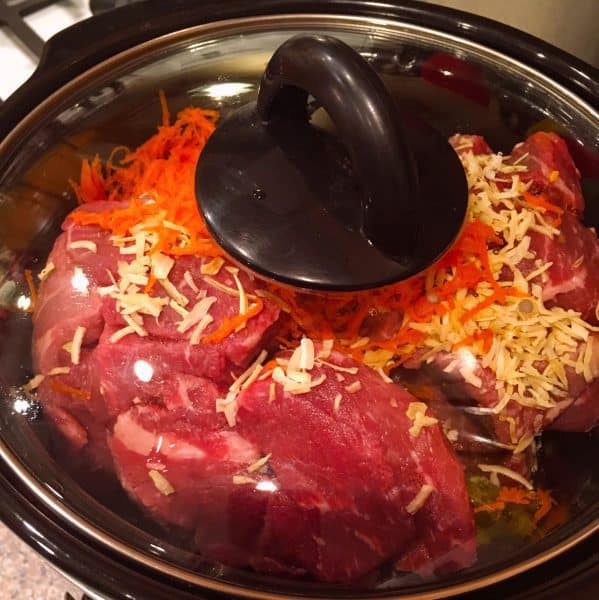 Fill a large stock pot with hot water. Place 1 sack of corn husks into the pot. Cover and let sit 30 minutes. This will help to soften them and re-hydrate them.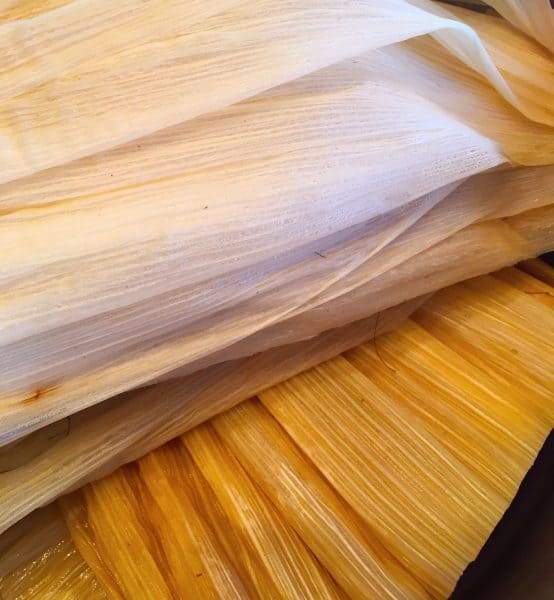 In the morning, when the meat is done…drain the meat, but reserve all the liquid.
TIP: I place a large strainer inside a big bowl, then place the meat in the strainer and allow the juices to drip down into the bowl.
Using a fork shred the beef and remove any large pieces excess fat. Place the shredded beef in a bowl with all the left over Salsa Verde bits from the bottom of the strainer. No sense tossing all those flavorful bits. Also do NOT skim all the fat off the remaining beef broth. I like to leave a good portion in the broth. That's flavor that we want with the masa!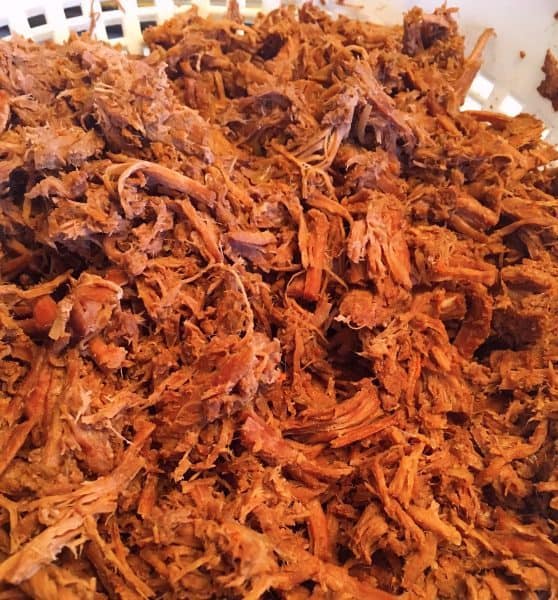 Let's make the dough or "masa" for the Tamales. I do not like "dry" tamales. The type where it's like "corn bread" wrapped around meat. NO! This recipe creates a very moist masa. They're my favorite Tamales ever.
I'll be honest…this is a tough recipe to write up because it's a "texture" thing more than a "measurement" thing.
You'll need 2 sticks, or one cup. of soften butter. Place in your mixer, with the paddle attachment, and beat the butter until smooth and creamy.
Add 1/2 tsp salt, add 3 – 3 1/2 cups of Corn Masa…one cup at a time, mixing on low. Alternate with the left over beef broth, about 3 cups, until you have what resembles a very soft, sticky, corn bread dough. If you do not have enough left over beef broth you can add warm water to get the dough to the right consistency.
Why are we using the beef broth? Because it adds a ton of flavor to the Masa! Especially with some of the left over fat in the broth.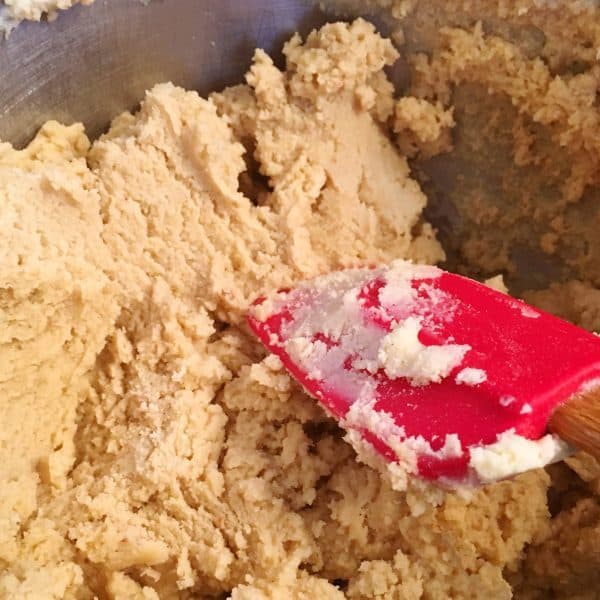 You want the dough more moist than that pictured above. The Masa dough should be about the consistency of thick corn bread batter.
It needs to stick to the corn husk and not fall apart.
That's the next step!
For your "assembly line"…You'll want your beef on the table, your Masa, and your softened corn husks. Place the husks on top of a towel to catch any excess water.
TIP: I use a silicone mat to prepare the tamales on. It makes it easy to scrape off any excess masa that goes over the edges of the husks.
Before beginning, take two larger thicker soaked husks and tear them into thin strips to create the "ties" for your tamales.
How To Assemble Tamales
Grab a Husk. Lay the large end facing you. Using a spatula or knife, spread the masa from about half way down the middle of the husk towards the large end of the husk. Go all the way to one side edge, but leave about 1-2 inches from the other side edge. If the husk is too wide…tear it down to a more reasonable size. You'll want to leave about 3-4 inches towards the narrow edge, or back edge, to fold under.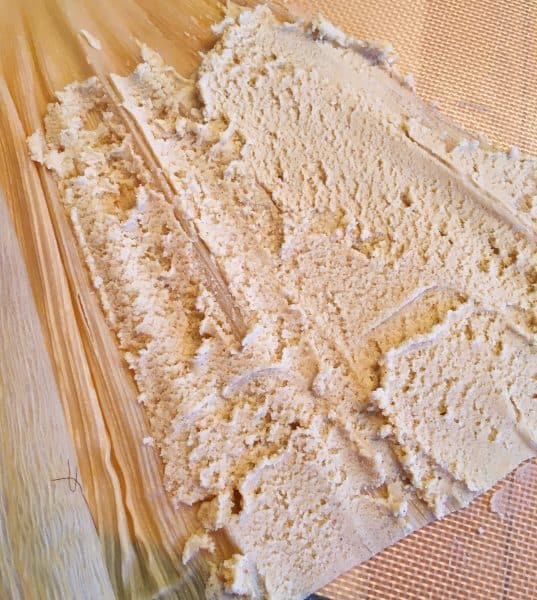 Place a large portion of meat down the center of the masa. You can make them as full and big as you want. I used to lean towards smaller tamales…that's all changed in this updated version. I found I like meatier tamales. I placed about 1/3 cup shredded beef in each tamale.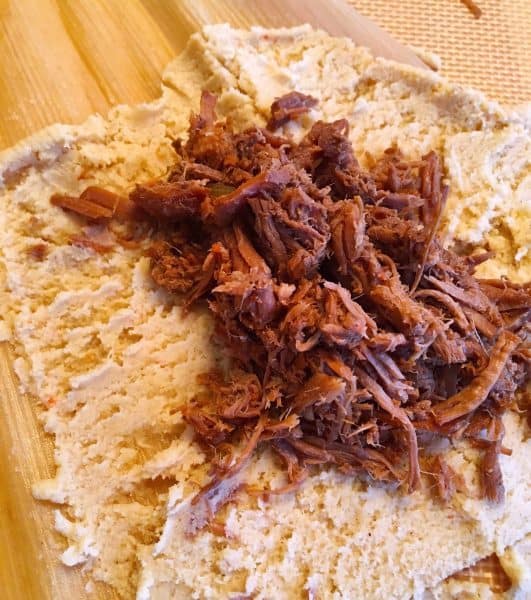 To roll the tamale, take the outer edge where you have the Masa to the edge, and roll or fold it towards the edge of the Masa on the side that has the 2-3 inches of empty husk. Roll the remaining "empty" edge over, fold the back under towards the seam.
Use one of the torn husk strips and wrap it around the Tamale and tie in a knot. This will hold the folded end in place and keep the tamale rolled during steaming.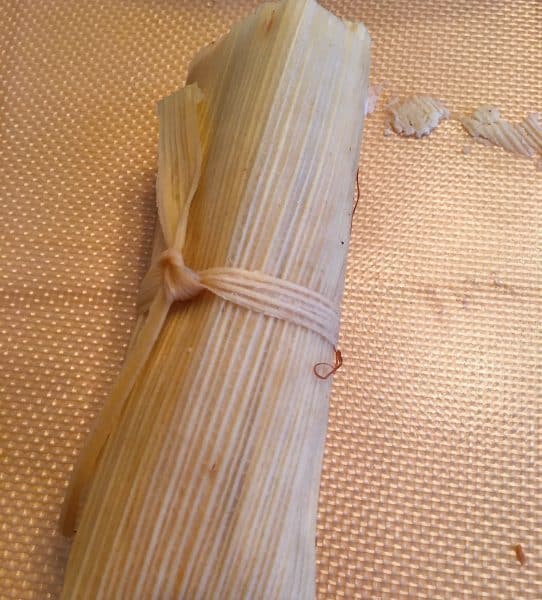 Just keep spreading, filling, rolling, tucking, and tying until you have used all the beef and Masa dough. You should have about 30 tamales. I did the spreading of the Masa. My daughter filled, rolled, and tied. It really helps move it along if you can have a Tamale Buddy!
Now you just have to steam them to cook the Masa.
I used to use my Turkey Fryer/Steamer. I realize not everyone has one. That's okay. You can use a large pot and a steamer insert. Either method will work. You can either stand them up or lay them on top of each other. Again…both ways will work.
Place about 8 cups of water in the bottom of your pot, depending on the size of your pot…it's okay if the Tamales are sitting slightly in the water. Cover the pot and bring water to a low boil. Steam for about 30-40 minutes.
How To Steam Tamales in the Instant Pot
Update: I now use my Instant Pot! It makes beautiful tamales! Be sure to place a steam basket inside your Instant pot, add 1 cup water, and cook on the "steam" setting for 25 minutes. Allow to natural release for 20 minutes, followed with a quick release for any residual steam.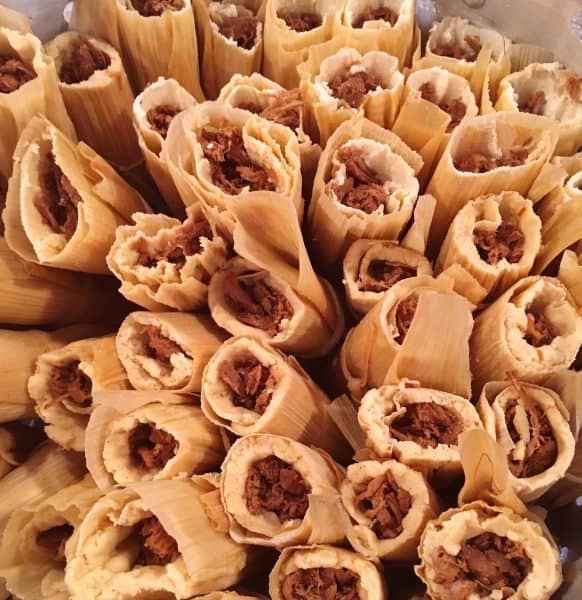 If cooking the traditional steam method, turn off the heat and allow them to sit for 30 minutes so you don't burn yourself. Remove from the pan and lay on a paper towel.
This recipe makes about 30 tamales. That's perfect! If you're going to all the trouble to make them…you may as well freeze a bunch. They reheat beautifully if you re-steam them or microwave them for 2 minutes.
Can you see how moist the Masa is? The beef is packed with flavor and so tender. They are wonderful…truly wonderful.
Relish all your hard work and enjoy each and every mouthful!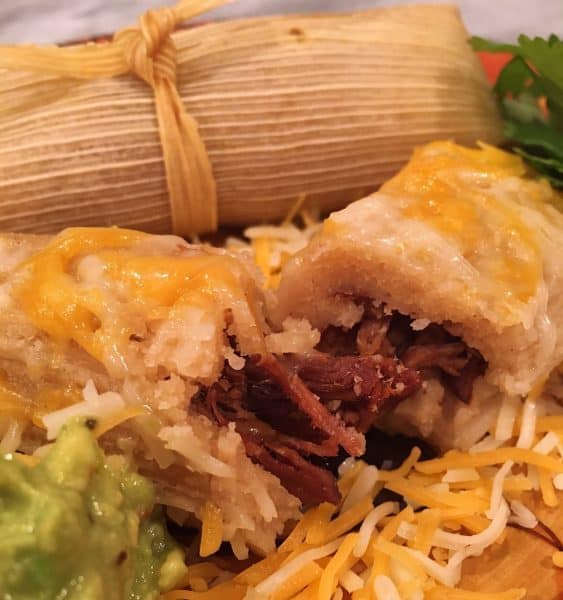 I love these Tamales.
There's two reason for my deep love of them. One, they're delicious. (kinda a no brainer there! lol) More than that though…they remind me how truly blessed I have been to have two wonderful women selflessly give the gift of children to me.
Learning to make Tamales and trying to honor their heritage is my small way of saying "Thank You!"
I hope you'll incorporate them into your Holiday Traditions. I'm pretty sure the birds at your Nest will love them as much as the birds at this Nest do!
Other wonderful Mexican Dish Recipes
This week I'll be sharing a Lot of Holiday Recipes! Be sure to stop by. Remember to follow me on Facebook, Instagram, and Pinterest for all the YUM! Have a Great Week!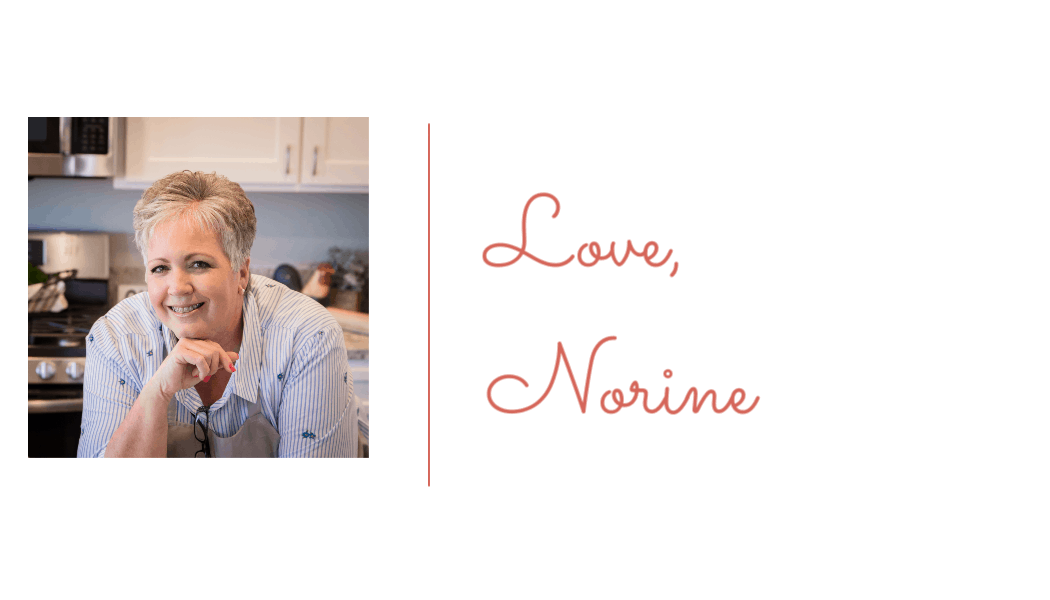 Yield: 35-45 Tamales
Homemade Tamales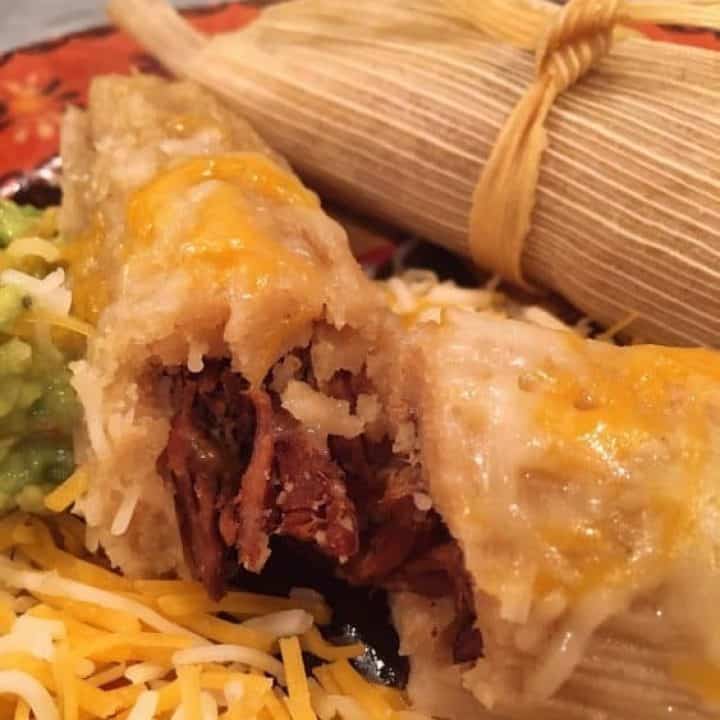 A traditional Mexican Holiday Treat...Homemade Tamales are made with a delicious beef flavored Masa and stuffed with shredded beef and steamed to perfection.
Total Time
10 hours
30 minutes
Ingredients
5-8 lbs of chuck roast
1 can of beef broth
1/4 cup dried onion flakes
1 cup finely shredded carrots
1 cup Salsa Verde
1 teaspoon cumin
1 teaspoon coarse black pepper
1 teaspoon garlic salt
1 teaspoon Mexican or Cajun Spice blend
3 - 3/12 Cups Corn Masa
1 cups softened butter
1/2 teaspoon salt
3 - 4 cups reserved beef broth (you can use additional canned beef broth)
1 package dried corn husks
Instructions
The night before...
place chuck roast, or roast beef, into a large slow cooker. Add 1 can beef broth, 1 cup finely shredded carrots, dried onion flakes, salsa Verde, cumin, pepper, garlic salt and spice blend. Cover and cook on low for 8-10 hours.
The next day...
Drain the cook roast beef, reserving the liquid for the Masa dough.
Shred the beef. Set aside. Add spices left in the bottom of the strainer back in with the shredded beef.
Place corn husks in a large bowl with warm water. Allow to soak for 30 minutes.
In mixer, with paddle attachment, cream butter with salt.
Add Corn Masa, one cup at a time, alternating with reserved beef broth, continuing mixing until a soft sticky spreadable dough forms. Add additional broth or warm water if necessary. Should be the texture of really thick corn bread batter.
Remove Corn Husks from bowl and set a few at a time on a kitchen towel. Take two larger husk and tear into strips for tamale ties.
Set up an assembly line of husks, Masa, Meat, Corn Husk Ties.
Spread Masa down the corn husk, starting about half way down the husk, towards the large end of the husk. Leave 2-3 inches along the left side of the husk empty.
Fill with 1/3 cup of meat down the center of the Masa. Fold the filled edge towards the empty edge meeting Masa with Masa. Fold empty edge over the back. Fold the Tail under and bring towards the top of the Tamale.
Tie with Husk strip.
Repeat until all Tamales have been made.
Place tamales in a steamer basket. Place in a large pot with about 3-4 inches of water. Cover. Steam for 30 minutes. Allow to rest for 30 minutes covered OR place tamales in your Instant pot with a steam basket and one cup of water. Seal and press steam button. Set for 25 minutes. Natural release for 20 minutes and quick release to make sure any residual steam is released.
Serve warm. Freeze remaining Tamales.
To reheat place in steamer and steam for 20 minutes or microwave for 2 minutes covered with a wet towel.
Recommended Products
As an Amazon Associate and member of other affiliate programs, I earn from qualifying purchases.
Nutrition Information:
Yield:
40 servings
Serving Size:
2Servings
Amount Per Serving:
Calories:

1191
Total Fat:

79g
Saturated Fat:

35g
Trans Fat:

4g
Unsaturated Fat:

39g
Cholesterol:

401mg
Sodium:

781mg
Carbohydrates:

7g
Fiber:

1g
Sugar:

1g
Protein:

114g