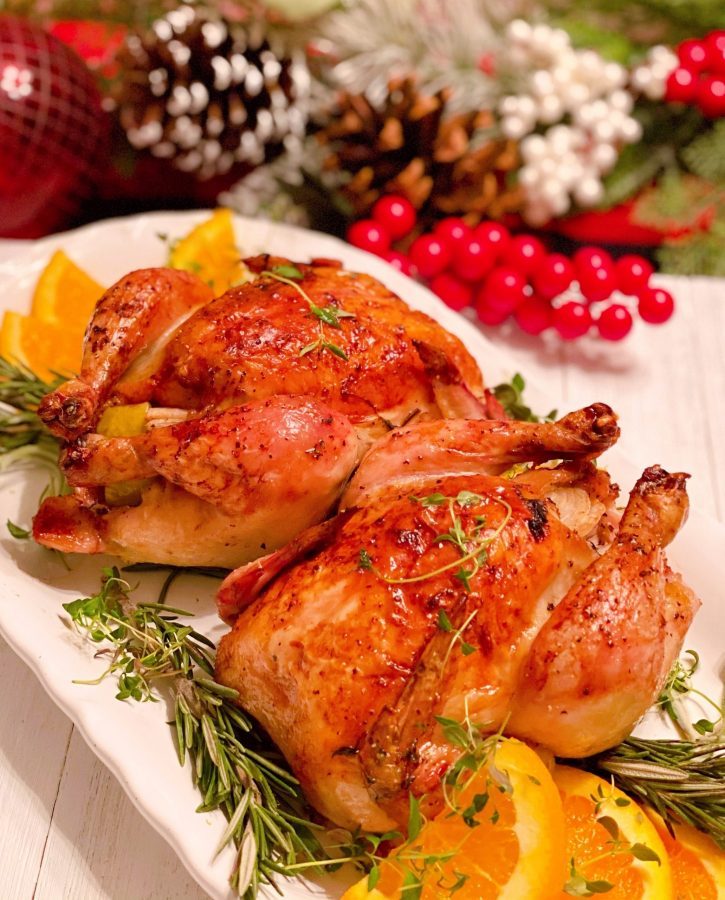 *As an Amazon Associate I earn from qualifying purchases. This post may contain affiliate links, which means that I may make a commission from any purchases at no additional cost to you. Thank you for your support!
Tender succulent Cornish Game Hens stuffed with fresh herbs, apples, oranges, and onions. Roasted and basted in a butter wine sauce until they are juicy and golden! A wonderful easy Holiday Meal idea you and your guests are sure to love!
Let's be honest! Thanksgiving 2020 is going to be different. Whether you are downsizing your gathering, taking extra precautions, struggling with loss of income, or any one of a number of concerns. It's just been a doozy of a year!
I realize for many, our gatherings may be a little smaller than normal…or maybe your nest is a little empty. (Been there, doing that!) Which got me to thinking…what would be a really great option instead of roasting a HUGE turkey… that you'd have to eat for weeks. (Face it…that first turkey sandwich is killer…the 29th not so much so!)
While doing my "on-line" shopping I saw that Walmart had a package of two Cornish Game Hens for about $7.97! That's a pretty affordable main course for two! It got me to thinking….what if I created a recipe that was as good…or better, than my Roasted Brined Turkey?
Yeah…What if? Well…I have to tell you, these littlehens are out of this world!! They're SO good! I honestly think they may be better than my Turkey. (YIKES! Did I just say that?) I know one thing for sure…it's a whole lot easier to make these tasty Roasted Cornish Hens than wrestling a 23 lb. Turkey.
I stuffed these hens with all the flavors of Fall! Fresh Orange and Apple Chunks. YUM!!! Onion and savory fresh herbs. Yippee!!! Then I create an incredible flavorful sauce of white wine, butter, and chicken broth to baste them in…and the gravy you can make from that sauce is gonna knock your socks off!!! Sooo….
Let's get cooking!
How To Make Fresh Herb Stuffed Cornish Game Hens
I want to let you know that you can double, triple, or quadruple this recipe! So regardless of the size of your group you can easily make this recipe for two or eight. This basic recipe makes enough for two Cornish Game Hens.
To make preparation of this dish easy, I recommend cutting one half of an orange into 1 inch chunks, reserving the other half for later… and 1/2 a granny smith apple into chunks. No need to remove the rind or peel. Just cut them into nice size chunks that can fit into the small cavity of the hen. Also cube up one small onion. Set aside while you season the hens.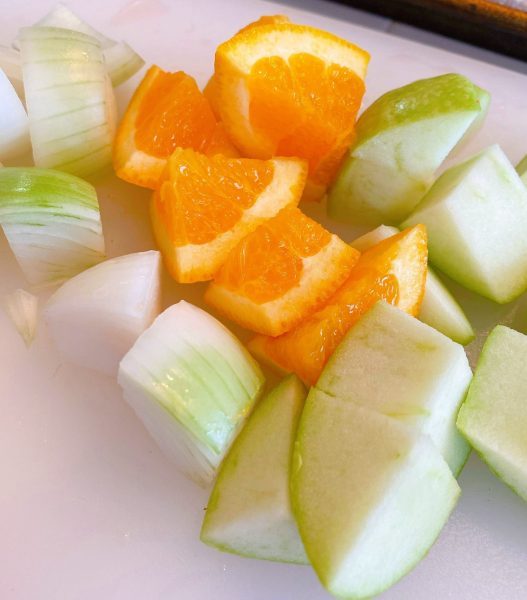 Preheat Oven to 350°
Remove hens from plastic wrapping, discard wrap, rinse with cool water, making sure to rinse out the cavity of the hen. Use paper towels to pat hens dry!
Salt and Pepper the cavity of each hen to taste.
I know some of you are thinking "How do I know how much that is?" I recommend about 1/4 teaspoon of each per hen. Pull the breast back slightly, to open up the cavity opening, hold each hen upright so that you can sprinkle the seasonings down into the cavity. It doesn't have to be pretty…you just need it in there.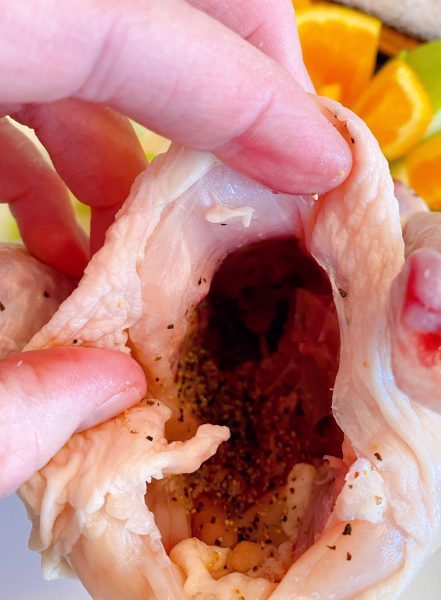 Alternate stuffing the cavity with orange chunks, apple chunks, and onion. This will do two things…it helps the hen hold it's shape during baking, and, more importantly, it adds incredible flavor to these mighty little hens!
Most Cornish Game Hen recipes call for lemon, onion, and celery as the "stuffing". I really wanted the subtle flavors of fall to wind its way throughout these hens….and they do!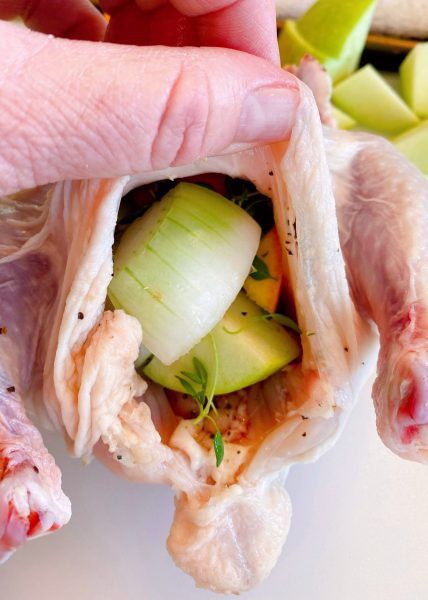 Add Fresh Herbs. Again this is more a taste preference than an exact measurement. I broke off a few small stems of rosemary and thyme and stuffed them inside the hen on top of the onions, oranges, and apples. In addition I added two small sage leaves inside each hen. Exact measurements are in the recipe card below.
Before we close up the hens, add 1 Tablespoon butter pat inside each of the hens. I recommend adding that butter about half way through the "stuffing" process, but if you forget you can just place it in there at the end. The most important thing is that it's there.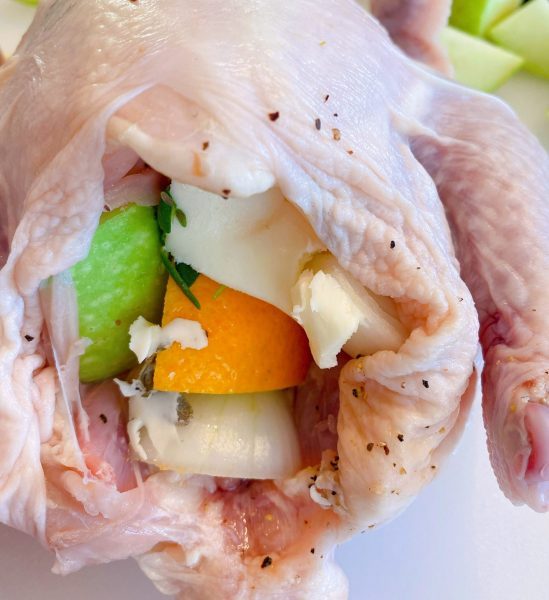 In order to keep all that yumminess inside each hen, we're going to tie their little legs shut!
Cut a 12 inch piece of bakers twine. Go underneath the back of the hen behind the "wings" centering the string. Pull both sides up and over the top of each leg between the breast and the leg, then down under the "ankle" (Do birds have ankles? I'm going to be thinking about this for days!) then back up over the "ankle" drawing the two drumsticks together and tie.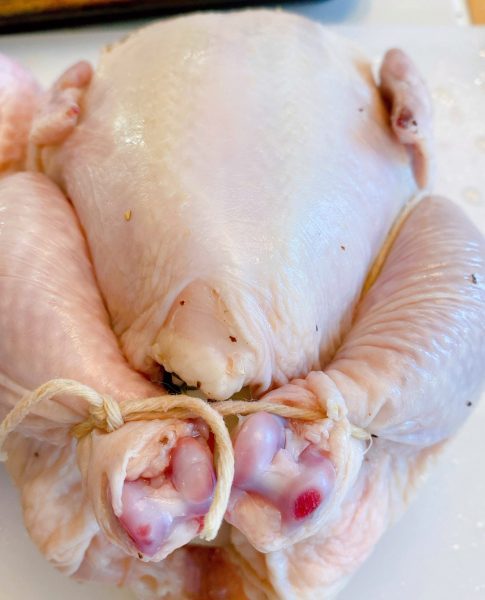 Place the tied hens on a roasting rack in a medium size roasting pan, or a large roasting pan if you're making more than two! Notice mine are snuggled up next to each other. I recommend a little space between them…but my roasting rack had handles. I just made do!
TIP: If you don't have a roasting rack you can cube up onion and celery and place it underneath the cornish hens to create a "natural" roasting rack.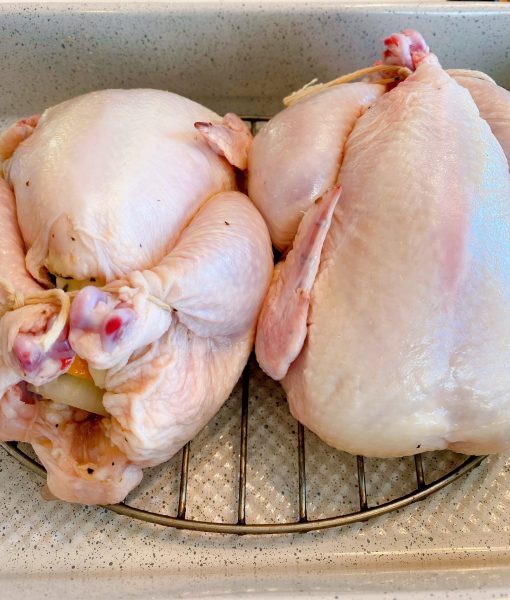 Drizzle each hen with about 2-3 Tablespoons of Garlic infused Olive Oil. If you don't have garlic infused olive oil you can use regular olive oil.
Now I know my photo shows the hen not tied…this was a mistake I made. Don't be a Norine. Don't make this mistake. Ever tried to catch a greased pig? That's what it's like trying to tie a Cornish hen that's been greased! Don't do it! That sucker will fly right out of your hands and across the kitchen. It's like a horrible version of Alfred Hitchcocks "The Birds"!!
Using your hands, or a pastry brush, rub the olive oil all over the hen. This will crisp up the skin and allow the seasoning to stick during roasting.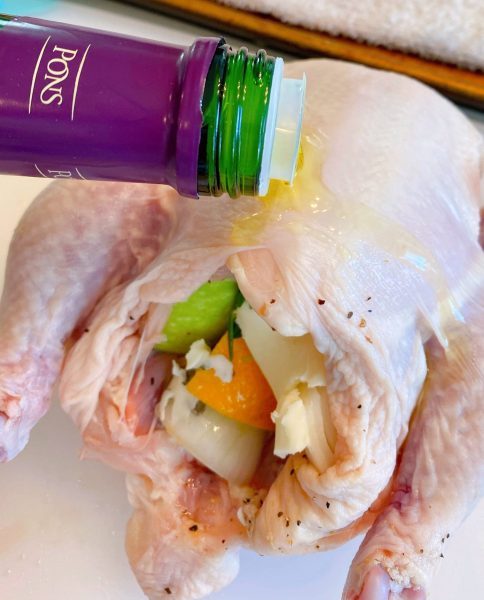 Sprinkle tops with more salt and pepper. Tuck Orange slices, more rosemary, thyme, and sage in and amongst the hens. You'll notice I didn't use a ton of fresh herbs. Just a few here and there. It's okay not to be exact on measurements here. If you love rosemary…add a little more. I prefer a balanced flavor so I tried to use about the same amount of every herb.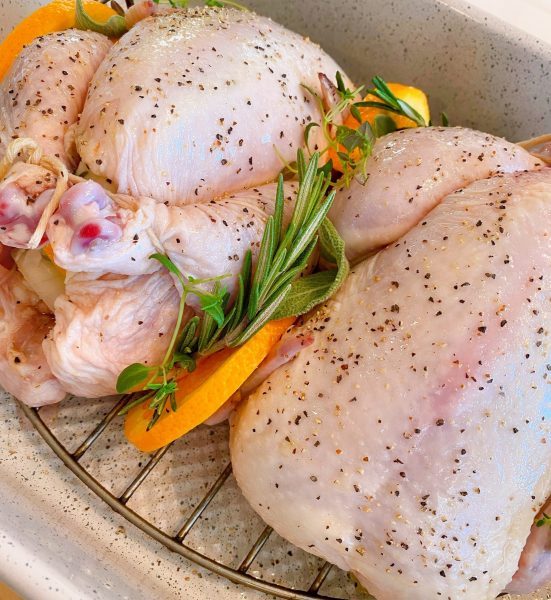 Add butter to top of each Cornish Hen by places 1 Tablespoon pats of butter on top and around the hens in the roasting pan.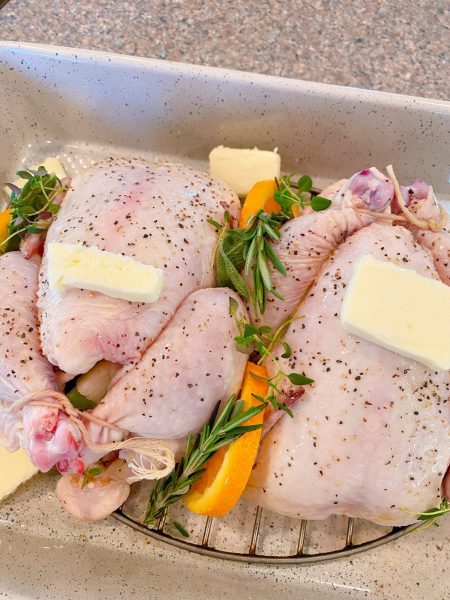 Now for the fun! Add 1/2 cup white cooking wine and 1/2 cup of chicken broth to the bottom of the pan. This will do two things…it allows the flavors to immerse themselves into the hens during baking…AND it prevents the juices from the hens to burn on the bottom of the pan.
Place hens on center rack in the center of preheated oven. Roast for 1 hour basting with pan juices every 20 minutes.
After one hour increase the oven temperature to 410° and continue roasting another 35 minutes, basting one more time before removing from the oven. Hens should be golden brown and the internal temperature should reach 165° on a meat thermometer. Squeeze the other half of reserved orange over the to of each hen.
Remove hens from oven and place on serving platter. Allow hens to rest 10-15 minutes before serving. This allows the juices to seep back into the meat. Cutting right away will have the juices running all over the plate and all that flavor is lost. (Sadness! We don't want sadness!)
How To Make Cornish Hen Gravy
While the hens are resting…it's the perfect time to whip up a little gravy with the pan juices.
Remove the roasting rack. Using oven mitts strain the dripping through a mesh colander, into a medium sauce pan. This will remove any bits of herb and unsightly pan drippings.
Add one cup chicken broth to drippings. In another cup mix 1/2 cup of water with 4 Tablespoons cornstarch. Mix until well combined and smooth.
Bring broth and pan juices to a low boil over medium heat. Slowly whisk in cornstarch mixture, whisking constantly until mixture begins to thicken and goes from cloudy to semi-clear. Turn the heat off and place in serving cup.
How To Serve Cornish Game Hens
You have two options when serving Cornish Game Hens. The first, which is what I chose to do, is to remove the string holding the legs together.
Note, I left the stuffing ingredients inside the hen. You can remove them. It's 100% personal choice.
Set each hen on a serving platter and garnish with more fresh orange slices and herbs.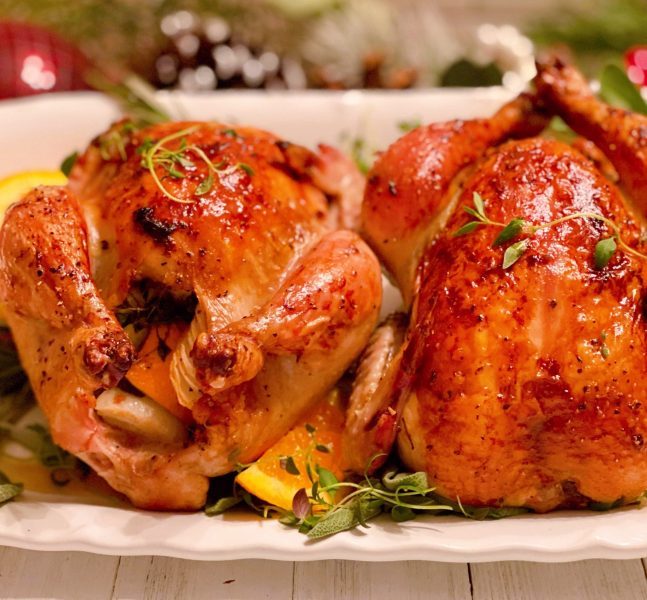 The second option is to cut the hens in half lengthwise using a pair of kitchen shears. Cut right down the middle of each breast bone and then the back bone. It will cut easily. Remove the stuffing ingredients. Place each hen half, raw edge down, with the leg and thigh on top.
The presentation of this dish is stunning!! It's a show stopper. The only thing better than it's looks is its amazing flavor. Honestly it's outstanding!!! We were swooning!
The skin is crispy and golden. Hints of apple and orange with the subtle flavor of fresh herbs was intoxicating. I was so excited with how this dish turned out. " Mr. Nest" agreed that this would be the perfect Holiday dish for a smaller gathering. He raved over the flavor and how juicy they were!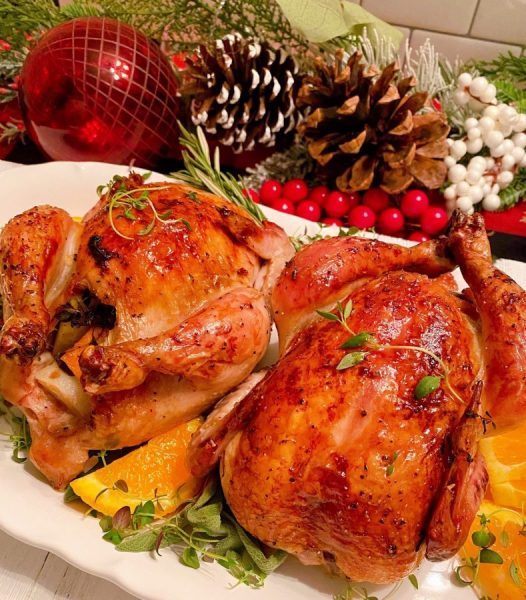 I served this dish with a beautiful Kale Cranberry and Pecan salad and my new Sweet Potato and Potato Medley that I'm sharing later this week. It's the perfect pairing with these stunning succulent Roasted Cornish Game Hens. They're truly the BEST!
Other wonderful Thanksgiving Main Dish Recipes
I hope you enjoyed this recipe! I can't wait to make it again…and again..and again! I know it will be making regular appearances at this Nest. Especially during the Holidays!
Happy Nesting and Happy Holidays!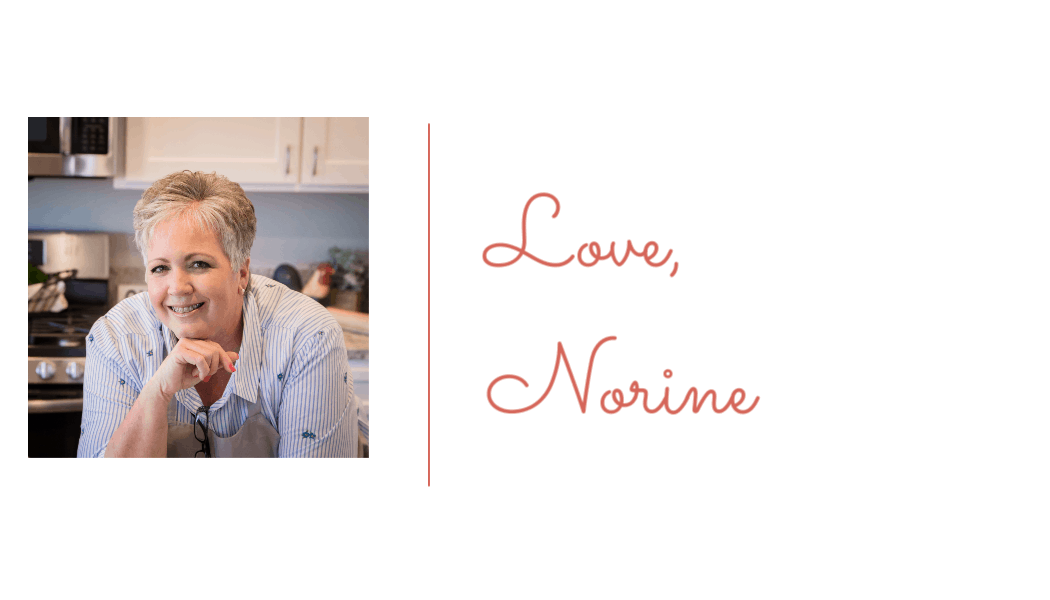 Yield: 2 servings
The Best Herb Stuffed Roasted Cornish Hens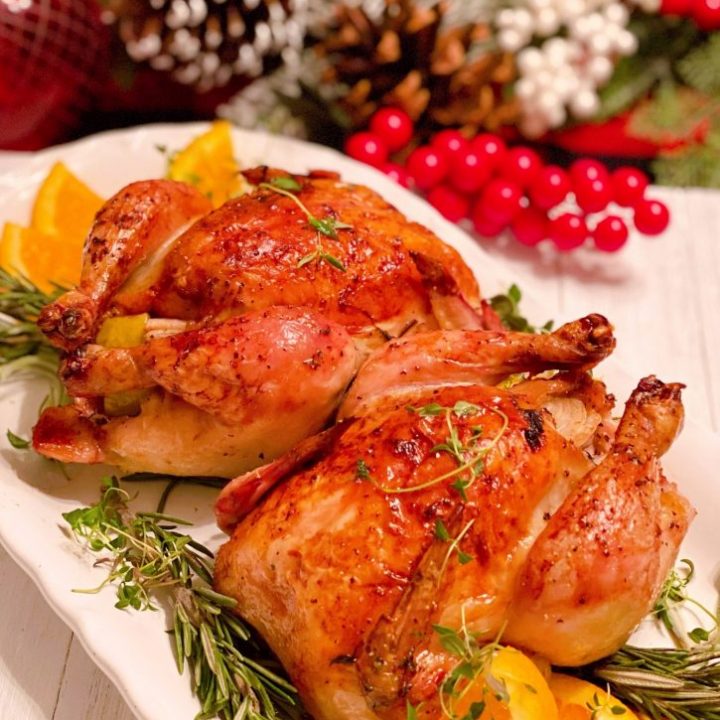 Tender succulent Cornish Game Hens stuffed with fresh herbs, apples, oranges, and onions and roasted and basted in a butter wine sauce until they are juicy and golden! A wonderful easy Holiday Meal idea you and your guests are sure to love!
Cook Time
1 hour
30 minutes
Total Time
1 hour
40 minutes
Ingredients
2 - Cornish Hens,
1/4 teaspoon salt & pepper, divided in half between each hen
1/2 a Large Granny Smith Apple, cut in 1 inch cubes
1/2 an Orange, cut into 1 inch cube (reserve other half)
1 small onion, peeled and cut into 1 inch cubes
4 Tablespoon Garlic infused Olive Oil, or regular olive oil.
4 fresh sage leaves
2 small sprigs rosemary
8 - 1 inch clippings of thyme
1/2 cup white cooking wine
1/2 cup chicken broth
6 Tablespoon butter, cut into 1 Tablespoon servings
Additional Rosemary, Thyme and Sage
Additional Orange, sliced for cooking and garnish
Additional Salt and Pepper to taste
Gravy
Pan juices
1 Cup Chicken Broth
1/2 cup water
4 Tablespoons cornstarch
Instructions
Rinse and pat dry Cornish Game Hens. Season inside of each hen with 1/8 teaspoon salt and pepper, to equal 1/4 total salt and pepper between the two hens.
Preheat oven to 350°
Stuff each hen with cubed fruit and onions, alternating between apples, oranges, and onions until the cavity of each hen is loosely filled. Half way through stuffing each hen add 1 Tablespoon butter per hen.
Slide two sage leaves on top of apple and orange stuffing, one small sprig of rosemary and 4 sprigs of thyme for each hen. Tie legs of each hen to keep stuffing inside the hen.
Place hens in a large roasting pan on top of a roasting rack. Drizzle each hen with Garlic infused Olive oil. With a marinade brush, or your hands, make sure each hen is completely covered with olive oil. Season with additional salt and pepper to taste, about 1/8 teaspoon per hen.
Place half the orange slices around the sides of the hens. Place 2-3 additional sprigs of rosemary, 2 Tablespoons fresh thyme, and 2 sprigs of sage around the hens with the orange slices. Place Two pats, of the 1 Tablespoon servings, of butter on top of each game hen.
Add cooking wine and chicken broth to the bottom of the roasting pan. Bake for 1 hour, basting each hen every 20 minutes.
After 1 hour increase the cooking temperature to 410° and bake for an additional 30 minutes, basting once, until internal temperature is 165° and juices run clear.
Remove hens from the oven and place on a serving platter. Using the reserved 1/2 an orange squeeze juice over both hens. Allow hens to rest for 15 minutes before removing the string holding the legs together. Garnish with extra orange slices and herbs for a beautiful presentation.

! Gravy
To make the gravy, carefully, using oven mitts, strain the hot pan juices into a medium sauce pan, removing any residual herbs. Add 1 cup chicken broth. Over medium heat bring mixture to a low boil. In a small bowl mix cornstarch and water together. Slowly whisk the cornstarch mixture into the boiling pan juices and stir constantly until mixture thickens and becomes clear and no longer cloudy. Remove from heat and serve with game hens.
Nutrition Information:
Yield:
2 servings
Serving Size:
1
Amount Per Serving:
Calories:

1340
Total Fat:

96g
Saturated Fat:

37g
Trans Fat:

1g
Unsaturated Fat:

52g
Cholesterol:

432mg
Sodium:

1437mg
Carbohydrates:

48g
Fiber:

6g
Sugar:

16g
Protein:

62g