Halloween Caramel Chocolate Pretzels are Pretzel sticks dipped in caramel, then chocolate, and sprinkled with frightful bats, ghosts, and more for the perfect Halloween Treat!
Do ya need a last-minute fun spooky Halloween Treat? I thought ya might… So I waited till the last-minute to post it! (I'm just incredibly thoughtful…yeah, that's it…I'm thoughtful! It has nothing to do with my procrastination flaws.)
*As an Amazon Associate I earn from qualifying purchases. This post may contain affiliate links, which means that I may make a commission from any purchases at no additional cost to you. Thank you for your support!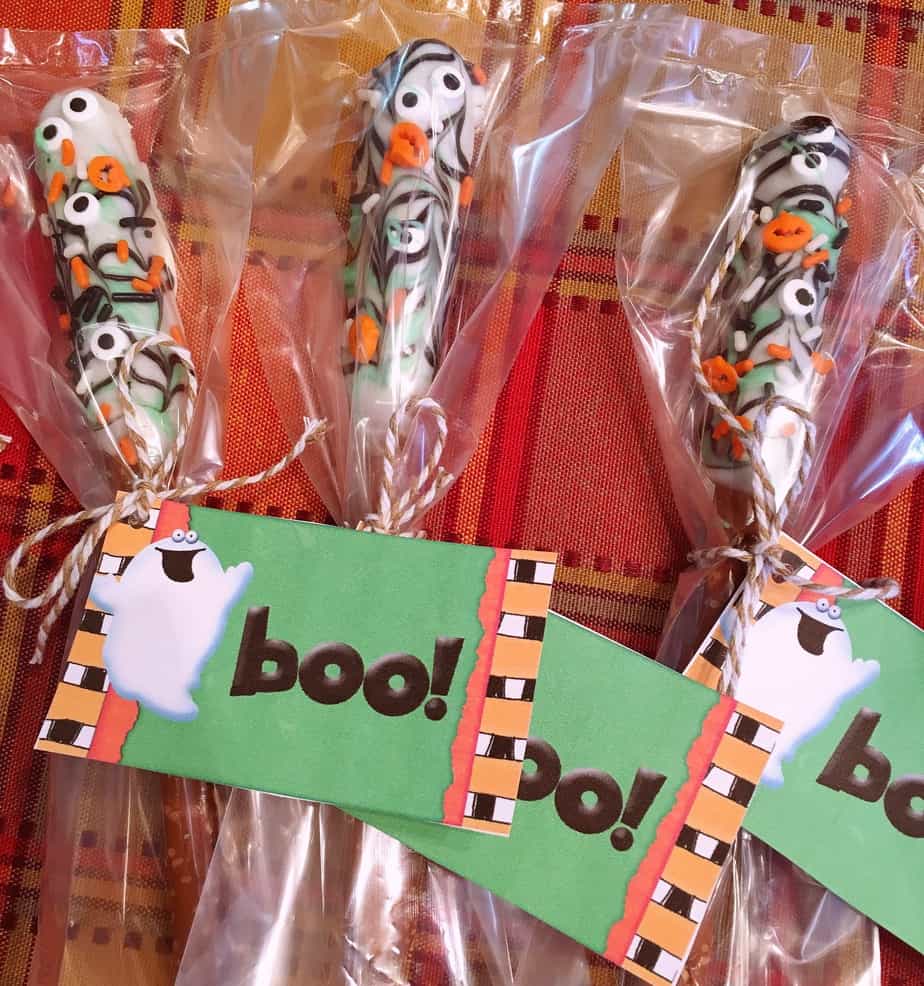 I know you've seen these cute pretzels all over Pinterest and Facebook. They looked so fun. I just had to make a few myself! Besides…a pretzel dipped in chocolate! Hello!!! Sweet and Salty is my middle name!
Oh! I did something a little different. I dipped them in caramel first. Why? Beause!
Okay, seriously…because pretzels dipped in caramel and then chocolate!! Now that's a TREAT and not a TRICK!
How To Make Halloween Caramel Chocolate Pretzel
You will need 1 cup of Kraft caramel bits in a ceramic mug. (You'll probably need a few more to eat as your making this fun treat!)
Place the mug in the microwave and set your power to 50%. "Nuke" (sounds scary!) them for 2-3 minutes, depending on the heat of your microwave, and then stir until melted and creamy.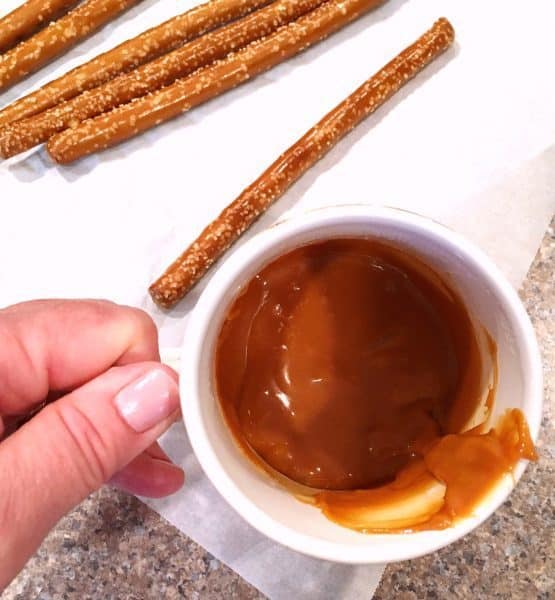 Lay out a piece of parchment paper and about 10 pretzel rods.
Dip each Pretzel, about 3/4 the way, into the mug of melted caramel. Twist and twirl it around.
Once you've dipped the pretzel hold it over the mug for a few seconds to allow the caramel to set up.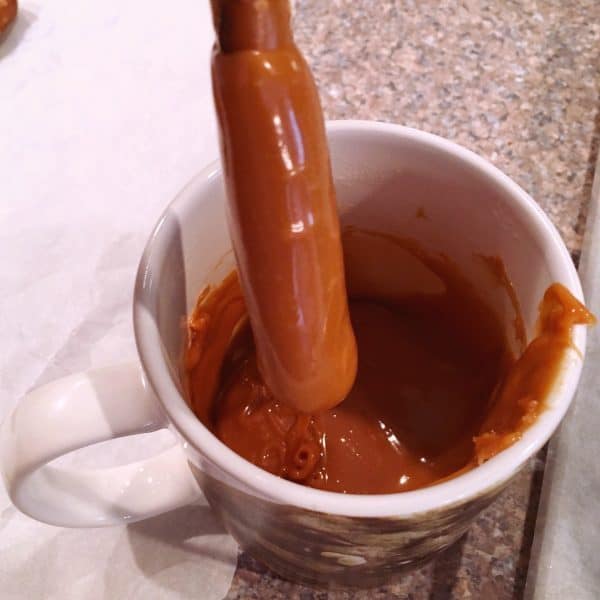 Lay the dipped pretzel on the parchment paper and continue dipping pretzels until they are all coated in caramel.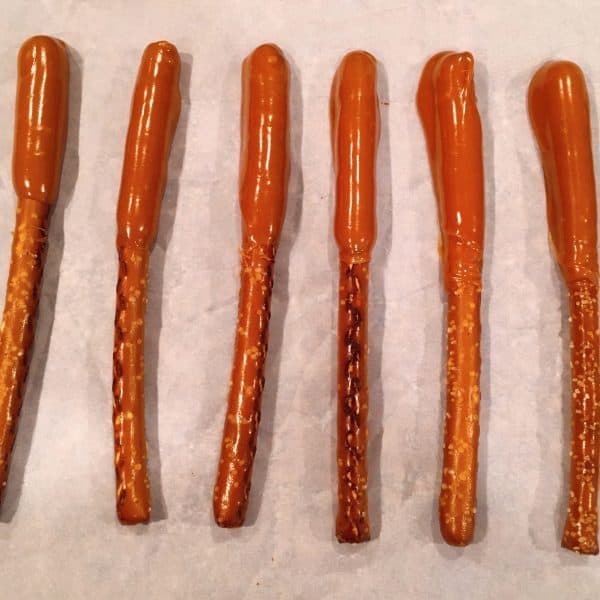 Next in a small microwave safe bowl place 1 cup of white chocolate "melting" chips. (You can find these in the baking aisle by all the other glorious chocolate pieces!)
Place in your microwave . Set your power for 50% and cook for 2-3 minutes. The chips on top will look whole. It's okay because once you stir them…they will melt right in.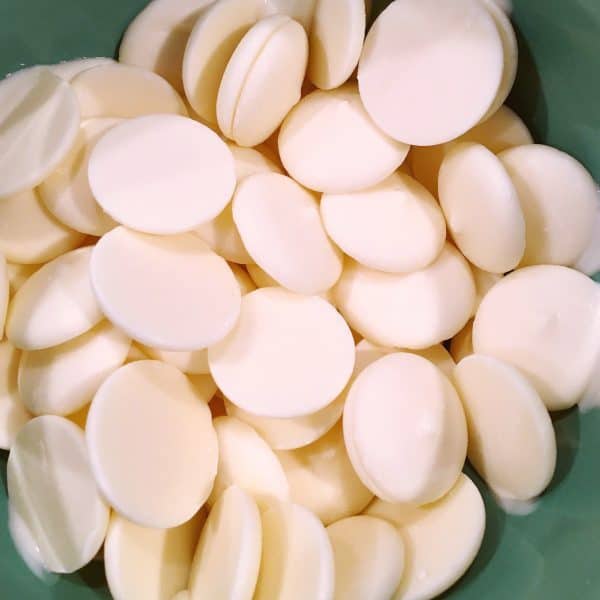 Stir the chocolate until creamy and smooth.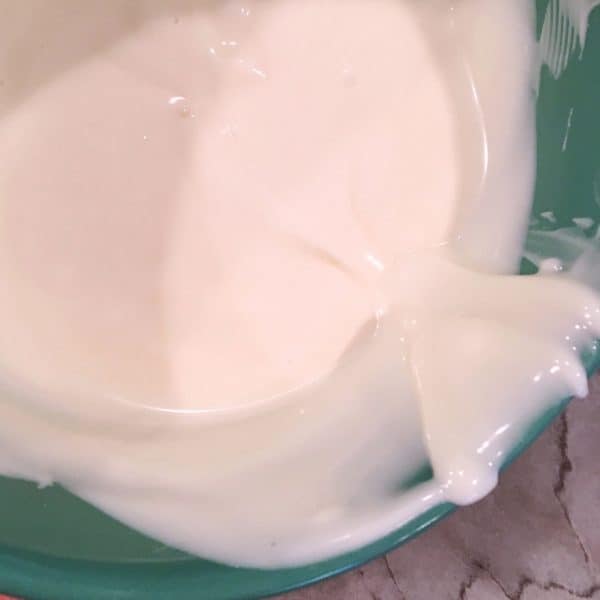 Now in true "Norine" fashion…I got excited making these and didn't take as many photo's as I thought I had. Sorry friends. I just forget I need to photo every step. (We will not blame my old age on this!)
In a smaller bowl place about 3 tablespoons of the melted chocolate and color it with food coloring. I chose green. Cause green is Icky at Halloween and so Monster-ish! (We are going to use this later to drizzle over the tops of the white chocolate.)
Dip your caramel coated pretzel rods into the melted white chocolate. Allow excess to drip off and then place them back on the parchment paper.
Dip all the rods quickly. QUICK, quick, quick! (Did I stress that enough? lol) We need the chocolate melty for the next step. (Is"melty" is a word? lol)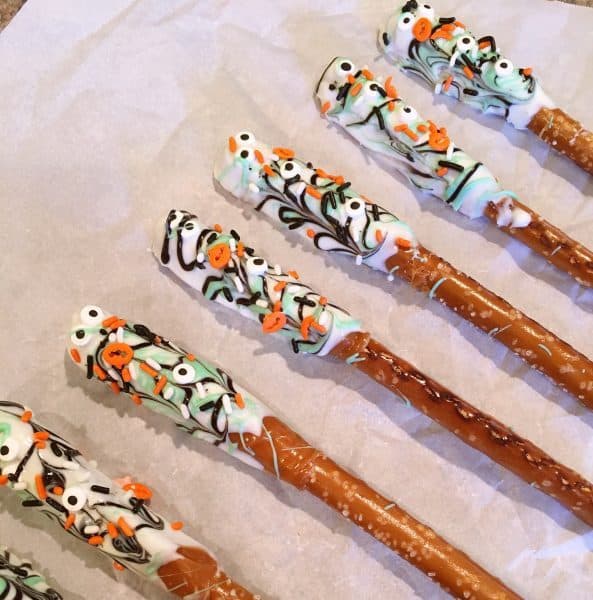 Now for the FUN! Drizzle that green melted chocolate over the white. I bought a tube of Wilton Black Sparkle Icing and drizzled that over the white chocolate too. I used a tooth pick to pull and swirl the colors through the white chocolate.
Quickly add candied google eyes and Halloween Sprinkles! (Sprinkles are a party in a jar y'all!)
Let the pretzel rods sit out until they set up and the chocolate is hard.
Place them inside a cello bags and tie at the bottom, where the caramel starts, with bakers twine. For a cute finishing touch… added a cute "boo" tag!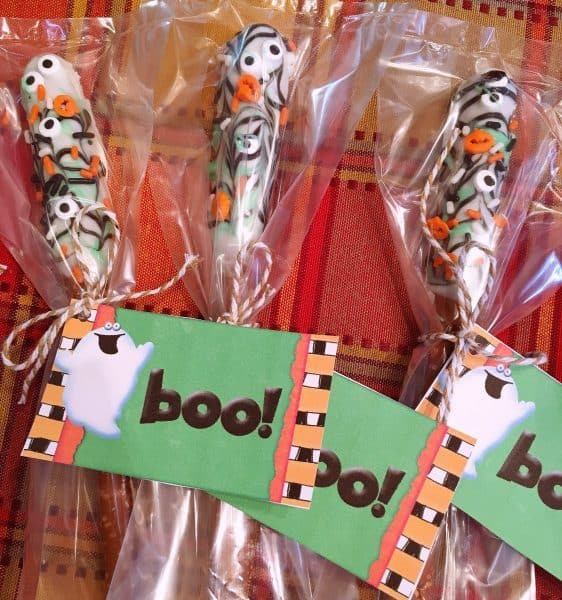 There ya have it. A cute, delicious, fun, last-minute, homemade treat that all the little ghosts and goblins at your Haunted Nest will love!
I hope y'all have a VERY Happy Halloween!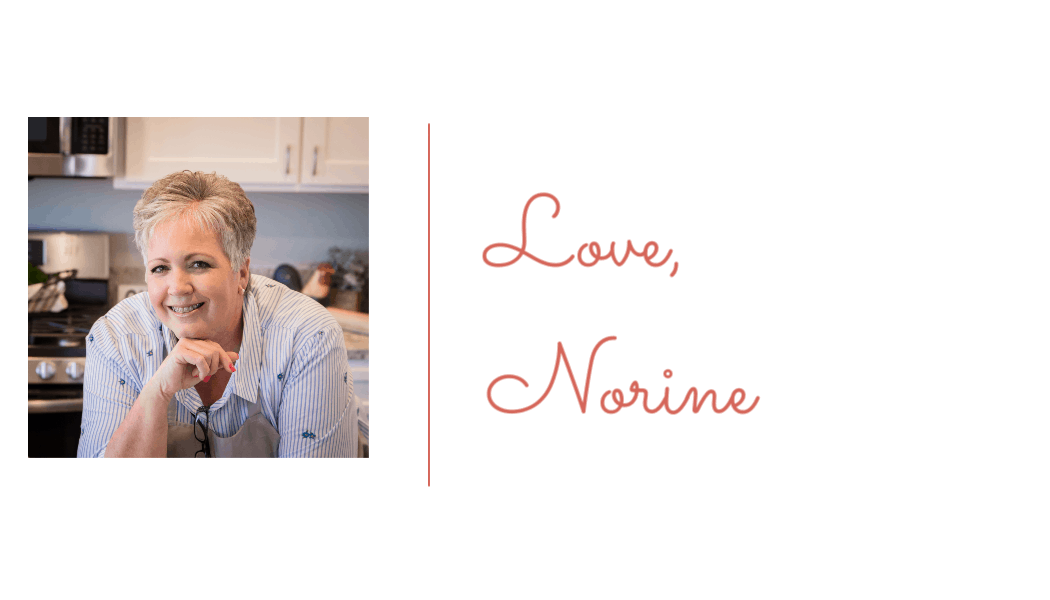 Yield: 10 pretzel rods
Halloween Caramel Chocolate Pretzels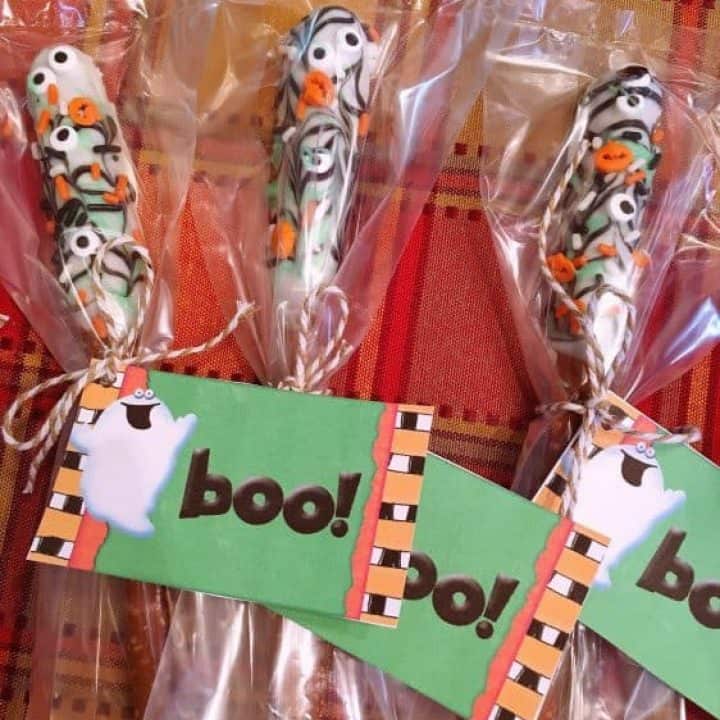 These caramel chocolate dipped pretzels are like magical delicious spooky candied wands! So fun and so quick to make. The perfect "Treat" this Halloween!
Ingredients
10 pretzel rods
1 cup Kraft Caramel bits
1 cup white chocolate melting chips
food color
1 tube Wilton Black Sparkle Icing
Candy google eyes and Halloween Sprinkles
Instructions
Lay pretzel rods on a sheet of parchment paper.
In a ceramic mug or small microwave dish place one cup of Kraft Caramel bits. Set microwave to 50% power and cook for 2-3 minutes until caramel is beginning to melt.
Stir until smooth.
Dip each pretzel rod into the melted caramel and twist.
Lay on parchment paper until set.
In another small, microwave safe bowl, place 1 cup of white chocolate melting chips. Set power to 50% and cook for 2-3 minutes.
Chocolate will appear whole and not melted. Stir chocolate until smooth.
Set aside 3 tablespoons of melted chocolate. Color with food coloring to be used as drizzle later.
Dip caramel coated pretzel rods into the white chocolate quickly. Allow excess to drip off before placing on parchment paper.
It's important to work quickly so chocolate does not set before you get them decorated.
Once all the rods have been dipped in chocolate, drizzle with colored chocolate and Wilton Black Sparkle Icing.
Use a toothpick to swirl drizzled through the white chocolate.
Add eyes and sprinkles.
Allow to sit out until chocolate sets up.
Package in cello bags, tie base with string to keep fresh and add tag.
Nutrition Information:
Yield:
10 servings
Serving Size:
1
Amount Per Serving:
Calories:

237
Total Fat:

8g
Saturated Fat:

4g
Trans Fat:

0g
Unsaturated Fat:

3g
Cholesterol:

4mg
Sodium:

274mg
Carbohydrates:

42g
Fiber:

1g
Sugar:

32g
Protein:

3g