Tender spiral noodles, mixed vegetables, chunks of chicken, a creamy sauce combine in a casserole dish topped off with melted cheese and toasted crispy bread crumbs. A delicious Simple Chicken Noodle Casserole made from scratch.
This is an amazingly delicious new recipe! It's good! It's REALLY good! 110% pure comfort food!
*As an Amazon Associate I earn from qualifying purchases. This post may contain affiliate links, which means that I may make a commission from any purchases at no additional cost to you. Thank you for your support!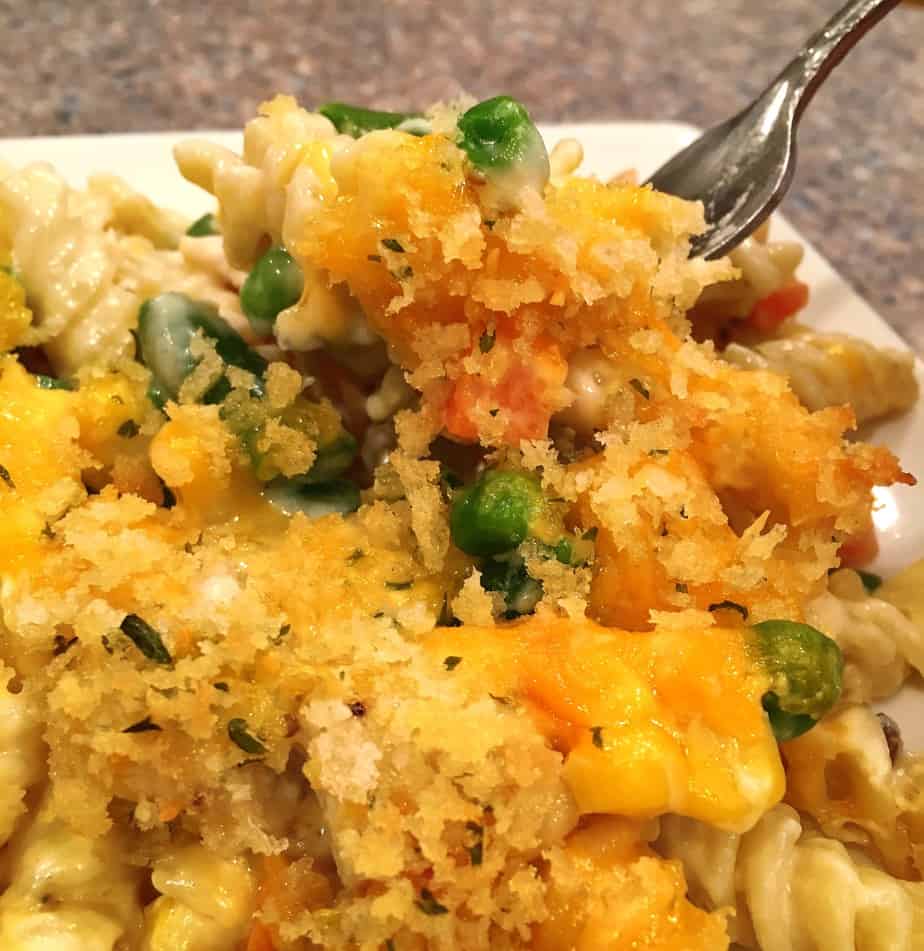 I've made a version of this Chicken Noodle Casserole for about the last 5 years. It's a really great family casserole and perfect for the cooler months of Fall and Winter when you yearn for comfort foods.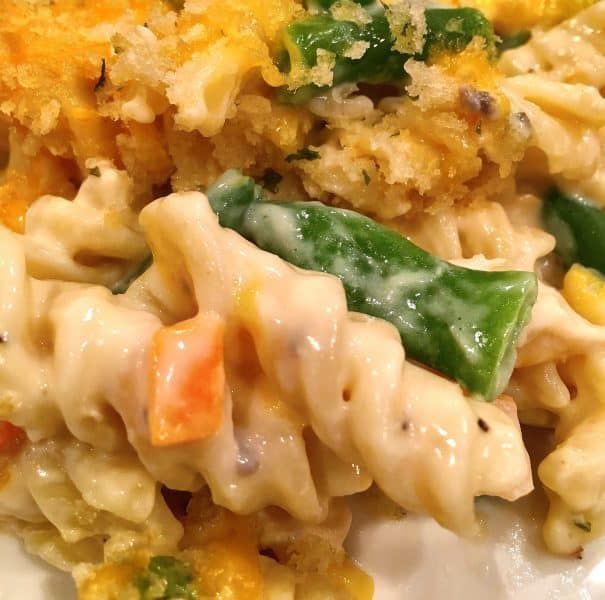 Lately I've seen pictures on Pinterest of a similar casserole with veggies added. Mine is not that recipe, but I'm sure it's similar. I took my original recipe and just threw in a package of frozen vegetables and we LOVED the addition!
How To Make Chicken Noodle Casserole from Scratch
Begin with one package of al dente cooked rotini pasta…or "curly cues"…as I like to call them, and two cups of diced cooked chicken.
Tip: Two cups is equal to two frozen boneless chicken breast.
Let's stop for a second in this recipe and insert another tip. I know there are a lot of women who dread cooking. It's not your thing, and yet… you want to give your family healthy yummy meals. I get it! I really do!
A lot of you are working Mom's and your tired when you get home! You still have to do all the "kid" stuff… plus dinner! So…how do we make it easier? How can we simplify and help with the family budget and provide healthy home cooked meals?
TIP: One thing you can do is boil/cook a bunch of chicken breast all at once! Grab that Costco bag of boneless chicken breast and a great big pot and just cook them all at once, chop them up, bag them, and freeze them. (It will take about an hour! Big time saver during the week.) Pull one out before work, and you are half way to dinner!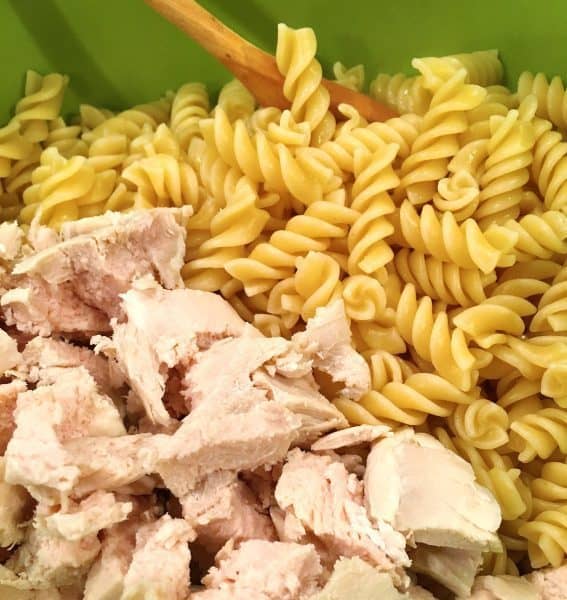 Add in one package of frozen mixed vegetables. You don't need to precook them. Just toss them in! (I love the "pop" of color!)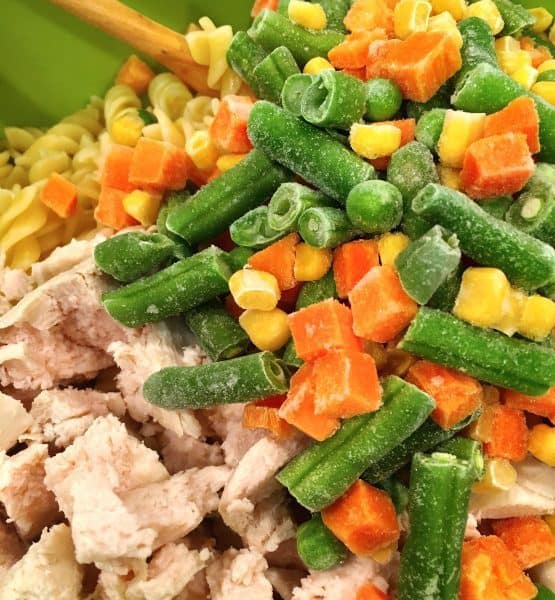 Add in one can cream of mushroom soup, one can cream of chicken soup, one cup of sour cream, 1/4 cup milk, 1/2 tsp garlic powder, 1/2 tsp onion powder, 1/2 tsp pepper, and 1/2 tsp salt. Everything in one bowl! Mix until everything is well combined.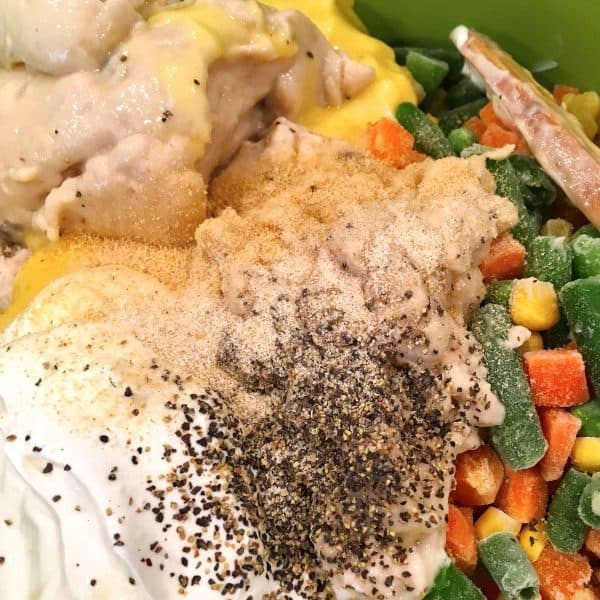 Place in a 9×13 casserole dish. How simple is that? If you precooked your chicken all you had to cook was the pasta. That takes only a few minutes, or 10 spelling words! (wink, wink)
It's looks so good already and we haven't even finished it yet! We need a little more "comfort" with some ooey-gooey cheese on top and a sprinkling of butter Panko bread crumbs!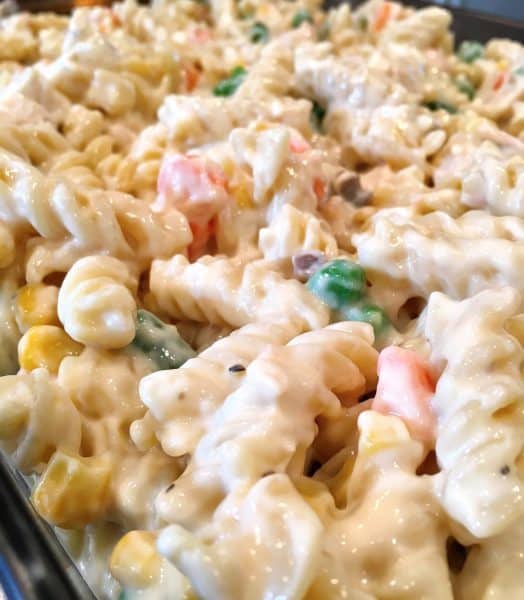 Bread Crumb Topping
Here's another little tip to making buttered bread crumbs. Melt 1 Tablespoon butter in a microwave safe glass measuring cup or bowl. (I just used the one I had used for the milk! I'm all about not making more dirty dishes!)
Then add the breadcrumbs, I use Panko because I like how crispy and crunchy they are, and dried parsley, Plop! All in the same cup! Stir with a fork until well coated! Then just reach in grab the crumbs and sprinkle all over the top of the casserole!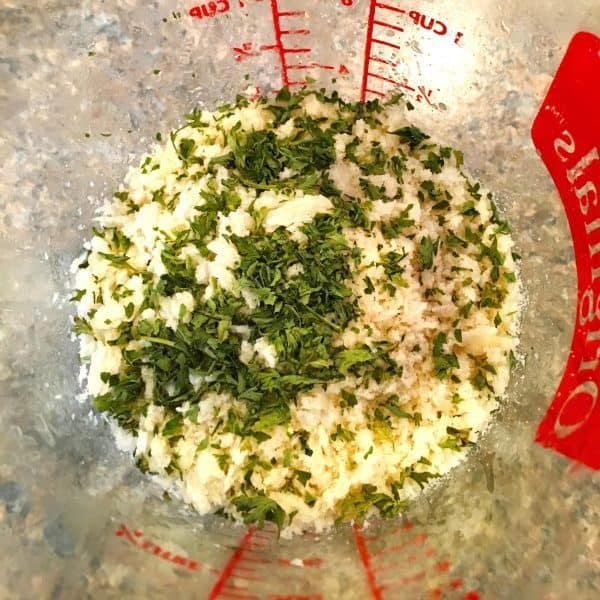 You're done! Dinner is made!
You have your creamy chicken noodle and veggies packed underneath all that glorious cheese and those buttered bread crumbs. It's time to bake it!
Baking Chicken Noodle Casserole
Place in a 325 degree oven for 40-45 minutes, uncovered, until the cheese is melted, the breadcrumbs are slightly golden, and the casserole is bubbly.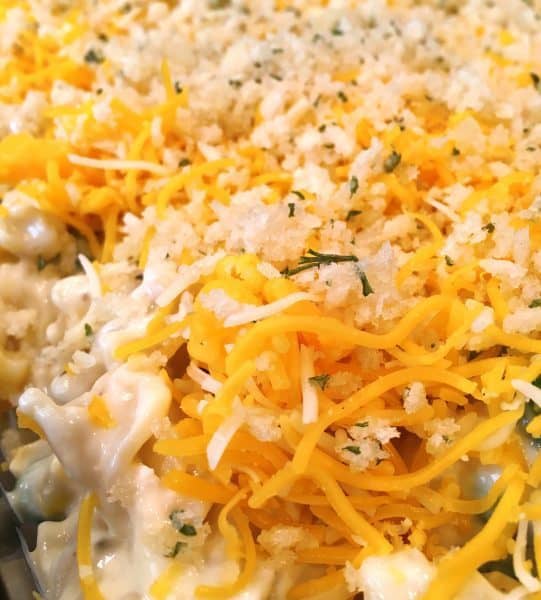 I just love how delectably delicious this looks! The pasta will soak up that creamy sauce as it is baking, the reason we always cook our pasta "al dente", which will make the dish even more flavorful and comforting. The vegetables will be tender crisp not soggy! Which is a nice combination with the noodles, cream sauce, and pasta.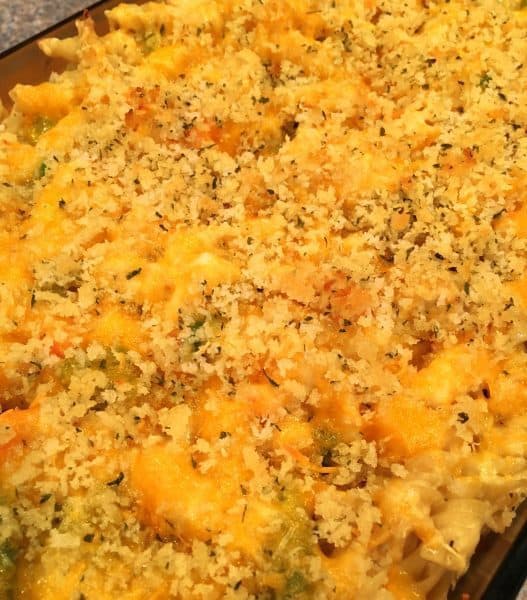 When the first bite of this hit my mouth I said, out loud,"Mmmmmm"! I loved it! It was instantly comforting!
The creaminess of the sauce with the pasta and melted cheese…heaven! The added vegetables terrific! It's cozy nest food! Who doesn't like warm, comforting, cozy food this time of year?! I think we all desire that feeling of "home" you get when eating certain dishes.
This is one of those dishes! The bonus is how fast it all comes together with little effort!
I served ours with a great big green garden salad and a slice of bread. You don't need much to make this a complete meal.
TIP: You can adjust this to fit what's in your pantry. Use a different pasta if you don't have curly cues, elbow would work great too! If you only have cream of chicken soup use two of those and skip the mushroom soup. If your kids only like corn and hate "green stuff", only use corn. It's still going to be delicious and your whole family will love it!
I think we should call this "magic casserole" because you are going to be surprised how fast it disappears!
Other Easy Simple Family Chicken Casserole Recipes
The printable is below! Remember we are AMAZING and we do remarkable things every single day! You matter in the life of someone! Never forget that!
Thanks for stopping by my Nest!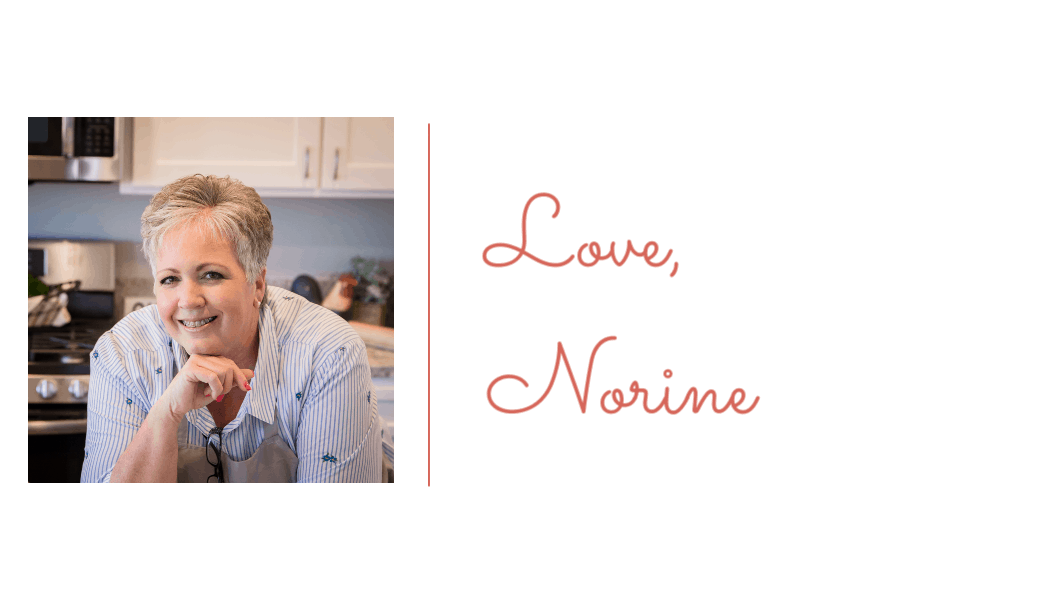 Yield: 6-8 servings
Chicken Noodle Casserole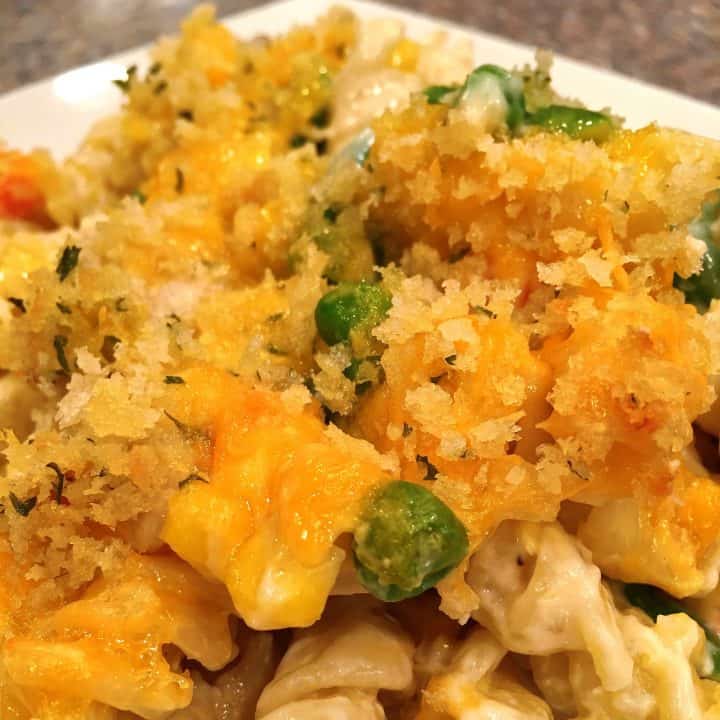 This is a rich cozy comforting family chicken noodle casserole. Simple and quick to put together and one that the whole family will enjoy!
Ingredients
2 cups cooked, diced chicken
1 box cooked Rotini Pasta, al dente
1 can cream of mushroom soup
1 can cream of chicken soup
1 cup sour cream
1/4 cup milk
1 small package frozen mixed vegetables
1/2 tsp garlic powder
1/2 tsp onion powder
1/2 tsp coarse black pepper
1/2 tsp salt
1 1/2 cups grated cheese
1 Tablespoon melted butter
1/3 cup Panko Bread crumbs
1 tsp dried parsley
Instructions
In a large pot cook your box Rotini pasta until al dente. Rinse and drain.
In a large bowl mix together cooked pasta, chopped chicken, cream of mushroom soup, cream of chicken soup, sour cream, milk, onion powder, garlic powder, salt and pepper. Mix until well combined.
Place in a 9x13 glass casserole dish. Top with grated cheese.
In a glass bowl melt butter and mix in bread crumbs and dried parsley. Mix until well coated. Sprinkle on top of cheese and bake in a 325 degree oven for 40-45 minutes until cheese is melted and sauce is bubbly.
Recommended Products
As an Amazon Associate and member of other affiliate programs, I earn from qualifying purchases.
Nutrition Information:
Yield:
8
Serving Size:
1
Amount Per Serving:
Calories:

370
Total Fat:

23g
Saturated Fat:

10g
Trans Fat:

0g
Unsaturated Fat:

10g
Cholesterol:

77mg
Sodium:

900mg
Carbohydrates:

22g
Fiber:

2g
Sugar:

2g
Protein:

18g