This slices of Artesano bread stuffed with berry cream cheese filling and fresh blackberries, dipped in a cinnamon egg batter all combine to create this delicious Blackberry Stuffed French Toast.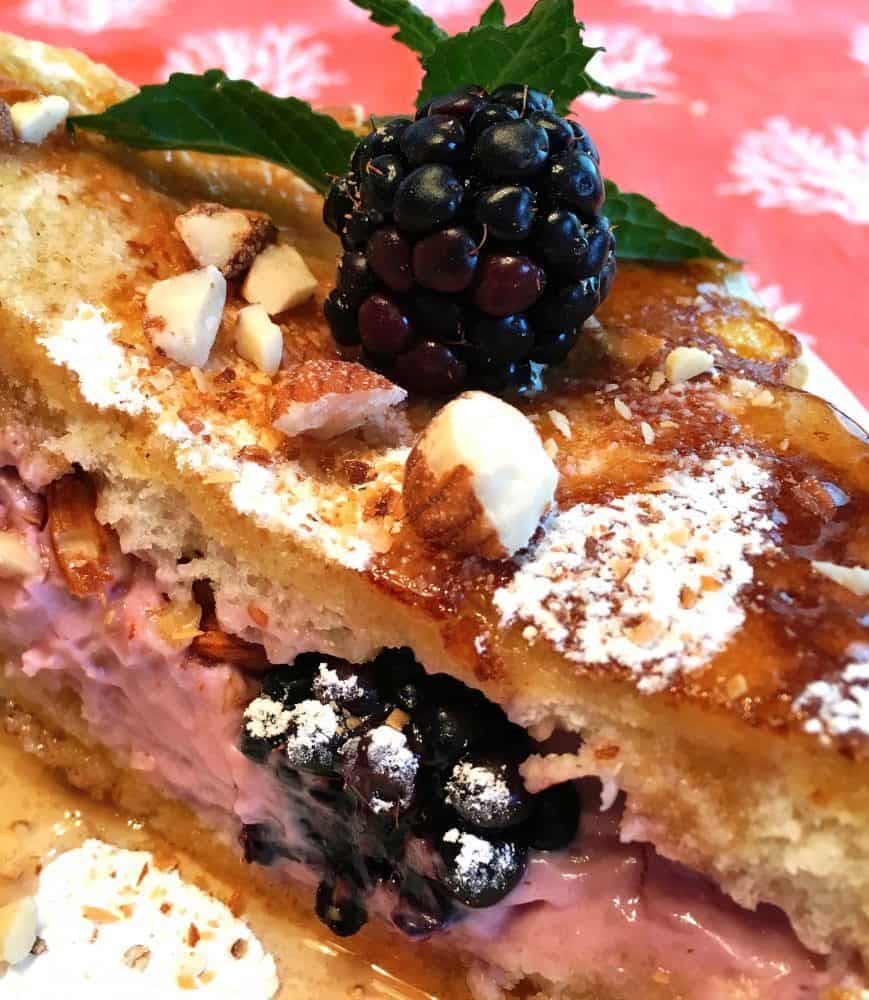 I was shopping the other day with my daughter "T" and I saw this new Artesano style bread by Saralee and it screamed "Pick Me! Pick Me! I'll make amazing French toast!" So being the obedient carb loving addict that I am, I put a loaf in my cart! (Whew! Withdrawal adverted!)
I knew exactly what I was going to make! I've been wanting to make "stuffed French toast". I knew I'd be taking this trip solo since "Mars" isn't a "stuffed" kind of guy unless you're stuffing a steak with shrimp or lobster!
Nope he's an, "I'll take that French toast straight up please…leave the fluff on the side", kind of guy!" Truth be told that's the beauty of this recipe. You can do stuffed toast for those that love something with a little more " je ne sais quoi " (Hey! It is "French" toast! Just sticking with the theme! lol) or you can do regular cinnamon French toast for the more "down home" in your group. Either way, you got'em all covered!
This is super duper EASY and it's YUMMY! Super Yummy! So, let's get started on that sunshine for your weekend!
How To Make Easy Stuffed French Toast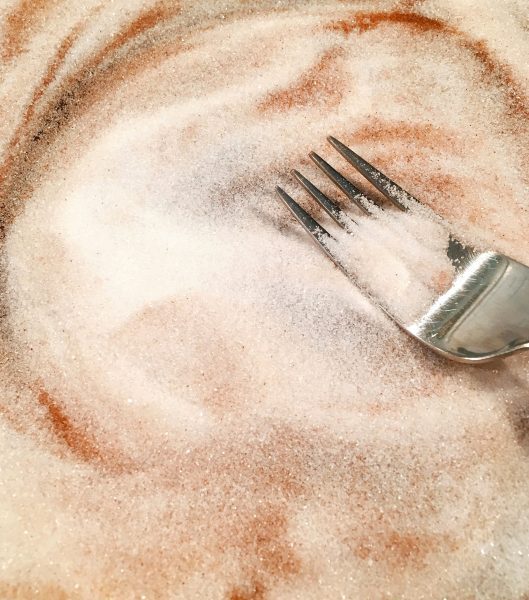 I learned a long time ago the perfect way to amazing French toast starts with mixing your sugar and cinnamon together first. If you add them after the eggs the cinnamon with separate and you'll have clumps of it every where. Ewww!
TIP: I use a pie plate to mix my batter in. It's shallow but, gives you room to flip your bread around. Begin by combining your cinnamon and sugar. Next add in your eggs.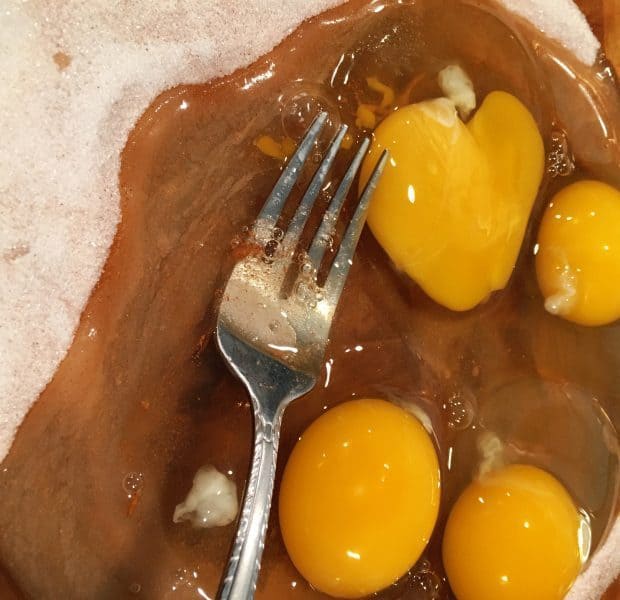 You are going to whip those up till everything is blended well.
Add milk. In my humble opinion great French toast has more egg than milk. Next, add your vanilla and a touch of almond extract. We're just kicking things up a notch here!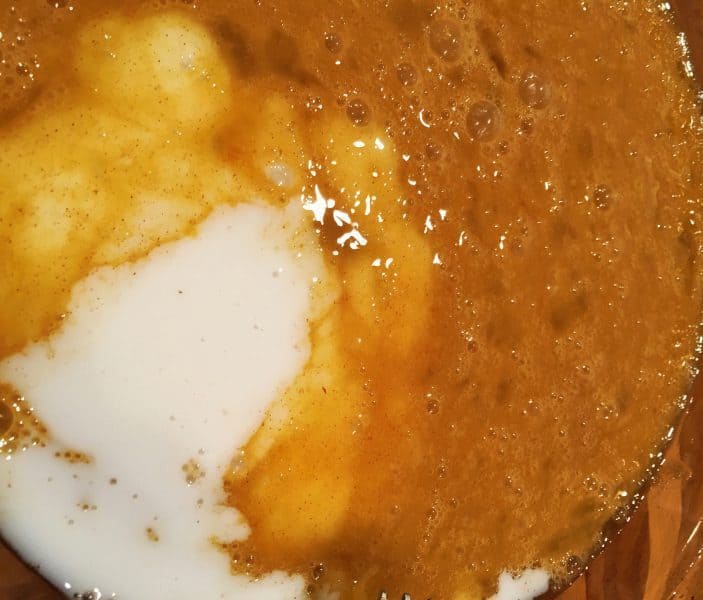 You should have your batter all made and ready to go and it should look like this! (It really isn't that impressive but…it will be!)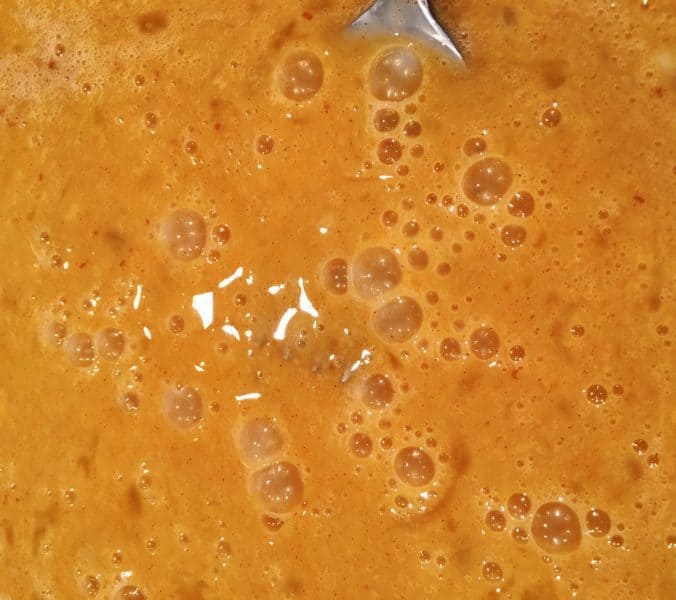 Now for the actual "stuffed toast" part of this recipe. You are going to take two pieces of that amazing Artesano bread (or any other bread you like), on one slice spread abut 1 Tablespoon Whipped Philadelphia Mixed Berry Cream Cheese. That's right, they've done all the work for you.
I like the whipped because it is light and fluffy and won't weigh this recipe down.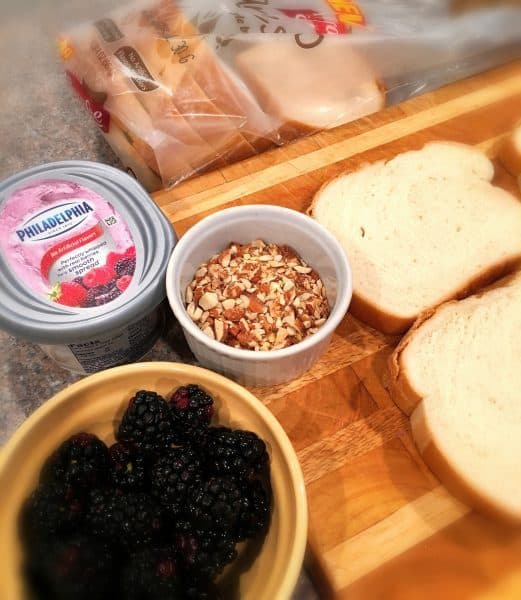 Next add a few fresh blackberries by gently pressing them down into the cream cheese. Please note you can use raspberries, blueberries, or strawberries. Whatever you have on hand or that your family loves! They would all be delicious!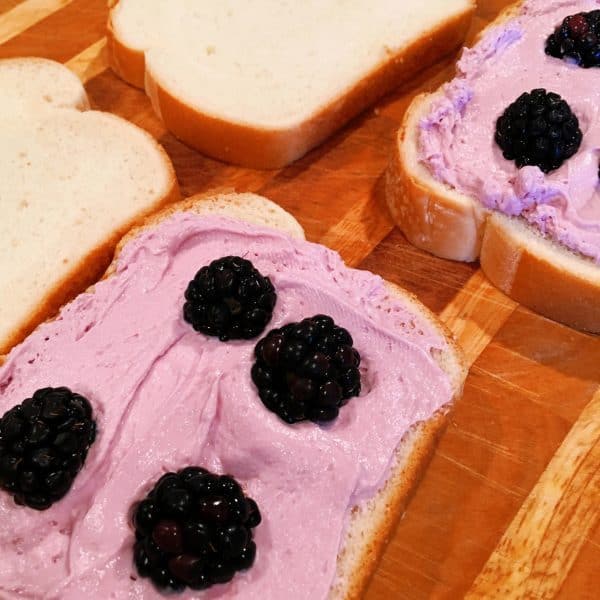 TIP: I had some chopped toasted almonds on hand so I threw a few of those in the "stuffing" too! You could use pecans, walnuts, or no nuts at all. Custom make this to your taste and what you know the birds at your nest will eat!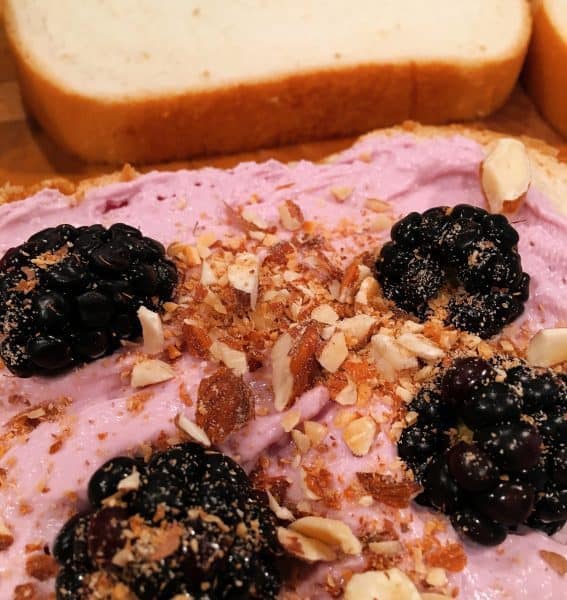 Now for the fun part. .. the Smoosh! Gently press the other piece of bread on top of that so that the two pieces create one combined piece of french toast.
I'd love to show you a picture of me dipping it into the batter and cooking it. That would be so cool! Don't you agree? However, once again…I spaced it and got so super excited I just dipped and cooked! I really get into the "zone" when I'm creating a new recipe. I have to work on that! MY BAD! So sorry!
When it is lightly golden on one side flip it over, don't be afraid, that cream cheese is like rich yummy creamy glue holding it all together! Cook the other side till it is golden brown then remove from the heat.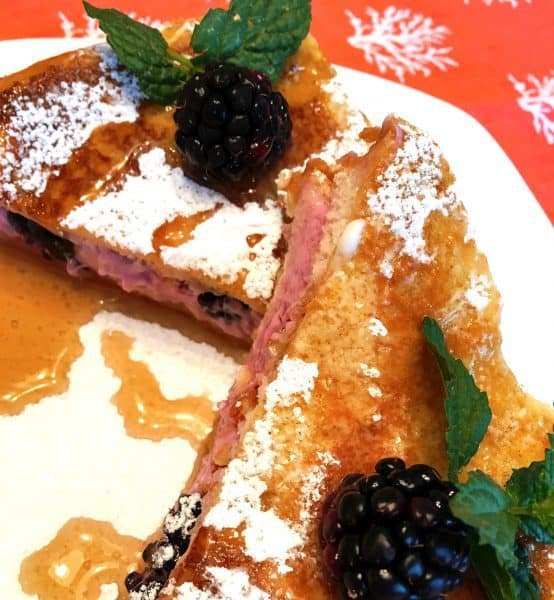 I cut my Berry Stuffed French Toast in half and sprinkled it with powder sugar, drizzled it with maple syrup, toss on a few more almonds, and added a couple more fresh berries on top! It's almost too pretty to eat, but…DO!
Oh good heaven's grab a fork and dig in! This is SO incredibly over the moon yummy! This just screams "Summertime breakfast is over here! Come'n get it!"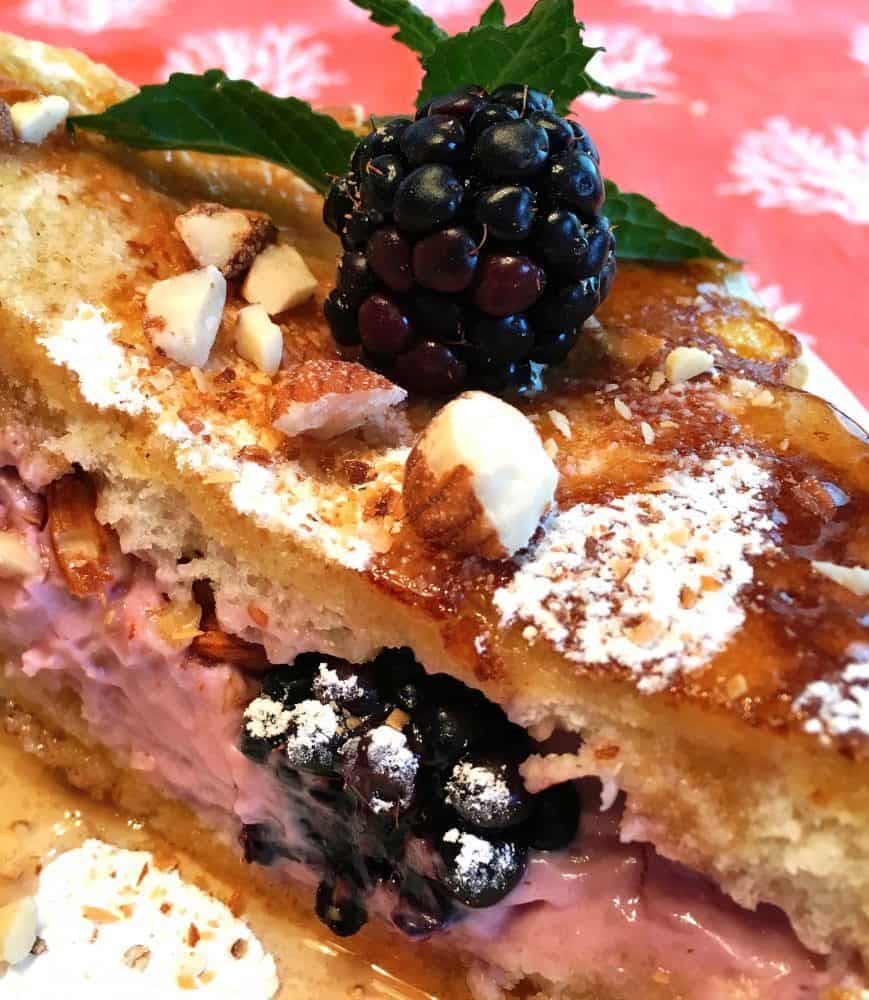 Super Easy Peasy for a plate full of sunshine! It's the perfect way to start out your weekend!
The bread is toasted and crispy with a hint of cinnamon. The inside is rich and creamy with bursts of fresh berry and a hint of crunch from the almonds! Stuffed French Toast really is paradise on a plate! Add your favorite breakfast beverage and you have yourself the makings of one sunshine filled day!
Have a Fantastic weekend! The recipe printable is below. You can find all my social media under Norinesnest! I'd absolutely love to have you join the party and follow me on Twitter, Facebook, Pinterest, or Instagram! (Wow…look at this Grandma GO! lol)
You May Like These Other Breakfast Recipes
Just a reminder you can get my bi-weekly newsletter updates by subscribing at the top of the page. Thanks for popping by and I hope this little recipe fills your day with lots of Sunshine!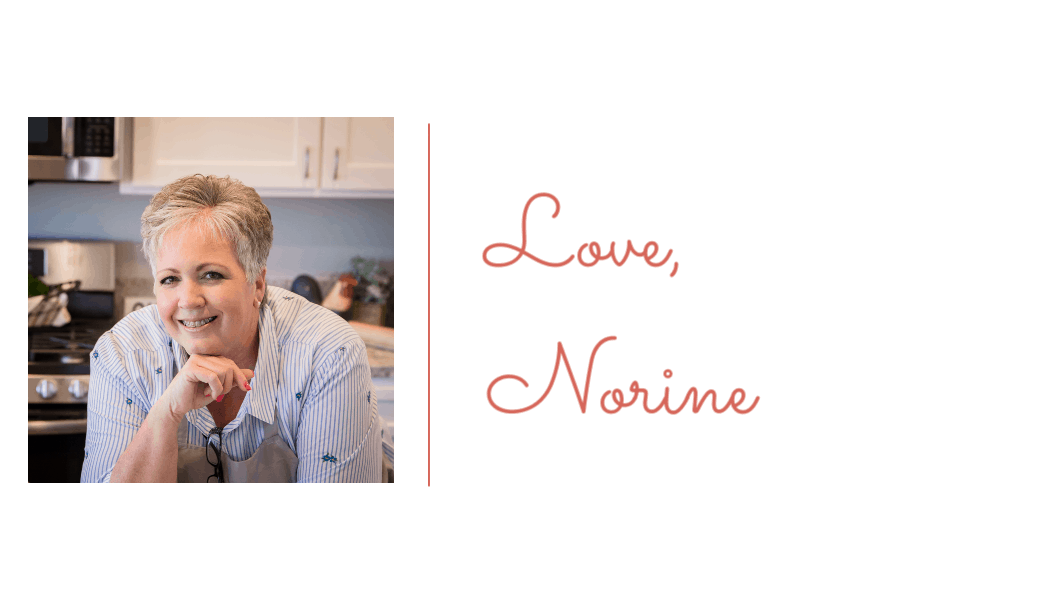 Yield: 4 servings
Berry Stuffed French Toast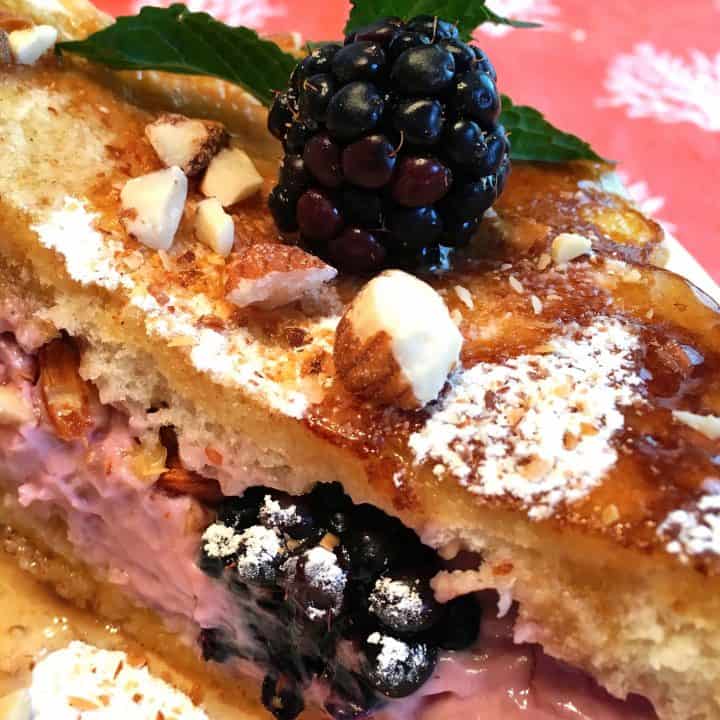 A creamy blackberry stuffed french toast sprinkled with powder sugar, drizzled with maple syrup and topped with more fresh blackberries. Super Easy and undeniably delicious! The perfect summertime breakfast!
Ingredients
Batter
1/4 cup granulated sugar
1 teaspoon cinnamon
4 large eggs
1/2 cup milk (or less)
1/2 teaspoon vanilla
1/4 teaspoon almond extract (optional)
Toast and stuffing
8 slices Artesano Bread (or any bread you prefer)
1 container Whipped Philadelphia Mixed Berry Cream Cheese
1 cup fresh black berries, rinsed
2 tablespoons chopped toasted almonds (optional)
Powder Sugar
Maple Syrup
Instructions
In a pie plate combine sugar and cinnamon. Mix well. Add in 4 large eggs. Whip till well blended. Stir in 1/2 cup cold milk, vanilla and almond extract. Set aside till ready to begin cooking.
Take two slices of bread. On each slice spread with the Whipped Philadelphia Mixed Berry Cream Cheese. On top of the cream cheese gently press down 4-5 black berries. Sprinkle with half the toasted almonds. Place a plain piece of bread over the top of each of the slices that have the toppings. Gently press down.
Heat a skillet or griddle on medium heat. Spray with Pam non-stick cooking spray.
Dip the stuffed bread into the egg batter. First one side, then flip, and dip the other side. Be sure both sides are well coated.
Place the dipped bread into the hot skillet and cook till lightly golden brown. Flip and cook the other side till it too is golden brown.
Remove from heat. Slice and plate. Sprinkle with powder sugar, drizzle with maple syrup, top with more fresh berries.
Recommended Products
As an Amazon Associate and member of other affiliate programs, I earn from qualifying purchases.
Nutrition Information:
Yield:
4
Serving Size:
1 slice stuffed french toast
Amount Per Serving:
Calories:

405
Total Fat:

12g
Saturated Fat:

4g
Trans Fat:

0g
Unsaturated Fat:

7g
Cholesterol:

193mg
Sodium:

464mg
Carbohydrates:

60g
Fiber:

4g
Sugar:

25g
Protein:

15g