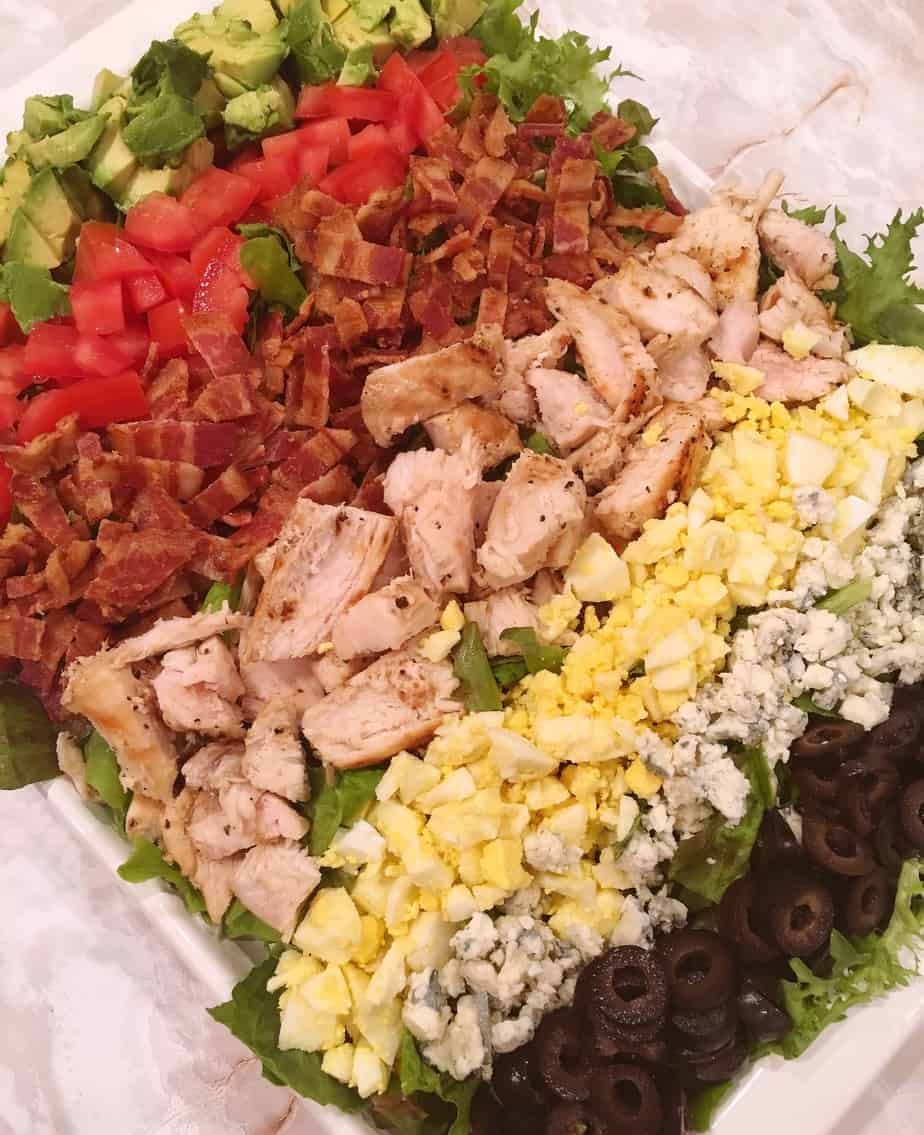 This Classic Grilled Chicken Cobb Salad is a family summer favorite! Rows of sliced olives, crumbled blue cheese, chopped hard boiled eggs, diced grilled chicken, fried bacon bits, diced ripe tomatoes, and diced avocados on a bed of delicious greens.
*As an Amazon Associate I earn from qualifying purchases. This post may contain affiliate links, which means that I may make a commission from any purchases at no additional cost to you. Thank you for your support!
I was 24 the first time I had this classic salad at a local restaurant with a friend. It was love at first bite! I've been ordering it at restaurants ever since! I can't help myself. I love the combination of flavors in this delicious salad.
Where did Cobb Salad get it's name?
I'm always intrigued where and how classic dishes came about and how they got their name. (Rocky Mountain Oysters, Welsh Rarebit, Guacamole…need I say more?) So it wasn't too long after having my first Cobb Salad that I researched it origins! Turns out there are several stories out there, but the one that seems to stick is that it was created at the famous Brown Derby in Hollywood and named for the restaurants owner Robert Howard Cobb.
It is said that Mr. Cobb created the salad as a late night snack for Sid Grauman, owner of Grauman's Chinese Theater. He went into the kitchen, chopped up some of the leftovers from that days menu and an iconic salad was born.
Now whether or not this story is true…only they know. I love it so I'm going to embrace it.
How To Make Classic Grilled Chicken Cobb Salad for Four
We don't own a restaurant, (Well…I don't…maybe you do?) so there is some prep needed in order to make this delicious salad!
You can prep the ingredients earlier in the day, or even a day or two in advance, and have everything on hand when you're ready to pull it all together!
Hard boil, chop, and chill 5-6 eggs extra large eggs. (Aren't those beautiful hard boiled eggs? Thank you Instant Pot! Worth every penny just for perfect hard boiled eggs. That's what I told my husband! lol)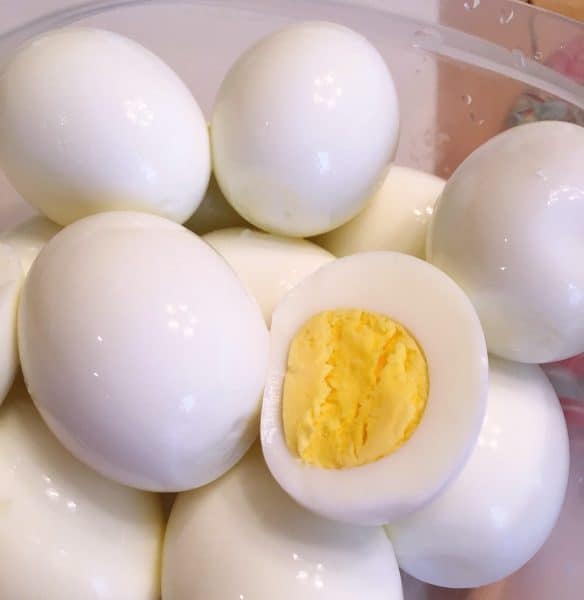 Let's talk BACON! Fry in a skillet, or Oven Bake, 8 slices of bacon. I baked mine in the oven, at 375° for 20 minutes, on a rack over a baking sheet. (Mainly because I didn't want to have to clean my stove top! I love bacon…I hate the clean up!) Allow bacon to drain, and cool, on a paper towel lined plate, then crumble.
TIP: I store my bacon crumbles in a zip lock sandwich bag in the refrigerator until ready to use.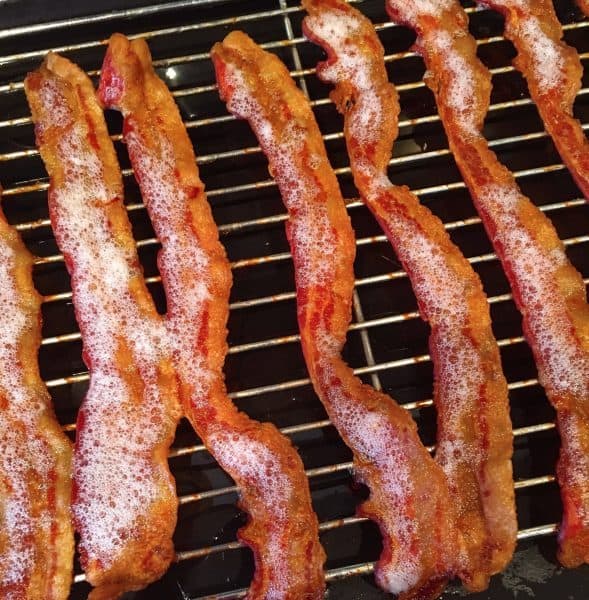 My Classic Chicken Cobb Salad is made and served on a platter for a group rather than individually. I have found that two boneless skinless chicken breasts is plenty for 4 – 6 servings.
On your BBQ, or on a grill pan, lightly oiled with olive oil, place two boneless skinless chicken breast. Season with garlic salt and coarse black pepper to taste. Cook over medium heat until chicken is cooked completely through and juices run clear.
Allow chicken breast to cool completely before cutting into bite sized pieces. Chill in air tight container until ready to assemble salad.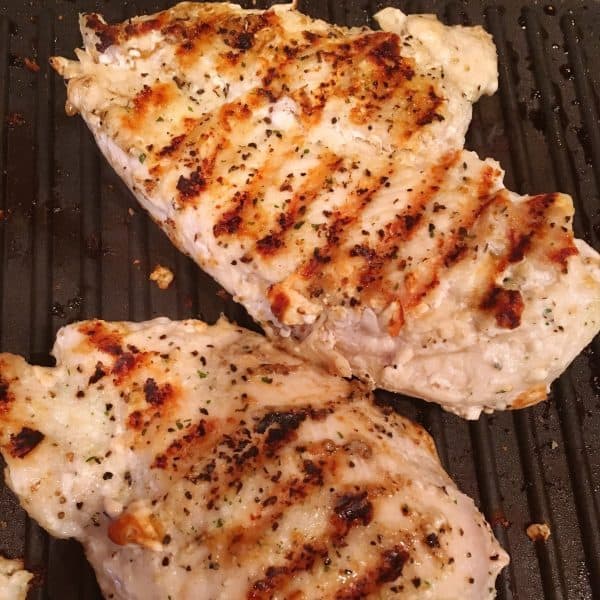 The eggs, bacon, and grilled chicken breasts are the main ingredients that need to be prepared ahead of time. You can prepare the other ingredients ahead of time as well, or just prepare them as you assemble the salad.
How To Assemble a Classic Chicken Cobb Salad
Using a large platter, begin with a bed of fresh salad greens. I prefer to use red leaf lettuce and romaine.
Beginning in the center, place a row of diced grilled chicken. Always begin in the center and work your way out from either side. Since grilled chicken is the star of the dish and the main ingredient, it's the best place to start.
Next to the chicken, on one side place a row of bacon bits, on the other side a row of chopped hard boiled eggs.
Next to the bacon a row of diced, seeded, fresh ripe tomatoes. Next to the tomatoes, a row of diced ripe avocado.
Next to the row of chopped hard boiled eggs a row of crumbled blue cheese. If you are not a blue cheese fan, you can do a row of grated cheddar cheese. My kids are not blue cheese fans…so we always did cheddar. They're gone now and the big people with impeccable taste can do blue cheese.
Next to the blue cheese a row of slice black olives for the finishing touch.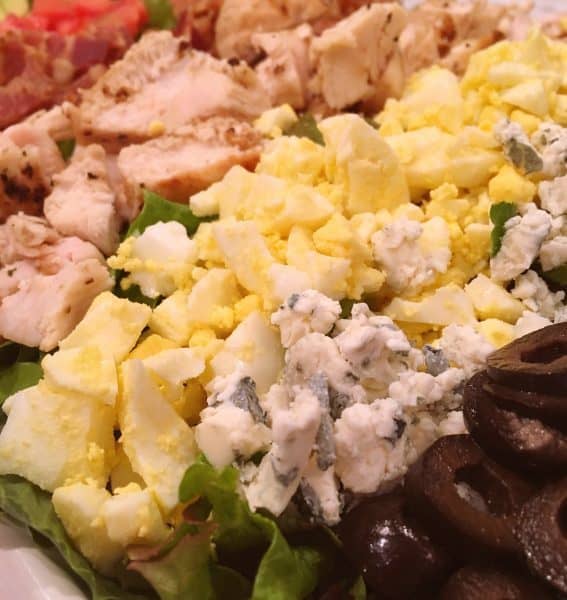 Traditionally this salad is served with Blue Cheese dressing. We like homemade Ranch, but either is good. I've also seen wonderful Mustard Vinaigrettes served with this salad. I think it really comes down to your own individual personal tastes.
As I mentioned above, I serve this salad on a large platter, enough to serve 4-6 adults. It is a beautiful and impressive presentation!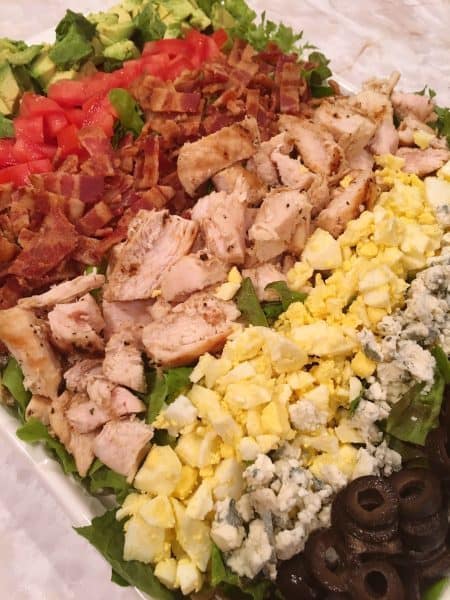 What To Serve With Classic Grilled Chicken Cobb Salad
There are some great sides you can serve with this Classic Grilled Chicken Cobb Salad! I love to serve Traditional Blueberry Muffins with this fresh delicious dish.
Here are a few other great side dishes that go with Cobb Salad
Classic Grilled Chicken Cobb Salad is a fantastic light and tasty summer meal! Cool and refreshing with the most scrumptious toppings to grace greens since the making of a Chef Salad!
Thank you so much for stopping by today! I hope you'll give this family favorite a try at your Nest!
I'm sharing this amazing recipe on a few of my favorite Link Parties. Click the links to join the fun! Meal Plan Monday,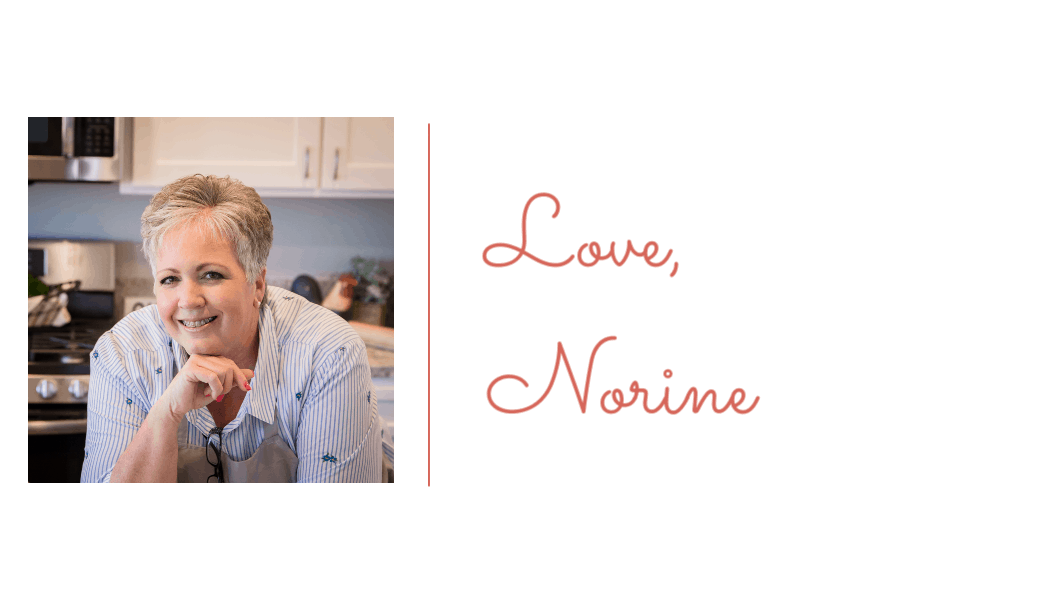 Yield: 6 servings
Classic Grilled Chicken Cobb Salad
Leafy greens topped with grilled chicken, hard boiled eggs, crumbled blue cheese, bacon, tomatoes, olives, and avocados combine to create a delicious light and tasty meal.
Ingredients
1 head red leaf lettuce, washed, rinsed, and torn into bite size pieces.
2 large, boneless, skinless chicken breasts, cooked and diced
5-6 hard boiled eggs, diced
8 slices of bacon, fried, and crumbled
1/2 cup crumbled blue cheese
4-5 roma tomatoes, seeded, and diced
1 cup sliced black olives
2 large ripe avocados, pitted and diced
Instructions
1. On a large platter place prepared lettuce.
2. Staring in the center of the bed of lettuce, place a row of chopped chilled chicken.
3. On one side of the chicken place a row of chopped hard boiled eggs, and on the other side a row of bacon crumbles.
4. Next to the row of eggs, place a row crumbled blue cheese, then a row of sliced olives.
5. Next to the row of bacon crumbles, make a row of diced tomatoes, with a row of diced avocados next to them.
Serve immediately with your favorite dressing.
Recommended Products
As an Amazon Associate and member of other affiliate programs, I earn from qualifying purchases.