Steak Fajita Taco Salad is loaded with packaged grilled seasoned beef skirt steak, cilantro lime rice, seasoned pinto beans, chopped lettuce, pico de gallo, tortilla strips, fresh sliced avocado, and a sprinkle of Cotija Cheese. All that yum is nestled in a toasted flour tortilla with melted cheese. A fantastic meal!
I could gobble up one of these Steak Fajita Taco Salads every week! It's such a fresh tasty dish loaded with all things Fresh-Mex!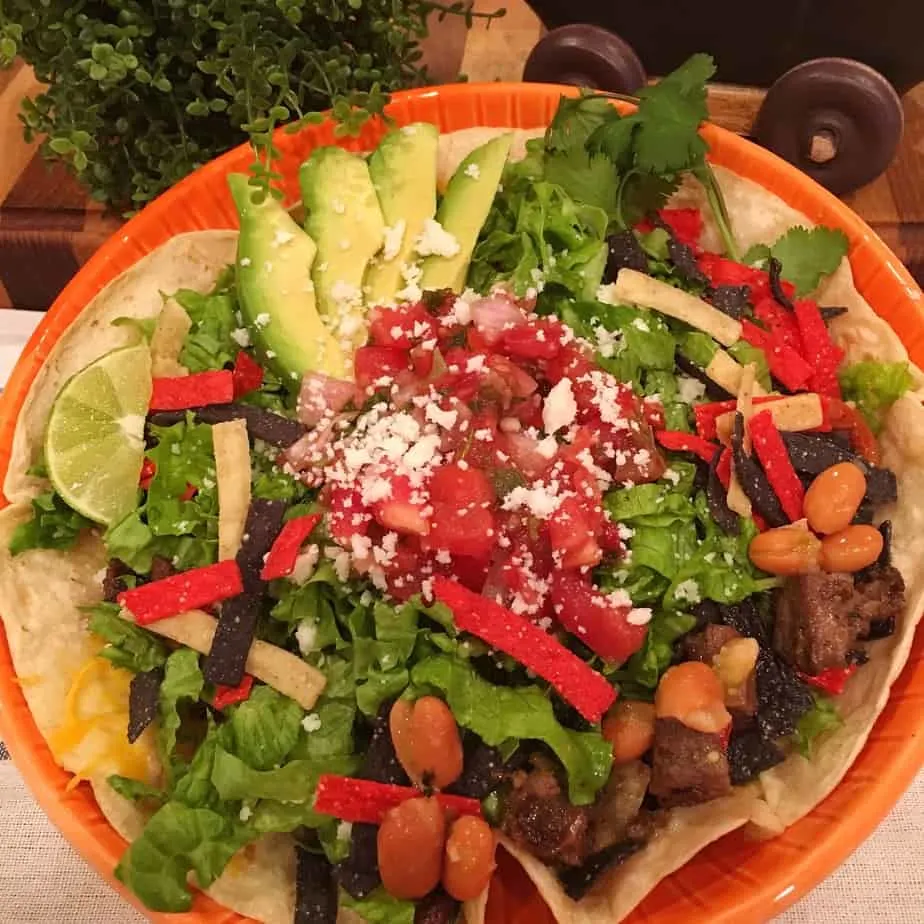 With this easy recipe you won't need to go to your favorite Mexican restaurant to enjoy this favorite dish! You can make it and watch your Hallmark movie from the comfort of your Nest! (We love our sappy chick flicks!)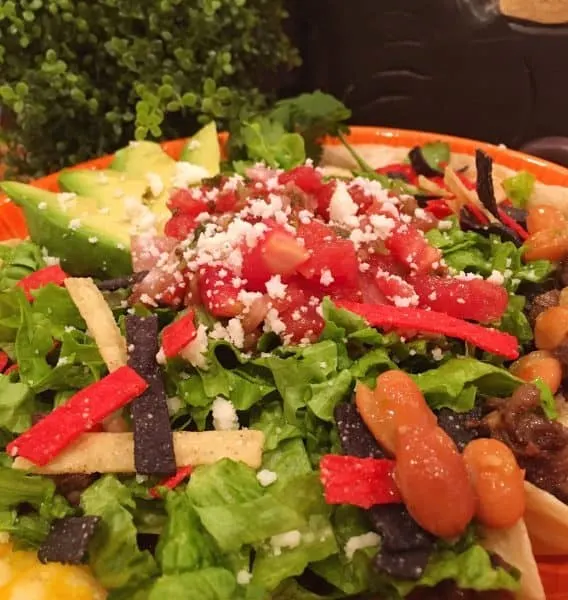 The nutritional information for this salad is listed below in the recipe card. This homemade taco salad is much healthier than the tacos salads you purchase from a fast food dinning establishment.
I won't tell you it is a low-calorie meal! There is the flour tortilla, melted cheese, and the delicious Cotija Cilantro dressing!
So, no, I'm not making low-calorie claims with this recipe. However it is loaded with healthy choices from the lettuce, avocados, and grilled steak to the pinto beans…and you can always skip the dressing. (You could also hang glide from a cliff…but I wouldn't!)
How To Make Steak Fajita Taco Salad
There are several elements to this salad beginning with the base layers. Let's kick things off with the Cilantro Lime Rice!
In a medium sauce pan, with a lid, over medium-high-heat, Add 1 1/2 cups of long grain white rice, 3 cups of water, 1 chicken bullion cube, the juice of one lime, and 1 Tablespoons chopped fresh cilantro.
Bring water to a boil. Reduce heat to a low simmer. Cover pan and cook for 20 minutes.
Check to make sure the rice is fully cooked. If not cover and cook another 3-5 minutes. Once the rice is done, fluff rice with fork. Keep pan covered until ready to assemble salads.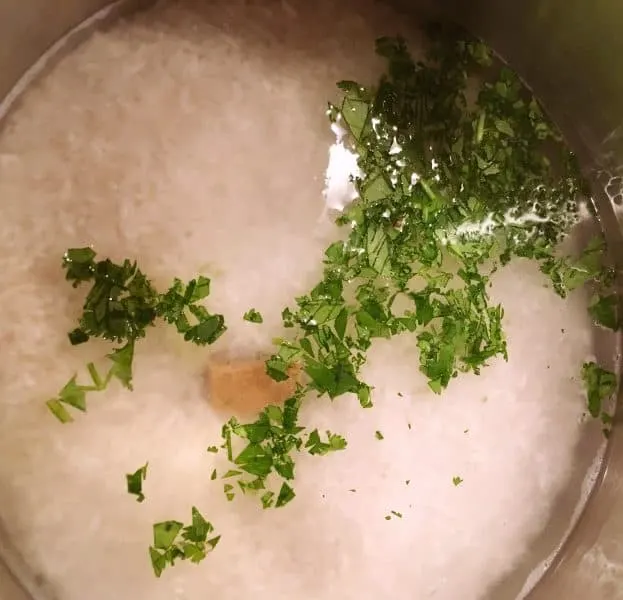 Meanwhile, in a microwave safe bowl add 1 can pinto beans and 1/4 cup Salsa Verde. Stir until well combined. Cover bowl and heat in microwave on high for 3-4 minutes until heated through. Set aside until ready to assemble salads.
TIP: Salsa Verde is a great way to easily season Mexican dishes. From Pinto beans to meat.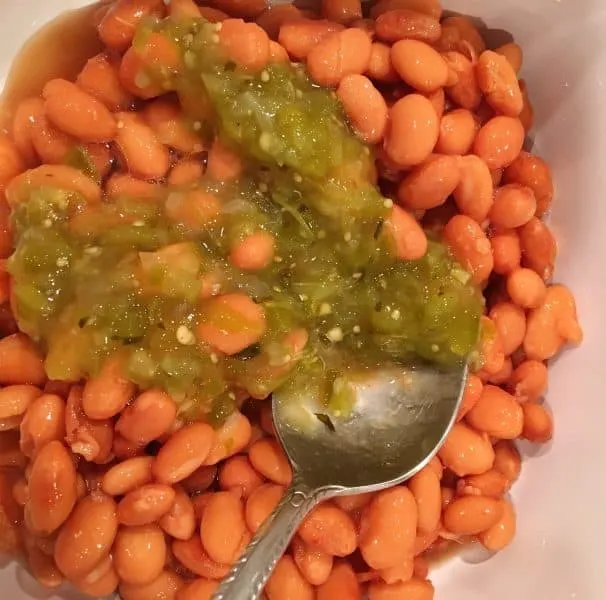 While the rice is still cooking, cut a 1 pound package of seasoned beef skirt steak into bite size pieces.
Place 1 Tablespoon vegetable oil in a large skillet over high heat. Allow pan to preheat for 2-3 minutes.
Add prepared cut-up beef skirt steak. Stir frequently and continue cooking until meat is brown and edges are dark brown and slightly crispy.
TIP: You can leave the skirt steak whole and grill on the BBQ then dice it up for the salad!
Remove cooked meat from the skillet and place in a covered bowl until ready to prepare salads.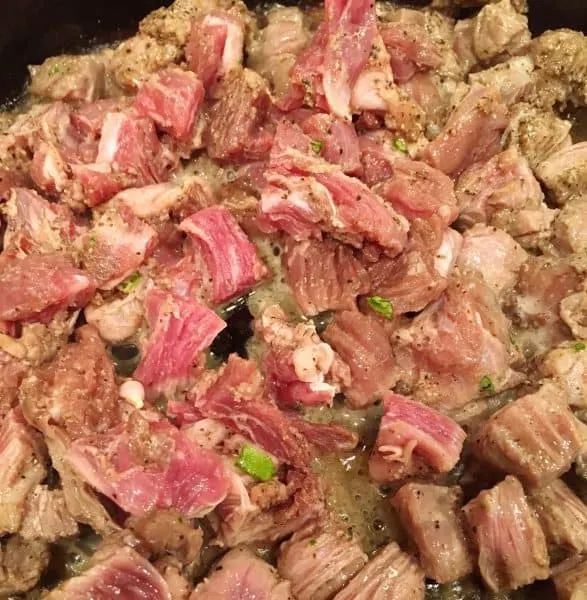 On a large griddle or in a large skillet, over medium heat, place one 12 inch flour tortilla. Butter one side of each tortilla.
Place buttered side down on the griddle. (We want to crisp that tortilla up like a white chick on a hot summer day with no sun screen!)
Sprinkle with 1/4 cup grated cheddar jack cheese! We could stop here…and I'd be happy as a two-year old with nail polish! (From the groans I can tell y'all have had that experience!)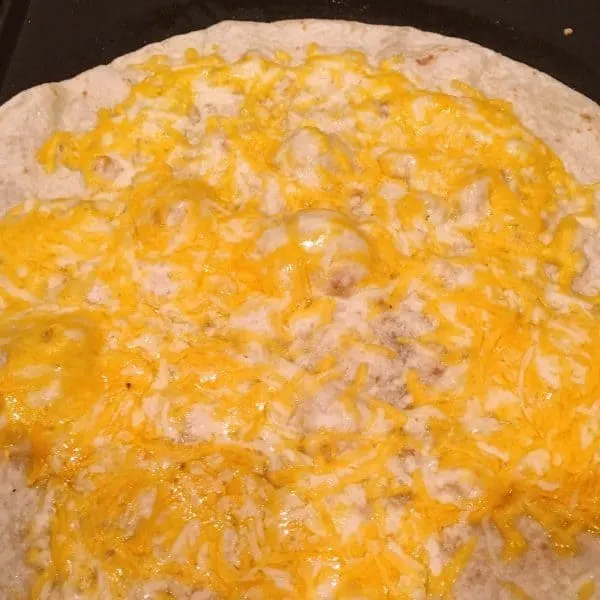 When cheese melts, remove tortilla from griddle and place in a shallow bowl or plate. This is the base for your salad! (The tortilla not the plate…want to make sure that is clear as mud!) Good start huh?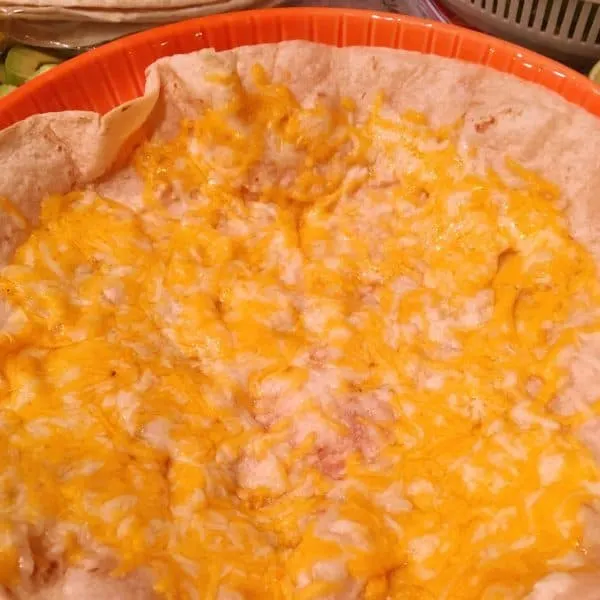 Time to get the rice and beans in on the act! Add one scoop of cilantro lime rice…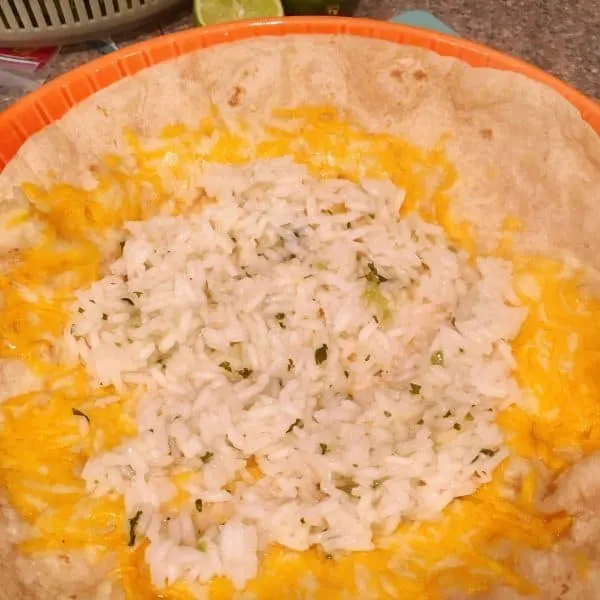 Next add a scoop of seasoned pinto beans…the magical fruit! (If you don't know why they're called that…you've never had teenage boys at your Nest! I feel badly for you, You've missed out on SO much!)
This is your salad…so add as much as you want…or as little as you want. Don't like rice…don't add it. That's the beauty of this dish! You get to create it the way you want to!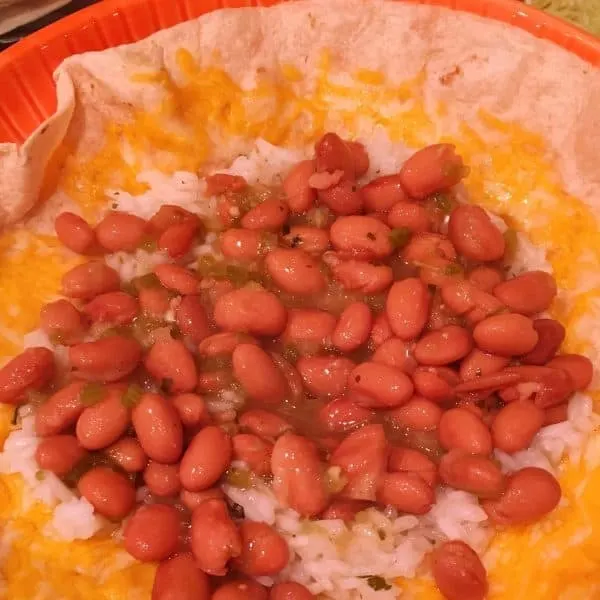 Next up…my favorite part of this salad, other than the dressing…a big'ol heaping scoop of that grilled seasoned steak! I think we can pause here for a moment of silence…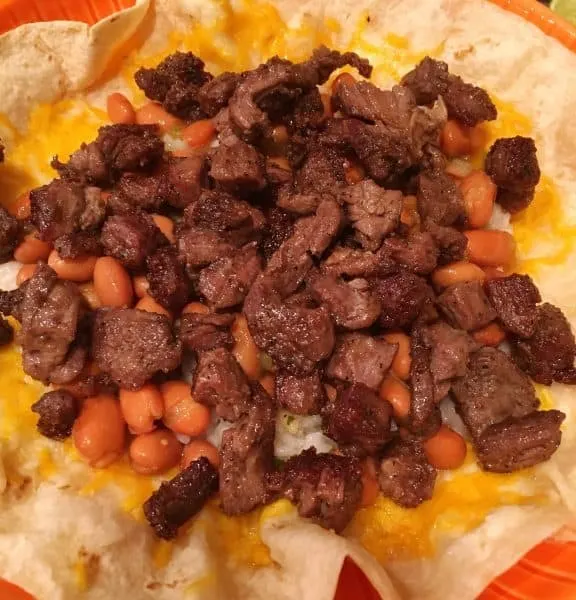 Okay let's get going…we have a salad to finish up!
TIP: To make this salad easier to make, I purchased fresh made Pico de Gallo. It can generally be found in the produce section of your market!
Add lettuce, Pico de Gallo, sliced avocado, crunchy tortilla strips, a good sprinkle of Cotija cheese, and slices of lime wedges!
Isn't it a beautiful salad! So many fresh ingredients. So many festive colors! It's absolutely delicious!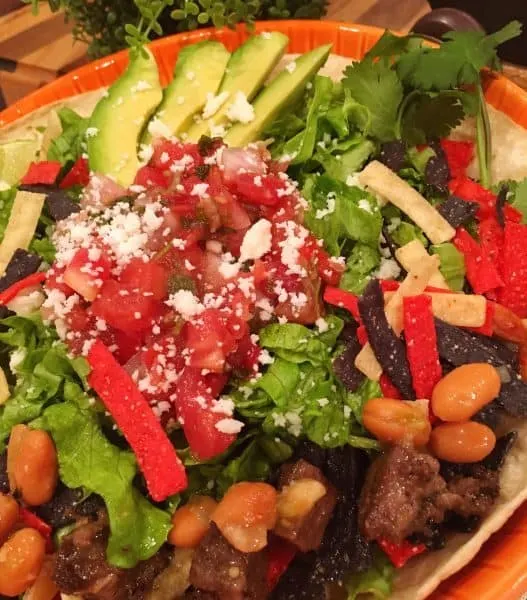 To finish this salad off I recommend a good drizzle of Lighthouse Cotija Cilantro dressing! The flavors of this dressing are out of this world.
They closely mimic those of the Ranch dressing at Cafe Rio and Costa Vida! A perfect finish to this Mexican Steak Fajita Taco Salad!
Ranch, cilantro, hints of lime, and loads of that yummy distinctive Cotija cheese! My mouth is watering just thinking about this salad! (Helps that it's lunch time! Who am I kidding…I'd want it even if it wasn't lunch time!)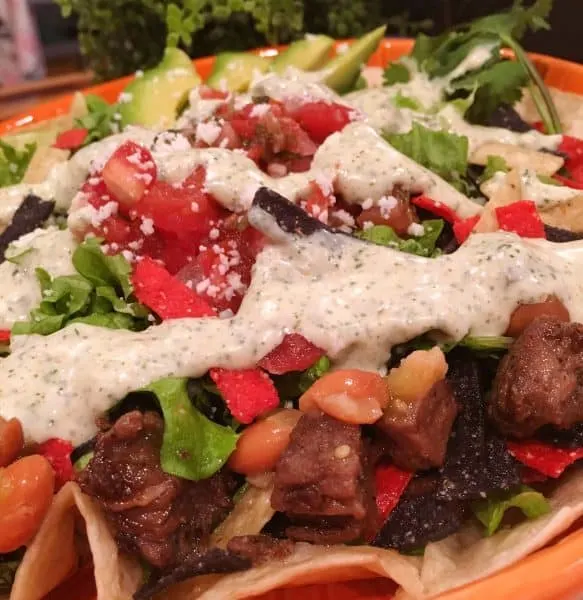 This recipe will make four large salads! Everything can be made ahead of time and reheated if need be.
If your family doesn't like salad…you can use all the ingredients and make burritos instead! Set all the ingredients out and let everyone decide what they want!
A salad, burritos, or soft tacos! It's easy to create whatever suits everyone's distinct tastes!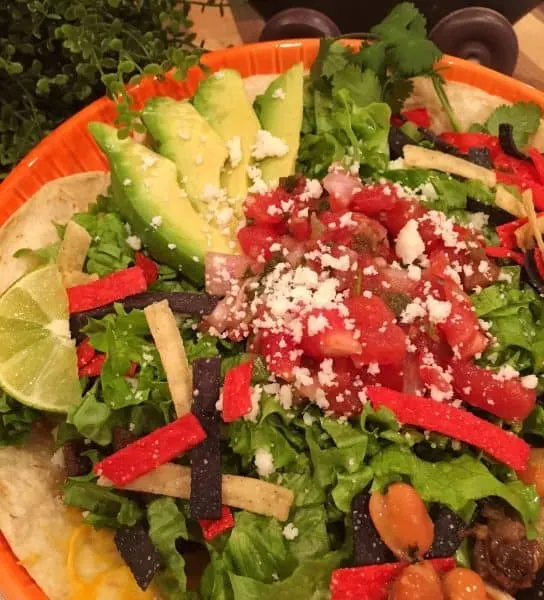 This Steak Fajita Taco Salad is the perfect summer dinner dish. So refreshing on a hot summer night and so tasty!
Other Delicious Summer Salad Recipes
Thanks for stopping by! Remember to sign-up for my bi-weekly newsletter!
Happy Nesting!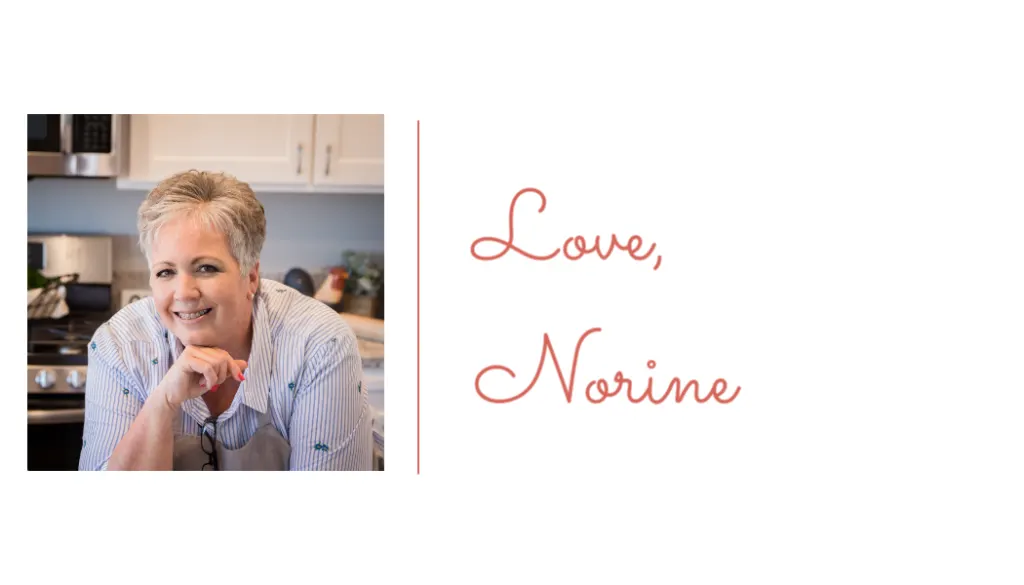 Yield: 4 servings
Steak Fajita Taco Salad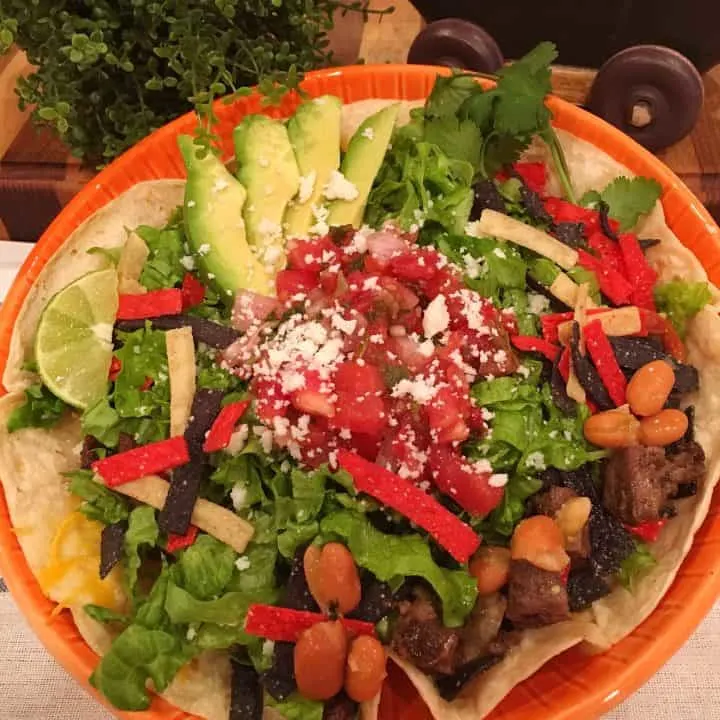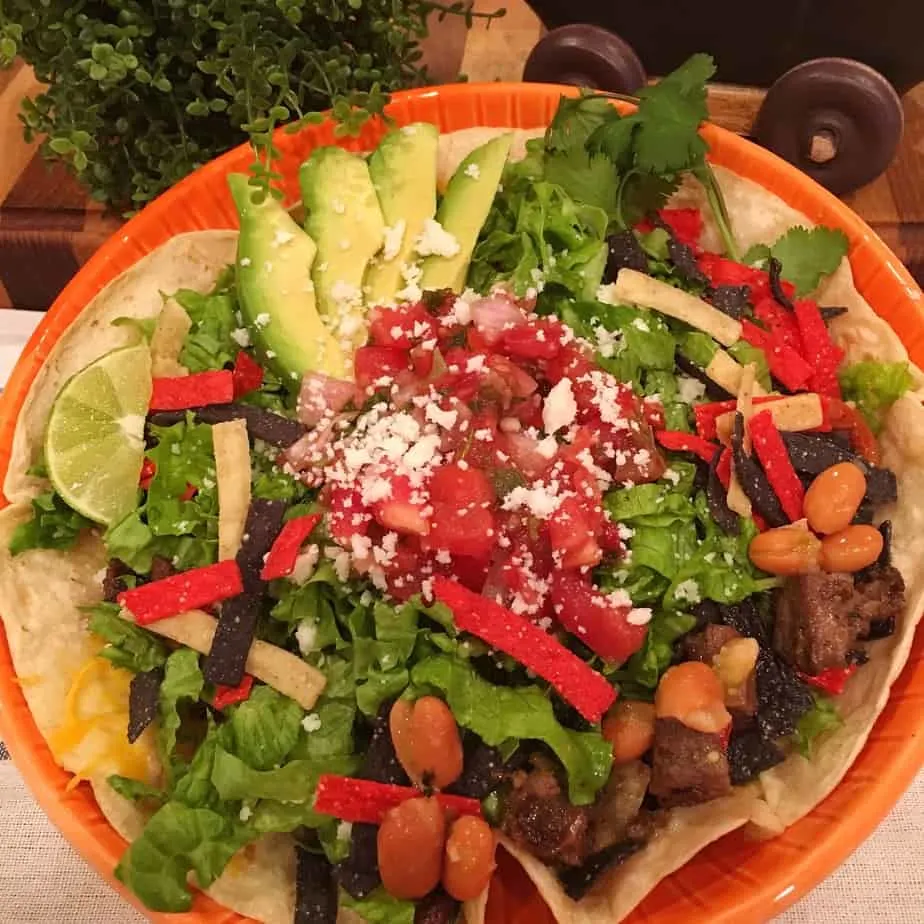 This Steak Fajita Taco Salad is loaded with seasoned beef, cilantro lime rice, spicy pinto beans, all on top of a cheesy flour tortilla and topped with all the delicious veggies needed to make a great salad.
Ingredients
1 1/2 cups long grain white rice
3 cups water
1 chicken flavored bullion cube
1 Tablespoon chopped cilantro
1 lime, juice only
2 cups canned pinto beans with juices
1/4 cup Salsa Verde
1 pound package seasoned beef skirt steak
1 Tablespoon Vegetable Oil
4 - 12inch flour tortillas
1 cup grated cheddar jack cheese
2 Tablespoons butter
1 head green leaf lettuce chopped
2 cups fresh store bought Pico de gallo
1 large avocado, pitted, peeled and sliced
1 1/2 cups crispy tortilla strips
1/2 cup crumbled Cotija Cheese
Lime wedges
1 jar Lighthouse Cotija Cilantro dressing
Instructions
In a medium size sauce pan, with a lid, over medium-high heat, add rice, water, lime juice, chicken bullion, and cilantro. Bring to a boil. Reduce heat to a low simmer, cover with lid, and cook for 20 minutes or until rice is tender. Fluff with a fork and set aside.
Meanwhile, in a microwave safe bowl, add one can pinto beans and 1/4 cup of Salsa Verde. Mix until well combined. Cook for 3-4 minutes, covered, in microwave.
Cut skirt steak into bite size pieces. Heat a large skillet with 1 Tablespoon oil, over medium-high heat, until oil is hot. Add cut up seasoned skirt steak. Cook until meat is brown and edges are golden. Remove meat from skillet and set aside to cool off.
Heat a large griddle or skillet over medium heat. Butter one side of each flour tortilla. Place tortilla on griddle butter side down. Add 1/4 cup grated cheese to top of tortilla. Grill until one side is golden brown and cheese is melted.
Place tortilla, cheese side up, in a shallow dish. Add a layer of Cilantro lime rice, a layer of pinto beans, followed by a layer of grilled skirt steak bites. Top with chopped lettuce, pico de gallo, sliced avocado, tortilla strips, crumbled cotija cheese and lime wedges.
Drizzle salad dressing over top of salad. Serve
Recommended Products
As an Amazon Associate and member of other affiliate programs, I earn from qualifying purchases.
Nutrition Information:
Yield:
4
Serving Size:
1 salad
Amount Per Serving:
Calories:

1268
Total Fat:

70g
Saturated Fat:

27g
Trans Fat:

1g
Unsaturated Fat:

35g
Cholesterol:

200mg
Sodium:

1685mg
Carbohydrates:

94g
Fiber:

14g
Sugar:

13g
Protein:

67g